As someone who usually arrives at the gate minutes before it closes, having so much spare time before my flight felt rather unusual. Especially considering that I'd already spent a couple of hours exploring not one, not two, but a grand total of four other lounges in Terminal 2.
Those were Star Alliance lounges, whereas the final lounge I had access to was an independent offering from Plaza Premium — a brand I'm well acquainted with, given that I visit their Edinburgh Airport lounge once a week. While I typically wouldn't opt for an independent lounge over a Star Alliance option, this one piqued my interest.
Not only did it score very well in reviews, but it also looked far more opulent than anything I'd experienced before from a contract lounge. It looked lavish, dramatic, and far more 'premium' than I'd ever seen from the brand before.
So, I figured I better complete the job, and visit this one too. My aim? To find out whether this opulence was merely superficial or if the Plaza Premium lounge had more to offer beyond its visual appeal.
Where is the lounge?
Of all the lounges I visited that day, I found the Plaza Premium lounge the most difficult to find. Not due to poor signage, but rather because it's in an unusual place.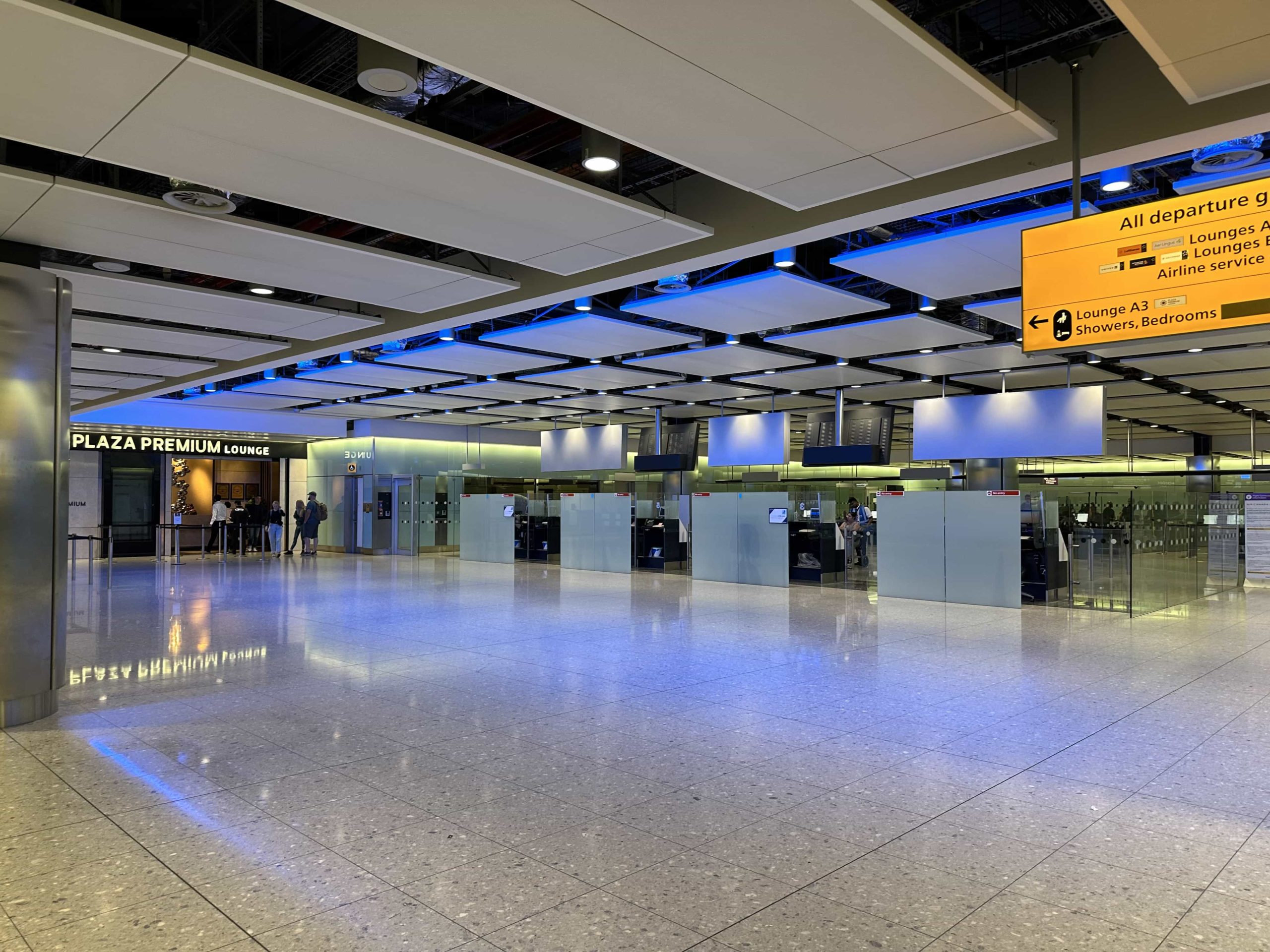 If you're connecting from a different terminal, you'll find the lounge immediately, because it's located just beyond the terminal transfer area. But if you've entered through security, you'll need to make your way down to the main concourse area, through to the right of the airline customer service desks, and all the way to the back.
Keep in mind that if you're departing from B gates, you'll need to factor in about 10-15 minutes to walk through the underground tunnel to Terminal 2B.
Access
On this particular occasion, I made use of my Amex Platinum card, which provides complimentary access to all Plaza Premium lounges. It's worth noting that Amex Platinum cardholders can also gain entry to the Lufthansa Business Lounge, which I reviewed here.
As for lounge membership programs, DragonPass is accepted, while Priority Pass is not.
If you don't have Amex Platinum nor DragonPass, you can also pay for entry. Prices are currently £45 for 2 hours, or £75 for 6 hours. While these rates are steep, it's sometimes possible to find discounts on third-party sites.
Check-in
The check-in process was smooth. Upon arriving at the lounge, I was pleasantly surprised to discover that there was no virtual waiting list in operation, despite the apparent busyness of the lounge, which seemed nearly full.
Outside, they had a queuing system in place, indicating that the lounge can become quite crowded at times. Given this, I wouldn't assume you'll get in immediately during busier periods.
First impressions
Contract lounges, those not operated by airlines, can sometimes seem a bit cookie-cutter, often resembling shopfronts more than premium retreats from the outside. This one though, stands out from the crowd with its sleek exterior, and a reception area that excludes opulence the moment you step inside.
I likened the Air Canada lounge I visited earlier in the day to the entrance of a spa, and this comparison holds even more true for this lounge. The combination of the warm ambient lighting, marble fixtures, and sculpture behind the counter which resembles bubbles of mercury all contribute to a very opulent feel.
Evidently, I'm far from the first to review this lounge, as proudly displayed along the back wall are the numerous SKYTRAX awards the lounge has received over the years. In fact, this lounge was awarded SKYTRAX award for "World's Best Independent Airport Lounge" for five consecutive years. That's quite the achievement, so I was eager to find out if it lived up to its reputation.
Environment
Stepping beyond reception, I'm immediately struck by the ambiance of the entrance hallway – it's moody and dramatic, reminiscent of an upscale club you might find in Asia. The designers clearly poured their creativity into this lounge.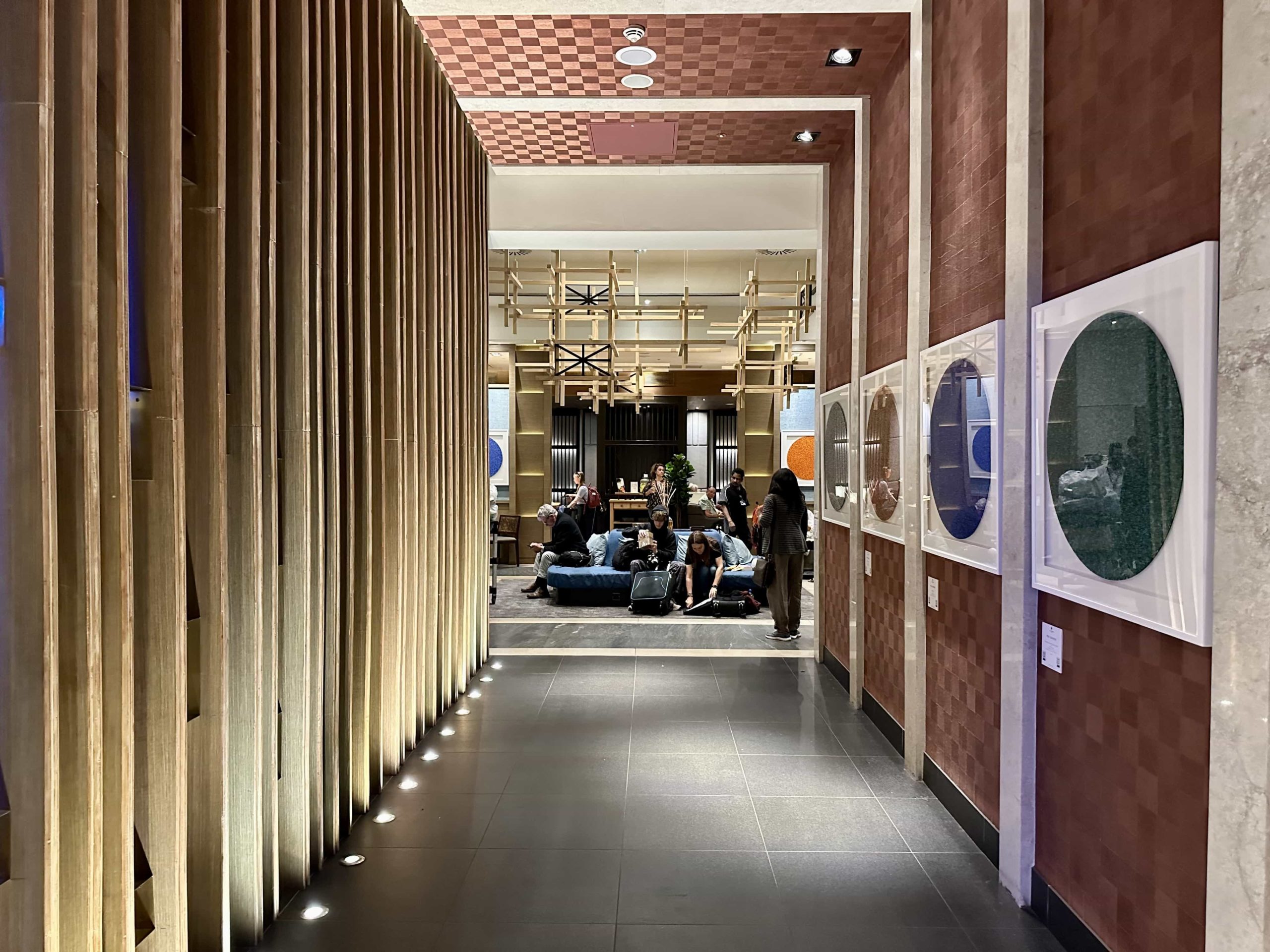 Admittedly, it doesn't feel entirely authentic. Another reviewer likened it to a "budget version of a Cathay Pacific lounge", and I agree. It has a similar feel, only slightly more "pseudo luxury". While the aesthetics are undeniably impressive, some of the finishes, materials, and details don't quite reach the level of refinement you'd get from a top-tier airline.
At the end of the hallway, you find yourself in the central foyer. This resembles a hotel lobby, and is also where you'll find the bar. I'd probably only grab a quick drink here, as it can get quite busy, with a lot of traffic to and from the bar and reception.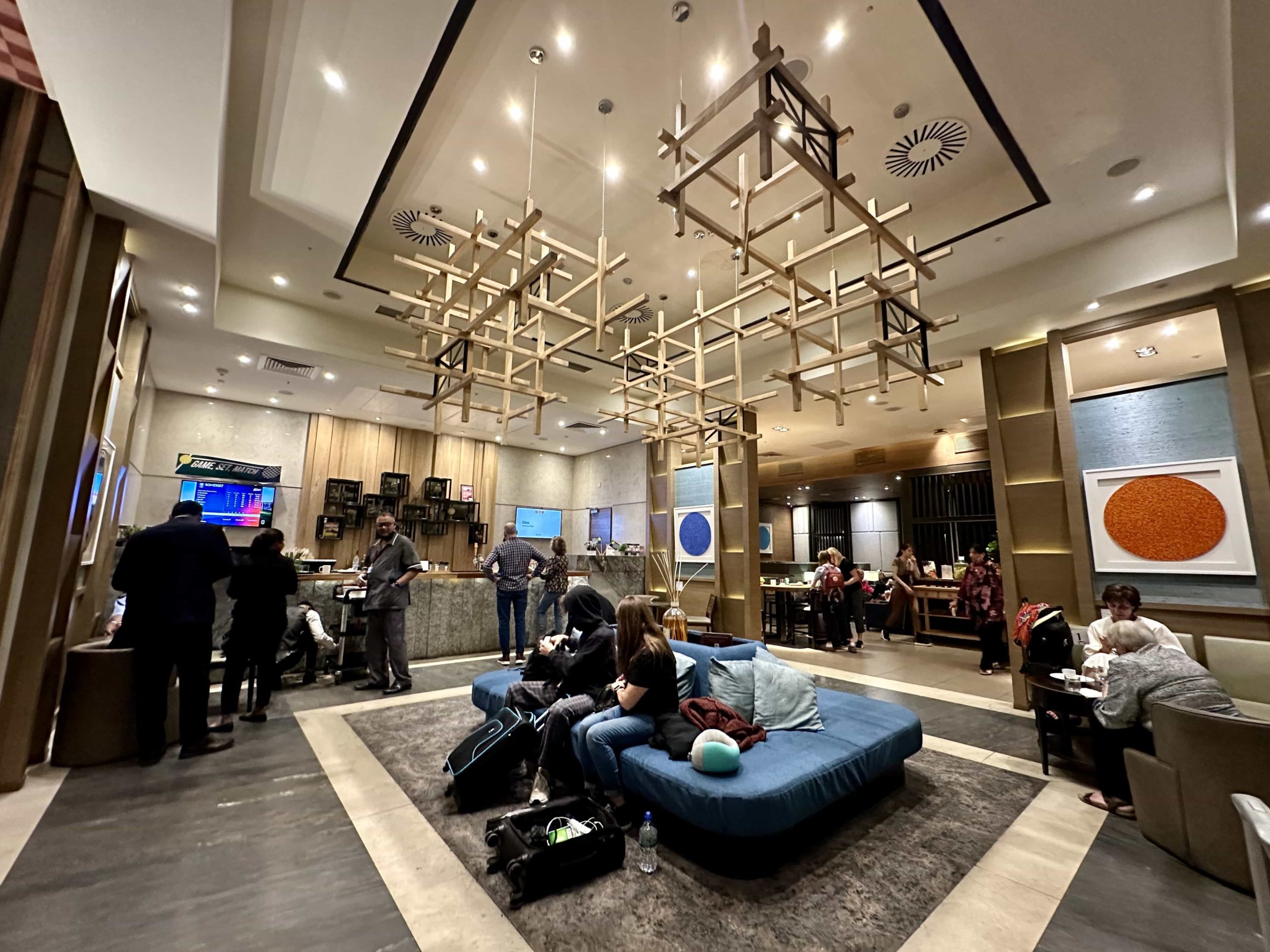 In addition to a sculpture which hangs from the ceiling, the walls are adorned with artwork, which appears to be available for purchase. Perhaps a sign of the times? Joking aside, this is pricey artwork — the one I was next to was listed at £6,250 — so it's nice to see that there are some genuine premium features in this lounge. Whether it's actually worth that however, I'm not so sure.
I knew beforehand that the lounge, being positioned in the middle of the terminal, wouldn't benefit from any natural light. As such, I expected it might have a dim and gloomy atmosphere.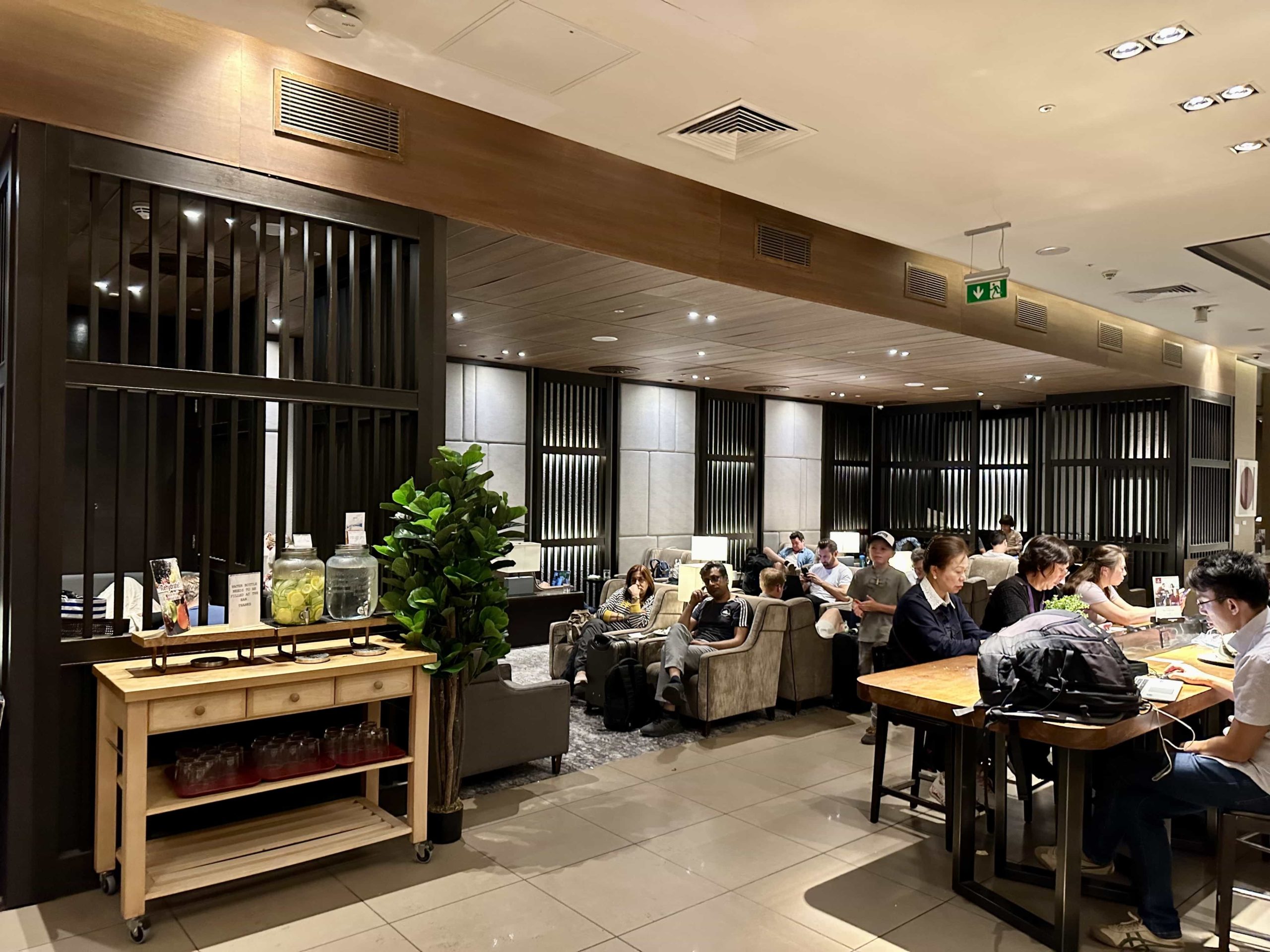 However, I'm pleased to say that Plaza Premium have done a great job of overcoming this. The bright, double-height ceilings create an airy feel, while the contrasting decor maintains a moody ambiance. The thoughtfully balanced lighting further alleviates the feeling of being in a windowless space; instead, imparting a cozy ambiance akin to an evening setting.
What does detract though, is the overcrowding and cramped seating arrangements. Entering a lounge and spending the first minute in search of an available seat, only to find yourself with minimal personal space, squeezed among strangers, doesn't quite align with the serene lounge experience that these brands like to portray.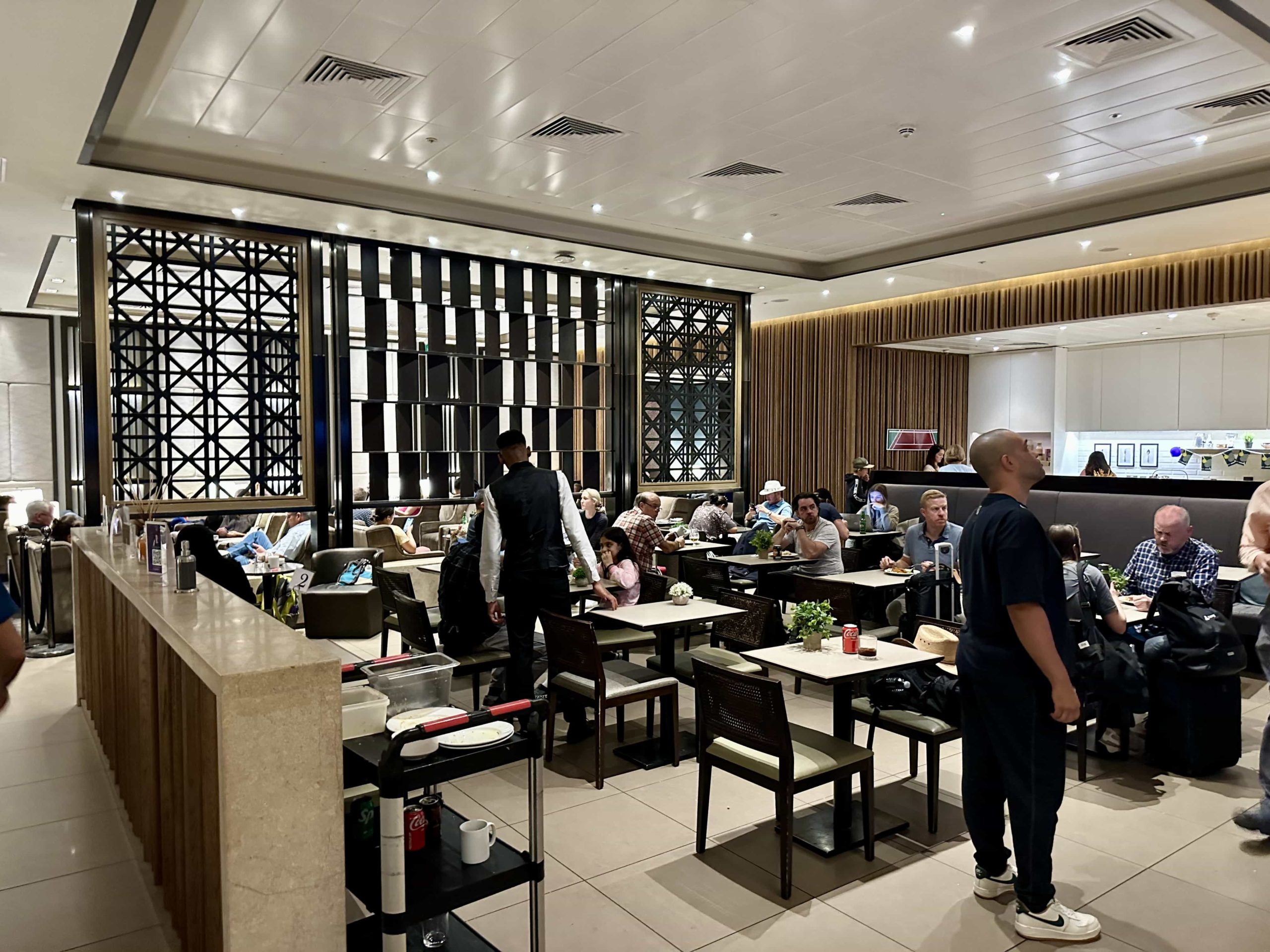 The dining tables are particularly compromised — they're so packed in that this area resembles a canteen. Consider dining at a restaurant elsewhere in the terminal for more space and better dining options, as I'll explain later.
As for the armchairs, they offer a slight improvement, each accompanied by its own side table complete with a lamp and socket. However, most of them are arranged in a large open-plan grid, making it challenging to find a peaceful spot unless you secure a seat next to the wall.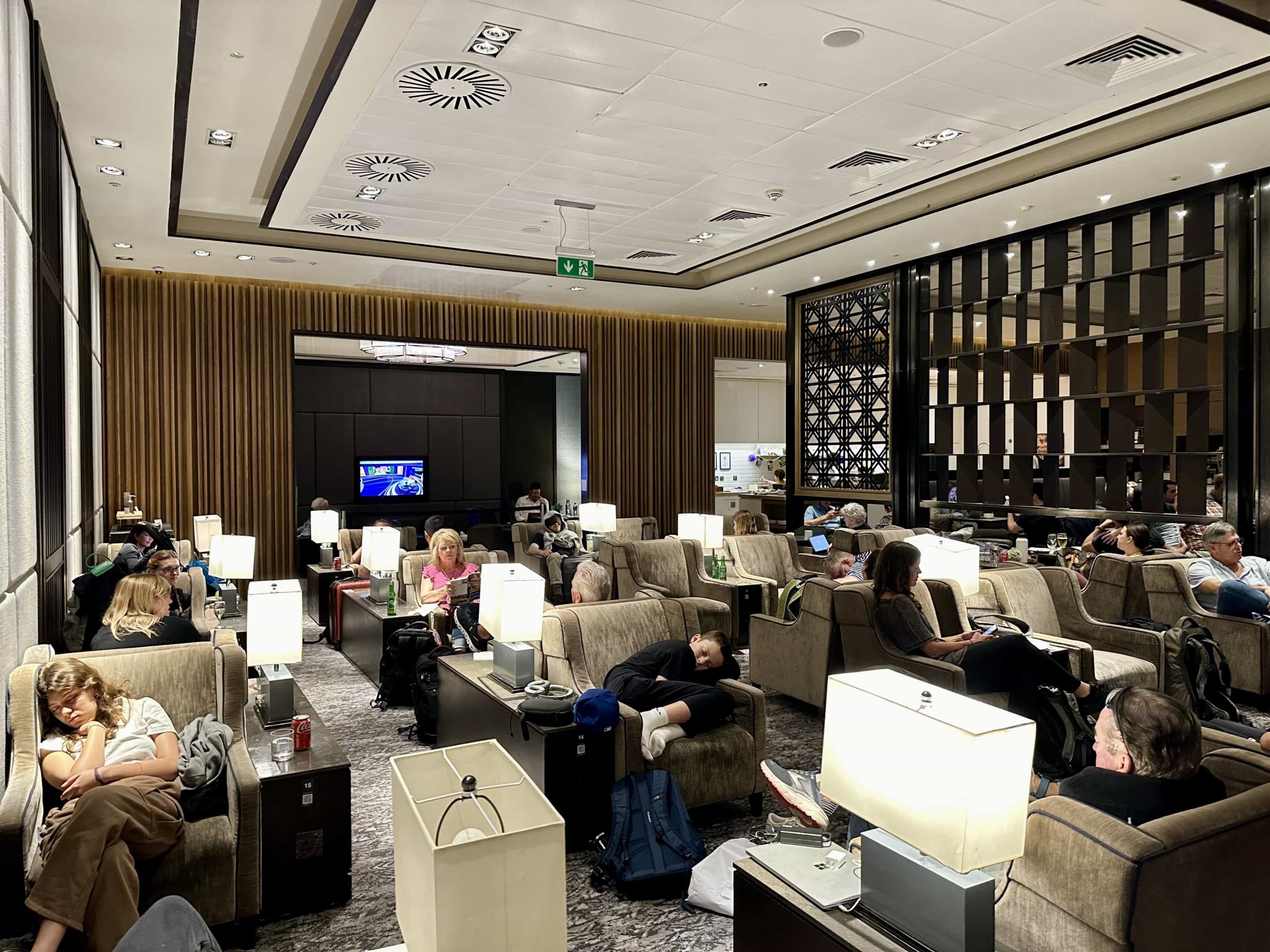 Some lucky guests have access to a cordoned-off section, though I wasn't able to figure out who — presumably passengers of an airline which has some special deal with the lounge.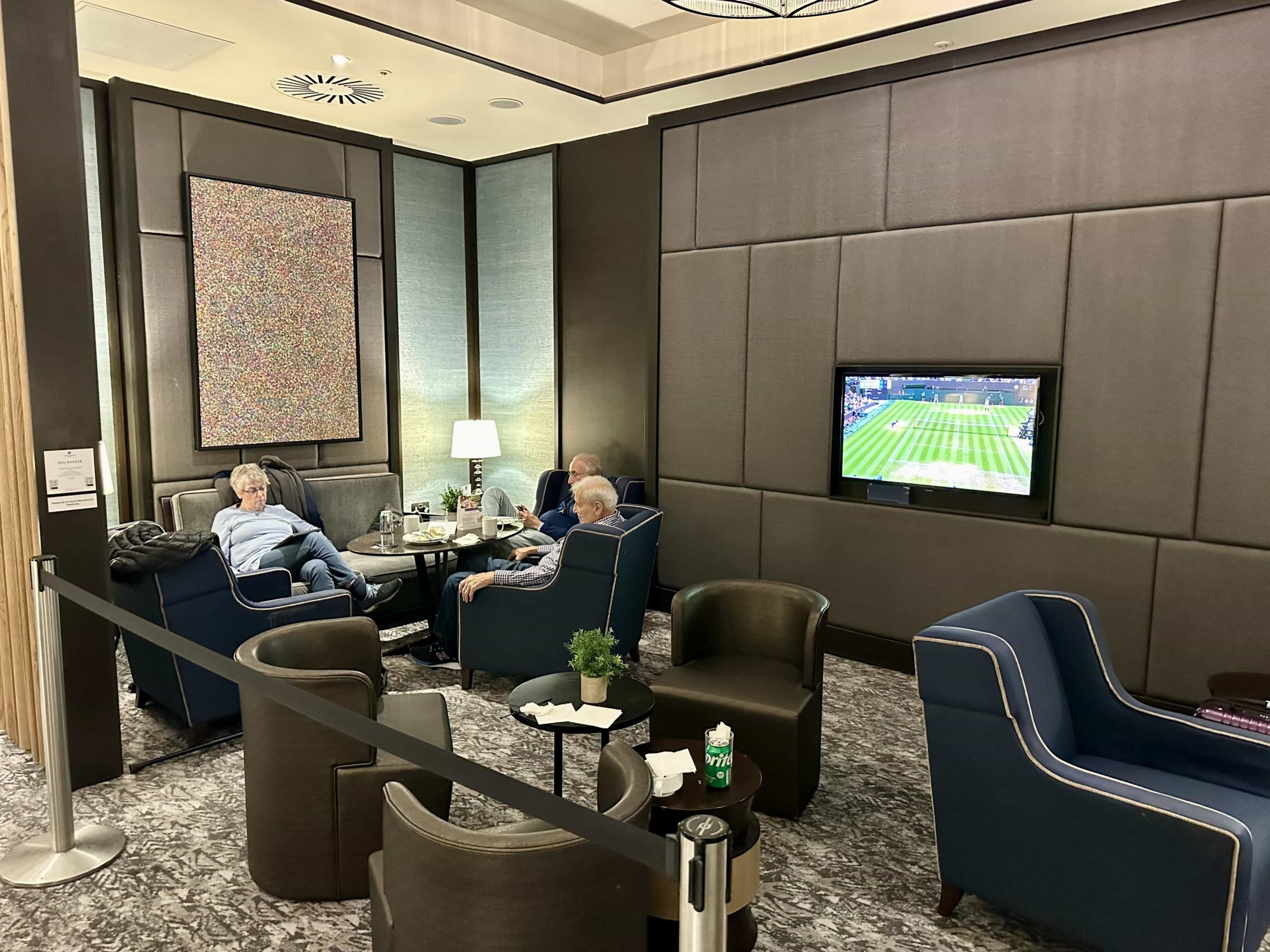 For utmost privacy, you'll want to try to get your hands on one of the eight booths, or "private resting suites". These offer the best opportunity for rest and are also well-suited for work. I'm surprised there aren't more of these, like there are in other Plaza Premium lounges I've visited. Though, at least these ones are in passable condition, unlike the ones at Terminal 5, which are falling apart.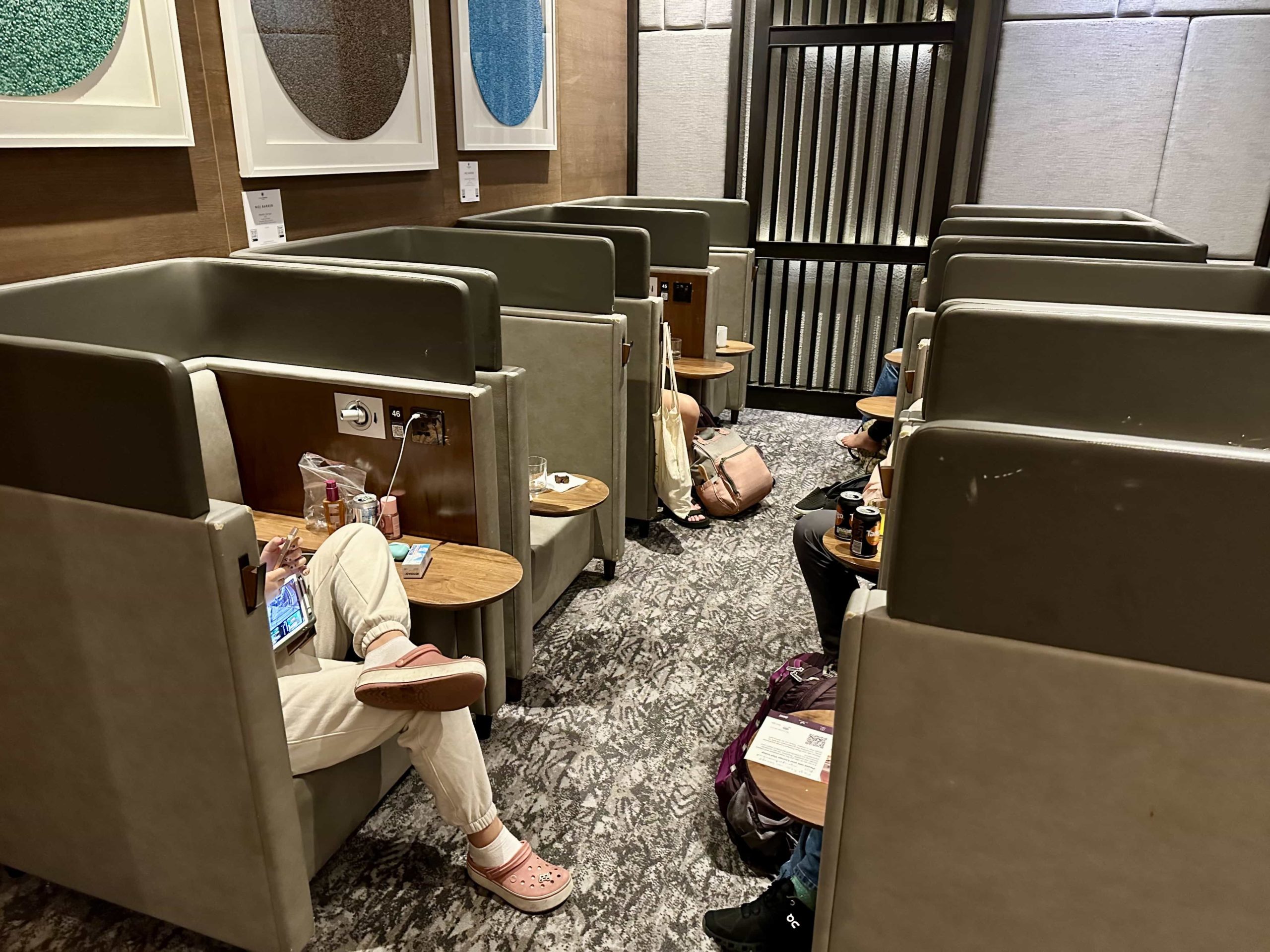 You'll also find a few work nooks furnished with desks, which provide a more ergonomic workspace. While these areas offer reasonable privacy, they may not be suitable for phone calls, as they're only separated from the adjacent nooks by chest-height dividers. Nonetheless, they'd still be my go-to for working compared to the raised workstations, which are better suited for casual dining.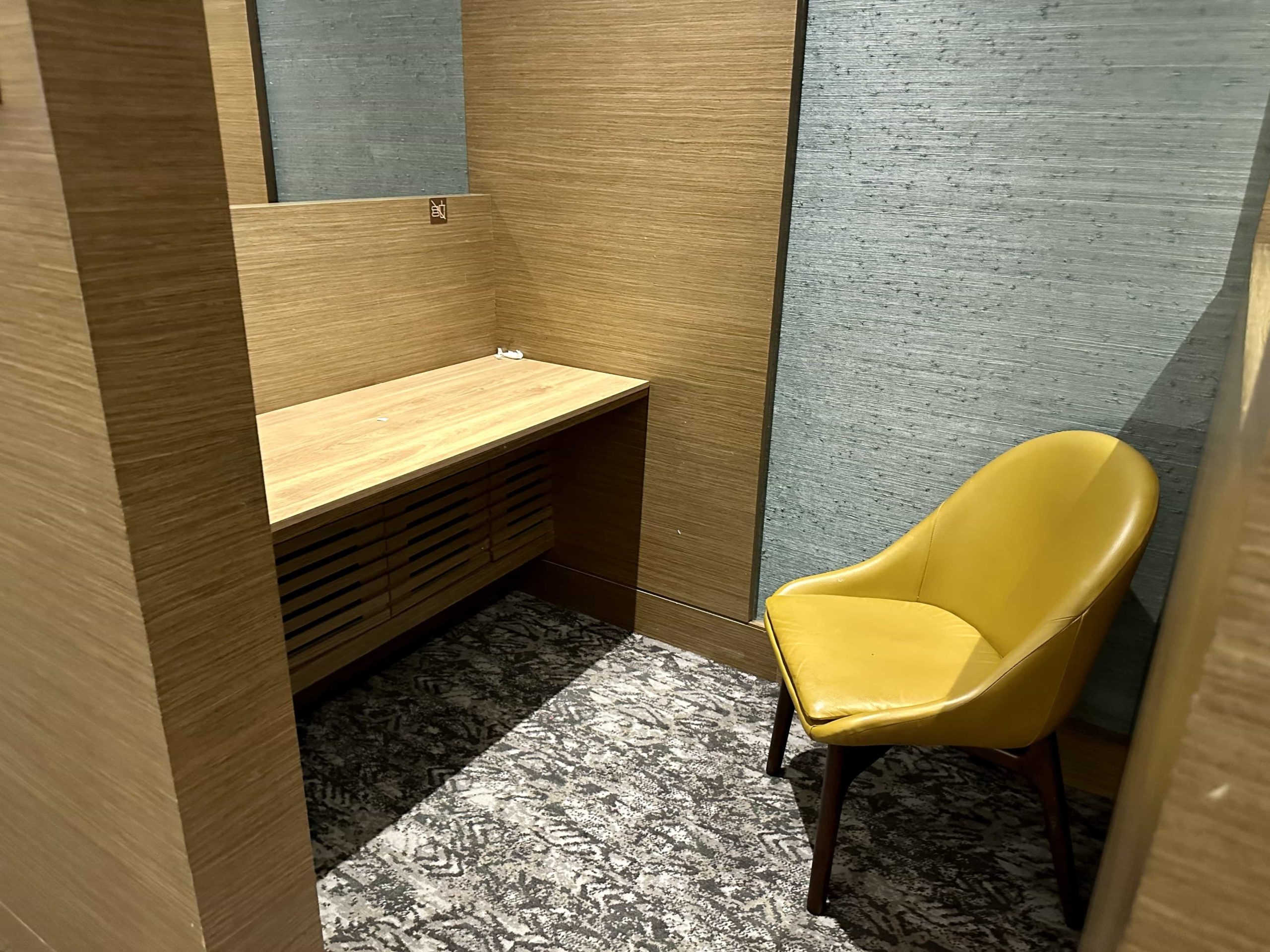 Overall, I love the look and feel of this lounge. Sure, I'd prefer some natural light, but it's otherwise one of the most visually impressive independent lounges I've ever been to. In fact, it puts many of its competitors to shame.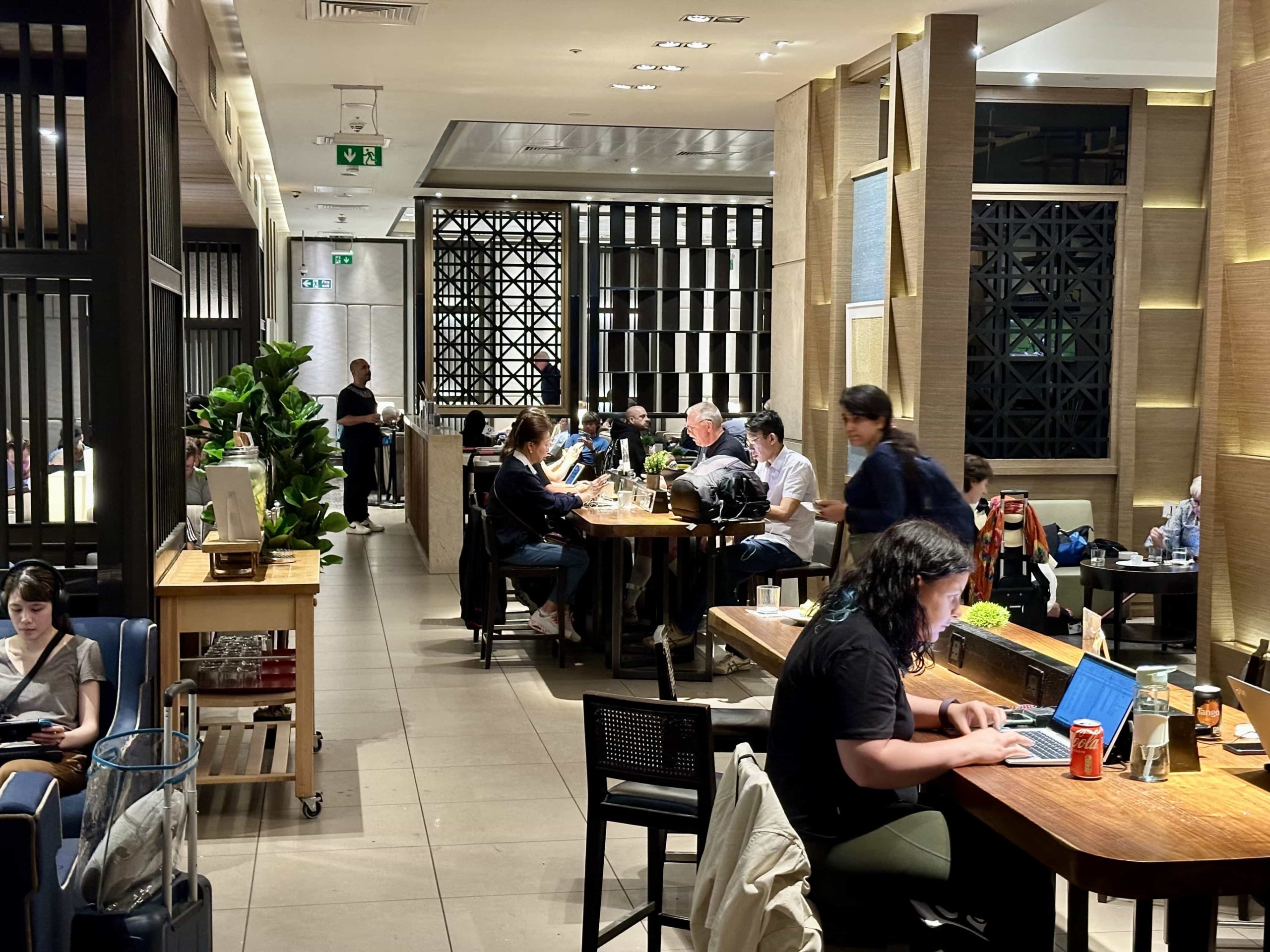 That said, I was probably blinded to an extent by the pretty decor. The extent of the busyness probably didn't fully register until I left the lounge and a wave of relief came over me after I stepped out of the warm, stuffy, and crowded space.
During quieter periods, this would be an excellent space in which to spend time. However, much like the United lounge, it's undoubtedly compromised during peak times, where it's just too busy to be relaxing. On the day I visited, I did not feel compelled to stay for long.
Food & drink
Let's talk about food. If you've read one of my reviews before, you might be able to tell where this is going.
Curry, rice, macaroni and cheese – if that doesn't epitomise the "contract lounge" dining experience, I don't know what does. Typically, I would sample the culinary offerings to provide my opinion, but this felt like a case of "been there, done that", and I continue to be overwhelmingly disappointed by what these lounges provide.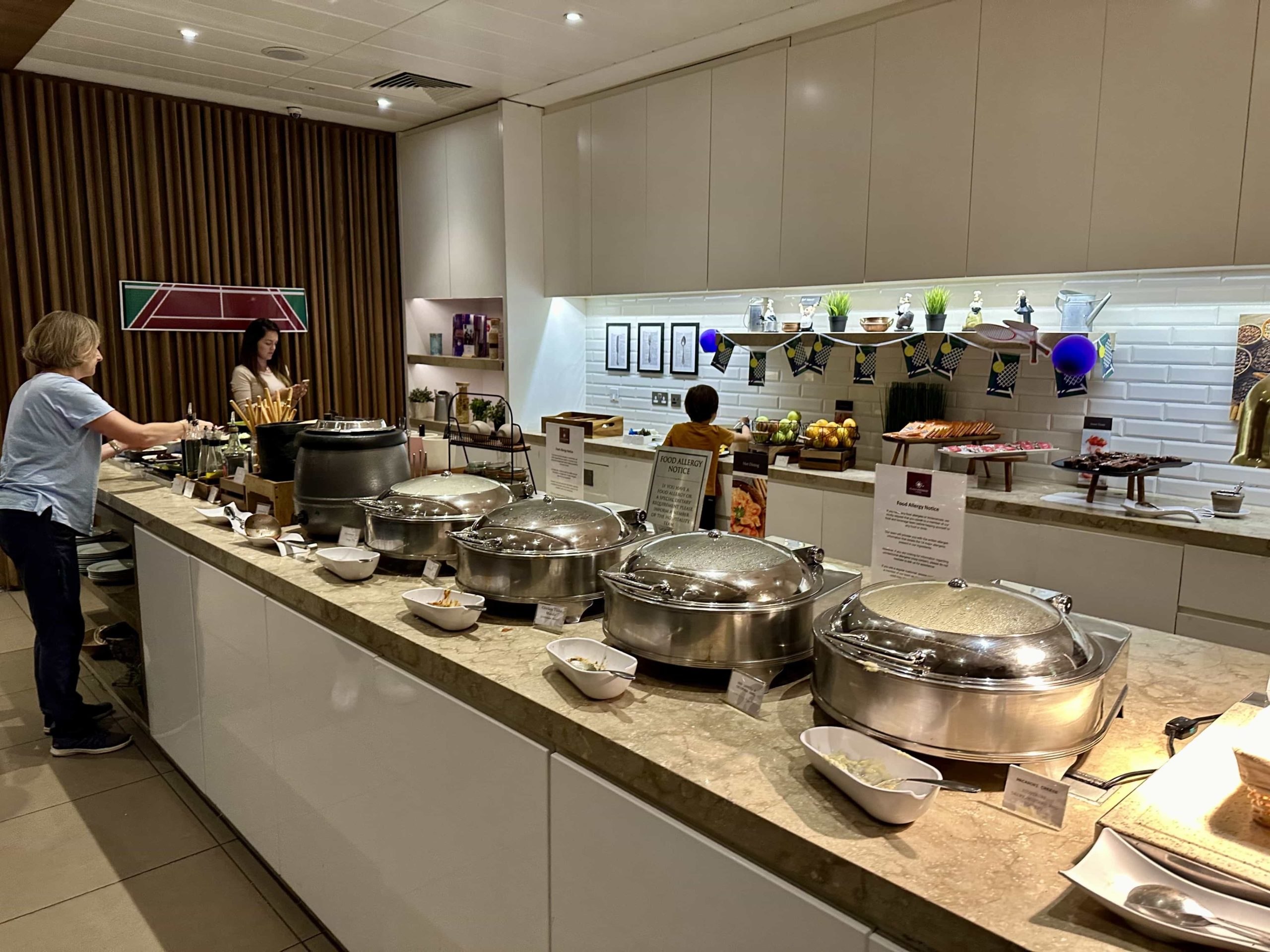 It's not necessarily the breadth of the dishes. More the fact that they offer an almost identical selection each and every day, and still fail to deliver on the quality front.
In the past, when lounge access cost £25-30, one could overlook these shortcomings to an extent. But now, prices have escalated to the point where you're paying more than you would for a couple of courses at the airport's best restaurants.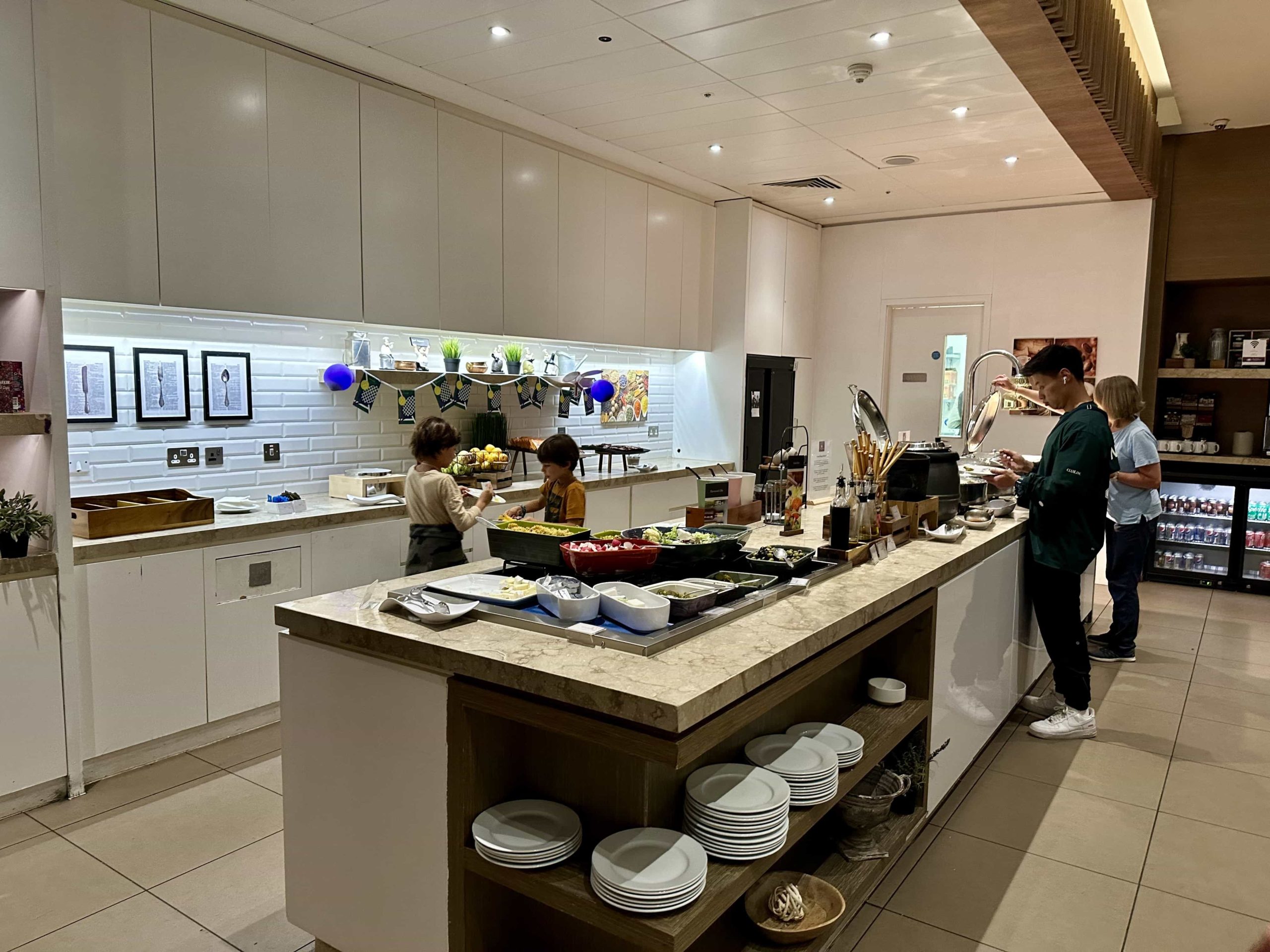 When a lounge is crowded, and the food is lacklustre, you start to question what you're actually paying for. Anyway, I think that addresses the hot dishes. What else is there?
There was a range of salad items, a couple of pasta dishes, sandwiches, cheeses, and an assortment of bread and rolls. Dessert choices included muffins, cookies, and strawberry mousse. Not the most extensive selection I've ever seen, but adequate enough.
In terms of drinks, there are fridges with the typical selection of Coca-Cola, Fanta, and Sprite, as well as fruit-infused water. Of course, coffee machines and tea making facilities are also present.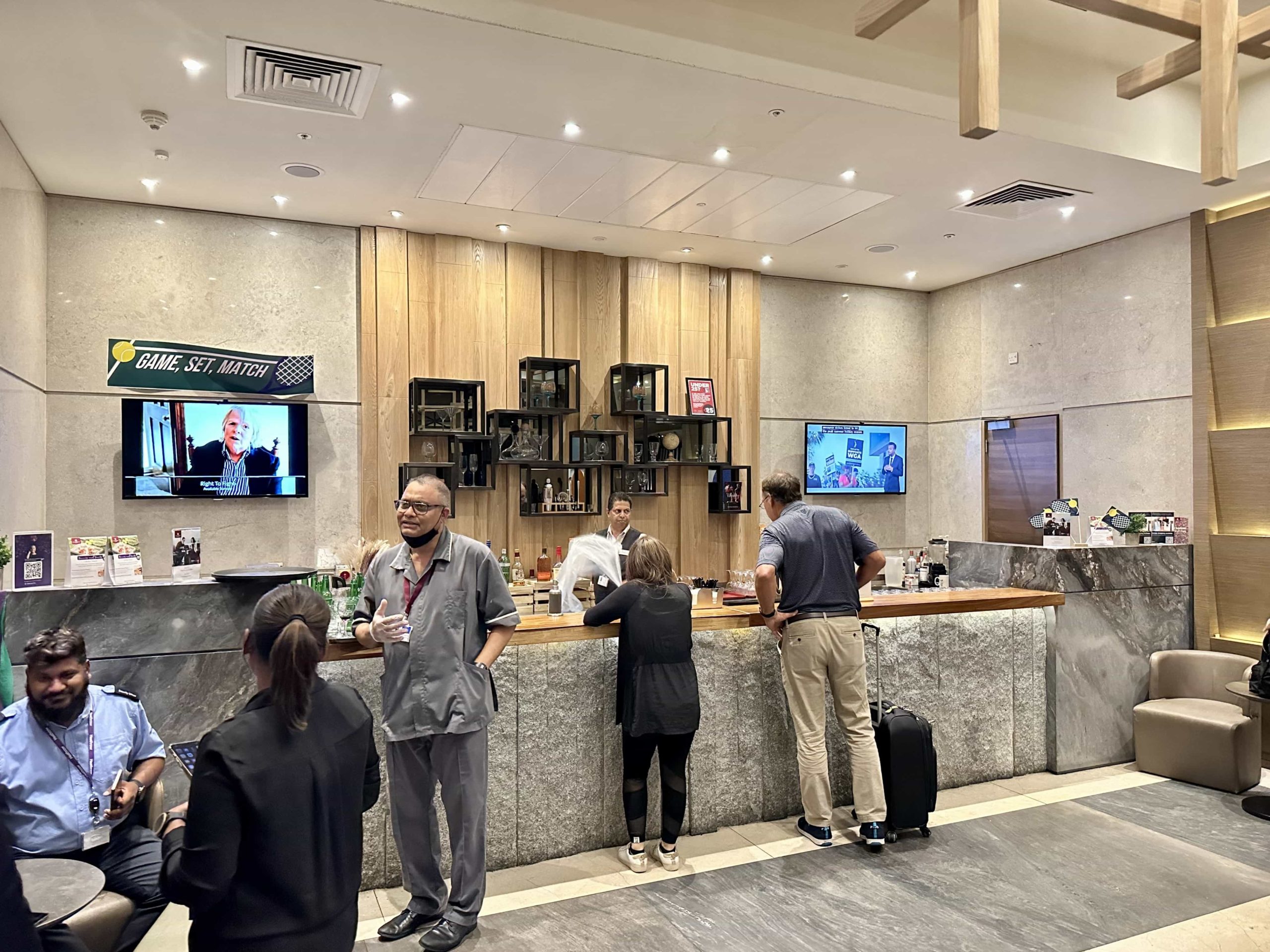 At the bar, there is a menu for the complimentary drinks section, which includes five kinds of spirits, one beer, and a couple of wines. The premium drinks selection is more extensive, though also more expensive. Fortunately, you're only looking at £5 or so for most beverages.
Anything else to note?
Showers and toilet facilities
I was impressed by how immaculate the toilet facilities were, even if they did seem a bit small for a lounge of this size.
Although I didn't use them on this occasion, four shower are also available, and they're currently charged at £17.60 for 30 minutes, on top of the fee to enter the lounge itself. Non-lounge visitors can also access these facilities for a slight surcharge (currently £25).
Reservations can be made at reception, and amenities like shower gel, shampoo, towels, and hair dryers are provided. Additional items like dental kits can be provided upon request.
Wi-Fi
While I didn't measure the exact speeds, the Wi-Fi consistently proved to be fast and reliable, which aligns with the experiences of other reviewers.
Sockets
Socket availability is very good, with coverage across almost all of the lounge. This includes the armchairs and private resting suites, as well as the work nooks and raised workstations.
It's worth noting that the sockets are UK-only; there are no universal sockets. However, the private resting suites do come equipped with USB ports.
Conclusion
During the introduction, I pondered whether the luxury ambiance this lounge projects is merely a façade. And, to an extent, it is.
There's no denying that the lounge excels in terms of its decor and visual appeal — kudos to the designers who went all out. Successfully creating an inviting atmosphere in a windowless space is no small achievement, and outshining the Star Alliance competitors in terms of the "wow" factor is undoubtedly impressive.
However, as I mentioned, there's a hint of "faux luxury" at play here, and, as is often the case with independent lounges, the overall comfort is marred by overcrowding and a lacklustre food selection.
While I believe the experience would significantly improve during quieter periods of the year, I'd still only visit this lounge if you have complimentary access through your credit card. It's otherwise just too expensive, given that tranquility and dining are two primary reasons for visiting a lounge.
Nonetheless, it's important to keep this criticism in perspective, as these issues aren't unique to this lounge. As contract lounges go, this is a very good one.