Until recently, I'd been frequenting the Aspire Lounge at gate 16, which you can read about here. I like quite like that lounge, and it's always busy so it seems others do too. Just next door is the Plaza Premium lounge: Edinburgh Airport's newest lounge. Whenever I've glanced down the corridor, it never seemed as busy so I didn't think it could be offering much. Of course, curiosity eventually got the better of me and I went to take a look. Since then, it's been my go-to lounge for my weekly early morning departure.
The Plaza Premium lounge opened in 2022, taking the place of a short-lived No1 lounge, which operated briefly from 2019 until it was closed during the pandemic. That lounge attracted positive reviews, so this new Plaza Premium lounge had a good foundation upon which to build from. While they haven't reinvented the wheel, they have refined and tweaked the experience, to create what is now my favourite Edinburgh Airport lounge.
Access
For paid access, bookings can be made via the Plaza Premium website. As of writing this review, prices currently start at £39.60, for a 2-hour stay.
Complimentary access to the lounge is available to Amex Platinum cardholders, and DragonPass is also accepted. Amex Platinum is my method of choice, allowing both myself and my supplementary cardholder to each bring one additional guest, free of charge.
Where is the lounge?
You'll have no problems finding this lounge. Just remember to turn right after leaving duty free, and continue to walk until you see Pret A Manger. In between Pret and BrewDog, there's an entrance to a stairwell which is flanked by prominent 'Premium Lounges' signage. Head up one floor, and you'll see the entrances to the two lounges at this end of the airport. Plaza Premium Lounge is to the right, up a shallow ramp.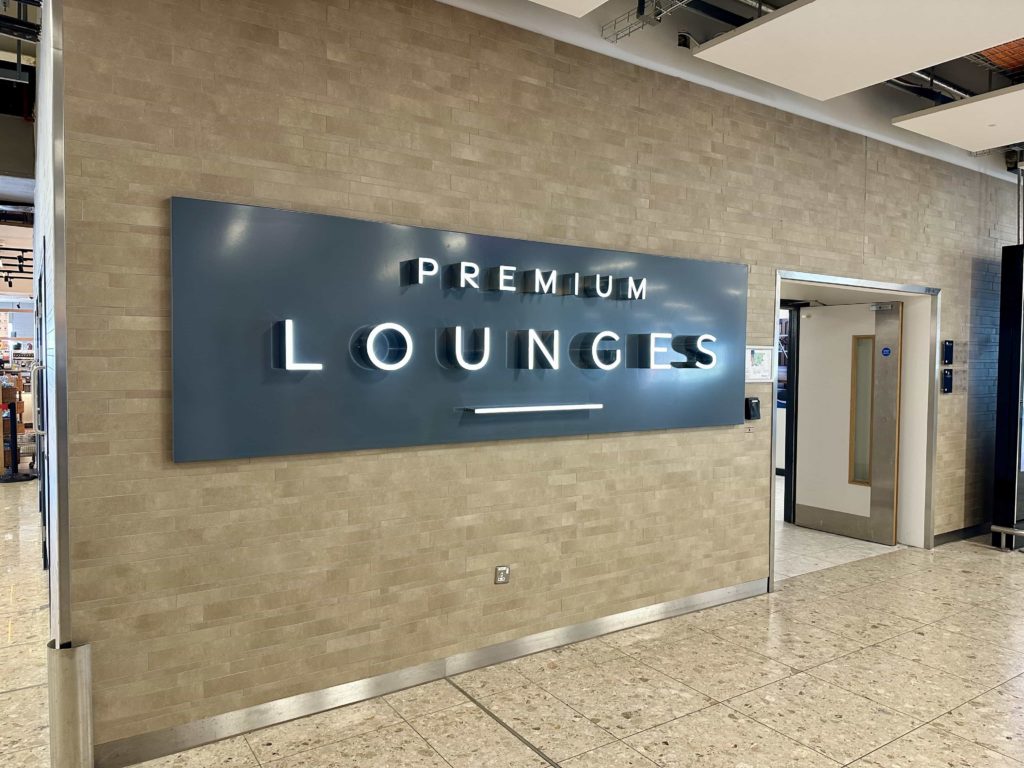 Hospitality
I can only say positive things about my interactions with staff, who have been exceedingly welcoming and hospitable — particularly the member of staff on reception. For my first few visits, she made sure I was familiar with the amenities, but soon after picked up on the fact that I was a regular and made sure to express her appreciation.
Elsewhere in the lounge they've been similarly professional, which is something I've noticed in overhearing conversations with staff at the bar, seeing how proactive they are with keeping the place clean and tidy, and observing how regularly the buffet area is restocked and maintained.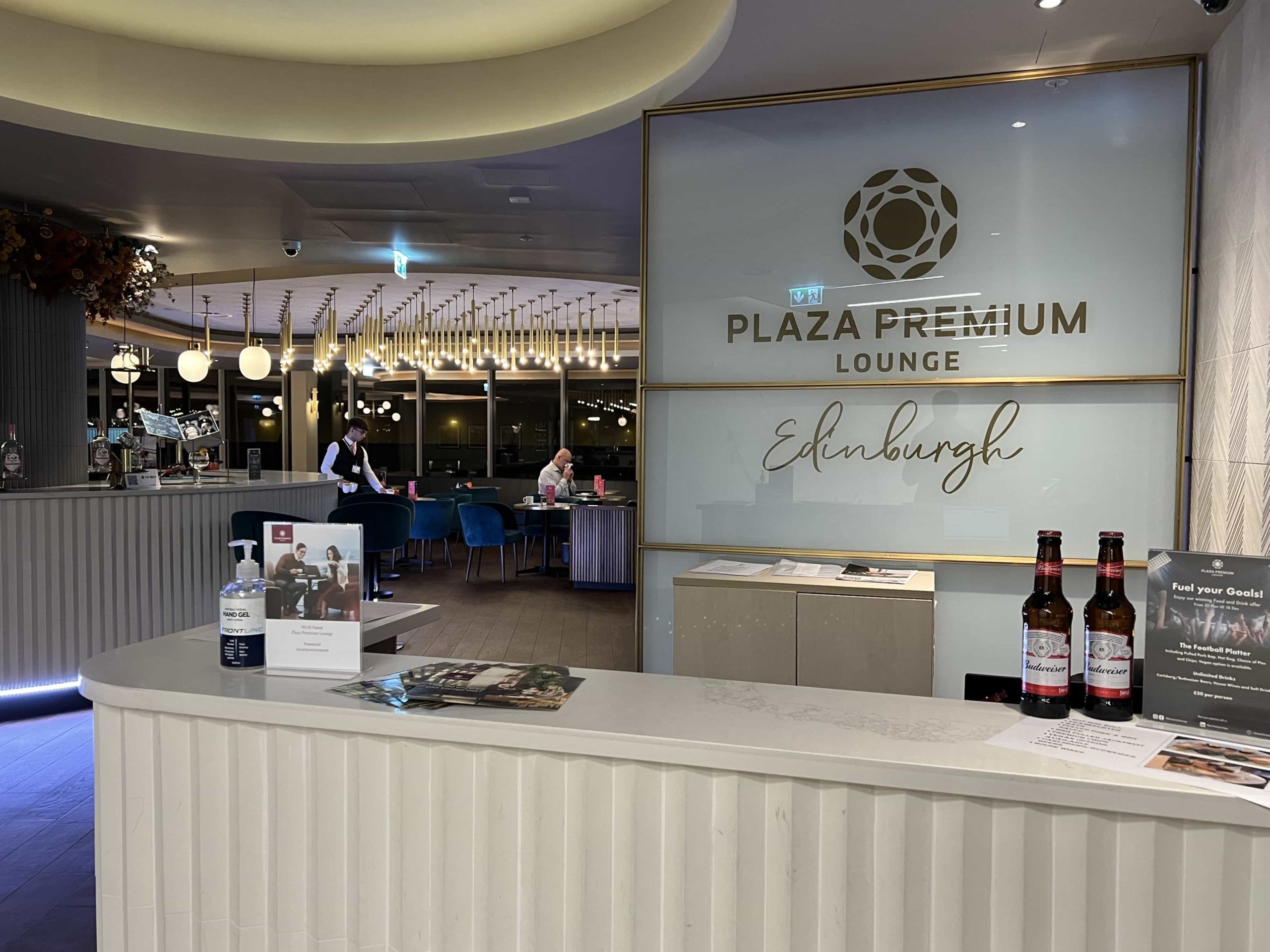 Layout
I was initially taken-aback by the size of this lounge. Not because it's particularly massive in the grand scheme of things, but because it's so much bigger than the Aspire Lounge next door — a lounge, which as I mentioned, draws significantly more crowds. At 760sq.m, it narrowly takes the crown as Edinburgh Airport's largest lounge — beating the BA lounge by 30sq.m — and with so much room and so few visitors, the space feels quite exclusive. Even having inherited some furnishings from the No1 Lounge which preceded it, the look and feel of the lounge remains modern and luxurious. There's touches of Scottish influence in the artwork and decor, but less so than the Aspire Lounge.
The lounge is divided into four distinct areas. As you walk past reception, you find yourself in the bar/dining area. The centrepiece is the Edinburgh Gin Bar itself, which serves a range of drinks, including three bespoke cocktails. As an early morning visitor who doesn't drink, I can't really comment on these, but staff seem more than happy to offer recommendations and provide information about the drinks on offer.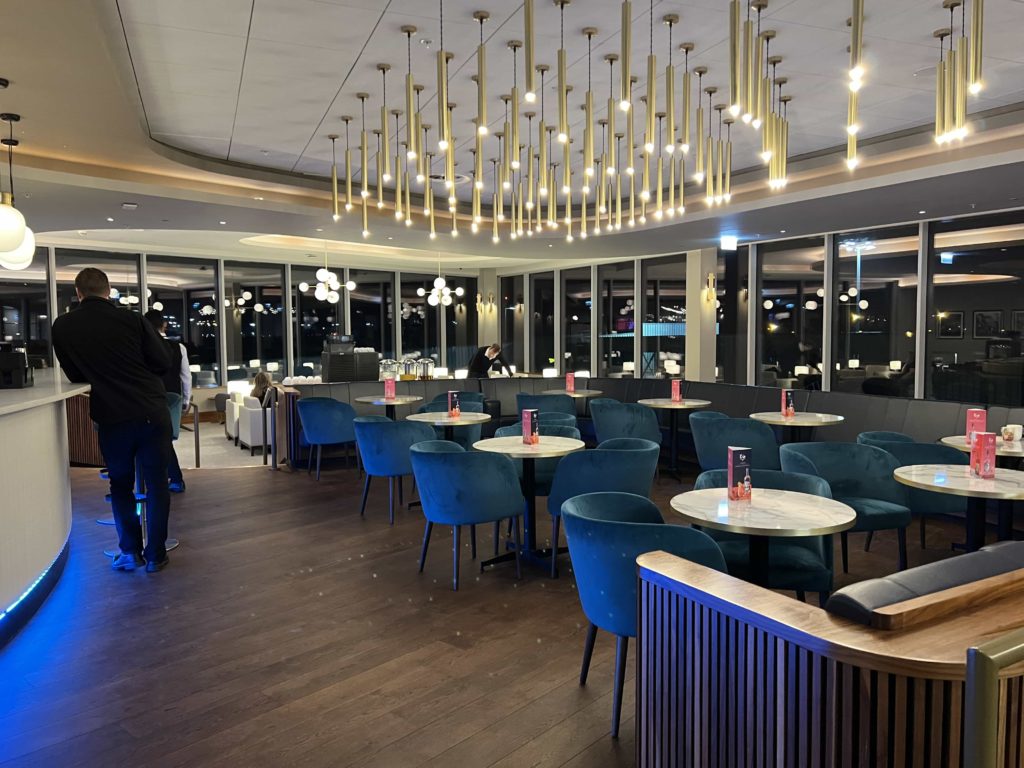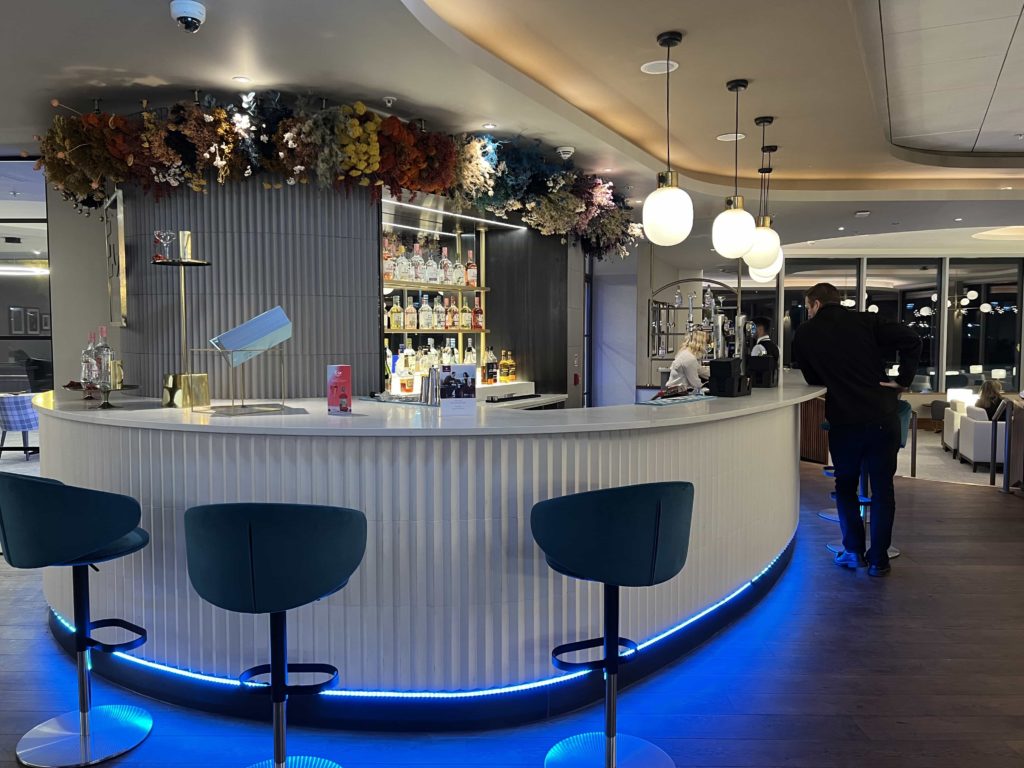 Stepping down into the lower area of the lounge brings you to the leather armchairs and high-backed swivel seats. Even though this space is wide-open, the seating is well-spaced, so there's still a sense of personal space. As the lounge is located on the corner of the building, it benefits from near floor-to-ceiling windows on two sides which give panoramic views out towards the runway. Unfortunately, there's a passenger bridge which wraps around directly in front of the lounge, blocking most of the immediate apron view. Tail spotting will need to suffice.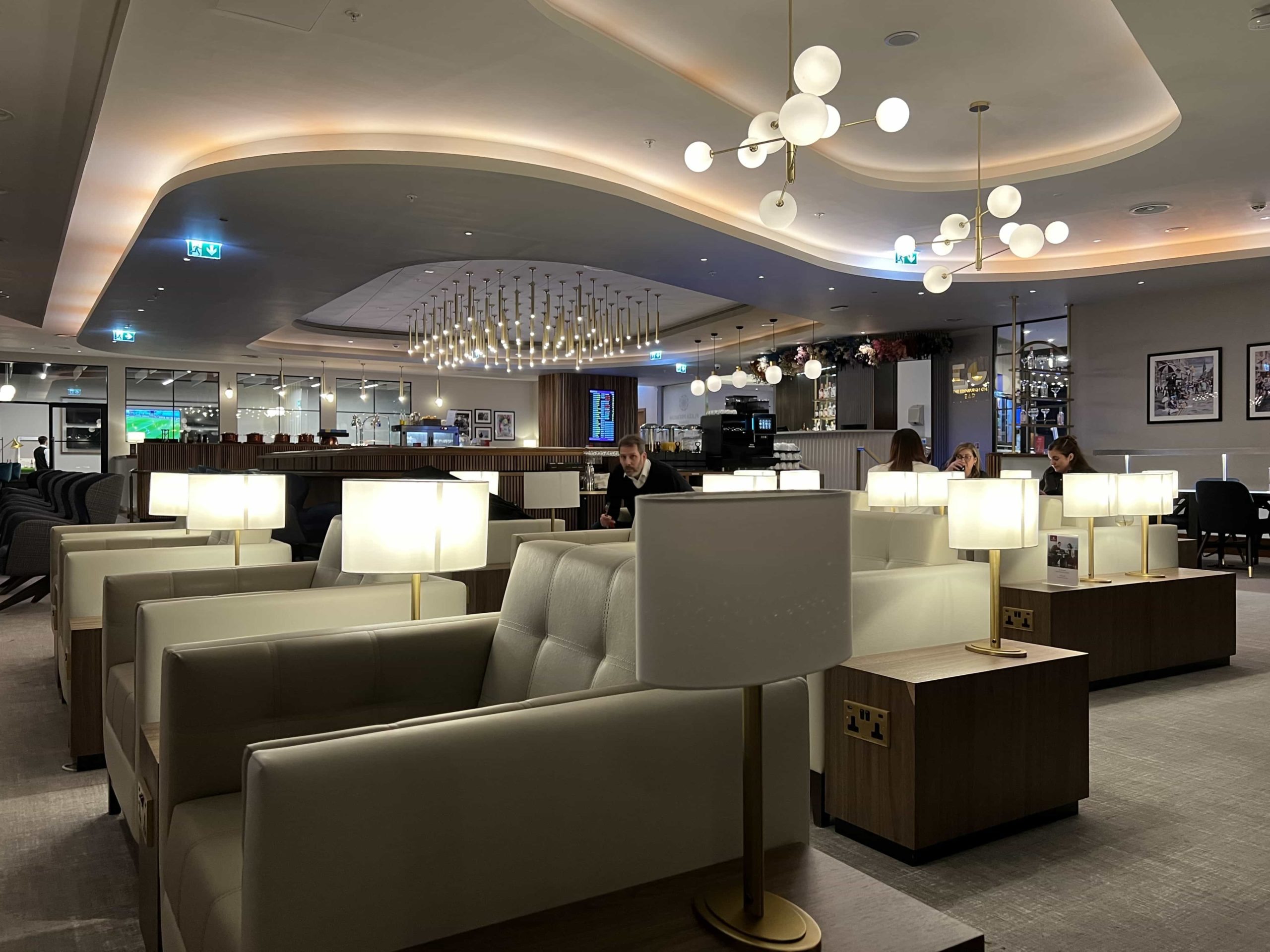 Those who want to get some work done can head to the shared workstation, which benefits from downlighting and tabletop sockets. Almost all of the lounge — except the dining area — has ample socket coverage though, so I tend to work from the lounge chairs, which are slightly more private. For ultimate privacy, or if you need to take a call, there's a booth with a door near the entrance. I wouldn't count on this being available at busier times.
Families travelling with children will appreciate the 'interactive zone': a sizeable area of the lounge dedicated to fun. There's a shuffleboard, tabletop football, beanbags, and even a (very) small climbing wall. Adults can keep one eye on their kids and one on the TV setup, which can be viewed from the comfort of studded leather sofas. A glass wall separates this area of the lounge from the main section, which helps to contain most of the noise.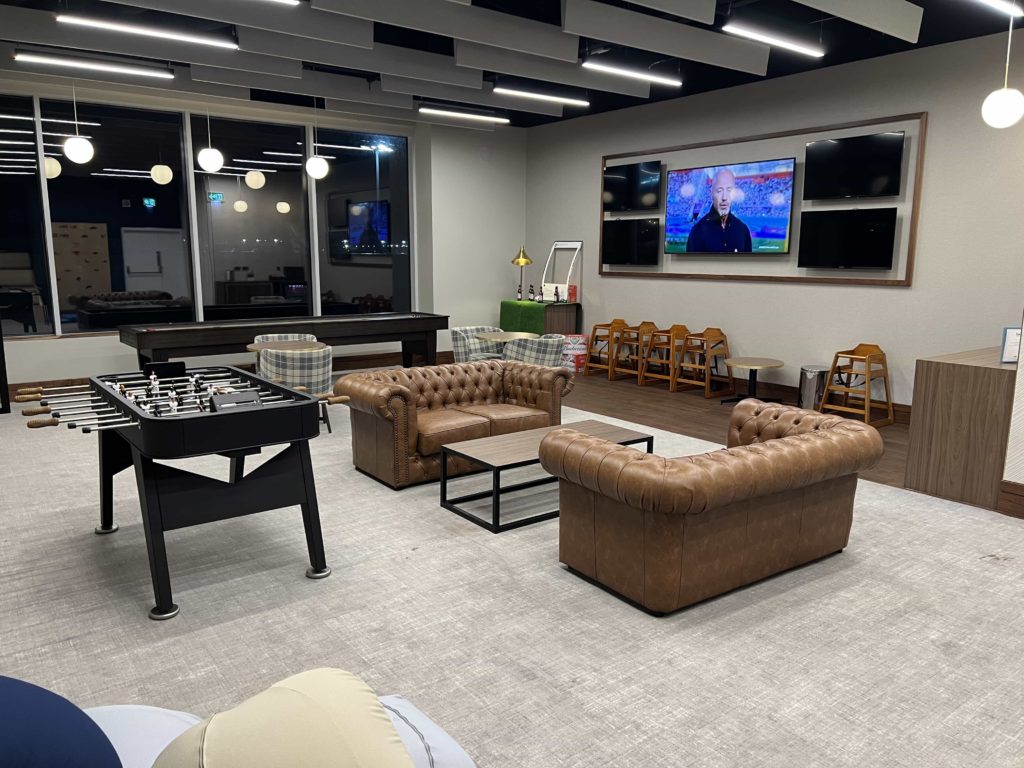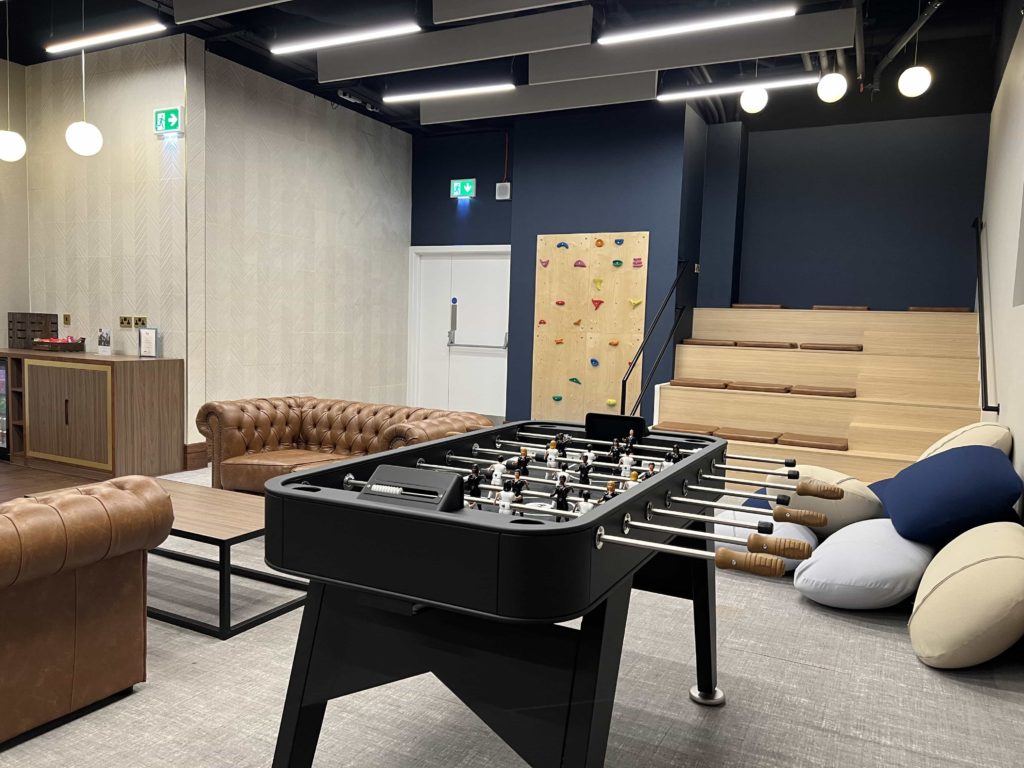 At the other side of the lounge, is the 'quiet zone'. There's not too much to note about this area, as it's quite similar to the rest of the lounge, and lacks the private nooks and dividers found in some other lounges. The area was originally intended to be a VIP section for business class customers of airlines, but has not been implemented yet, hence the quiet zone designation. Despite this, the area is actually very quiet, as I've never observed anyone in there in the mornings.
Food & drink
For such a spacious lounge, the buffet station is actually quite small. As such, they're unable to serve more than a few dishes for lunch and dinner, which means there's barely enough to comprise a cohesive meal. During a recent visit, I found myself with a plate of (admittedly delicious) roast potatoes, as the rest of the buffet consisted of pasta, curry, and rice — none of which paired well with potatoes. The salad selection is also quite limited, there's very few snacks, and usually only one dessert — which can be hit or miss.
Breakfast suffers the same problem (to an extent), as the continental options are very sparse. There's yogurt, berry & granola compote, cereal, porridge, shortbread, chocolate fudge brownies, a few mini-pastries, and oddly, potato salad. Potato salad at 5:30am? What I'd like to see, is more fruit options, cold cut meats and cheeses. Currently, there's one cheese, no meats, and usually only a couple of fruits. Swap the early morning potato salad for some berries, please.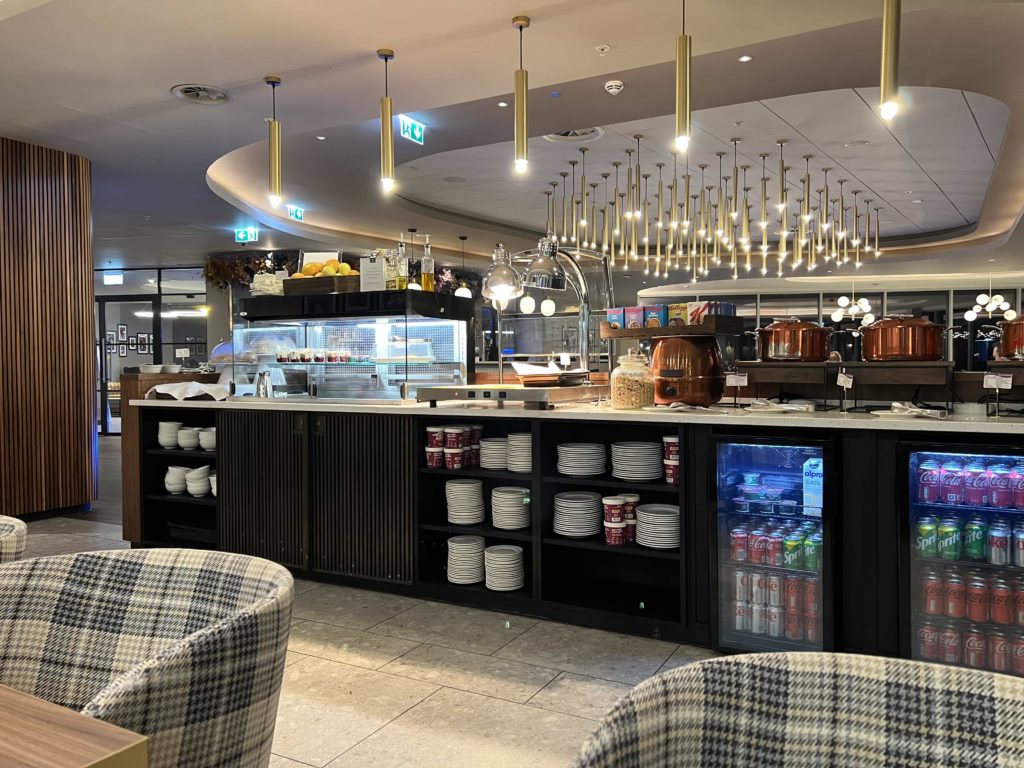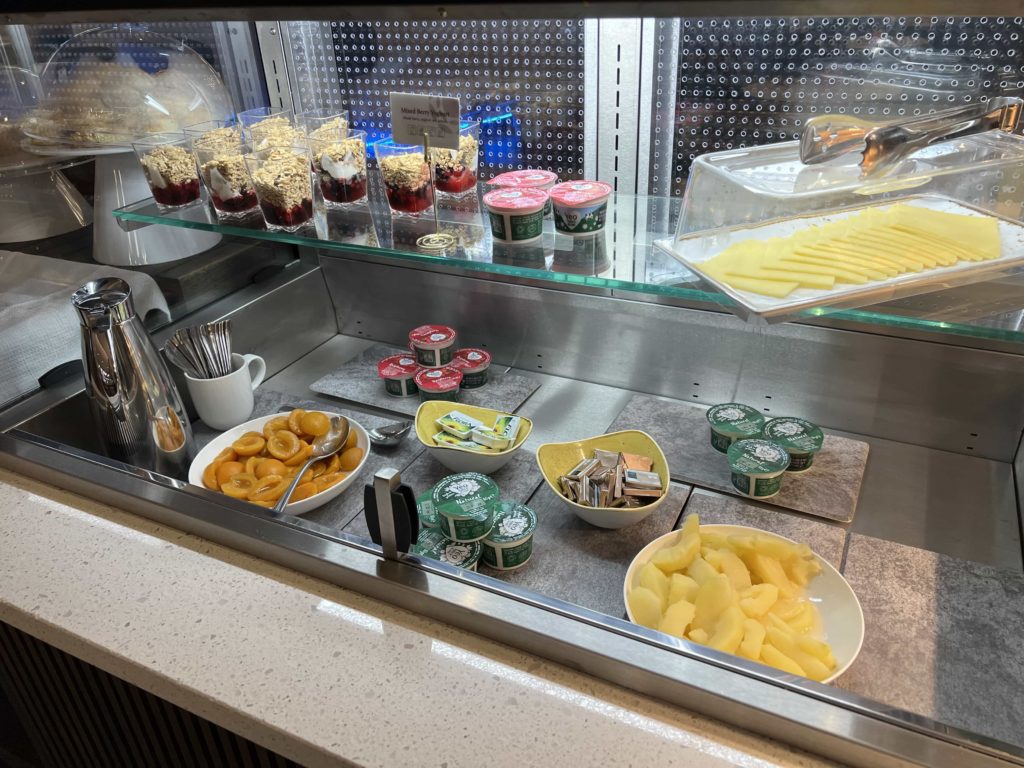 Fortunately, breakfast is redeemed by the excellent cooked breakfast selection, which is comprised of sausages, bacon, scrambled eggs, beans, some excellent hash browns, and occasionally haggis, potato scones and mushrooms. Everything is prepared to a high standard and always seems fresh. I genuinely look forward to it each week.
In terms of drinks, there's two stations at either side of the bar area, serving a limited selection of canned soft drinks (Coca-Cola, Fanta, and Sprite), as well as fruit juice (apple and orange), and coffee. From the bar, some drinks are free, but premium alcohols come at an extra charge.
Anything else to note?
Wi-Fi speeds are strong, at around 80 Mbps down and a respectable 95 Mbps up. Comparatively, I'm able to get 340 Mbps down and 13 Mbps up, on EE's 5G network.
The toilets are compact, but generally tend to be quite clean.
A departures board is present near the reception area.
As of writing this review, opening hours are 04:30 – 20:00, daily.
Conclusion
This is an excellent lounge, and if you have complimentary access — or even as a paying customer — it should almost certainly be your go-to. I'm reluctant to say that, only because I've enjoyed the tranquility up until now, but it deserves the praise. I'm tempted to say that it's my favourite non-airline lounge in the UK, and it's also the best of the Plaza Premium portfolio I've tried thus far.
That said, the experience is unquestionably tainted by the dining options for lunch and dinner. If food is a priority for you, you might want to think about bringing something in with you, or considering the Aspire Lounge, located just next door. For breakfast though — providing you're not too fussy about continental options — it's definitely the best lounge in terms of quality and selection.
Passenger bridge obstructions aside, there isn't much else criticise, barring perhaps the availability of only one phone/work booth. It's a well-designed space, with friendly staff, which caters to many types of passenger, and it does well to consistently provide a comfortable and relaxing stay.