The Aspire Lounge that we're looking at today opened in late 2019. As a result of the pandemic, it took a few years before I had the opportunity to try it, but I've since visited on multiple occasions and I'm ready to share my opinion.
It isn't the only Aspire Lounge that exists at Edinburgh Airport. There's a sister lounge at the other end of the terminal (gate 4) which opened a few years earlier. I find that lounge quite disappointing; it's small, dreary, and awkwardly arranged, and my assumption was that its younger sibling would be more or less a carbon copy.
Swissport (owners of Aspire) proudly explain however that this lounge is a culmination of everything they've learned over the years, so I was curious to see what (if anything) they'd done to go above and beyond.
As it turns out, the improvements are substantial, and the new Aspire Lounge manages to inject new life to Edinburgh Airport's lounge offerings. Let's discuss how.
Access
There are two ways to access the Aspire lounge, neither of which are dependant on airline status or cabin class. This first by showing your Priority Pass, Diners Club or DragonPass membership. Alternatively, you can pay £34.99 upon entry, or ahead of time via the Edinburgh Airport website. This gets you a 3-hour stay at £9 less than the equivalent duration at the neighbouring Plaza Premium lounge.
If you're paying, staff will reserve a table for you. Keep in mind though that this won't necessarily guarantee you a table in the dining area, as during busier hours there may only be coffee tables and lounge chairs available.
Where is the lounge?
You can't really go wrong in terms of getting there, providing you know to head in the direction of gate 16. It's a short, well-signposted walk from duty free, past the entrance to Pret a Manger, and up the steps or elevator to the reception area.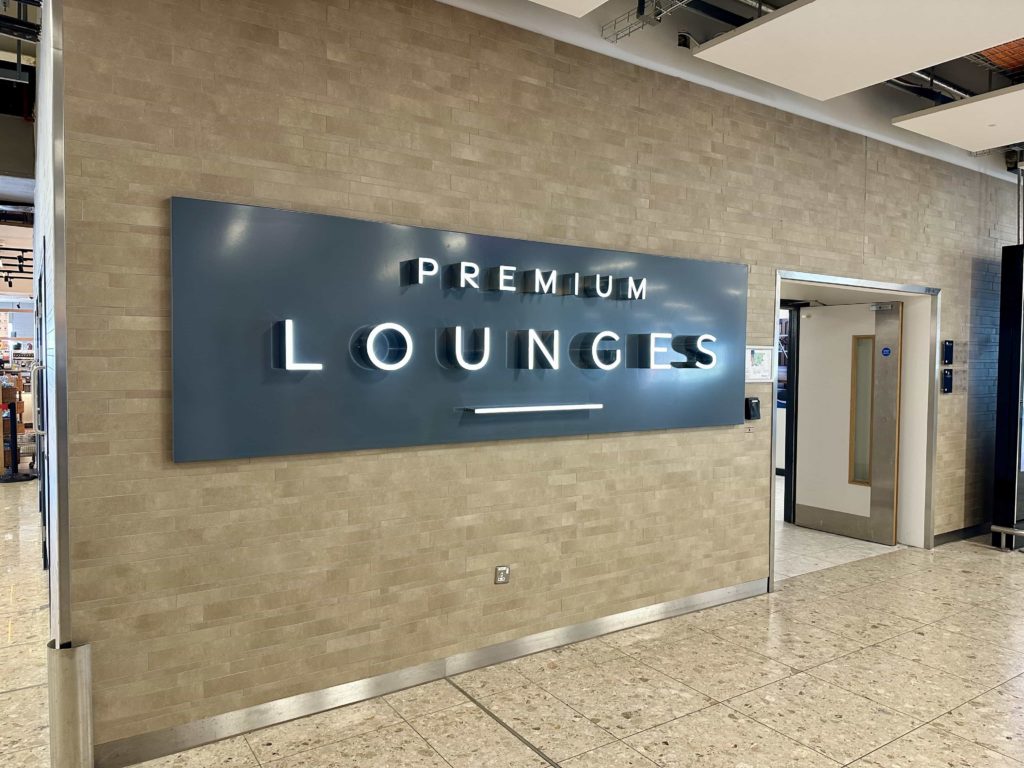 Arrival
With four lounges in a single terminal, you might assume there would be ample capacity even at the busiest of times. My first visit to Aspire gate 16 didn't get off to a great start however: the lounge was at capacity and I was sent to gate 4. In fairness, the airport was particularly busy (despite being after the typical July-August peak), and the circumstances may have been exacerbated by the draw of the lounge's newness.
If like me, you have to resort to the older Aspire Lounge, I empathise. Enticed by the inviting and comfortable ambiance of Aspire at gate 16, you instead find yourself in the slightly depressing environment that is Aspire at gate 4. Fortunately, that lounge at least has essentially the same food and drinks options.
Alternatively, if you have Amex Platinum, you could try Plaza Premium next door, since cardholders have complimentary access. That's a much better option.
The space
I really like the layout of this lounge. It's small, but well thought-out and feels bespoke for the space that it's in. Aesthetically, it doesn't share much in common with its counterpart at gate 4, and indeed does feel more 'homey' — a characteristic that the designers were going for. There's trendy, dark green Victorian panelling, brass fixtures, walnut timber and locally-inspired artwork throughout. The whole space is complimented by elegant ambient lighting, which is nice touch, particularly in the early hours that I typically visit.
There's seating for 130 that will suit most people's preference, including benches, lounge chairs, sofas and armchairs. As long as it's not prohibitively busy, I'll typically sit in the more formal dining area to grab some food, before heading around to the quieter lounge section to relax. It's all very comfortable, and most tables offer a reasonable amount of personal space thanks to effective partitioning.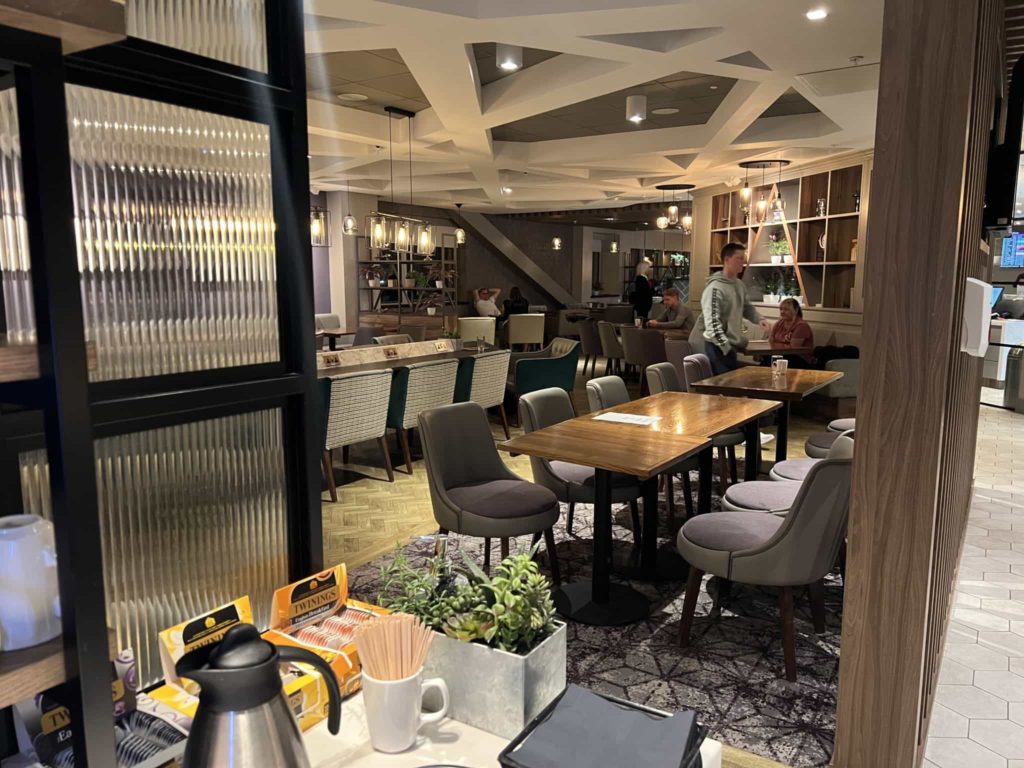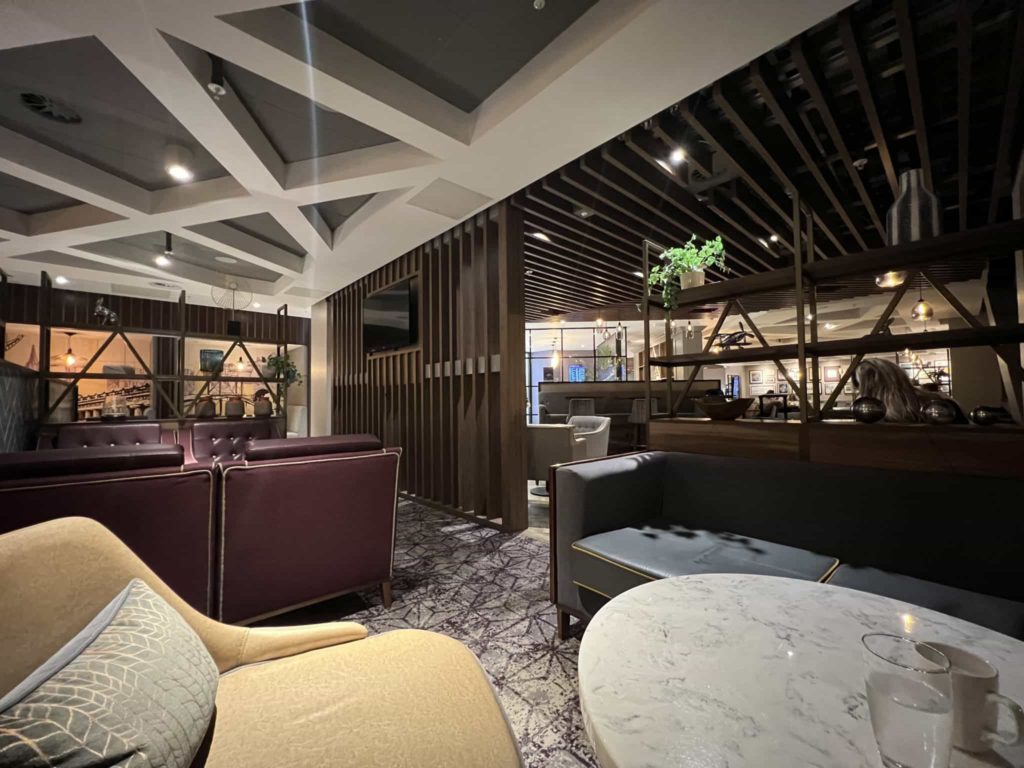 Being one floor up from the main terminal helps the sense of seclusion, and gives an almost penthouse feel. Sadly though, while you can just about see the runway, views of the apron are obstructed by the protruding terminal building below.
Another feature is the three booths to the right of the entrance as you go in. Enclosed on three sides, these serve to provide slightly more privacy for those who want to get some work done. Unfortunately though, they aren't enclosed enough to take a phone call without disturbing others; if anything, they amplify the noise.
I should highlight that while the description on the Executive Lounges site gives the impression that there's separate family and work booths, they're exactly the same as far as I can tell.
Food & drink
As with the rest of the lounge, the food and drinks area is clean and tidy. There's a small bar area serving complimentary wines, beers and spirits, including locally-inspired SPEY whisky. Prosecco and champagne are available for an extra charge. Other options include coffee, fruit juice, and soft drinks available on tap. During my last visit, I had to bring the staff's attention to the watery coffee and orange juice that the two machines were serving. On that occasion, staff resolved the issue with a quick refill, but the following week both machines were out of order.
The breakfast buffet includes most of what you'd expect in terms of continental and cooked options. That is: sausages (vegan alternatives available), hash browns, scrambled eggs, bacon, tomatoes and beans, as well as pancakes, pastries, breads, cereal fruit, and yogurts. No complaints about the quality of these items, although the pastry and fruit options are fairly limited, and the gluten-free chocolate cake comes in a packet, which feels a bit 'grab and go'.
From noon onwards, a selection of salads, cold cut meats and cheeses are available from the deli counter, as well as a range of hot dishes (including vegetarian and vegan options). I've only visited for breakfast, so can't comment on the quality of these items. Unfortunately there doesn't seem to be any desserts — only bakery goods, crisps and biscuits.
Anything else to note?
The standout feature of this lounge is the availability of charging points. You'd be hard pressed not to find one, no matter if you're sitting in the dining, lounge or booth areas.
Newspapers and magazines are available in physical form within the lounge, and additional digital content can be accessed by visiting PressReader on your mobile device.
During a previous visit, I couldn't help but notice someone in a nearby booth watching a TV show without headphones. At the time, I thought it a bit obnoxious, but later noticed that the Executive Lounges site indicates that personal TVs are available within the family booths. If you're travelling with kids, the novelty factor might serve to keep them entertained, but please give them headphones.
Conclusion
Overall, I have very little to criticise about the new Aspire lounge. Aside from some minor hiccups with the coffee and soft drink machines, I've found it to be a pleasant lounge to frequent. If you're a lounge program member, chances are you'll be quite happy with what this lounge has to offer.
Personally, if I didn't have Priority Pass, I don't think there's many non-airline lounges I'd be willing to shell out for (unless for an extended layover), and this lounge is no exception. That's not to say you shouldn't, but whether it's worth £40 is something you'll need to decide.
If it's food you're after, you can probably do better elsewhere in the terminal for the same price; the Plaza Premium lounge next door also delivers more in this regard. But if you've got some work to do, and you want to get away from the busy terminal below, it's a strong option.
Overall, I'd score the Aspire Lounge (gate 16) at Edinburgh Airport 7 out of 10.