Well, this is a novelty — a rare opportunity to review a brand-new hotel. It's so new in fact, that when I booked it, there wasn't a single review to be found, whether on Google or elsewhere online.
I've got Oktoberfest to thank for this. The annual festivities meant that finding a reasonably-priced five-star hotel for a recent trip to Munich was basically out of the question. As such, I had to look at other options. Ordinarily, I'd be disappointed, but I already had a fallback in mind.
Enter the Munich Marriott City West, a four-star hotel that opened its doors in early September, boasting just under 400 rooms. Positioned as a venue for both corporate and social events, and as a welcoming retreat for leisure guests, Marriott envisions it as a versatile destination.
Booking and price
I booked a "Deluxe King" room through Booking.com for £177 per night, and stayed for five nights.
Location
There's much to appreciate about this hotel, and I'll delve into those aspects shortly. However, let's begin by addressing the one concern I had before my stay: the location.
Located on the west side of Munich, the hotel is situated adjacent to the train tracks leading to Munich Central Station, in between Hirschgarten and Donnersbergerbrücke. While seemingly convenient, its position places it equidistant between both stations, necessitating a roughly 15-minute walk to either one.
On the positive side, all of the train lines service these stations, all train lines serve these stations, providing convenient access to and from Munich Central Station with short journey times. Unfortunately, the journey to the airport is a lot longer, taking 1 hour and 20 minutes by public transportation, since the airport is to the north-east. A taxi ride will get you there in around 35 minutes.
In regard to landmarks and points of interest, the western part of Munich is predominantly residential. Notable sites such as Nymphenburg Palace are located vaguely in the vicinity, but require a 45-minute walk. Similarly, Marriott highlight Theresienwiese, the site of Oktoberfest, but this also takes around 40 minutes by foot. Nevertheless, the presence of nearby trams offers relatively convenient access to most destinations.
Otherwise, the location is quite ok. There are restaurants nearby, supermarkets within walking distance, and greenery, such as Hirschgarten, not too far away. So although the location is a downside, I certainly don't consider it a dealbreaker.
Check-in and first impressions
Except for more modest establishments, one would typically anticipate a hotel entrance to be positioned at the front of a building, or at the very least, easily discoverable. In this particular instance, however, I found myself in a bit of a search, assuming that locating the entrance surely wouldn't entail walking past the restaurant, garage entrance, and around what appeared to be a service road. Yet, that's precisely where I found it.
This positions it adjacent to the train lines, which isn't a problem per se — the sound isolation is good — it's just a bit unconventional. However, it's worth noting that construction in the area outside the hotel is still underway; once the final touches are completed, the entrance may feel less like a back entrance.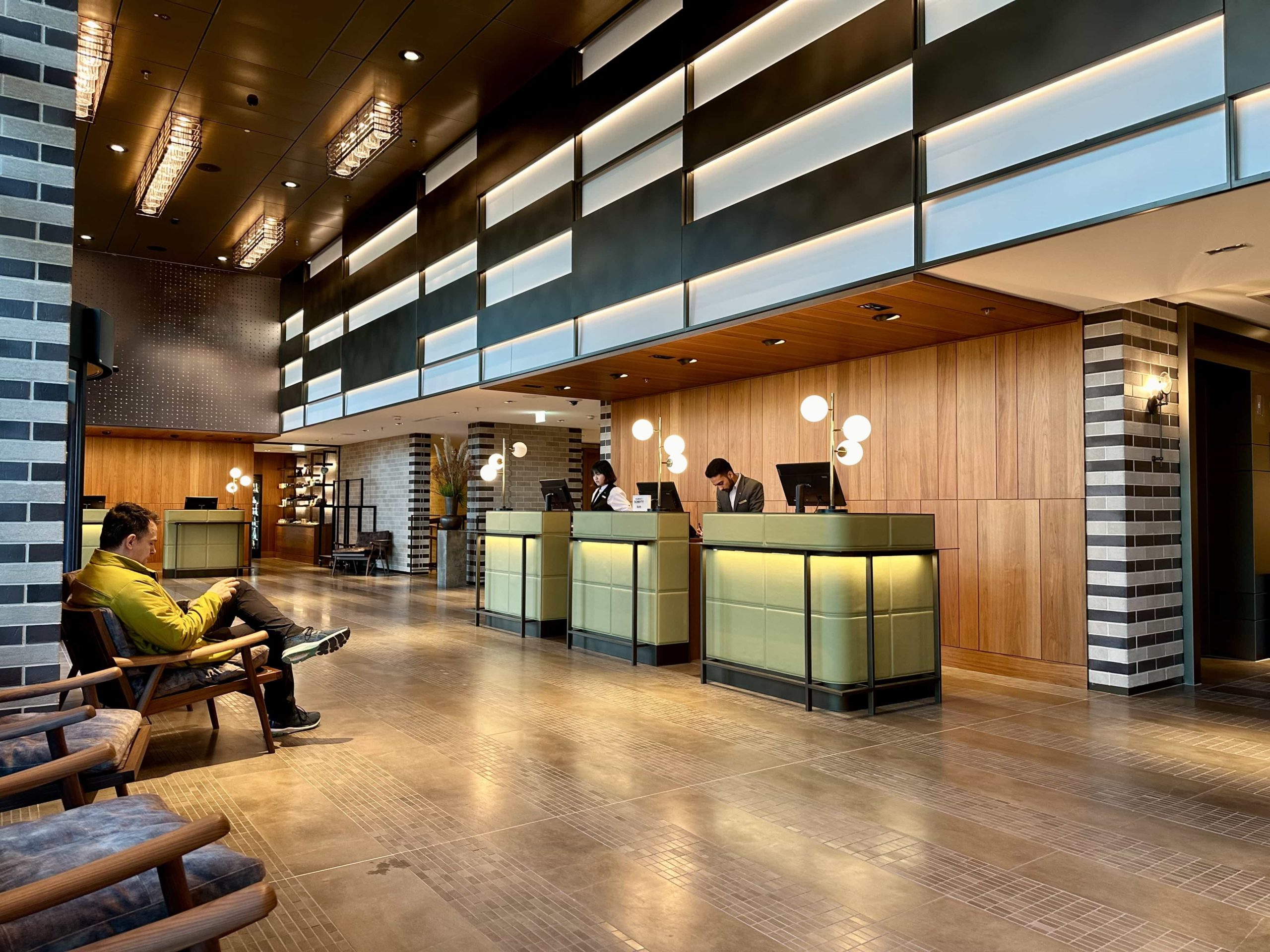 Inside, everything is as you'd expect — modern, stylish, though possibly lacking a touch of inspiration; it's a fairly run of the mill contemporary design. Still, it's not as if you'll be spending much time in reception, so that's a very minor criticism.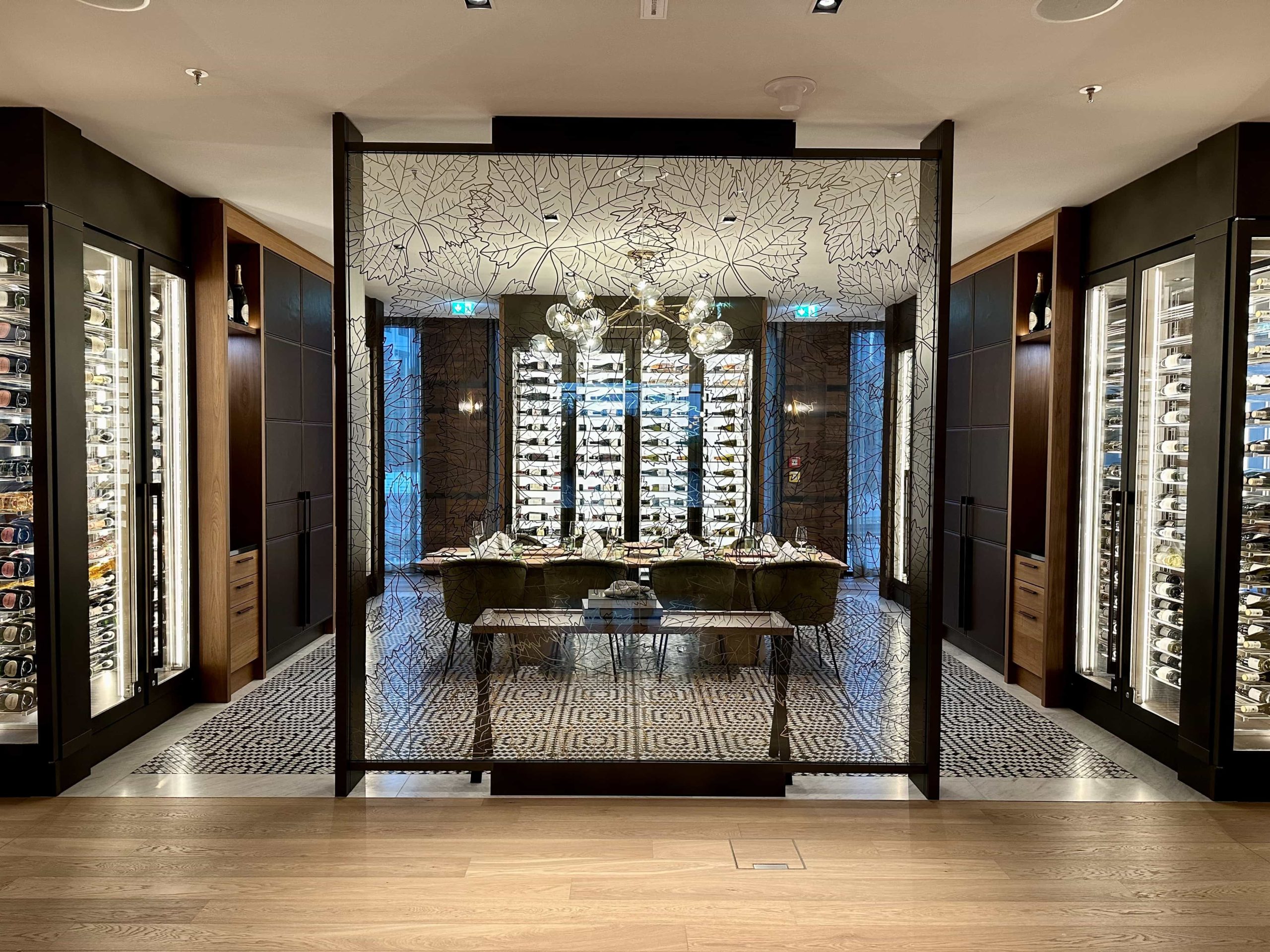 And anyhow, as you move further inside, things really liven up. Past the elevators, you encounter the westhub bar, designed to foster connections among guests and serve as a social hub. While the concept might sound like marketing jargon, I can actually see what they're getting at. Although I didn't visit it, I couldn't help but notice how striking the bar area is, it caught my eye on multiple occasions as I walked by — it's very suave.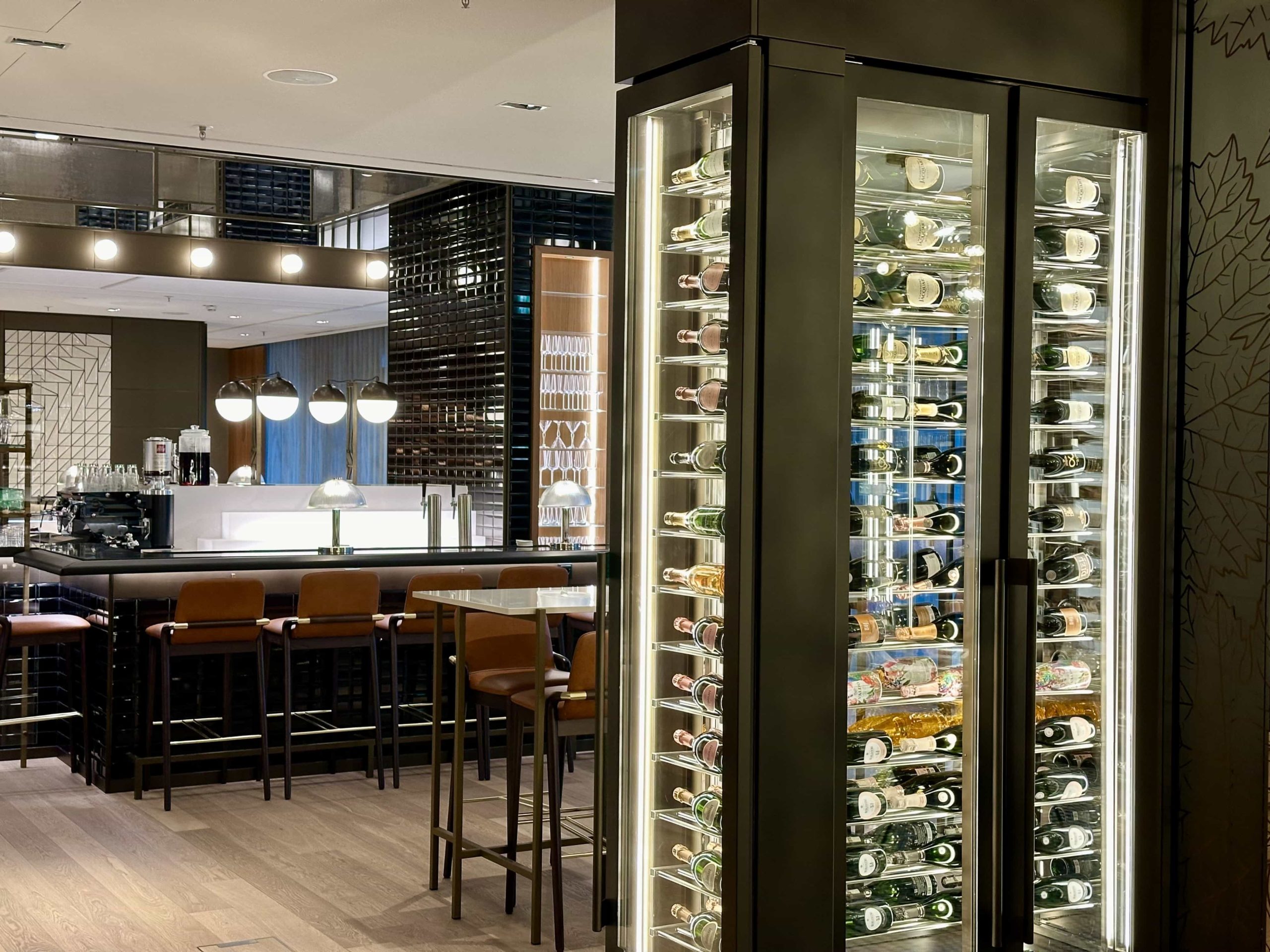 The bar area is, in fact, part of a larger "great room lobby" concept. This is really interesting, and I think it's an apt description, it really does resemble a great room in terms of it's position in the centre of the building, the raised ceiling, and the lounge-like decor and furnishings. It's quite beautiful, and serves as a great place to spend time, either to grab a drink, or as somewhere to work from.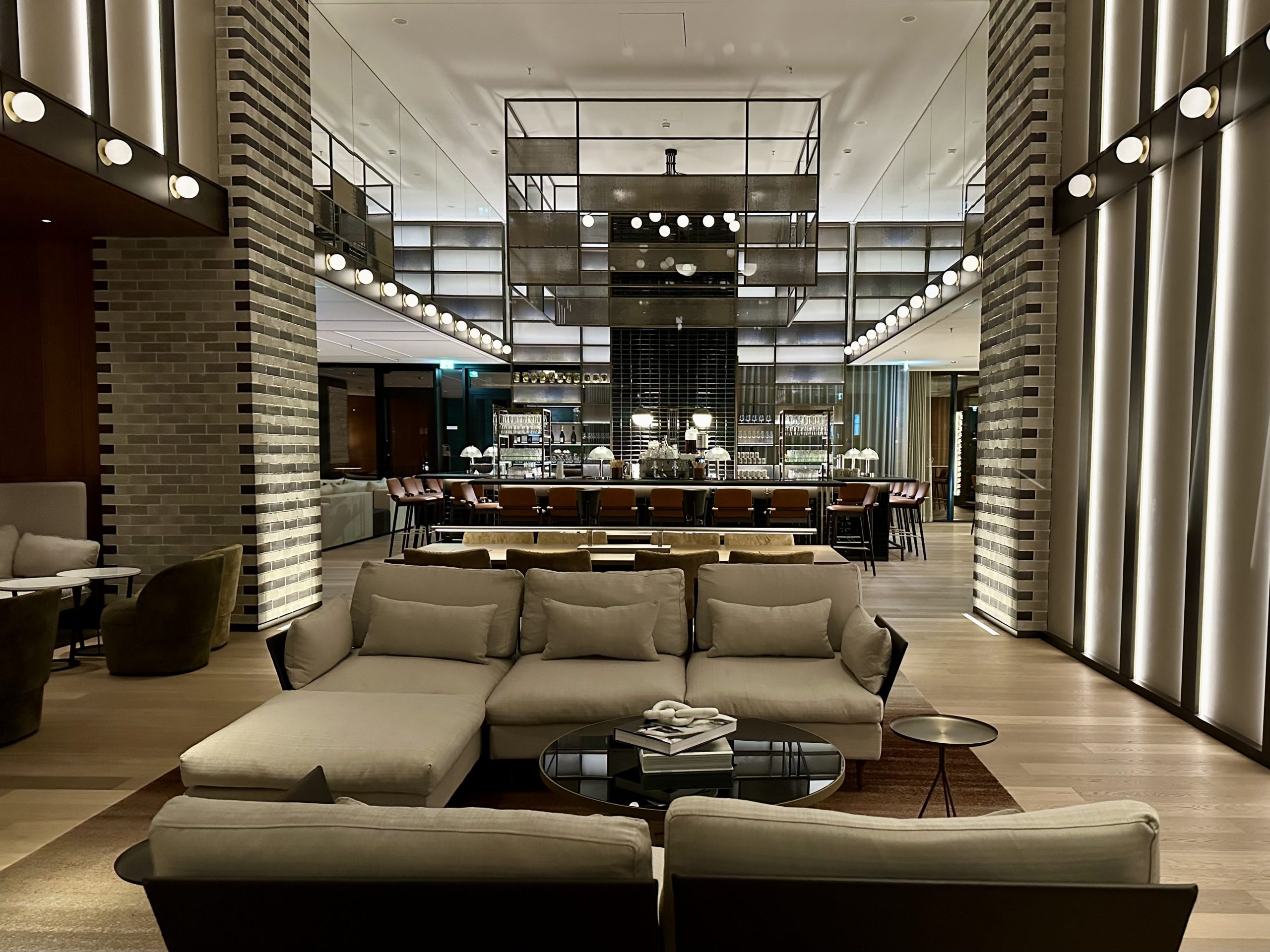 Marriott characterises the interior design as locally-inspired, drawing from industrial heritage, evident in the use of metals and brick. However, I personally interpreted it more as a fusion of Japanese aesthetics with a modern take on Victorian influences, particularly noticeable in the rooms. Whatever the case, it's very nice.
Check-in was a great experience. The moment I entered, the attentive staff member immediately noticed and warmly welcomed me over. It was also one of the swiftest check-in processes I've ever experienced, earning top marks for both friendliness and efficiency.
Room
Prior to my arrival, I hadn't looked too closely at images of the room, putting my faith in Marriott to deliver. As such, stepping into the room truly represented my first impressions, and impressed I was. The unmistakable scent of a new hotel greeted me, as did the tasteful decor.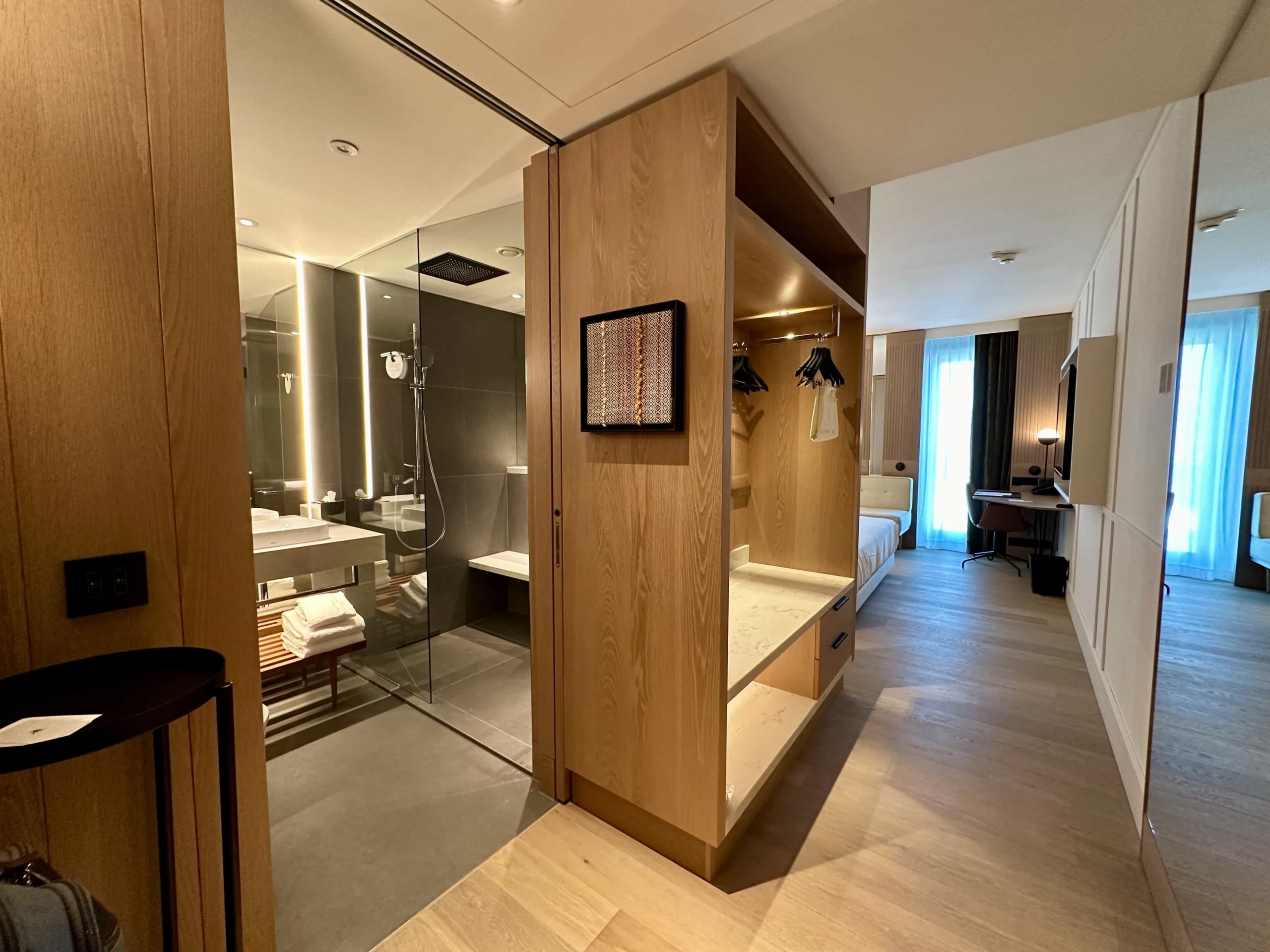 I like these rooms a lot. They skilfully blend modernity with a touch of decadence, a combination that I haven't really encountered elsewhere. A prime example is the placement of lion heads just above the ultra-modern chaise lounge, reminiscent of the adornments you'd find on the entrance of a grand Victorian building.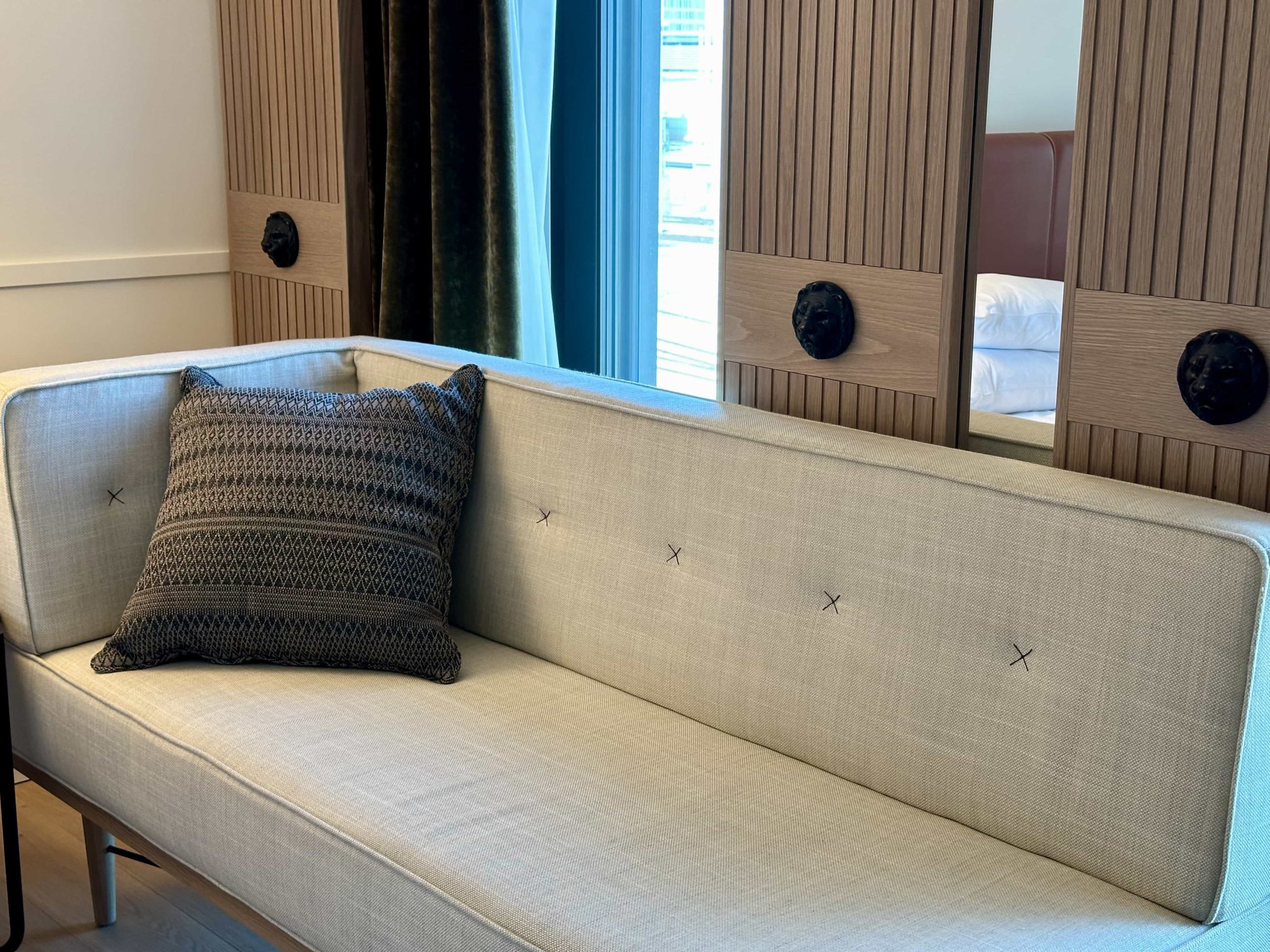 These decorations are inspired by the lions of the Munich Residence and are said to "bring good luck to guests that stroke them" — though it isn't clear who's been saying that, so maybe don't count on it. The elegant white moulding on the walls further reinforces the subtle Victorian aesthetic.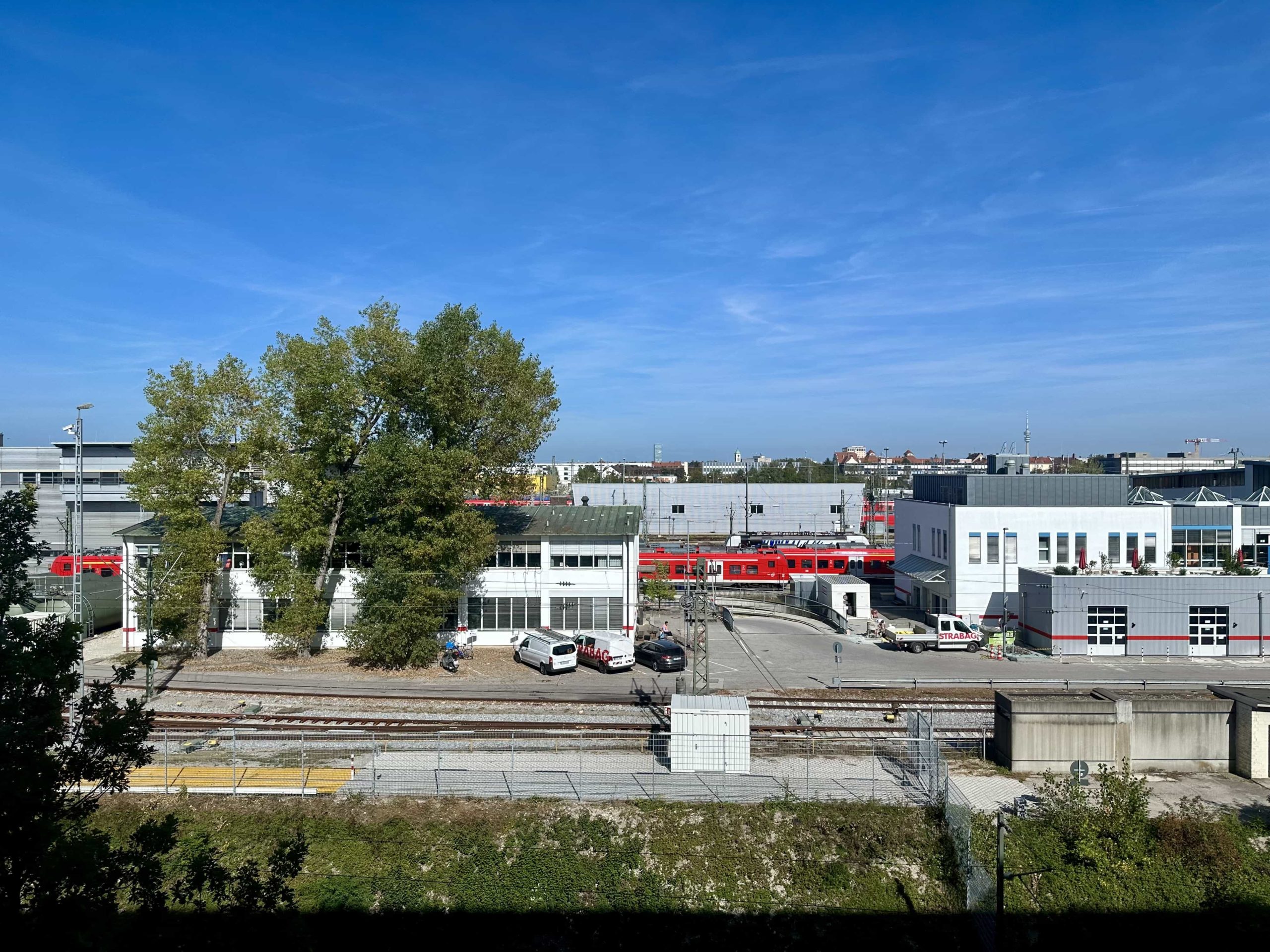 Perhaps I would have liked slightly larger windows, instead of the two narrow floor-to-ceiling ones, but presumably this design aimed to mitigate the less-than-appealing view of train tracks and industrial buildings. Regardless, there was enough light to where this wasn't an issue.
Whereas I was frustrated by the overly-designed rooms in the Sofitel I had stayed at in weeks prior, I found the minimalism of this room contributed to a more relaxing and comfortable stay. Everything is thoughtfully considered — the desk is a good size for working, the storage area for clothes and shoes is practical, and the bedside tables are large, with ample sockets nearby.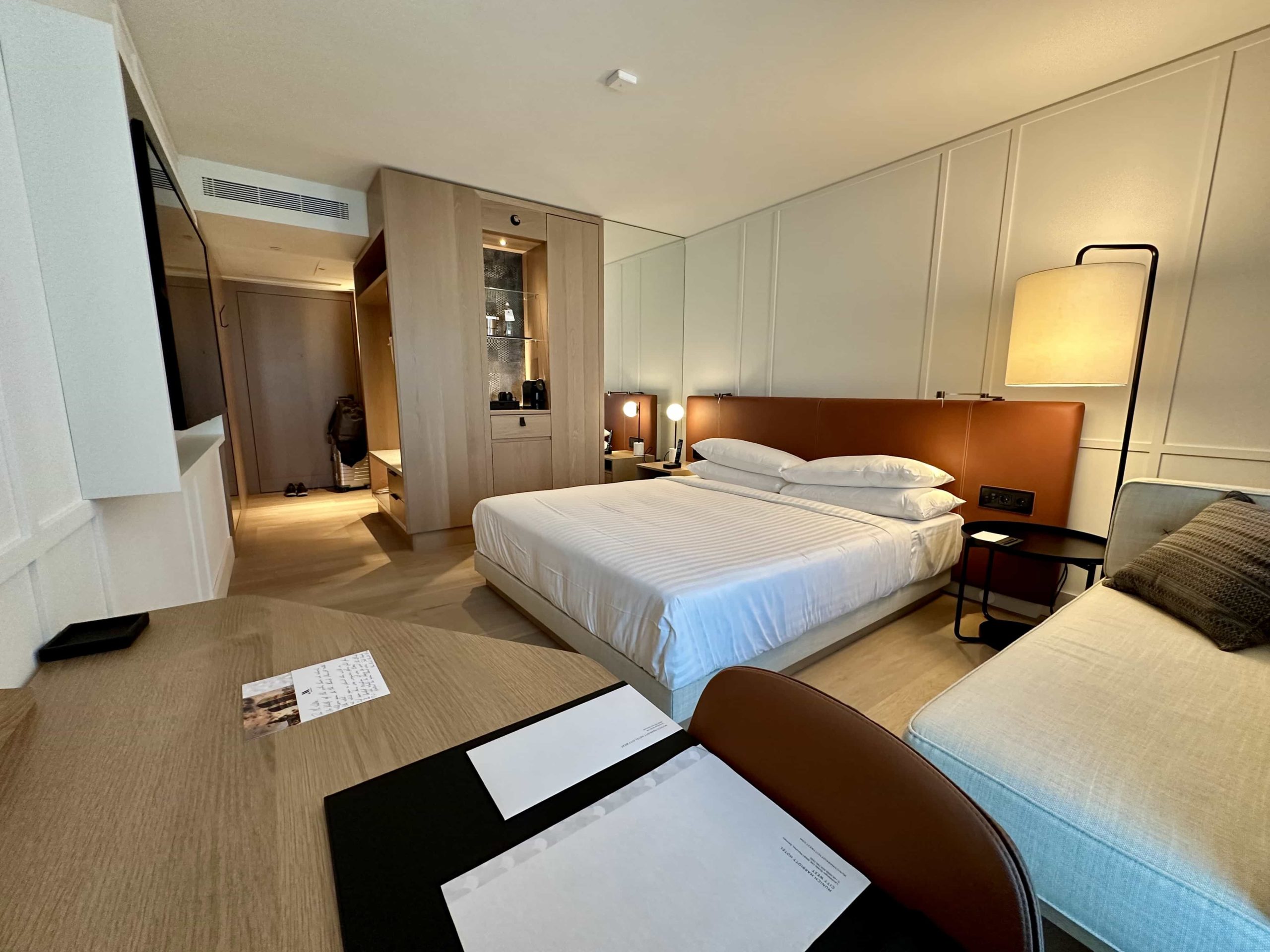 Admittedly, I found the bedding less comfortable than that of the Sofitel. It's still plenty comfortable for a good night's sleep, but doesn't quite have that five-star plushness. Additionally, I noticed that the room was a little stuffy. Adjusting the temperature controls down to 19 degrees helped, but it still seemed a little warmer than expected, even at this low temperature.
The automatic night lights, while a good idea in theory, proved to be slightly frustrating in practice. They're just too sensitive, such that even the rolling over in bed triggers them. This is a problem, because given their brightness, they can easily wake you from a light sleep.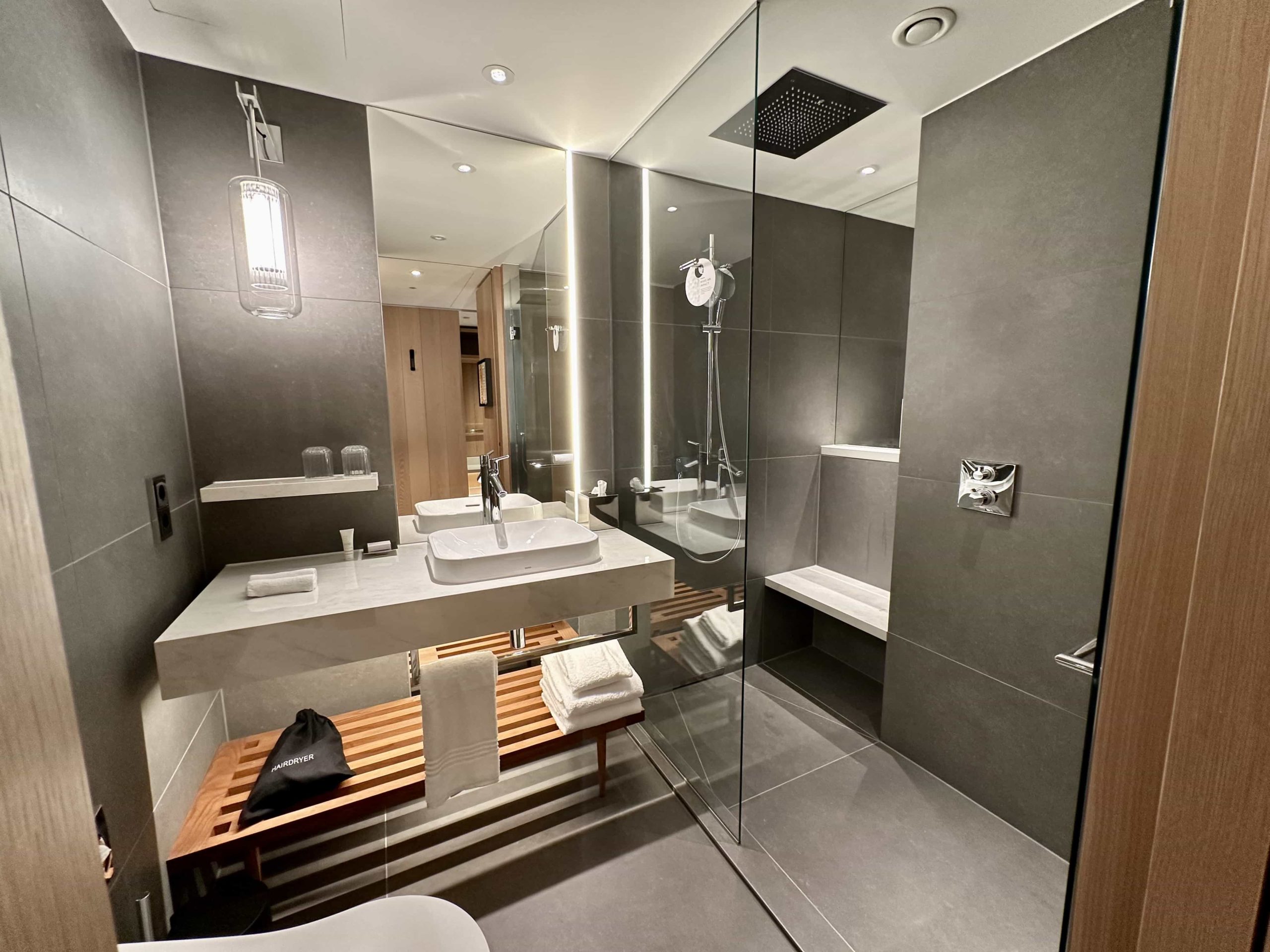 The bathroom stands out with its sophisticated design, incorporating a dark decor that contrasts with the bright tones in the rest of the room. And let me tell you, it was impeccable. Genuinely, I might have been the first person to stay in this room, because there wasn't speck of dust in sight.
Again, the simple things are done right. The countertop offers ample space (with convenient storage below for easy access to towels), heated tiled flooring, a large illuminated mirror, and an excellent walk-in shower. Said shower features a massive rainfall shower head, which quite frankly I was concerned about drowning under, but the flow rate is actually quite comfortable.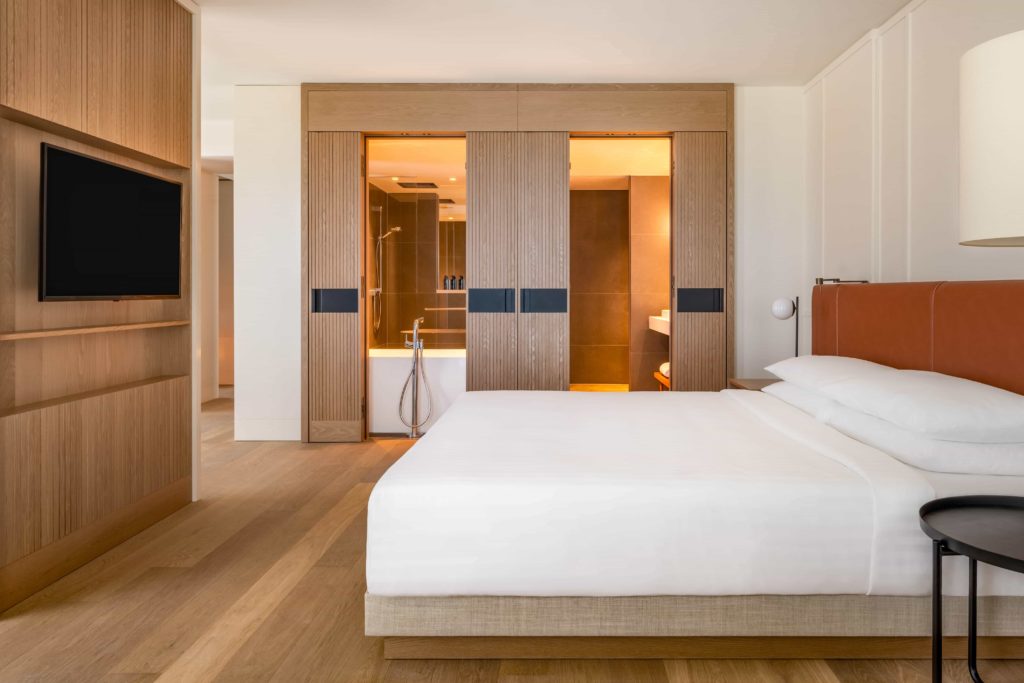 Overall, a very well-designed room which served me well during my stay. It's worth also checking out some of the premium rooms; judging by the images online, some of those look very impressive. Marriott was going for a "residential feel" and the designers have nailed it, even more so than many apart-hotels I've visited.
Dining
Dinner
Regrettably, I didn't have the chance to experience the restaurant for dinner, although there are several options available.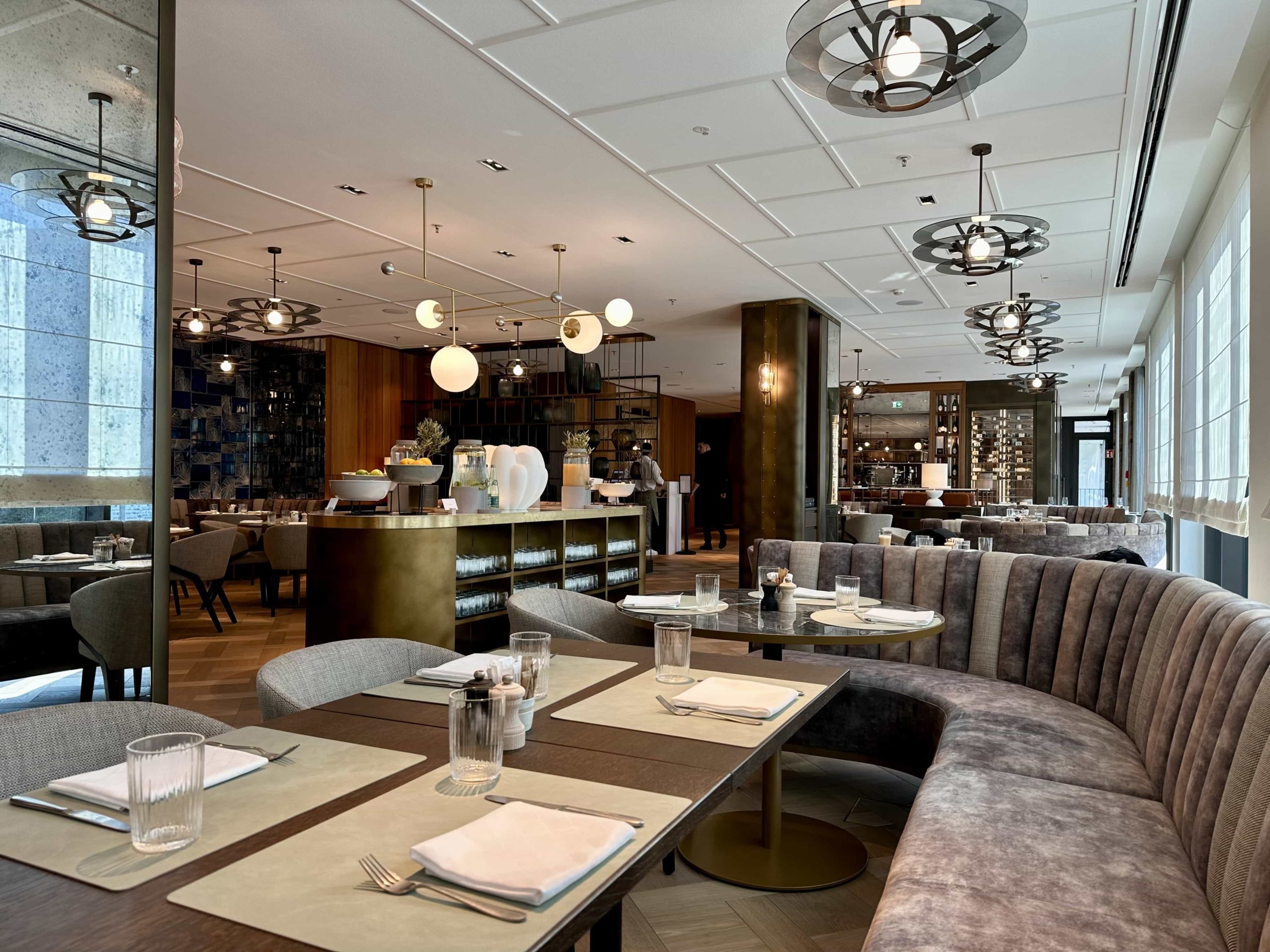 I had room service, which I will detail in a moment, but for table service, you'll want to visit Assoluto Ristorante & Vineria. This Italian restaurant offers a menu featuring all the classics, complemented by a wine room boasting over 150 selections. This is intended as a private dining area for tasting experiences and intimate gatherings.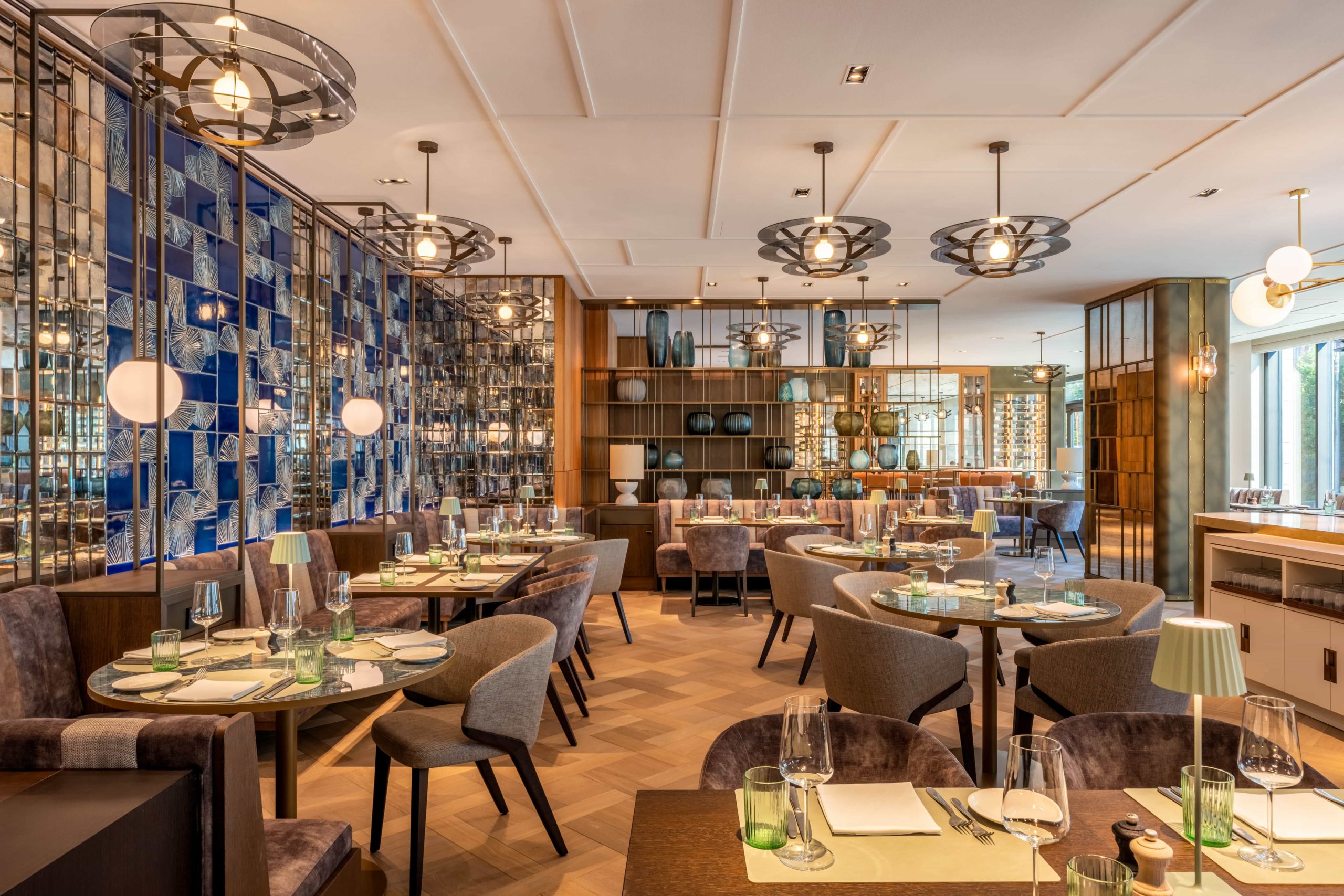 Apparently there's another spot called Italian Assoluto Caffe, which serves lunch, takeaway options, and coffee. I noticed it during my stay, but didn't realise it was a distinct establishment, as it is essentially a subsection of the main restaurant venue.
Room service
As for the room service menu, I had hoped for more in terms of the selection. It's quite a barebones menu, which is only really adequate if you're ordering room service on one or two occasions, or are happy to have the same dishes over and over.
Fortunately, the quality makes up for this somewhat. Although the chocolate brownie I had was rather bland and a bit stale — and was only one of two desserts on the menu — the starters and main courses were excellent.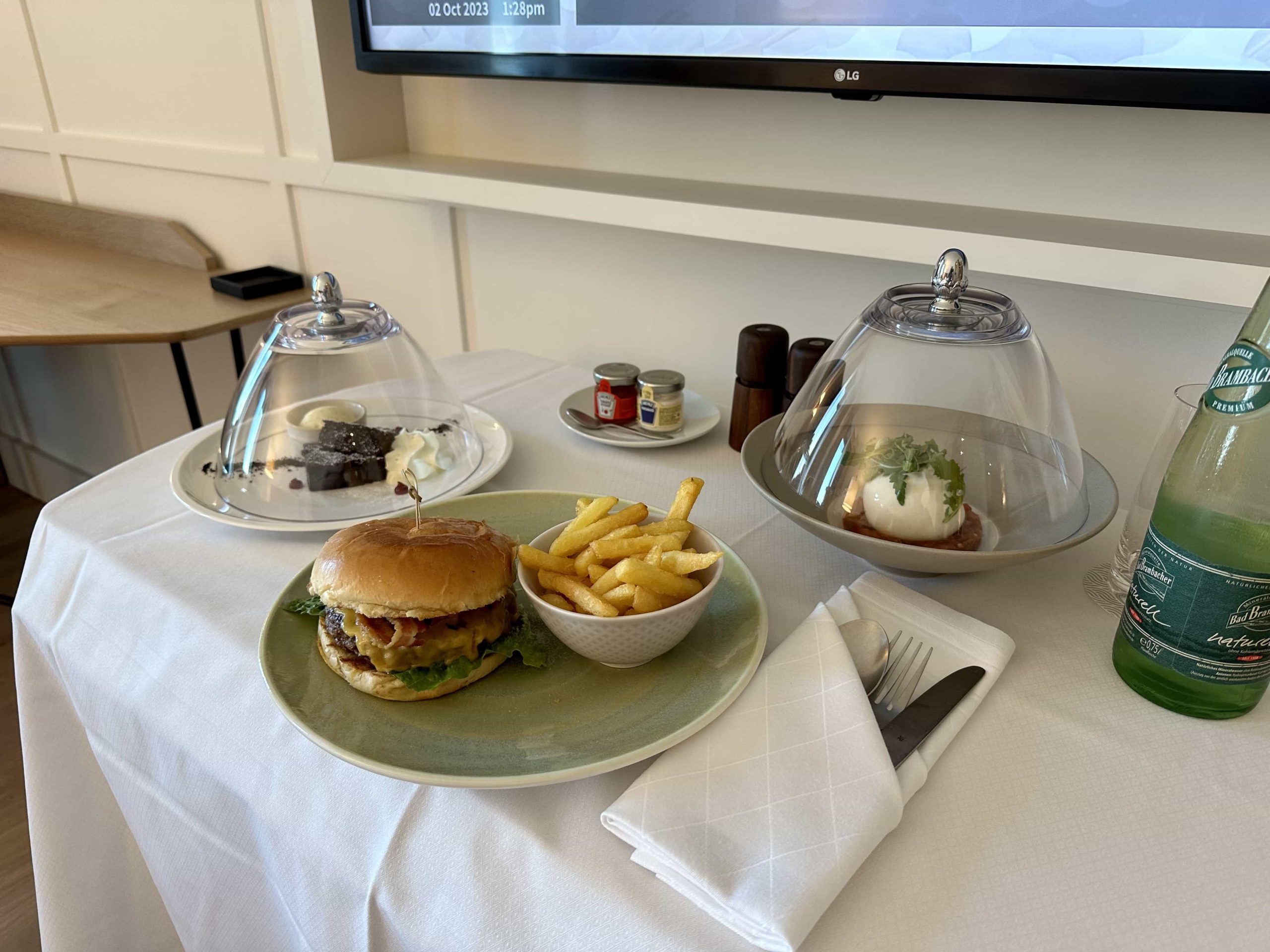 In particular, the burrata stood out for its freshness, complemented by the artful preparation and presentation of the tomatoes. The Marriott burger was also delicious — a classic cheeseburger, but with just the right patty to bun ratio, great texture, and strong flavour. Additionally, I'd also recommend the chicken breast, which is paired with incredible parmentier potatoes.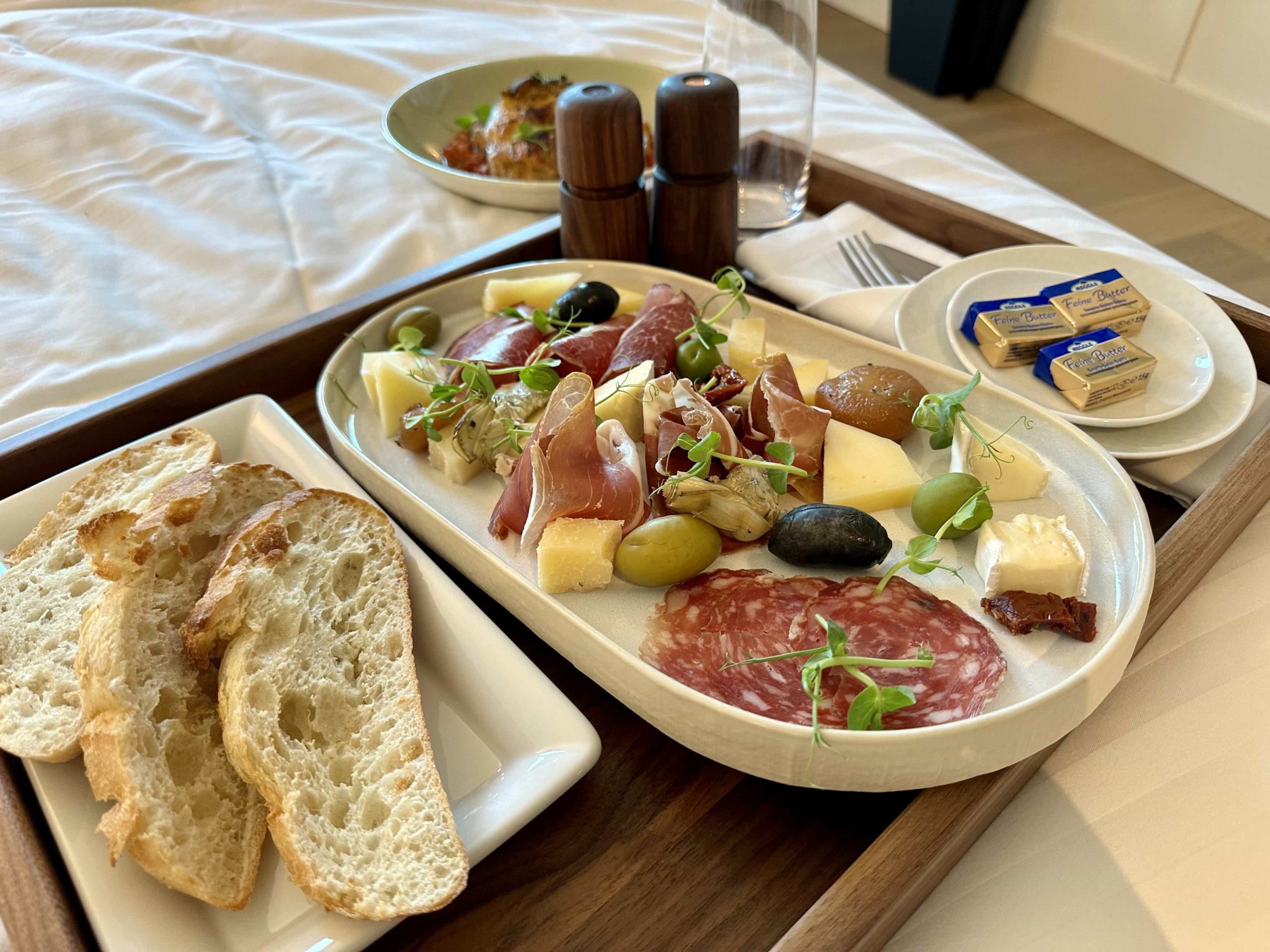 I did have some hiccups when it came to actually ordering room service. The overarching issue is that the room service extension just wasn't working — it would never connect. After reaching out to reception for assistance, I was impressed by the receptionist's interest in resolving the issue, rather than assuming user error. She also took my order and passed it onto the restaurant for me, which was appreciated.
The next day though, I had less success. Unfortunately, the person on the other end seemed unfamiliar with the menu, struggling to identify the dishes I requested. Not to mention, the line kept disconnecting every 30 seconds or so. Just a teething issue I assume, and we got there in the end.
Breakfast
Breakfast is served within the restaurant, and it's a buffet affair. I found the selection and quality to be impressive, akin to the offerings I've enjoyed at Munich's five-star hotels.
Upon my arrival at 9:00 am, the restaurant was relatively quiet, with only a few other guests present. In fact, the overall ambiance of the hotel seems subdued at the moment, suggesting it's not operating at full capacity.
This worked to my advantage, as the service was excellent; I didn't have to wait long to put in my coffee order, and halfway through my breakfast, one of the waiters stopped by to check if everything was well. This was well-timed, as I sought help in identifying the regular milk among the assortment.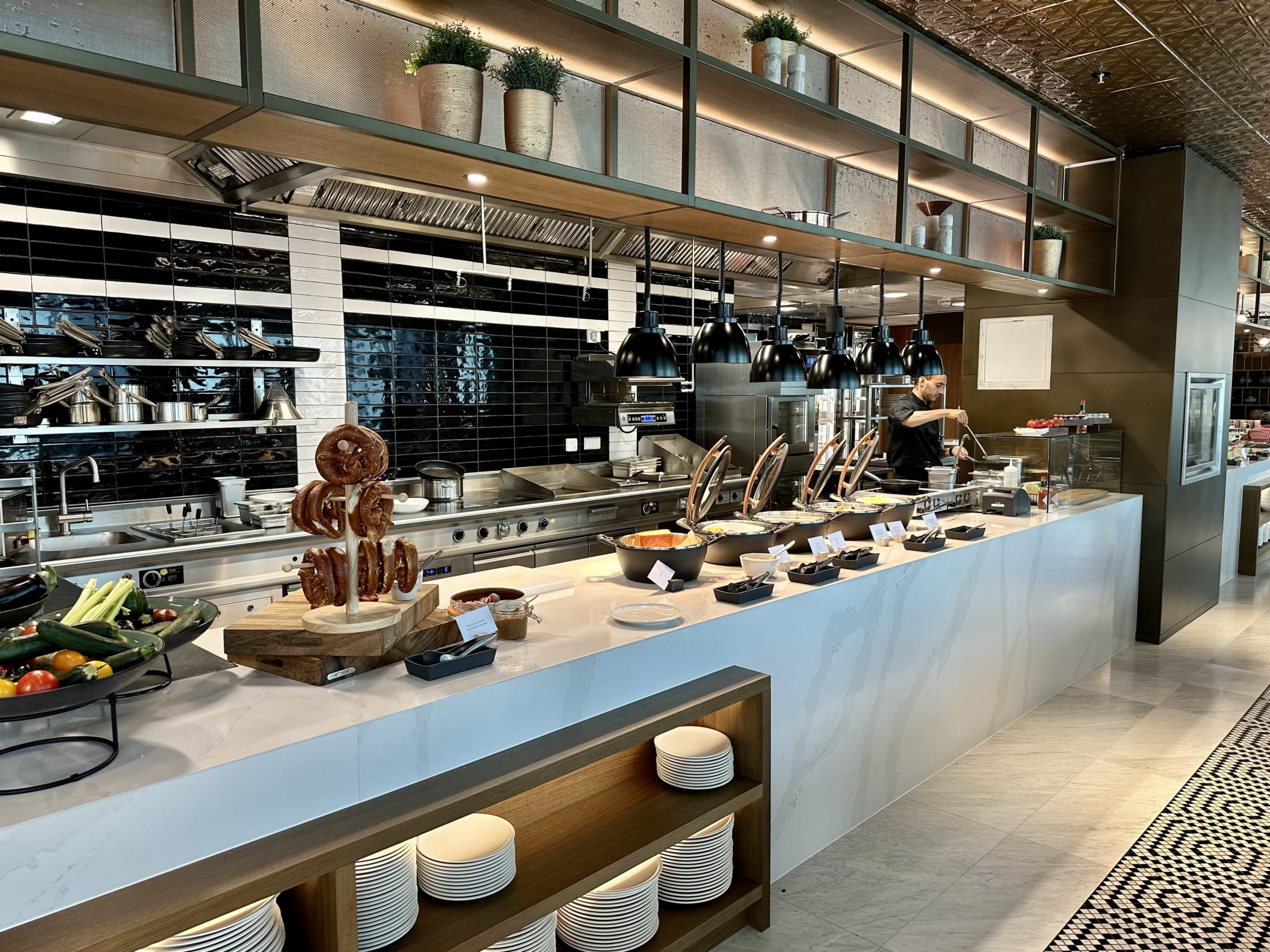 The cooked breakfast selection consisted of the usual staples: chicken and pork sausages, eggs, tomatoes and more. An omelette station provided made-to-order options, and I assume other dishes could be requested from here as well. I was also impressed by the continental selection, which featured a nice range of pastries, baked goods, cereals, fruits, and yogurts. Everything was impeccably presented and appeared very fresh.
Gym
As I mentioned in a couple of recent reviews, I've found the gym facilities in some other Munich hotels, even the five-star ones, to be lacking. Whereas those fell short across the board in terms of equipment and space, this new Marriott delivers.
The gym is spacious, well-equipped, cooled to a comfortable climate, and impeccably clean and tidy. I visited at around 7am, and it was empty but for one other guest. s you'd expect, all of the equipment is state-of-the-art, and there's enough of it for a hotel of this size.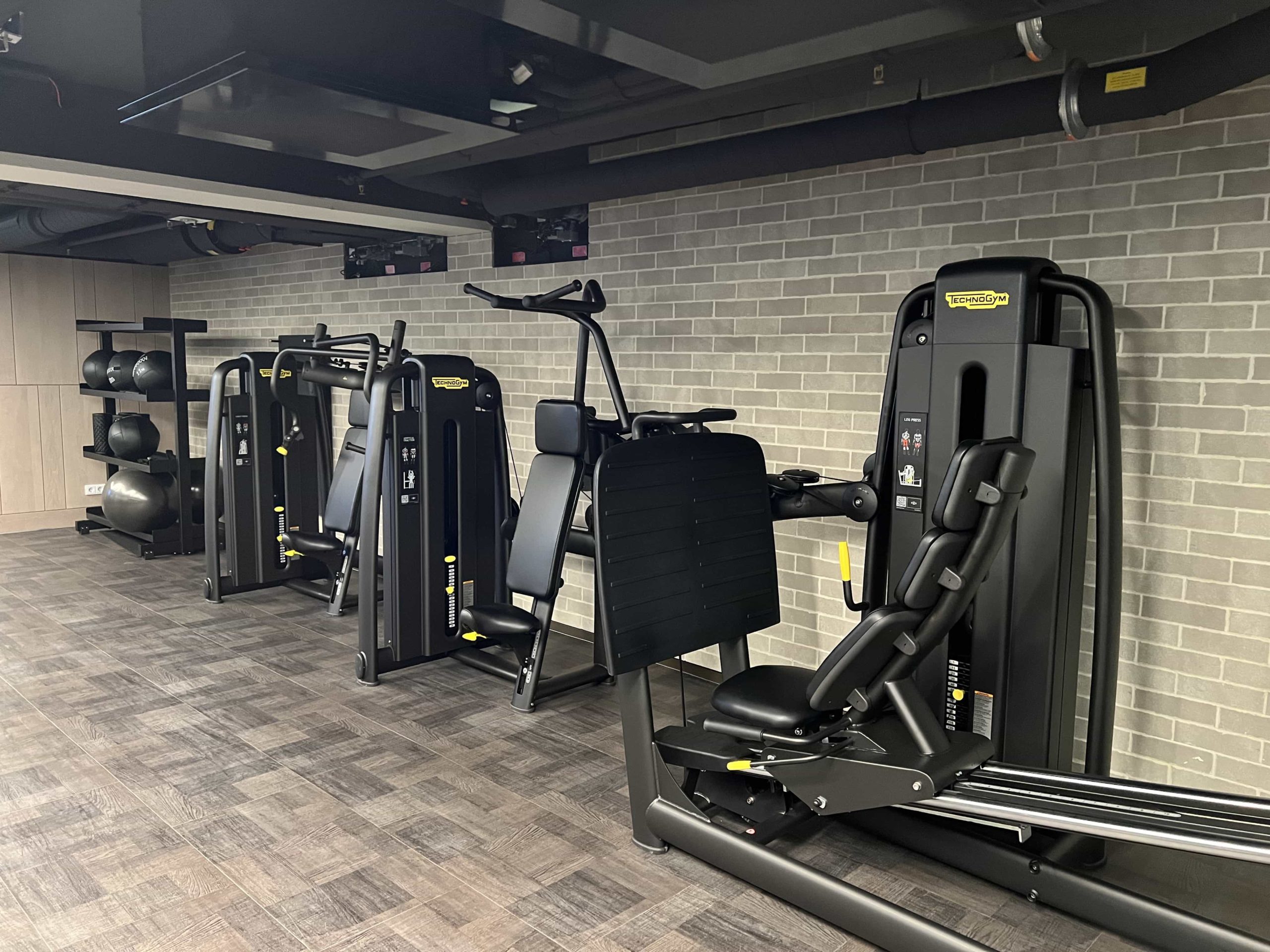 For cardio workouts, the gym offers five treadmills, two stationary bikes, and an elliptical machine. In terms of weight training, there's a cable machine along with the standard array of dumbbells, as well as rollers, medicine balls, and exercise balls.
I did have a somewhat precarious encounter with a treadmill. While sprinting at 14 km/h, the treadmill fell off some kind of stand, which should have been retracted. Apart from that incident, all the other equipment worked flawlessly. It's a pity I came away unscathed really, that would have presented the opportunity for a nice lawsuit.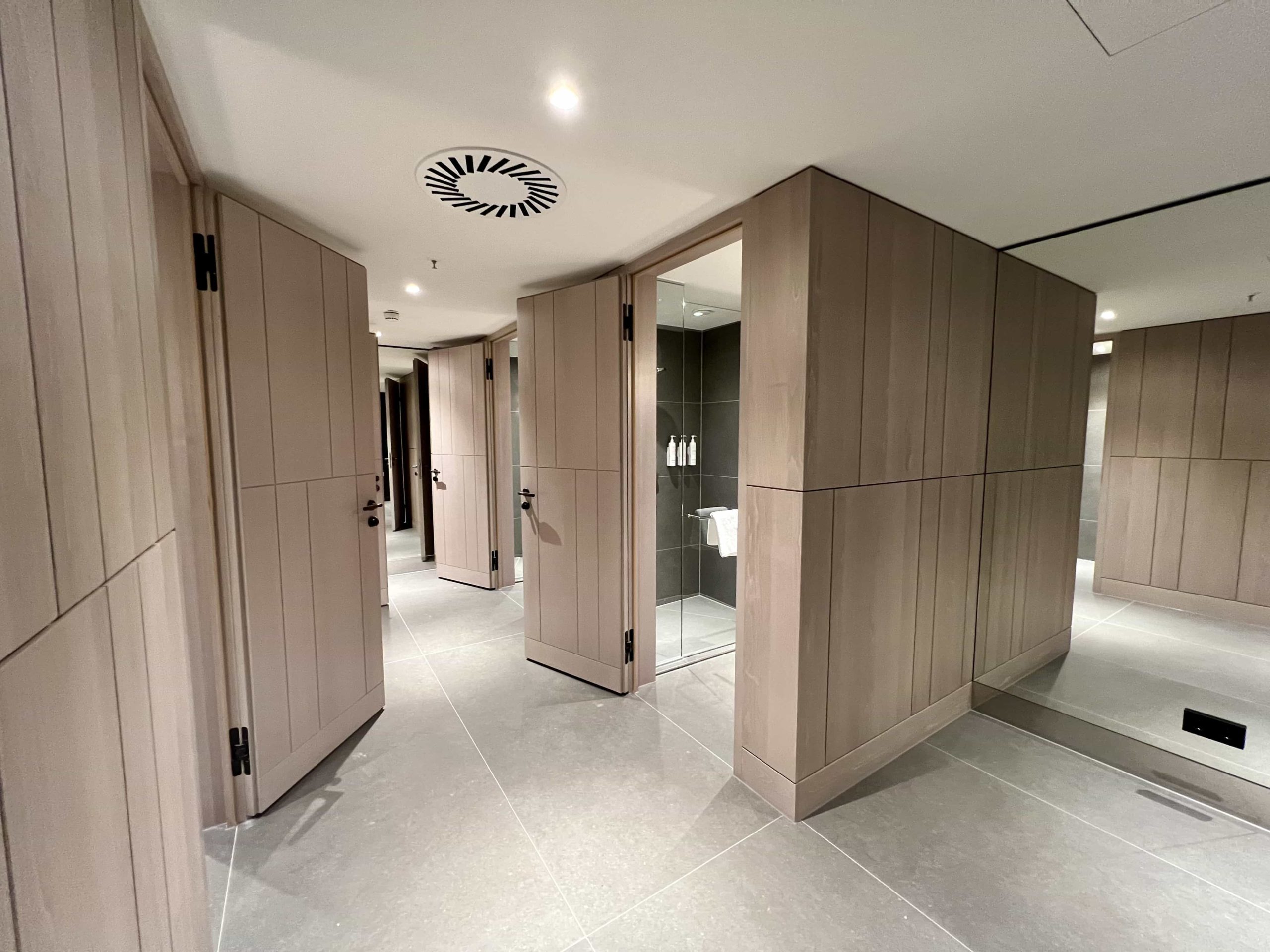 I was also pleasantly surprised to find spacious locker and shower facilities. I figured, being that the hotel has no spa, the shower facilities may be minimal. But no, there are four large shower suites, plus an array of lockers. This did remind me however about the absence of a spa, which is a real shame, as it truly would have been the icing on the cake.
Anything else to note?
Staff
While I've highlighted a few individual interactions with staff, I want to emphasise the exceptional service provided by the staff as a whole. Across the board, they are not only friendly but also highly competent. Their warm and characterful approach adds a touch of warmth and to a hotel which is primarily business-oriented. Of course, their challenge will be to sustain this level of service as the initial "new hotel energy" wears off, but they're off to a great start.
M Club
Something I didn't get the opportunity to experience is the hotel's M Club, located on the 7th floor. M Club is Marriott's lounge for guests who have Platinum Elite status or greater, or those who are staying in premium rooms.
Amenities include complimentary refreshments, as well as canapes in the evening. As of writing this review, it will open in the next few weeks, and I look forward to checking it out once I hit Platinum Elite status, which isn't too far away!
7th floor terrace
I should also highlight the rooftop terrace on the 7th floor. Although I couldn't access it, I can offer some clarity about its purpose and accessibility. If you've come across the hotel's promotional images, you might be curious about the striking restaurant-like venue perched on the roof, complete with a log cabin structure.
I suspect I'm not the only one who assumed it was a space available for all guests, given its prominence in the marketing material, but it's unfortunately only available for private events. I hope this is something management will reconsider; it would make an incredible rooftop bar.
Conclusion
As you've probably guessed, I would wholeheartedly recommend this hotel. Some minor niggles aside, there is very little to be negative about. Aside from some minor niggles, there's very little to be negative about. The service is exceptional, the rooms are highly comfortable and well-designed, and the dining experience is spot-on.
Certainly, the location is something to consider. If you're here for vacation, you might prefer a more central location. However, apart from the absence of a spa, there isn't much more you could ask for.
It might not be the most thrilling hotel you'll ever visit. It excels in many aspects, but there isn't an overwhelming "wow" factor once the initial impressions of the decor fade. However, I prefer this to a hotel that excels in some areas but falls flat in others.
I'm looking forward to visiting it again to experience some of their other rooms and experience more of the amenities. I'd suggest if it's somewhere you're considering, to go ahead and make a booking — you're unlikely to regret it.