The Sofitel Munich Bayerpost is a distinguished five-star hotel located in the centre of Munich. It's a hotel which I have stayed at on three separate occasions, admittedly, usually as a fallback when I've been priced out of my usual go-to, The Charles Hotel (which I reviewed here).
The brand highlights "Contemporary style, deep comfort, and personalised service" as its defining features on their website. "Personalised service" is the one which caught my attention, as someone who appreciates the little details, and individual touches which make a stay truly special.
Past experiences with various Sofitels have presented a spectrum of success in embodying this commitment. Some have fallen short, delivering nothing more than a generic, run-of-the-mill service, while others have been quite memorable. With this backdrop, I was curious to see how the Sofitel Munich Bayerpost would fare. So, let's find out.
Price and booking
I'll focus on my first stay, highlighting relevant events from subsequent visits, as relevant.
On this occasion, I booked a "classic room" through Booking.com for a five-night stay. This came in at £250 per night, which is fairly typical, though you may find lower rates out of season.
Location
The hotel is situated in the historic building of the former Bayerpost, the Bavarian Royal Post Office, which dates back to the late 19th century. The building is known for its impressive architecture, combining historic charm with modern elegance.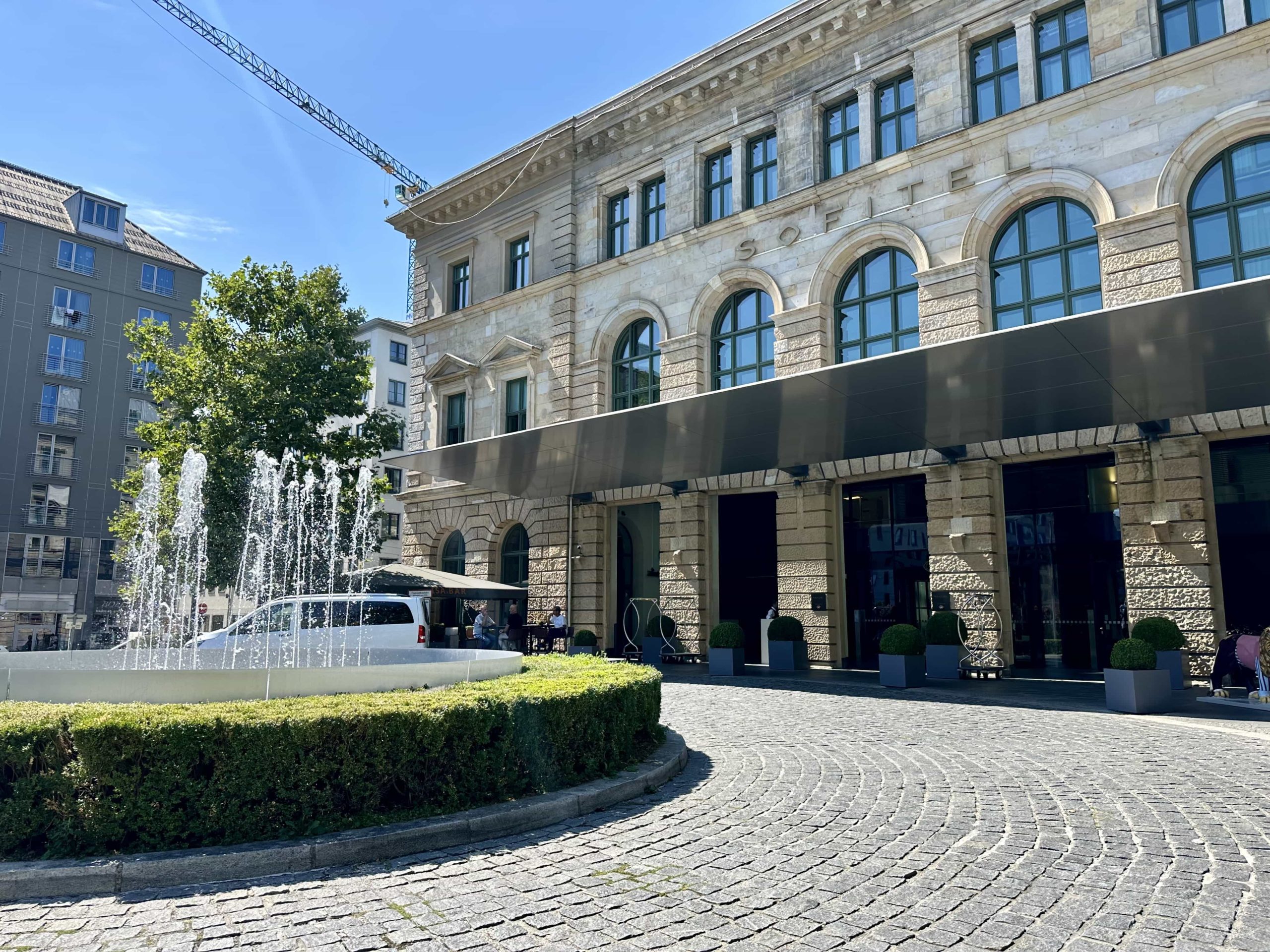 Location-wise, it's a double-edged sword. On the positive side, being adjacent to Munich Central Station makes it exceptionally convenient for day trips or catching a train to the office. But, this proximity to the station also has the drawback of, well… being right next to Munich Central Station. When I say "right next to," I mean, practically adjoined to one another.
Don't get me wrong, it's not a terrible area, but as with many central train stations, it does have a certain grittiness to it. Not just the surrounding area, but also the station itself; this isn't one of those train stations which is a landmark in itself — it isn't pretty. Despite the hotel's effort to carve out some seclusion, there's no ignoring the fact that you're a mere 50 meters or so from the station's taxi rank.
Personally, I appreciated the convenience of the location. You might not want to spend much time in the immediate vicinity, but it's only a 10-15 minute walk to the more appealing areas. Plus, the proximity to the station ensures plenty of nearby conveniences.
Check-in and first impressions
In my review of The Charles Hotel, I commented on the subtly of the exterior decor and how underwhelming the lobby area is. Approaching the Sofitel, you immediately get a different sense. One much more in keeping with that of a 5-star hotel.
There's the grandeur of the historic building itself, the contrasting modernity of the metal entrance canopy which stretches towards the circular fountain, and in the evening, the ambient lighting, which adds another touch of warmth to the already inviting entrance area.
Perhaps things don't look quite as well-kept as at The Charles Hotel — for instance, the foliage is a little ragged — but I'm nitpicking here. Anyway, not meaning to turn this into a comparison review, let's move inside and talk about the interior.
Honestly, it's a standard 5-star hotel affair, nothing exceptional. Initially, I thought the stacks of papers decorating the lobby shelves were letters, perhaps to commemorate the hotel's history, but they seem to be a miscellaneous selection of pages from French books. I had expected more references to the building's past life as a post office.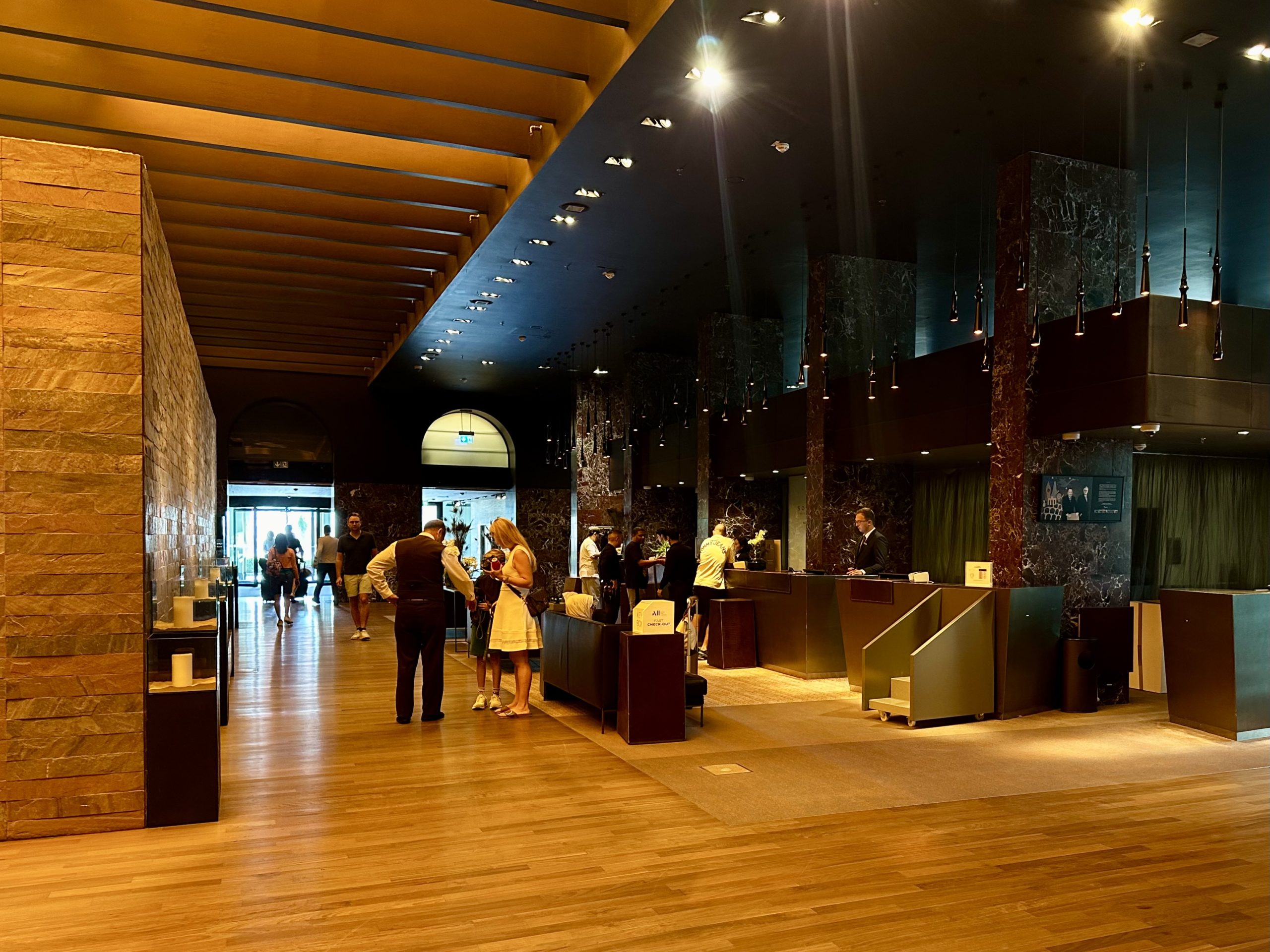 One aspect that doesn't appeal to me is the tinting on the skylight. It makes it feel like you're wearing sunglasses indoors all the time, and casts a rather overwhelming orange shade over the entire lobby area. Towards the rear of the lobby, where a section of seating for the hotel's ISArBAR is located, natural daylight offers a much more pleasant ambiance.
Proceeding towards the elevators, there's a double-height space utilised for conferences and exhibits. Its prominent location within the hotel imparts a distinctly business-like atmosphere to the overall setting. In fact, the decor, in general, exudes more of a business vibe than a sense of luxury.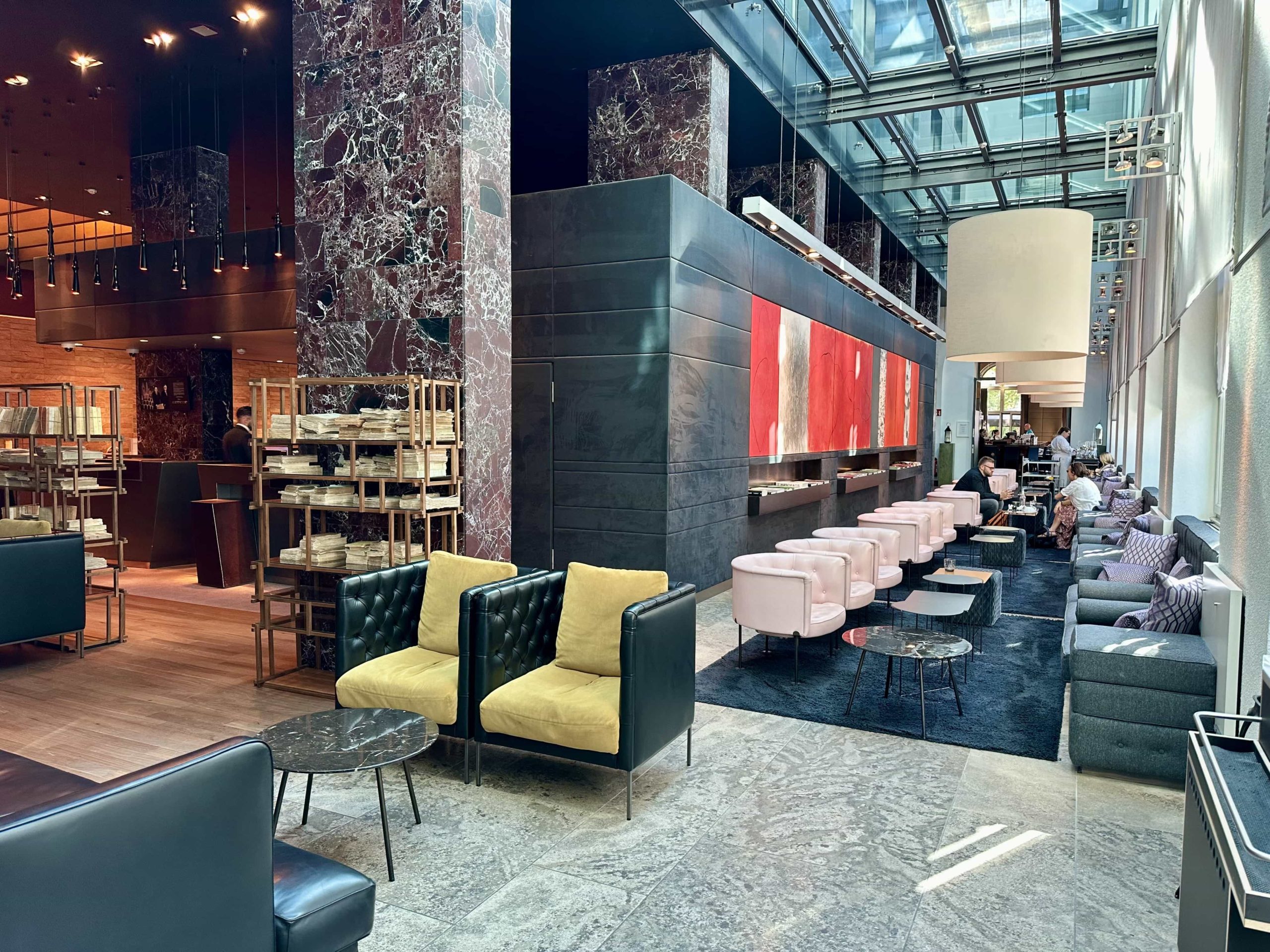 Sofitel describes the design as "sumptuous, French-inspired", but that's not the impression I get. Admittedly, I struggle to pinpoint exactly how I would describe it, so let's settle with "high-end business".
Backtracking to the check-in experience, the receptionist was great — very pleasant and thorough on details. Alongside my keycard, the receptionist provided a voucher for a welcome drink, a perk for those with Accor Live Limitless status.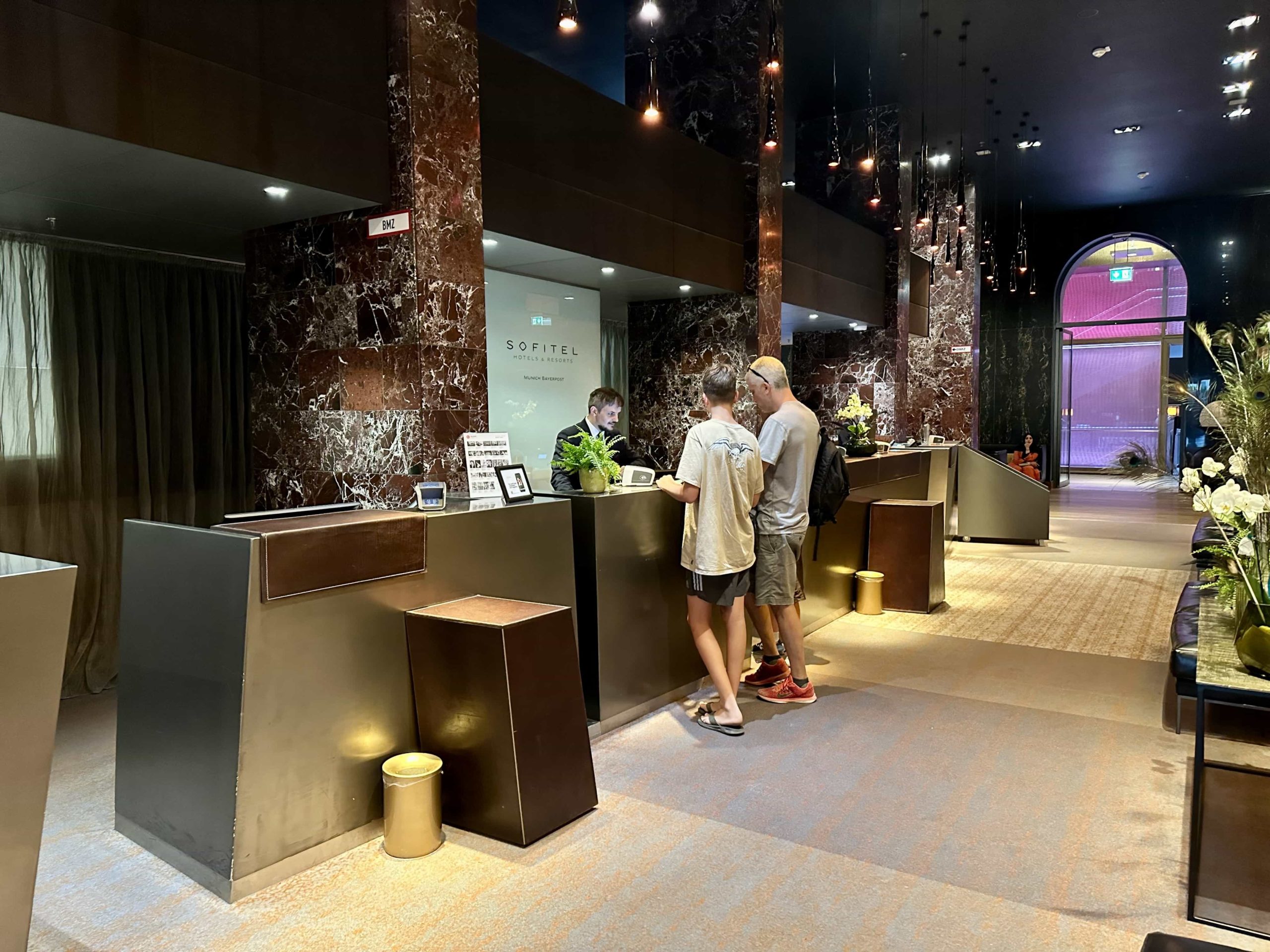 Having left my luggage earlier in the day, I opted to take them up on their offer to deliver it to my room — a departure from my usual practice, but I had accumulated more belongings than I could manage. The delivery took around 20 minutes to arrive at my room.
Room
Designed by Harald Klein — no, not a name I recognise either — first impressions of the room were "wow"… both for good and for bad. Honestly, it's not my style; there's just too much happening. I prefer a room that prioritises functionality over style, and this one seems to do the inverse. It also didn't give me the sense of being in a 5-star hotel.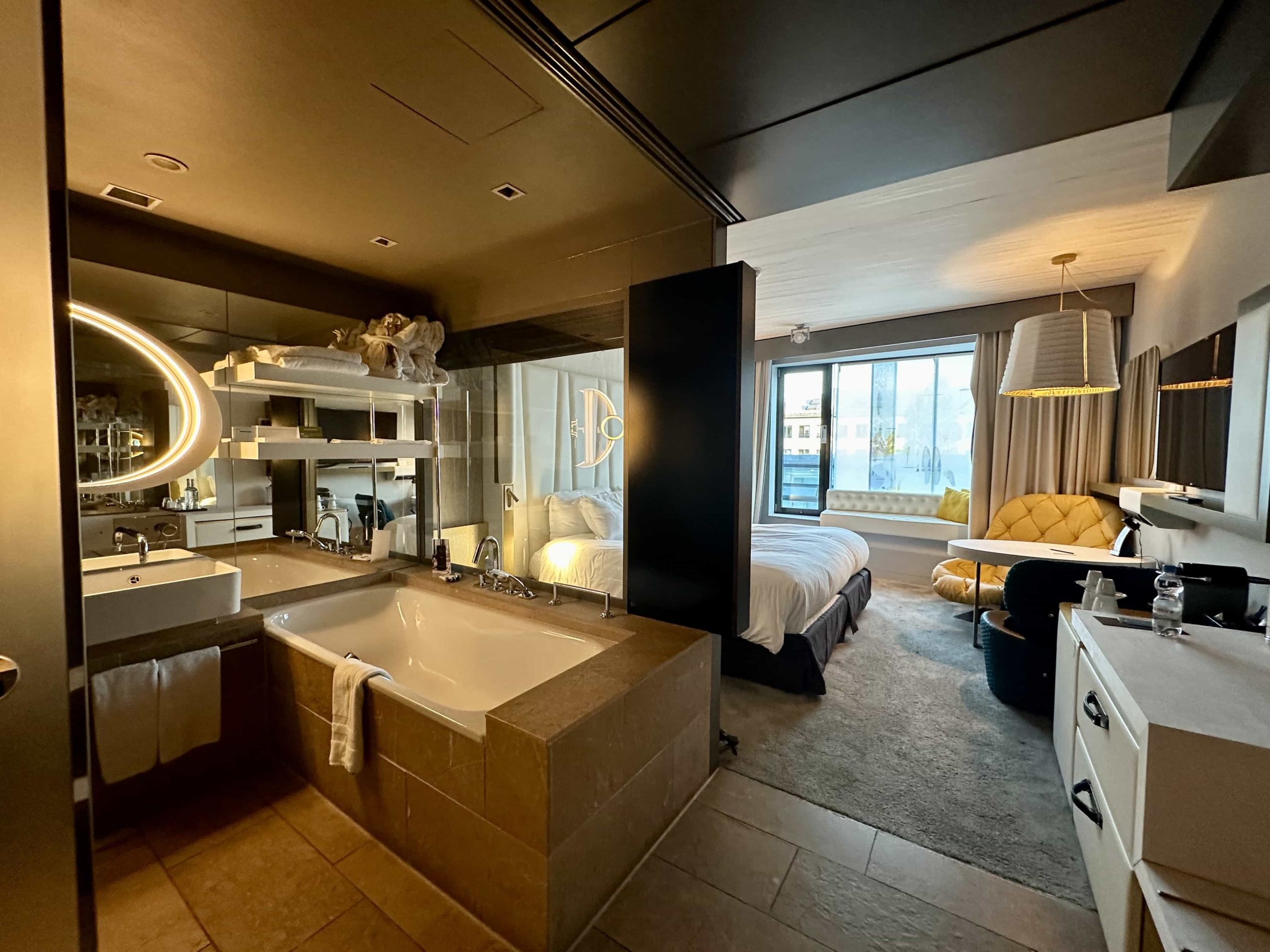 Don't get me wrong, it feels luxurious — the materials, fixtures, and fittings are of high quality, and all the amenities are all present. However, personally, I don't find the appearance overly luxurious. At least, not in the traditional sense; it leans more towards the trendy side of things.
There are aspects of the design that I appreciate however. Take, for instance, the oversized ceiling-mounted light shade. It features a padded white exterior reminiscent of thermal tiles, and a gold interior, evoking the aesthetics of heat shielding in rocket engines.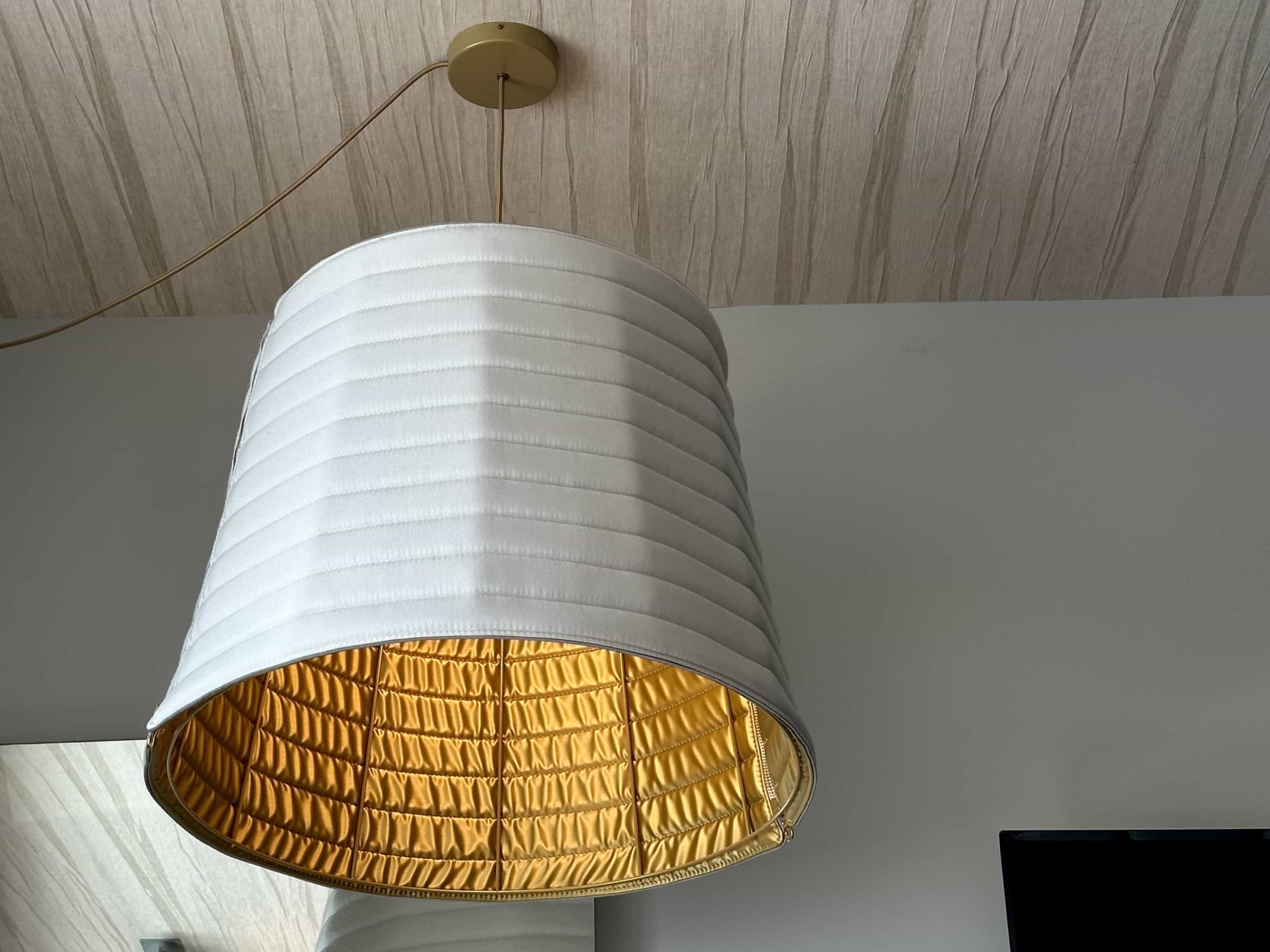 I also appreciate the practicality of the spacious luggage area, below which there is a rack to neatly organise your shoes. The reading lights are a delight in design, offering an elegant solution for activation and deactivation. To turn them on, you simply point them away from their downward-facing position, and to turn them off, you push them back flush against the wall. Much more satisfying than hitting a switch, and surprisingly intuitive.
What's less intuitive are the other light switches. There are a bunch of spotlights in the ceiling of the entrance area and bathroom. I legitimately didn't know how to switch them on until my final night, when I discovered they're linked to the switches within the toilet cubicle. What's that all about? Even the ones elsewhere can only be controlled from the bedside — there are no switches in the entrance area.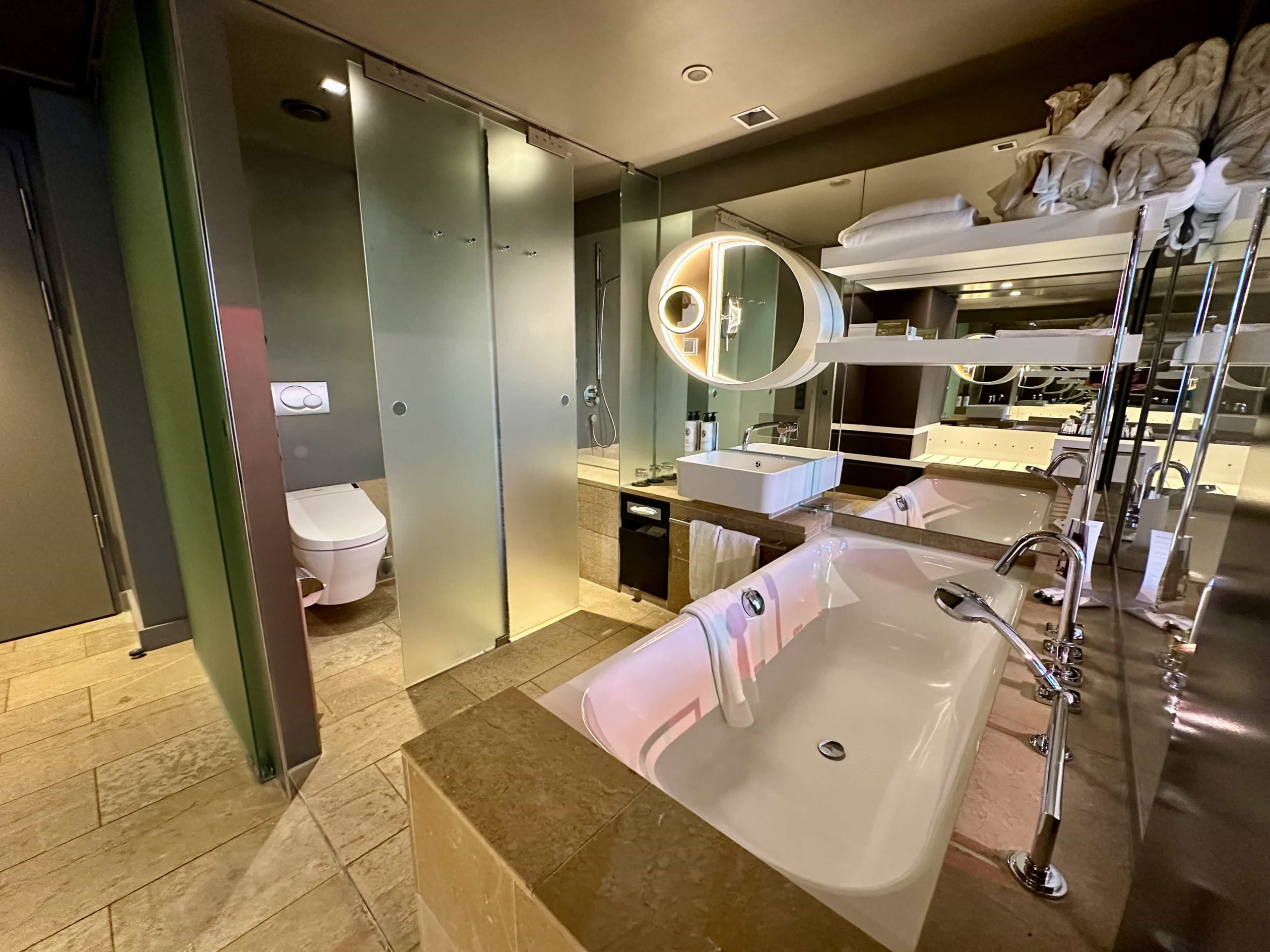 That's annoying, but what is even worse are the glass sliding doors in the bathroom. There are two of them, one for the bath and sink area and another shared between the toilet and shower nooks. These are such a pain. Not only are they slow to open and close, since you have to be careful not to slam them, but they're also clunky, unnecessarily compromise privacy, and are guaranteed to wake up anyone else in the room as they clatter along the rails.
I'm afraid the annoyances don't end there. The lack of countertop space in the bathroom is impractical, the window seat is too narrow, and the table is too small for dining. Though on a positive note, I did develop an appreciation for the eccentric yellow Bohemian Armchair. Initially deeming it a touch tacky, I changed my tune after trying it one evening and finding it remarkably comfortable. It's also very expensive, so I sha'nt be purchasing one for home.
Equally inviting is the expansive king-size bed. I rarely complain about bedding in hotels, so take my praise with a grain of salt, but I do find these beds particularly comfortable. Rarely do I have a bad night's sleep when I stay here, once I've adjusted the conveniently-located beside A/C controls to a cool 20 degrees Celsius. Other niceties include the lovely rainfall shower, the pleasant ambient lighting, the underfloor heating in the bathroom, and large storage drawers, cupboards, and hangers.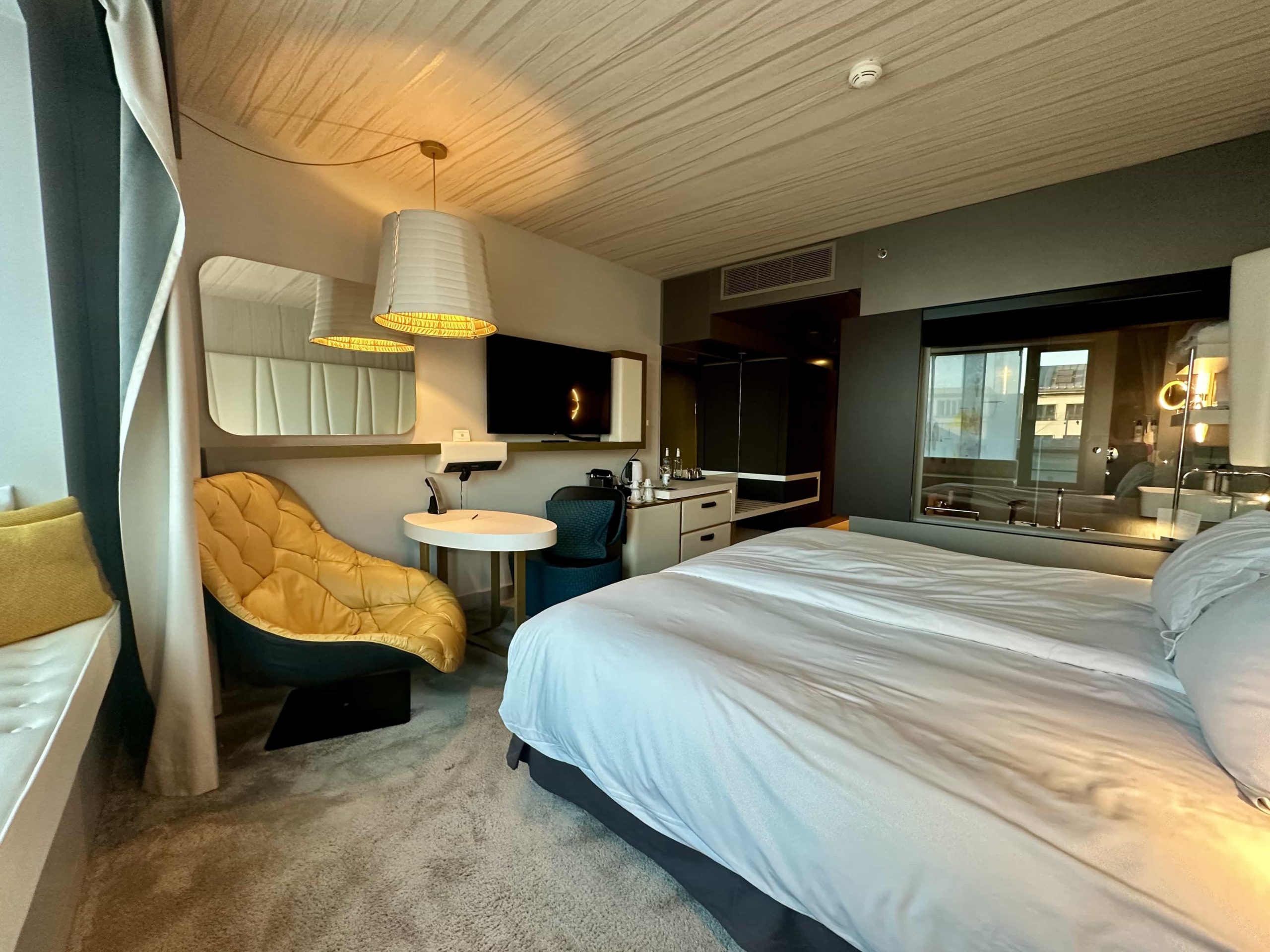 Technology-wise, the room also delivers. The TV has both Apple TV for AirPlaying from your Apple devices, as well as Chromecast for Google connectivity. By the bedside, there is a portable B&O speaker which I found myself using more than expected. Although it's quite bass-heavy, to the extent that I'm surprised it doesn't disturb the neighbouring guests, I did enjoy its room-filling sound.
During check-in, I was informed about an upgrade to a "luxury" room. This sounded like a nice bump from the room I had originally booked, until a subsequent stay in a "classic" room, when I realised the upgrade had merely placed me on a higher floor, overlooking the courtyard. Apparently the room is also 2sq.m larger, though this wasn't noticeable.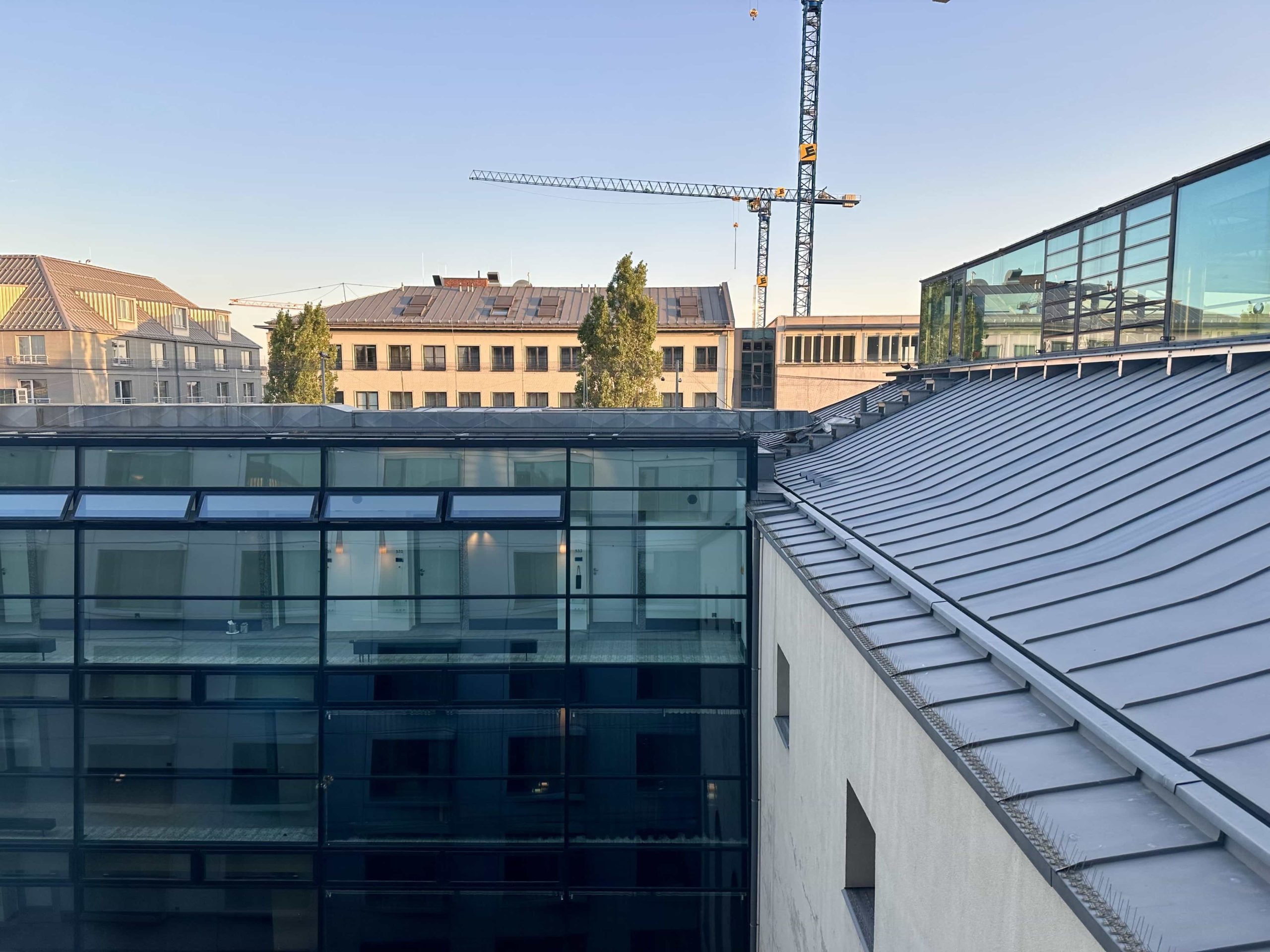 Still, at least this upgrade gave me something to look at out of the windows. While the courtyard is nothing to be admired, and there is little visibility above the rooftop, it's at least better than what the regular rooms offer. That is, a close-up look at the corrugated facade of the rather ghastly train station.
Honestly, once I got used to the foibles of the room — which, admittedly, took about three weeks — I actually came to quite like it. Still, if I've put you off, there is also a "superior" room which looks a bit more conventional, with fewer bold colours, and a more straightforward design. They've also got a whole host of crazy-looking suites, if you're looking to spend a little more cash.
I have to address one incident with the housekeeping. In general, it was great. As someone who goes through a lot of water, I never found myself short on complimentary bottles. And I also appreciated the welcome chocolates, although the same enthusiasm didn't extend to the soft popcorn, which had clearly overstayed its welcome.
But, on one occasion I returned to my room to find someone's acrylic retainer perched on the table I used for room service dining. What the heck. If I hadn't been looking to get to bed ASAP, I would have complained to the front desk, but instead, I swiftly grabbed a handful of tissues, fashioned a makeshift hazmat suit, and performed a heroic transfer of the retainer to the bin.
Dining
DÉLiCE La Brasserie
The hotel has two restaurants, but only DÉLiCE La Brasserie is open for lunch and dinner service.
Despite frequenting the hotel, I've only visited the restaurant once. On that occasion, around 8:30pm, it was surprisingly quiet. In fact, I walked in not able to tell whether it was open or not, as the first area was completely vacant. This gave me time to take in the intimate yet not overly stuffy ambiance, adorned with Parisian-inspired artwork, before I ventured further in search of staff.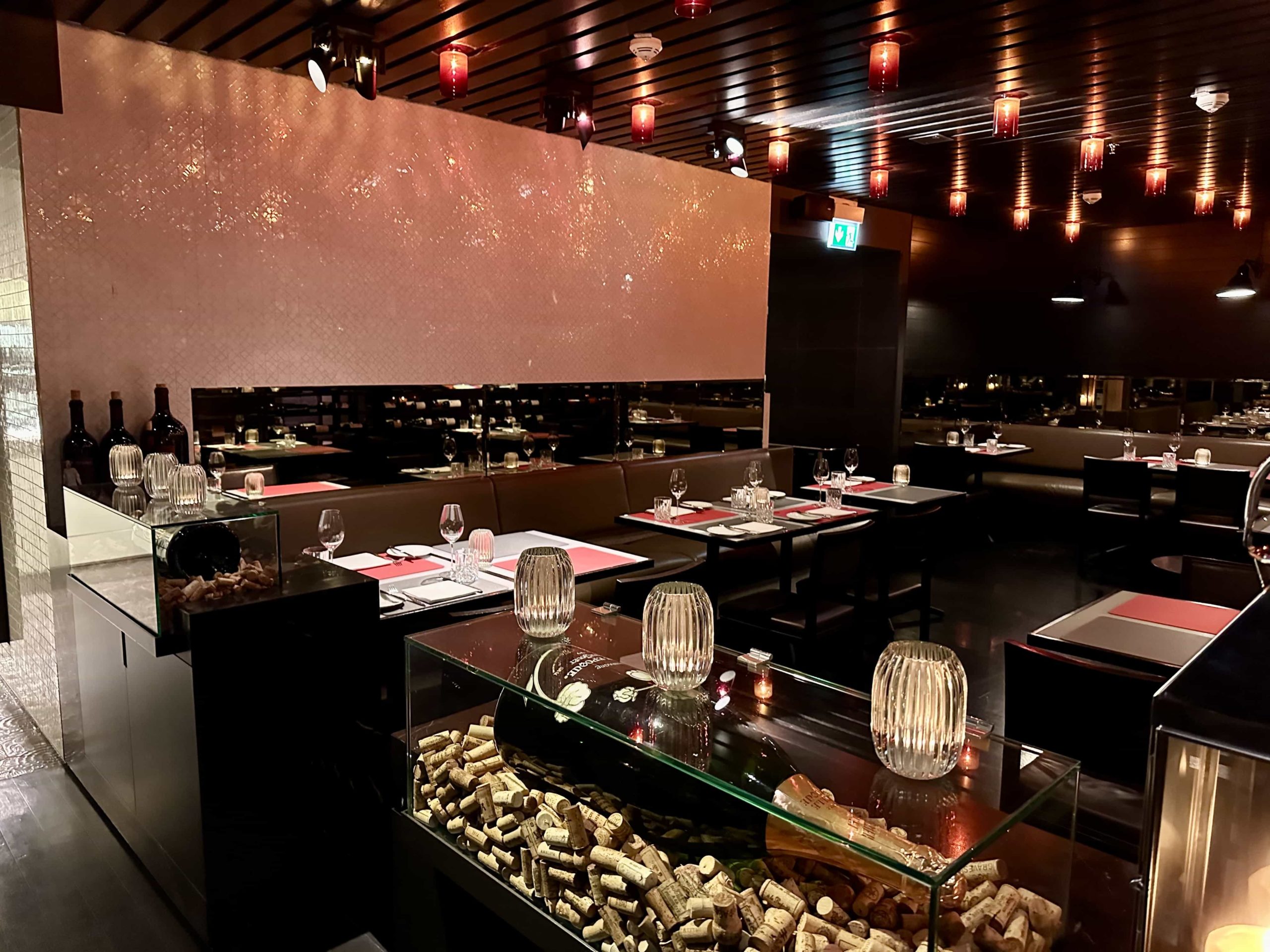 It turned out the few guests who were present were sitting outside. The waiter suggested I do the same, which I hesitantly agreed to, given the terrace's proximity to the train station. Fortunately, I found that it's set back far enough such that it isn't a disturbance. In the evening, your attention is mainly drawn to the calming sounds of the fountain and the ambient lighting. Overall, it's quite a pleasant environment.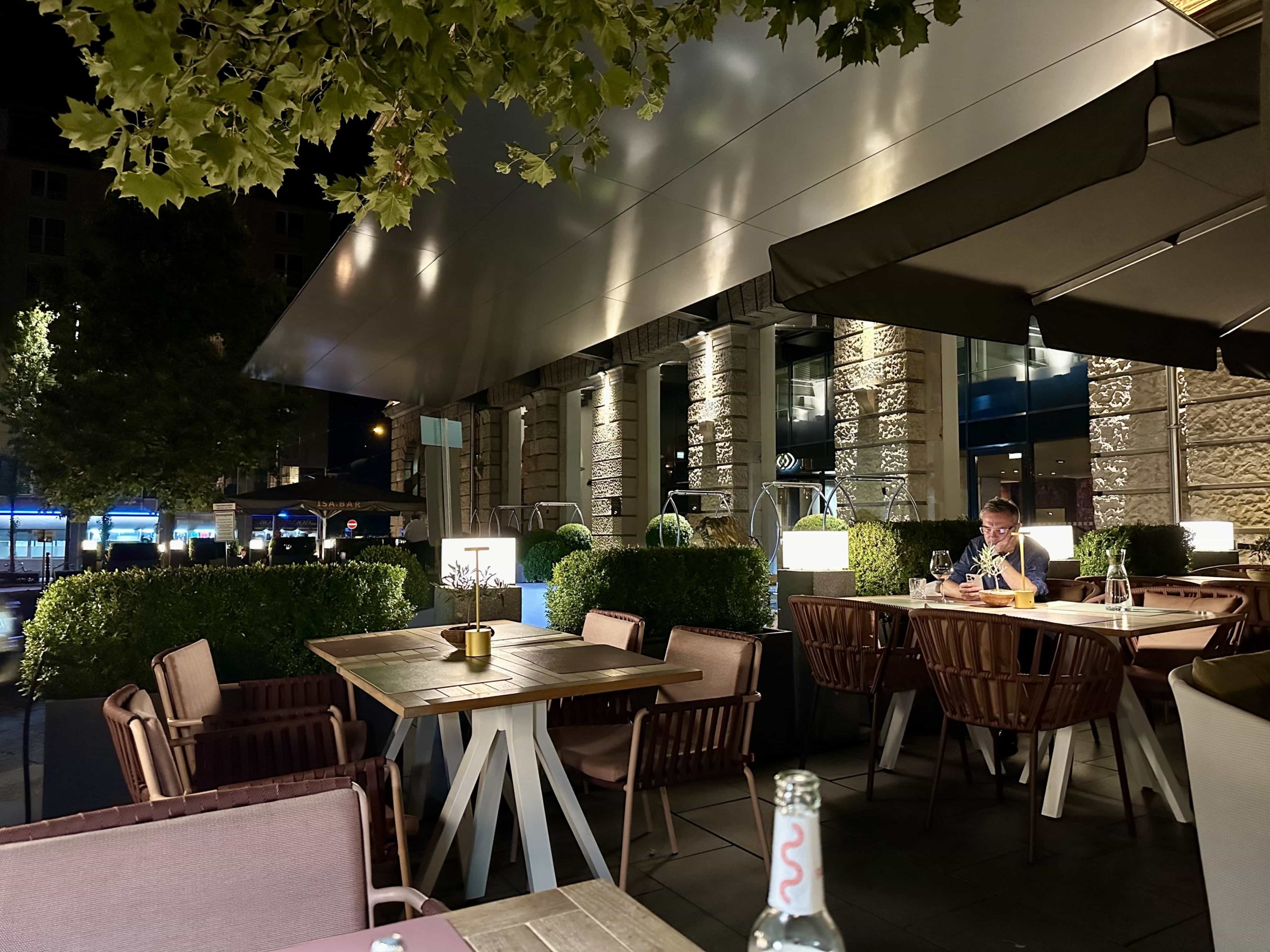 Despite my initial difficulty finding the staff, the service was otherwise excellent — friendly and very attentive. I ordered the steak tartare as a starter, a choice that garnered approval from the waiter, followed by two main dishes: turbot and ravioli (I was hungry).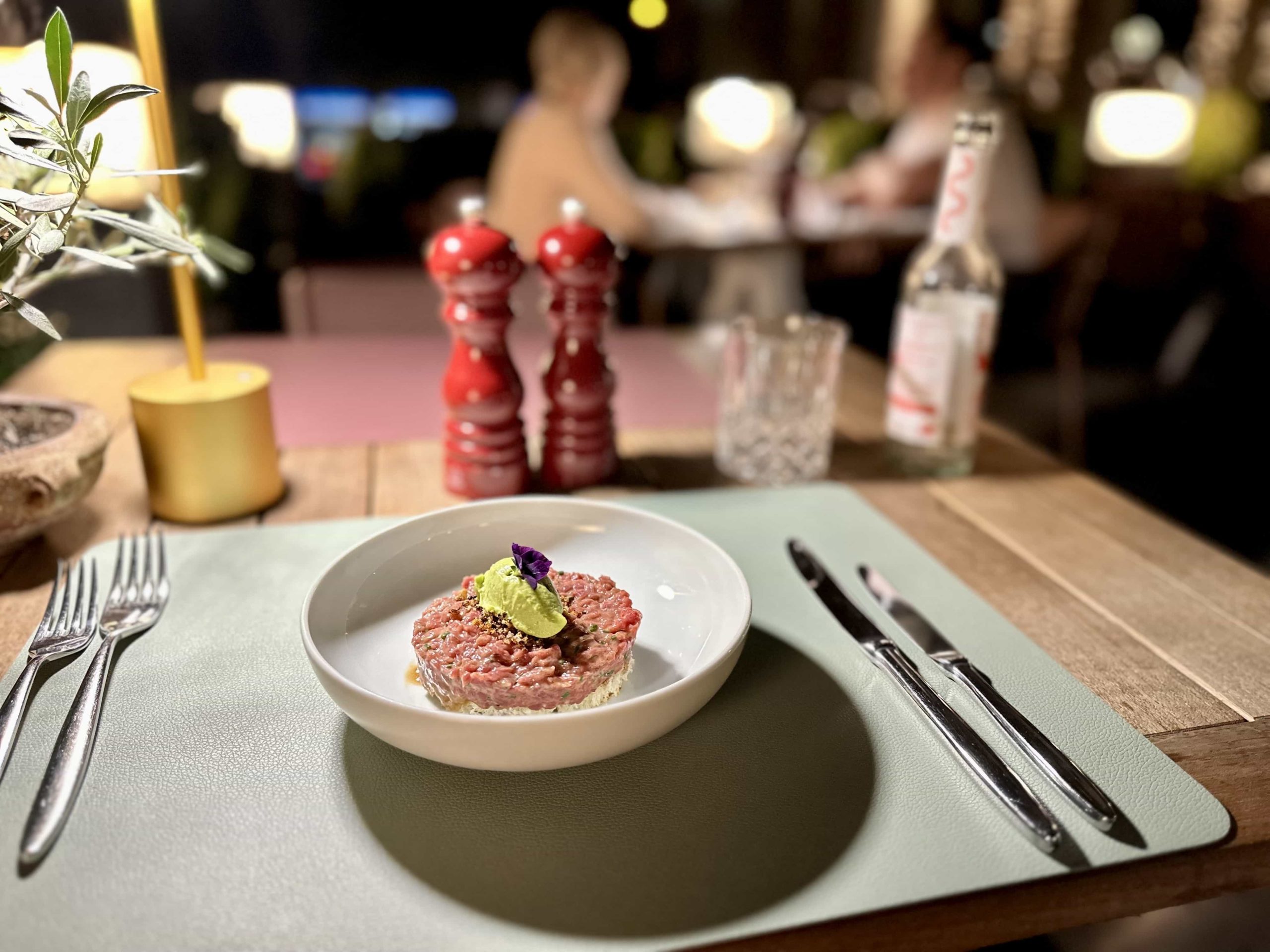 The steak tartare was exceptional and offered a unique twist on the traditional presentation. The consistency was different, and instead of being topped with egg, it featured "peas-parmesan ice" over a toasted brioche. I'm a fan of steak tartare anyway, but this was a step above.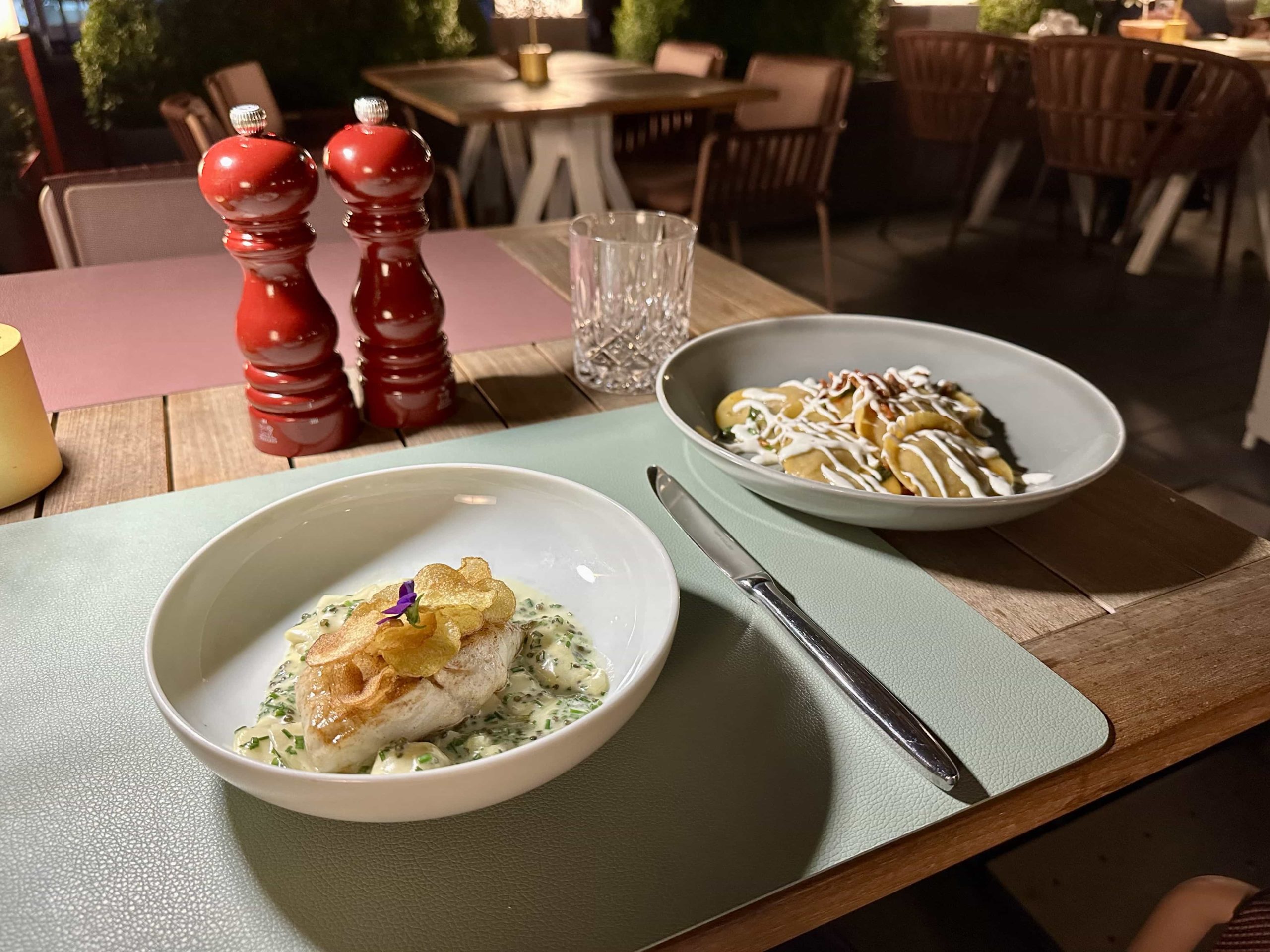 The turbot was also nice, though always strikes me as an expensive fish which is a bit "meh" in terms of flavour and texture. Still, the composition of this particular dish made it quite enjoyable. The bed of sliced boiled potatoes, caviar, and artichoke worked particularly well, though I felt that crips being used as garnish cheapened it a little. The ravioli was perfectly fine, if a bit forgettable. There are more interesting options on the menu.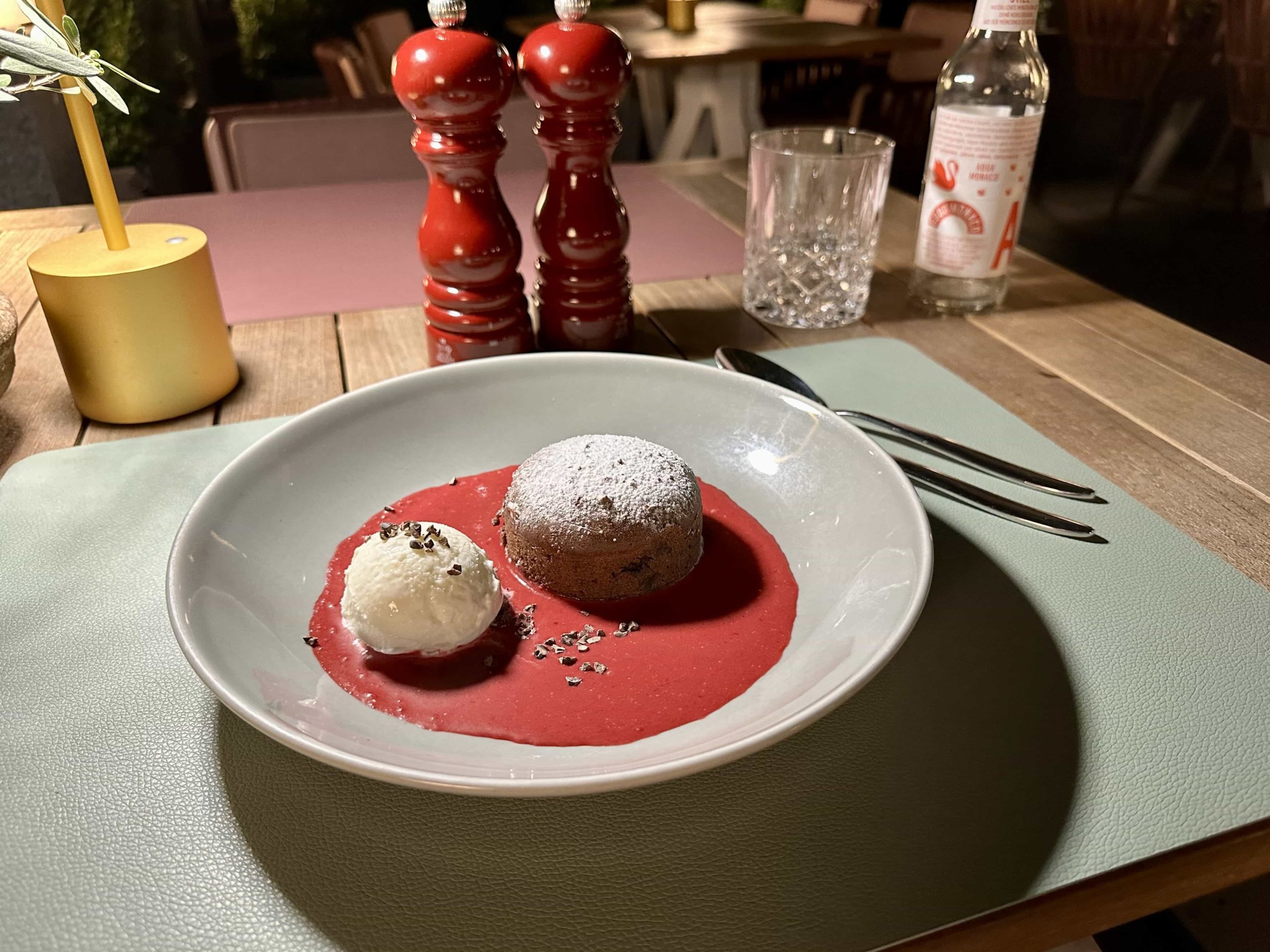 For dessert, I opted for fondant, which catered to my penchant for chocolate. It was superb—rich, gooey in the centre, with a slight crust on the outside, perfectly complemented by a generous serving of raspberry coulis, and a scoop of ice cream.
Despite the somewhat steep price of 134 euros, which is notably high for Munich, I'd say DÉLiCE La Brasserie is worth the money. The service is good, the ambience is pleasant, and the food is delicious. Even the macarons that accompanied the bill, which I typically despise, were delightful and helped to divert my attention from the cost I had just incurred.
Room service
Room service, I had a lot more often. Browsing the menu, I was a little disappointed that it isn't as extensive as in the restaurant. I don't quite understand the logic in that — it leaves a rather lacklustre selection. With this in mind, I tried my luck and ordered from the restaurant's menu anyway (which was available online), and fortunately they obliged.
The service, for the most part, was prompt and professional. However, there was one instance where I waited on hold for over 5 minutes, only for the staff member who answered to seem surprised by my call. I was then drawn into an unnecessary exchange about the pronunciation of salmon, with the staff insisting on [sal-mon] while I held firm on [sam-uhn]. In the end, we had to agree to disagree, though I know I'm right.

I sampled a variety of dishes, and a few stood out. Notably, the chicken breast, accompanied by a rich sauce, sun-dried tomatoes, morel cream potato mousseline, and spinach, was exceptional. The filet of steak, served on a bed of vegetables, also proved to be a inspired decision.
Among the starters, the raw salmon with caviar and herb cream made an impression, though seemed to have an alter ego in the form of raw salmon with caviar and herb cream — what I received the next time I ordered it. The roast beef with burrata was also excellent, a notable feat for someone who generally finds roast beef slightly uninspiring.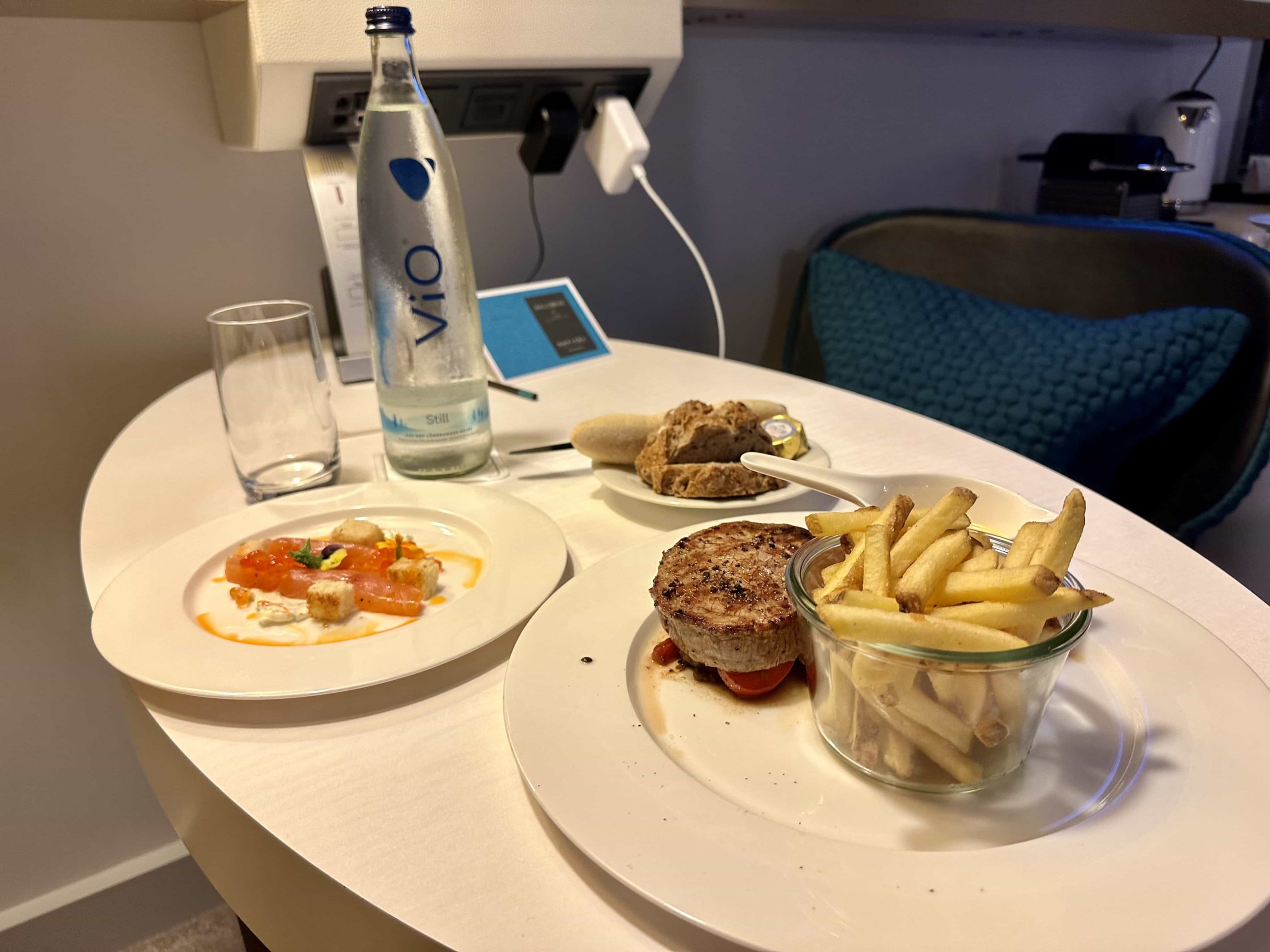 I didn't sample any of the desserts, aside from the same chocolate fondant that I had previously enjoyed in the restaurant, but the menu does offer a variety of tempting choices.
Breakfast (Schwarz & Weiz)
The hotel's other restaurant, Schwarz & Weiz, only opens for breakfast.
I've said before that I find breakfast in Germany typically leaves a little to be desired, both in terms of quality, and also selection. Indeed, this was consistent with my experience at the Sofitel, but all things considered, it wasn't too bad. At least comparable to other hotels I've visited since. However, there are issues with the service, which I'll delve into shortly.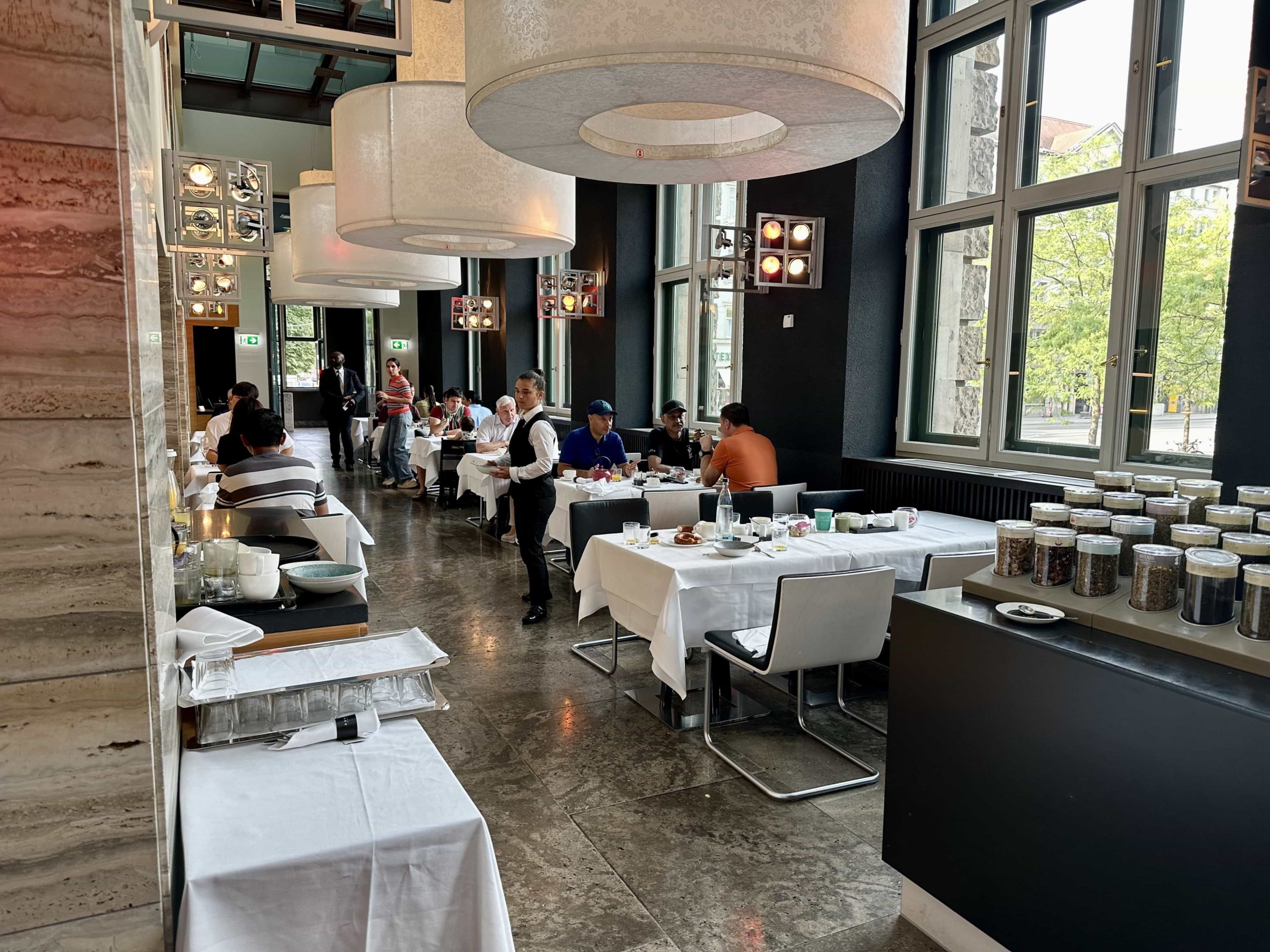 As for the good, the croissant pudding was excellent, and I also enjoyed the bite-sized French toast. Sofitel brand its croissants "the best in Munich" and while this may be somewhat of an exaggeration, the pastries are generally quite nice. Other continental items include a comprehensive selection of fruits, as well as cold cut meats, cheeses, and other individual items.
Generally the hot food was of reasonable quality, but I was disappointed by a couple of items. Namely the tomatoes, which were topped by soggy breadcrumbs, and the made-to-order omelettes, which I found to lack seasoning.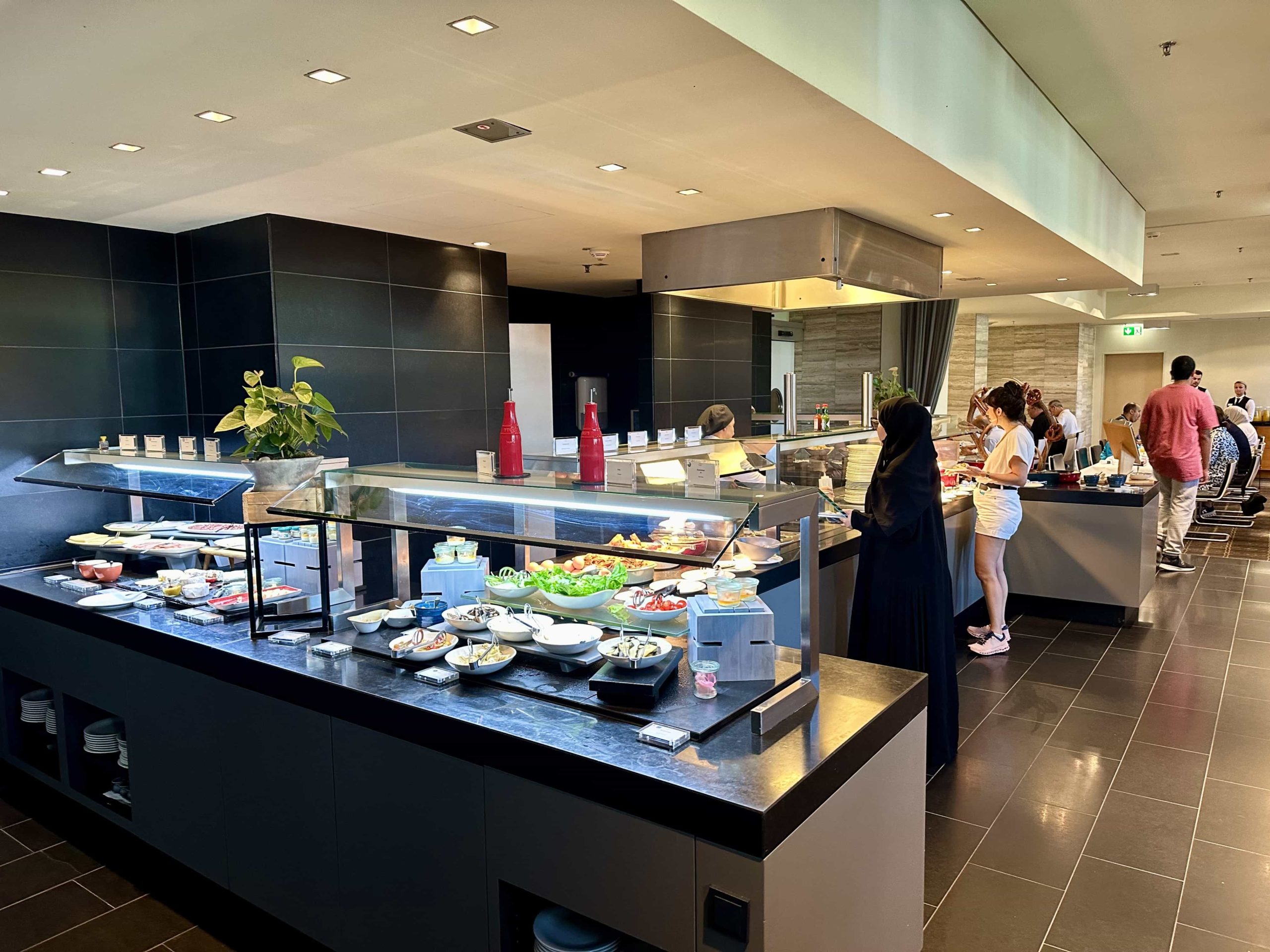 Something I found quite strange, is the absence of an la carte menu. Well actually, there is one, but you'll only find out about it if the servers are proactive enough to mention it — usually they aren't. I discovered later that it's also listed online, and features dishes such as filled crêpes, but only eggs Benedict were mentioned to me, so that's what I've ordered on a couple of occasions.
Honestly, I mainly order this for the salmon it comes with. The dish itself is underwhelming: a poorly drained poached egg, a mediocre hollandaise sauce, and insufficient bread, which tends to be soft anyway. Not to mention the hair I found on top during my last visit.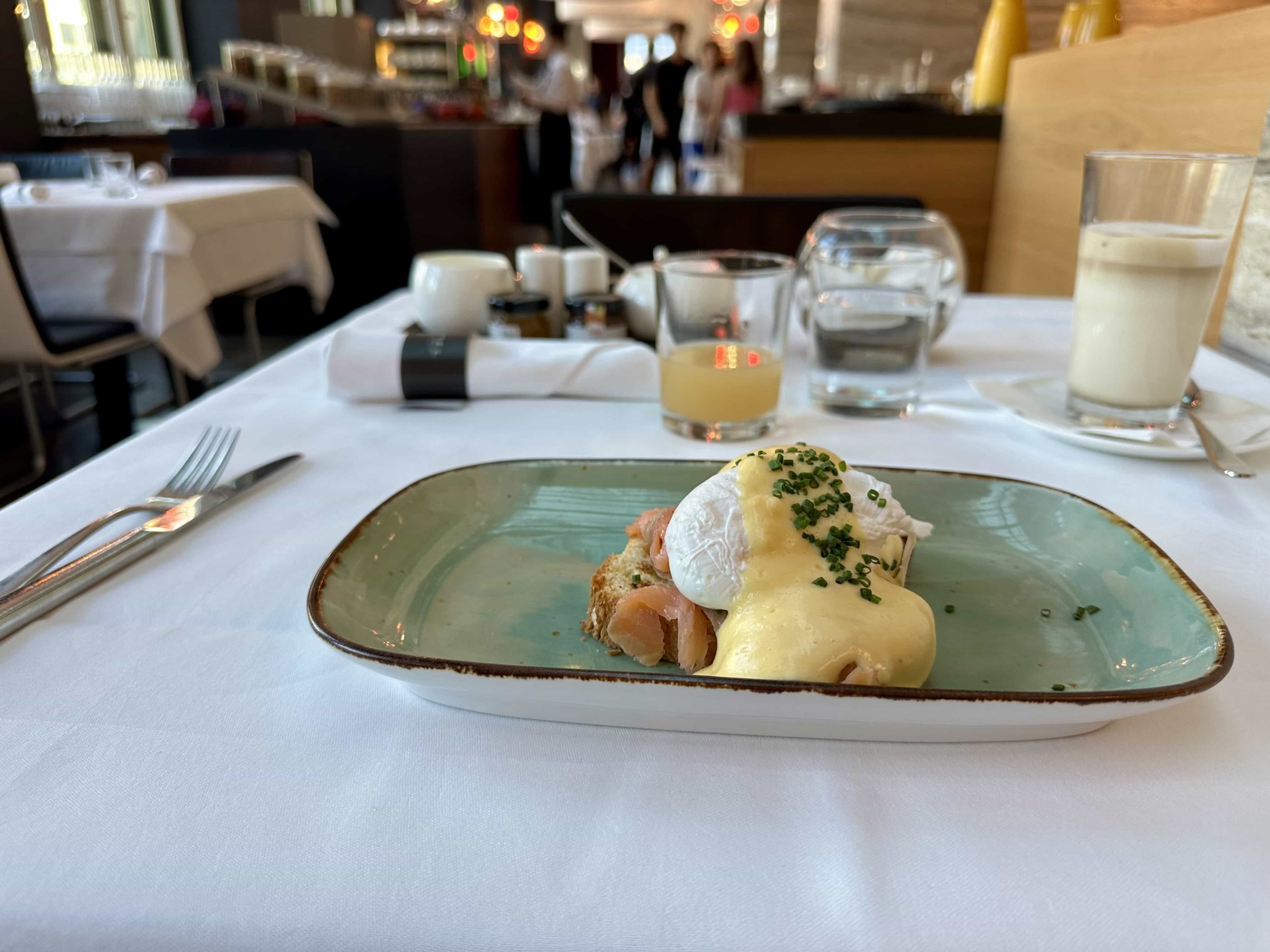 In regard to the service issues I mentioned, it boils down to the fact that the restaurant's staff can be quite inattentive. It's no surprise that most guests aren't told about the a la carte menu, as more often than not, the customary welcome routine is neglected.
Sometimes the servers happen to be passing and ask if you want orange juice or coffee, but I've waited more than 15 minutes on occasions. Depending on where you sit, you might get no service at all, and even if you do, they're often fairly uncommunicative.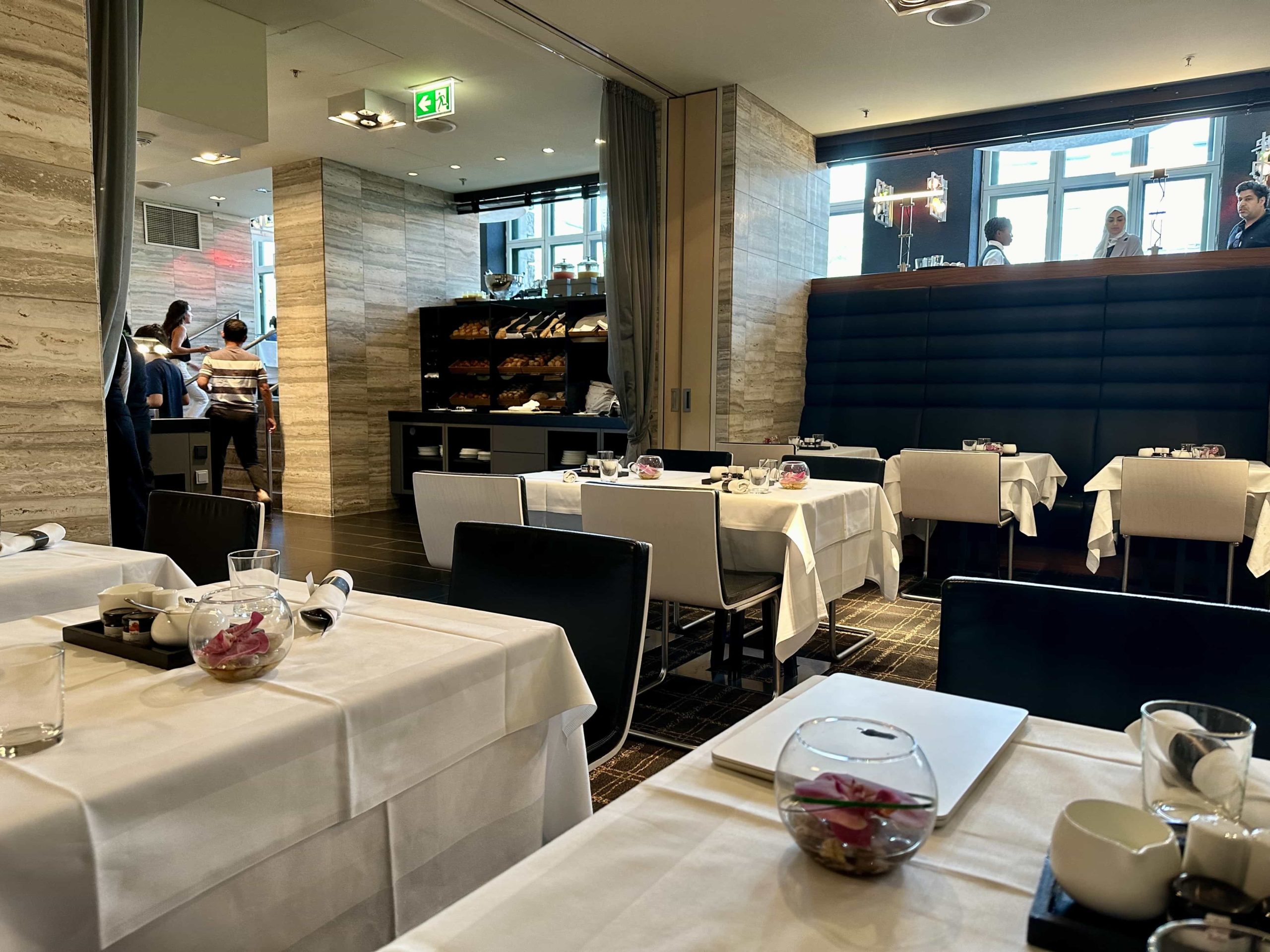 There's one member of staff who is very good. I didn't catch his name, but he was very hospitable, regularly checked in on me to make sure I had everything I needed, and always said goodbye on the way out. Had I only visited once, and been served only by him, I would have been much more complimentary about the breakfast service.
Spa
The salmon incident wasn't my first telling off. On my third or so visit to the spa, I was lectured by receptionist for not coming down to the spa in a robe, because it meant she had to replenish the locker after I was done. "Hotel guests bring their own stuff" is what I was told. As much as this annoyed me, I reluctantly complied for my next visit to avoid the hassle.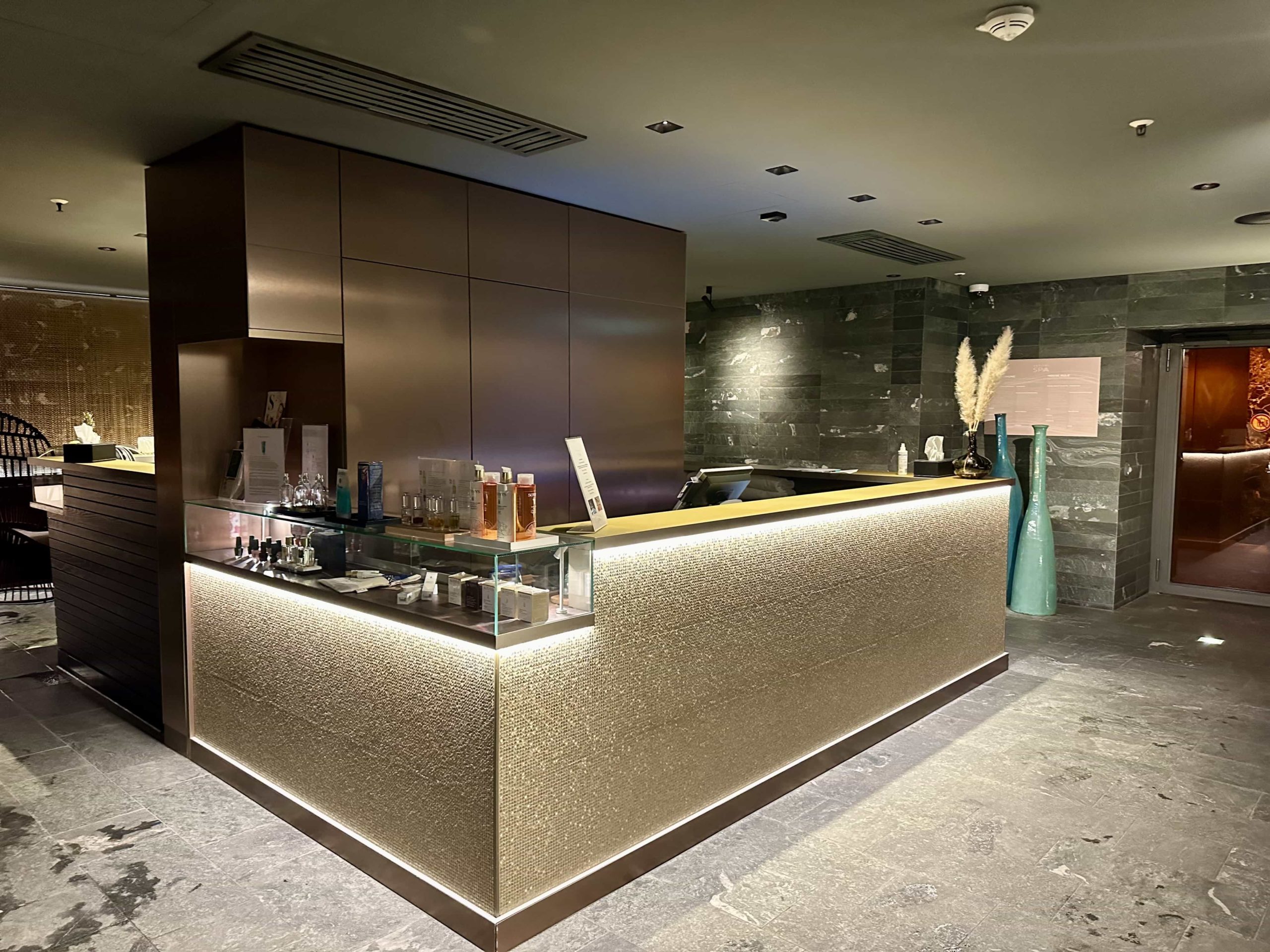 I knew complying with this would come back to bite me. Predictably, my room key failed to work when I returned to my room, prompting an embarrassing stroll to the lobby in my robe. Not a big deal in some hotels, but you do look kinda stupid doing it in a business hotel, especially when you have to walk via a conference space. I mentioned this to the lady at the spa who had gotten me into this situation — she didn't care.
I'll return to the spa experience shortly, but when I reached the front desk to address the keycard incident, I wasn't impressed by the service I got at all. The staff member appeared skeptical that my room key wouldn't work, citing that it had functioned in the elevator. I was similarly surprised, but had no doubt it definitely didn't work. So for him to not just assume "the customer is always right" felt a bit condescending to me. I know how to touch a keycard to a sensor.
Anyway, after much longer than it should have taken, he sought assistance from a more sensible colleague. The colleague promptly programmed another key and also accompanied me upstairs (though I didn't necessarily want or need that) to ensure it would work, which it did.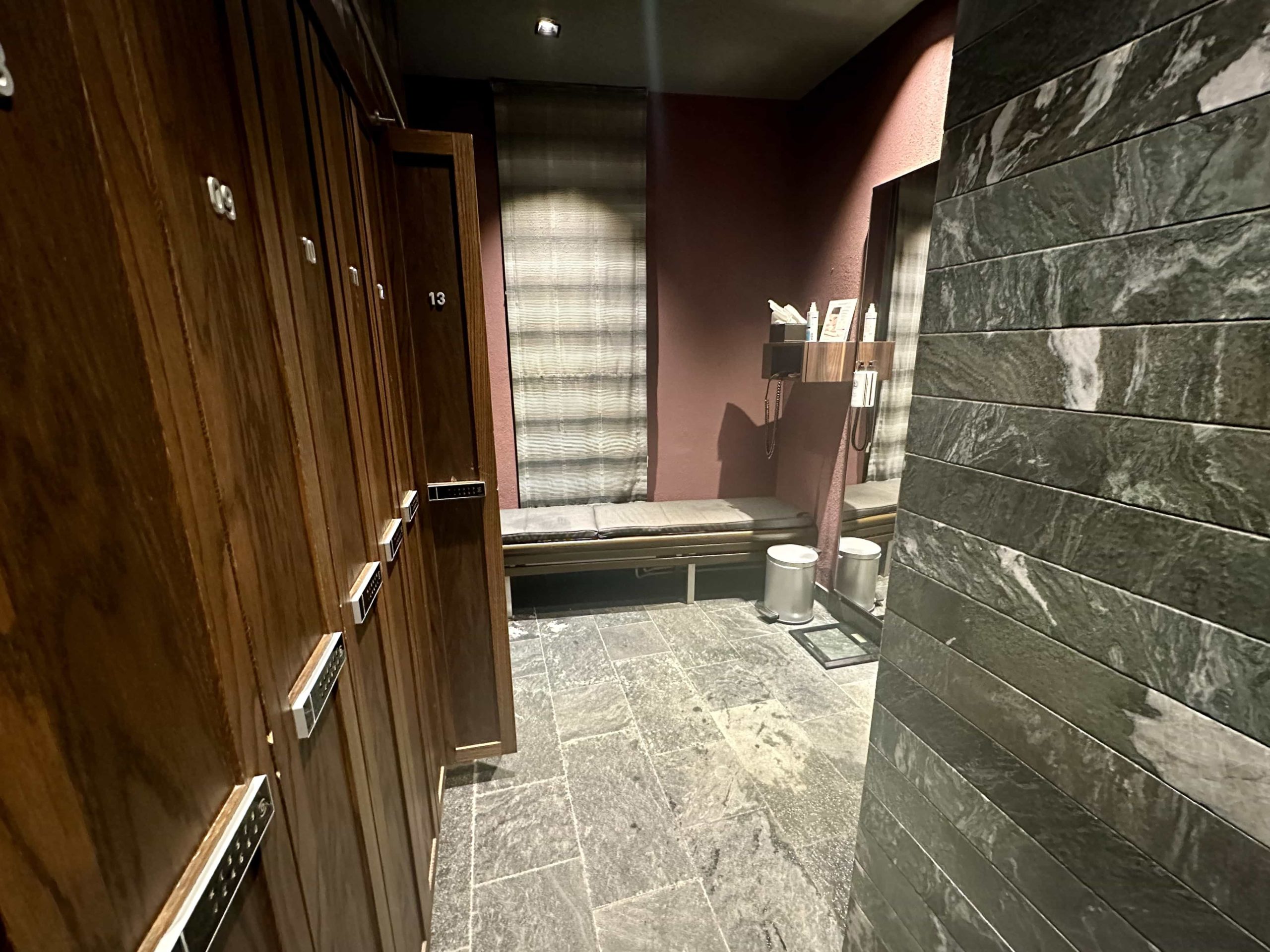 Turning our attention back to the spa, my initial impressions weren't great as I stepped into the minuscule changing room. Genuinely, it's only spacious enough for one, perhaps two people at a time. I assume this is why they encourage guests come down already dressed. Luckily, the spa is usually quiet, so it's not a significant problem. It's worth mentioning that the women's changing room is about twice the size.
Pool
Let's begin with the pool. At first, my expectations were high. The entryway curves, providing only a fleeting preview before unveiling the steps leading down to the vibrant blue-tiled pool, a striking contrast against the otherwise dark, moody setting.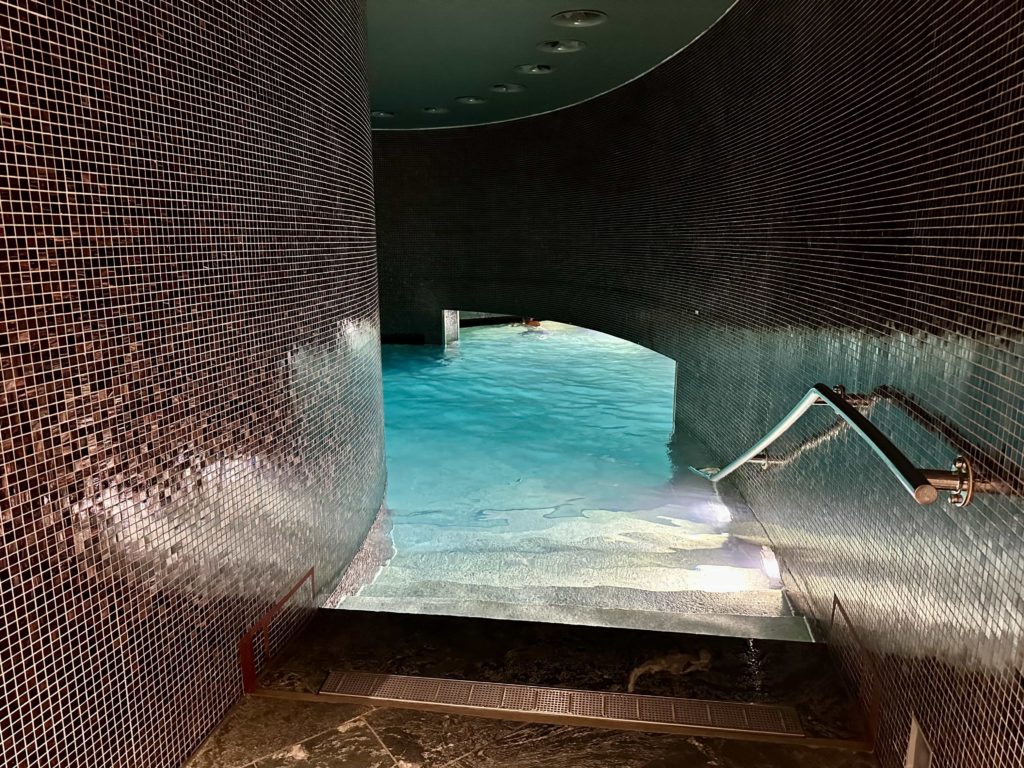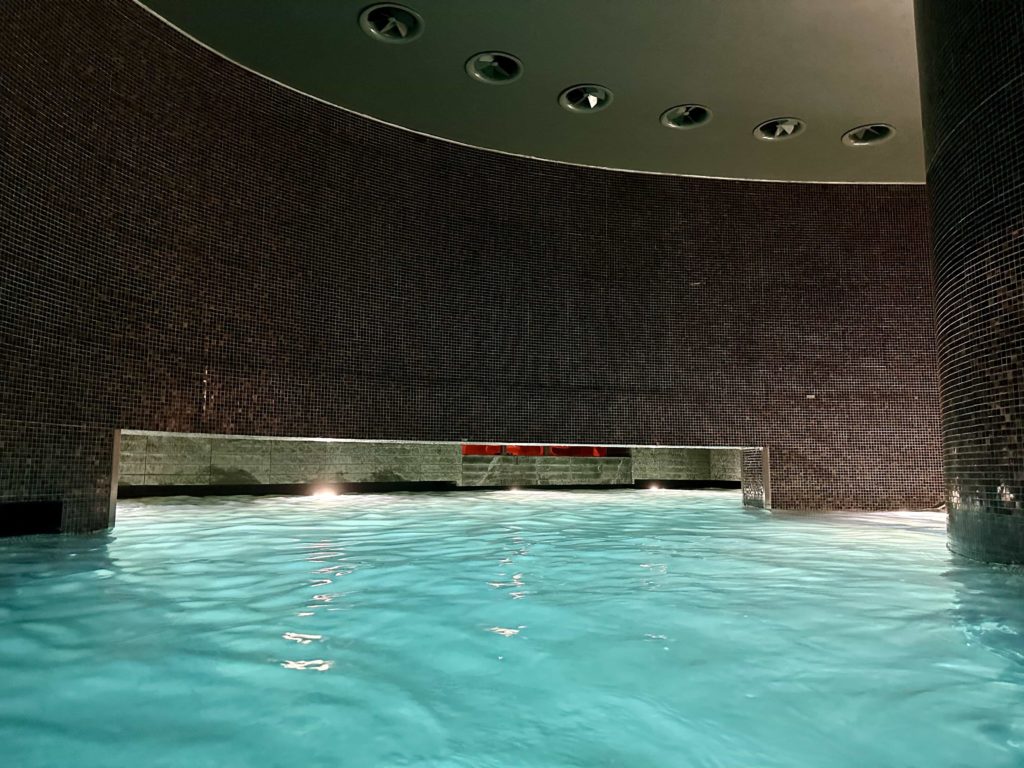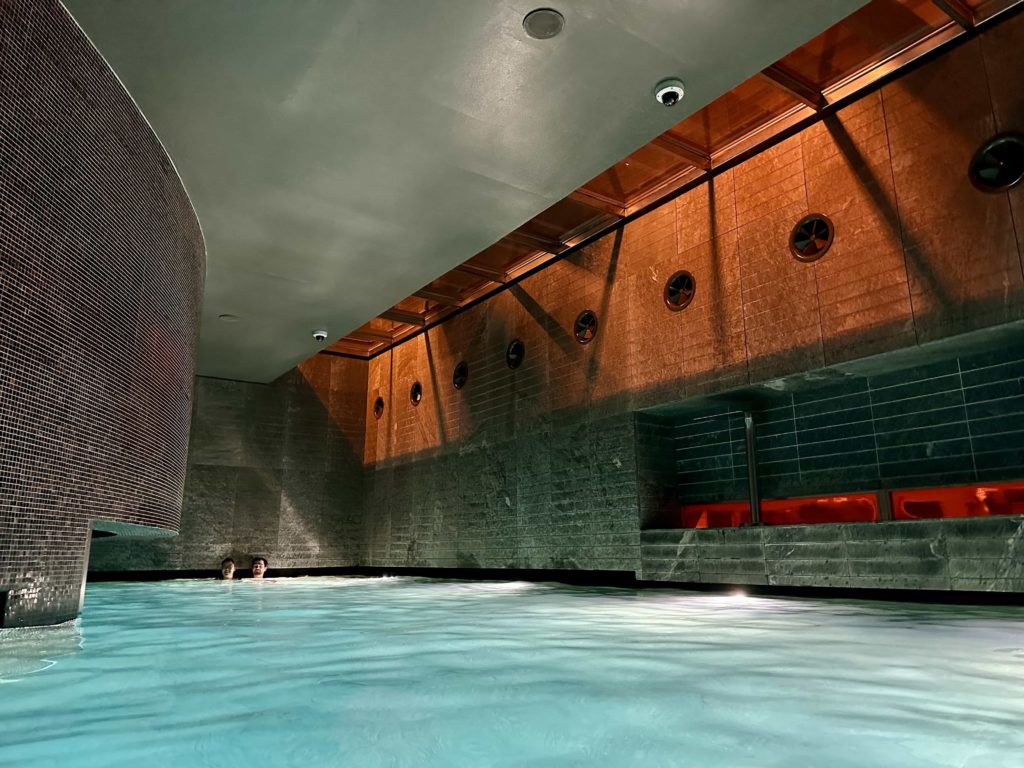 At the foot of these steps, you duck your head under a divider wall and enter the lap pool area. Unfortunately, I'd estimate its length to be only about 12 meters, making it less practical for exercise. Moreover, with the water not being particularly warm, it's also not the ideal spot for a leisurely and relaxing swim.
Eventually, frustrated with the frequent doubling-back, I swam through to explore the rest of the pool. This led me to a gently curving, almost lazy river-like section that built anticipation as I ventured further, uncertain of what awaited at the end.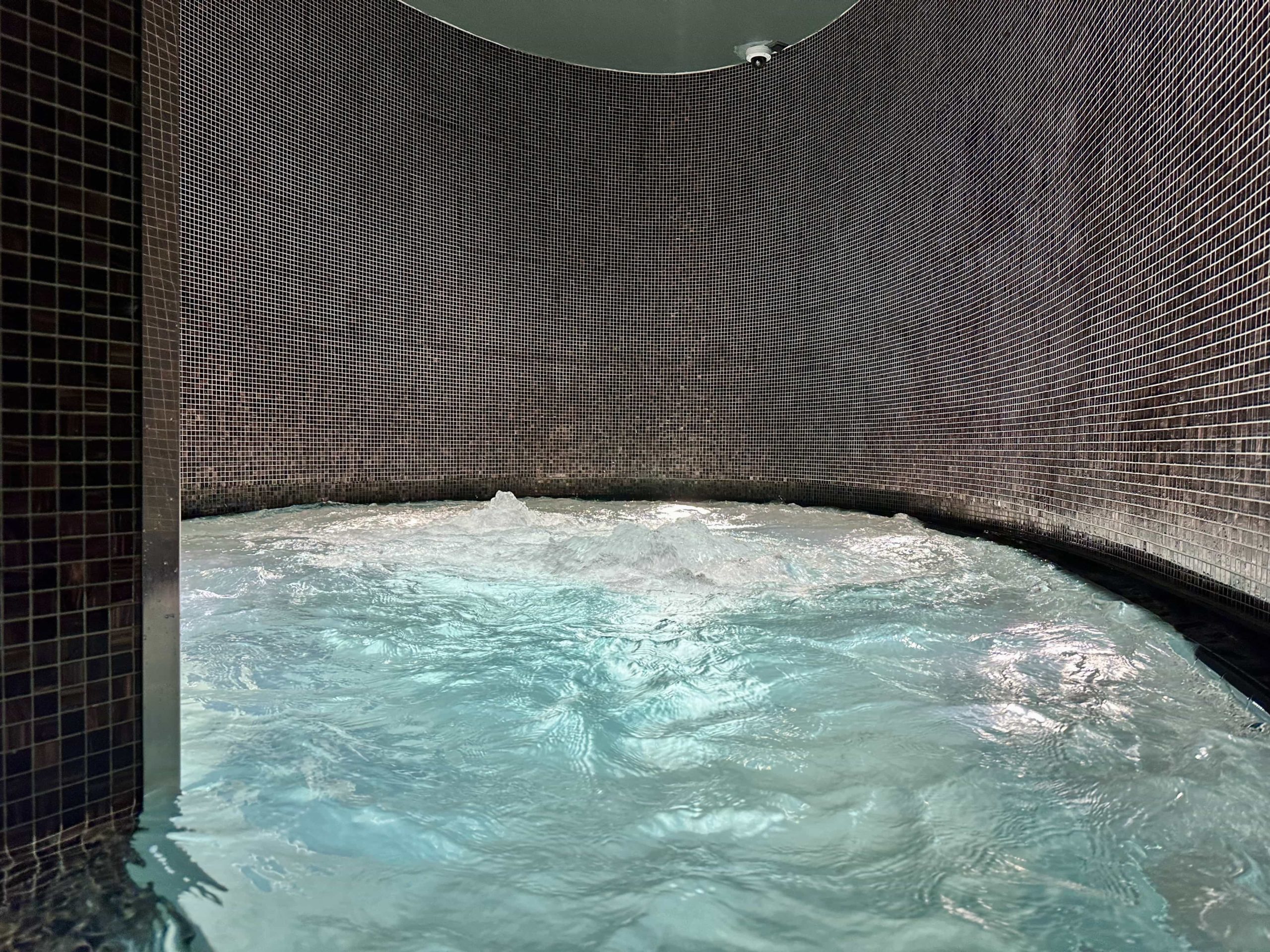 And… oh. It turned out to just be an oval-shaped pool with some bubbles in the middle — echoey, claustrophobic, and frankly, boring. I found myself returning to this section, hoping I had missed something, but each time, the disappointment persisted. It's a missed opportunity; this space could have been better utilised for an extended lap pool, a jacuzzi, or a larger spa area. Any of these options would have been more appealing.
Sauna, steam room, relaxation room
Speaking of the spa area, I had no issues with the sauna, steam room, shower area, and relaxation room. While not massive, each area is sectioned off such that they feel quite secluded, and the slate tiling, ambient lighting, and wooden accents all compliment each other to create a nice ambiance. Both the sauna and steam room are maintained at an ideal climate.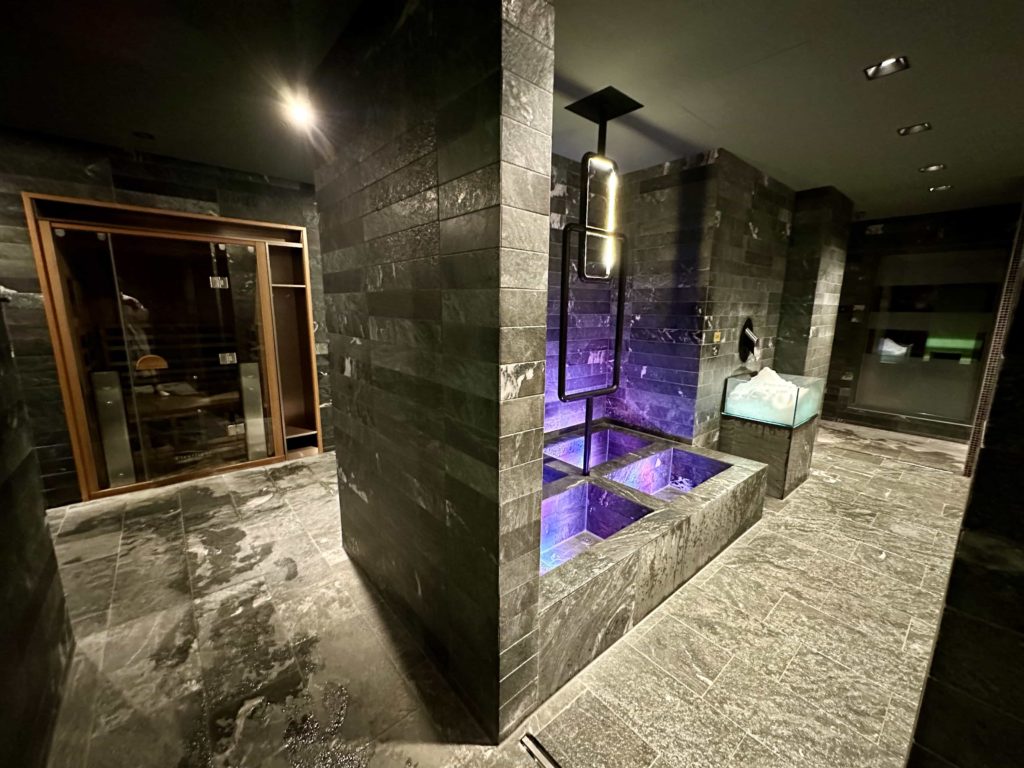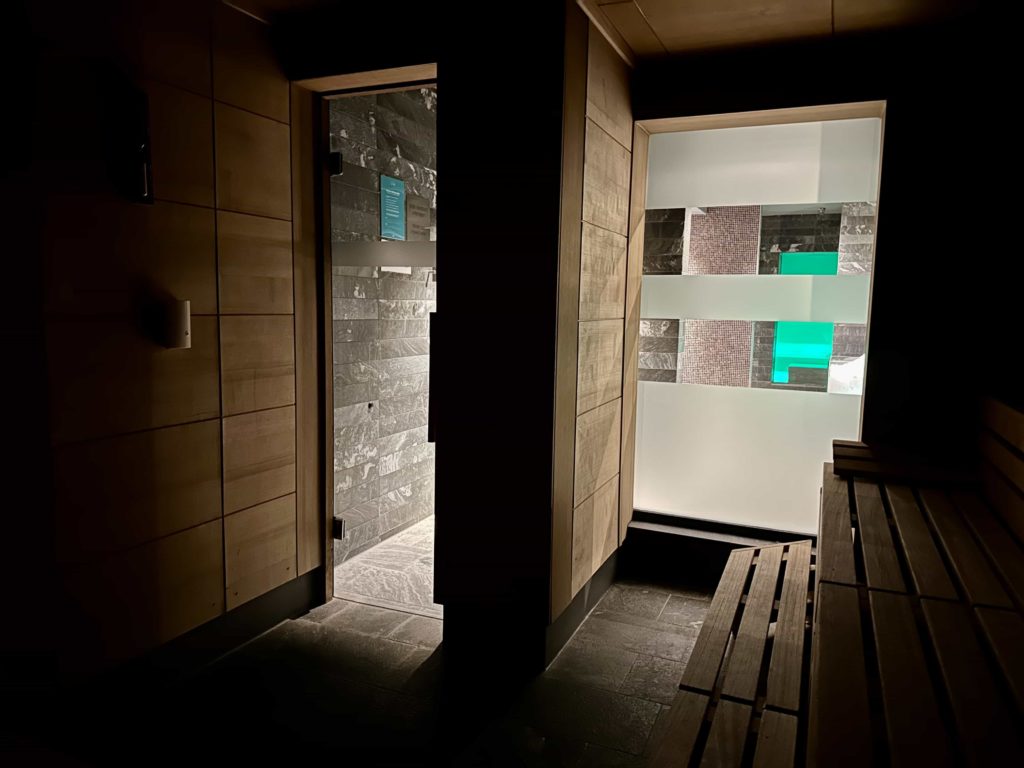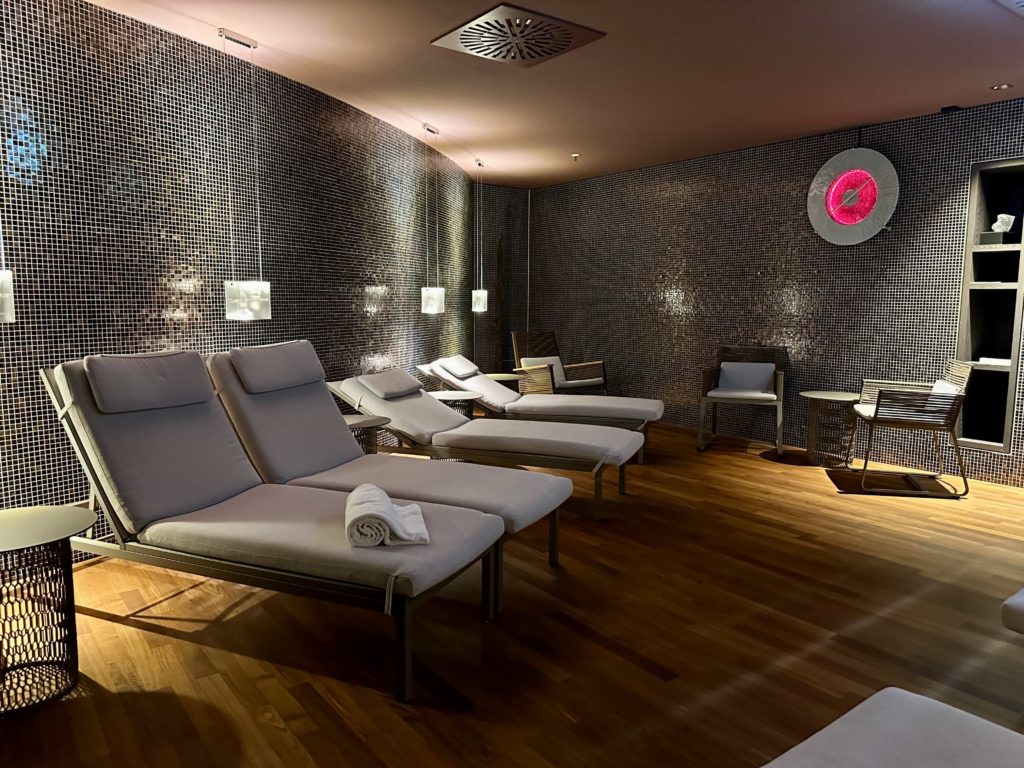 Despite my reservations about the pool, I appreciated the spa facilities as a whole. You don't realise what you've got until it's gone, and whenever I stay at a hotel in Munich without one, the shortcomings of this one suddenly don't seem so bad. On that note, the spa facilities will be closed from January to June in 2024 for "extensive renovations", so it will be interesting to see how Sofitel improve on the offerings. During that period, guests will be able to use the spa facilities across the road at Le Méridien.
Gym
The gym is undoubtedly this hotel's biggest shortcoming. Or perhaps "smallest", because this gym is tiny and verges on unusable for anything other than basic cardio.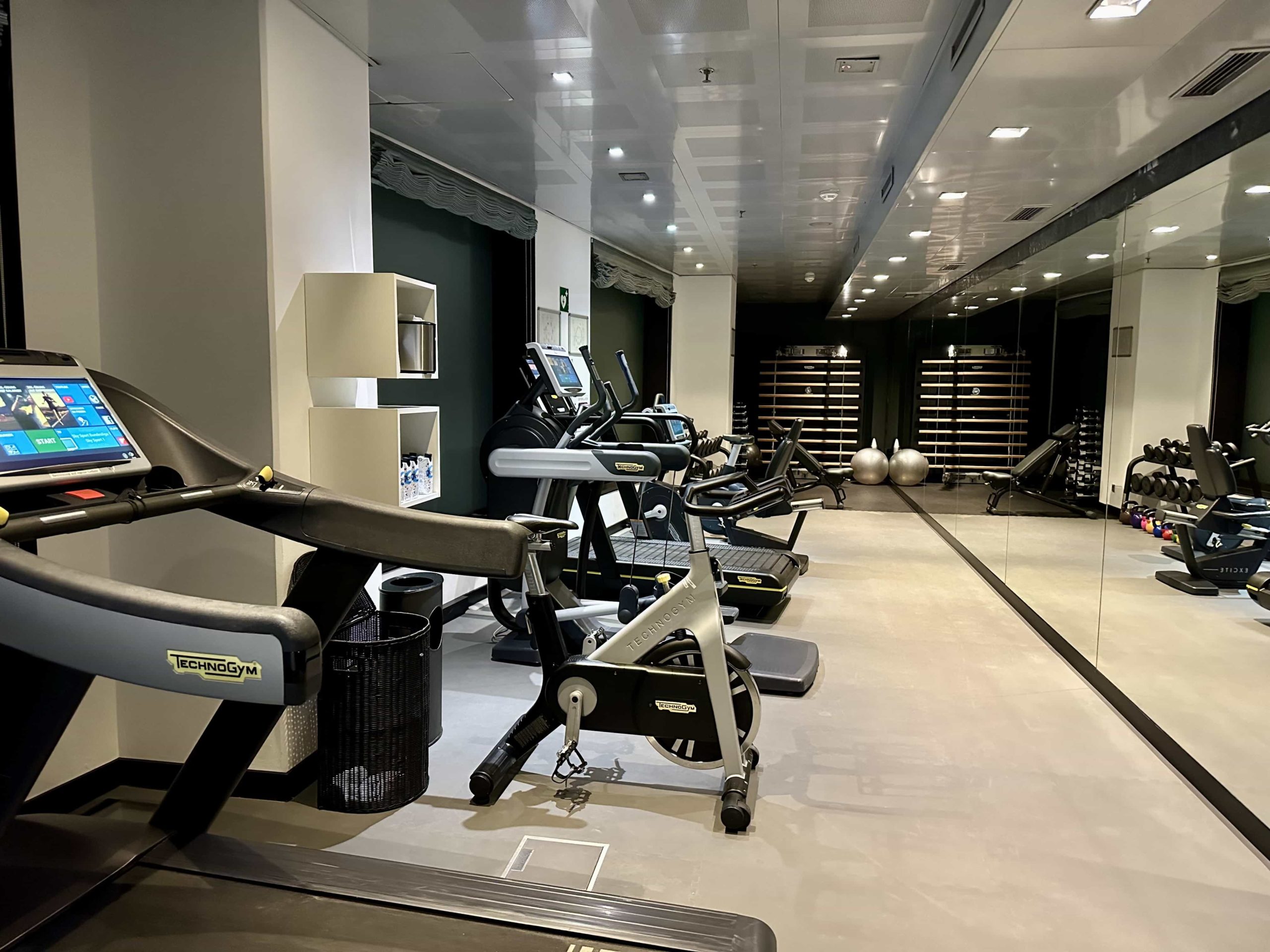 It's essentially a corridor, within which there is a lineup of treadmills and bikes, a selection of weights, and a cable machine jammed in at the far end. To its credit, the cable machine is quite sophisticated — the weights are discreetly concealed, and you adjust the resistance with a sleek digital dial. However, the cable's stretch doesn't feel particularly linear, so I'm not sure it's as usable as a traditional setup.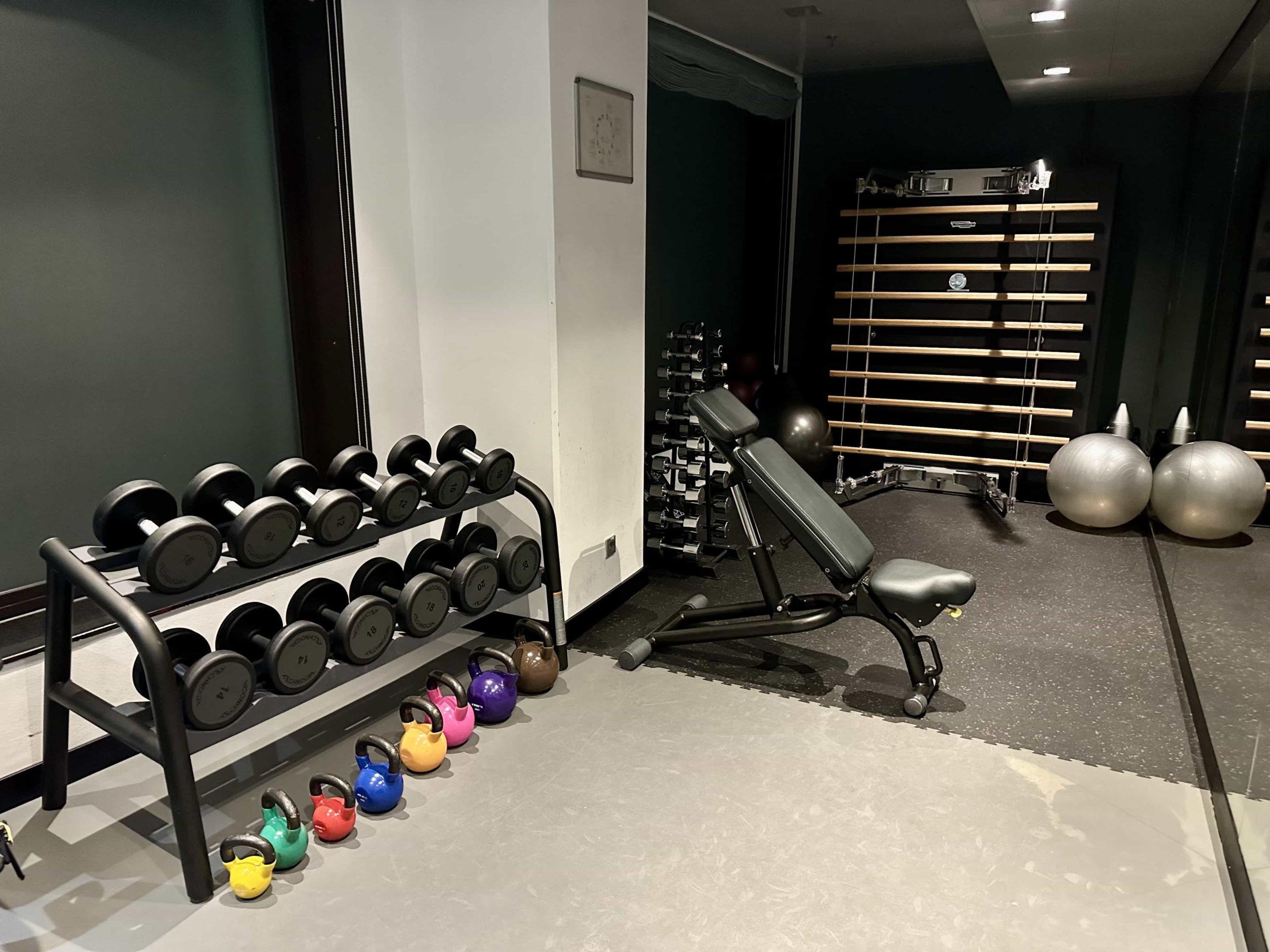 While the equipment is modern, there simply isn't enough of it. During my first visit around 10pm, I managed a full workout — well, within the constraints of the limited selection. However, on subsequent visits, the weight area was occupied, even after passing 25 minutes on the treadmill. After that, I gave up and haven't been back since.
Anything else to note?
After I'd checked out, I lingered in the hotel lobby until around 4pm to get some work done. Once I was finished, I wanted to squeeze in a quick run before my flight, and the reception staff kindly allowed me to use the spa facilities to change and store my luggage.
So, while I've been critical of the staffing in some areas, there are still certain individuals who go above and beyond. This was a really nice way to end my stay, and I have to confess that I may also have used the sauna before I departed, which was great.
Conclusion
I've been critical of a few aspects of my stay, and as a result, you may have gotten the impression that the Sofitel is not somewhere I'd recommend. However, I grew to really like this hotel.
Regarding its "contemporary style", the hotel unmistakably embraces it, even if it might not be exactly to my taste. As for "deep comfort", this manifests in the quality of the rooms, and (most of) the amenities. However, the aspect of "personalised service" hinges on who you interact with. It's far from a bespoke experience, and even though that was always going to be difficult to achieve in an establishment of this scale, I still wish it was more consistent.
As such, while The Charles Hotel is somewhere I felt immediately at home, the Sofitel took a little longer. Of course, staying here is also much cheaper than at The Charles Hotel, and that's something I had to keep reminding myself of. At the price I paid, I think it's remarkably good value. For business travellers in particular, it's a great option.