Established in 2007, The Charles Hotel is part of the British family-owned brand, Rocco Forte, which maintains a relatively small portfolio of hotels. Over the years, the hotel has earned a stellar reputation and currently holds the title of the highest-rated five-star hotel in Munich.
While most of the brand's hotels are situated in Italy, I've strolled by their renowned Brown's Hotel in London and The Balmoral in Edinburgh on many an occasion. As such, despite never having had the opportunity to stay at one of their properties until now, my interest in the brand has always lingered.
Featuring only 136 rooms, plus 24 suites, the hotel is surprisingly intimate. Particularly when compared to Sofitel Munich Bayerpost — one of the hotel's main competitors — which boasts almost three times as many rooms. Would this lead to a noticeably more personalised experience?
Having had the privilege of staying at The Charles Hotel on three separate occasions, I believe it's time to share my thoughts.
Booking and price
I'll be focusing on my most recent visit, during which I stayed for one week in the hotel's entry-level 'Classic Room'. Booked through Booking.com, I paid an average of £480 per night, for a fairly last-minute booking in early August.
For this rate, I secured a 40sq.m room with a standard view, though rooms with improved views, as well as a range of suites, are also available for more premium prices. I should mention, some of the suites look quite incredible.
Location
The Charles Hotel is conveniently located a short walk away from Munich Central Station (München Hauptbahnhof), providing easy access to and from the airport via train and other parts of the city. Being outside of the Old Town, means that you're a little removed from the most picturesque areas, but this has the advantage of seclusion.
As with most cities, the area which immediately surrounds the station isn't the most charming. Don't get me wrong, the hotel isn't in a bad location at all, but adjacent to the hotel is Karl-Stützel-Platz. It's not unusual to find homeless individuals and people drinking in this area, around the peculiar ring-shaped art installation.
Don't let this put you off, because the hotel feels nice and private, tucked in just beside the Old Botanical Garden. You can stroll through the park, enjoying the tree-lined pathways, perhaps stopping off at the cafe & beer garden on your way to Karlsplatz. From there, you're just a few minutes from the Old Town.
Check-in and first impressions
Despite its luxury nature, the hotel maintains an unassuming presence. Its entrance sits on a tranquil side street, and the gold lettering above the front door is essentially the only indicator of its opulent status. Of course, the frequent presence of supercars and chauffeur-driven limousines parked out front offers another (less subtle) hint.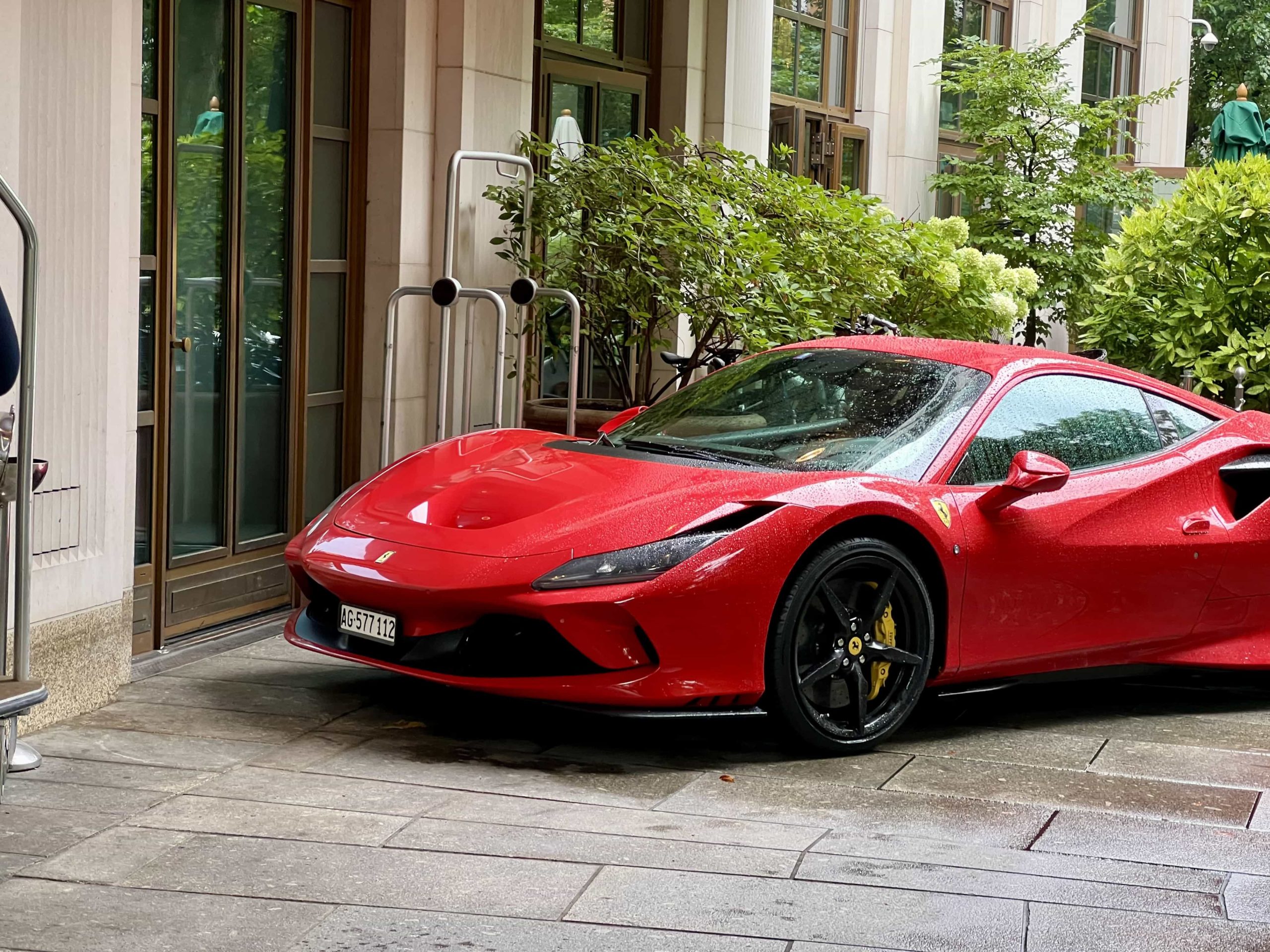 While I appreciate the subtle exterior aesthetics, the lobby area leaves much to be desired. Lacking any distinctive character, it fails to make an impression, characterised by plain decor and a somewhat cramped ambiance. It's somewhat surprising for a brand with a multitude of iconic hotels to its name to offer so little in this regard. Where is the grandeur that typifies the rest of their portfolio?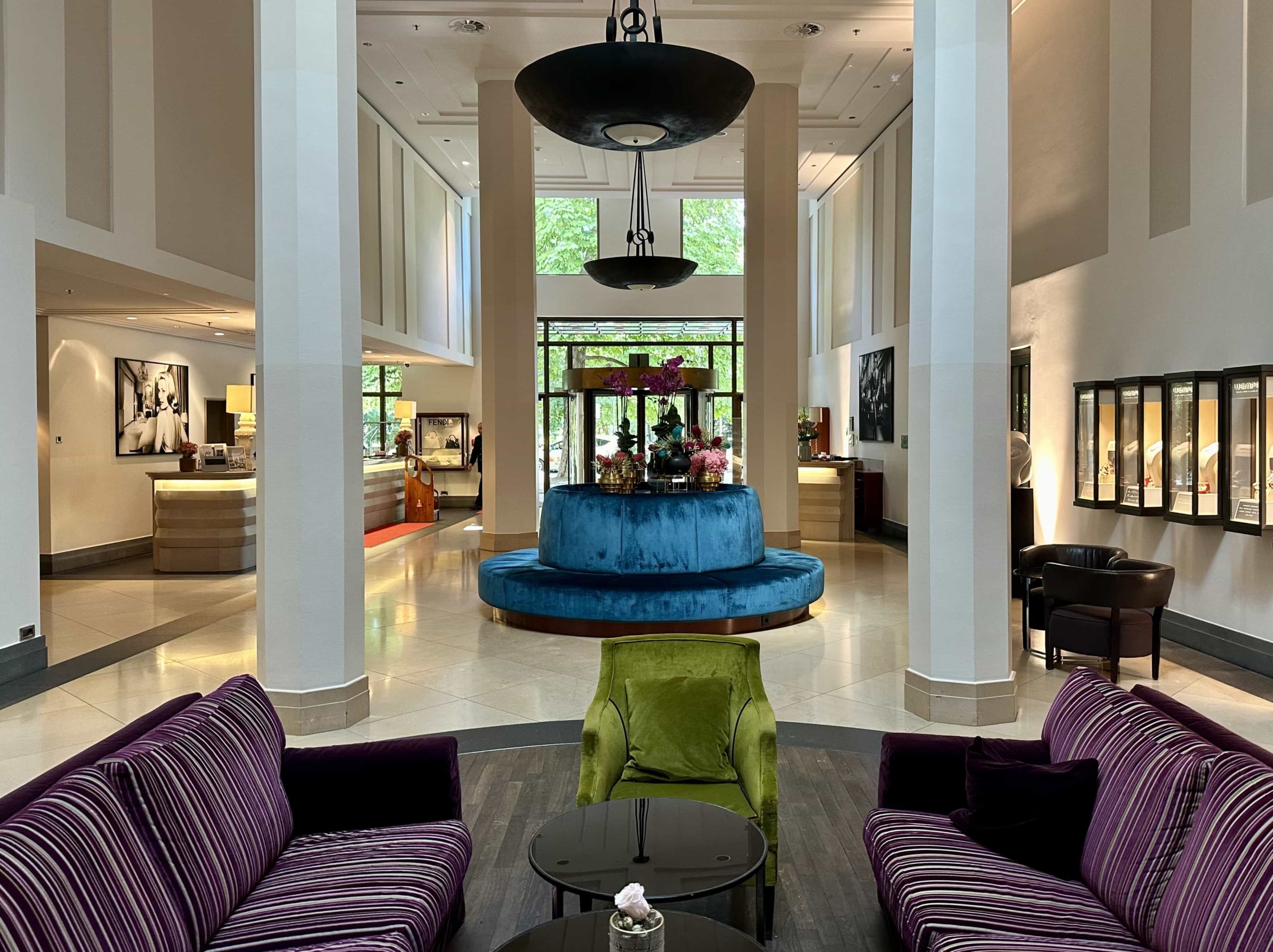 The general lack of inviting 'spaces' is an issue which pertains across the property. Beyond the bedrooms, there's a distinct absence of areas where one might want to spend time. Even the lounge within the lobby appears somewhat neglected. Tucked away at the back, it's dimly lit and offers only self-service drink options. It's a place you'd only really use while waiting, not as somewhere to relax.
With that said, let's turn to the check-in experience. The receptionist proved friendly and helpful, even if I didn't hear much of what she said due to the congestion I was suffering from.
While I wasn't offered a welcome drink this time around — a gesture that I personally find somewhat frivolous anyway — the offer to help with my luggage was appreciated. Having carried them this far, an extra 20 meters to my room didn't seem particularly onerous, so I opted to decline on this occasion.
Room
My criticism of the decor in the lobby might leave you wondering about the room. Fear not, I really like the rooms in this hotel. In fact, I'd rank them as possibly my favourite of anywhere I've stayed; they're just really well-designed.
It's the small details that make the difference: an abundance of space, a well-thought-out layout, adaptable lighting, and the high quality of the fixtures and fittings. Pictures won't do these qualities justice, but being in the room, you feel an immediate sense of homeliness.
You've got space for all your belongings, everything is where you'd expect it to be, you can tailor the lighting to your liking, and the furnishings are plush and inviting.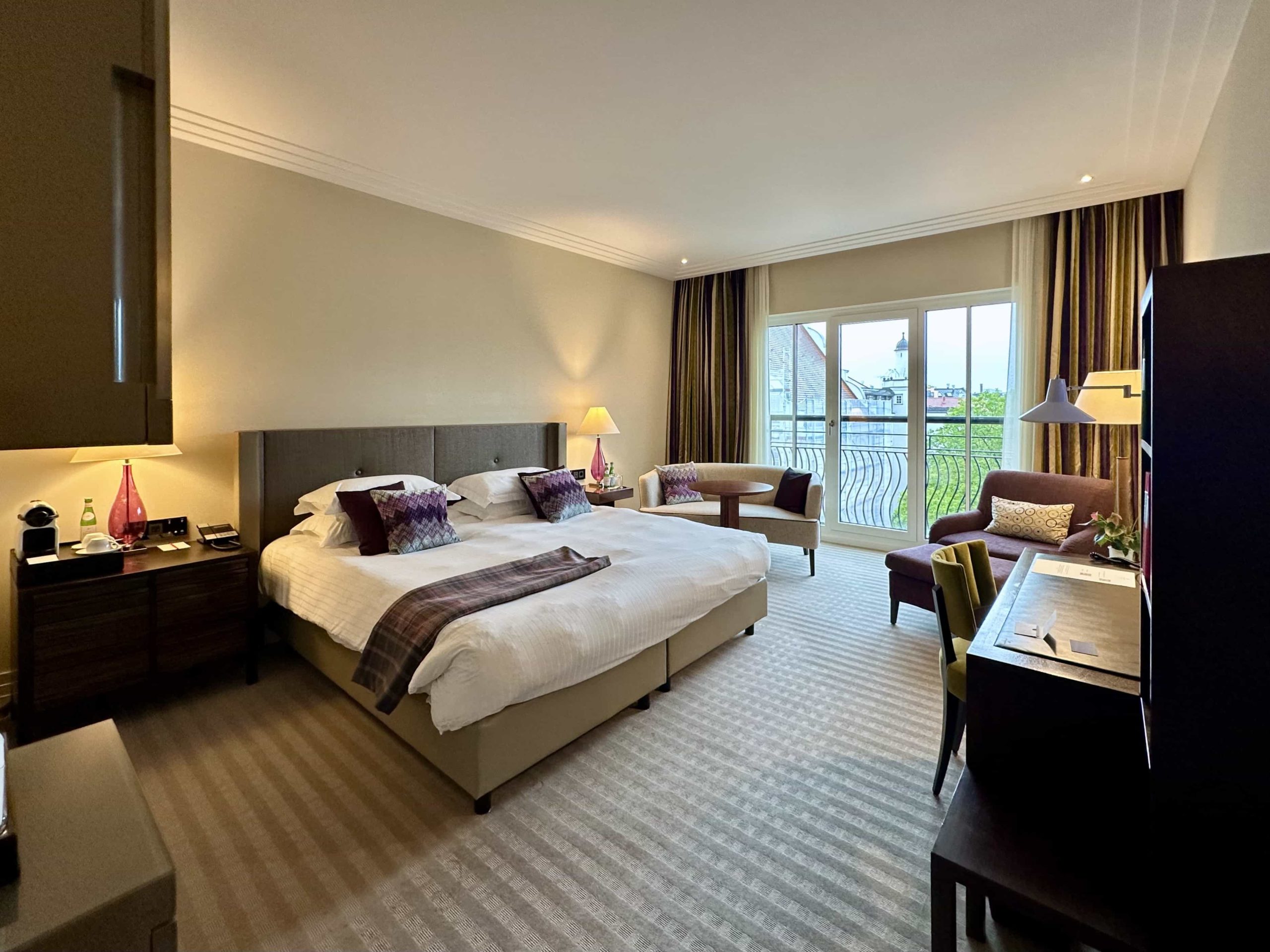 One of the most significant compliments I can offer the room is that its level of comfort evokes memories of hotels like Corinthia or The Langham in London. Don't get me wrong, those hotels are undeniably a step above in terms of overall product (not to mention price!), but I couldn't help but notice a certain sense of coziness and comfort that felt pleasantly familiar.
When a hotel room facilitates good sleep, it's often difficult to elaborate upon. Indeed, that's the case here. I slept great each night, thanks to a supportive mattress, plush pillows, crisp bedding, and blackout curtains. The room never felt stuffy, and was always a comfortable temperature, even when the weather outside was on the hotter side.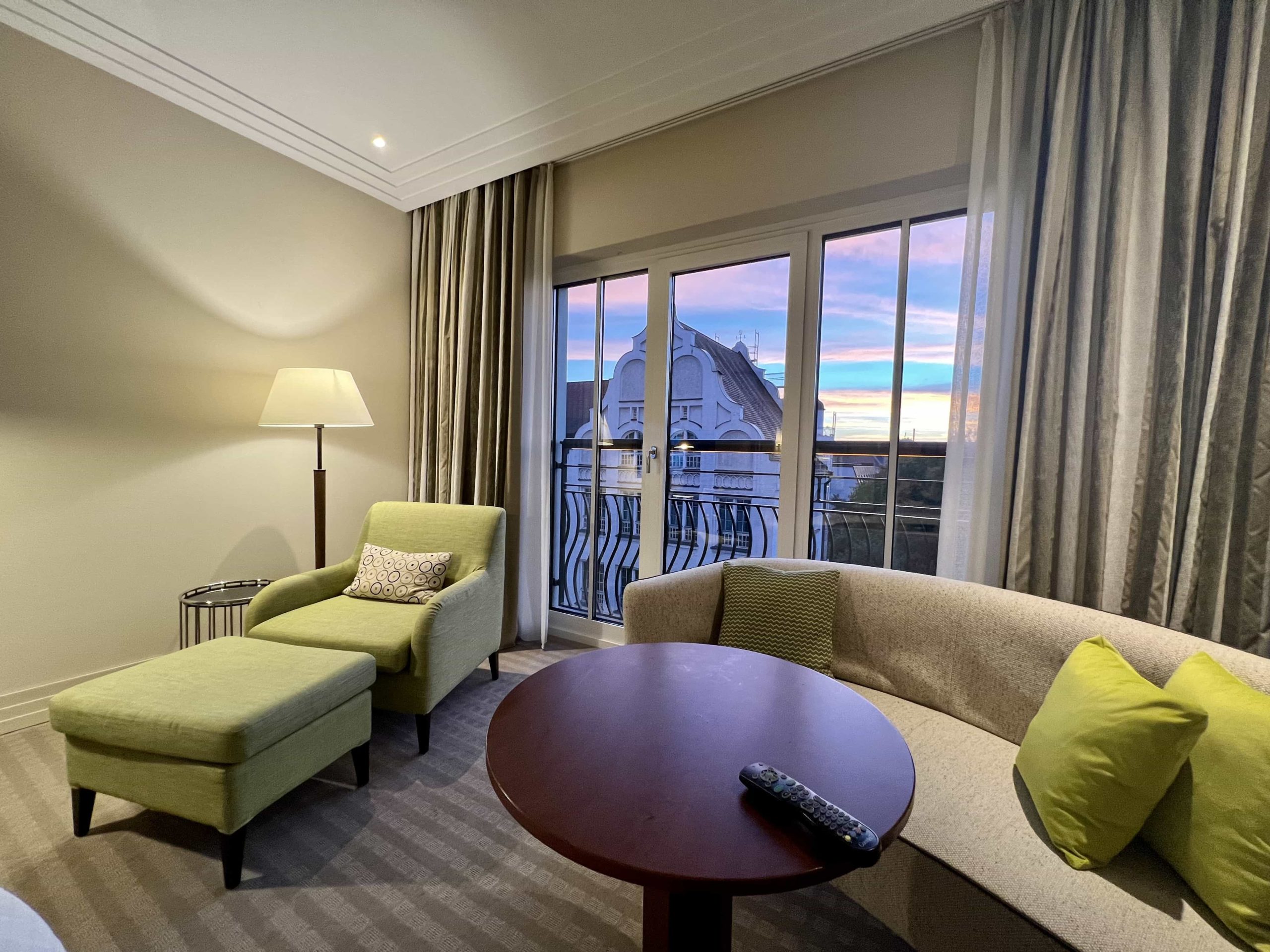 During the day, the large floor-to-ceiling windows bring in lots of natural light. For the best views, you'll want to get yourself a south east-facing room, overlooking the Old Botanical Garden. This side of the building is where the premium suites are located, and the views are stunning.
My rooms have always been west-facing, providing limited visibility over the rooftops from the fifth floor. There's currently construction work happening across the road from this side of the building, but noise fortunately isn't an issue at all.
I'm a big fan of the bathroom. It avoids gimmicks like sliding doors or glass dividers into the bedroom, opting instead for a straightforward and practical design. There's a generous sink and countertop area, a roomy bathtub, and a walk-in shower, along with a separate space for the toilet and bidet.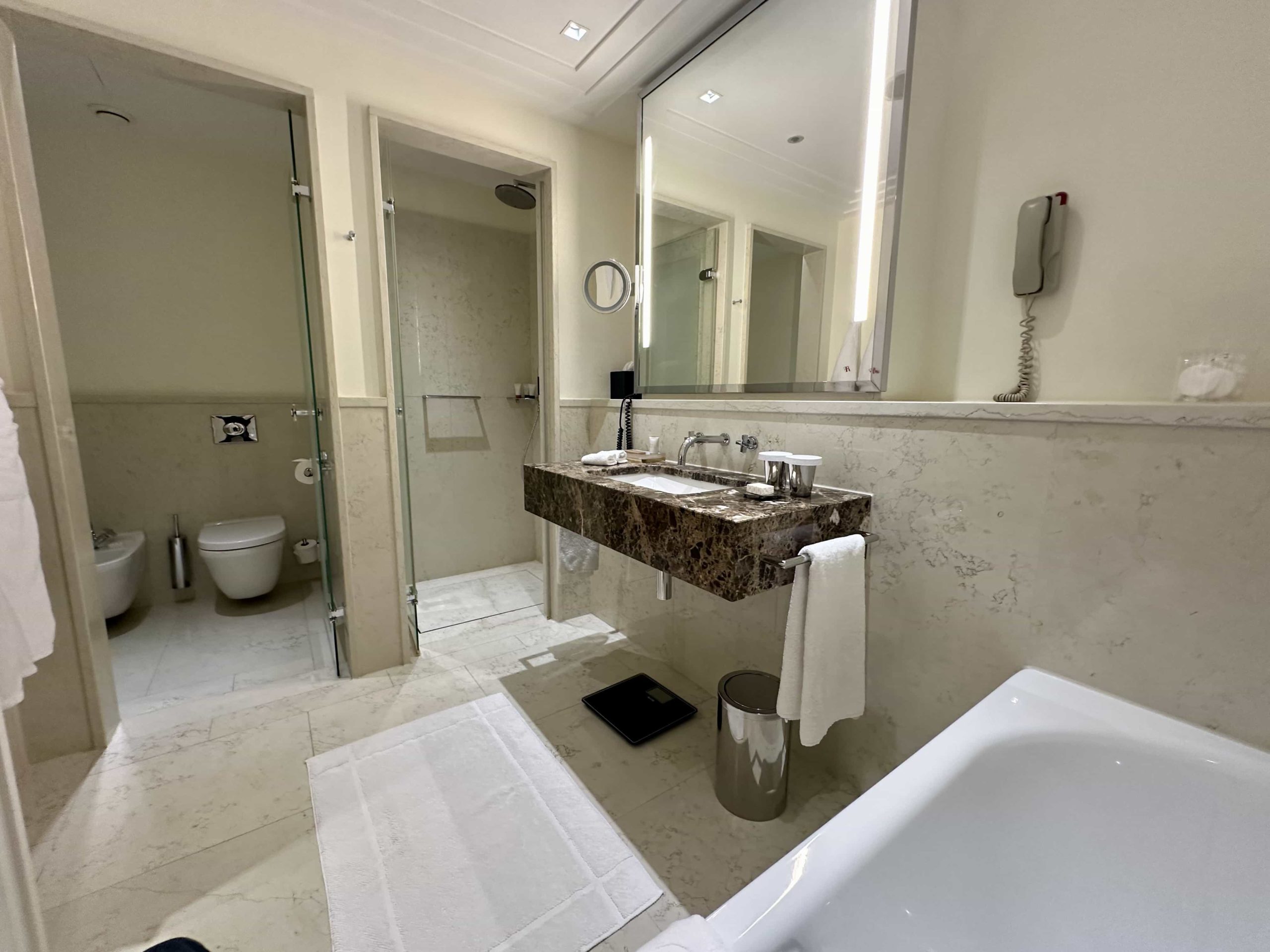 Upon my initial arrival, I did encounter an issue with the shower's drainage, which flooded the bathroom. These things happen, and after notifying the reception, it was promptly rectified by the time I returned later that day.
Overall, the rooms leave little room for criticism, and it's challenging to find fault in any aspect. In fact, the rooms are the main reason I continue to return to this hotel.
Dinner
I'm about to say something controversial here — I'm not the greatest fan of German cuisine. While I appreciate it to some extent, I find it somewhat limited in its variety. Perhaps with the exception of Italian food, I also find that international dishes often fail to deliver.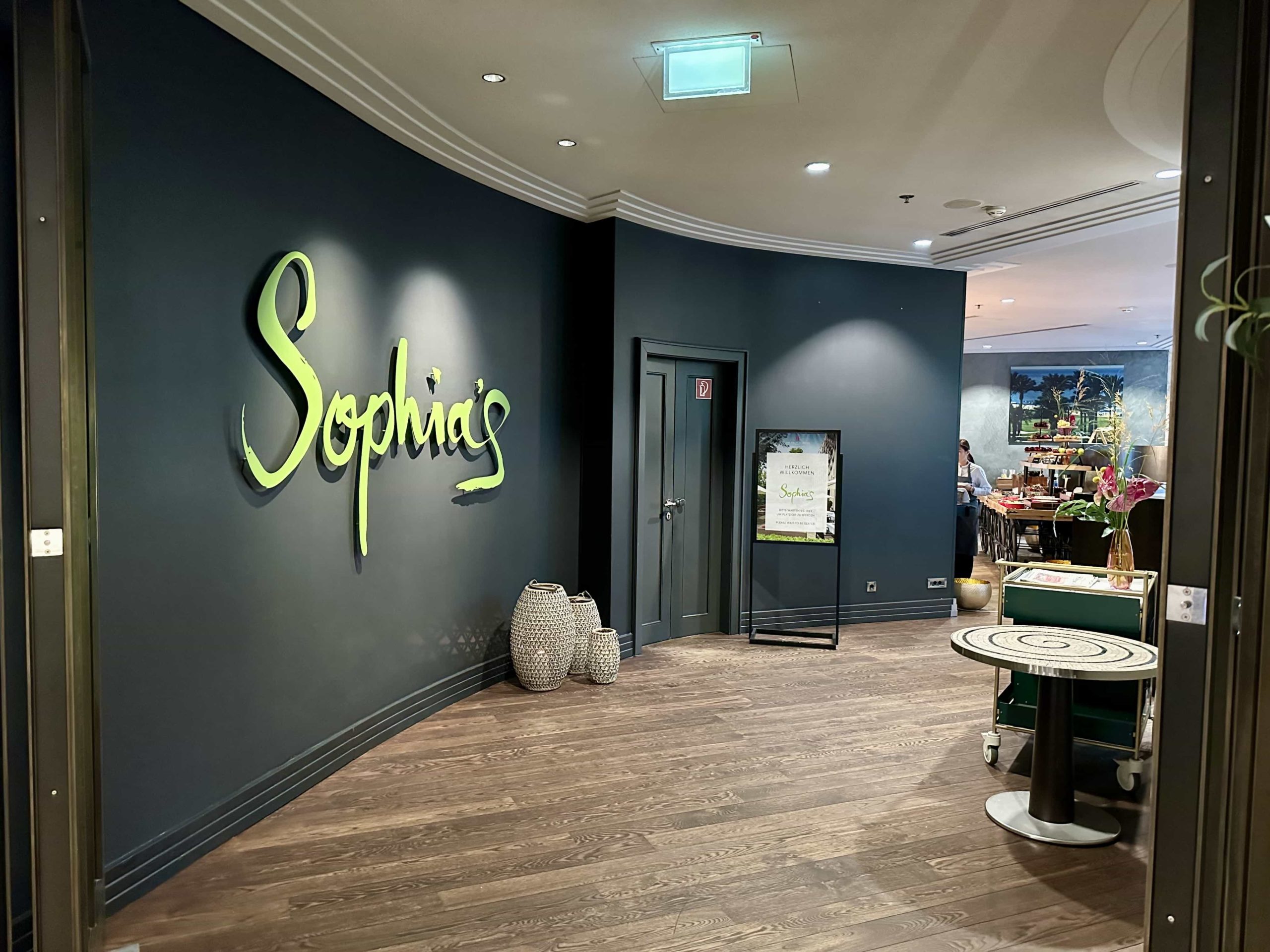 Of course, this is just my personal view, but those of you who can relate, are going to like what's available at The Charles Hotel. Specifically, the cuisine offered at Sophia's Restaurant.
During this particular stay, I opted to exclusively for room service dining, mainly in the interest of time. As such, I was pleasantly surprised to see that the room service menu isn't some slimmed-down version of what you get in the restaurant. During the course of my stay, I tried almost every item on said menu, so it's fair to say I've got a good idea of what's on offer.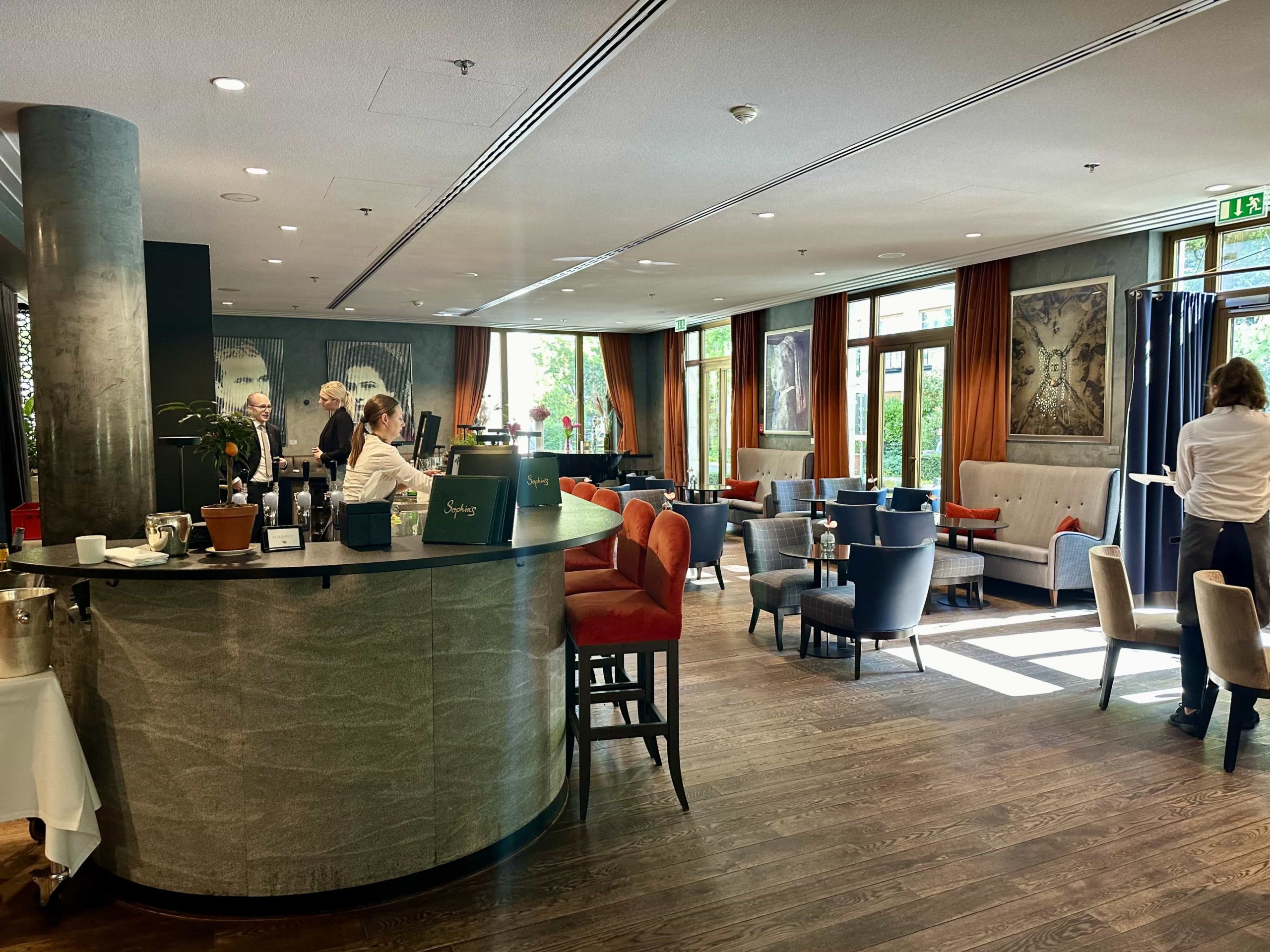 My standout favourite was the Scottish salmon with miso sauce, sesame-spinach, and lobster-lemongrass foam. Not only was this dish beautifully presented, but it also tasted incredible. Other notable highlights included the parmesan foam soup, steak tartare, burrata, and gnocchi. I'm not typically a fan of schnitzel, but the veal cutlet schnitzel was also excellent.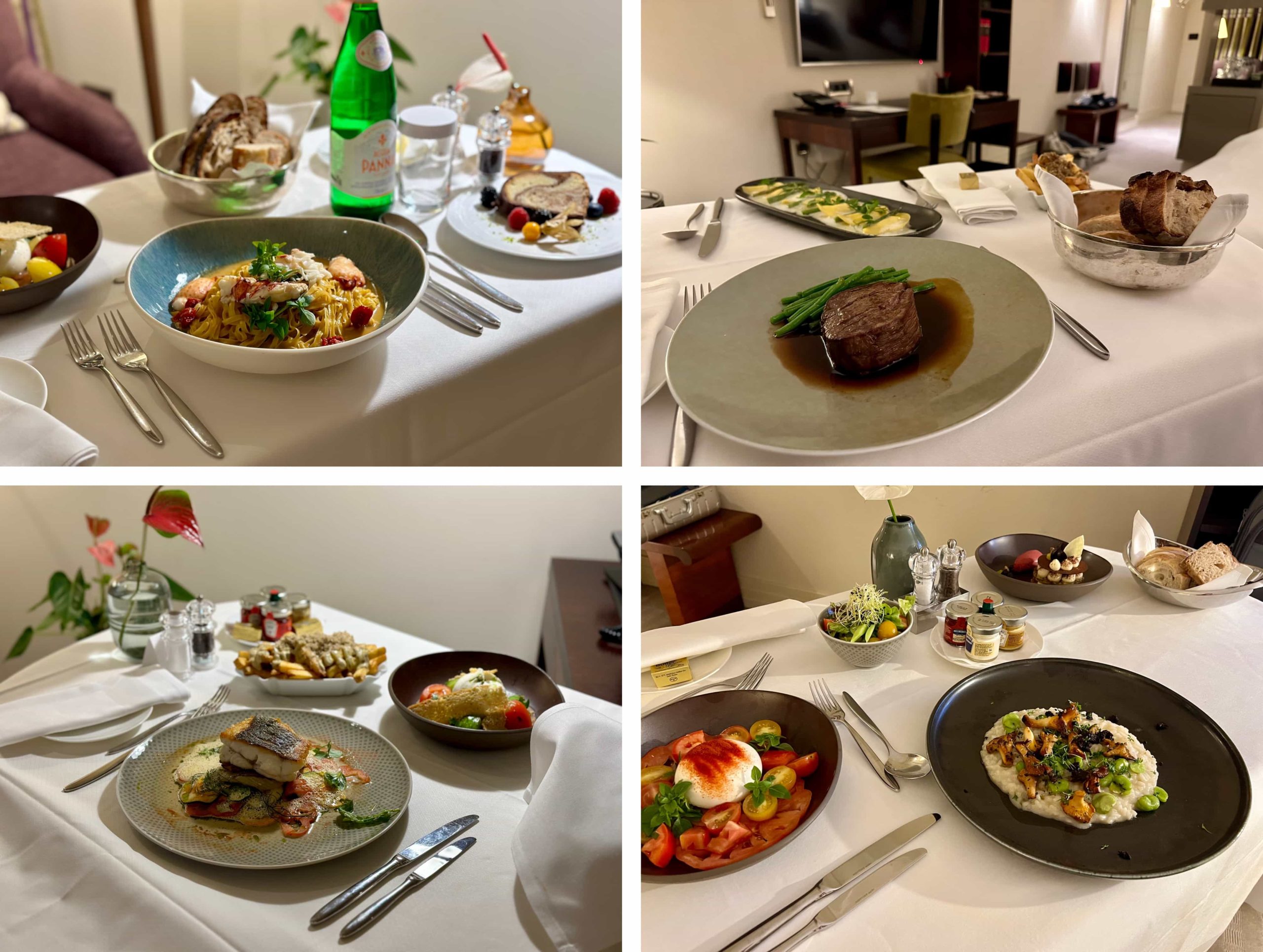 To my surprise, I didn't enjoy the lobster roll at all. Ironically, the inclusion of half a lobster was perhaps overly generous, with huge chunks of overcooked lobster meat overwhelming the dish. The most expensive dish on the menu, the Bavarian beef tenderloin, was also let down by a bland sauce. However, the truffled French fries that accompanied it did help compensate for this to some extent.
While I didn't dine at the restaurant for dinner on this occasion, I had done so on a previous visit and enjoyed sitting outside on the terrace. This was a nice environment, even around 10pm after the sun had gone down. My only criticism is that I distinctly recall how dimly lit it was; so dark, in fact, that reading the menu became quite challenging, and even checking your phone felt like staring into the sun.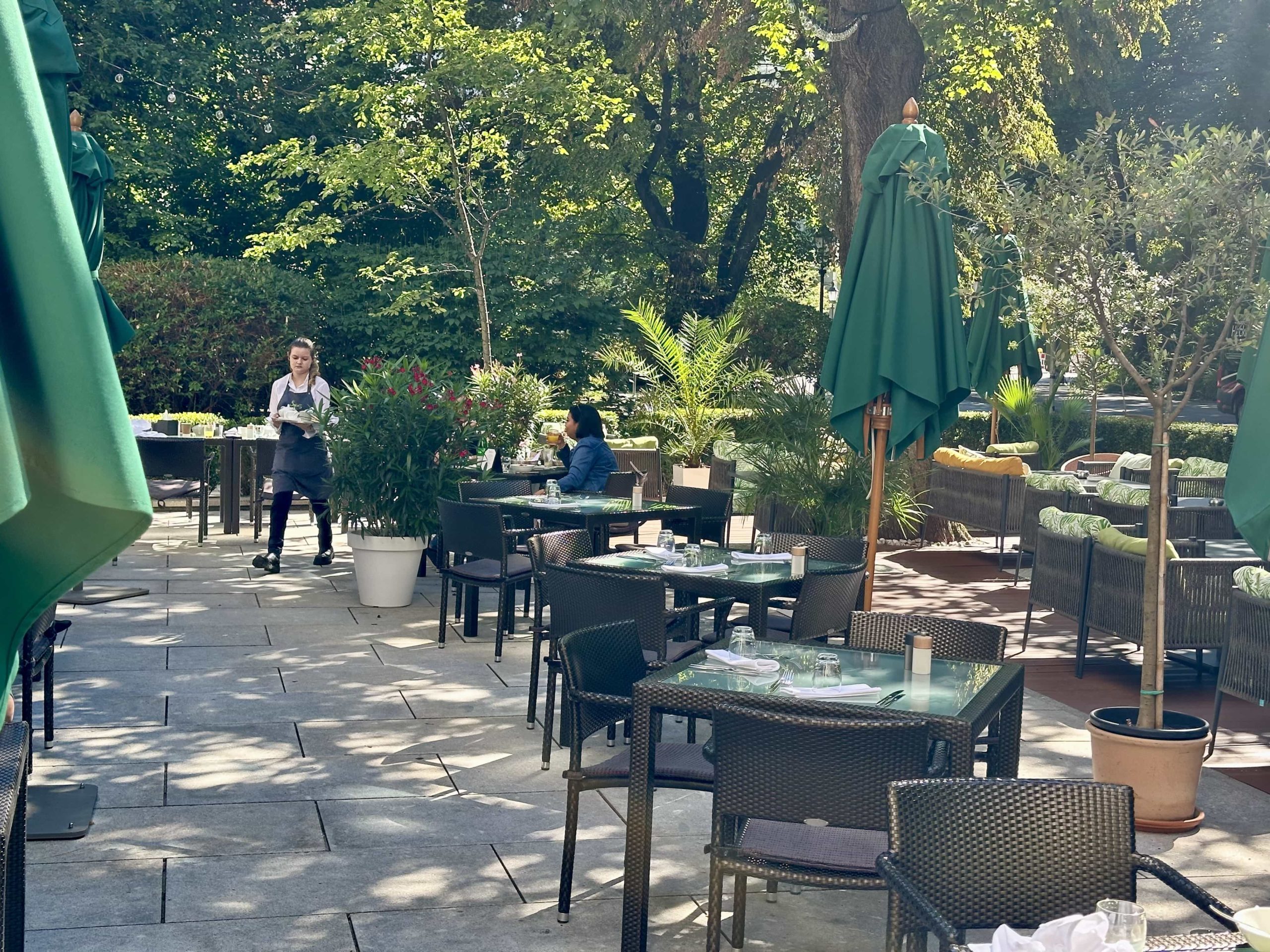 Unsurprisingly, prices are on the higher end, with main courses spanning from 26 to 52 euros. On the whole though, this is an excellent dinner offering, whether you're dining in the restaurant or opting for room service.
Breakfast
Moving onto morning dining, it's a shame to only have one restaurant. I always appreciate a change of scenery between breakfast and dinner, but that's one of the trade-offs for staying in a more compact establishment.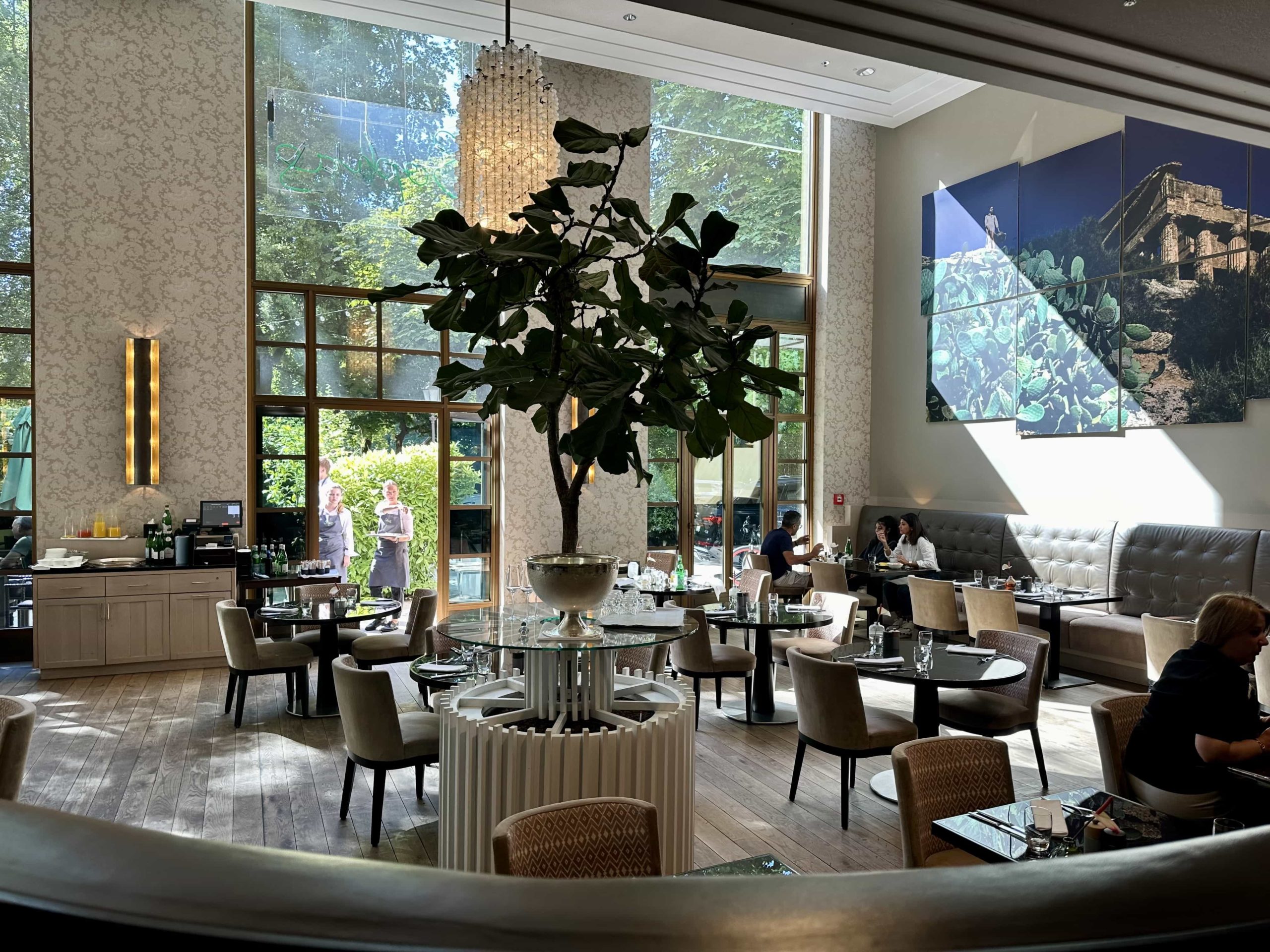 As a Brit, German breakfast buffets lack a few hot items that we're accustomed to: beans, potato scones, hash browns, black puddings, and the like. In fairness, they've effectively omitted the most unhealthy parts about breakfast, so it's hard to criticise.
Anyway, as for the hot items they do offer — tomatoes, sausages, eggs, bacon — it's all high-quality, and accompanied by a comprehensive assortment of cold cuts and cheeses. There is also a wide range of salad items, fruit, and delectable pastries. No surprises there; Germany does pastries and bread-based products very well.

Should those options not quite hit the spot, there's also an à la carte selection. From this menu, I sampled the avocado toast, French toast, and eggs Benedict (with salmon). Unfortunately, all three dishes fell short. The avocado was more like a lacklustre guacamole. The French toast turned out soggy. And while the eggs Benedict were passable, they were far from the best example I've ever tasted.
Service can be a bit hit-or-miss depending on the server. The waitress who served me on both of my visits wasn't particularly proactive. Ordering from the à la carte menu required multiple attempts to catch her attention, and she seldom checked in on how I was doing for drinks. I also ordered a mocha, and ended up with a cappuccino.

While these points may seem somewhat nitpicky, they're precisely the factors meant to differentiate a five-star establishment from a lesser one.
In light of the resounding success of the dinner offering, it's hard to extend the same sentiment to breakfast. The quality simply doesn't measure up, and when I reflect on other five-star hotels, the disparity is noticeable. But then again, I'm yet to experience a hotel buffet which I'm blown away by in Germany, so I'm not singling out The Charles Hotel here.
Spa
The spa at The Charles Hotel is renowned as one of Munich's finest, and as someone who can't resist the allure of a good spa experience, I was eager to explore it.
Rocco Forte proudly explain that The Charles Spa draws inspiration from the captivating landscape of Sicily. The connection didn't immediately strike me until I noticed the red coral mosaic feature wall, elegantly mirrored in the turquoise hues of the swimming pool. Red coral is abundant in the Mediterranean Sea, especially near Sicily.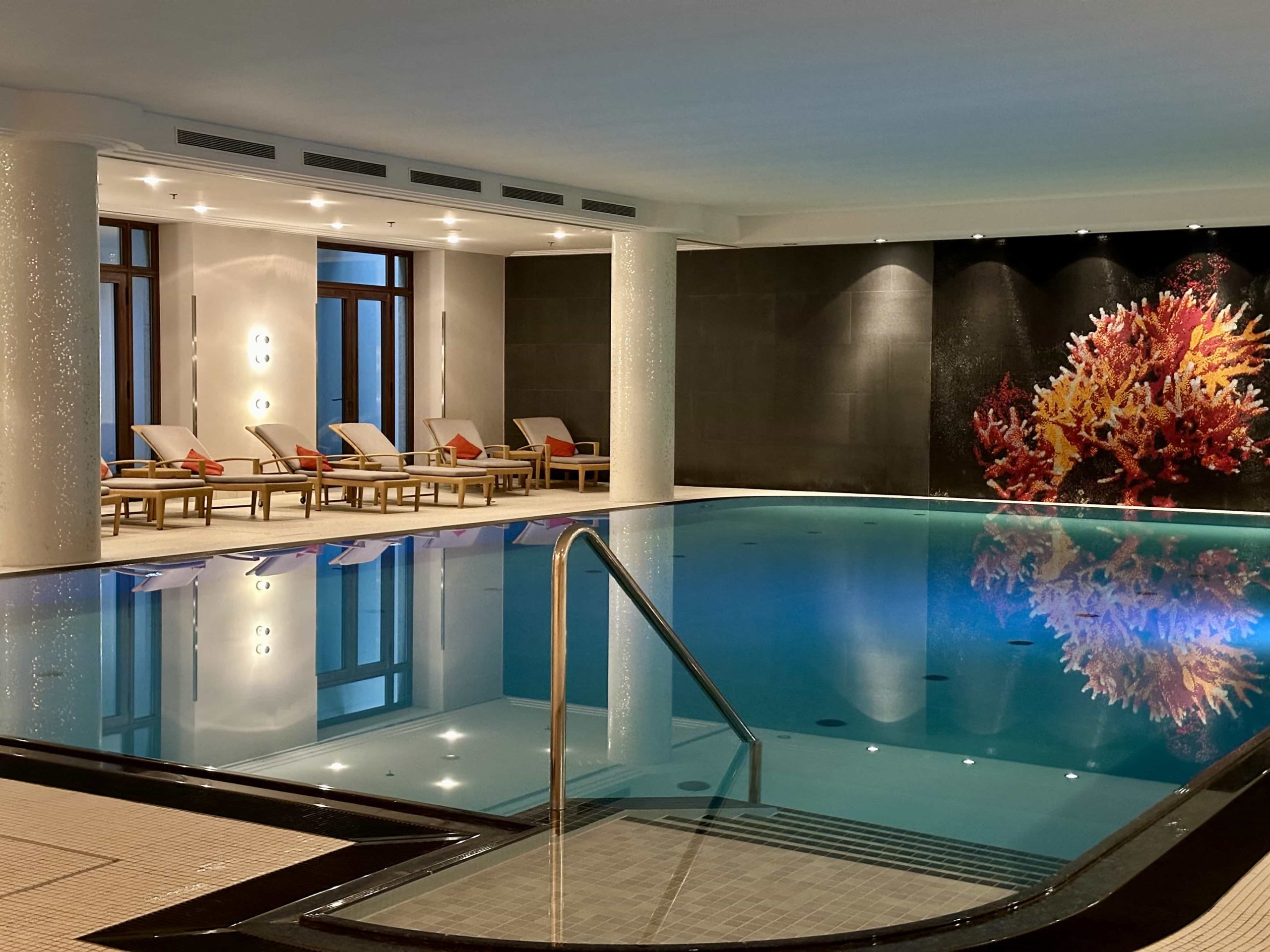 I like the swimming pool very much. Its 15-meter length provides a comfortable space for swimming laps, and the unpretentious atmosphere contributes significantly to the overall sense of relaxation. This is, in my opinion, the spa's greatest achievement — seamlessly combining luxury with a welcoming ambiance.
I was surprised to find there's no jacuzzi or hot tub, even though there's ample space for one. Instead, this space is filled with a generous number of loungers, more than enough to accommodate everyone. Among them, are three heated mosaic-stone loungers, perfect for a relaxing nap.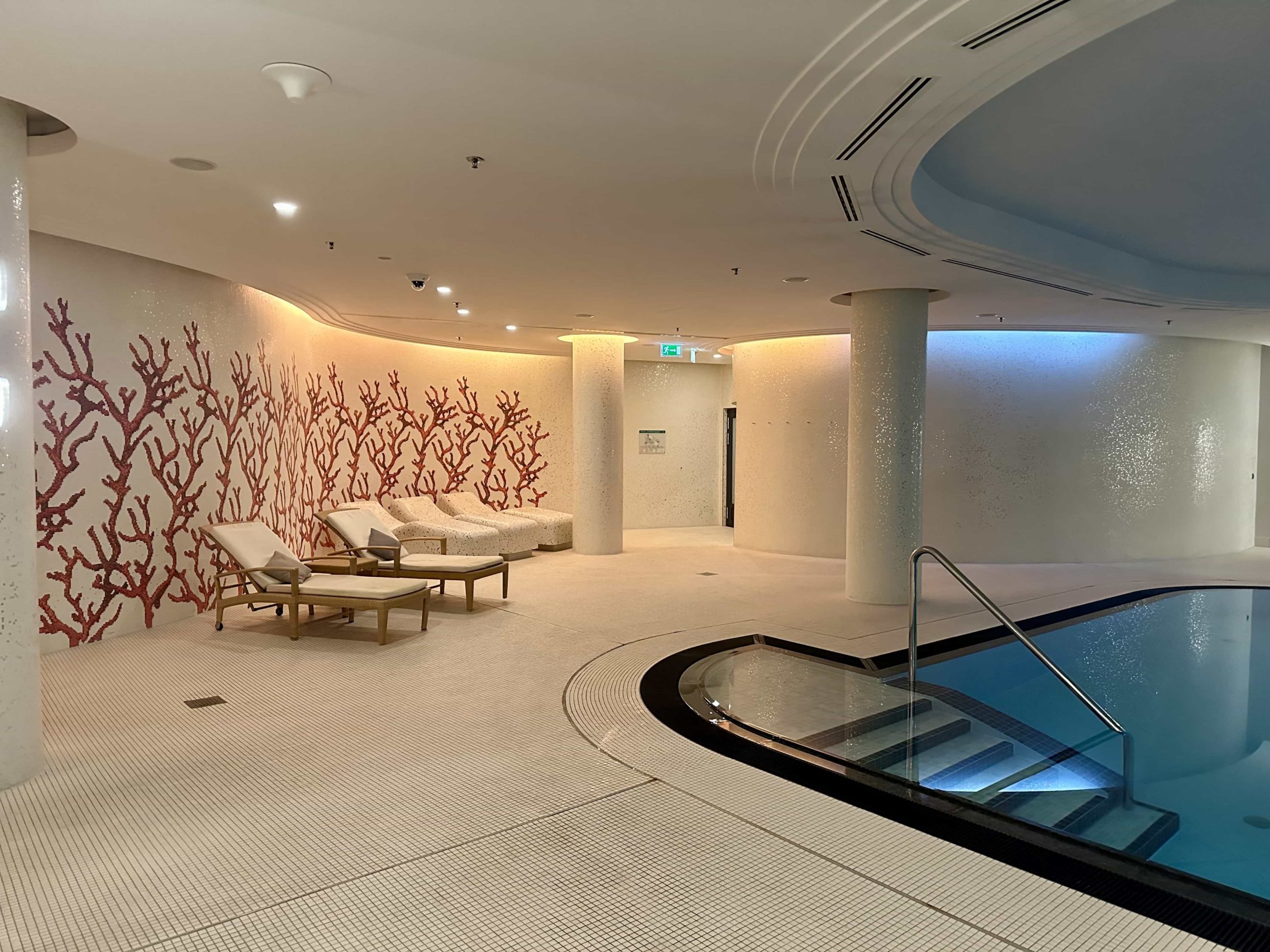 The rest of the spa though, isn't as spacious. As you move into the relaxation area, it assumes a more intimate atmosphere, centred around a compact shower space, a heated bench, and accompanying foot baths.
The layout of this area, particularly the inward-facing shower nooks, can make it challenging to find anywhere to cast your gaze, that isn't directly at someone else. Still, I like this space. Like the bedrooms, it feels homely — not that I have a spa at home, of course.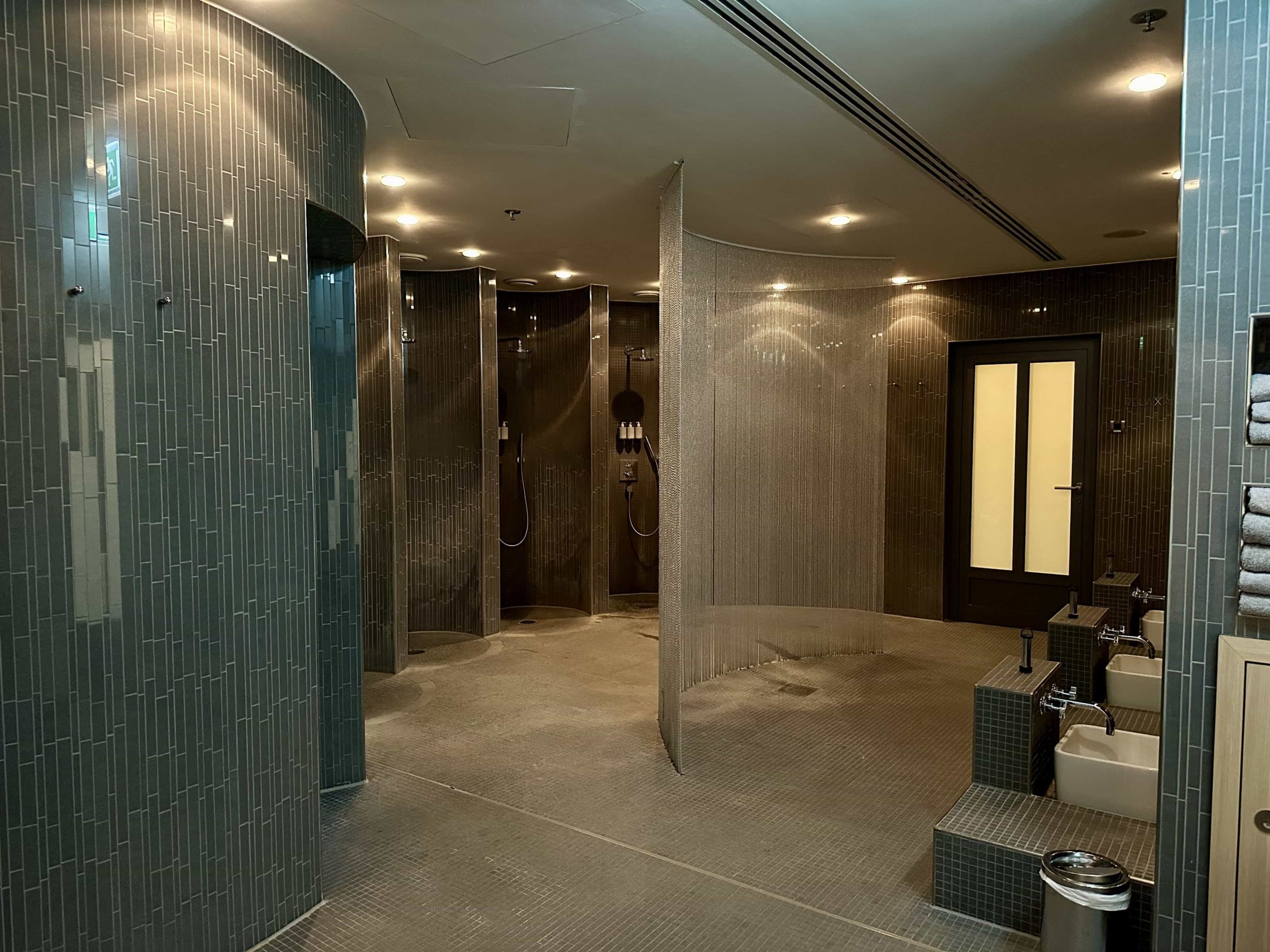 Connected to this area is the Finnish sauna, infused with a daily changing aroma such as orange vanilla. Adjacent to that, you'll find the steam room, which offers some of the finest aromatherapy I've experienced, even if a touch more steam wouldn't go amiss. Lastly, there's the relaxation suite, which I haven't frequented much, as I tend to prefer lounging by the pool.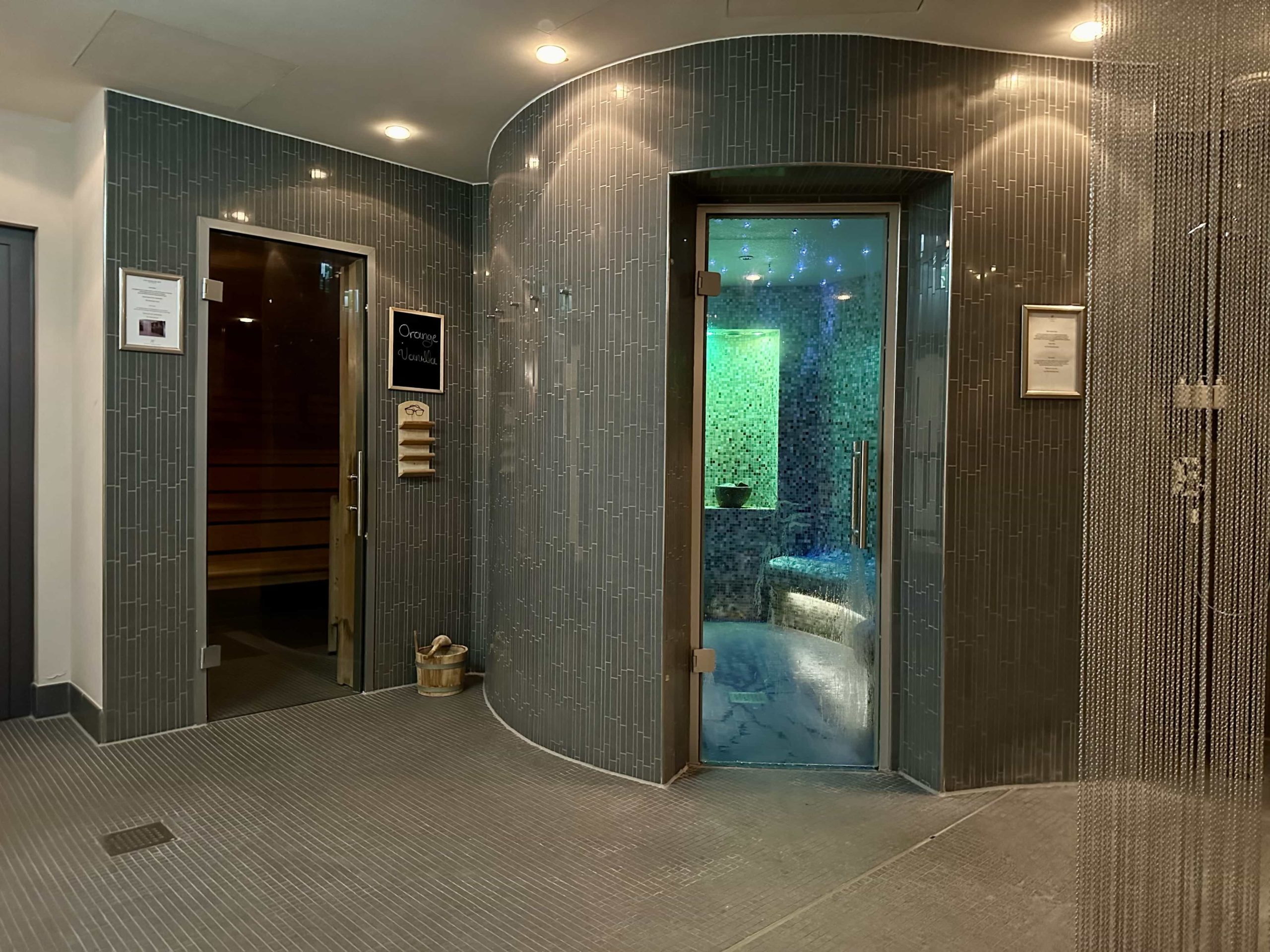 On the whole, while the spa facilities may not stand out as exceptionally unique, they consistently deliver one of my favourite spa experiences. However, having visited more compelling spas in the past, I couldn't help but ponder why The Charles Spa garners such high acclaim.
I suspect it's due to the spa treatments they offer. As you'd imagine, there's a whole brochure of treatments encompassing skincare and body treatments, massages, beauty services, and rituals. I'm not one for spa treatments, so I can't comment on this aspect, but from what I can tell, these services seem to be well-regarded.
My only real complaint about the spa, is that it closes at 8pm, which is just too early when you want to maximise the day. Extending the hours to 10pm would be ideal, but even 9pm would make a significant difference.
On a more positive note, the hours you do spend at the spa tend to be tranquil and undisturbed, as the spa generally maintains a peaceful atmosphere. Mornings, in particular, are exceptionally quiet.
Gym
Turning our attention to the gym, I was ready to be quite critical of the facilities. Namely because I consider the fitness room quite small, even if the hotel itself isn't vast. It's one of those gyms where, unless your intention is solely cardio, you'll need to hope there's nobody else using the facilities if you want to enjoy an uninterrupted workout.
Why I won't be overly critical, is because I've since experienced the gym at Sofitel Munich Bayerpost. Despite being a significant larger hotel, that gym is even smaller. It appears that this is a common characteristic among five-star hotels in Munich. I've taken a look at images of various others, and none seemed particularly impressive in this regard.
As for the available equipment, you'll find a couple of treadmills, elliptical machines, stationary bikes, and a rowing machine, which covers the cardio options quite well. However, when it comes to weight machines, there are only three, and they're somewhat crammed in.
The Technogym equipment isn't brand-spanking new, but it's modern enough. Of course, you've also got a bench, plus dumbbells. So, while I won't exactly sing its praises, all things considered, you could do worse than the fitness centre at The Charles Hotel.
For those seeking a more tailored experience, there is also personal training sessions, private yoga sessions, and even sightseeing jogging. Although, keep in mind that the latter option comes with a €120 price tag, so maybe better just finding a route on Strava instead.
Anything else to note?
A brief note on the staff: I've emphasised comfort throughout this review, and the staff plays a pivotal role in creating that experience.
They strike an ideal balance, maintaining a highly professional demeanour without coming across as excessively formal. With the anecdotal exception of my breakfast experience, this consistency holds true throughout the hotel, from reception and in-room dining, to housekeeping, and also at the spa.
One staff member, in particular, deserves recognition for their remarkable ability to recall my name after just a single interaction a few days earlier. Despite the hotel's intimate size, this level of attentiveness remains impressive — though, upon reflection, perhaps somewhat unsettling.
Conclusion
All in all, The Charles Hotel offers a highly impressive experience. At the beginning of this review, I contemplated whether the intimate nature of The Charles Hotel would contribute to a more captivating stay. So, what's my verdict?
Well, I think there are pros and cons, and it comes down to priorities. I drew parallels to the Corinthia in London earlier. While it may appear to be a somewhat arbitrary comparison due to the location difference, my intention was to emphasise that not all five-star hotels are created equal.
Both hotels maintain an intimate feel, but whereas the Corinthia manages to deliver across the board, The Charles Hotel nails the hospitality aspect, but doesn't provide the same "wow" factor.
Personally I think that's ok; The Charles Hotel delivers where it truly counts at this price point. While you may find more ostentatious, surface-level appeal in some mass-market five-star hotels in Munich, few places can replicate the same sense of "homeliness" you find here.