Arriving at Heathrow Terminal 2 for my United Polaris flight, my immediate instinct was to make a beeline for the United lounge.
However, on my way there, and with more time than expected, I found myself distracted by the other two lounges in Terminal 2B: Air Canada and Singapore Airlines, both of which I've reviewed separately. After exploring what these lounges had to offer, my next destination was the United Club Lounge.
Notice I said "Club" Lounge — this is not a Polaris Lounge. Quite surprising. Most airlines bring their A-game to major airports like Heathrow. If you aren't familiar with United's nomenclature, "Club" is their less exclusive offering, open to more passengers — not just those flying in business class. More on those specifics in a moment.
Nonetheless, the reviews for the United Club Lounge were quite positive. Many reviewers rank it as their top choice among the various Star Alliance options at Terminal 2. The question is: Are they correct?
Where is the lounge?
The United Club Lounge is one of three lounges situated in the Terminal 2B satellite building. Unfortunately, there's no shuttle train, so you'll need to plan for a 10-15 minute walk from the main terminal.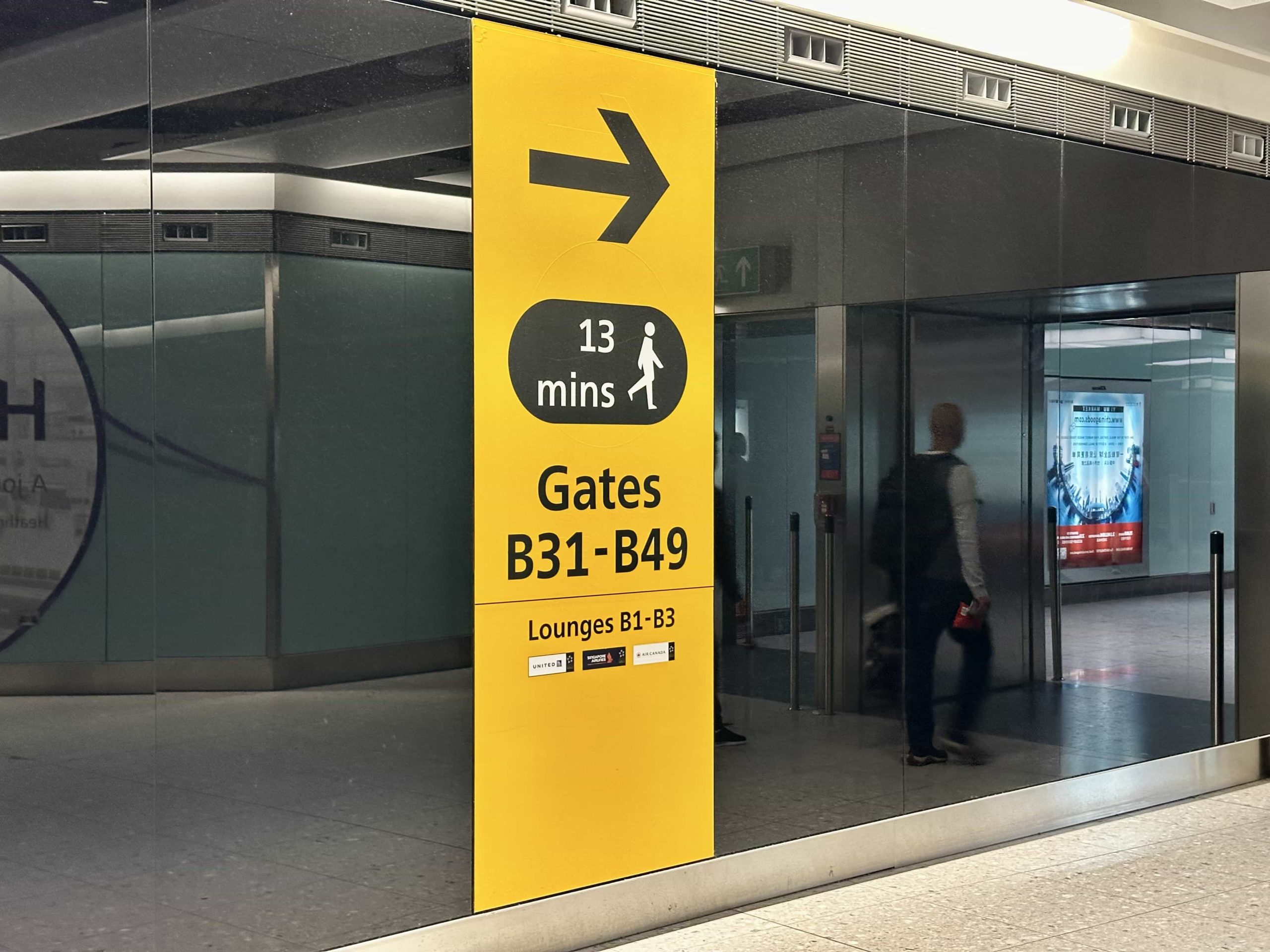 Many airlines depart from T2B, so there's a good chance you'll be departing from there anyway. Otherwise, be sure to factor in time to make the return journey back to your gate.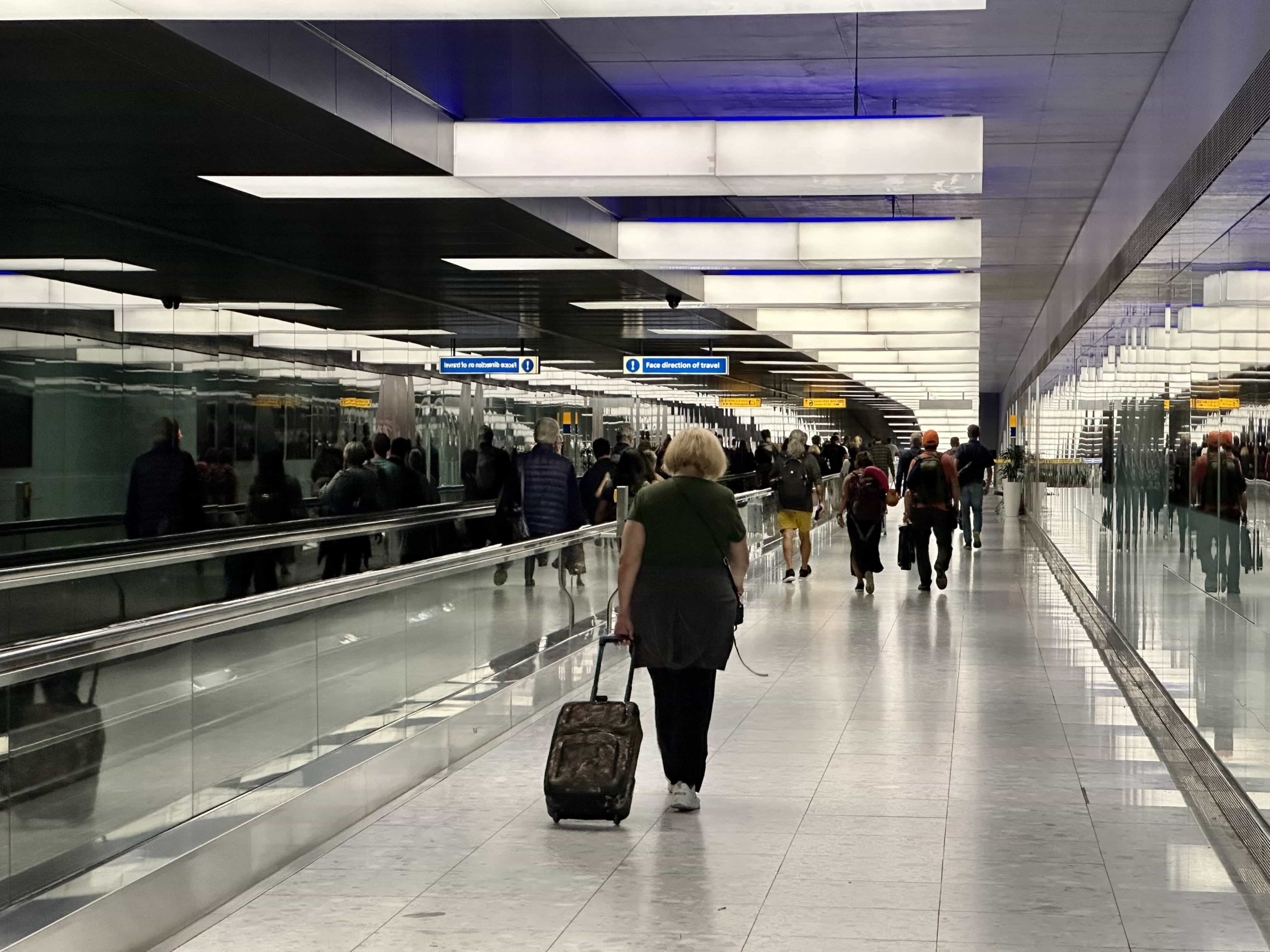 Finding the lounge is easy thanks to clear signage. At the end of a long succession of moving walkways, you'll reach an escalator. At the top, you're just a two-minute walk from the elevator that takes you up to the lounge.
Access
Eligibility for access to a "Club" lounge isn't quite as clear-cut as with a "Polaris" Lounge.
In addition to Star Alliance customers flying in first and business class cabins, Star Alliance Gold members, United Club members, and certain Air Canada and Virgin Australia status holders are also accepted.
Those who don't fit into these categories can purchase a one-time pass, but availability is not guaranteed during times of high demand.
Check-in and first impressions
As I reached the entrance corridor, two staff members warmly greeted me and asked about my class of travel. Since I was traveling in business class, they kindly ushered me inside.
Behind me, I overheard an interaction with another passenger who was denied entry. It appeared that certain restrictions were in place to manage the lounge's capacity. They weren't accepting one-time passes, and there may have been other limitations in effect, although I didn't inquire about them. By the time I left an hour or so later, these restrictions had been lifted.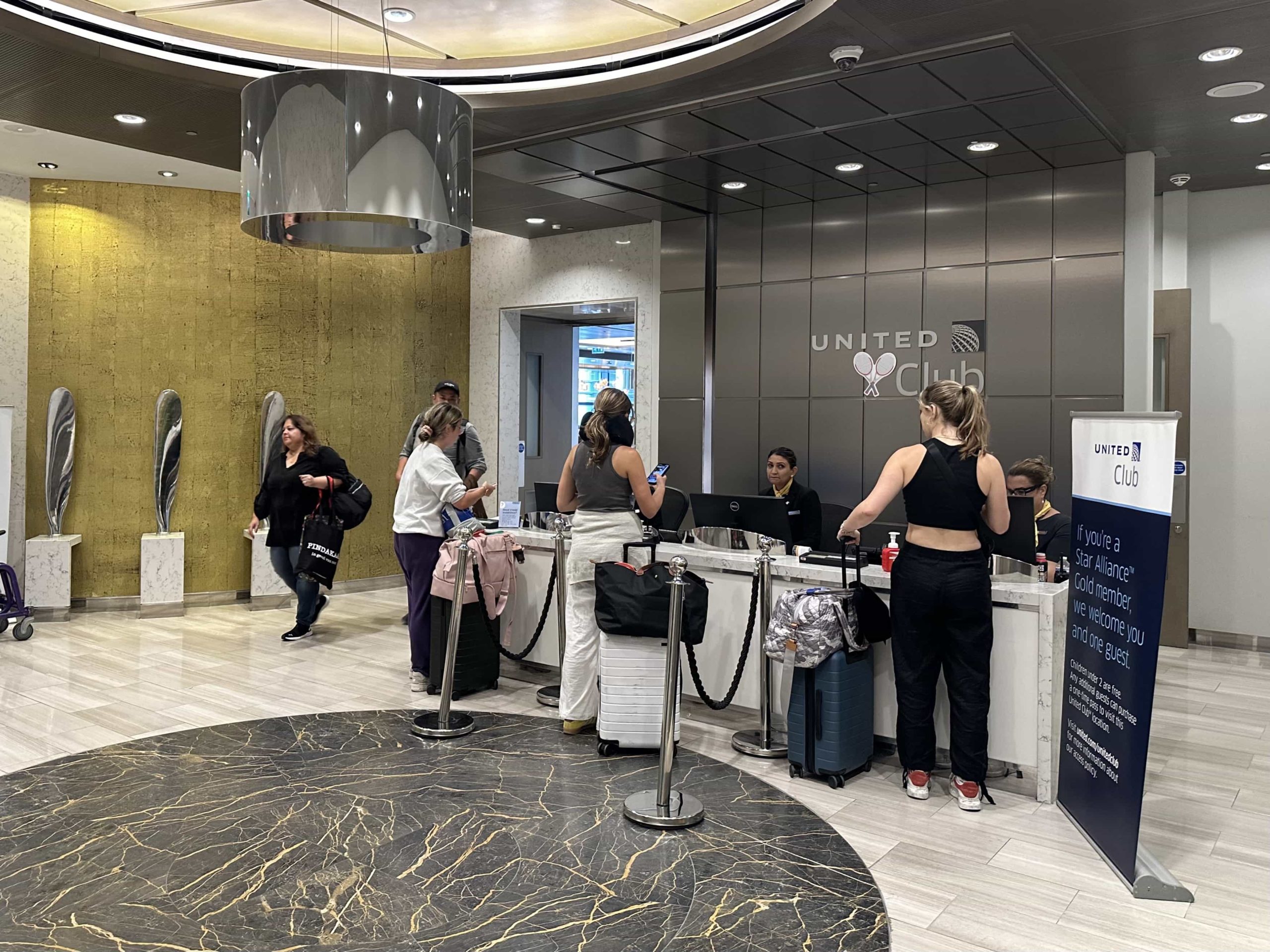 Upon reaching the upper floor via the elevator, I proceeded to the reception desk, where I received a very friendly welcome. Unusually, this wasn't my only visit to a reception desk during my visit. More on that later.
Environment
Stepping inside, there's no mistaking this for a lounge from any other brand; it's unmistakably 'United'.
While this may suggest the lounge has personality, what I'm actually implying is that the brand's aesthetic is somewhat uninspired. It may be elegant and contemporary, but it lacks a certain depth of character and comes across as rather reserved.
That's not to say the lounge isn't a nice place to be — it's bright and airy, and there are a few areas which I quite like. But before we get to them, I should mention that this is a busy lounge. Even with the measures in place to avoid overcrowding, it was still difficult to find anywhere to sit.
This is despite the lounge being a mostly wide-open space, packed with seating. In fact, this is my main criticism of this lounge; the main area just feels too open and lacks any sort of seclusion or privacy. It reminds me of a cafeteria.
Loosely divided into different sections, the lounge features a mixture of dining tables, armchairs with side tables, and bar stools arranged around the large bar setup.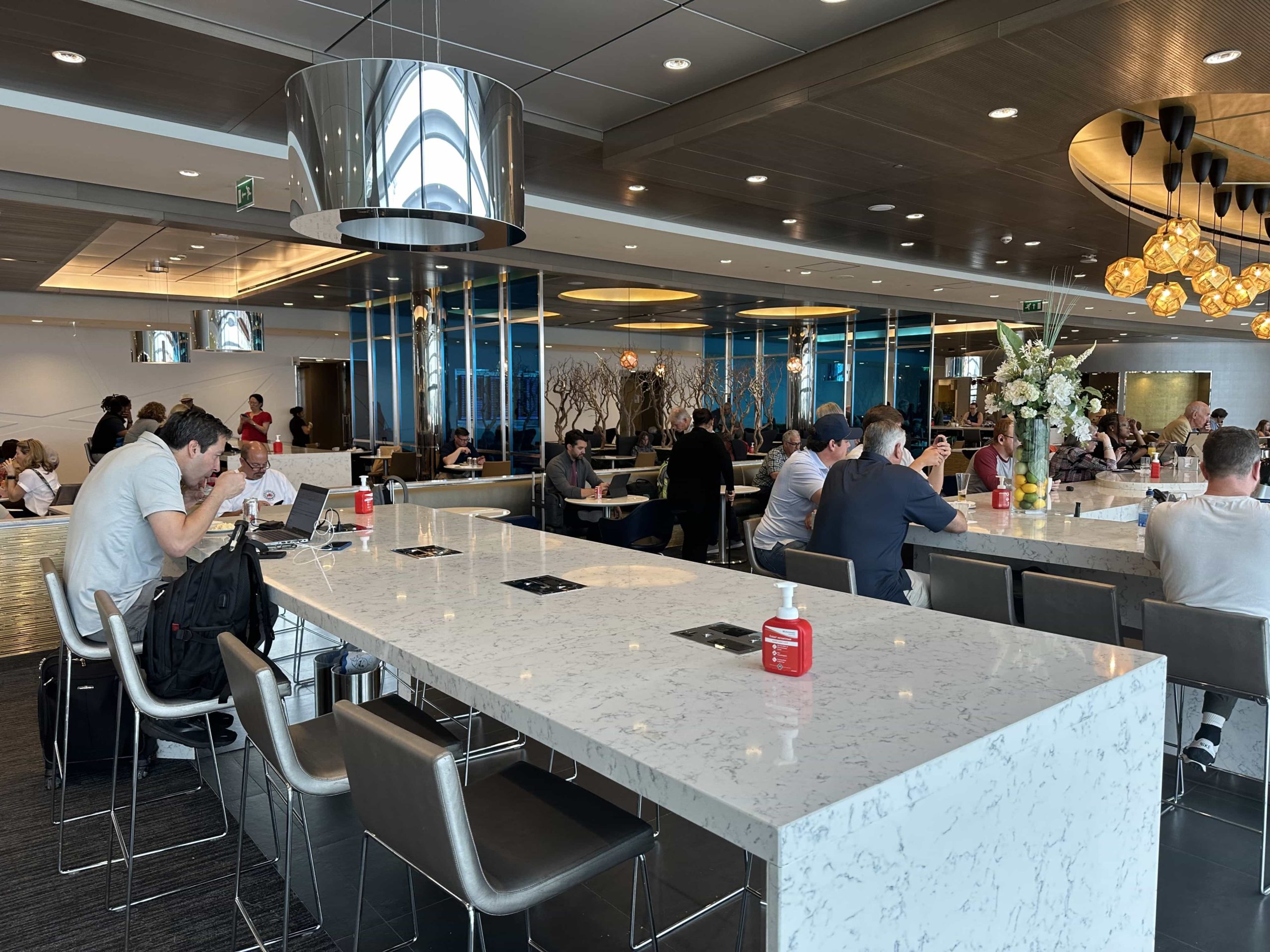 For those seeking a productive space, there are several sit-down workstations, plus some raised islands. These are located directly in the middle of the hustle and bustle of the lounge, so they may not be the best for focused work.
Better in that regard, are the high-backed armchairs located in the centre of the lounge, which not only offer the most comfort but also provide a degree of privacy, thanks to dividers made up of… dead trees?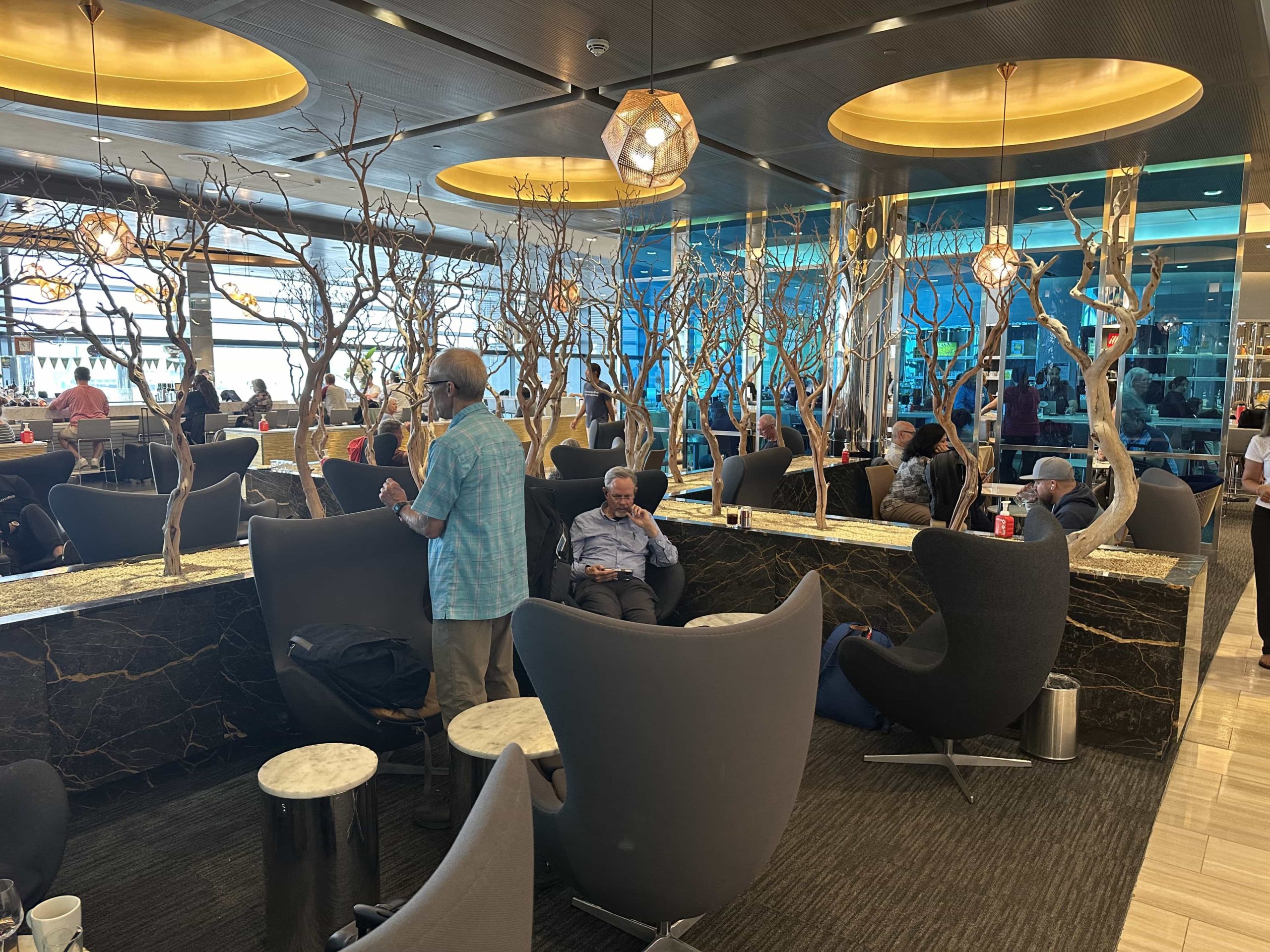 While they might serve a functional purpose, barren vegetation doesn't exactly contribute positively to the lounge's overall aesthetics. Neither do the garish blue plastic partitions which dominate the colour scheme.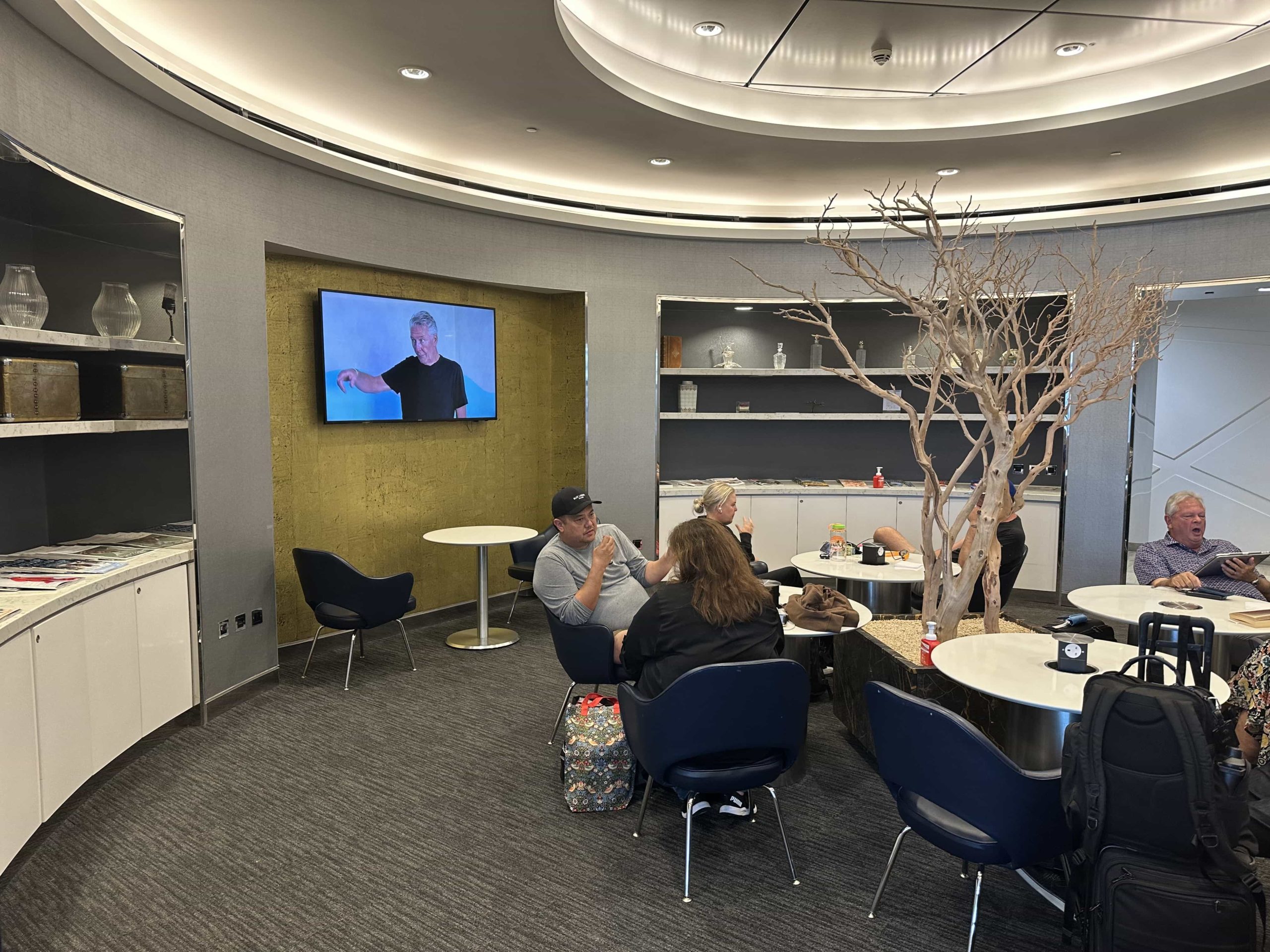 At the far side, there is a circular room which I'd hoped would provide some respite from the open layout of the rest of the lounge. Unfortunately, it felt similarly crowded, and the bright lighting failed to deliver an intimate ambiance.
The airy feel I mentioned earlier is facilitated by floor-to-ceiling windows which span the length of the lounge. Views across the apron are expansive, giving you a great look at various fleets of Star Alliance aircraft.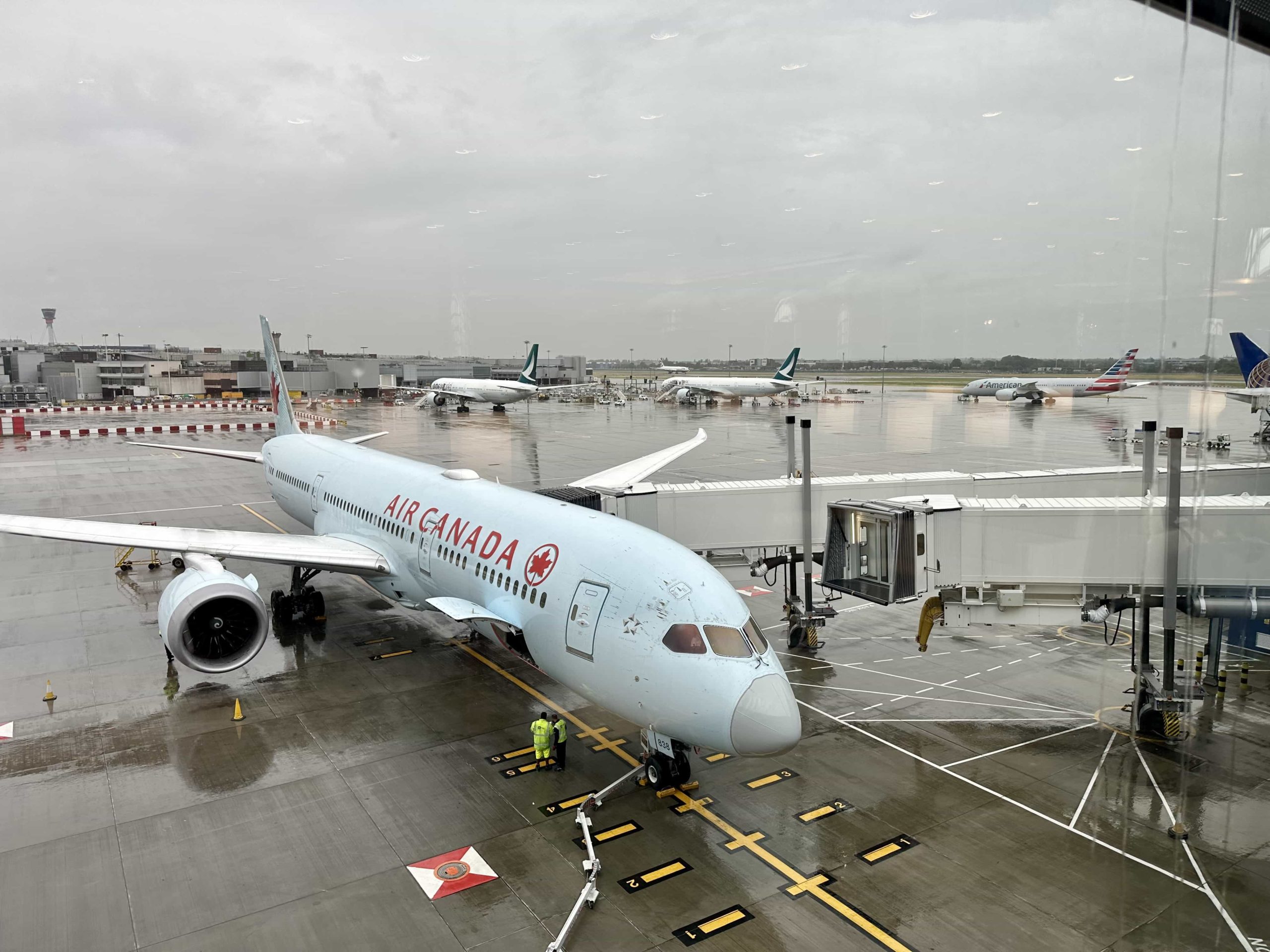 On the whole, the lounge represents an efficient use of space, but during busy periods, isn't a place where I'd want to spend much time. In fact, I was ready to head out and check out the next lounge on my itinerary, until an unexpected event transformed my visit. More on that experience shortly.
Spoiler: Don't get your hopes up, because what I experienced was certainly an anomaly.
Food & drink
I visited the lounge around 11:30am, at which point they were still serving breakfast.
In terms of hot food, it's a classic full English selection consisting of sausages (including vegetarian), bacon, hash browns, sautéed mushrooms, baked beans, and scrambled eggs.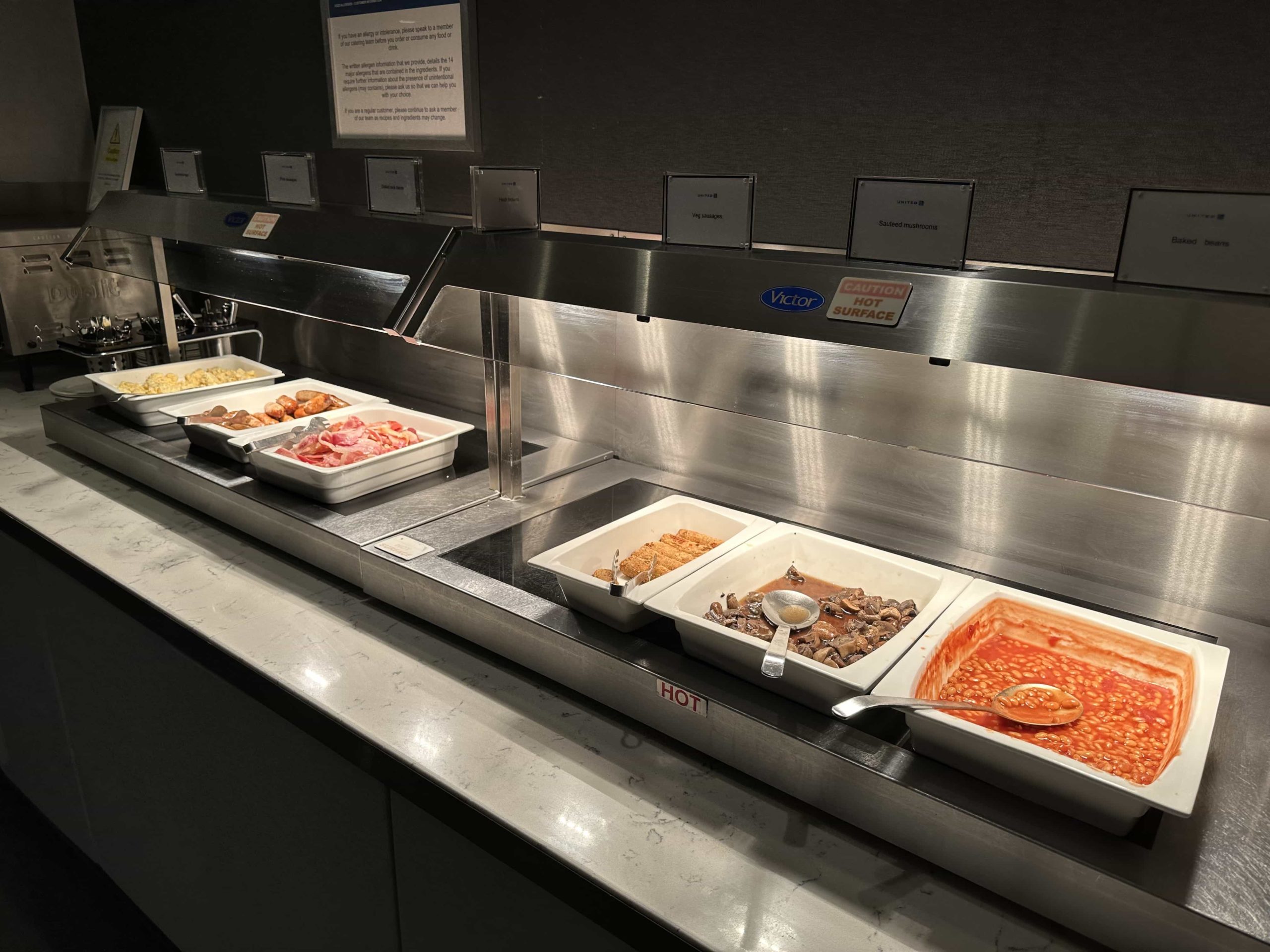 This was all good quality, and I would have enjoyed it more if I hadn't already dined at two other lounges. As such, I ate only enough as to assess the quality.
Maybe it's just me, but I'm always surprised to see a salad selection at this time in the morning. Nobody eats salad with a full English breakfast, so what's it for?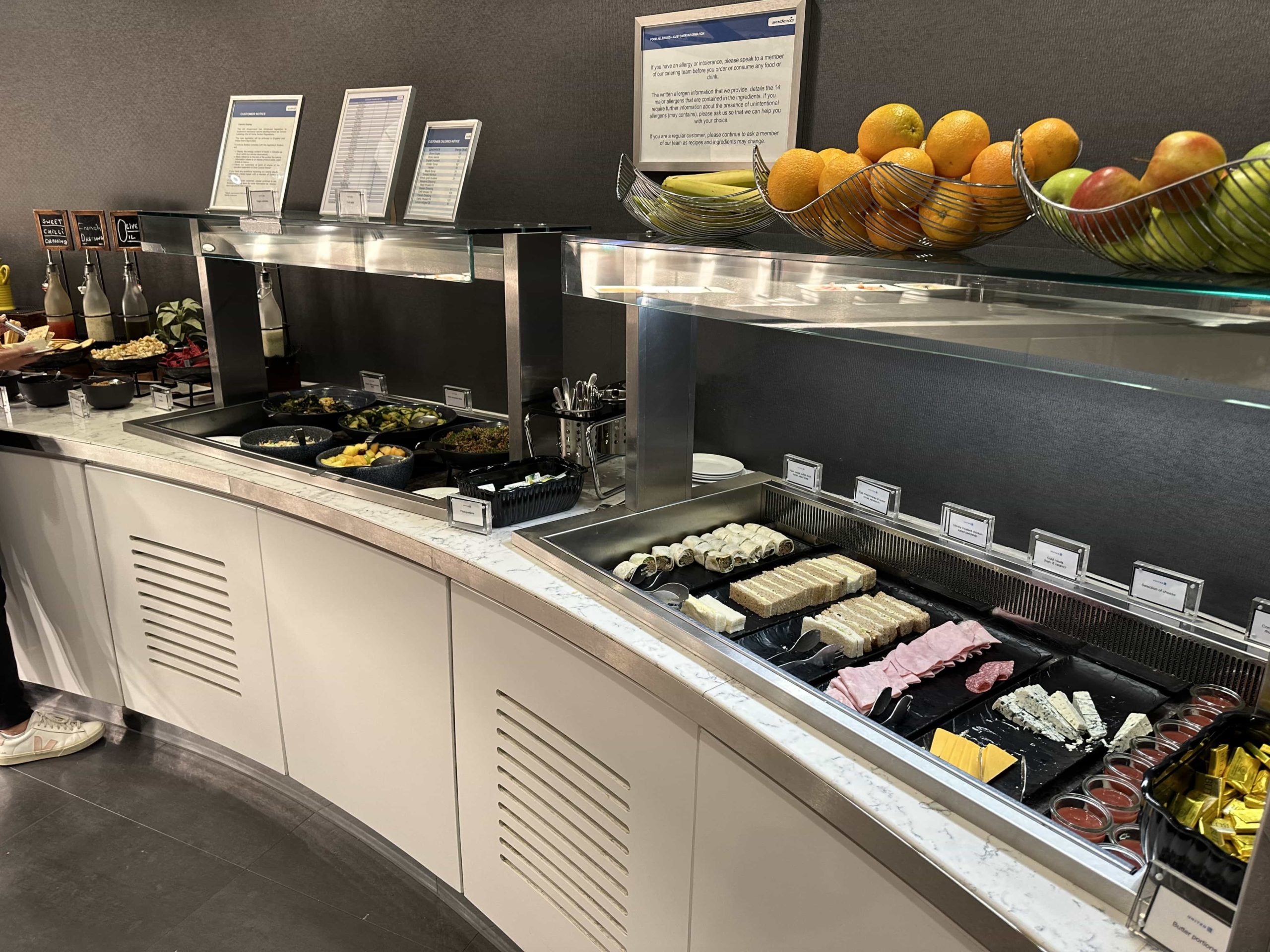 I suppose it's an easy thing to serve all day long, and I shouldn't complain about choices. There were three kinds of salads available when I visited, as well as sandwiches, wraps, cold cut meats, and cheeses.
Other items include fruit, and a generous selection of desserts and snacks, though many of these were temporary additions to celebrate Wimbledon 2023 — celebrations which all of the Terminal 2 lounges that I visited were partaking in.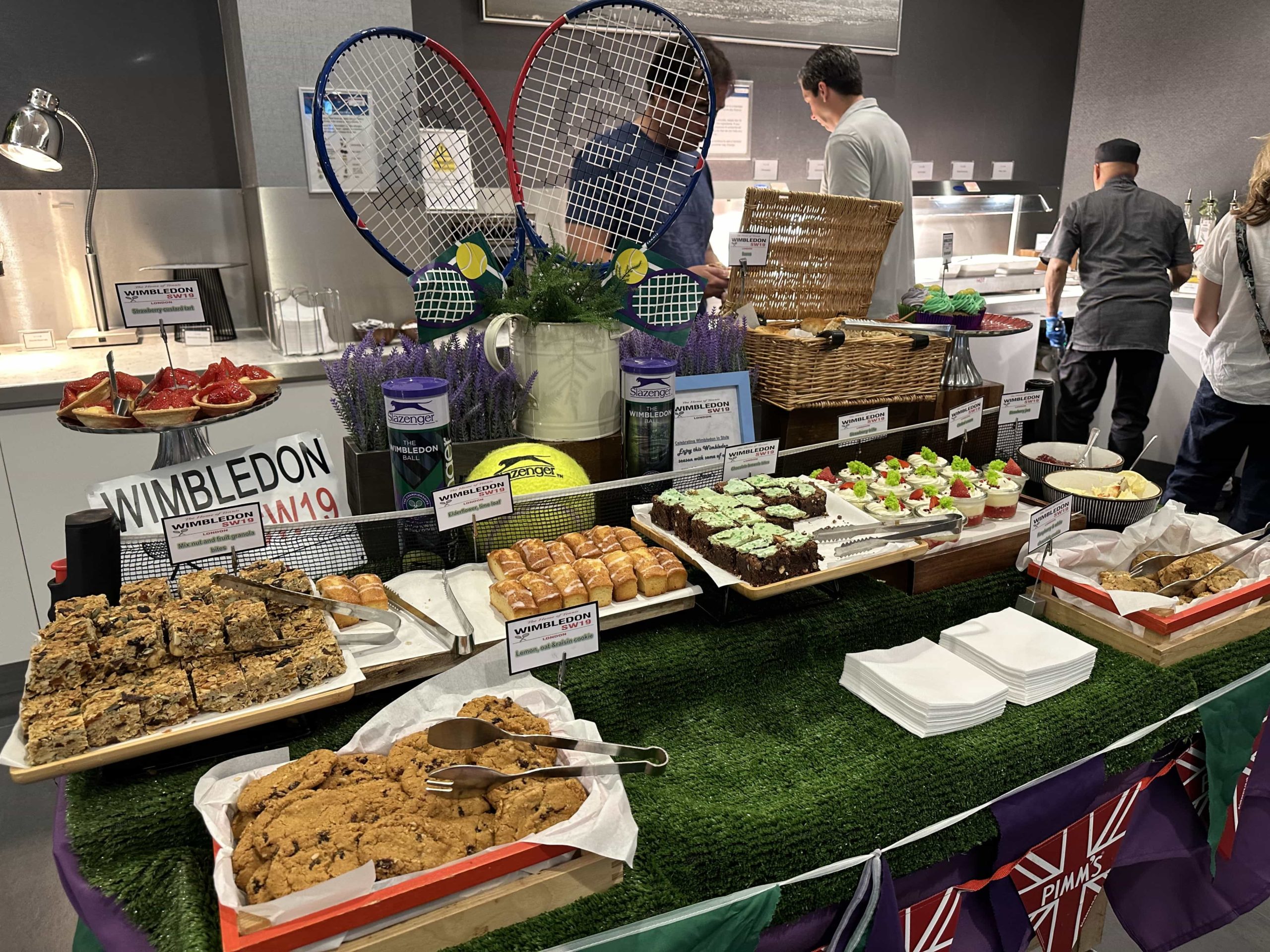 I rated the food at the Singapore Airlines lounge more highly than that at Air Canada. It's difficult for me to make a direct comparison to United though, since there were no lunch options to compare with. If breakfast is anything to go by though, I'd rate the United lounge highly.
If drinks are a priority, then you're in the right place. Behind the marble-topped bar, is a very generous selection of drinks, all available free of charge — a concept quite foreign to US-based passengers!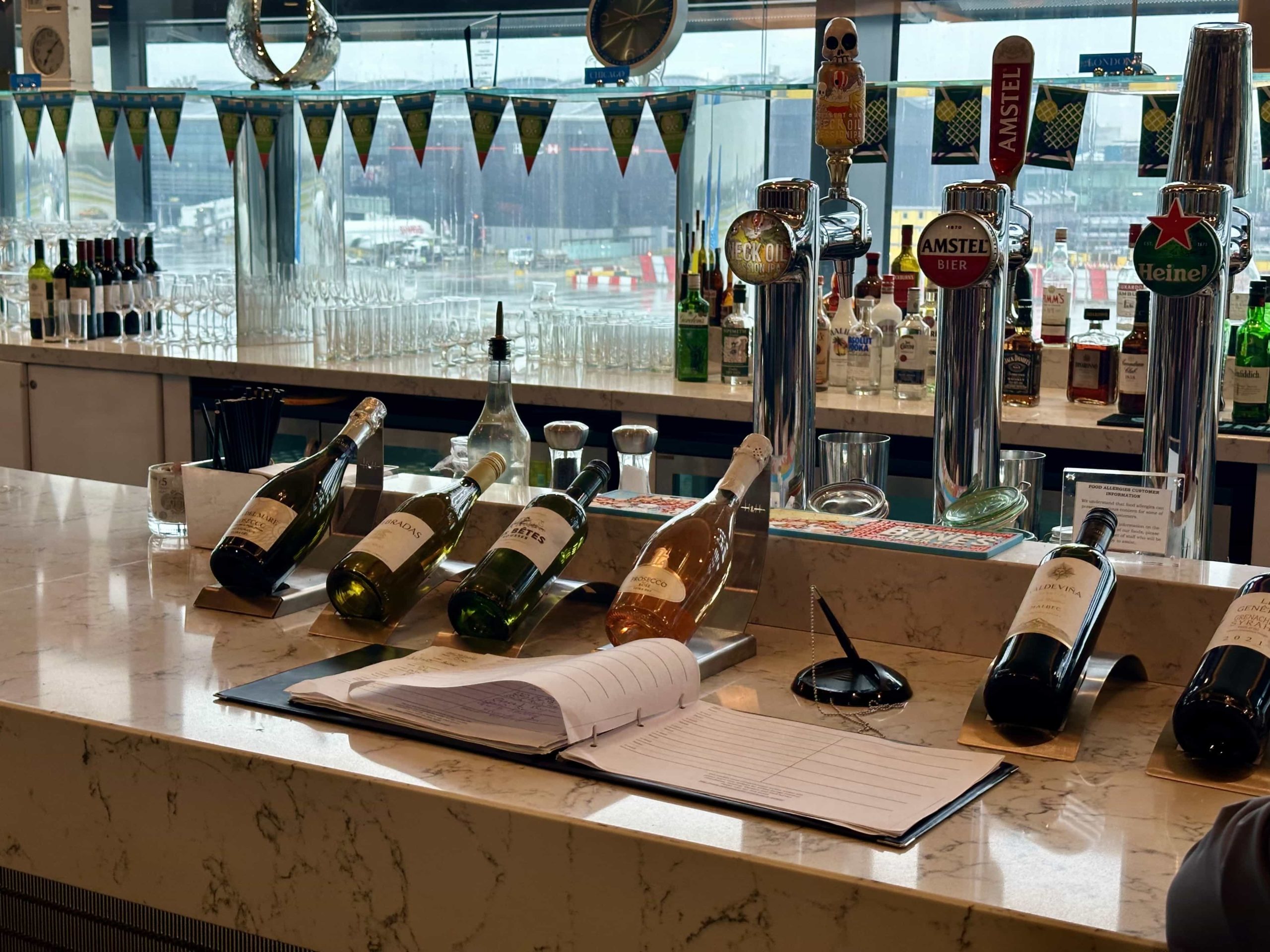 Not only will you discover a range of beers, wines, and champagne, but you'll also have access to an extensive menu of cocktails and bartender specials. To round off the menu, there's a selection of iced teas, and even a smoothie option.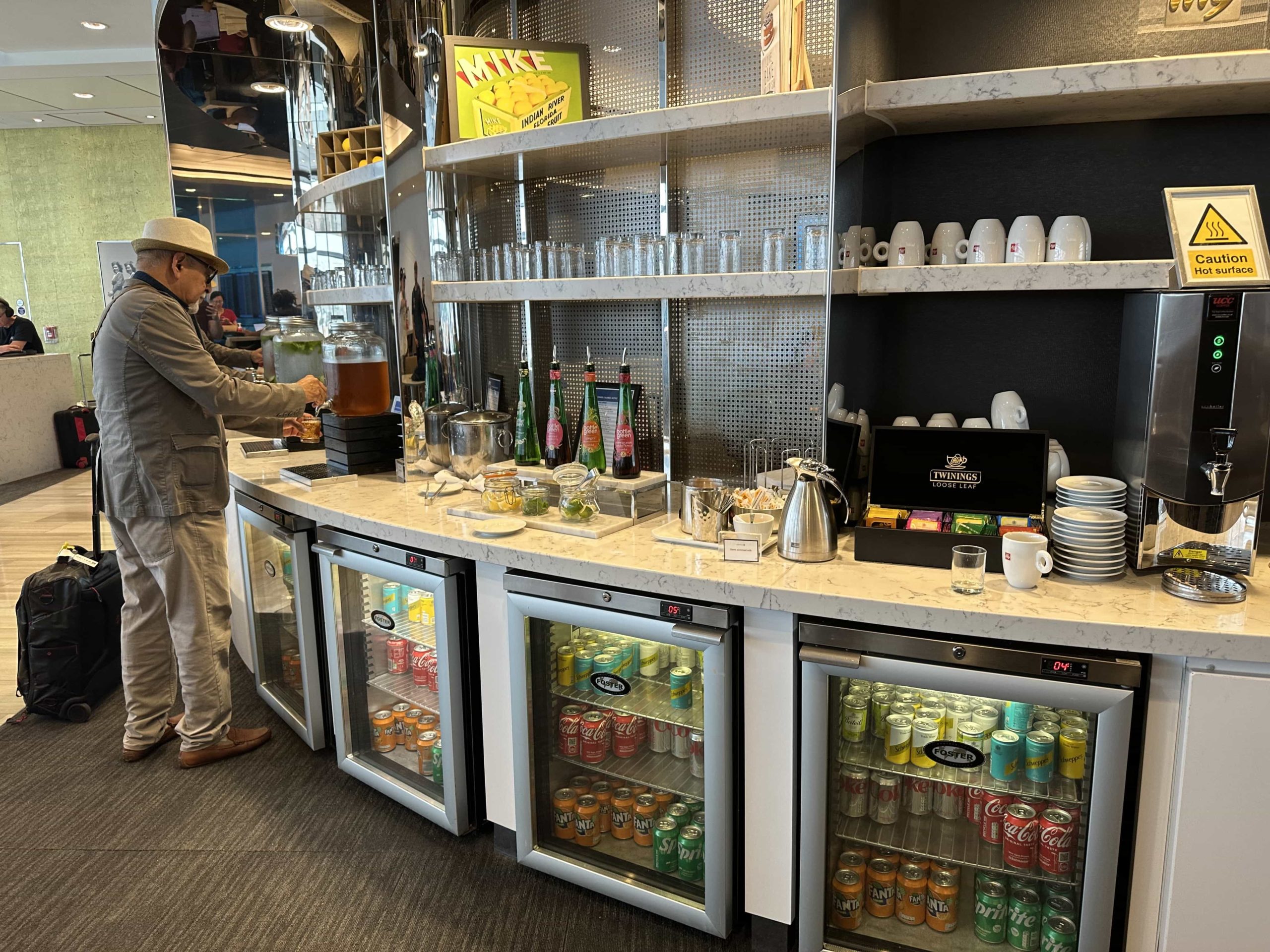 As for self-serve soft drinks, there are fridges stocked with the usual assortment of Coca-Cola and Schweppes products, plus a range of cordials, and fruit-infused water. Coffee machines and tea facilities are also available.
All in all, it doesn't get much better than this when it comes to drinks.
Anything else to note?
Showers and toilets
Although I didn't make use of the facilities on this occasion, the staff were gracious enough to accommodate my presumably quite unusual request to just have a look and take a few pictures.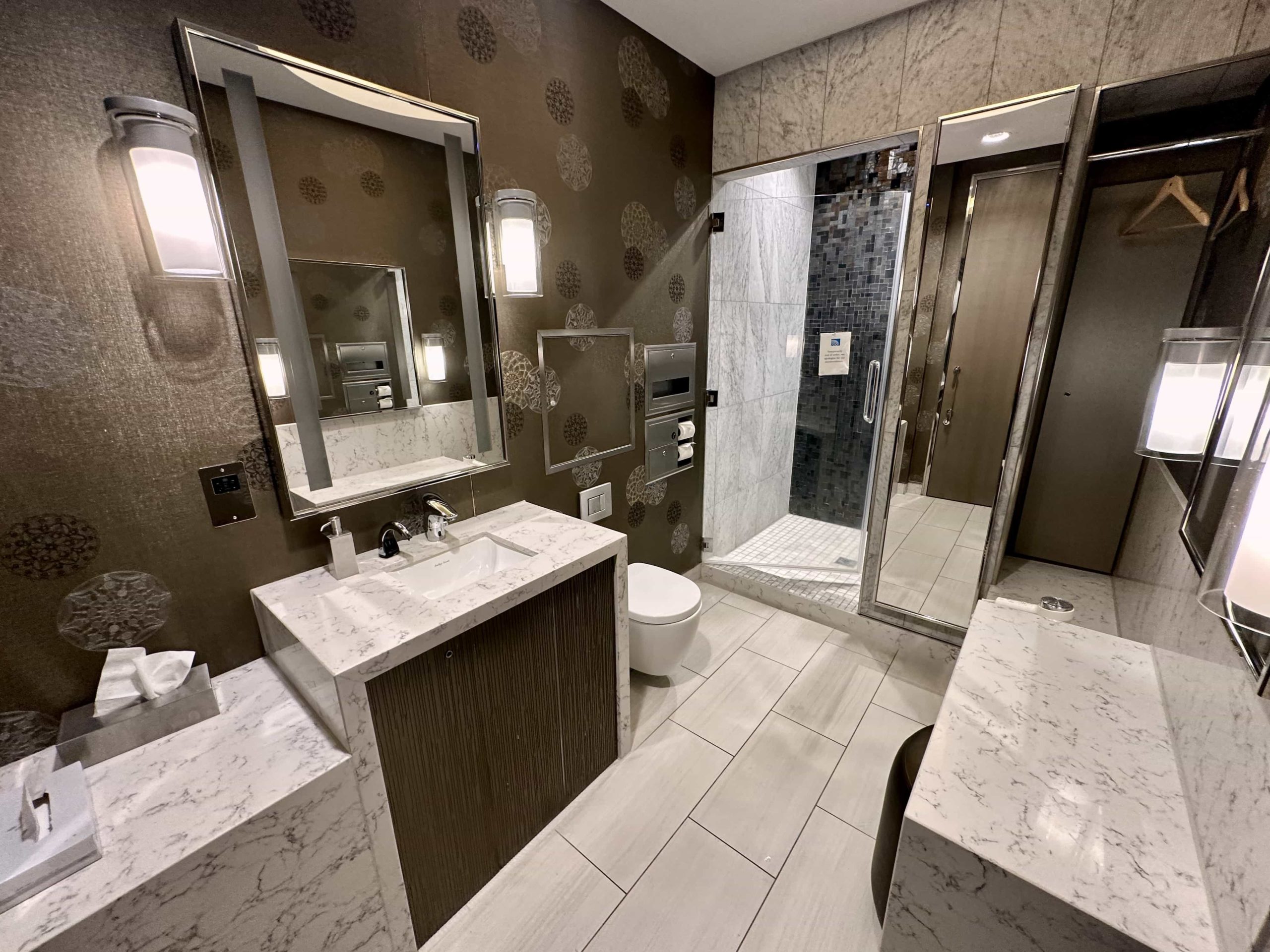 The eight shower suites are easily on par with with the facilities that I've used at Polaris lounges, and availability seemed good. Spacious, and spotlessly maintained, they're easily the best shower facilities available in Terminal 2.
The toilet facilities were also immaculate, though less readily available, leading to queues forming in the corridor.
Phone booths
Nestled in the far corner of the lounge are an array of phone booths. You'd have to go looking for them to know they're there, because the entrance is quite discreet.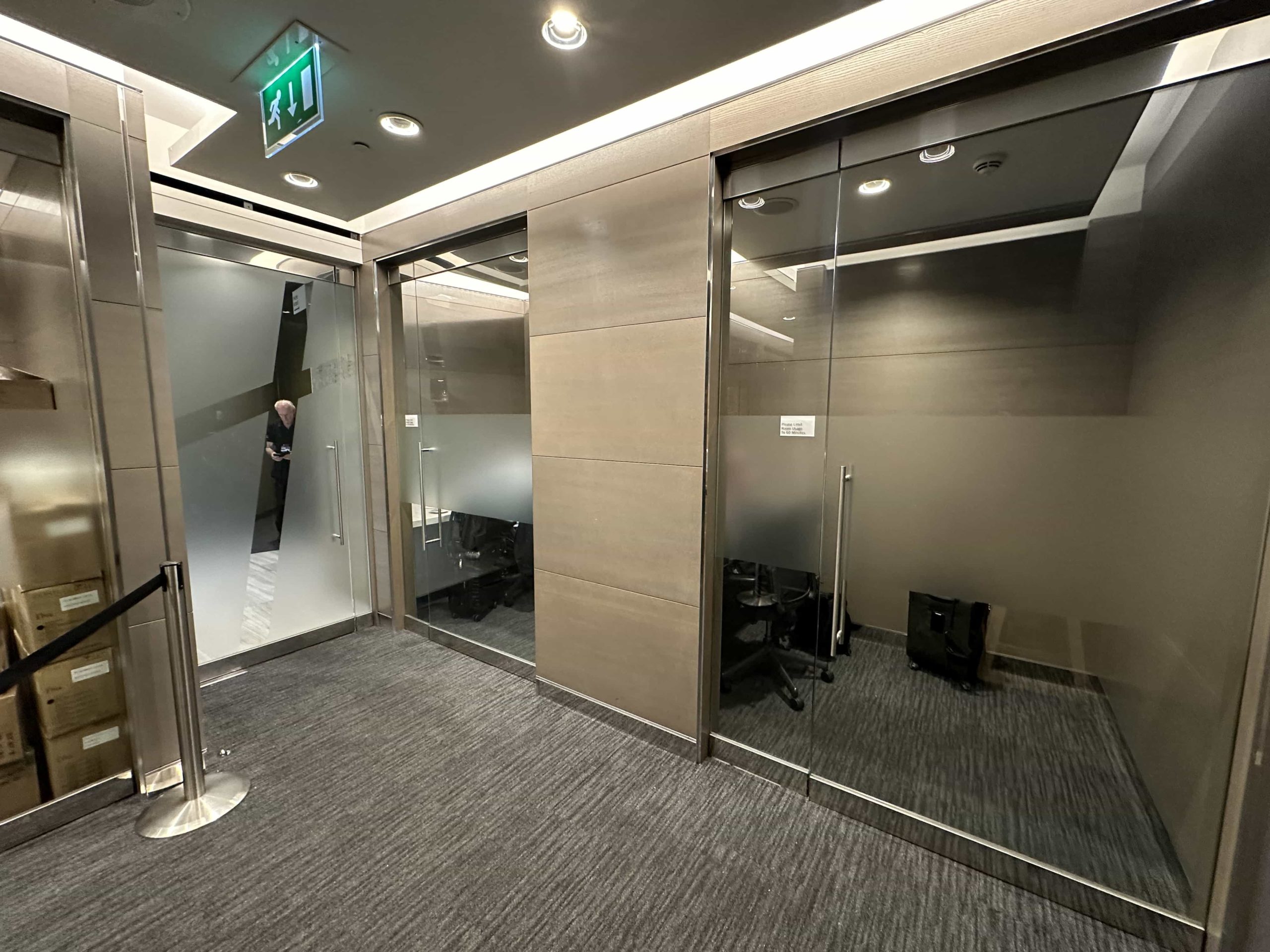 Even still, they were all occupied. When I say "all", I mean the only two which were in operation. Rather frustratingly, the other four were cordoned off, and being used for storage.
Although signage asks guests to limit their visits to 60 minutes, I suspect this isn't formally enforced, so it may be tricky to actually get one.
Wi-Fi
The Wi-Fi in this lounge is robust, with download speeds hovering around 100 Mbps and upload speeds at around 120 Mbps. What's more, no login is necessary to connect.
Sockets
Socket coverage is very good across the entire lounge. You won't have any trouble keeping your devices charged during extended layovers.
The location of the said sockets is also well-considered. Some of the circular dining tables even have sockets that pop-up from the middle of the table, serving both UK and US plug types.
An unexpected surprise (United Global Services Lounge)
Ok, so onto that anomaly I mentioned earlier.
As I was leaving, just as I'd hit the elevator button to head downstairs, I glanced towards the corner of the reception area and noticed a corridor discreetly tucked beside the elevators.
Curious, I poked my head around, and saw another reception desk. Still uncertain about what I had stumbled upon, I asked the receptionist if this area was part of the same lounge, to which he replied, "Yes, come right in".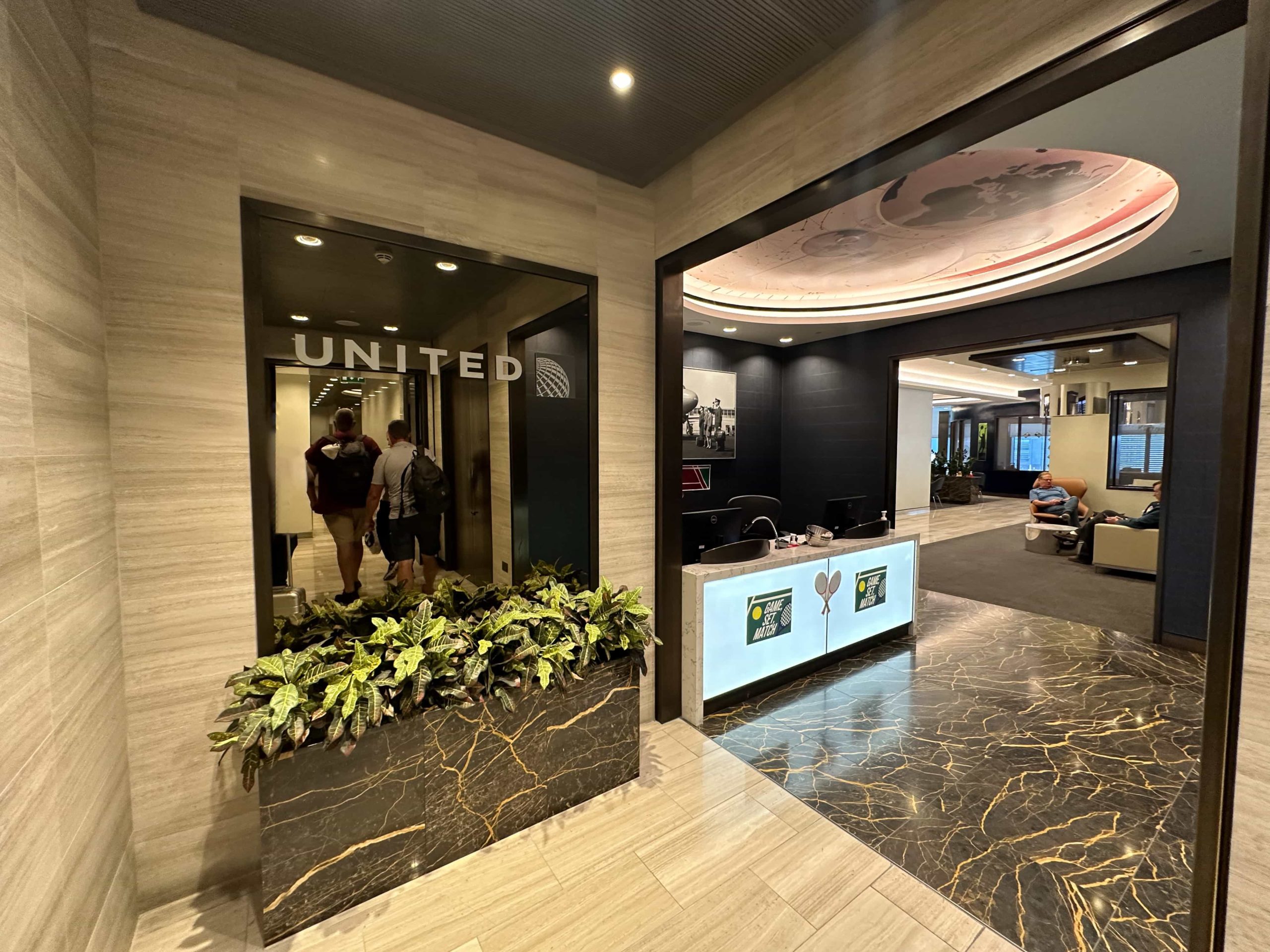 Only now, having down a little research, have I discovered that I had in fact entered a United Global Services Lounge. What is that you ask?
Well, this lounge was previously known as the Global First Lounge, intended for United first-class passengers. Now it's a lounge for Global Services members, plus an overflow section for 1K members when the Club Lounge reaches capacity.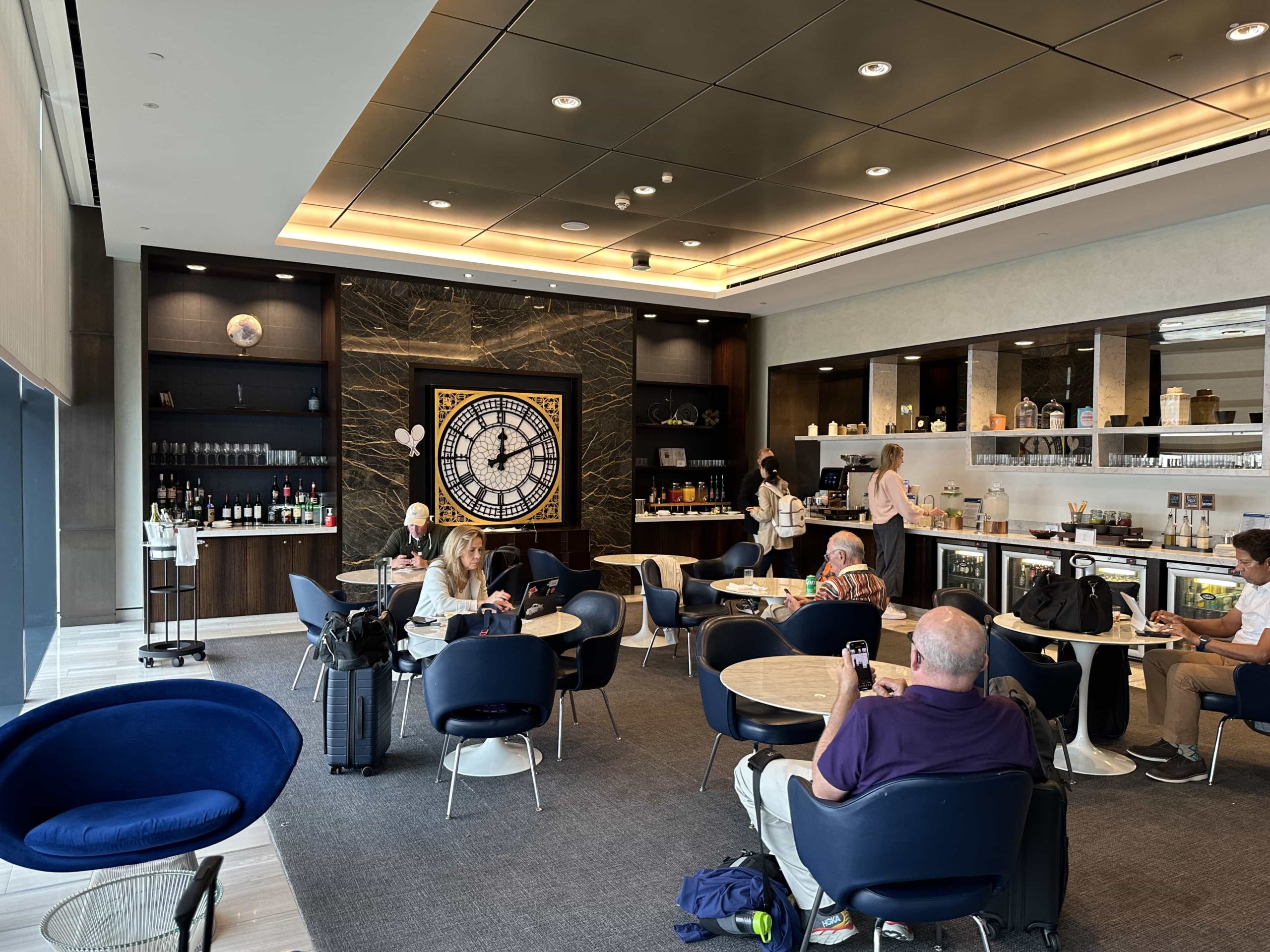 1K stands as the most prestigious elite status within the United Airlines MileagePlus frequent flyer program, so I certainly shouldn't have been there.
Perhaps I had simply caught an unassuming receptionist off guard, who had assumed I had been sent through from the main reception. In any case, I'll save my full thoughts for a separate review.
For now, all I'll say is that my experience was quite pleasant.
Conclusion
So, ignoring my unexpected voyage into a place I probably should never have been, what did I think of the United Club Lounge at Heathrow Terminal 2?
Well I can't say I found this lounge relaxing. The layout and ambiance just don't deliver in this respect. So it wouldn't be somewhere I'd spend an extended period of time.
But, what I would visit this lounge for, is the food selection, which — when it comes to breakfast at least — is in contention for the best of the Star Alliance offerings. Similarly, if I consumed alcohol, this lounge would be the obvious first choice for that. And for showering, it's head and shoulders above the rest. (Pun intended?)
So overall, quite a compelling offering. Just keep in mind that most American travelers default to this lounge, so like I mentioned, it gets real busy.