During a recent trip out of Heathrow Terminal 2, I found myself with an abundance of time to explore the terminal's lounges. I wasn't planning to visit Singapore's, but having spent enough time in the neighbouring Air Canada Maple Leaf Lounge (you can read that review here), I figured it would be amiss of me not to find out how the Singapore SilverKris Lounge compared.
I'd never visited a Singapore Airlines lounge, so it held a certain level of intrigue. That said, I'd skimmed a few reviews and found that most people don't rate it as highly as other lounges in the terminal. From the outside though, it looked promising enough, and as someone who likes to find out for myself, I decided to do exactly that.
Access
The lounge is accessible to passengers flying business or first class with a Star Alliance airline. For instance, I had the opportunity to access the lounge by flying business class with United Airlines.
Passengers with relevant Star Alliance status are also eligible, even if they're traveling in economy class. Additionally, through its partnership with Singapore Airlines, Virgin Atlantic provides access to Flying Club Gold members.
During busier times, priority is given to Singapore Airlines passengers, though such a scenario is rare.
Where is the lounge?
If you're anticipating a quick stroll to the lounge after clearing security, get ready for a surprise. The SilverKris lounge is located in the Terminal 2B satellite building, which is accessed via a long tunnel of moving walkways. While it's possible to make this walk in 5-8 minutes, Heathrow suggests it can take up to 15 minutes.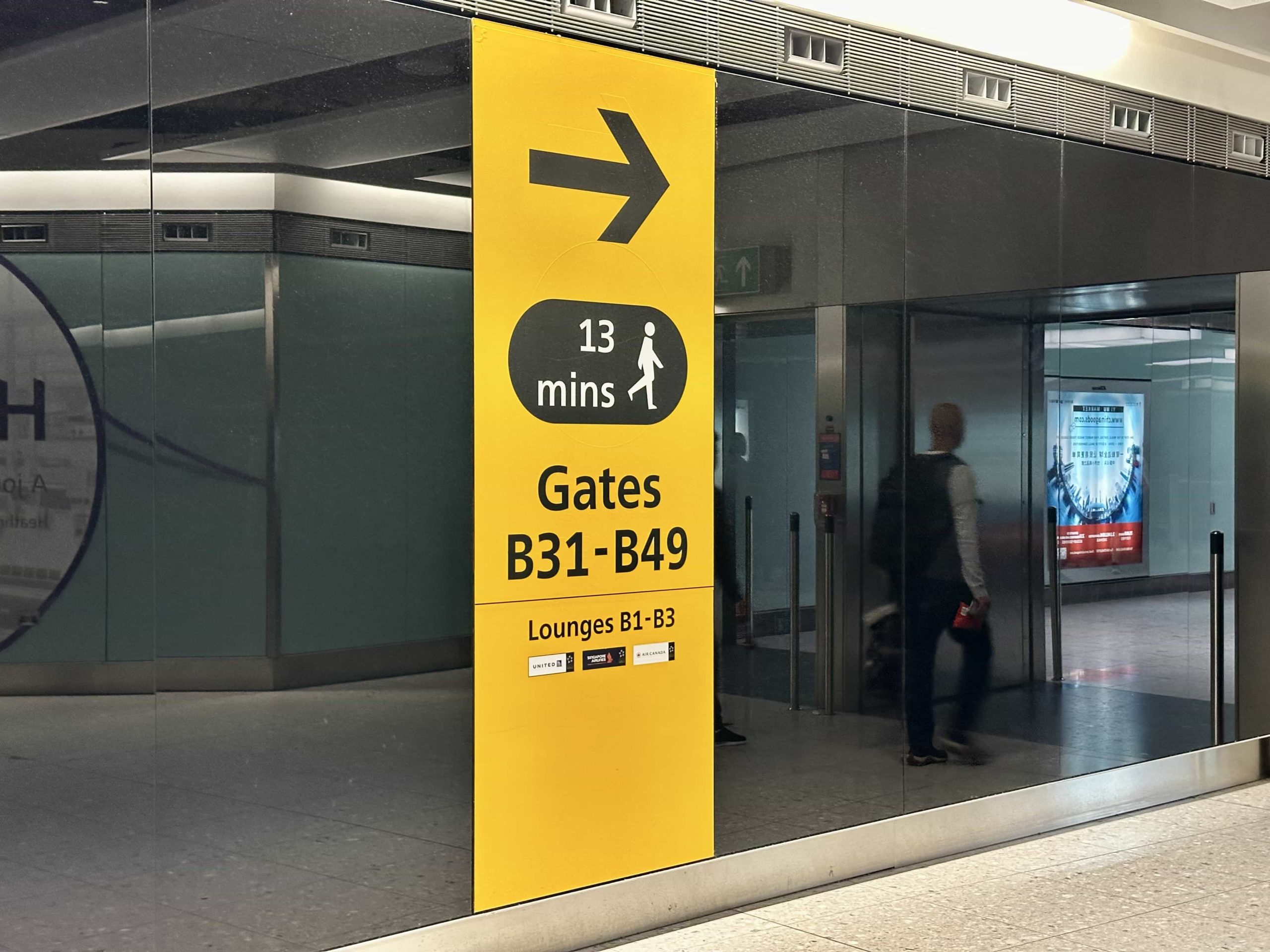 Of course, if you're departing from the B gates, this is inconsequential, as you'll have to make the walk regardless. If not though, you'll need to factor in a decent chunk of time to make it back to the main terminal building, particularly as the moving walkways only run in one direction.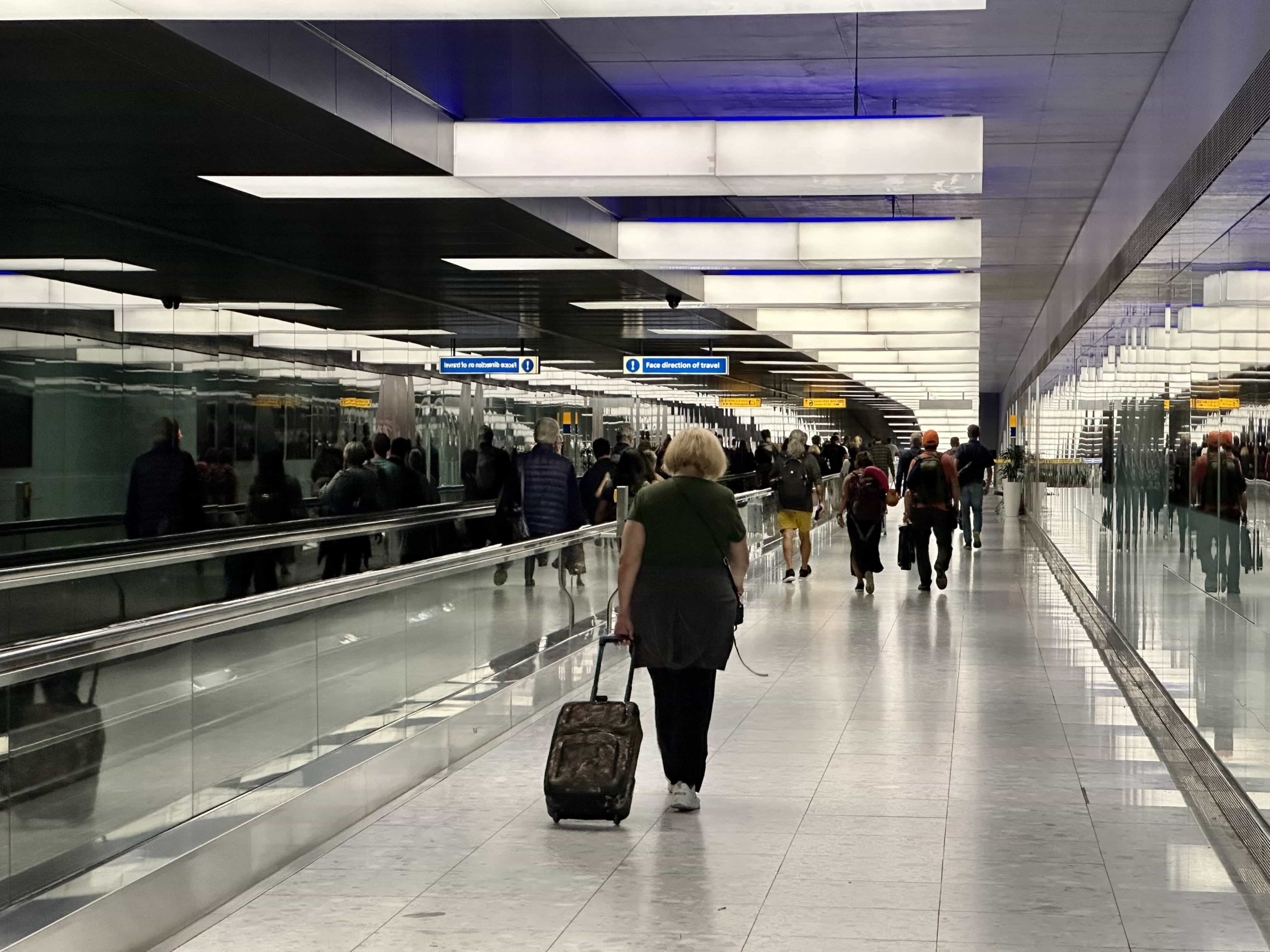 Fortunately, signage is clear so the journey is relatively straightforward. And once you make it, you'll be within easy access to two other Star Alliance lounges: Air Canada Maple Leaf, and United Club. In fact, Air Canada's lounge is located just across the hallway.
Arrival and check-in
First impressions as you enter the reception are good. There's no mistaking the decor for that of any other airline, especially given the presence of their signature batik design screen, which looks suitably lavish. Despite the lounge's age, the lobby has a fairly timeless design.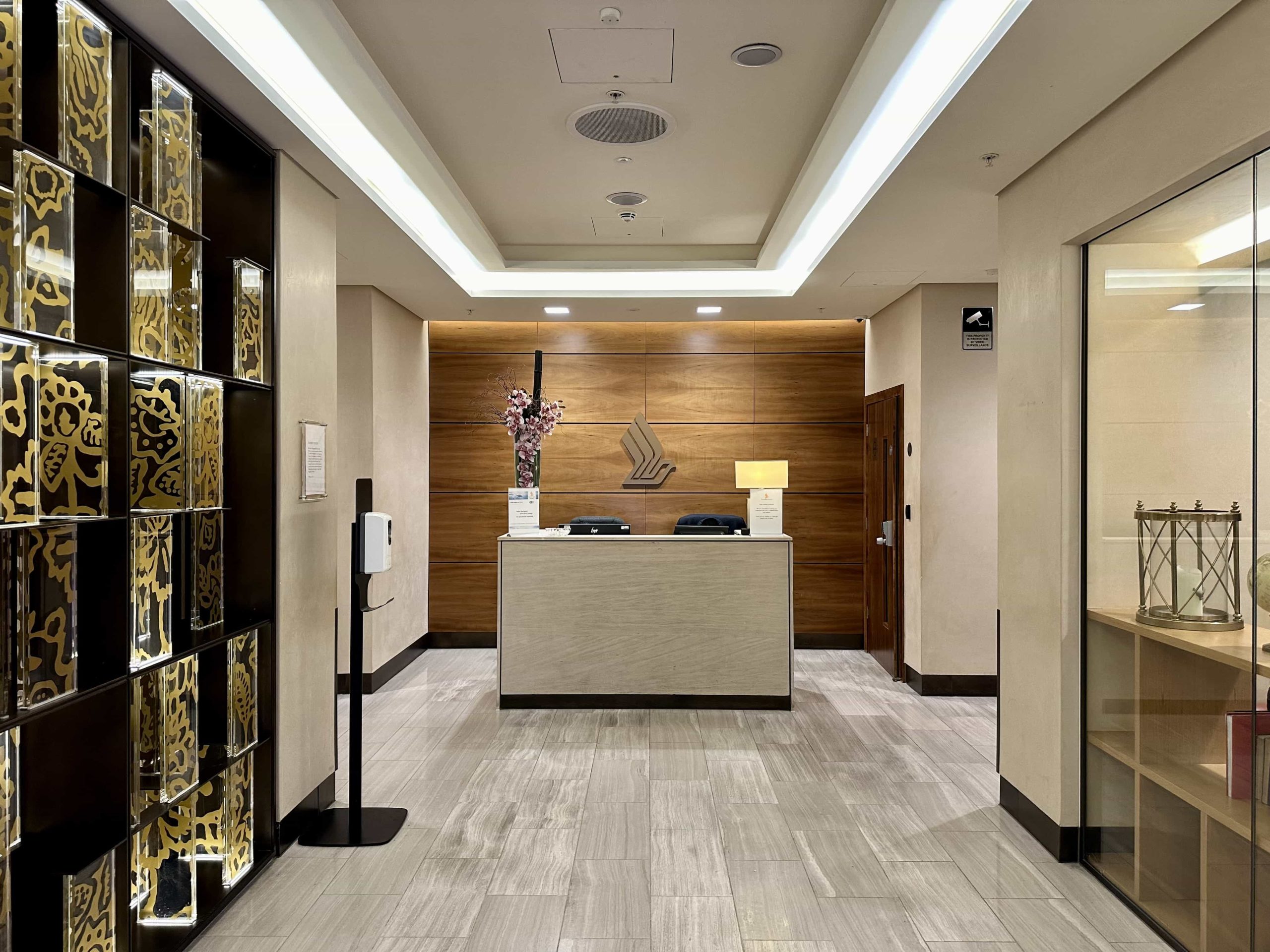 The philosophy behind the lounge's design is that it's meant to feel like a "home away from home" — cliche concept, but actually quite well executed. In fact, this reflected my immediate impression as I stepped inside.
On the left of reception is the entrance to the first class section, on the right is business class. Following a brief yet friendly interaction with the receptionists, I turned to the right and attempted to conceal my envy of those heading left.
Environment
Initially I wasn't so impressed by what I found. Just after the reception area, there's a small offshoot that resembles a waiting room. It's awkwardly arranged, lacks ventilation, and is devoid of any natural light.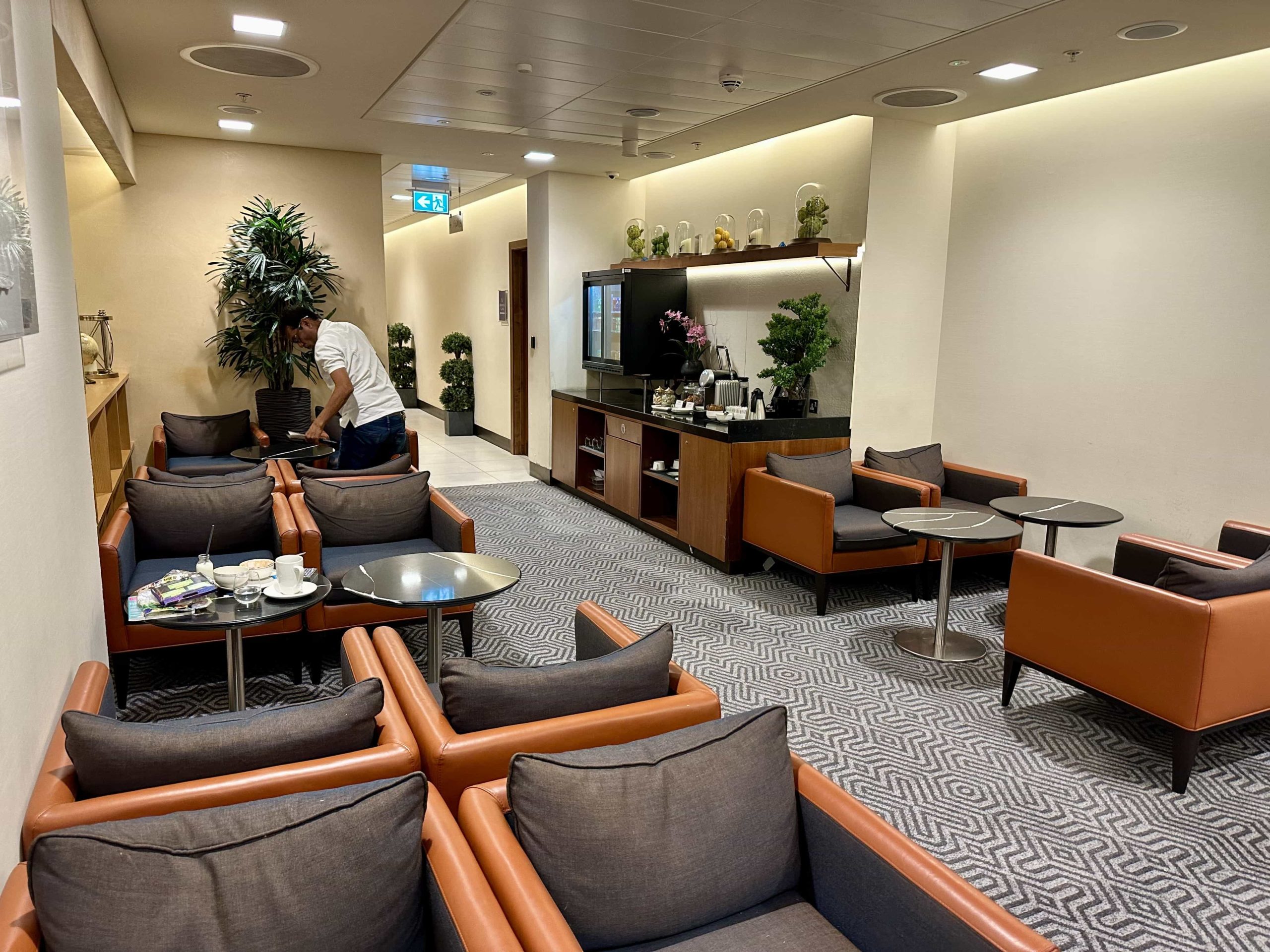 At first, I was tempted to persist, since it was completely empty, but when you've got access to four highly-rated Star Alliance lounges, sitting in a dingy room doesn't seem the most considered decision.
Thus, I continued further, down a corridor and past the wall art and catering setup (which we'll discuss later), reaching the main seating area. This area is mainly open-plan, though has a few decorative partitions to break the space up a little.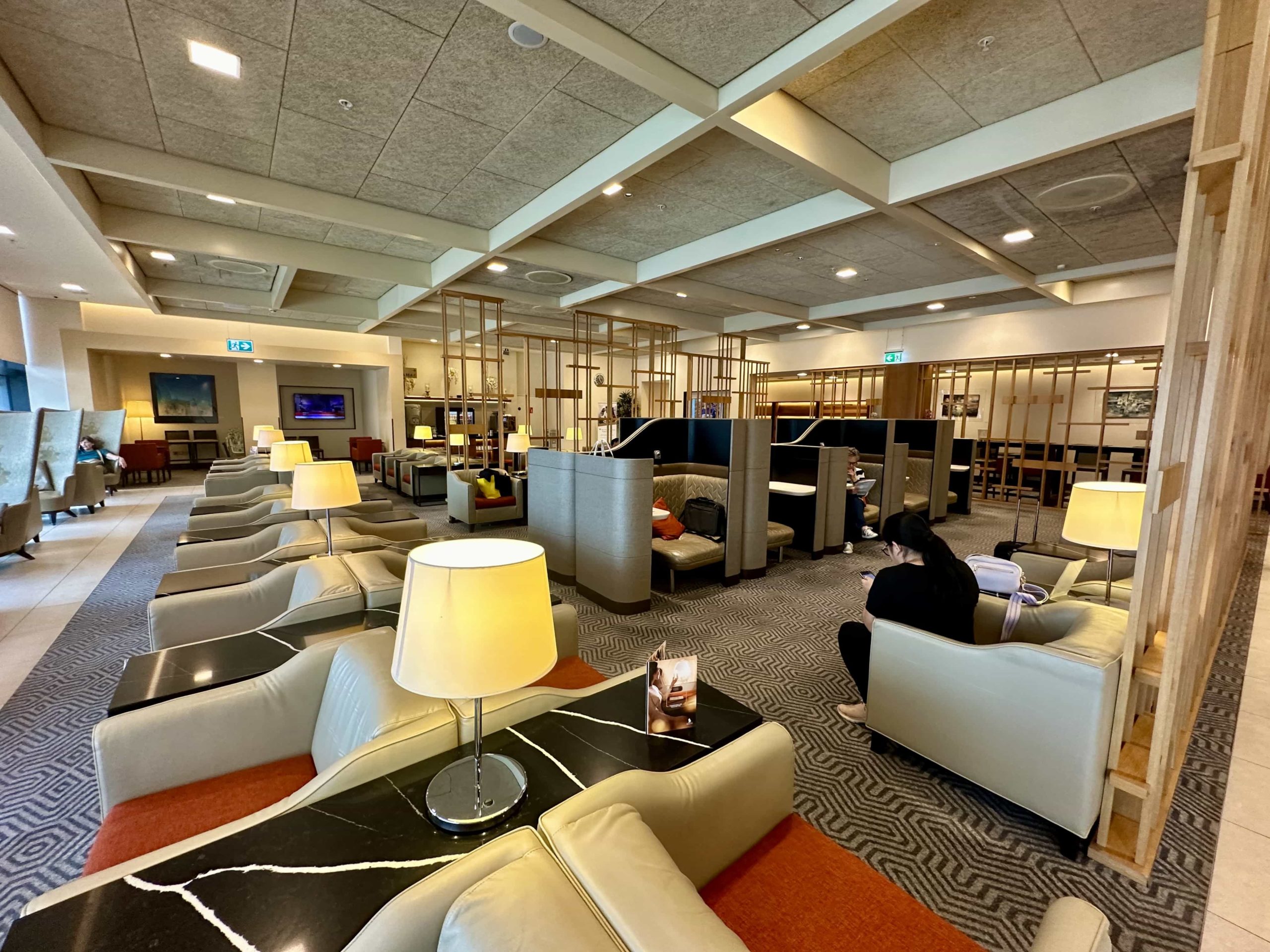 Honestly, it's not as bad as some people describe. It feels spacious, and although it's a little 'beige' for my liking, it's less dated than you might expect for a lounge of this age. Still, it would never be my go-to for ambiance, especially given that the Air Canada lounge is about the same age and looks markedly more airy and modern.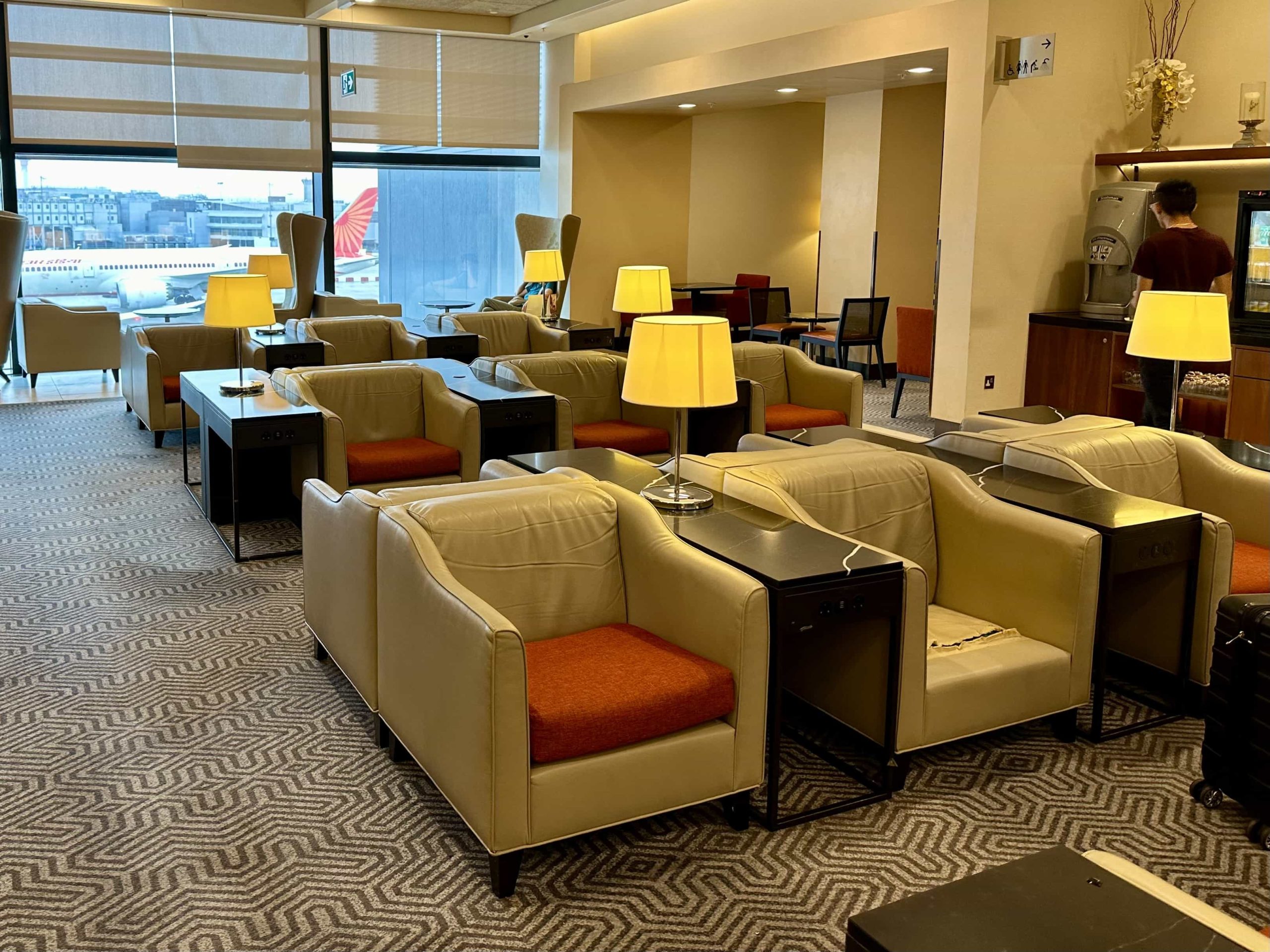 Moreover, there are definitely some signs of wear and tear. For example, the leather seats are quite wrinkled, and one which caught my attention in particular was torn and missing its padding. These are minor details, though. Overall, the lounge is in a good condition and the staff were keeping it clean and tidy.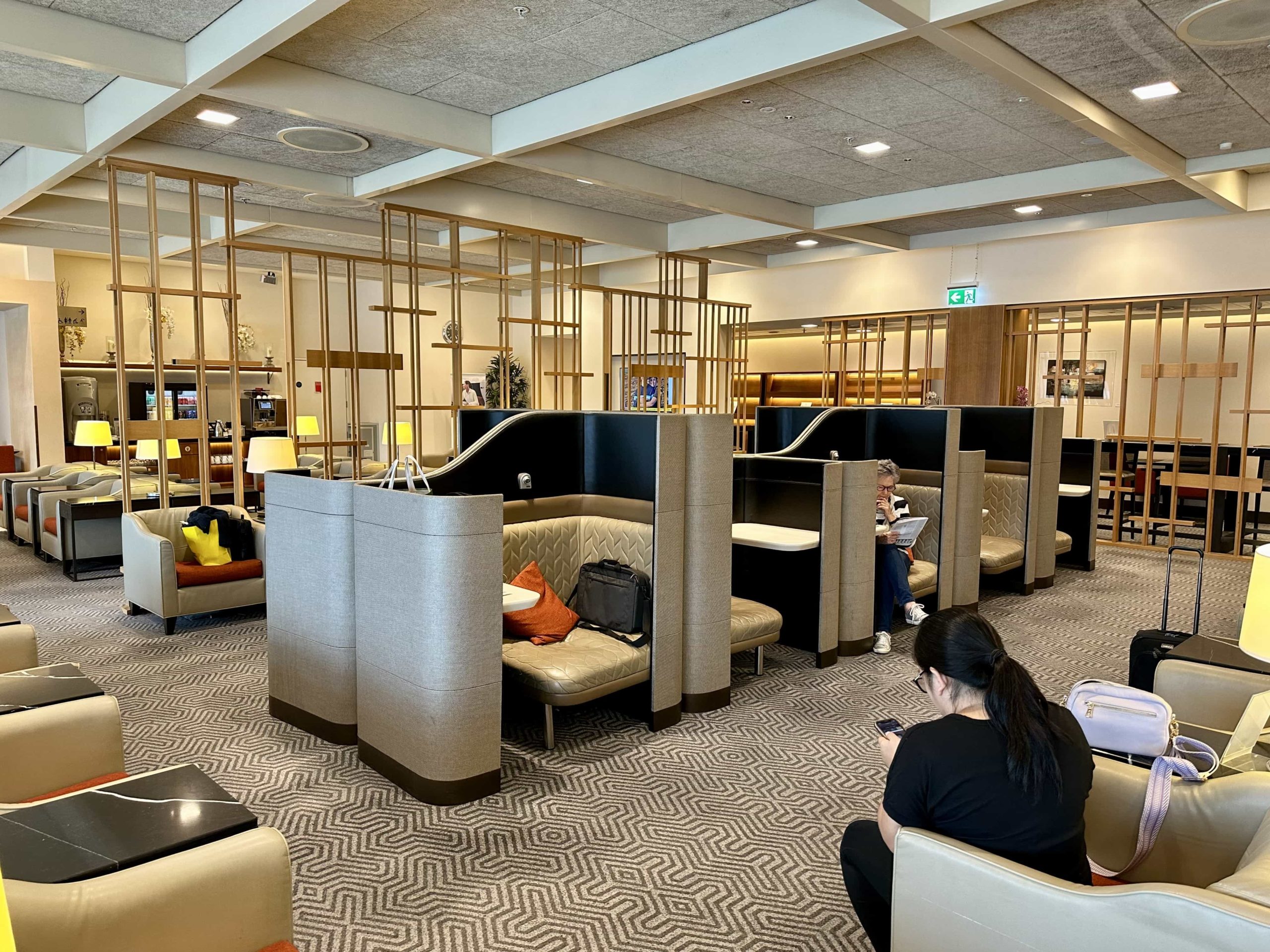 The best part of this space is the privacy pods / booths. They aren't as secluded as a dedicated room, but they do give you somewhere more private to work from, make a call, or perhaps catch some sleep. Each of these has a comfortable corner seat and a table, as well as a reading light and two power sockets.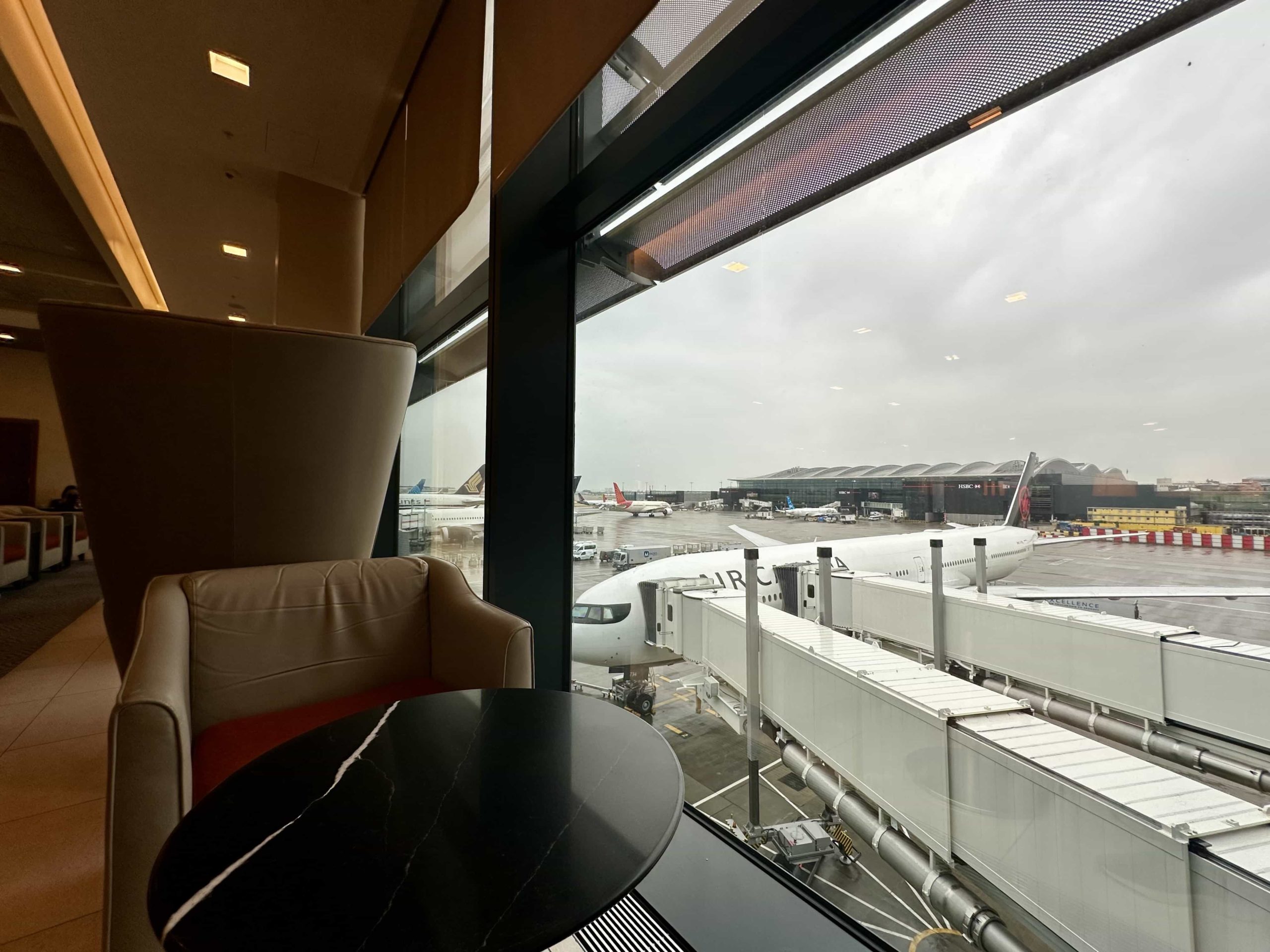 Most of the other seating consists of armchairs, each paired with a side table featuring lamps and sockets. Near the windows, you'll find high-backed armchairs, which have the advantage of floor-to-ceiling views out over the apron. When I visited, the views were mainly comprised of Singapore Airlines and Air Canada aircraft — no surprises there.
Moving back towards the catering area, you find a lineup of bar stools, and behind those, an restaurant-like area with dining tables. Overall, it seemed that there was plenty of seating, more than enough to handle demand around 11am. In general, this seems to be a quiet lounge, with most passengers opting to visit the newer Star Alliance lounges.
Food & drink
Turning to the catering, I went in expecting to be underwhelmed. Many reviews seemed to note it as a shortcoming of the lounge. To my surprise, I was actually quite impressed by what was on offer; what they're serving here is much more inspired than Air Canada next door.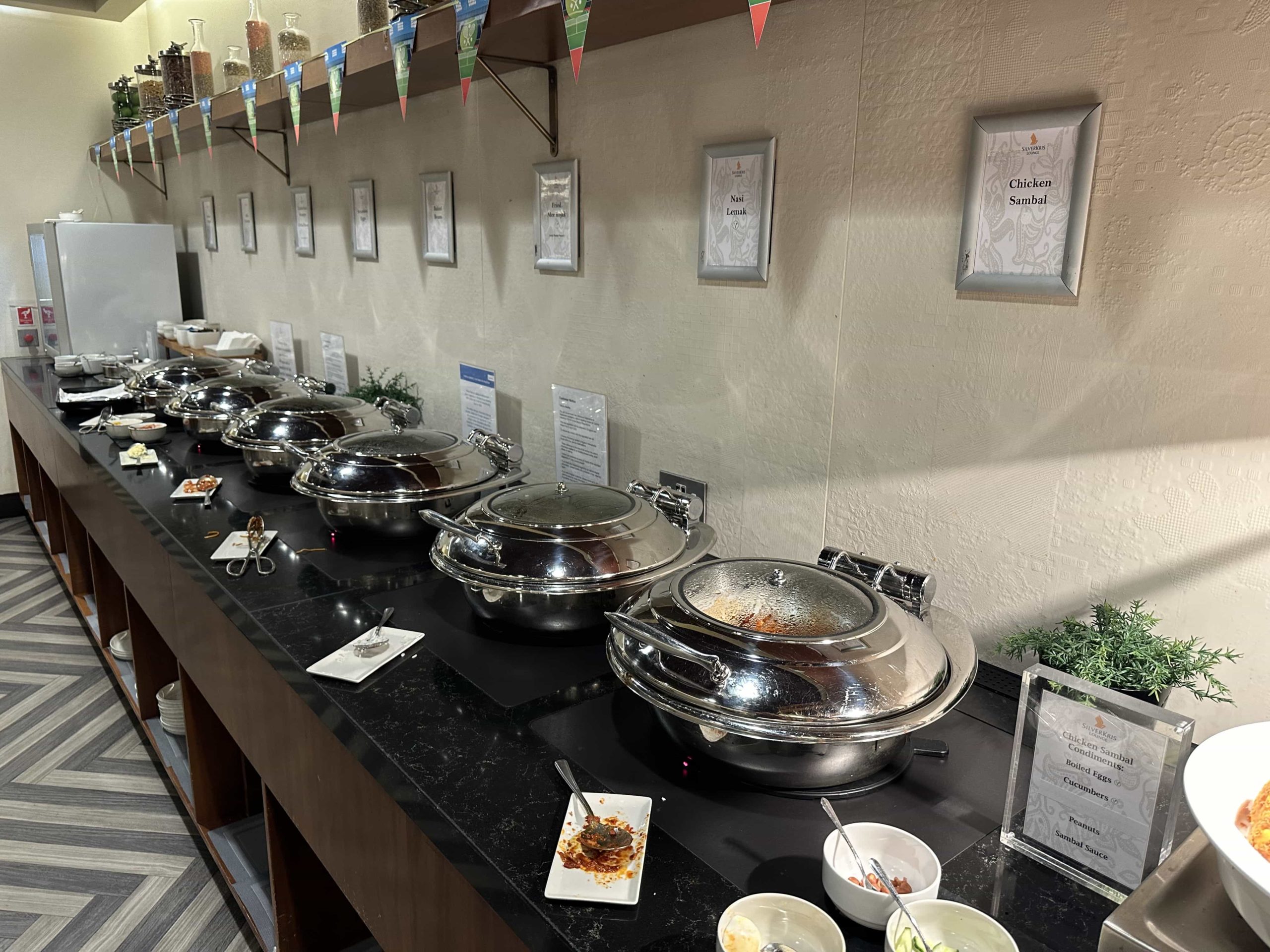 Admittedly, I was initially taken aback by the convoluted mix of breakfast and lunch offerings. It was still breakfast time, so the sausages, bacon, scrambled eggs, baked beans, and hash browns were unsurprising. But the mee rojak, nasi lemak, and chicken sambal didn't seem obvious choices with which to partner these dishes.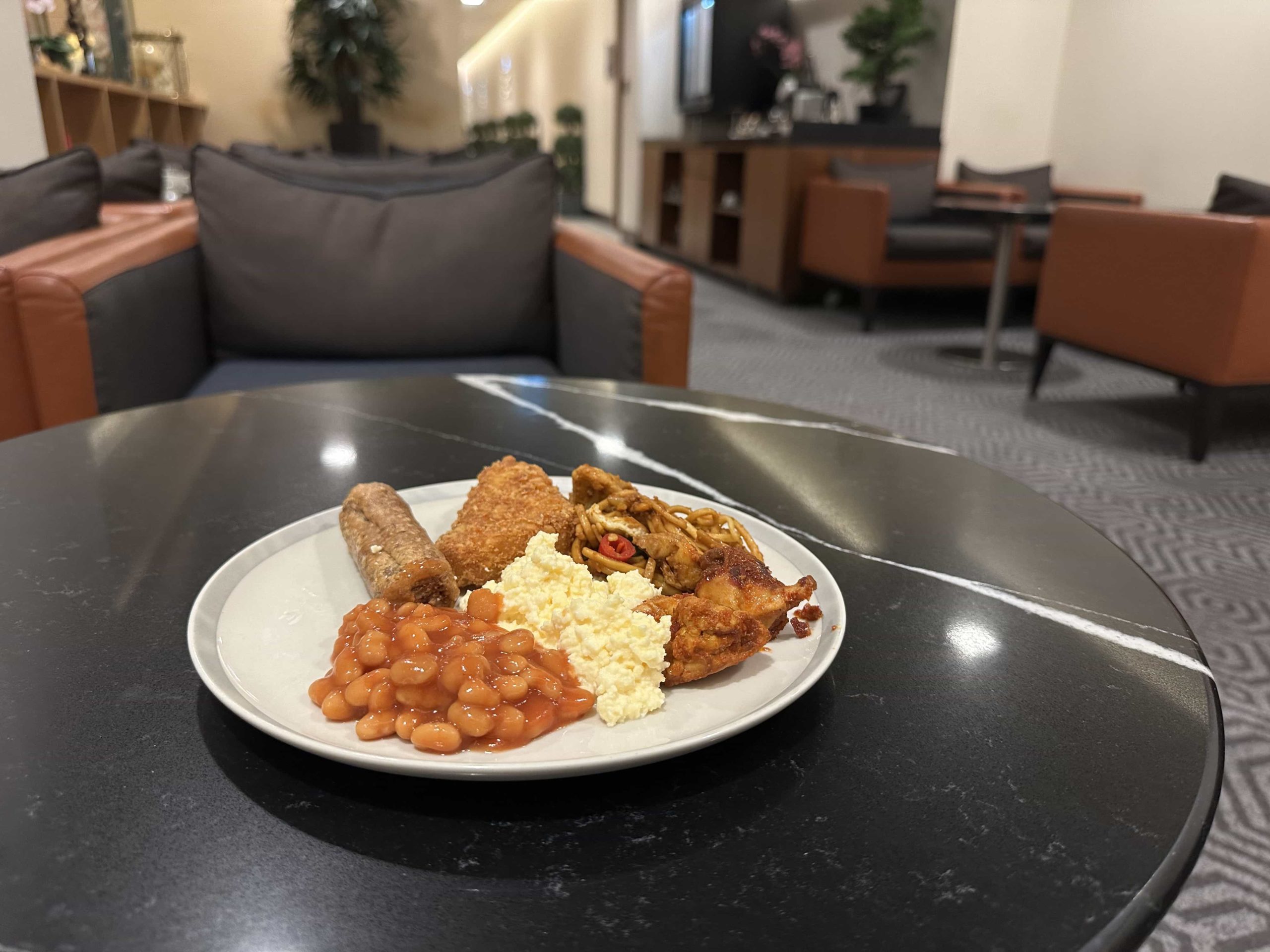 Of course, the selection is intended to cater to locals and Singaporeans alike, and it was nice to get a taste of some authentic Singapore cuisine. It's just a shame that not all of the dishes are prepared to the same standard. The noodles for example were a bit dry and stale — I'd hoped to enjoy them more than I did — while the scrambled eggs were fantastic. Truly restaurant-standard.
Speaking of restaurants, there was an à la carte dining option available during the pandemic. This is no longer available, except in the first class section.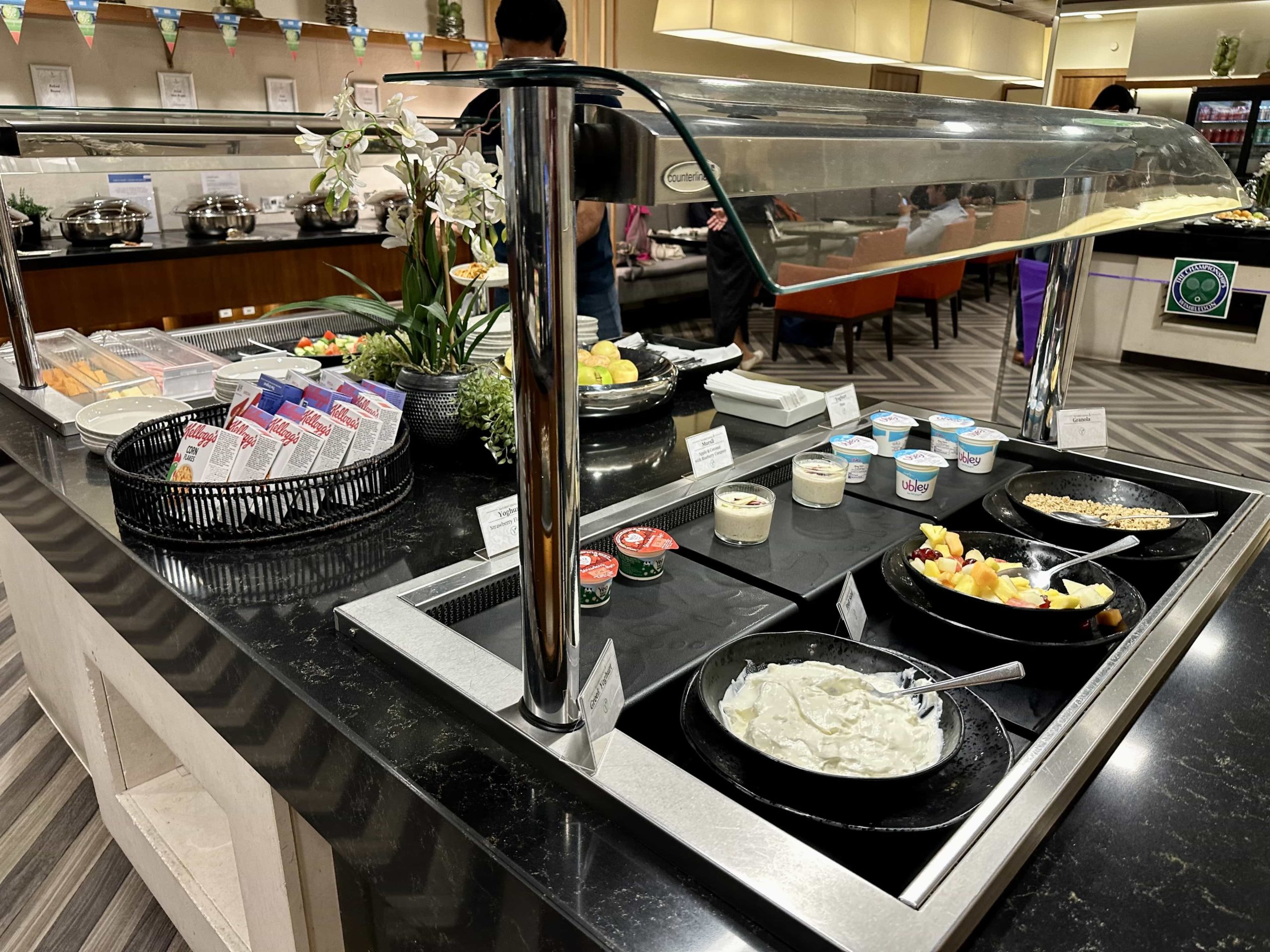 Within the cold food counter, the continental breakfast selection included Greek yogurt, fruits, cereals, muesli, and granola. On the other side, salads, cold cut meats, and cheeses were available. Chicken congee, also recognised as "chicken rice porridge", was also available, accompanied by a variety of condiments.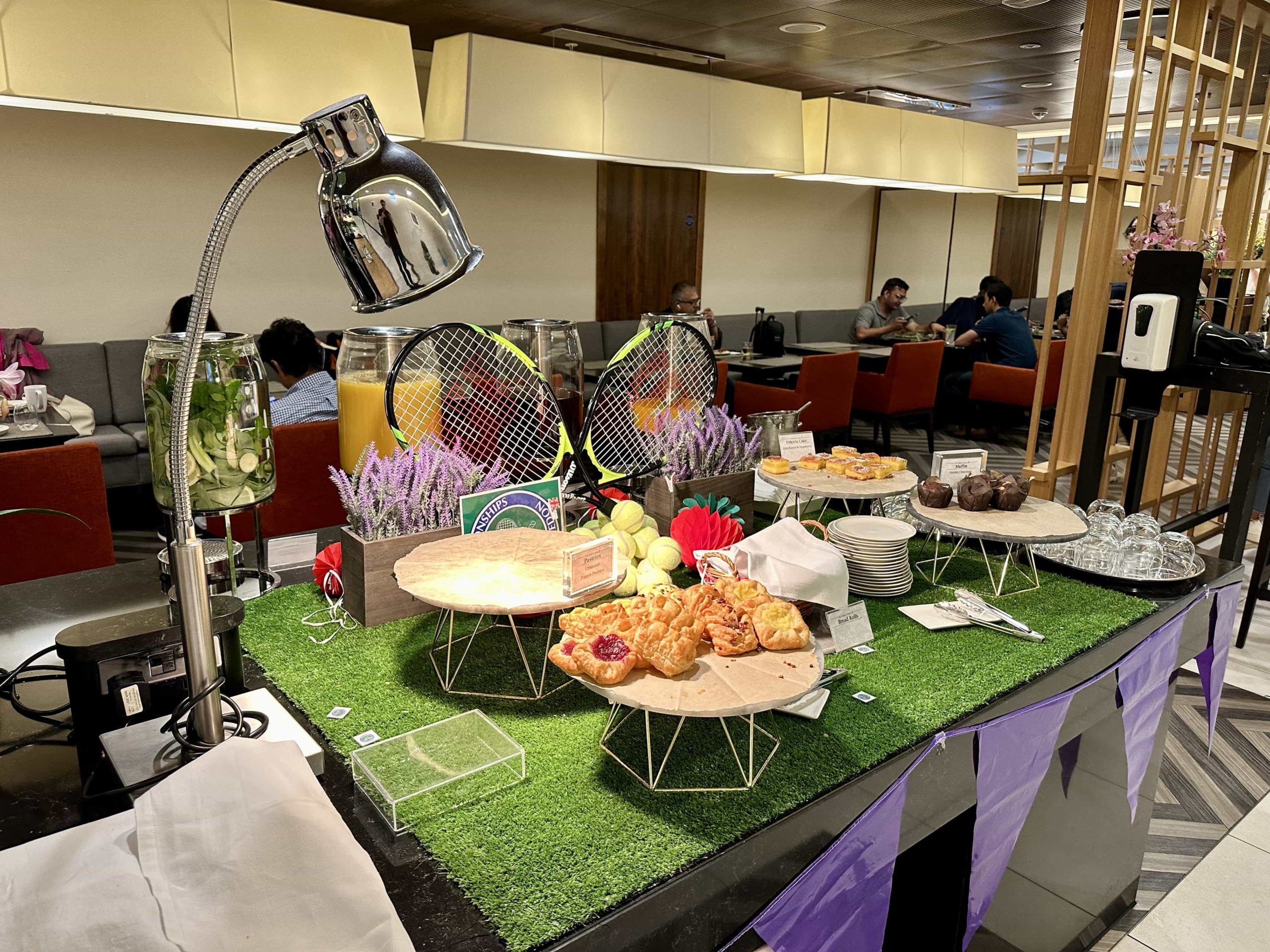 As part of Wimbledon celebrations which were ongoing at the time, each lounge at Terminal 2 had their dessert selection bolstered by an additional table of sweet items, including pastries, cakes, and muffins. Ordinarily, there will be fewer desserts, but the good news is that the tubs of ice cream are a staple — and very popular — perk.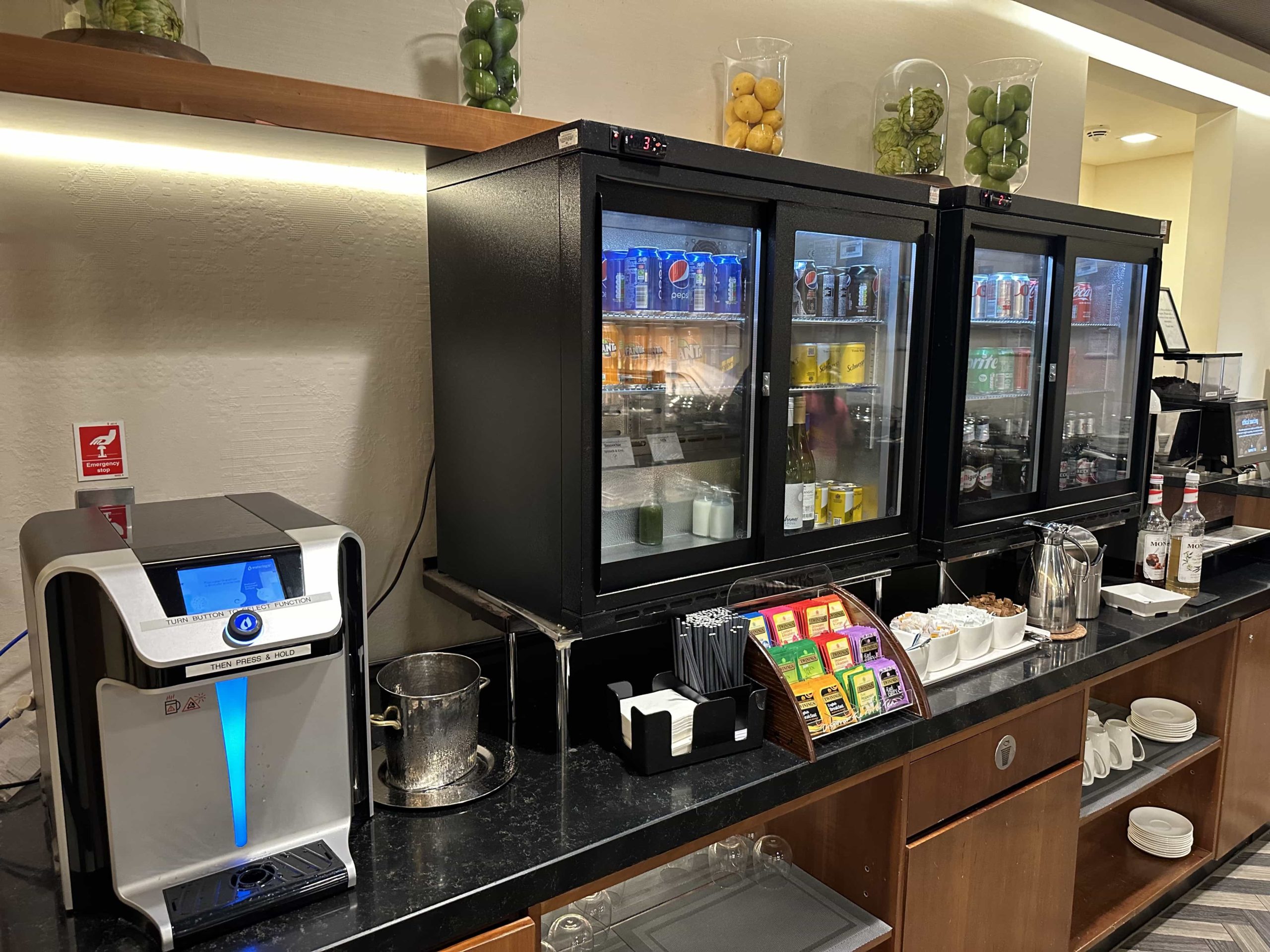 The drinks selection is quite comprehensive, offering a range of Coca-Cola, Pepsi, and Schweppes products, fruit juices, and even smoothies. While some of the coffee machines are quite dated, the one in the main catering area is modern. Next to that, there are also self-serve tea facilities.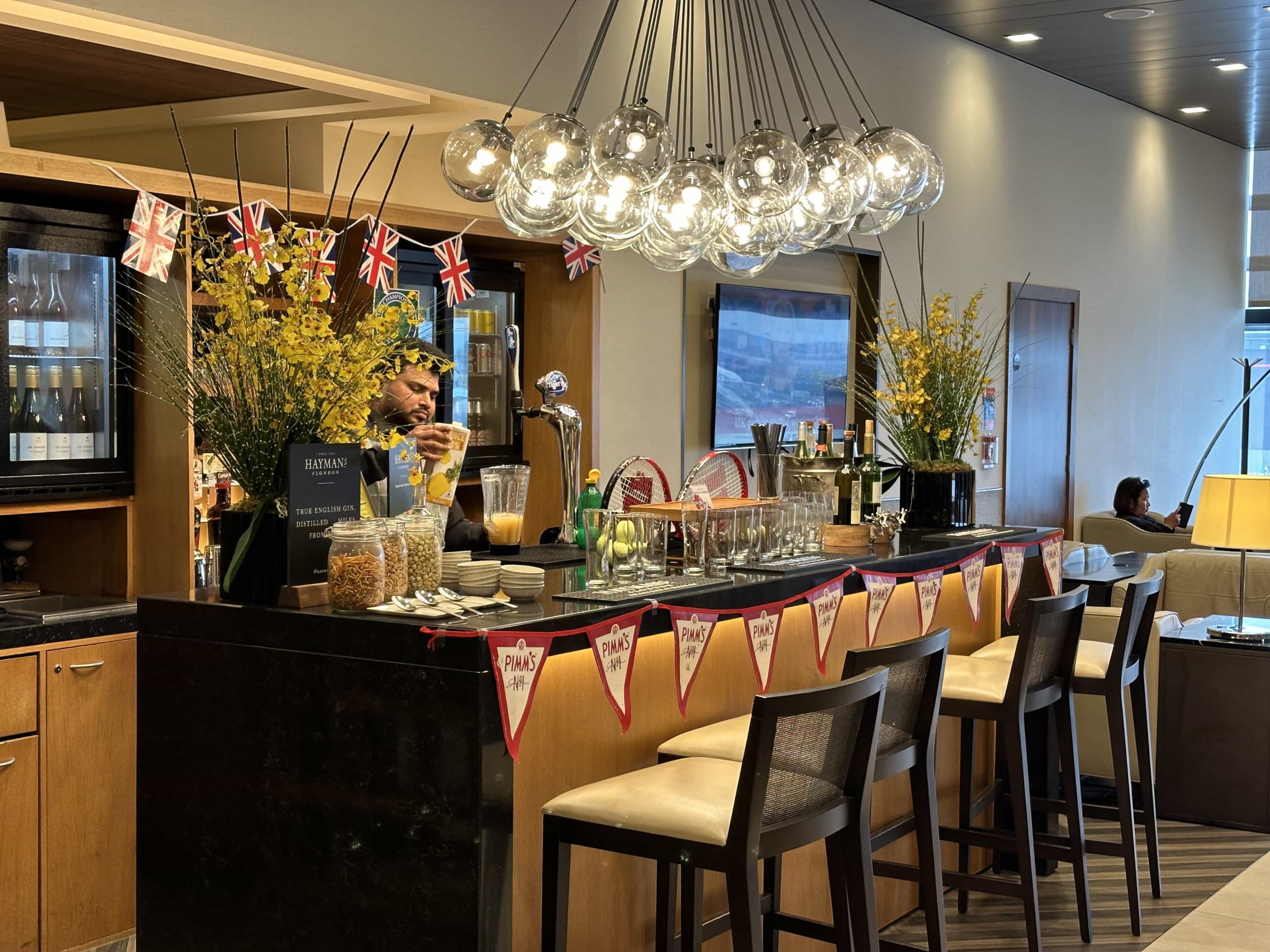 There is a small selection of beer and wine available from self-serve fridges, but most of the alcohol is served from a tended bar. Available is a range of wines, beers, and cocktails, along with some national specialties, notably Singapore Slings. Champagne and Prosecco are also available.
Anything else to note?
Showers
There are three showers in the lounge, which seems to be adequate for the popularity of the lounge. During my visit, all three were available; however, it wasn't during the peak 'shower usage' time, so your experience might differ. If showering is a priority for you, I'd suggest making the slightly longer walk to the United lounge, as the showers there are both more plentiful and also more spacious and modern. The ones at Air Canada are also better.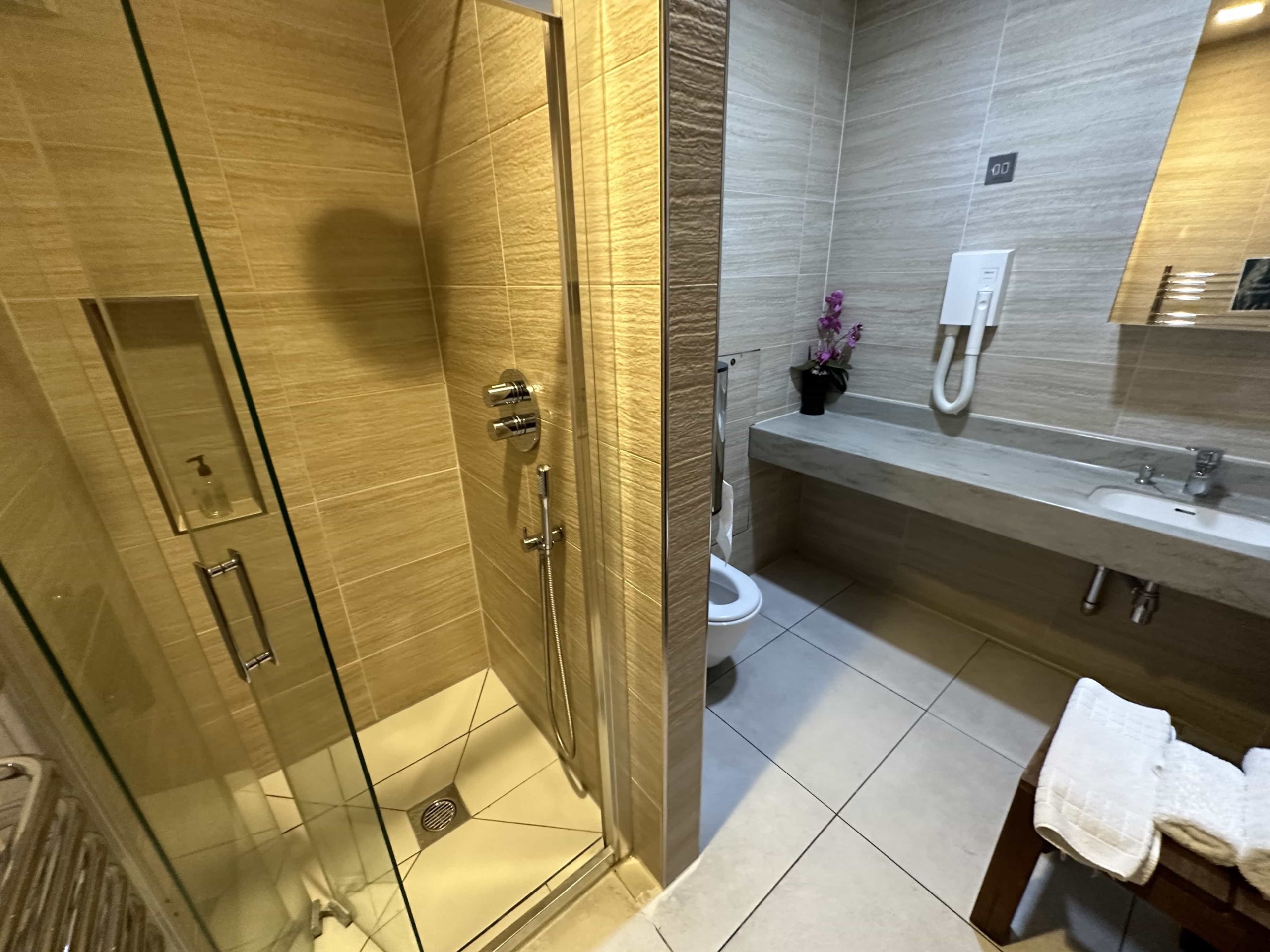 Staff
The staff were great during my relatively brief visit. They were not only proactive and helpful but also very friendly. As I explored to take pictures, many of them stepped out of the way as to not interfere, and most greeted me with a friendly "good morning". Apologies to the reception staff, who kept having to duck like Whac-A-Moles as I took pictures of the lobby.
Wi-Fi
I logged into the Wi-Fi to check the speeds and got around 50 Mbps down and 30 Mbps up. This is significantly quicker than you'll get with Air Canada.
Conclusion
Overall, I was pleasantly surprised by Singapore's SilverKris lounge. It's up against tough competition in the form of its Star Alliance counterparts, but it manages to hold its own in certain aspects.
For one, it's much quieter than the other lounges, so you get a lot more personal space and better access to amenities. You also get a more attentive service from staff.
There's no doubt the aesthetic and ambiance fall short compared to those other lounges though. So if that's where your priorities lie, it may not be the lounge for you.
Personally, I would treat this lounge an extension to the Air Canada lounge. Perhaps somewhere you visit for some food before you head over to Air Canada to relax. After all, the food in the SilverKris lounge is undoubtedly more compelling.