As a reluctant Oneworld patron, my opportunities to fly from Heathrow Terminal 2 are few and far between. Thus, when the chance finally arose, I was determined to make the most of it by experiencing the terminal's finest lounges. I had five to choose from: four Star Alliance lounges, accessible through my United business class (Polaris) flight, and Plaza Premium, thanks to my Priority Pass card.
Assuming I'd only have time for one or two, I needed to prioritise, and I decided to start with Air Canada's Maple Leaf Lounge. What attracted me to this lounge, having done a little research beforehand, was the look of the space. I love lounges which lean into soothing, spa-like aesthetics, much more than ones which go for a strictly business look and feel. Based on the marketing images, this lounge seemed to be right up my street.
Of course, pictures can only reveal so much, so I wanted to see it for myself. Most reviews I read seemed to indicate this lounge should be your Star Alliance go-to, but are they right? Well, as it turned out, I ended up having time to visit all five lounges, so I was able to determine whether I would indeed support this recommendation.
Where is the lounge?
The lounge is located in Terminal 2B, which can be accessed via an underground tunnel. Finding your way there is simple thanks to clear signage, but it's a long walk.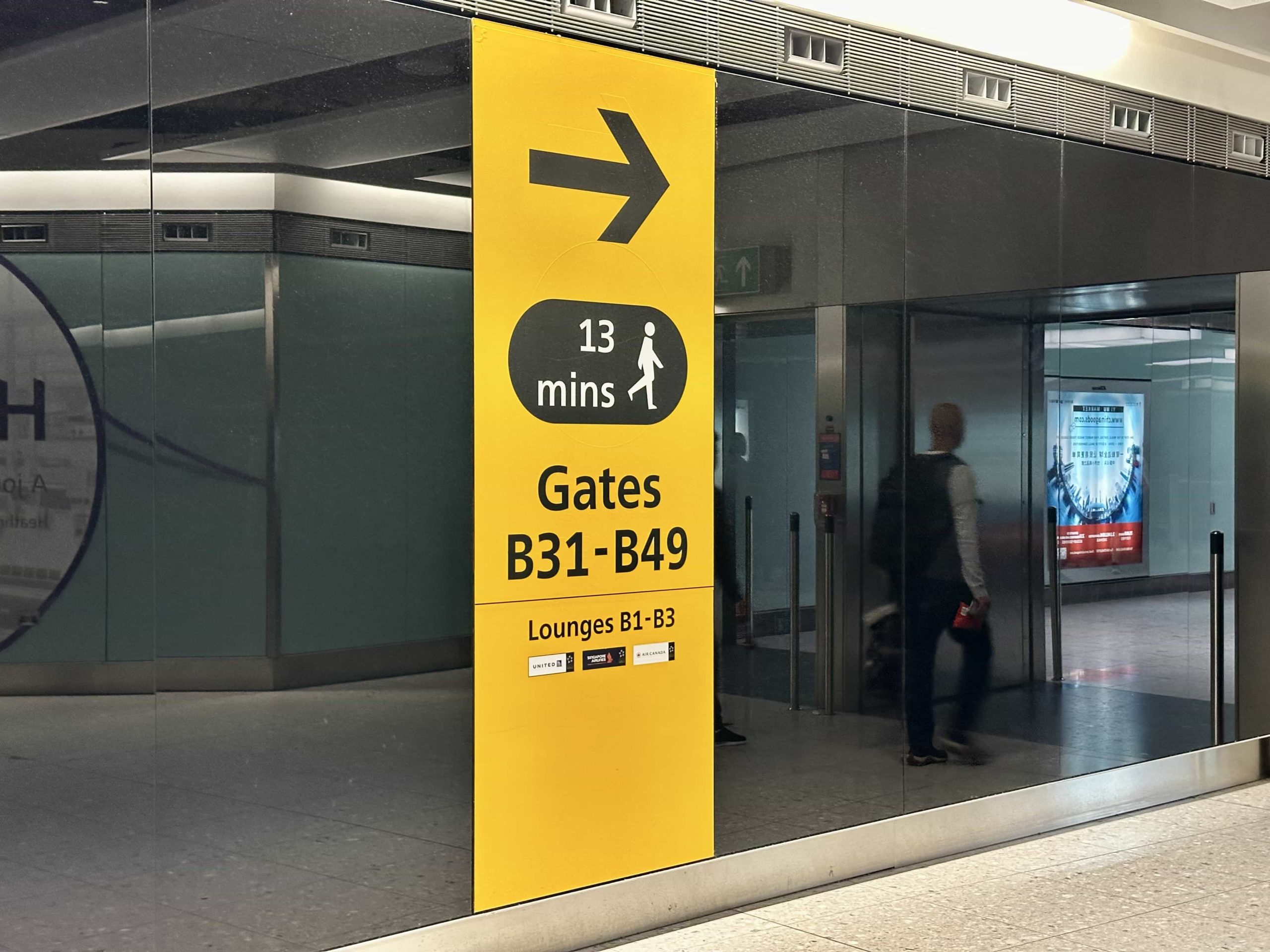 There are no trains unfortunately, and although there are a series of moving walkways towards Terminal 2B, there are none on the way back. This is not a convenient lounge therefore if you're departing from Terminal 2A.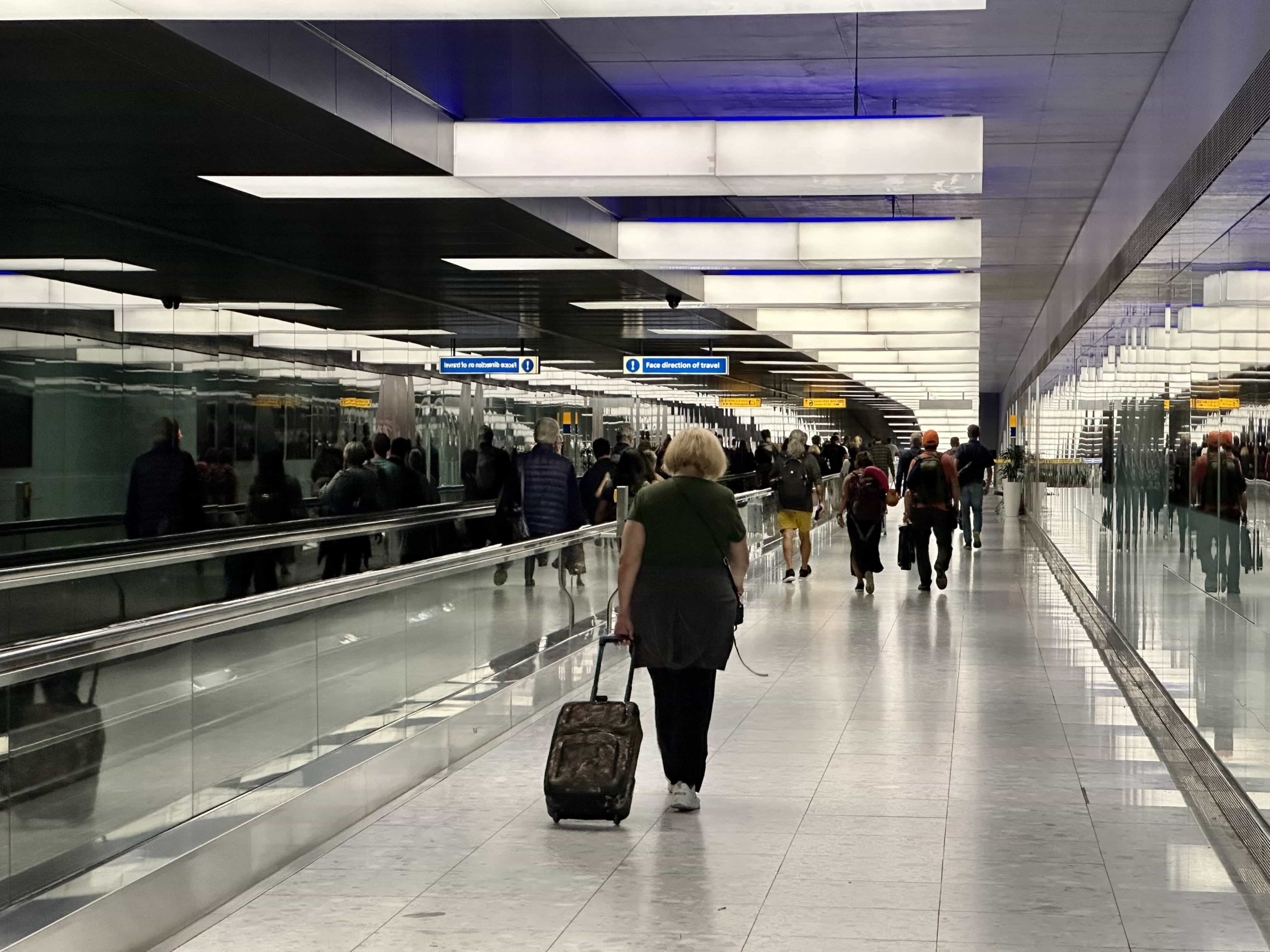 That said, although Heathrow reckons it should take about 15 minutes to traverse between the two, fast walkers should manage it in 5-8 minutes — which isn't that bad. Moreover, as you emerge into Terminal 2B, the escalators place you immediately in front of the elevators to the lounge.
Access
Customers flying business class with Air Canada or a Star Alliance partner airlines have complimentary access to the lounge.
Passengers with certain Air Canada fare types can purchase lounge access when booking their flight.
Star Alliance Gold members can access the lounge, regardless of which cabin class they're travelling in.
Access for guests can be purchased at an additional charge.
For full details see this page on the Air Canada website.
Check-in and first impressions
First impressions are important, and Air Canada deliver in this regard. Upon exiting the lift, you are presented with Singapore Airlines' SilverKris Lounge (you can read that review here) to your right, and Air Canada's Maple Leaf Lounge to your left. The latter immediately feels more inviting, drawing you in via its slatted wood panelling — a feature which never fails to impress in any lounge.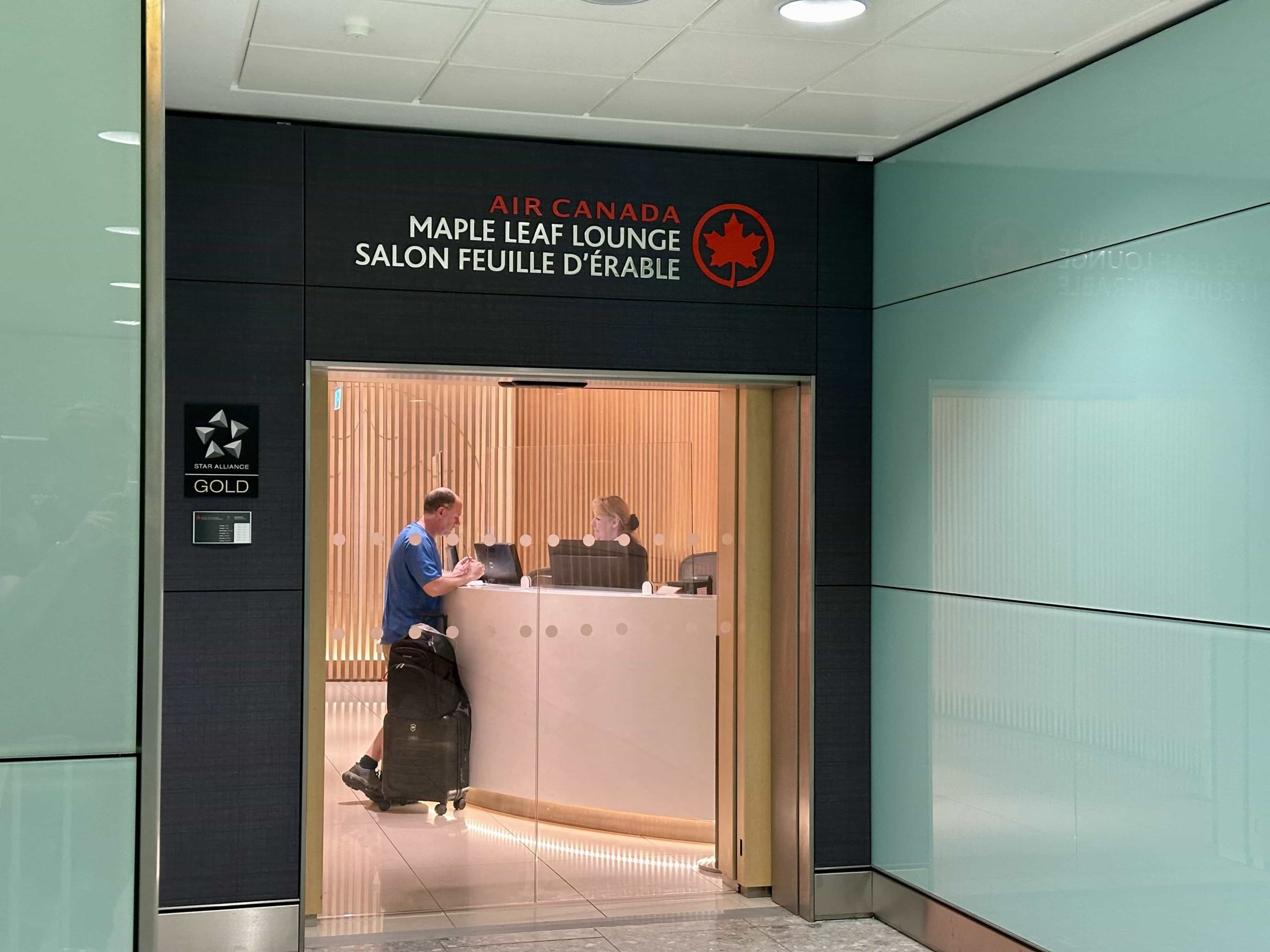 The lounge exudes a comforting and welcoming ambiance, striking a perfect balance between minimalism and modernity without feeling clinical. It's effortlessly elegant, and certainly isn't trying too hard. This is beautifully showcased in the lobby area, where a solid stone reception desk adorned with the Air Canada logo sits alongside a tastefully inscribed maple leaf on the wood panelling.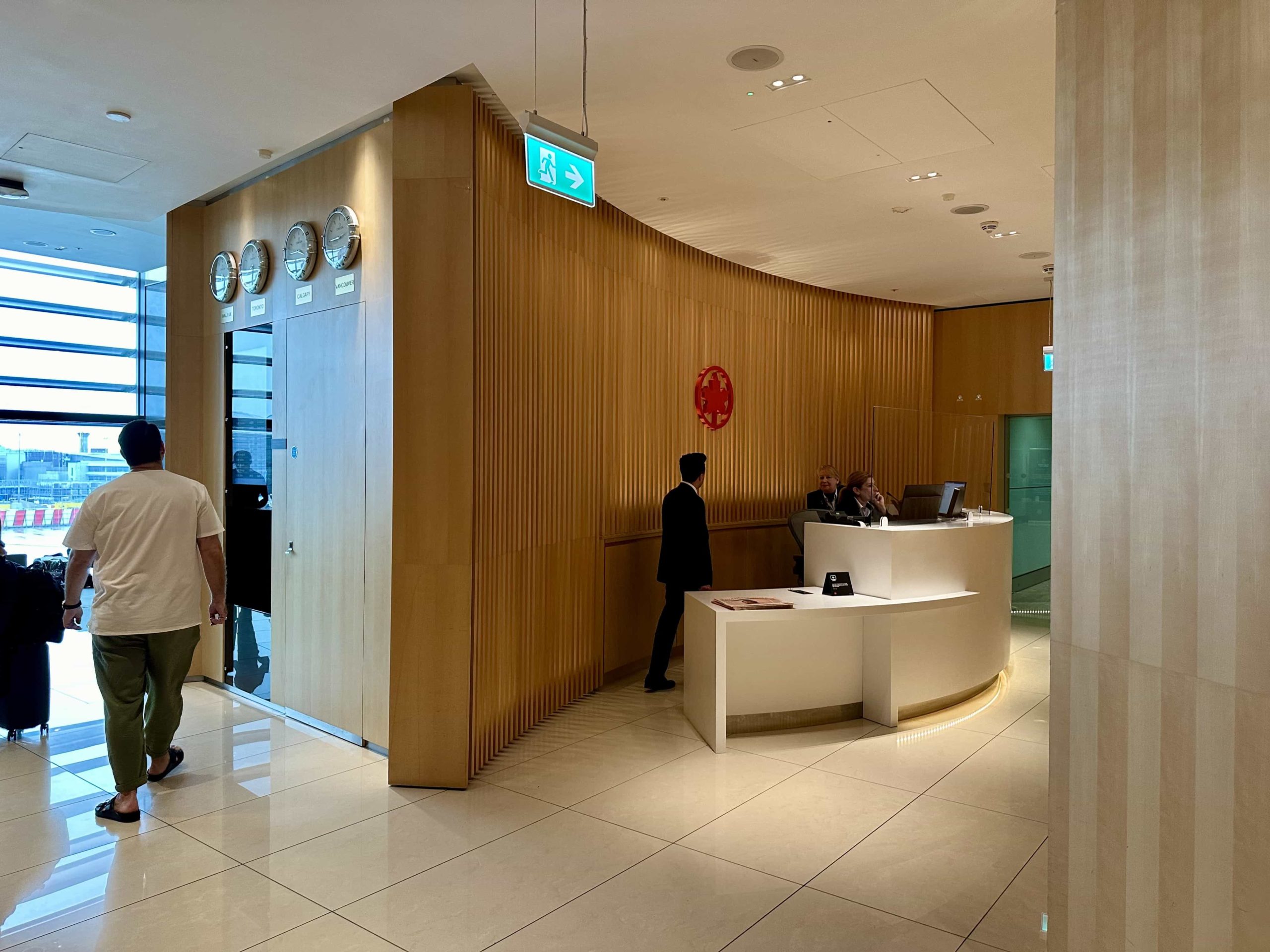 The contrast of the light materials with Air Canada's black and red colour scheme is bold and confident. It actually feels like some kind of Swiss / Scandinavian mix more than it does Canadian, but the materials — namely the maple wood — are of course, intrinsically Canadian.
My interaction with the receptionist was brief, but friendly enough. After a quick scan of my boarding pass, I was welcomed inside.
Environment
Instead of immediately settling into a seat, I opted to begin my visit by exploring the different sections of the lounge, anticipating it to be quite spacious based on the images I'd seen. To my surprise, it turns out that the lounge is actually quite modest. Besides the main seating area, there's a work room, a catering area, and a couple of nooks, but none of these are particularly large. Don't get me wrong, it doesn't feel cramped, but it's notably smaller than the United lounge, for example.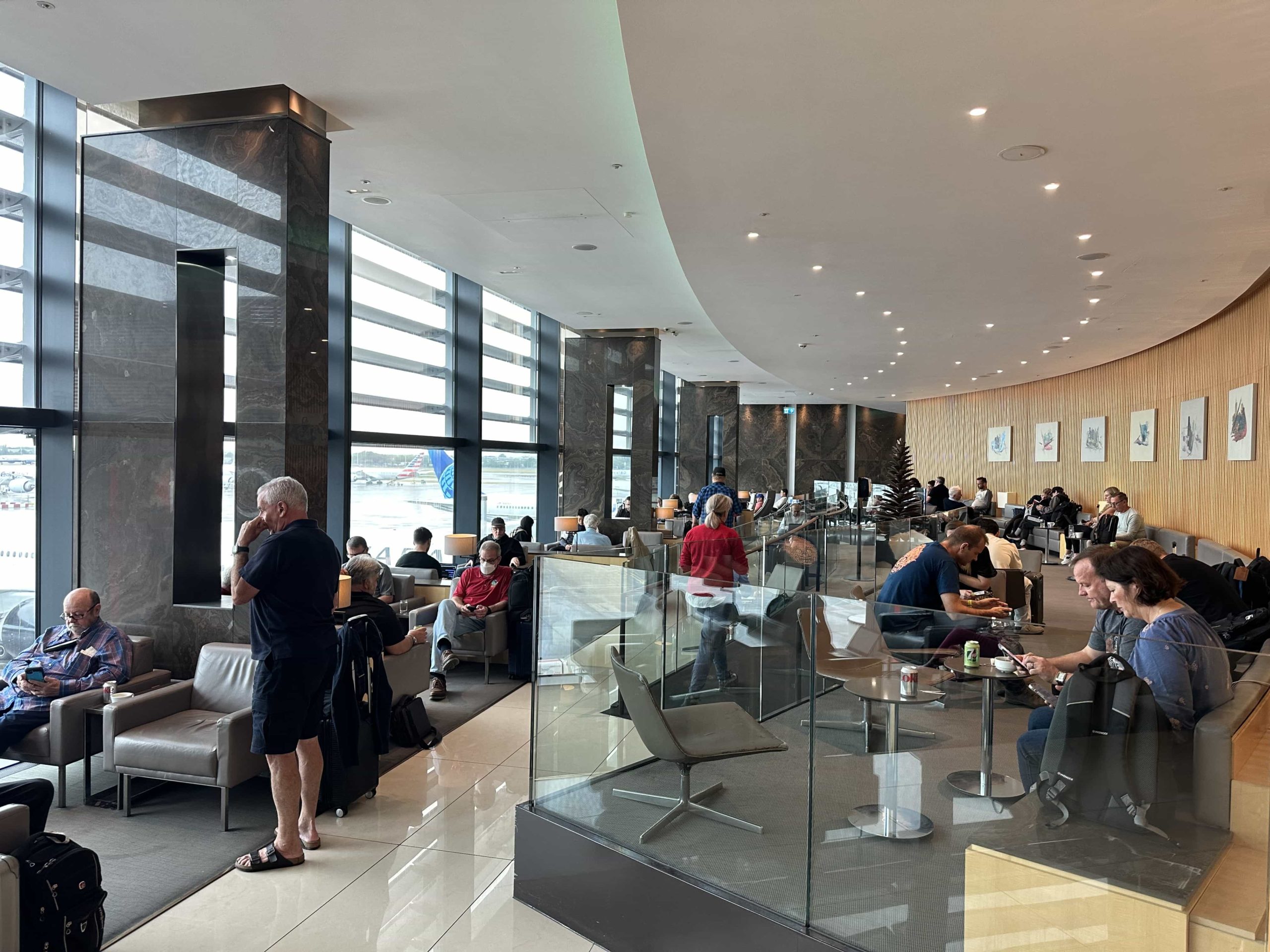 As such, by 11am, most areas were quite crowded. Initially, the only vacant seating I could find was a communal sofa which runs the length of the lounge, along the curved accent wall. This was fine, but I'd have preferred one of the lounge chairs — even if they're essentially the same thing, only with armrests.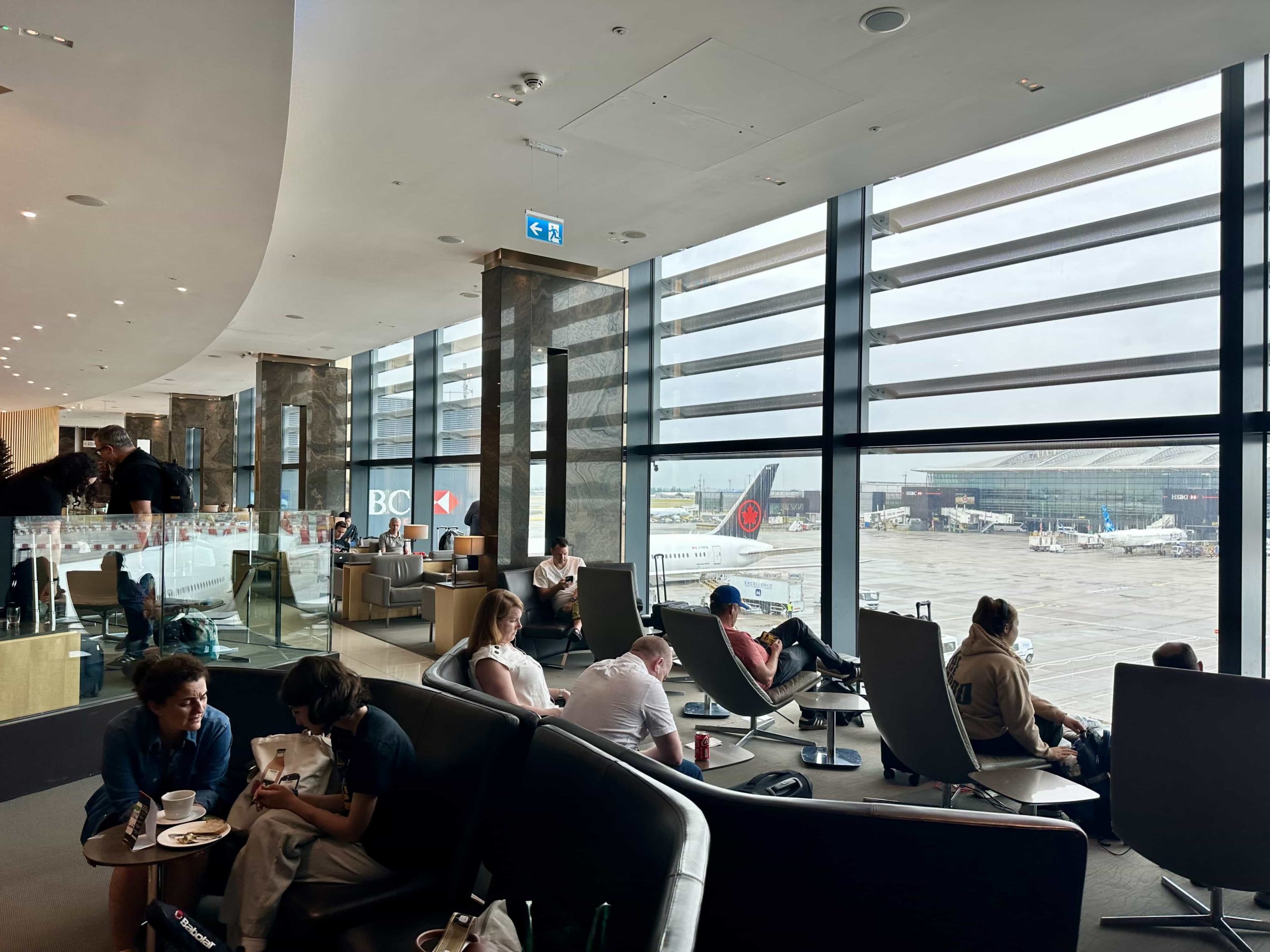 I was surprised to learn that the lounge opened in 2014 — you certainly wouldn't be able to tell based on the timeless decor. More revealing however, are the soft furnishings, which look quite tired. I noticed a fair amount of scuffs, discolouration, and wrinkles. Merely updating this aspect alone would make the entire look essentially good as new.
The floor-to-ceiling windows stand as a defining feature of the lounge. They bring in a ton of natural light which floods the space, and adds to the bright and airy feeling. It's a great lounge to visit in the morning if you want to get a dose of sunlight before boarding your flight. It's also an ideal setting for productivity, far more conducive to work than the moody and ambient environments often found in other lounges.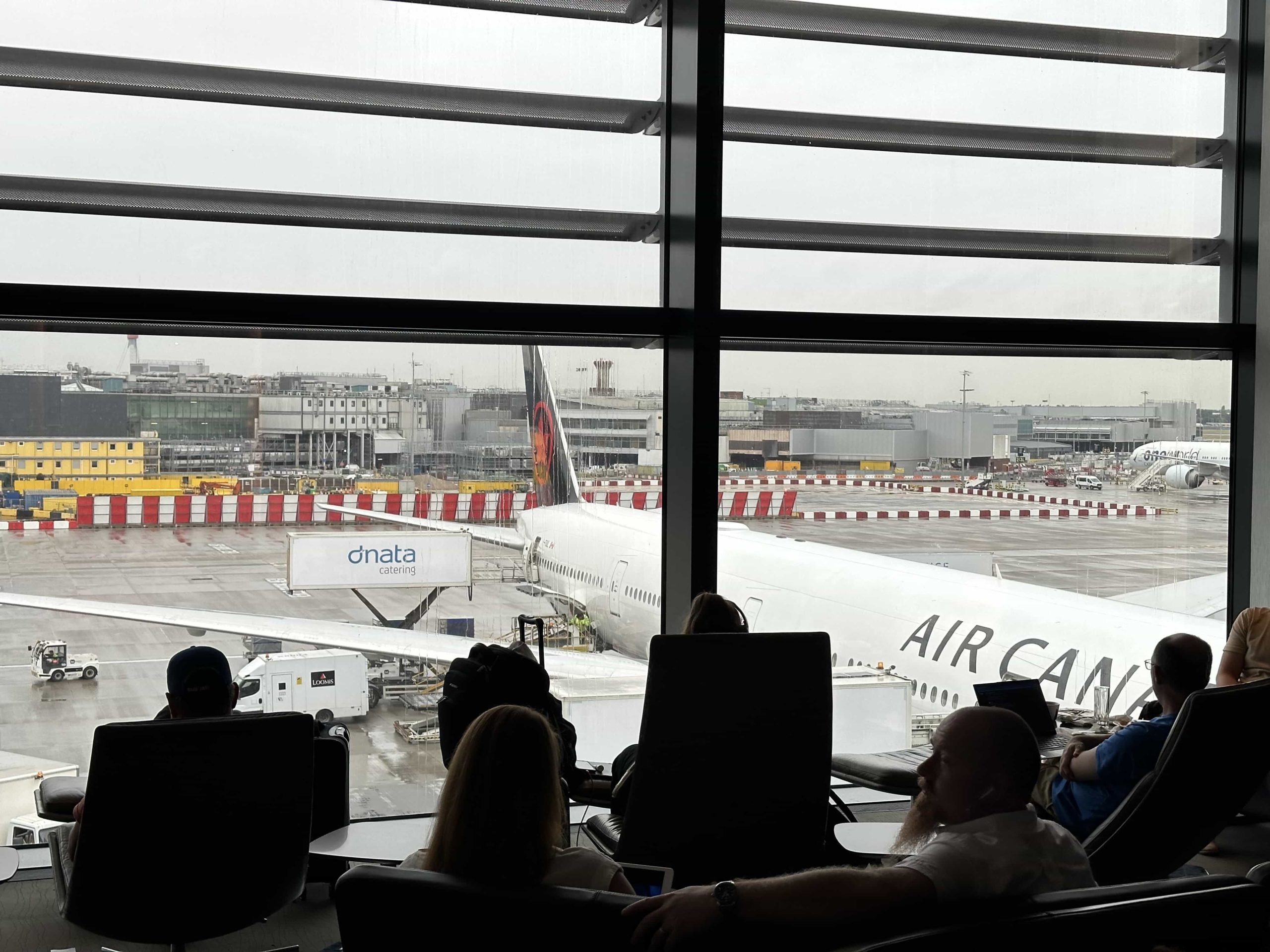 The lounge boasts fantastic views, overlooking the apron between Terminal 2A and Terminal 2B. Thanks to the two-tier seating design, you can catch sight of Air Canada aircraft parked just below from almost any seat; not to mention the jetBlue A321LR, which is always a novelty to see on UK turf.
The prime plane-spotting seats are the reclinable lounge chairs. I didn't get a chance to try them, but they looked especially comfortable. For an even more laid-back experience, tucked away in the corner, you'll find a few reading nooks, each offering its own business class-style seat and TV.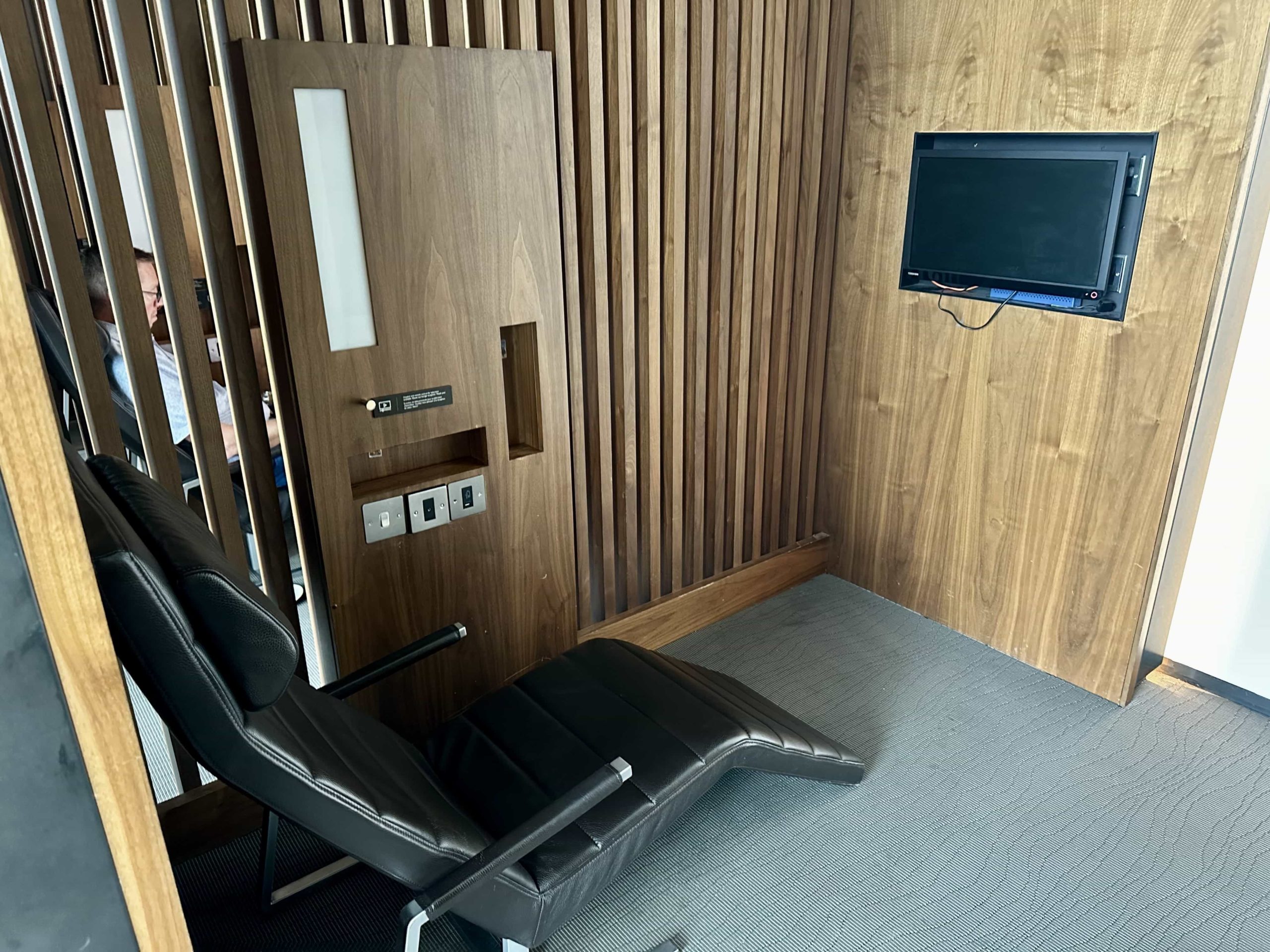 These looked great for sleeping, though are slightly compromised by the slatted wood dividers, which unnecessarily compromise privacy and sound isolation. Fortunately, the rather poky and old-fashioned TVs can only be used with headphones, so this is less of an issue that it could otherwise have been.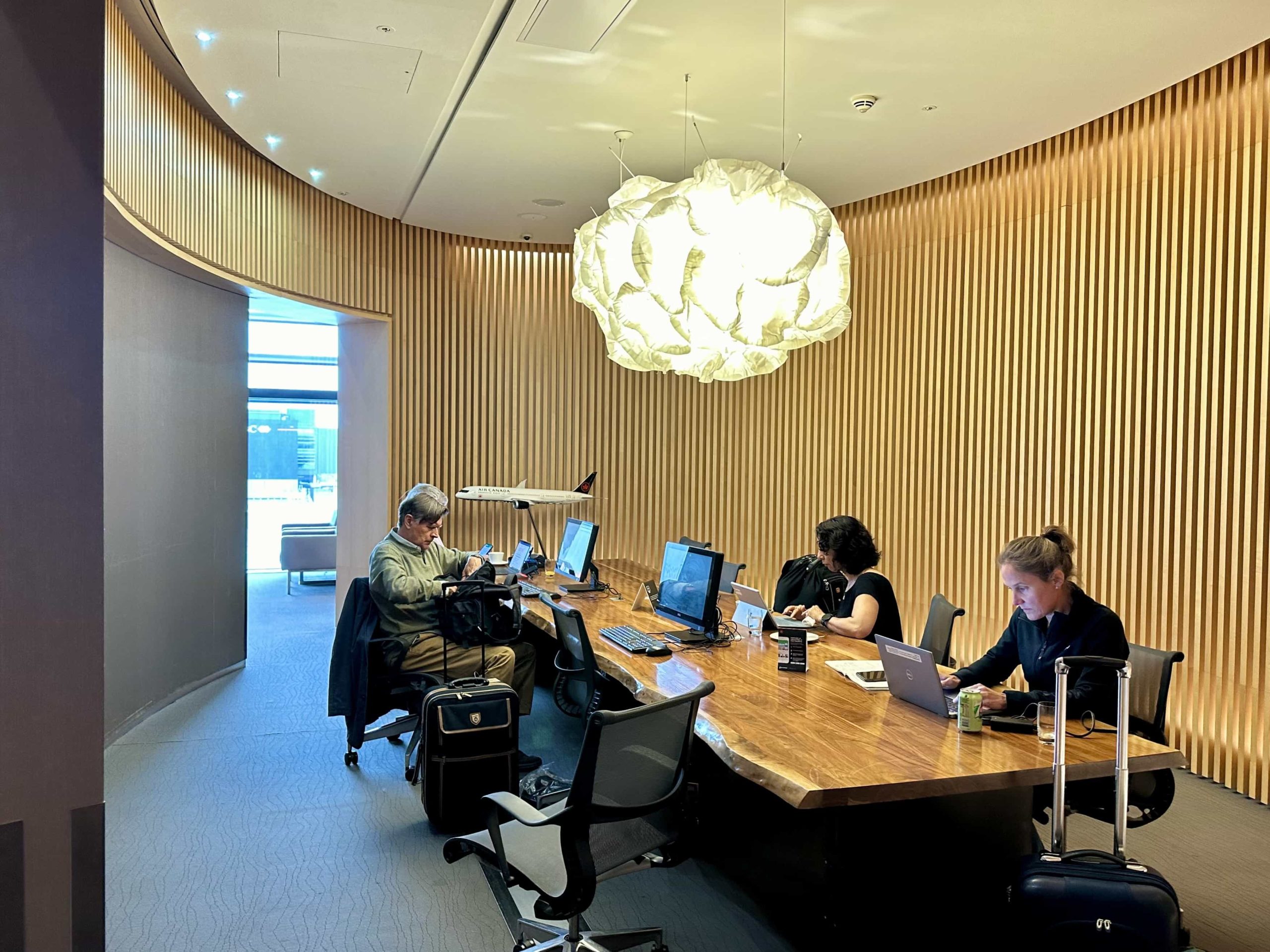 If you want to get some focused work done, there's a couple of options. One is the dedicated work room, which has Herman Miller seating for eight around a conference room-style table. This room is equipped with a printer, a rather beautiful Air Canada 787-9 model, and a couple of very retro PCs — which, to my surprise, someone seemed to be using!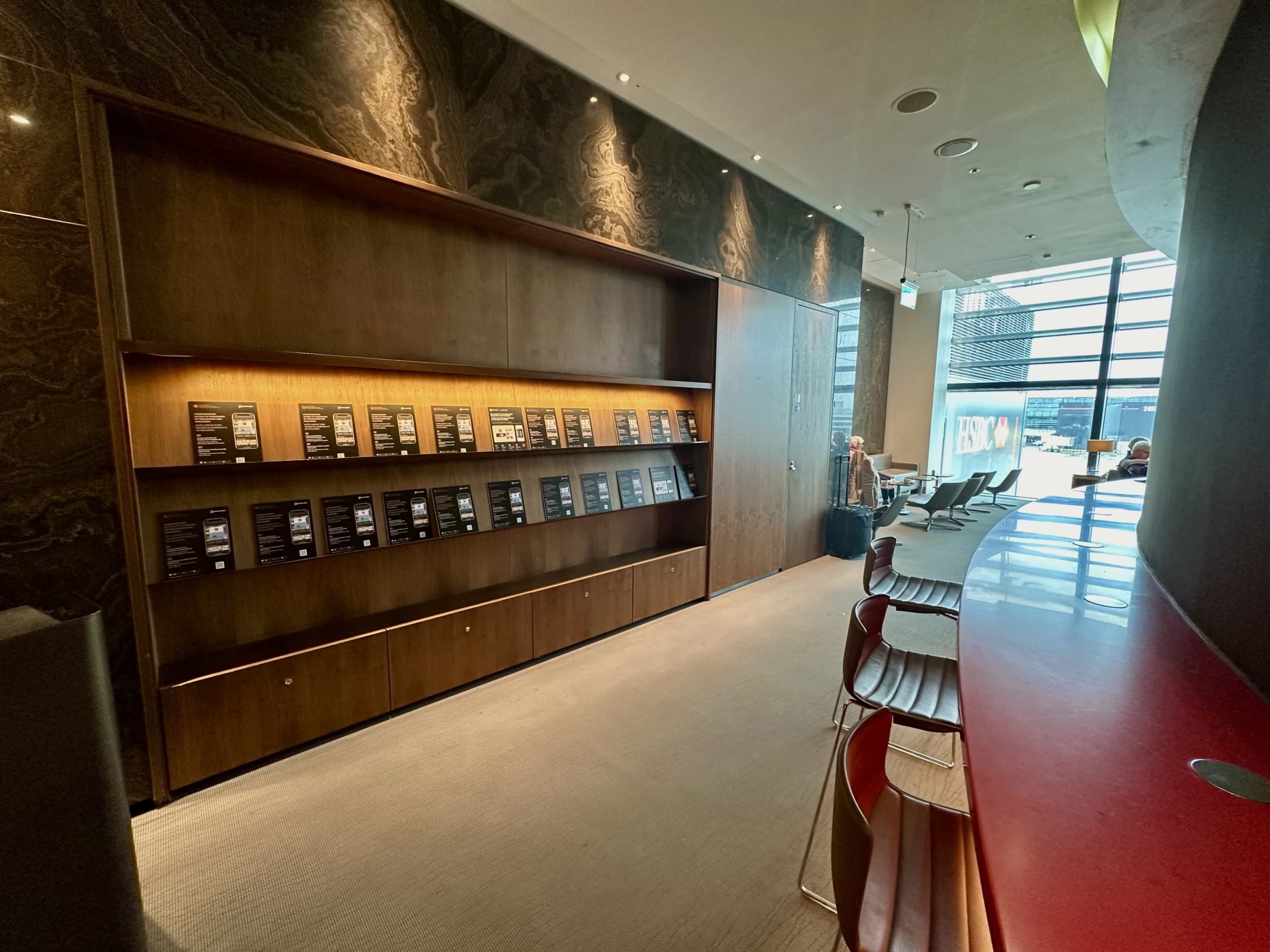 It's a nice room this, but doesn't provide much personal space, and is quite formal. The other option is the bar-style seating which wraps around the outer wall of the aforementioned room; however, I couldn't spot any power sockets, which is a curious oversight. The worktop is also quite narrow, so I'd be tempted just to work from the catering area, which has an island, plus four dining tables. Yes, just four — most of this lounge is comprised of casual seating.
Food & drink
Breakfast took me by surprise because, well… it wasn't breakfast. Instead, lunch was being served just before 11am. This was in contrast to the other lounges I visited after Air Canada, who were all still serving breakfast. Nonetheless, it didn't bother me, as I don't often have the opportunity to experience lunchtime offerings, being more accustomed to traveling in the morning or evening.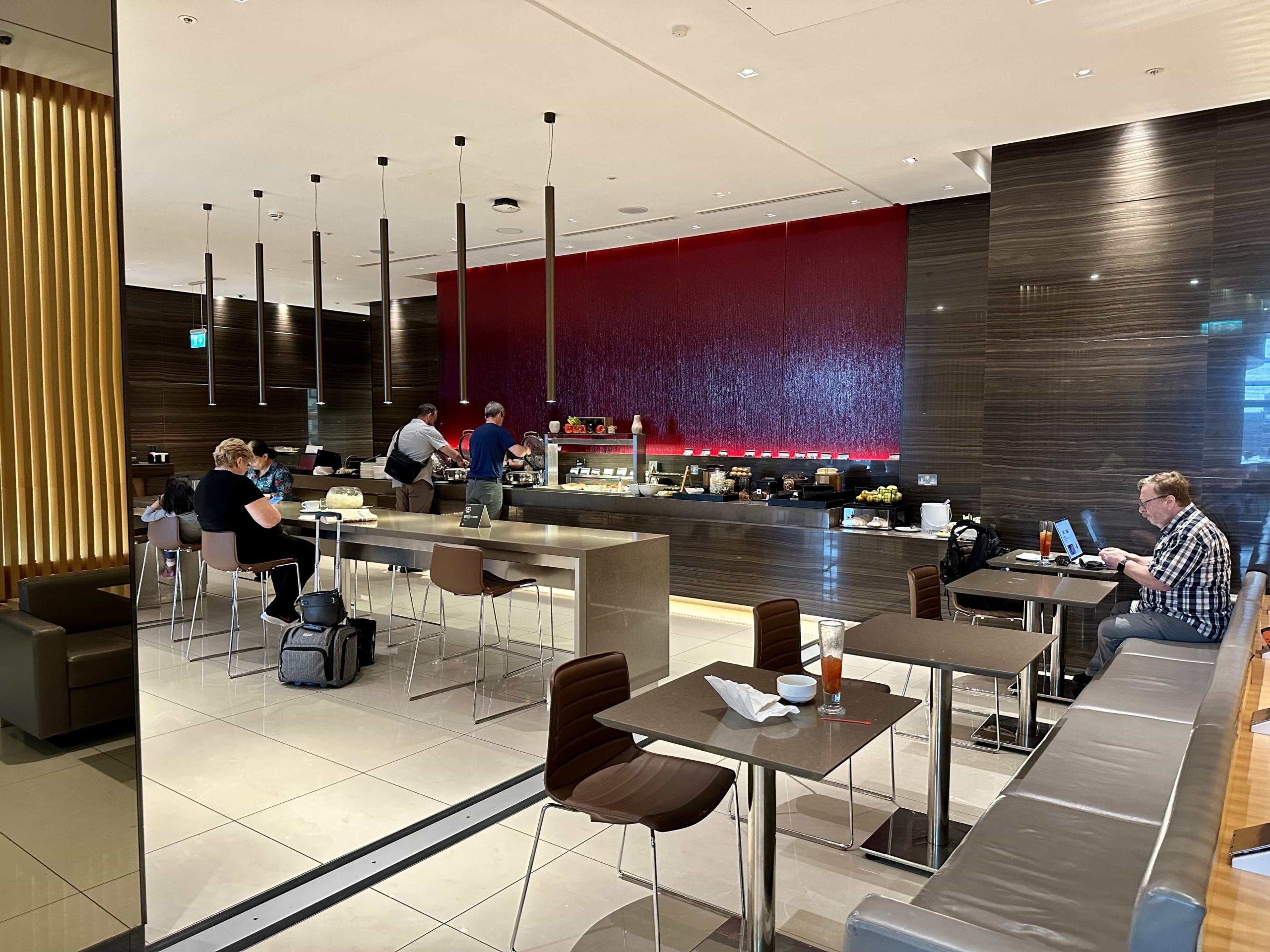 The selection was comprised of four hot dishes. I've been very vocal about my distaste for pasta and curry dishes in airport lounges, as they're usually incredibly uninspiring. It was the same selection here, only this time it was reasonably good quality — far better than what you typically find in contract lounges, for example. I also enjoyed the beef and vegetable stew, though I intentionally didn't eat too much, considering the multiple other lounges on my itinerary for the day.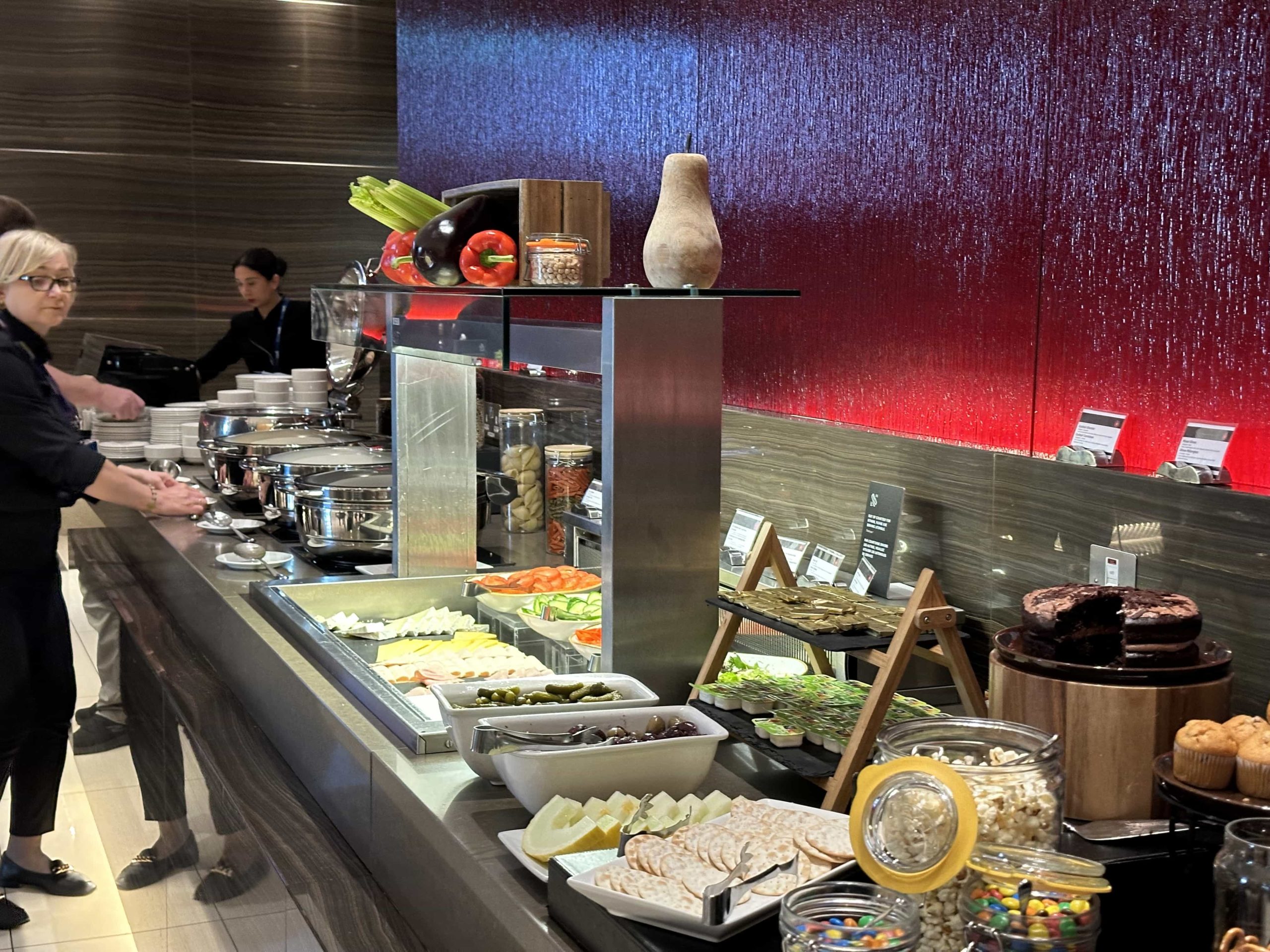 There was also mushroom soup, and an array of cold items which included sandwiches, crackers, cold cut meats, cheeses, and salad items. I managed to resist the temptation of the two cakes — one chocolate cake, and the other Victoria sponge — which was challenging, because they did look good.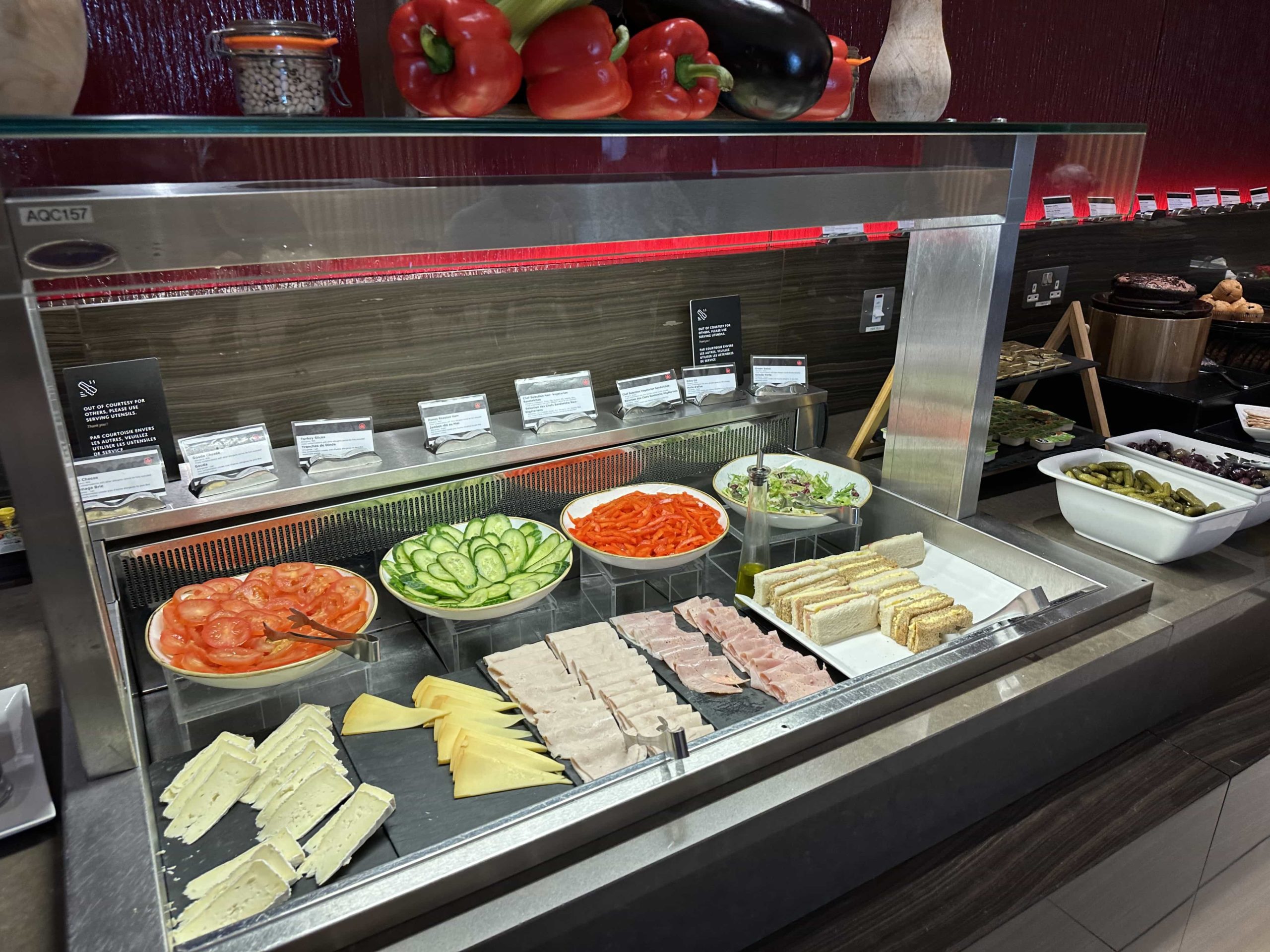 Overall then, the food selection is reasonable, but not as extensive or creative as I would have liked. The Singapore Airlines lounge has much more variety and some more interesting dishes. Then again, they've got a bit more to work with when it comes to national dishes than Air Canada. Poutine, anyone?
Fortunately, the drinks selection has everything you might need. There is tea and coffee facilities, orange juice, fruit-infused water, and an assortment of canned Coca-Cola products, and other soft drinks. There's also a bar area, which most guests report is well-stocked, though I didn't sample it myself.
Anything else to note?
Socket coverage is hit or miss. There's decent availability along the walls, but less in the freestanding areas. Air Canada clearly recognise this, because complimentary portable chargers are available to borrow near reception.
The lounge has two showers, plus an additional accessible one. Guests can request use of these facilities by speaking to staff at reception. I didn't try them, but based on the well-maintained bathrooms, I suspect they are decent facilities.
There's Wi-Fi, but it isn't fast, at 3 mbps down, 1 mbps up. It seems this hasn't been upgraded since the lounge opened, which is disappointing.
I noticed that the staff were very proactive at keeping the lounge tidy, and it always seemed that tables were cleared promptly.
Conclusion
I'd never visited an Air Canada lounge before, so this was uncharted territory for me. I'll be honest, I wasn't completely blown away by my first experience, but I think that's partially down to my expectations being too high. Some reviewers speak of this lounge as head and shoulders above the rest, and I just don't see it that way.
As an environment in which to spend time, it's lovely. It really does feel like a retreat, and is probably has the nicest ambiance of all the Star Alliance lounges at Terminal 2. But, it doesn't excel in other areas. For food, the United and Singapore Airlines lounges deliver more, and for seating and overall comfort, I think it's a toss up between this one and Lufthansa.
That said, the overall package is very compelling and I rate it highly, so it's certainly worthy of consideration.