So here we are, wrapping up a series of reviews on the Heathrow Terminal 2 Star Alliance lounges. Typically, one is meant to save the best for last, but on this occasion, it appeared that things might be different.
In reading others' reviews of the Terminal 2 lounges before my trip, one thing became clear: Lufthansa's lounge doesn't rank very highly. Almost unanimously, the internet seemed to consider this the worst of the Star Alliance options. The online photos didn't do it any favours either, making it seem like a gloomy and uninspiring environment. Plus, my past visits to Lufthansa lounges hadn't exactly blown me away.
Considering all that, I hadn't planned on stopping by. But after hitting up three out of the four lounges, I figured I might as well complete the set. And I'm glad I did because this visit turned out to be the most surprising of the day.
Where is the lounge?
Getting to this lounge is straightforward.
After clearing security, just turn right, walk past a few shops and restaurants, and you'll spot the lounge on the same level. The main concourse and gate area are downstairs.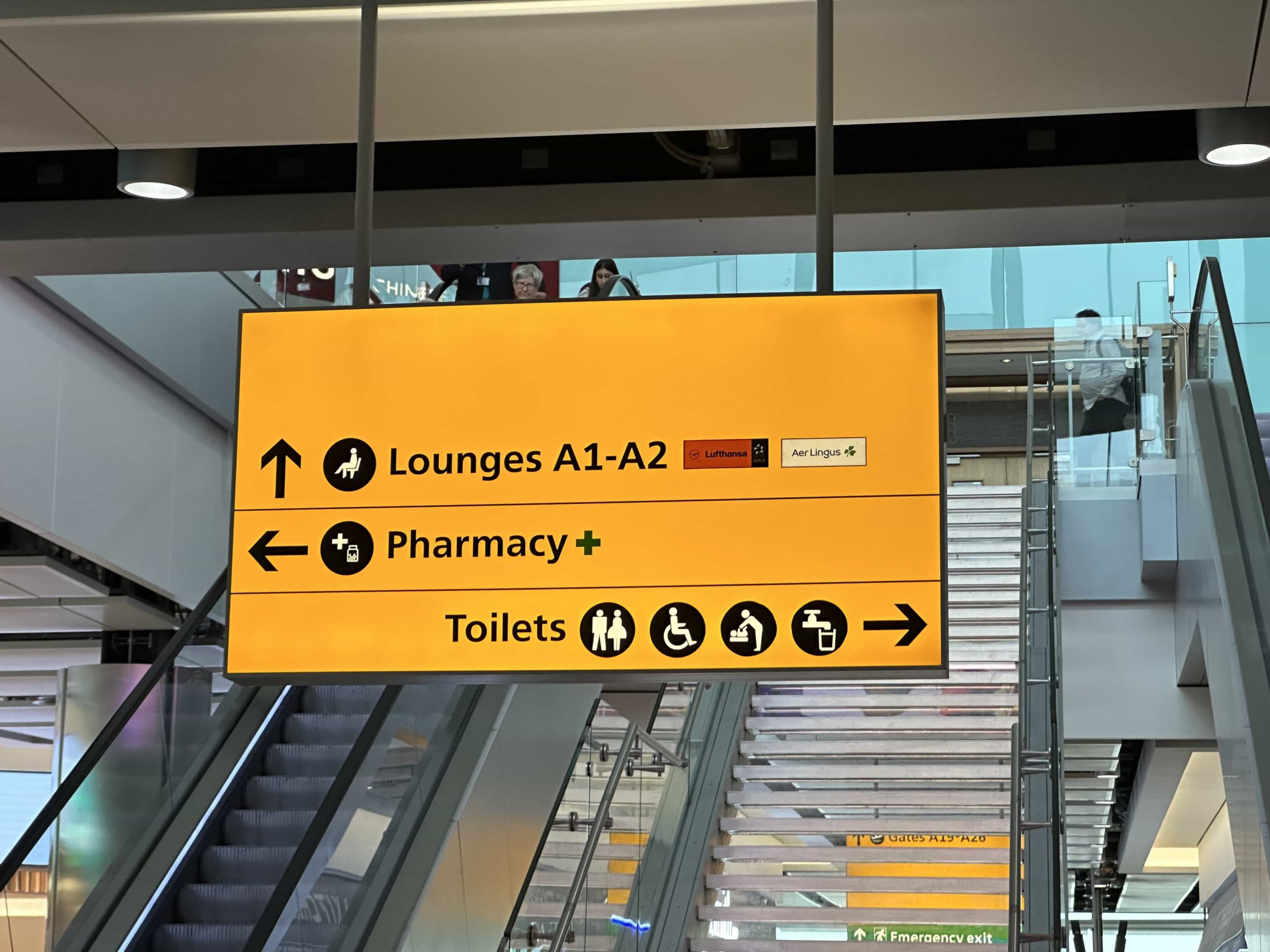 If you're departing from the main terminal building (which is likely if you're flying Lufthansa), this is the most convenient Star Alliance lounge. To reach the others, you'll need to take a 10-15 minute walk to Terminal 2B.
Access
Access to the Lufthansa Business Lounge is available to passengers flying first and business class with a Star Alliance airline.
Additionally, customers with relevant Lufthansa status, regardless of their travel class, can access the lounge. This includes individuals with 'Senator,' 'HON Circle,' or 'Frequent Traveller' status. Similarly, Star Alliance Gold members are welcome to use this lounge.
Check-in and first impressions
The entrance facade embodies Lufthansa's classic style — precise and unwaveringly serious — without any elaborate embellishments. It boasts a simple grey frontage accentuated by the brand's signature yellow, prominently featuring the Lufthansa logo.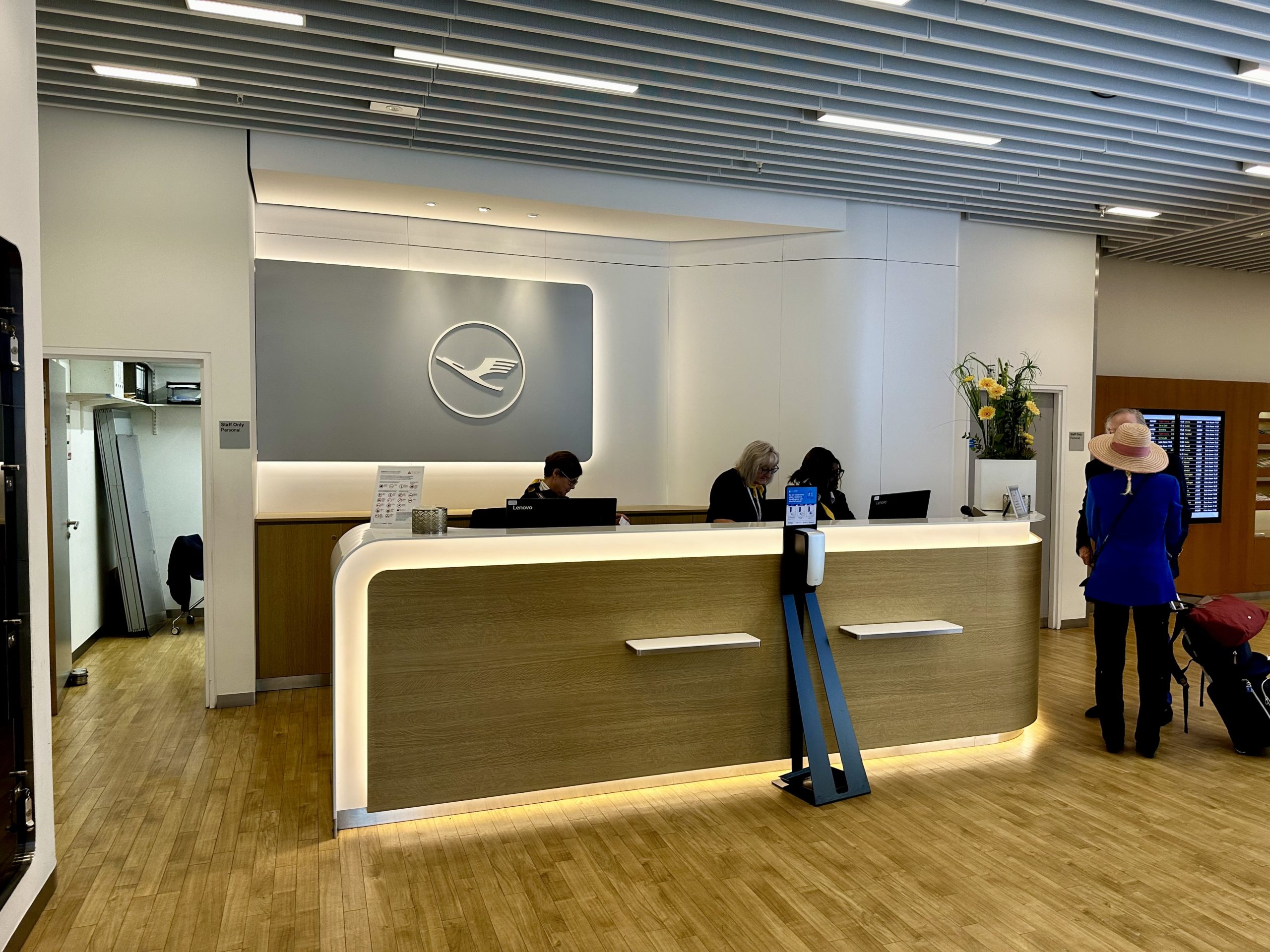 At first, I thought this might set the tone for the rest of my experience. However, upon entering, things took a pleasant turn. Reception has a modern, inviting ambiance, with warm ambient lighting and oak flooring complimenting the sleek silver colour scheme. Lufthansa's iconic stylised crane is featured prominently throughout.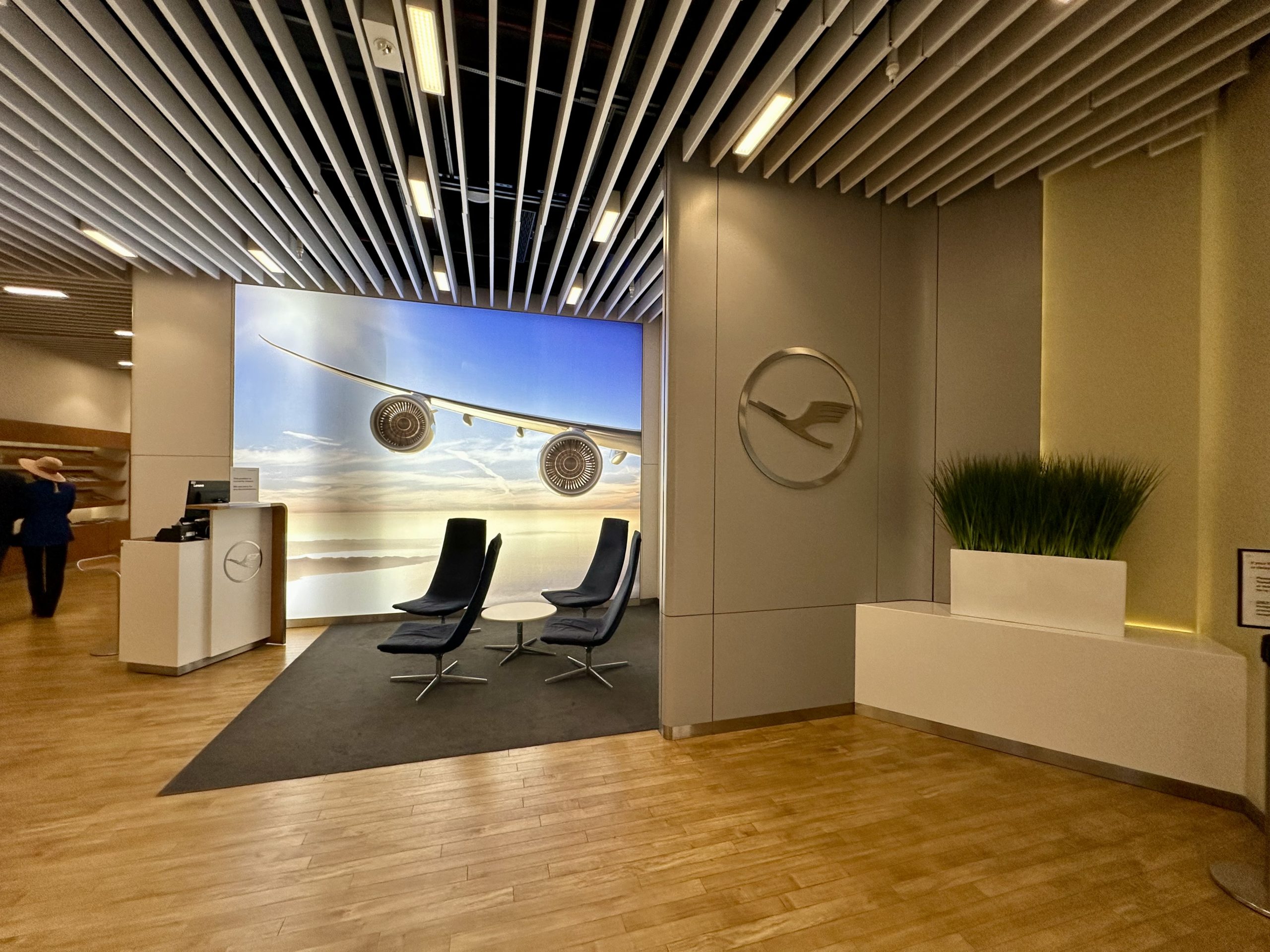 Check-in was one of the more pleasant experiences I've had, and after a brief interaction, I proceeded into the lounge itself. My initial impression was that this lounge is far less crowded than United's, more spacious than Air Canada's, and doesn't suffer from the slightly ghastly beige color scheme of Singapore's lounge.
Work area
As you enter, you'll find a work area on the right. It's a decent-sized space featuring a conference room-style table in the center, surrounded by raised workstations along the walls. Each workstation is equipped with its own sockets, accommodating both UK and EU plugs, and partitions for added privacy.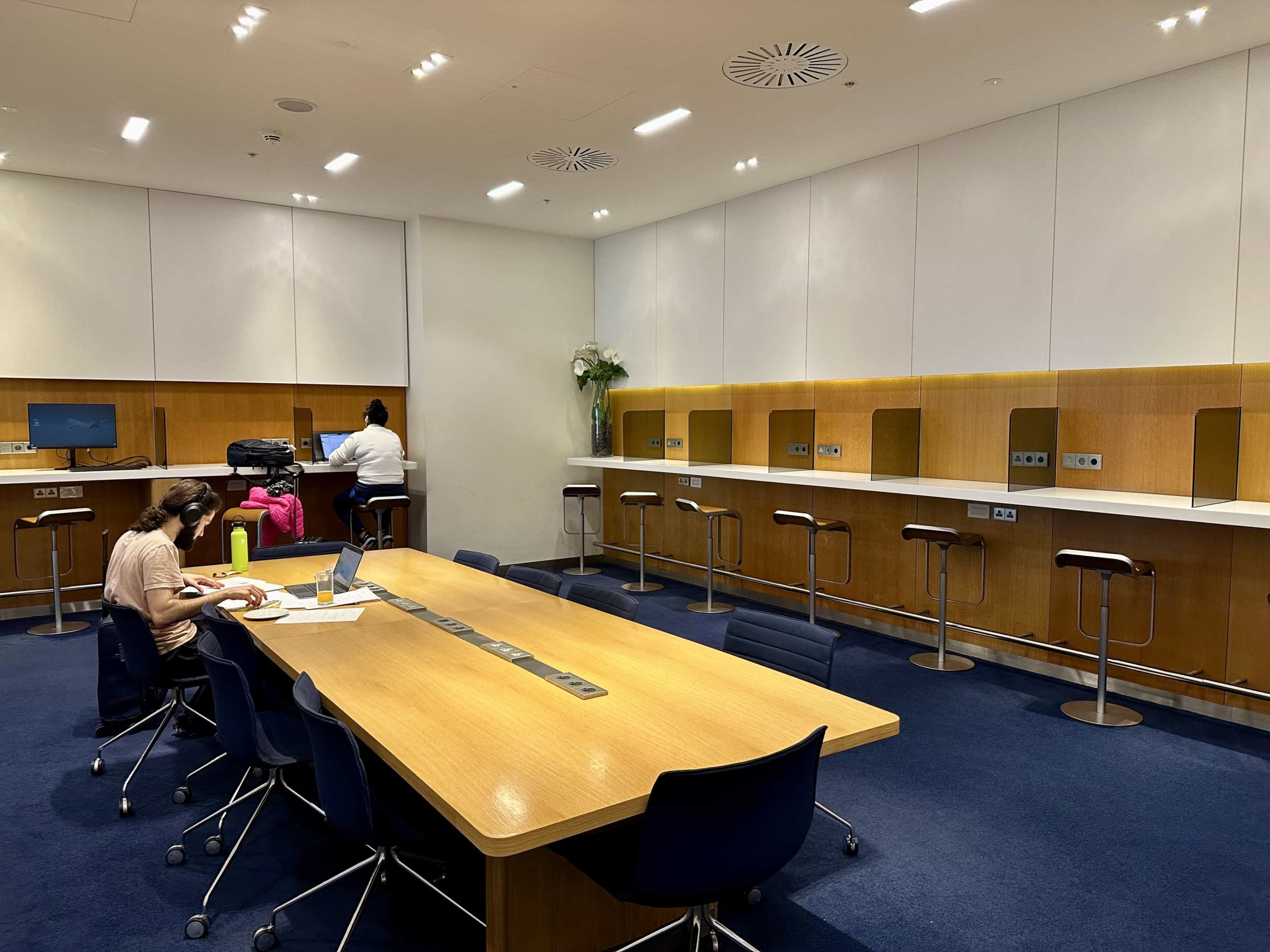 This space resembles an open-plan office, prioritizing functionality over plushness. Personally, it's the kind of environment I'd prefer if I were looking to get some work done — well-lit, formal, and practical. Of course, if work isn't on the agenda, there are plenty of other seating options within the lounge.
In the corner, you'll also find scanner and printer facilities, a useful addition when you're in a bind.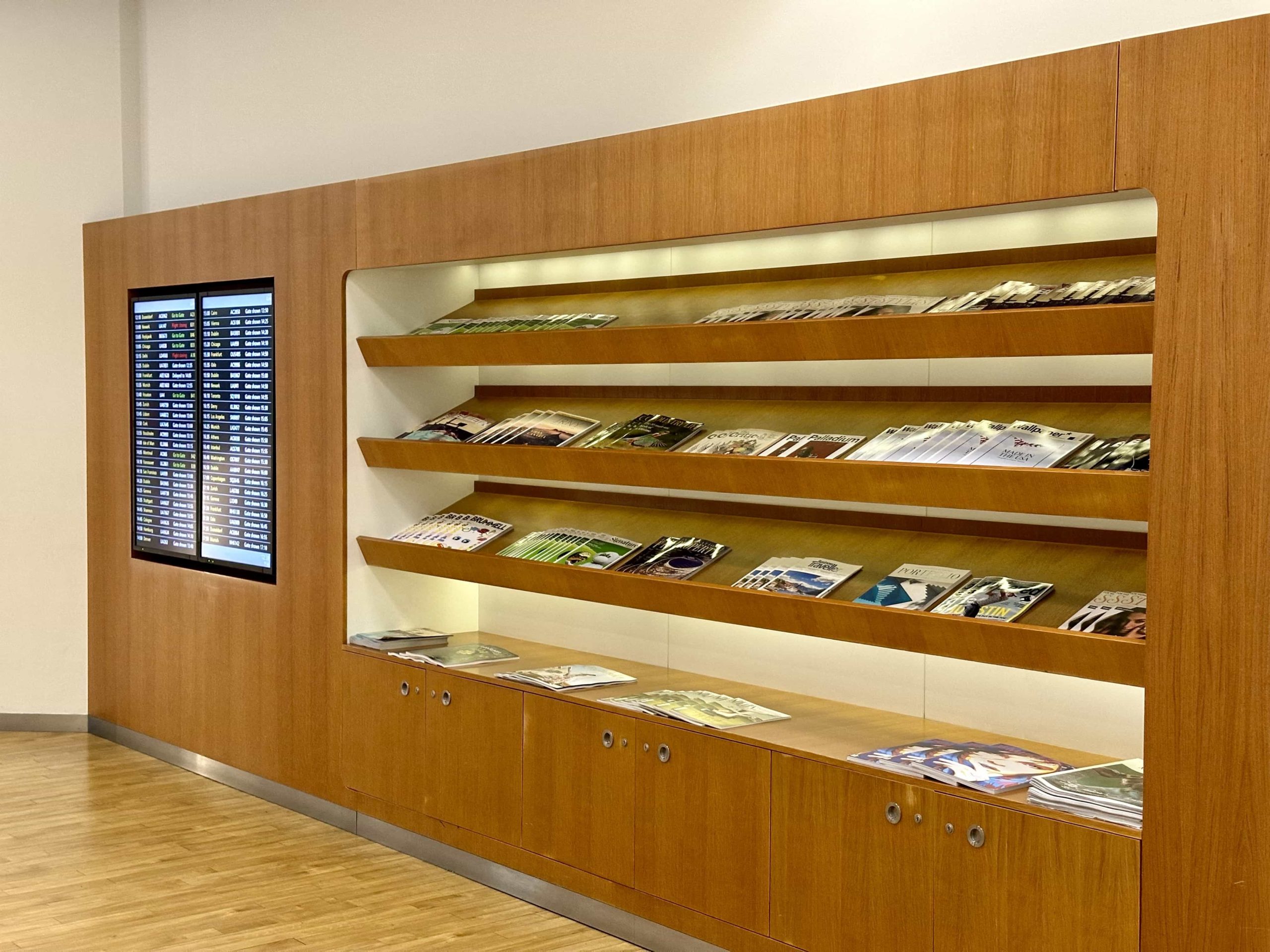 Outside the work area, you find a departures board, and a well-stocked magazine rack — an ever-present feature in airport lounges. Someday, I might get around to reading one of those magazines, but not on this occasion.
Main area
Now, let's explore the main area. Despite the lounge opening its doors back in 2017, the space maintains a surprisingly fresh appearance. It manages to feel almost as light and airy as the Air Canada lounge, despite the double height floor-to-ceiling windows being mostly obscured by sun louvers.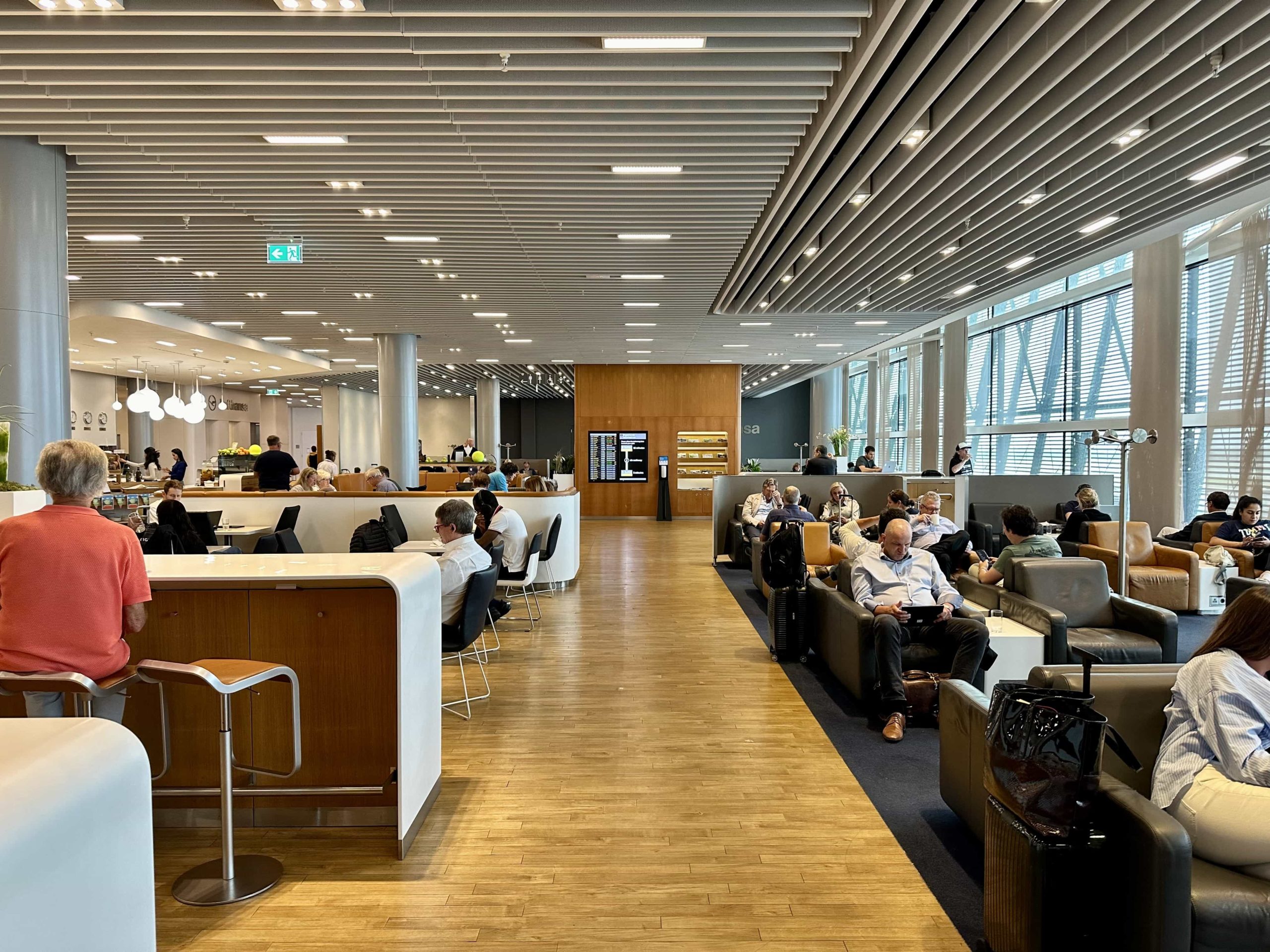 It's admittedly a bit disappointing to miss out on the view, especially considering the lounge's prime location overlooking the runway. Unfortunately, you can't see much at all, especially from the far side of the lounge.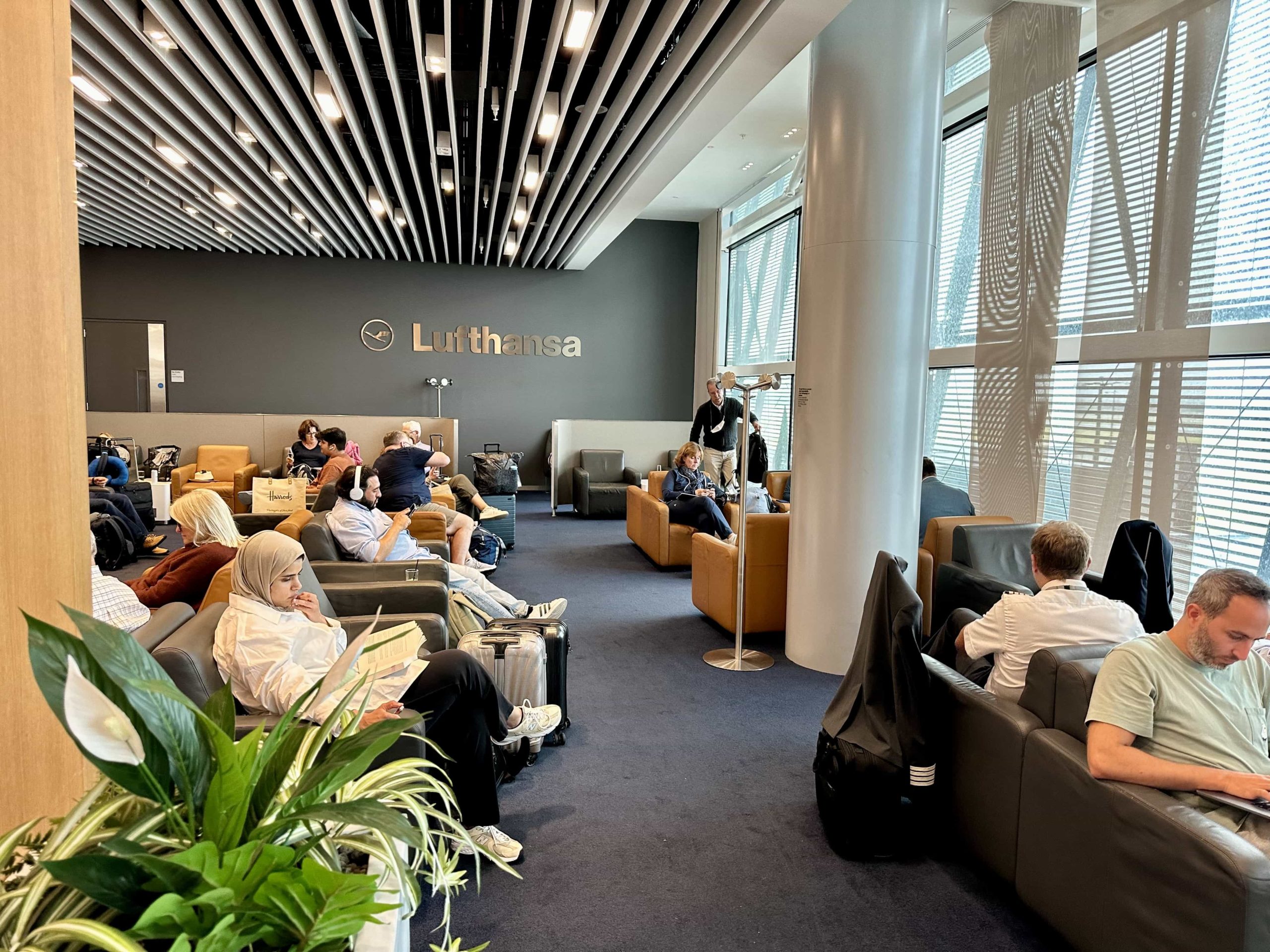 As for seating, the lounge is primarily furnished with plush leather armchairs, which are particularly comfortable. One of my favourite features here, is how generously this seating is spaced apart. It's easy to find somewhere which will offer a decent amount of personal space.
That said, while the half-height partitions break the lounge up a little, they don't offer a significant level of privacy or noise isolation. Moreover, some of the armchairs will have you looking across at a stranger, so these sections are best for families.
Another trade-off is the limited availability of dining tables. When I visited, every table was occupied, which isn't surprising as there are very few to begin with. To be fair, what's there is comparable to what you'd find in the Air Canada and Singapore lounges, though the United lounge does have significantly more dining space.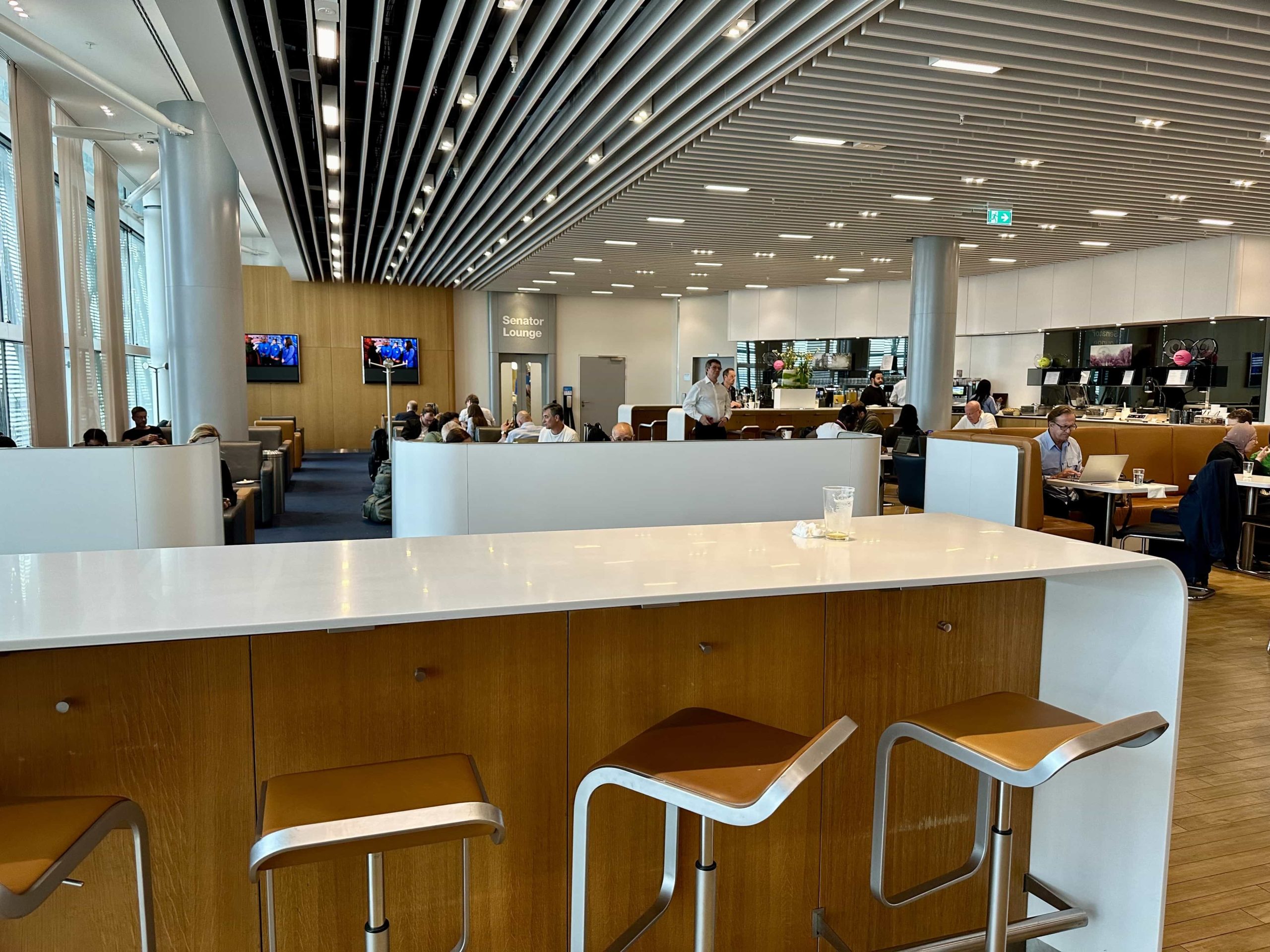 As a fallback, you can sit at the barstools situated along one of the three raised islands. While some people use them for work, they're conveniently located near the food and drinks, likely intended as a spot to relax with a coffee or snack.
The leather chaise lounges, located along one of the back walls, offer a more laid-back space to relax. If I had intended to spend more time in the lounge, I would have definitely claimed one of these.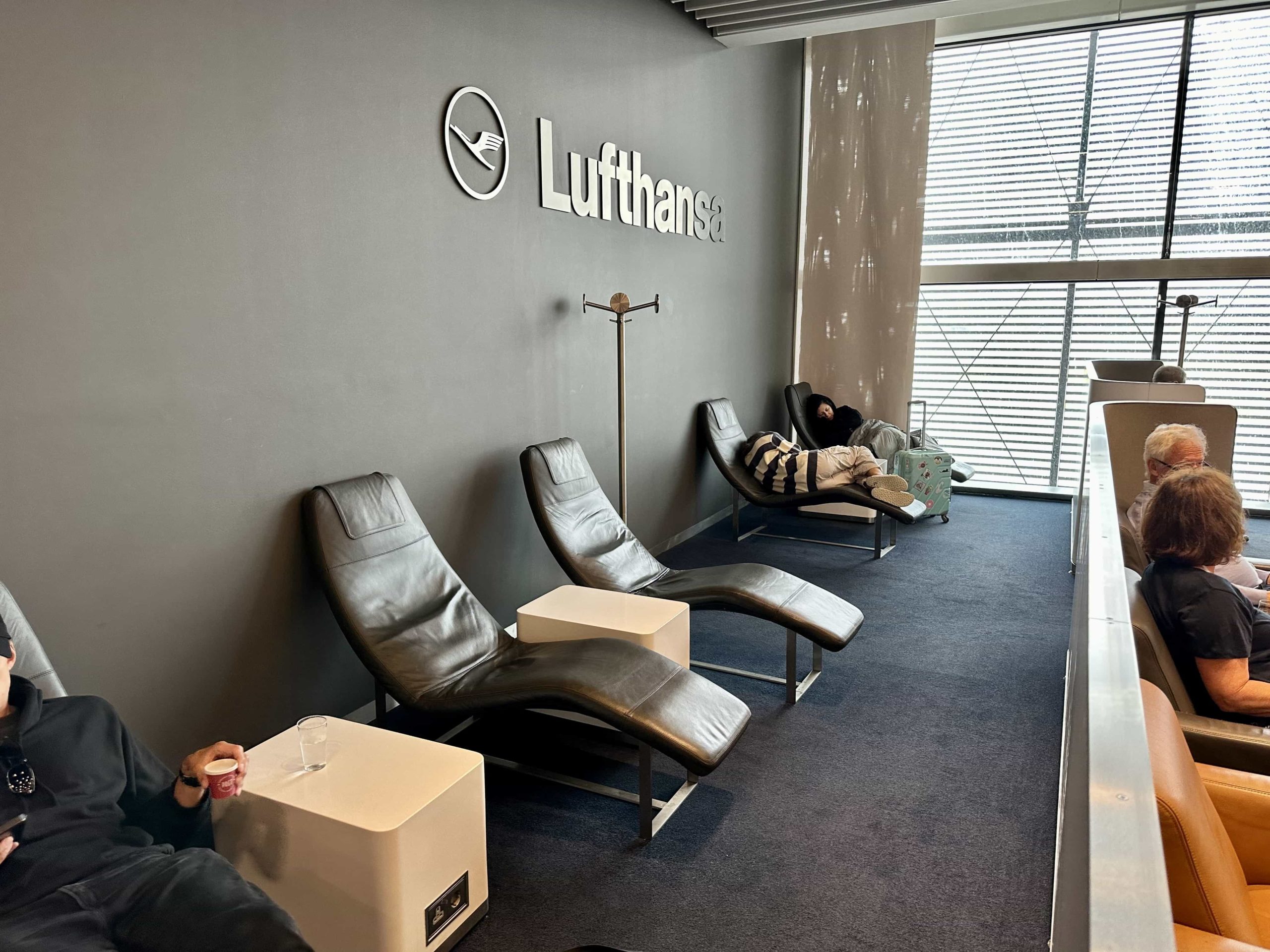 Keep in mind though, while they're partially partitioned off from the rest of the lounge, they're still part of the same open space, so don't expect complete silence if you plan to catch some sleep. In general, like many lounges these days, this lounge tends to be quite busy.
Overall, I was quite impressed by the look and feel of this lounge. While it's far from the height of luxury, it's also far less austere than some images online might suggest. In fact, I might even consider it the most comfortable of all the lounges I visited that day.
Food & drink
Turning our attention to the dining experience, I visited the lounge around 12:30pm when lunch was being served. It's worth noting that this is an all-day menu, so you can expect the same offering for dinner.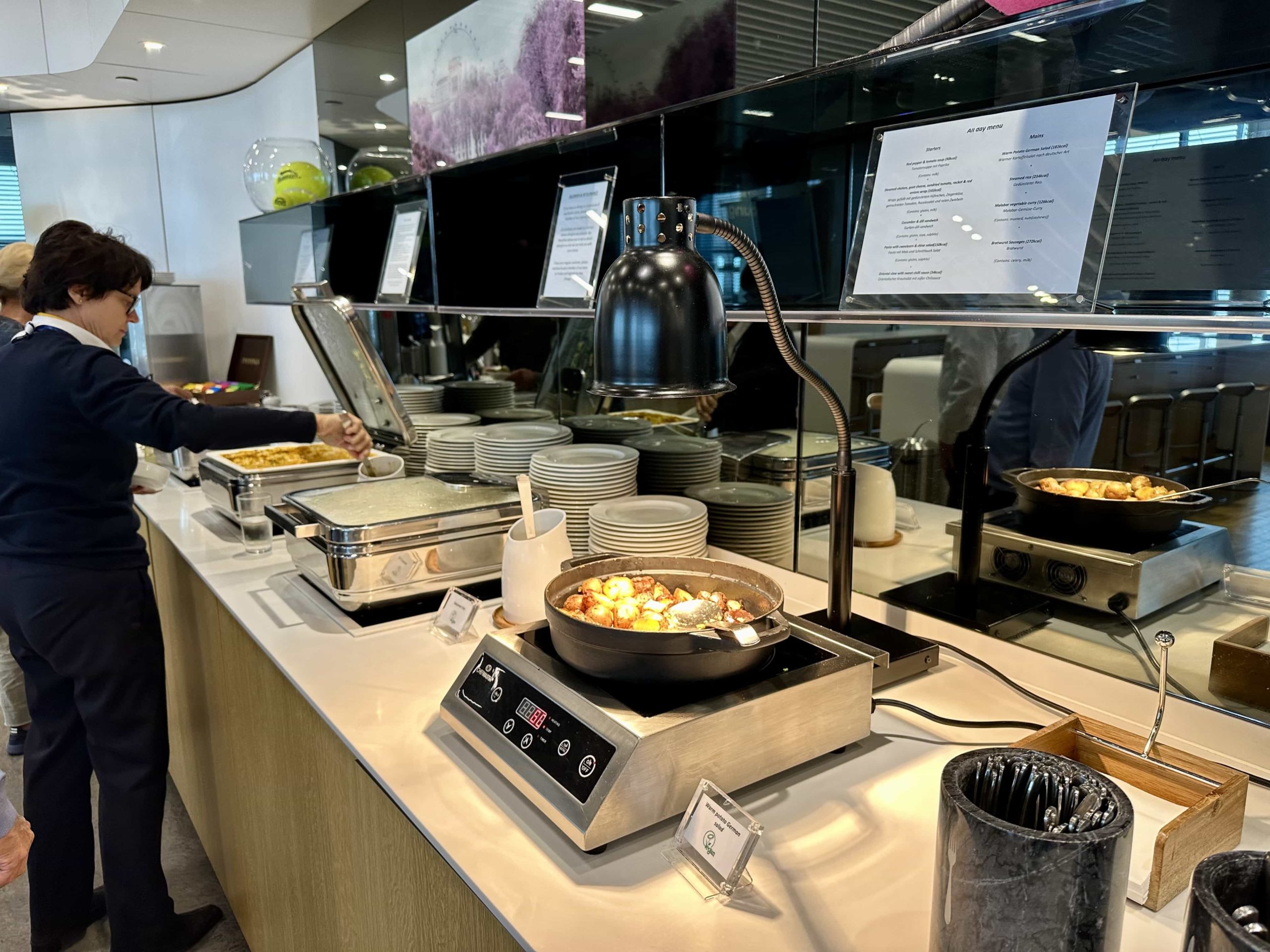 The mains consisted of bratwurst sausages, vegetable curry (surprise, surprise), and steamed rice. Also on the menu was "warm potato salad", which initially eluded me because it's quite distinct from a literal hot version of traditional potato salad; instead, it features sliced potatoes in a tangy vinegar-based sauce, garnished with bacon and onions – not bad!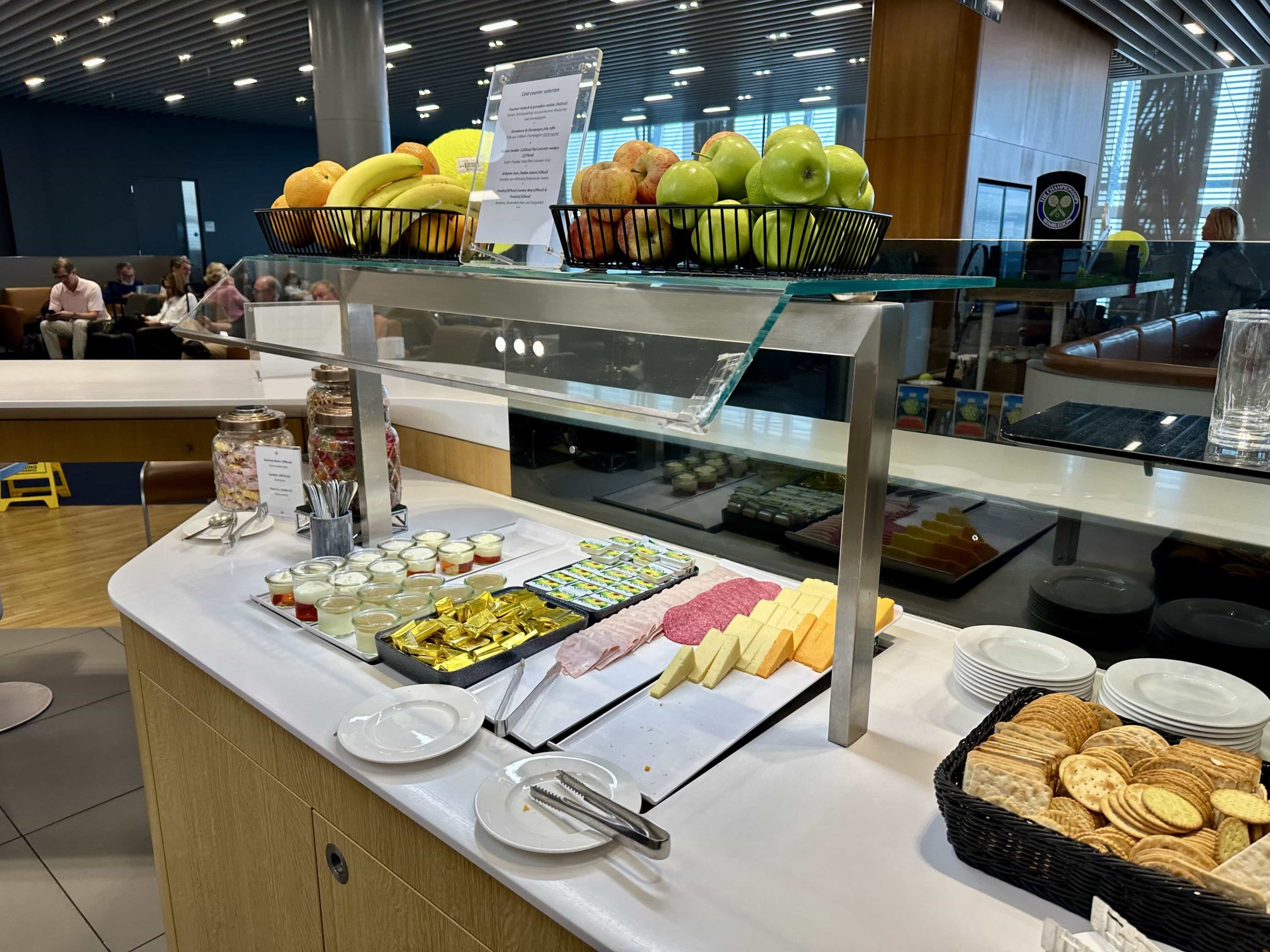 Another dish would have been nice, ideally another German staple. Currently, with just three dishes plus rice, the selection feels somewhat limited. That said, at least the bratwurst gives us one dish to differentiate this offering from the typical cop-out of curry and pasta.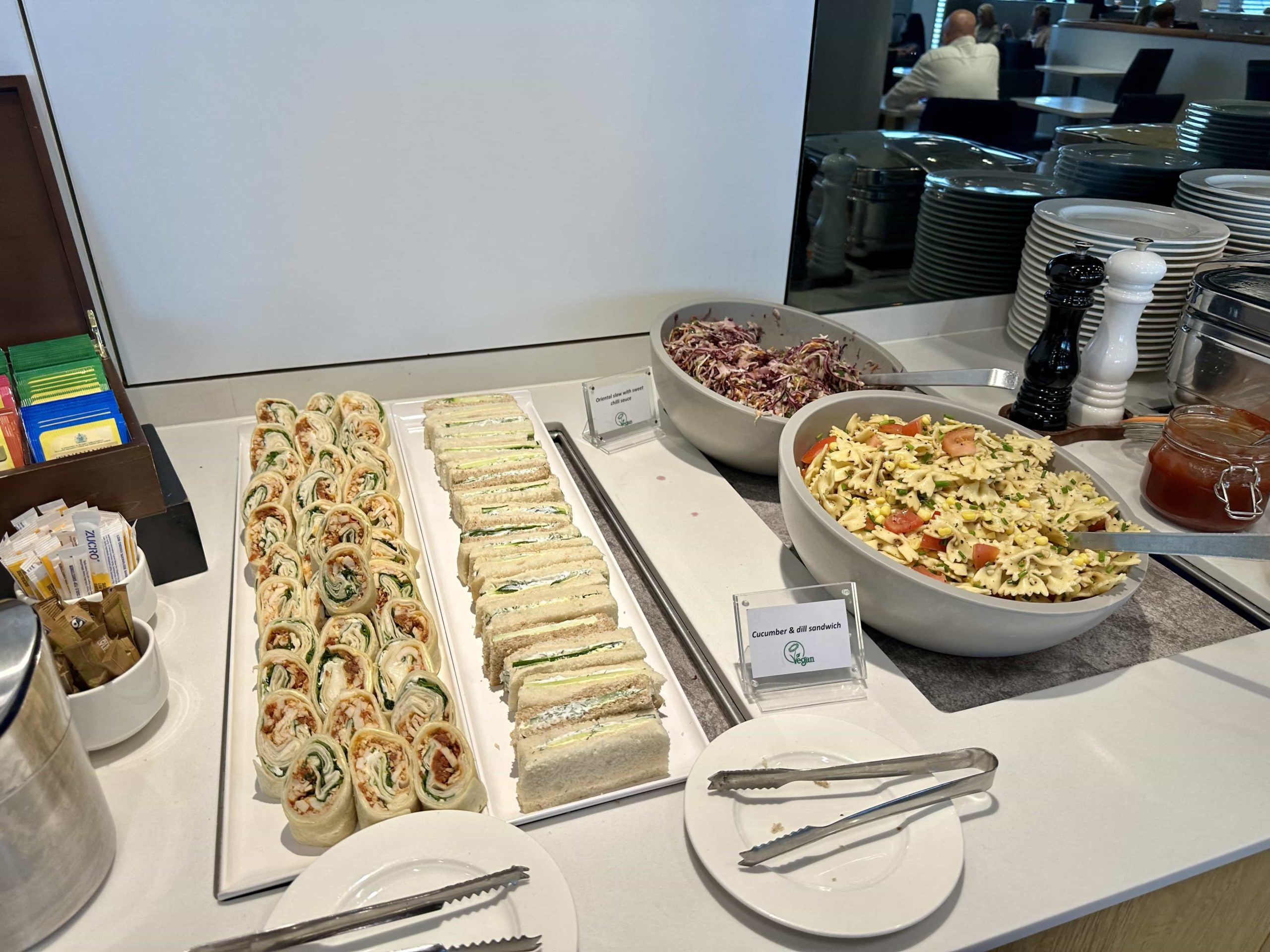 Actually, there is pasta, as part of the selection of sides and salads. I didn't try this, but it looked quite nice, and was joined by "oriental slaw with sweet chilli sauce". Other items included soup, sandwiches, wraps, cold cut meats, cheeses, and crackers.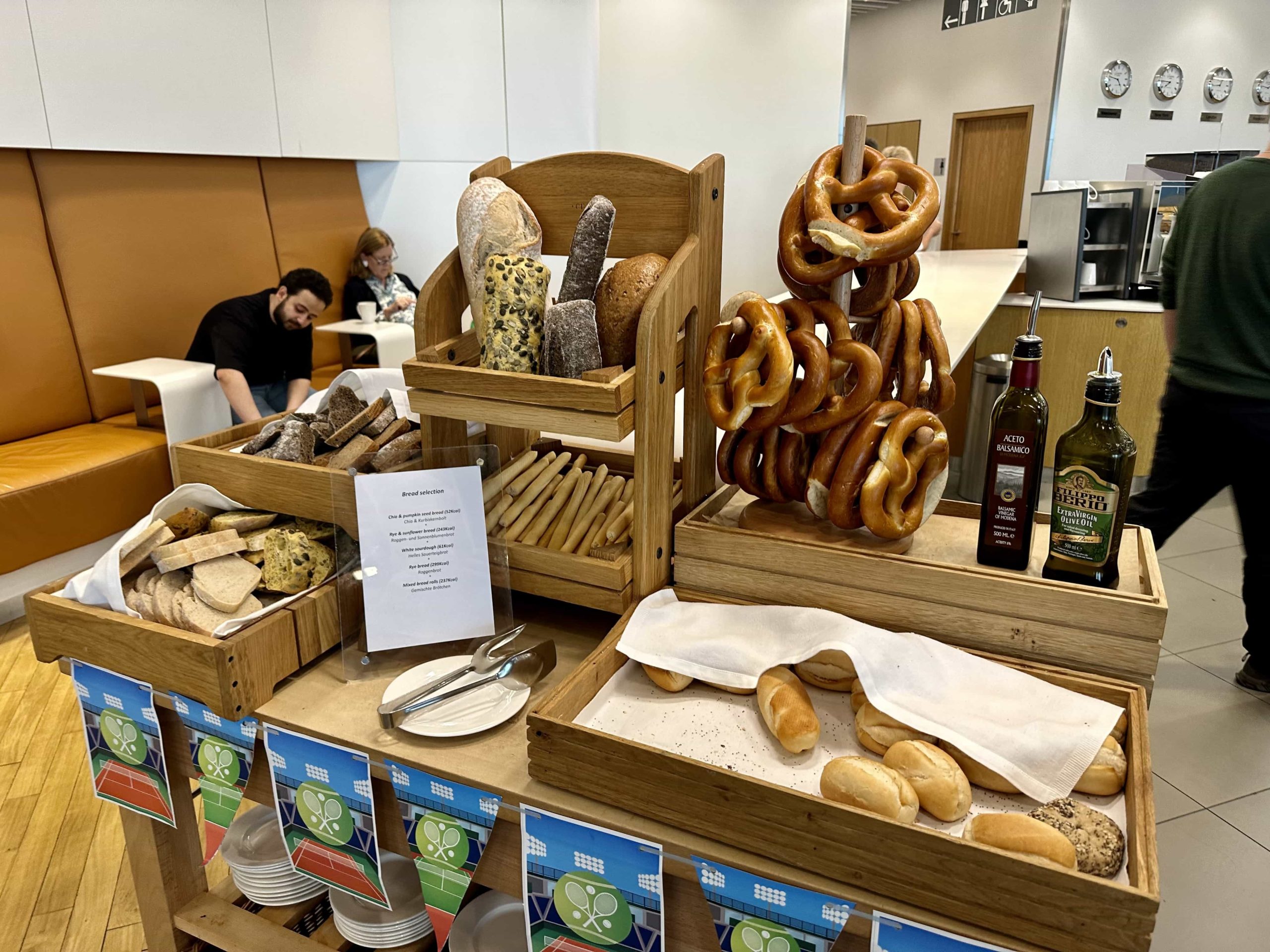 The bread selection deserves a special mention, with options like chia & pumpkin seed, rye & sunflower, and the familiar pretzels often seen in Lufthansa lounges. Even as someone who doesn't eat much bread, the balsamic vinegar and olive oil pairing was tempting.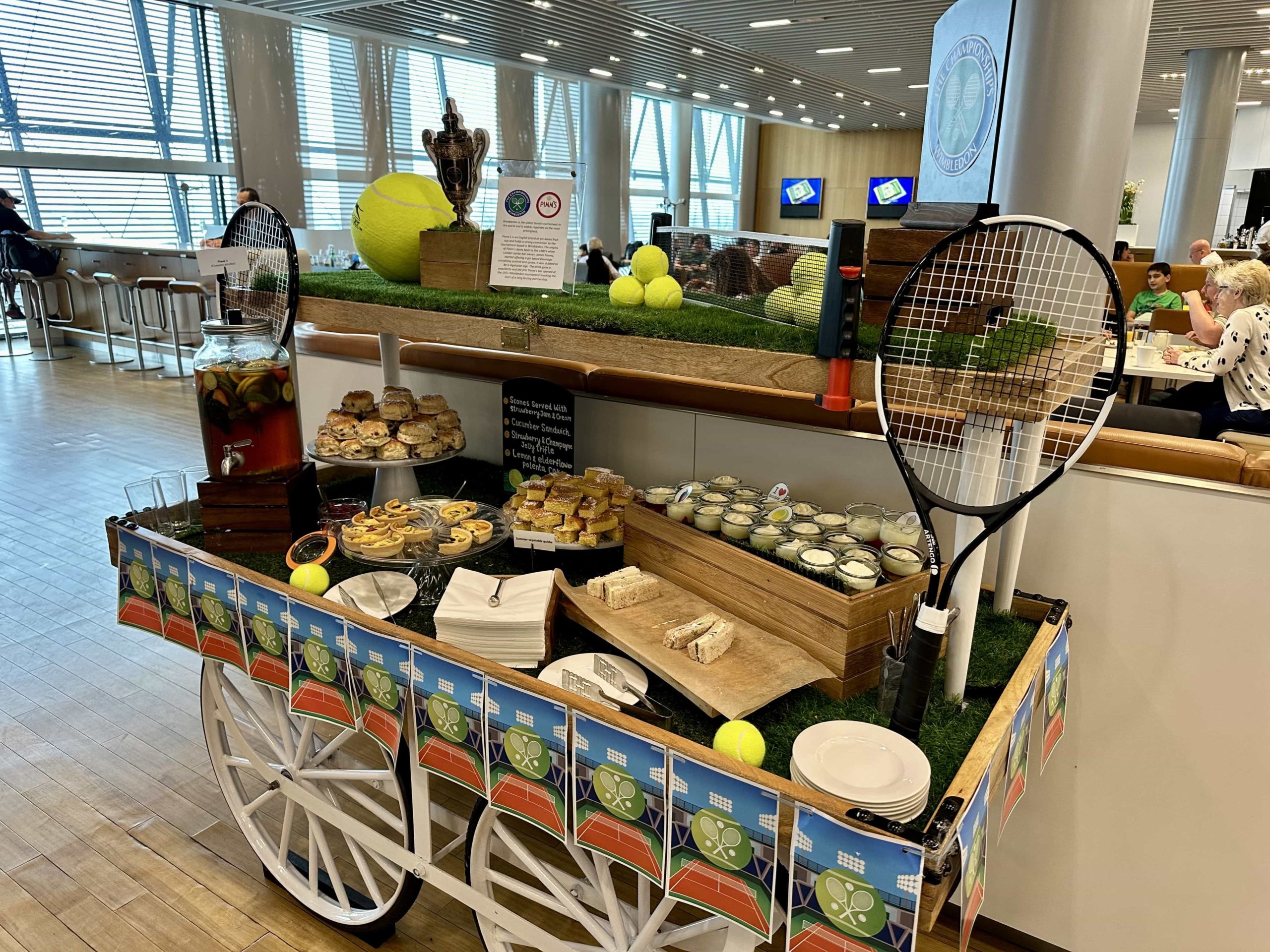 Finally, let's discuss desserts. Like most of the lounges, Lufthansa had some extra treats to celebrate Wimbledon. In this case, they had a cart stocked with scones, trifles, and cakes courtesy of the gin brand Pimm's. I can't say for sure what the usual dessert selection would be like, but it's likely that it wouldn't be quite so extensive.
This is the only of the four Star Alliance lounges not to have a staffed bar. Instead, all beverages are self-service. As someone who doesn't drink, this didn't bother me, but it's undoubtedly one of the main downsides of this lounge compared to its competitors.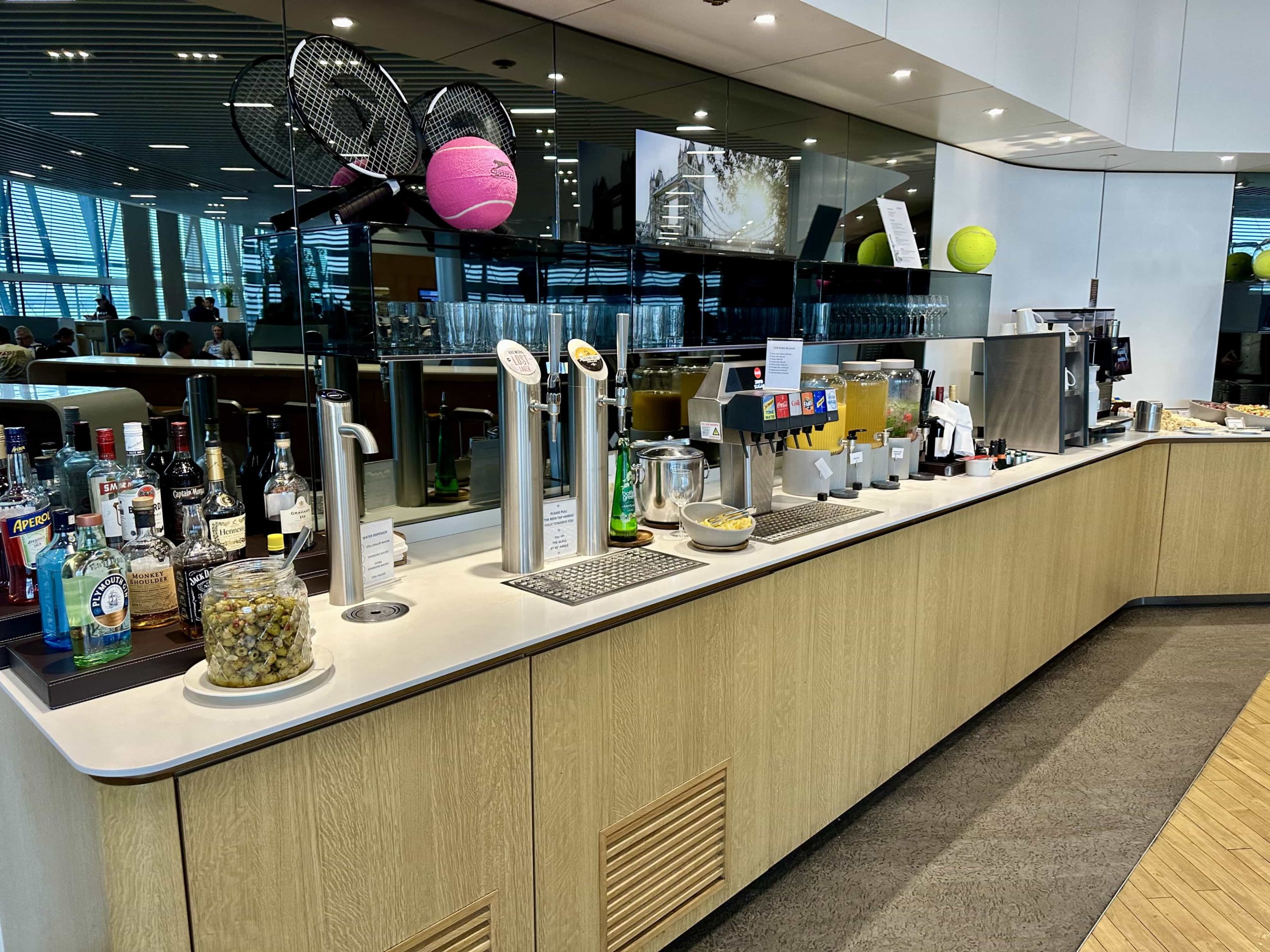 The selection is just so much more limited, leaving you with a fairly meagre selection of spirts, beers, and wines. No champagne, as far as I could tell.
In terms of non-alcoholic options, there is draft Coca-Cola and Schweppes products, as well as fruit juice, and fruit-infused water. Naturally, there are coffee and tea facilities available as well.
Senator Lounge
In addition to the business lounge, first class passengers, Star Alliance Gold members, and those with 'HON Circle' or 'Senator' status have access to the "Senator Lounge".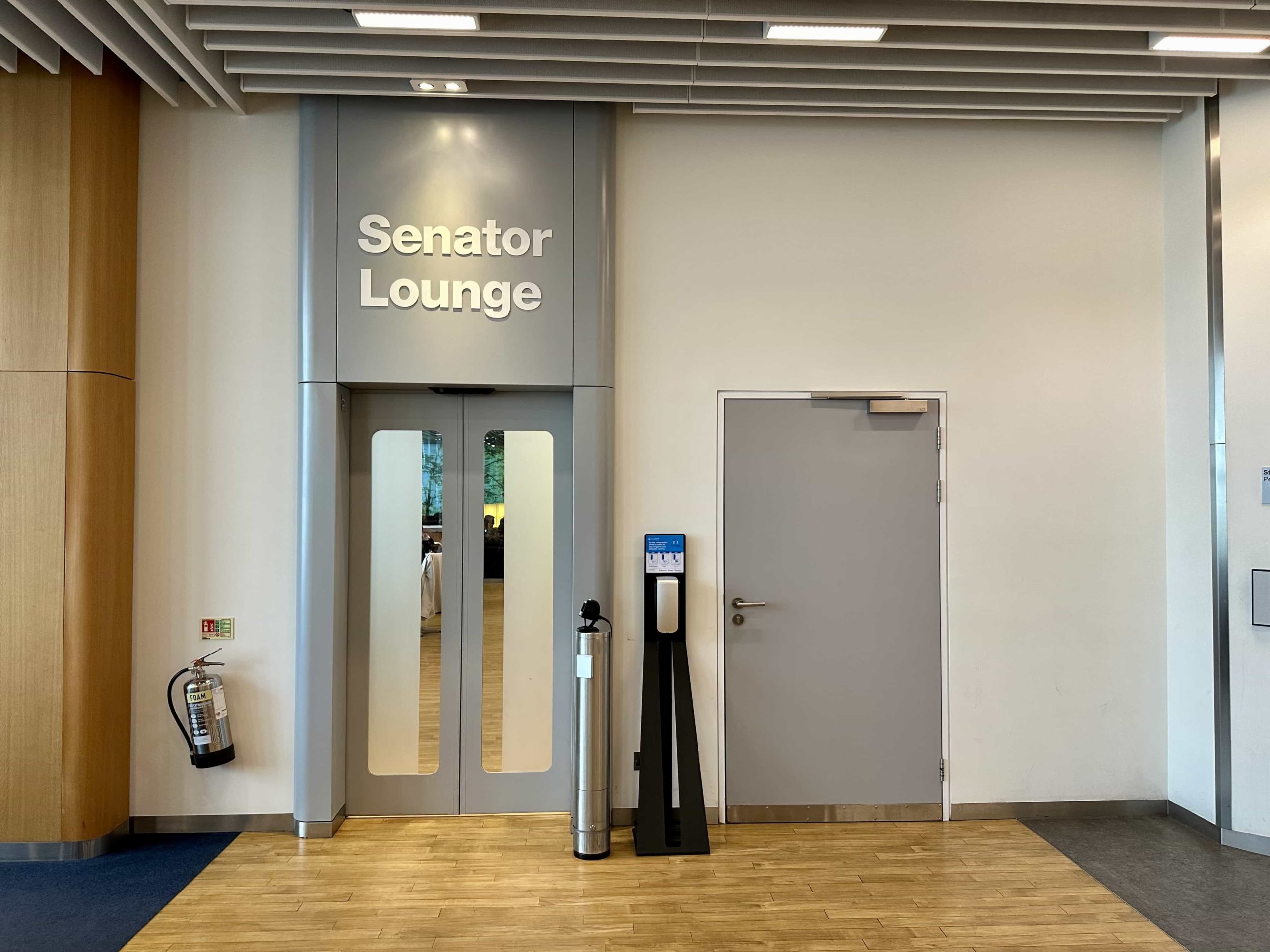 This is a lounge within a lounge, which eligible passengers can scan themselves into, using their boarding pass at a scanner situated at the far end of the lounge.
Unfortunately, I didn't have access on this occasion, so that review will have to wait.
Does this lounge have showers?
No, unlike the three other Star Alliance lounges at Heathrow Terminal 2, the Lufthansa Business Lounge does not have shower facilities.
Conclusion
Other than that, there isn't much else to mention about the Lufthansa Business Lounge; it's quite a straightforward offering.
As such, I can understand the general sentiment regarding this lounge. It doesn't particularly excel in any aspect, and is perhaps the least flashy of the Star Alliance options. It also lacks facilities that you get elsewhere, like showers.
However, I wouldn't dismiss this lounge entirely. If you're departing from the A gates — and assuming you don't have an unusually long layover — this lounge might be your best bet. It offers comfort and ample space, along with a reasonably good food selection.
Conversely, if a wide drink selection is a priority for you, or if you're departing from T2B, then you might find the other Star Alliance lounges to be more suitable options.