Despite its relatively modest size, Edinburgh Airport boasts a generous number of lounges, with two recent additions bringing the total to four. Being my 'home' airport (and one that I fly out of weekly), this is very welcome and is quite impressive for a single-terminal airport, especially when compared with much busier UK airports like Stansted, which has only one.
This begs the question, which is best?
Today I'm going to rank the lounges in order of my preference. I've written dedicated reviews for a couple of them, which I encourage you to read, but I'll summarise the key points here, and highlight the main pros and cons.
Which ones can you access?
Three of the four lounges can be accessed by anyone, regardless of frequent flyer status or cabin class:
There's various ways to do so, including paid entry, and via lounge membership programs and credit cards. See the sections below for specifics on each lounge.
The fourth option — the British Airways lounge — is exclusive to OneWorld frequent flyers and those travelling in premium cabins with OneWorld airlines.
1. Plaza Premium Lounge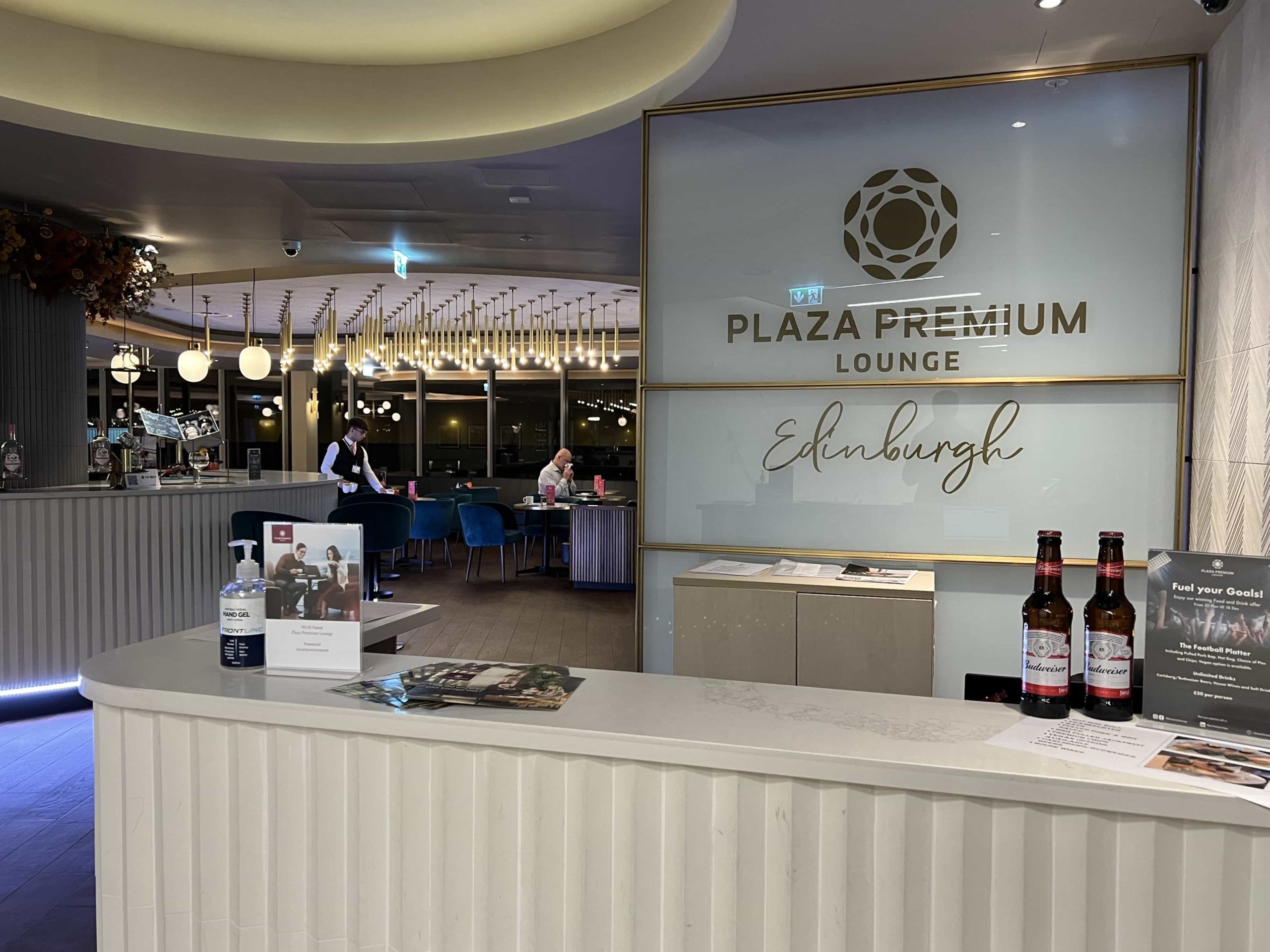 How to access the lounge:
Paid entry (from £35)
Amex Platinum (complimentary access)
DragonPass
Where is it?
Near gate 16 (and Pret A Manger), within the Premium Lounges area
Summary
In my opinion, the Plaza Premium lounge is the best lounge at Edinburgh Airport; In fact, I'd say it's one of the best non-airline lounges in the UK.
It's the airport's newest lounge, and that's immediately apparent in the look and feel of the space. It's modern, luxurious, and well-appointed, and it strikes the perfect balance between luxury and comfort. It's quite a large lounge, and is sensibly divided into dedicated areas for relaxing, working, dining, and playing — doing well to cater to many types of customer.
Unfortunately, the dining options leave a little to be desired. Most of the dishes they serve are reasonable quality, but the overarching issue is that the buffet area is just too small for a lounge of this size. As such, they're unable to serve more than a few dishes for lunch and dinner, plus some salad options.
So, if you expect to be particularly hungry, you might want to pick some snacks up on the way, or consider one of the Aspire lounges on this list, which have slightly more extensive offerings. That said, the quality and range of cooked breakfast items is excellent, and the bar is well stocked, so it's not all bad.
As far as I'm concerned, the primary purpose of a lounge is to provide tranquility and an escape from the bustle of an airport terminal. This lounge excels at this, whereas some of the other Edinburgh Airport lounges fall short. So unless the buffet selection is a dealbreaker, it's difficult to fault this lounge.
Pros
Modern, well-appointed lounge with lots of space
Peaceful and relaxing, generally not busy
Friendly and attentive staff
Excellent cooked breakfast
Comprehensive drinks selection
Cons
Disappointing continental breakfast options
Limited lunch and dinner selection
2. Aspire Lounge (Gate 16)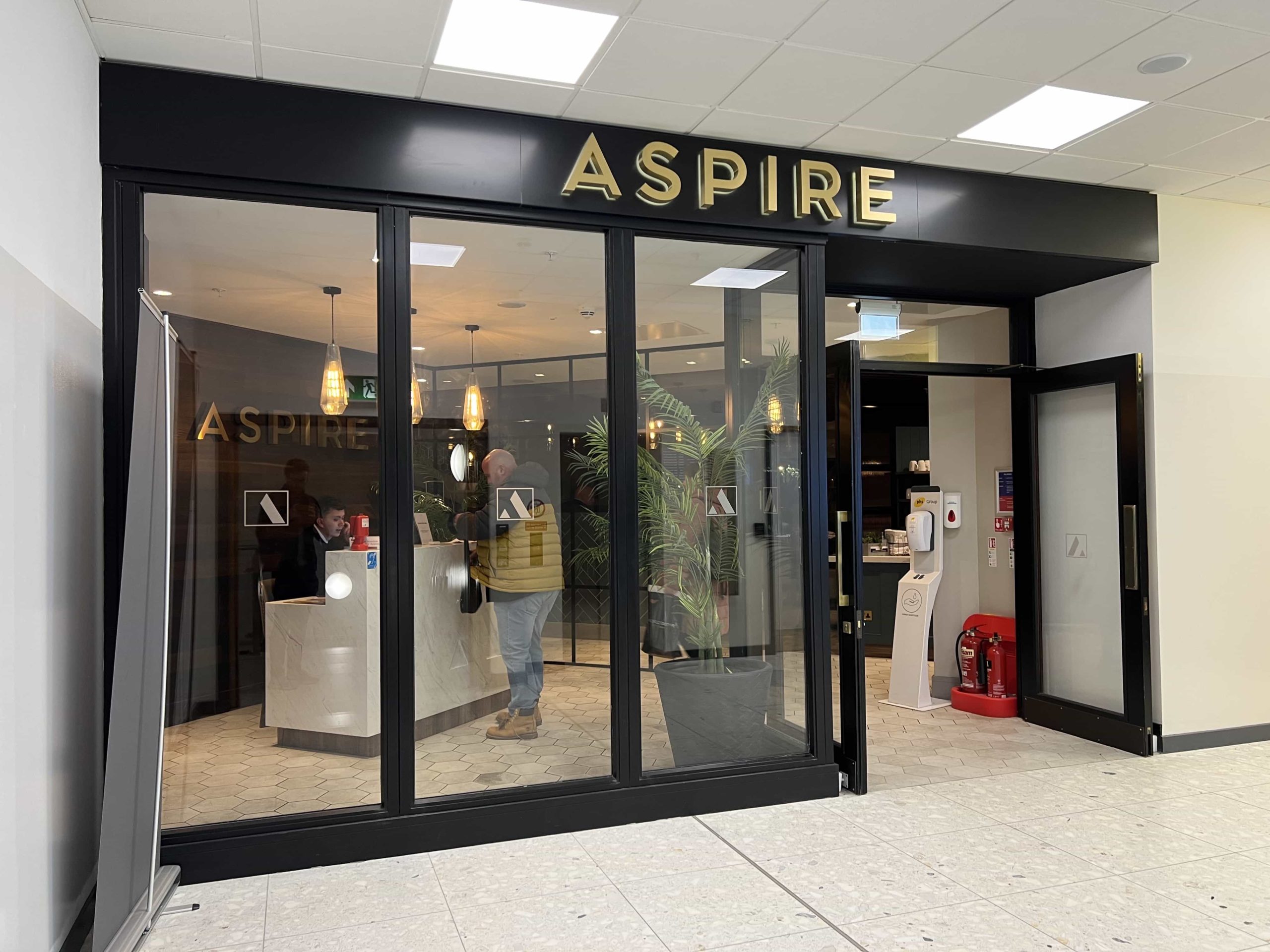 How to access the lounge:
Paid entry (from £39.99)
Priority Pass (sign up here)
DragonPass
Where is it?
Near gate 16 (and Pret A Manger), within the Premium Lounges area
Summary
The next lounge runs Plaza Premium a close second on my favourites list.
I don't visit it as often, because it's typically much busier, and as such, less relaxing. But for what is quite a small lounge, it makes good use of the space. Somehow there's seating for 130, and it manages to feel cosy, without being too cramped. It also has a nice sense of being segregated into different 'rooms' despite technically being open plan, which in conjunction with casual seating and pleasant ambient lighting, makes it feel quite homey. The small size though, does mean it can get quite noisy, which is difficult to escape.
I haven't had a chance to sample lunch or dinner, but the food is supposedly quite good, with a reasonable selection of dishes. Breakfast is certainly decent, albeit not quite as high quality as what you can get in Plaza Premium. There's a small bar area which is well-stocked with complimentary beverages, plus Prosecco and champagne for an extra charge.
The catch? It's a very expensive lounge if you don't have complimentary access through a program like Priority Pass. At the time of writing this article, a three-hour stay is priced at £40. While this is cheaper than Plaza Premium for three hours, two hours is enough for most visits, and Plaza Premium works out cheaper for this duration.
So then it depends how much you value peace and quiet, and a relaxing environment — because the food alone isn't enough to justify this price. Edinburgh Airport is a reasonably pleasant airport, but if you've got a couple of hours to pass, there's no doubt the Aspire Lounge is an upgrade. Just whether it's worth £40 — particularly considering how busy it can get — is something you'll need to decide.
Pros
Good food and drinks selection
Nice ambiance and environment
Good seating options
Friendly and attentive staff
Cons
Compact, can be noisy
Sometimes reaches capacity
Very expensive
3. Aspire Lounge (Gate 4)
How to access the lounge:
Paid entry (from £37.99)
Priority Pass (sign up here)
DragonPass
Where is it?
Gate 4
Summary
Next up, the other Aspire lounge. This one was always going to rank lower than the one at gate 16, because it's essentially an older and less snazzy version of the same product.
While it's only a few years older, it's still shown up by its younger sibling in almost every respect, from the decor which is much more basic and understated, to the dining arrangements, and the quality of customer service.
It's a similar size to the gate 16 Aspire lounge, but whereas that one feels nice and intimate, this one feels cramped. When it's busy, it's difficult to avoid the feeling of being on top of the other guests, and sometimes it's a challenge to find anywhere to sit. I also don't care for the layout. On the way in for example, you walk directly behind a lineup of workstations, which means very little privacy or peace for those working there.
The food and drinks selection is much the same as the other Aspire lounge, albeit arranged in a more compact space which feels a bit clumsy and crammed in. I also find interacting with the staff to be slightly less pleasant than in the other lounge. Nothing particularly egregious, but perhaps indicative of a wider decline in standards, as attention has switched to the new lounge. Another issue is that there are no toilets in the lounge.
In my opinion, there's not much reason to visit this lounge, unless you're in a rush and it's closer to your departure gate. Even then, it only takes five minutes to walk to Aspire at gate 16, which is definitely a better call (assuming it isn't at capacity).
I'm scoring this one above the British Airways lounge because of the better food selection, and the fact that it's slightly newer, but it's a toss up, because the lack of space in this lounge is a real issue.
Pros
Convenient for gates 1-5
Good food and drinks selection
Cons
Awkward, cramped layout
Gets very busy
Not relaxing
Uninspiring carpark views
4. British Airways Lounge
How to access the lounge
BA Executive Club: Silver or Gold
oneworld: Sapphire or Emerald
Travelling in Club Europe
If you have a connecting flight in Club World or First (even if you're only travelling economy from Edinburgh)
Where is it?
Opposite gate 5
Summary
It's difficult to find anything to praise about the British Airways lounge. I used to frequent it a few years back, but I've since distanced myself from BA, and I can't say I miss this lounge one bit. I was never thrilled with what it had to offer, but these days it's really getting long in the tooth, having not been updated in over 10 years.
How does that present itself in the experience today? Well it feels basic, bland, and not up to modern lounge standards — it just isn't a particularly comfortable place to spend time. The seating and escape from the busy departures area are really the only things which elevate the lounge above the rest of the terminal building.
There's a small business room, so if you're looking for somewhere to get work done, it will suffice — but let's be honest, most places do so long as there's peace and quiet. That's not guaranteed elsewhere in this lounge, as it's quite open and echoey, so rowdy children is somewhere I became quite accustomed with.
The food is very disappointing. I mostly used to visit during breakfast time, and it was always a lacklustre selection of cheese and ham croissants, porridge, and cereal. I vaguely remember soup and sandwiches being the 'highlights' for lunch. Make of that what you will. The drinks offering is better, with a good selection of soft drinks, and a self-service bar with beers, wines, and spirits.
This is one of those lounges that's on a long, drawn out decline — a familiar story with BA lounges these days. If you're a frequent flyer who's just looking for somewhere to relax or get some work done, then it's fine. It's slightly quieter than the departures area, and has better seating. But don't bother arriving early for food, and don't expect anything special from this lounge as a whole.
Pros
Good drinks selection
Dedicated business room
Cons
Dated and dull
Disappointing buffet selection
Uninspiring carpark views
Conclusion
So there you have it: the four lounges at Edinburgh Airport, ranked in order of my preference.
Plaza Premium is my recommendation, especially for early morning flights since the (cooked) breakfast selection is excellent, and the lounge is quiet. It's slightly cheaper than Aspire (Gate 16), but offers a lot more space and a few extra amenities.
That said, Aspire (Gate 16) gives Plaza Premium a good run for its money, and has better lunch and dinner options, so perhaps pop your head into both before you make a final decision. They're right next to each other after all.
Amex Platinum cardholders can have the best of both worlds and grab some food in Aspire, before heading into Plaza Premium for some tranquility.
Aspire (Gate 4) only makes sense if the gate 16 one is full. But honestly, I wouldn't bother, especially if you're paying. It doesn't compete, and isn't worth the money.
And the British Airways one? I just can't recommend it, unless it's the only one you have complimentary access to. In that case, it's passable for the odd bite to eat and as a space from which to get some work done.