Ah, a review of a Heathrow lounge — this has been a long time coming. I used to frequent them, but as somewhat of a recent budget airline convert, I find myself more often at Stansted, Luton, or Gatwick these days. Things have swung the other way for the time being though, so we're back at Heathrow.
In general, I've had decent experiences in Plaza Premium lounges, though some are better than others. I've spoken highly of Plaza Premium at Edinburgh Airport, for example, while the one I recently visited in Budapest was far less memorable.
Plaza Premium at Terminal 5 is a lounge I first visited back in 2018. In fact, it may have been the first lounge I ever visited. Aside from being disappointed with the food — which, I am in most lounges — I came away fairly satisfied. It was quiet, tidy, well-maintained, and well-staffed. Things move quickly in the lounge world though, so I knew it could be a different story on this occasion in 2023.
The reason I visited in 2018 is the same reason I might consider recommending the lounge today: since its opening, it's always bugged me how crowded Heathrow T5 is, and how poorly it is equipped with charging facilities. Forgivable at a point-to-point budget airport, but a real nuisance at a major connection hub like Heathrow.
This makes it one of the few places where, if I didn't have complimentary access through my credit card, I might actually consider paying. But only if the lounge is up to scratch. So… is Plaza Premium?
Access
Amex Platinum cardholders have complimentary access to Plaza Premium lounges, with the option to bring one guest. DragonPass is also accepted.
Paid entry is currently priced at £45 for 2 hours, or £75 for 6 hours. This is very expensive compared to similar lounges at other airports, but unfortunately, they're able to charge it because the demand is there. Case in point, if you haven't pre-booked online, sometimes you'll have to join a virtual queue by scanning a QR code at reception, before returning later once you receive a notification.
Where is the lounge?
The lounge is tucked away in the north east corner of the terminal building. It's on the lower floor of the departures area, just beside gate A7. It's easy to get to if you follow the "Plaza Premium Lounge, Pay-to-Use lounge" signage.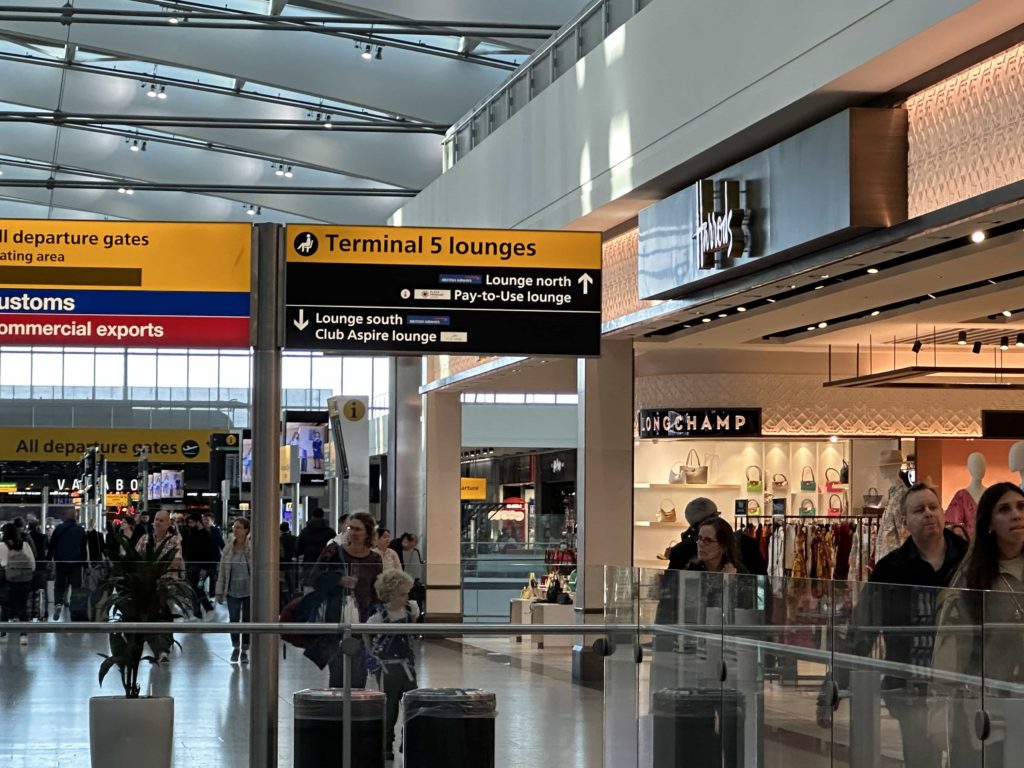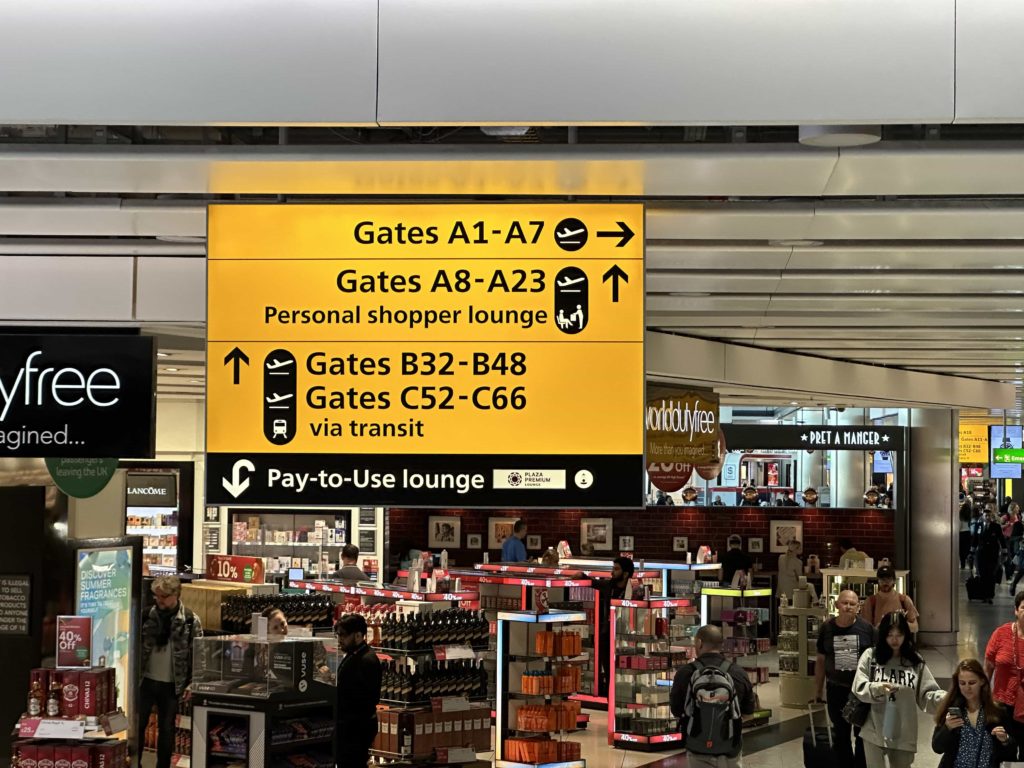 After clearing security, you initially walk towards the British Airways north lounge. Once you've reached that, head down the escalators, and double back on yourself to head towards gates A1-A7. Take a right once you get to the gates, and you'll see the entrance to Plaza Premium.
Arrival and first impressions
Once I arrived, there was a short queue to enter, but this quickly cleared. At the desk, the staff member exchanged very few words, and after a quick scan of my Amex Platinum card, I was unenthusiastically invited to enter to the lounge.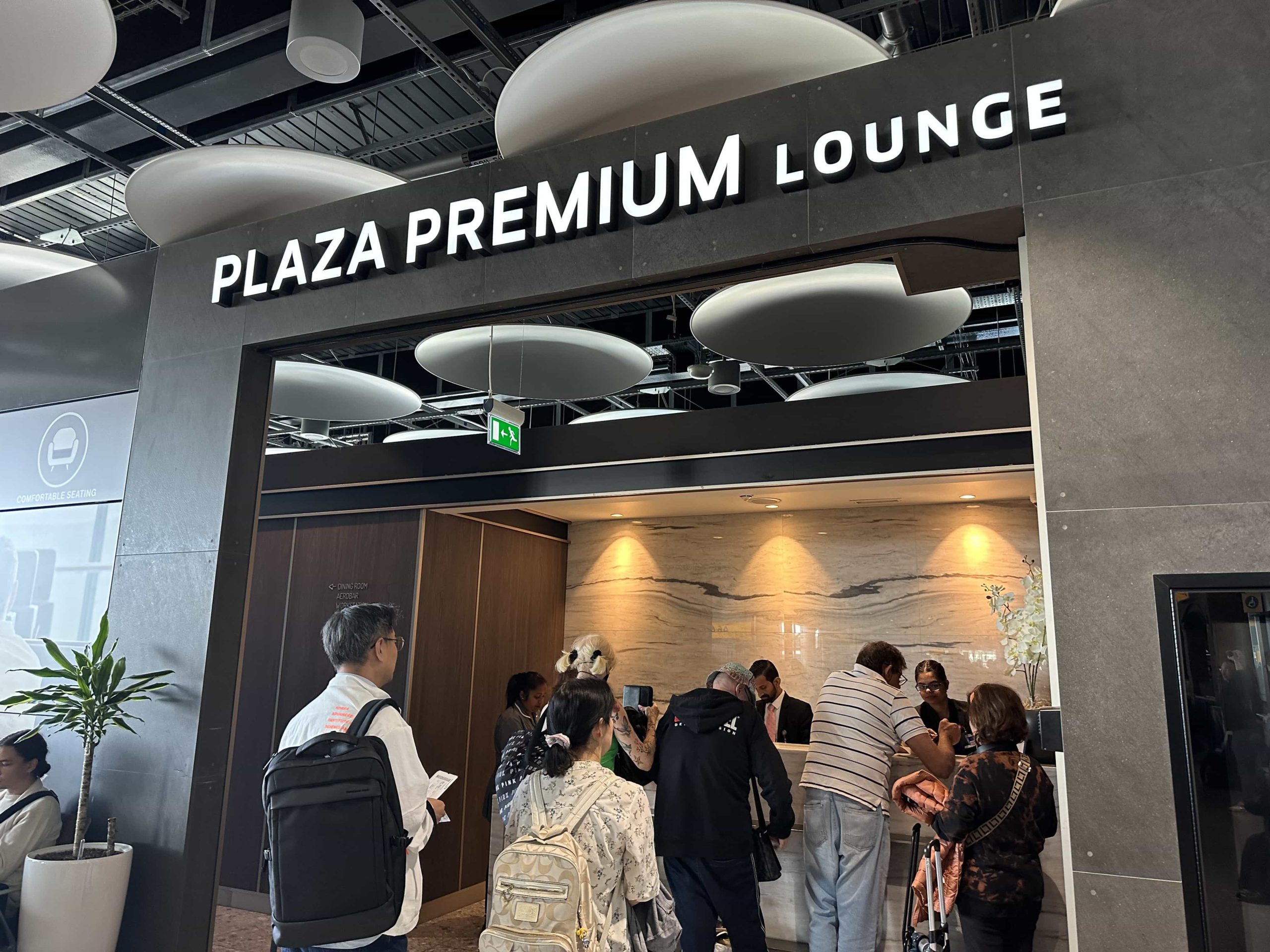 Upon entering, I was immediately struck by how busy it was — much more so than the previous time I'd visited. I wasn't surprised, because lounges are notoriously busy these days, but being such a small lounge made this particularly apparent. It's equally crowded as the regular departures area.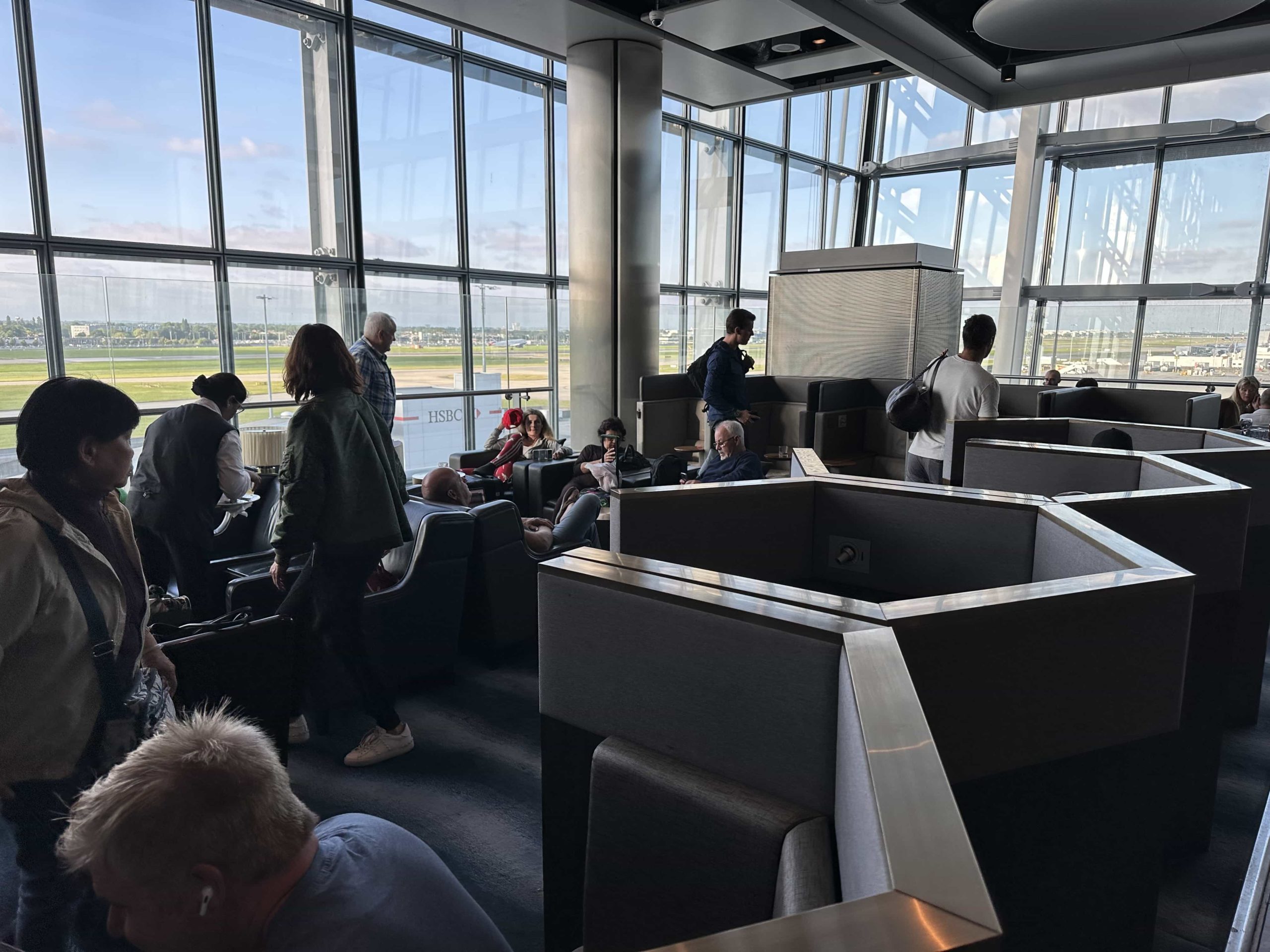 As such, it was a little tricky to find somewhere to sit. Though this did give me an opportunity to take a good look at the seating, which — oh my — is very tattered and worn out; these seats have seen some use since 2018. It's embarrassing really; the wood panelling is chipped and scratched, and there's literally gaping holes in leather.
While not perfect, the rest of the decor has held up slightly better, so they'd almost get away with a change of carpets and seating only, if they're looking to avoid the cost of a complete revamp.
Eventually I found a vacant seat in usable condition at the far end of the narrow L-shaped arrangement. This location was ideal because it put some distance between myself and the noisy food and drinks area.
Environment
The seating is a 50/50 split between conventional armchairs and private seating booths. This is the right choice for a compact lounge like this, because you'd otherwise be shoulder-to-shoulder with fellow passengers. Although claustrophobic, the booths provide some privacy, while the armchairs provide an option for groups and families.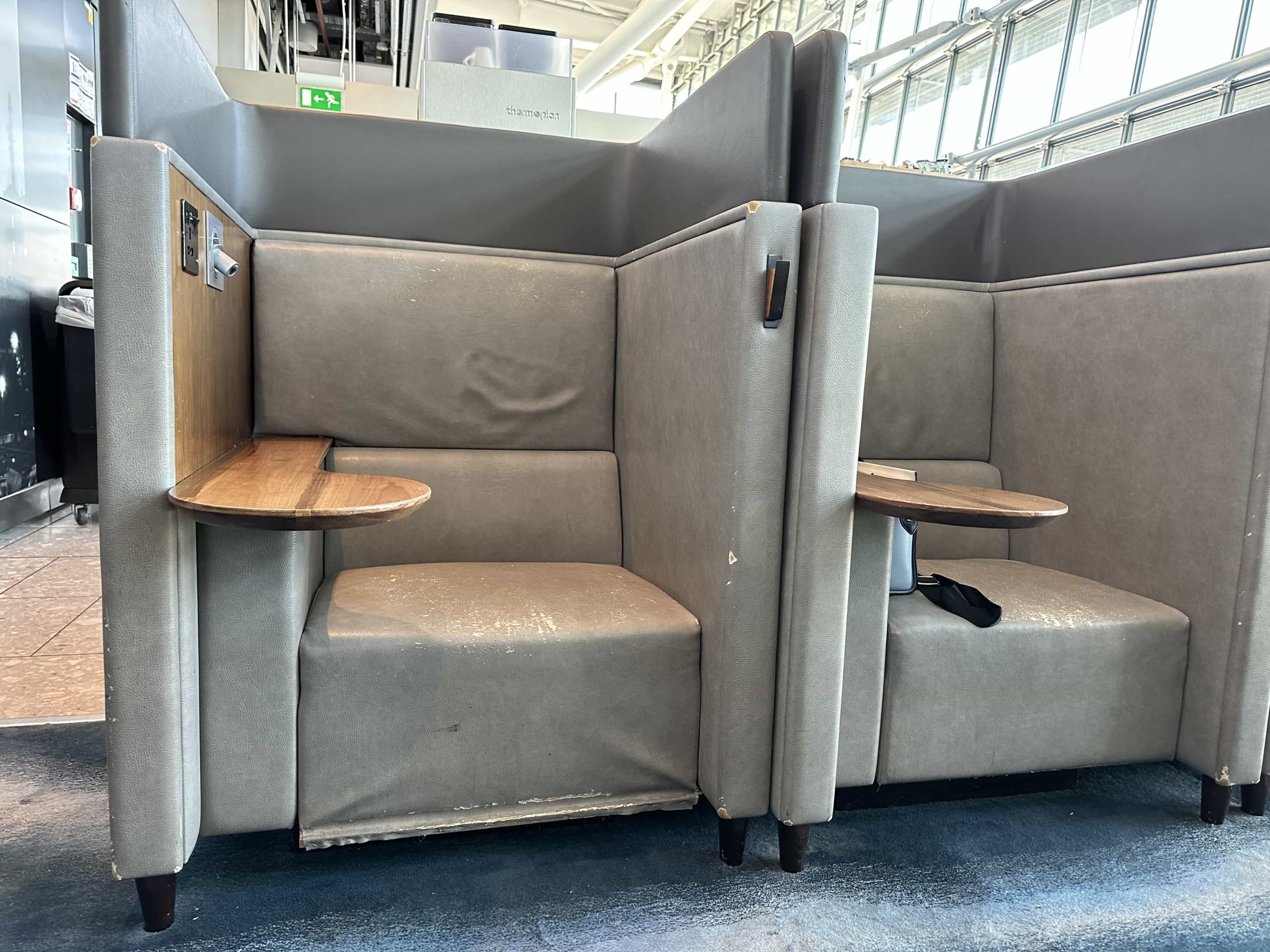 Each booth is equipped with a side table, a coat hook, a reading light, a socket, and two USB ports. Unfortunately, many of the power sources didn't seem to work, which means that the lounge fails to provide in this key aspect.
The side table is a decent size for a plate, a few snacks, and a couple of drinks. It wasn't getting cleared though, so as soon as I went back for a couple of cakes, I'd run out of space and had to take my other plate over to the rubbish trolley myself. In fact, no staff arrived to clear any of the booths in the hour and a half I spent in the lounge.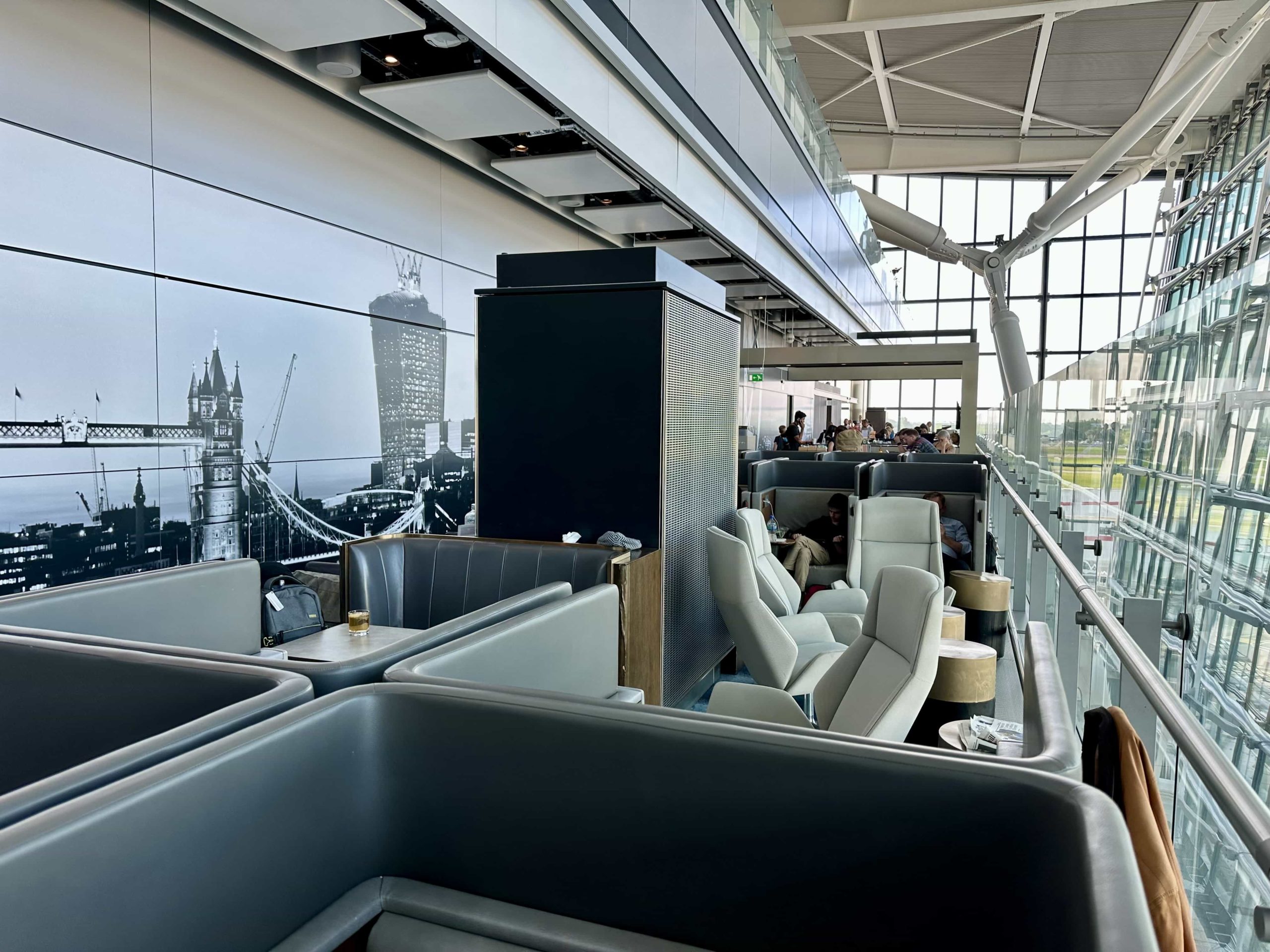 I like the location. Although T5 is now 15 years old, I'm still fascinated by the engineering work which went into the 35-ton 'torso nodes' which form part of the building's roof structure. There's one on the corner of the lounge that I've found myself admiring. Fun fact: the engineers originally wanted to cast or weld the nodes, but personally, I think the robot-like aesthetic of the slotted plates is much more compelling.
There's lots of natural light, since the lounge is open air to the rest of the terminal. You're just below the BA north lounge, so you get some noise leakage from there, mainly boarding announcements. Otherwise it's reasonably isolated, and if you sit where I did, it's actually quite tranquil — particularly in the booths. I also like the ambience in the evening, once it's dark.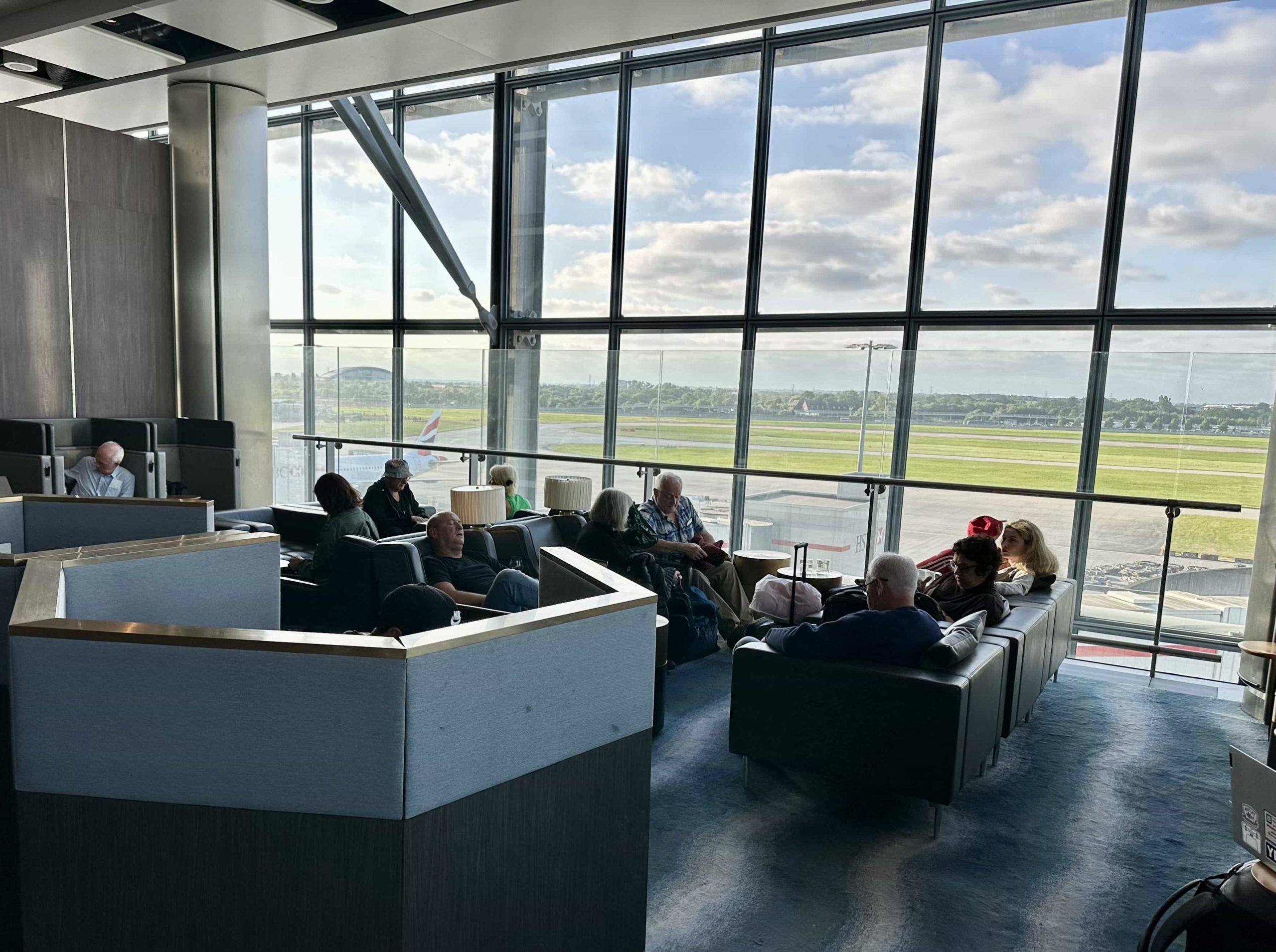 If you're after views, the best runway ones can be found along the north edge — perfect for aviation photographers. Or you can sit along the east edge for views of the apron. If you can find them, the amusingly crammed in high-backed armchairs are the best bet for this, as they're some of the only seating which faces out towards the east.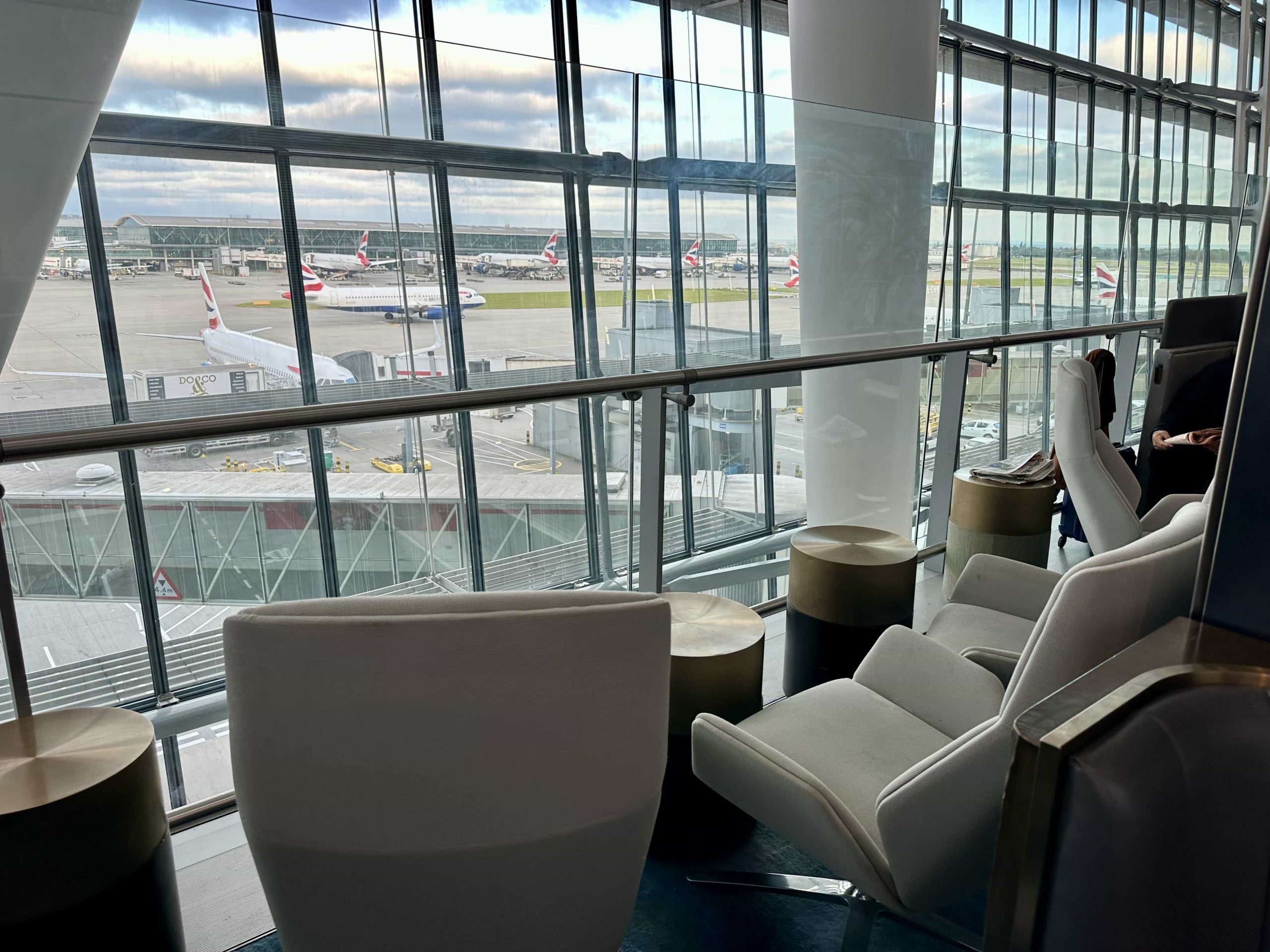 Food & drink
When I write these reviews, I often check guest reviews on Google, to make sure I haven't missed anything glaring. I'm always surprised to see the spectrum of people's opinions on the food. Some people say the food selection at this lounge is good, but I'm with the group who say it's barely edible.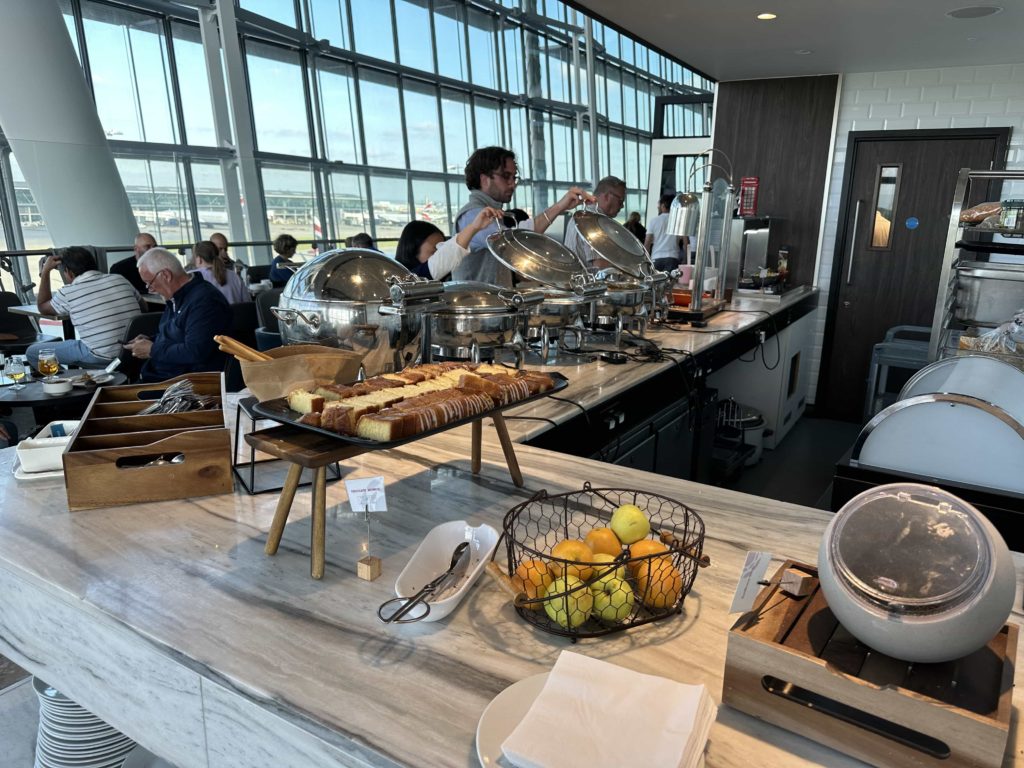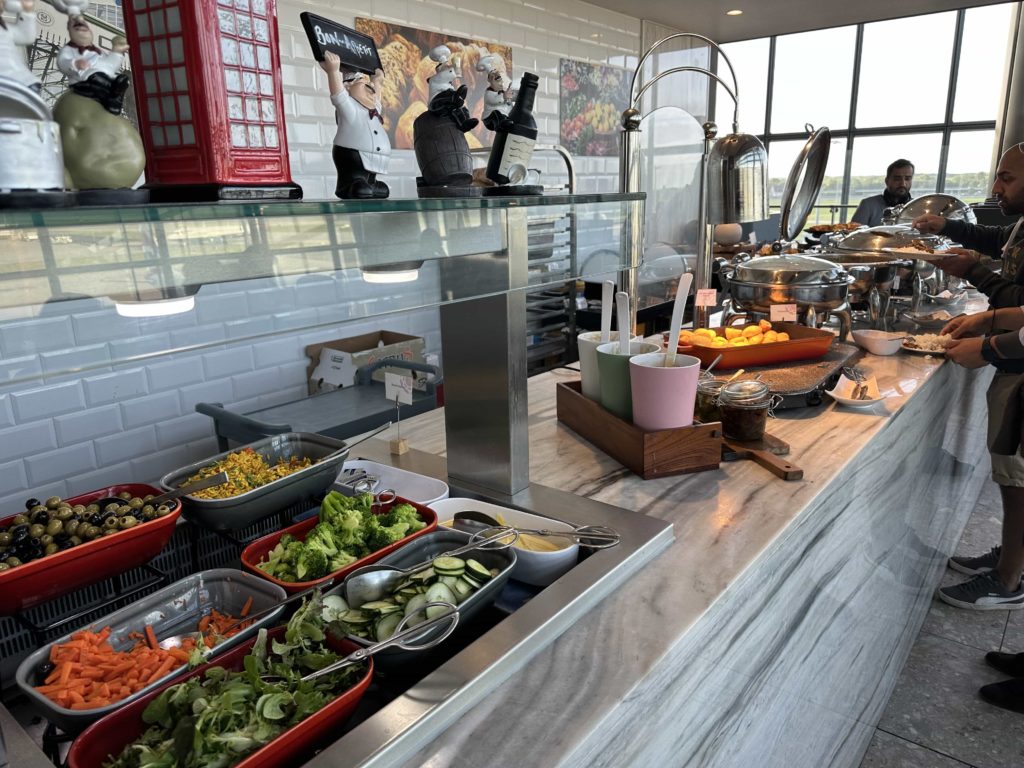 It's the usual selection of boring soup, sandwich, pasta, and curry dishes, which have little taste. Interestingly, there was also roast potatoes, but not like I know them from Plaza Premium at Edinburgh Airport. Those are incredible… these are not. Dry, undercooked, and tasteless.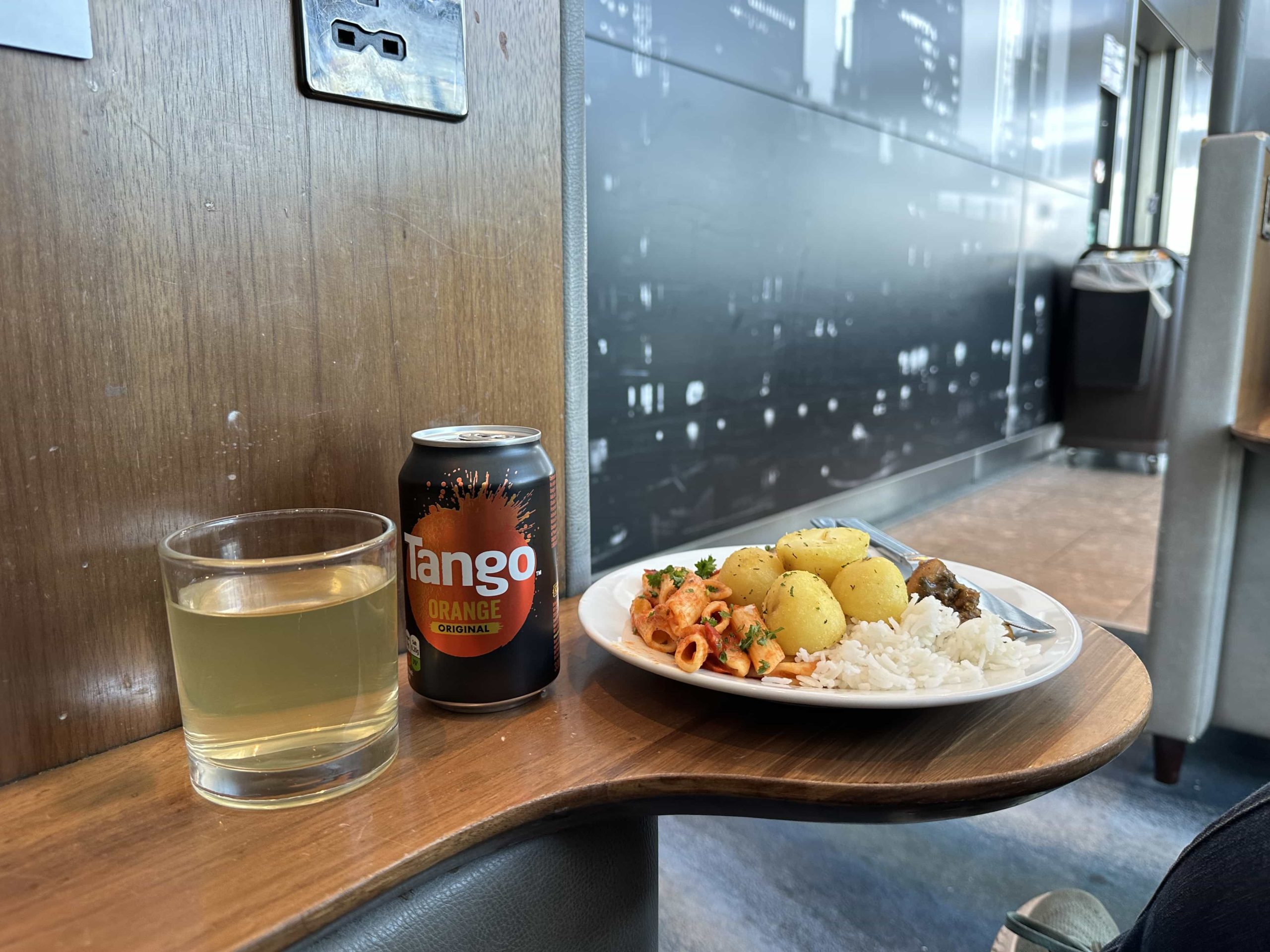 For dessert, I had lemon drizzle cake — which wasn't too bad — and a stale chocolate muffin. I was hungry, but didn't eat much of what I picked up. All good though, I knew what I was getting myself into, so I bought a couple of donuts from one of my favourite bakeries in London before I hopped on the Elizabeth Line.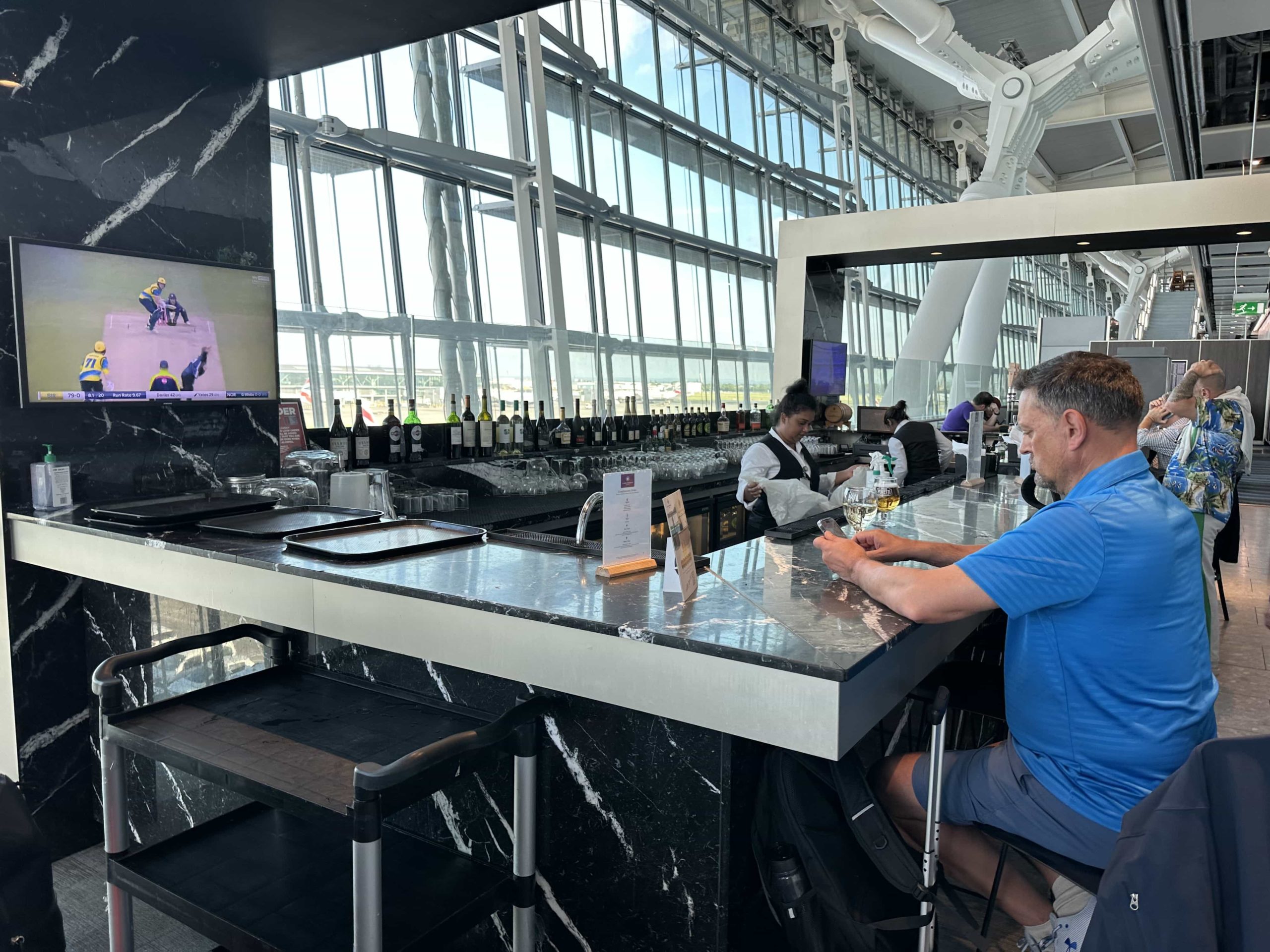 I can't comment on the bar from personal experience, as I didn't use it. But a quick glance behind the counter seemed to suggest the drinks selection is decent, albeit some have suggested not as good as it perhaps once was. Some beverages are complimentary, while more premium options are available for an additional charge.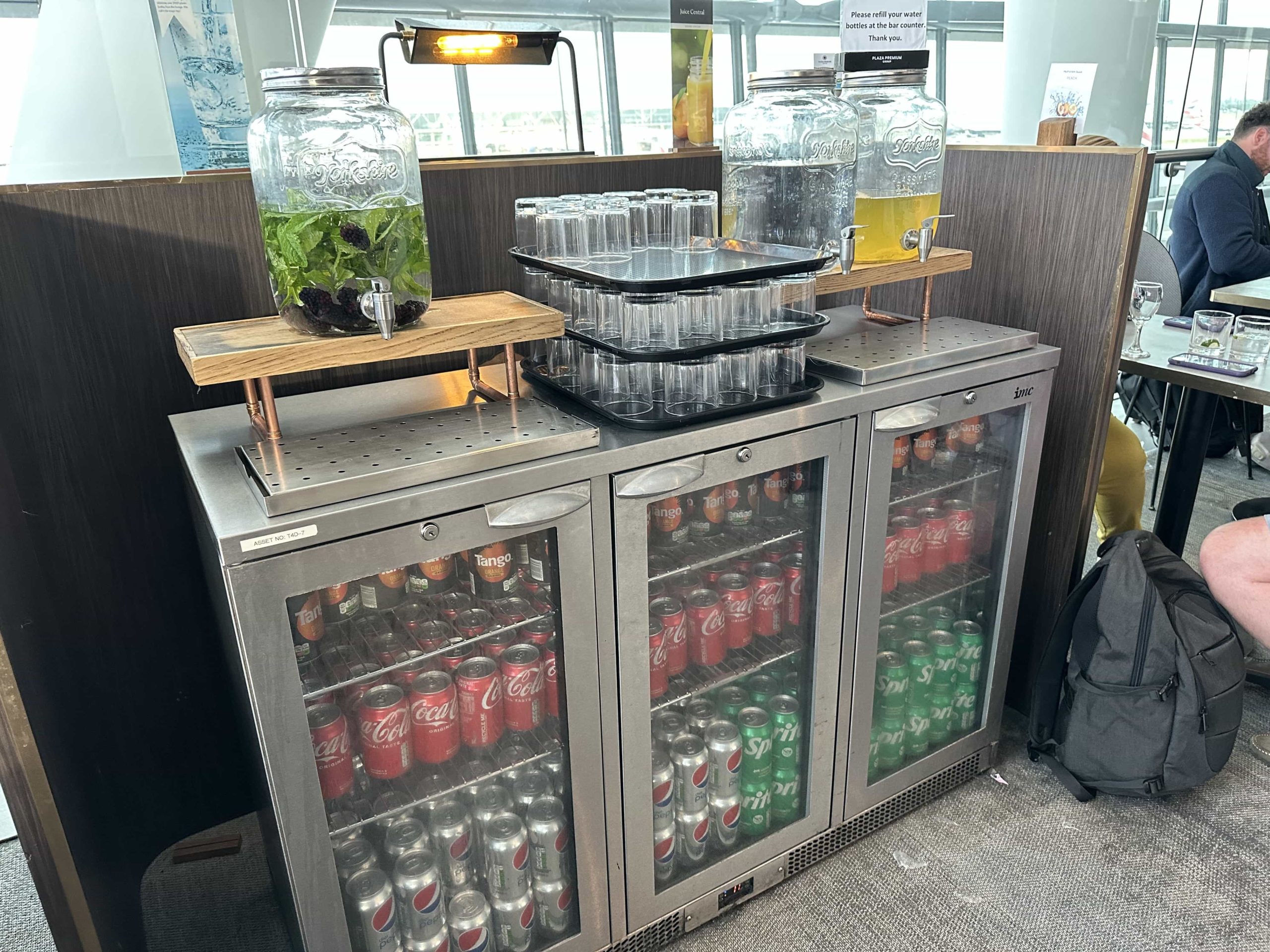 In terms of non-alcoholic options, there's two coffee machines at either end of the lounge. They aren't the newest, so they can't serve the more modern options like mocha or macchiato. Elsewhere, there's fridges with Coca-Cola, Pepsi, Sprite, and Tango, and water dispensers with a variety of fruit infusions.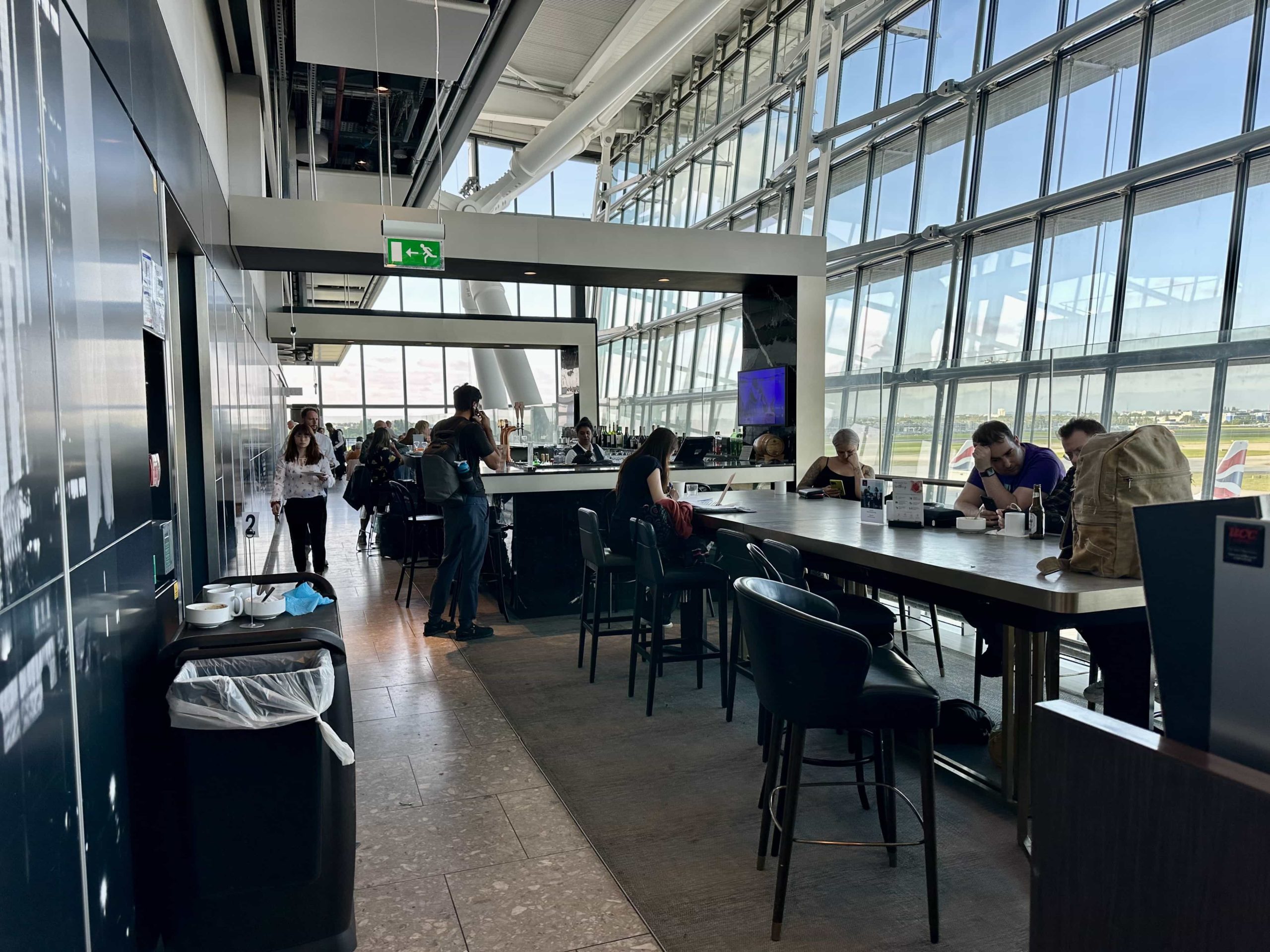 The amount of dedicated dining seating is limited, so many people were taking their food and drinks to either the booths, or one of the two large island tables, either side of the bar. These could also be used for working from, as they're equipped with sockets.
Anything else to note?
Showers are always a nice touch, and there's one in this lounge. It was occupied when I checked, so I couldn't assess the facilities, but considering the uncleanliness of the toilets, I wouldn't have high expectations for the shower either. Moreover, shower usage is priced at an additional £25 for 30 minutes, which is obviously absurd, but I suspect is intended to reduce demand.
Like the toilets, I noticed that the plates and utensils weren't cleaned very well — ugh, that's an unfortunate comparison. This seems to be a reoccurring issue, based on what I've seen from other people's reviews.
The lounge doesn't have a dedicated area for children, so while it was relatively quiet during my visit, noise could be an issue.
There's Wi-Fi, which is useful because the Heathrow Wi-Fi is pretty shoddy. It's not the fastest here either, but I got around 25 Mbps down, and 3 Mbps up.
Conclusion
I said in the introduction that I might consider paying for a lounge at T5, so would I recommend Plaza Premium?
Well considering the food and the worn-out furniture, one is left wondering what makes this lounge 'premium'. It's a lounge which makes good of limited space, and could easily be brought back up to standard, but still feels cramped, and currently feels neglected and in disrepair. It's a shame really, because it used to be quite good.
If you're just seeking a comfortable place to relax for a couple of hours, Plaza Premium is adequate, but very expensive for an otherwise mediocre offering. Club Aspire — located at the other end of T5 — is even more compromised for space, but makes a more convincing effort to provide a good guest experience. Overall though, both lounges though are undoubtedly hamstrung by the constraints they operate within.
In general, you'd be better off with a restaurant, and if you've got an extended layover, you could hop over to the T5B or T5C satellite terminals to get away from the worst of the crowds. While not amazing, if you've got access to the BA lounges, they are better than Plaza Premium in almost every respect.