I find myself in a lounge I never thought I'd visit again.
Last September I was relaxing in the BA Galleries South Club Lounge during a long layover. I'd just received my Priority Pass card and thought I'd see what my new membership had to offer. So, I dipped out of the Galleries Lounge and with naive optimism, headed downstairs to Club Aspire.
To say I was disappointed is an understatement. I'd left the spacious, well-catered BA lounge for a comparatively minuscule, overcrowded lounge, with almost nowhere to sit and little to nothing in the way of food options. I vowed never to return.
Yet, here I am, nine months later, now immersed in the world of blogging and armed with a fresh perspective. It seems only fair to grant this lounge a second chance. After all, it was during that very same trip that I discovered the inspiration to embark on this website.
Access
All travellers can access this lounge, regardless of airline or cabin class. Paid entry is priced at £45 per person for a 3-hour stay.
Unlike Plaza Premium — the lounge's main competitor, at the other end of Terminal 5 — Priority Pass is accepted here. Just keep in mind that it's not possible to pre-book if you're using Priority Pass.
Where is the lounge?
The lounge is located at the south end of T5. As such, it's closest to south security, but is easy to find after leaving either security hall by following the signage for the "Club Aspire lounge".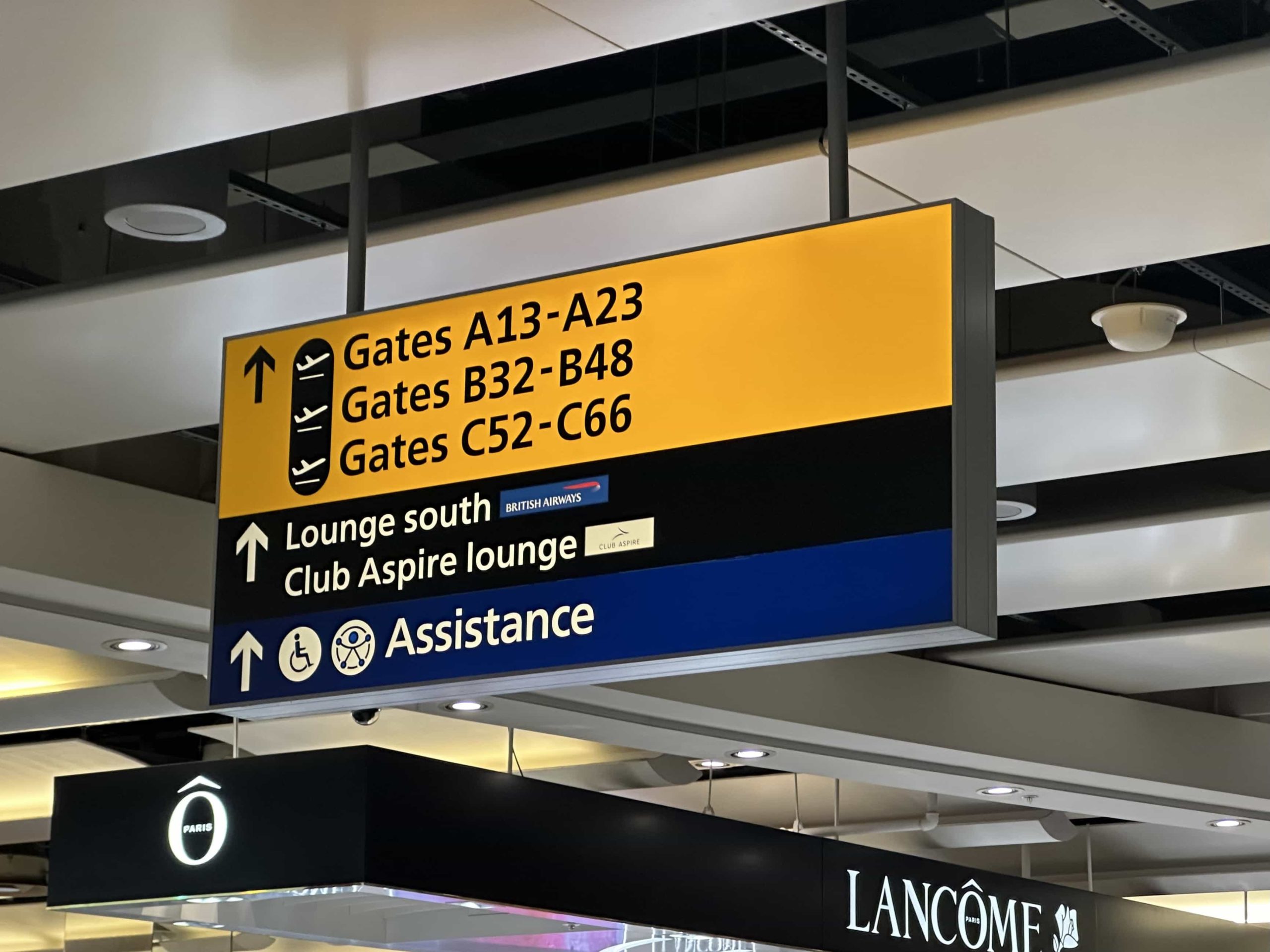 Situated on the lower floor of the terminal building, you'll find it at the far end, in the area for gates A18 to A23. As you reach the end of the concourse, take a left, and you'll see the entrance.
Check-in and first impressions
When I arrived, there was a queue of around eight people. This is quite typical for this lounge, as I've observed on multiple occasions when passing by while departing from nearby gates.
As it was busy, they had a separate queuing system for paying customers with a reservation. Priority Pass customers and those without a booking had to join the regular line, which was everyone on this occasion. Fortunately, the line cleared in a few minutes.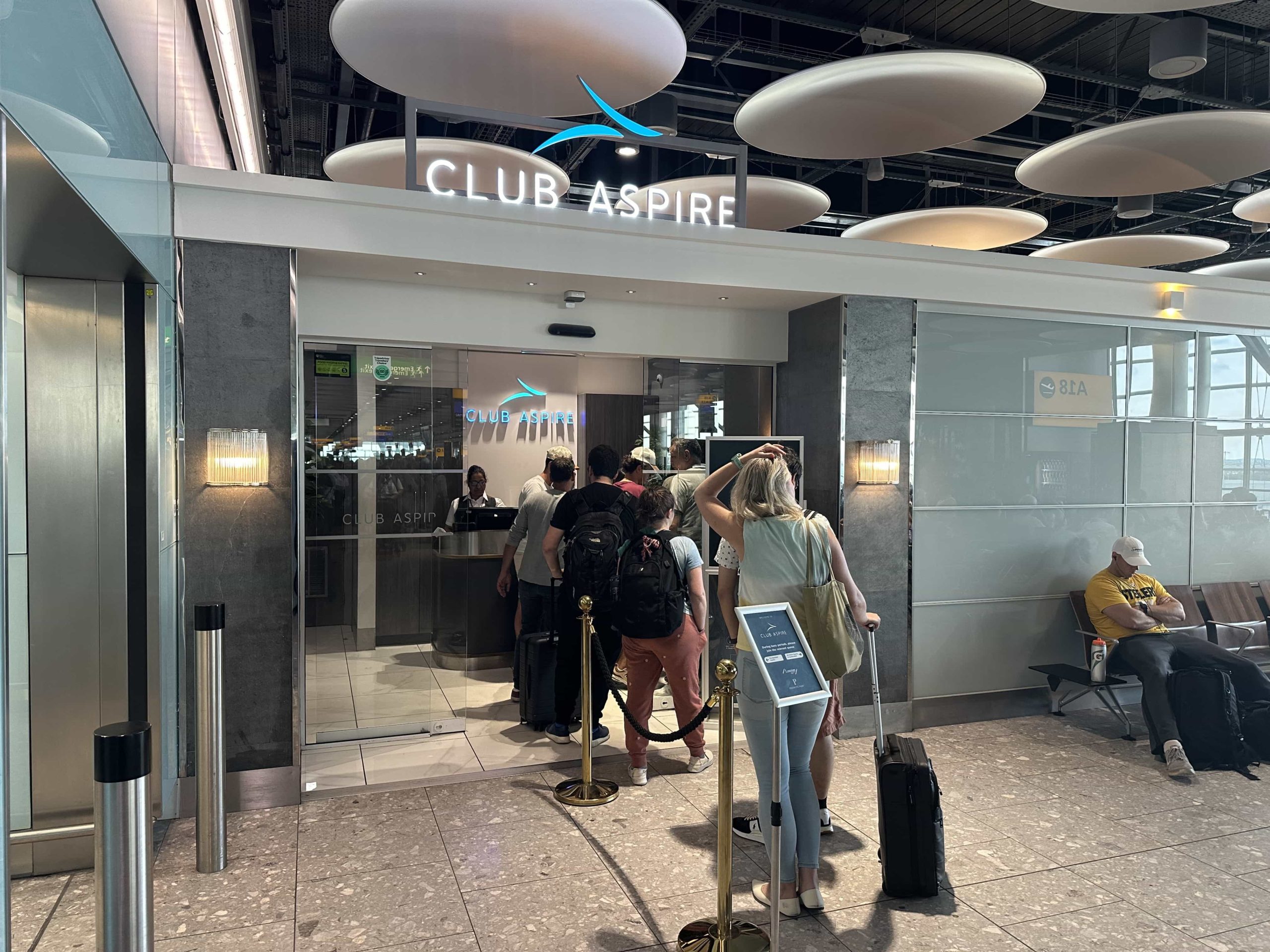 The previous time I visited, I had to scan a QR code to join a virtual queue. It was about 15 minutes before I received a notification that I'd reached the front of the queue and to return to the lounge.
At the reception desk, I was greeted by two friendly receptionists. I was impressed, because considering what I already knew about the lounge, I could imagine they face some antagonism on a daily basis. After a quick scan of my documents, I was welcomed to the lounge.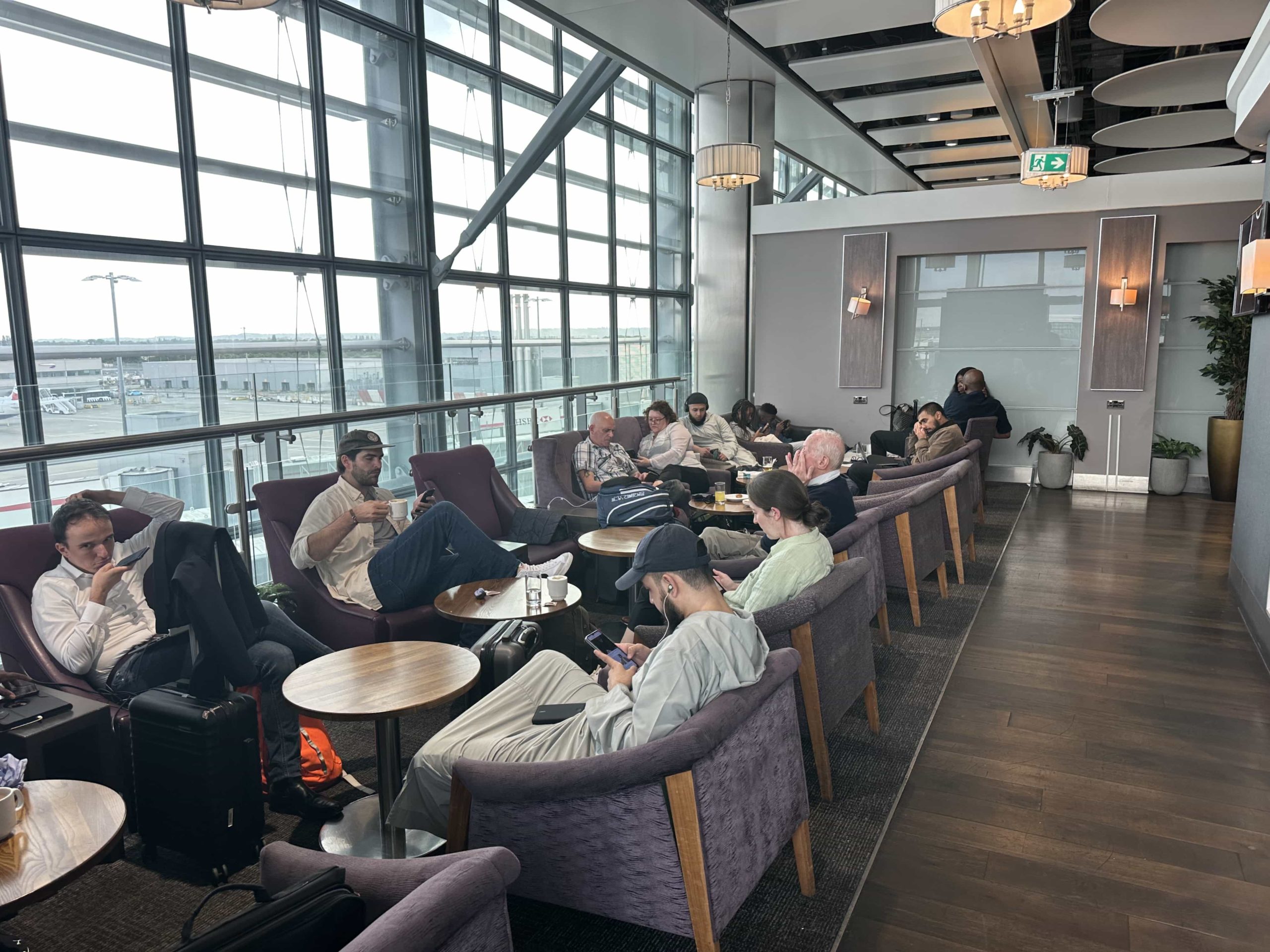 Even though I'd braced myself, I once again was taken aback by how busy the lounge was. I'm not exaggerating to say that I was only able to find one vacant seat in the entire lounge. Both myself and the person who had entered the lounge ahead of me — who, I will add, was swearing under her breath about how busy it was — ended up sharing a table with two other strangers. This is a good lounge to visit if you want to make new friends.
Environment
The overarching issue with this lounge is where it's located, and the space available. It's squeezed into a corner of the terminal which may have been adequate for a restaurant, but is far too small and awkwardly arranged to be a lounge. The Plaza Premium lounge in T5 occupies a similar space, flipped 180 degrees, but it isn't as narrow and as such, feels significantly less cramped.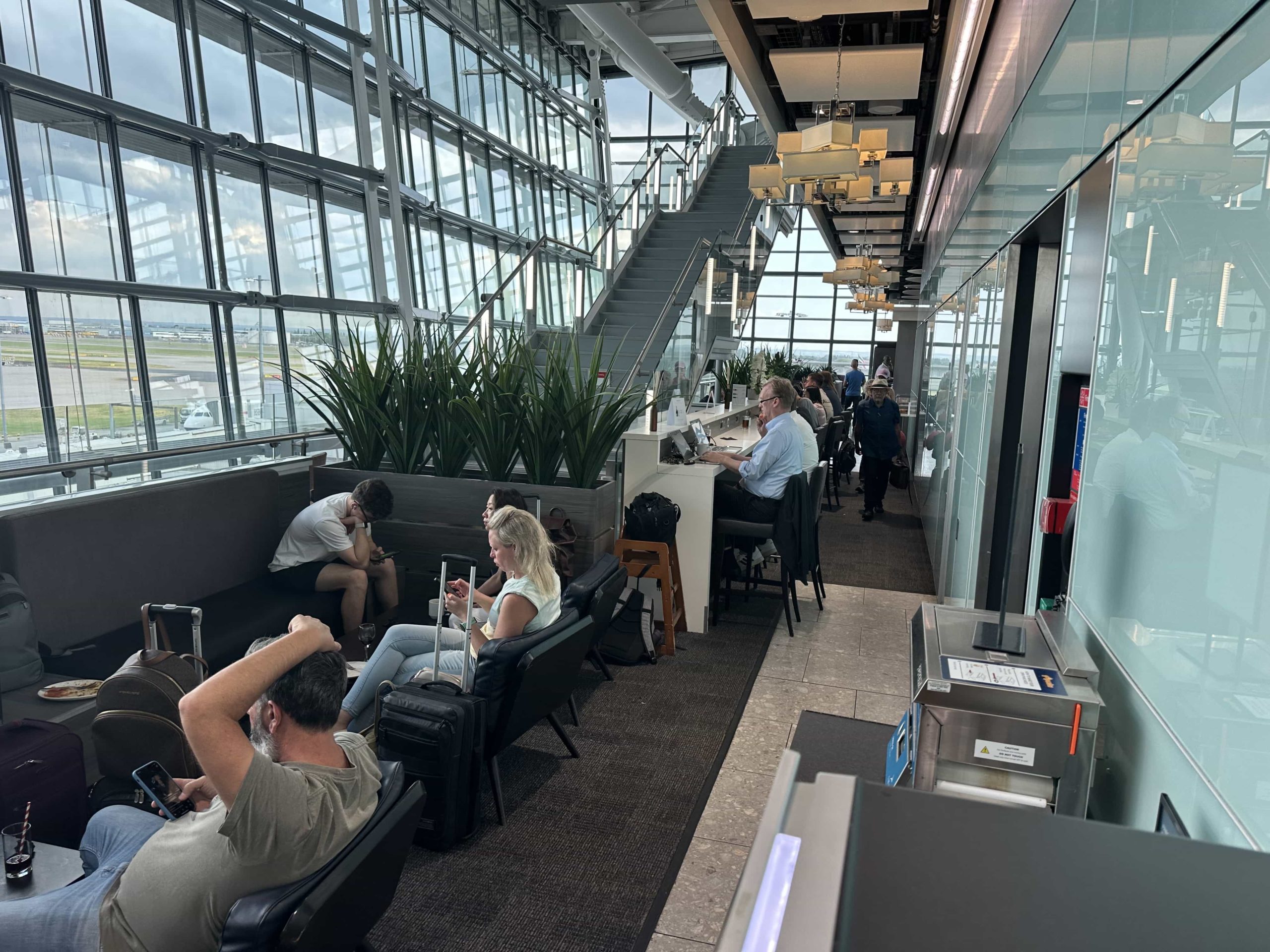 I've been in smaller lounges, but it's the fact that much of this lounge runs along the edge of the terminal building, which makes it very corridor-like. In fact, there's one area where a cordoned-off staircase eats into the space so much that it's only wide enough for one person to pass at a time.
It's a shame that the BA Galleries First Lounge is at the top of this staircase, because had it been vacant up there, that extra space would have transformed the Aspire lounge. Just imagine: a spacious mezzanine level upstairs, with the lower area dedicated to quiet areas and workstations. BA would never let this happen, of course.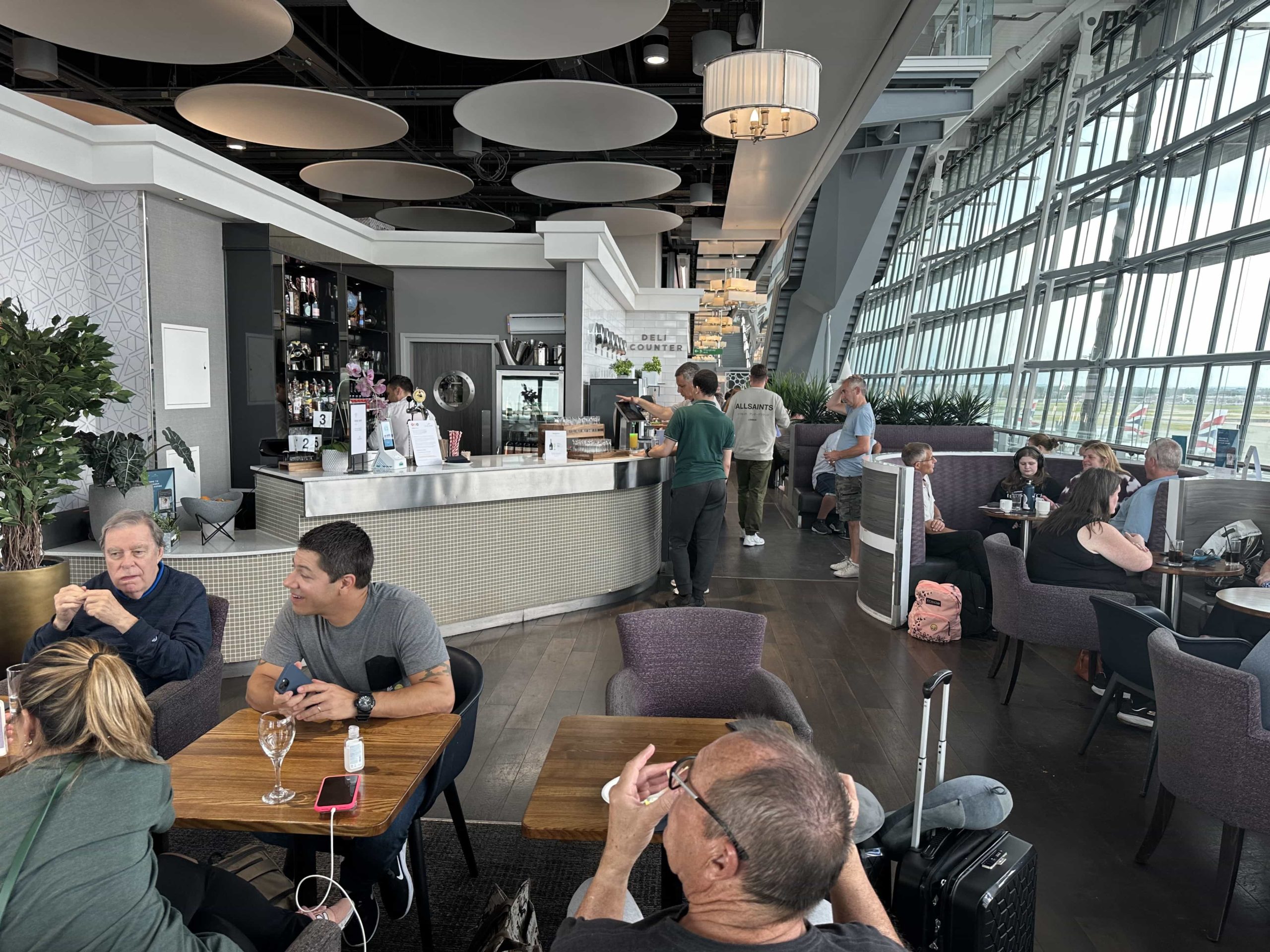 Near the catering area, the space opens up a bit, but it never feels truly spacious. You're almost always bumping into or sitting very close to someone. That said, it does feel airy, and not claustrophobic, thanks to building's architecture which means that the lounge is completely open to expansive panoramic views towards the east and south.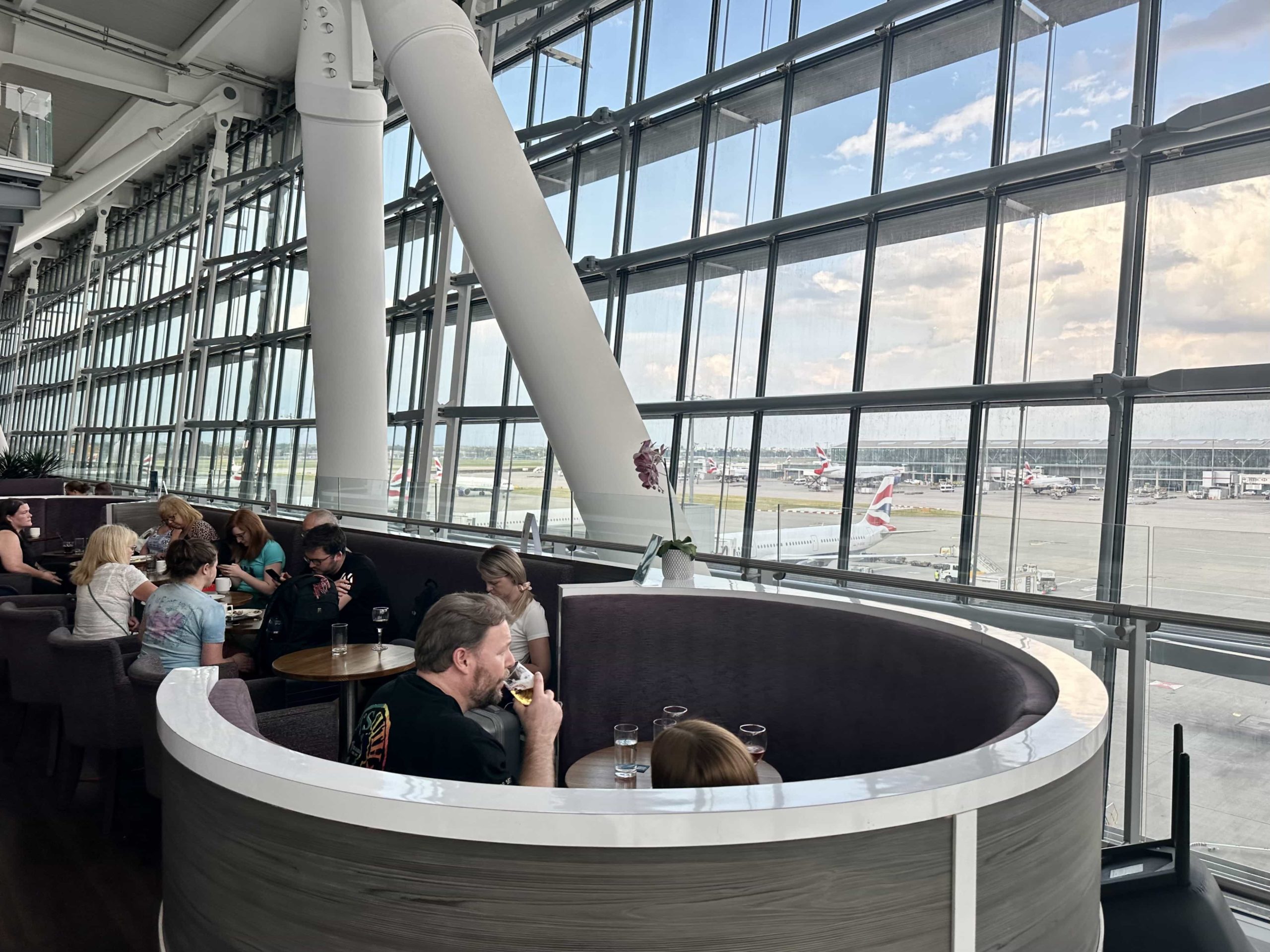 And they're good views at that. Towards the east, you can admire BA's fleet of short-haul and long-haul aircraft, and towards the south you've got runway 09R. The views are broken up slightly by the anatomy of the building, but they're impressive nonetheless — not to mention all of the natural light the windows bring in.
Compared to Plaza Premium, I was impressed by how much more modern and well-maintained this lounge is. It's certainly not a new lounge, but the furnishings and decor feel up-to-scratch. The fixtures are showing a few signs of wear and tear, but the furniture has been renewed over the years, and it's in decent condition.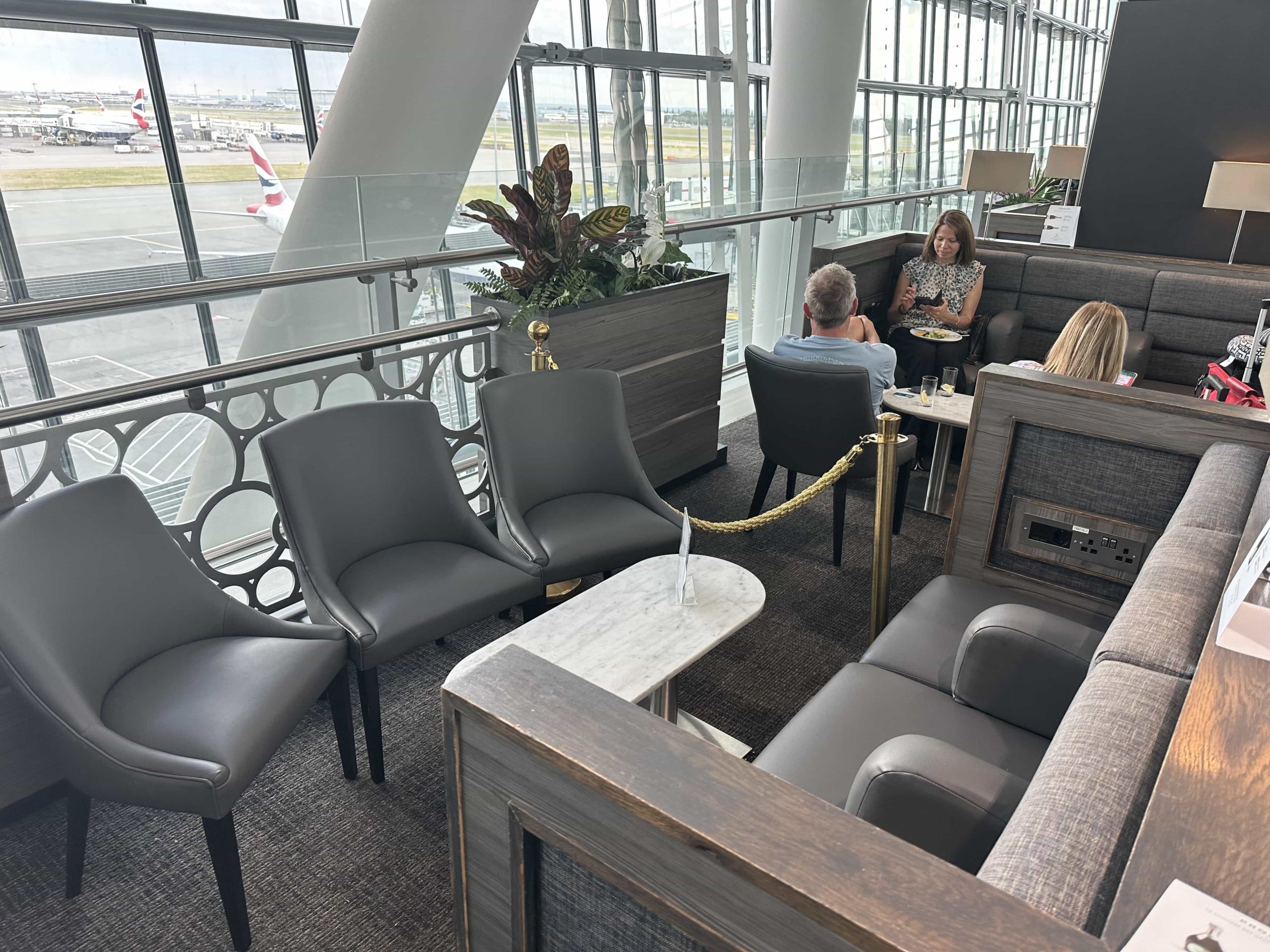 I was also pleased to see that even though the seating is packed in, they haven't neglected to consider comfort. Some lounges resort to efficient but uncomfortable rows of undersized, upright seating to maximise space. Aspire on the other hand, have equipped the lounge with a variety of laid-back lounge chairs, casual dining seating, and spacious sofas. There's a few padded benches dotted around, but even these aren't too bad.
If you want something a little more private, there's a couple of circular booths which deliver this. It's not clear whether these are available to anyone or if they need to be reserved, but based on other reviews, it seems the latter is true. Likewise, there are two roped-off areas which are accessible by reservation only. Frustratingly, these have always been unoccupied in my experience, which is a waste of precious seating space.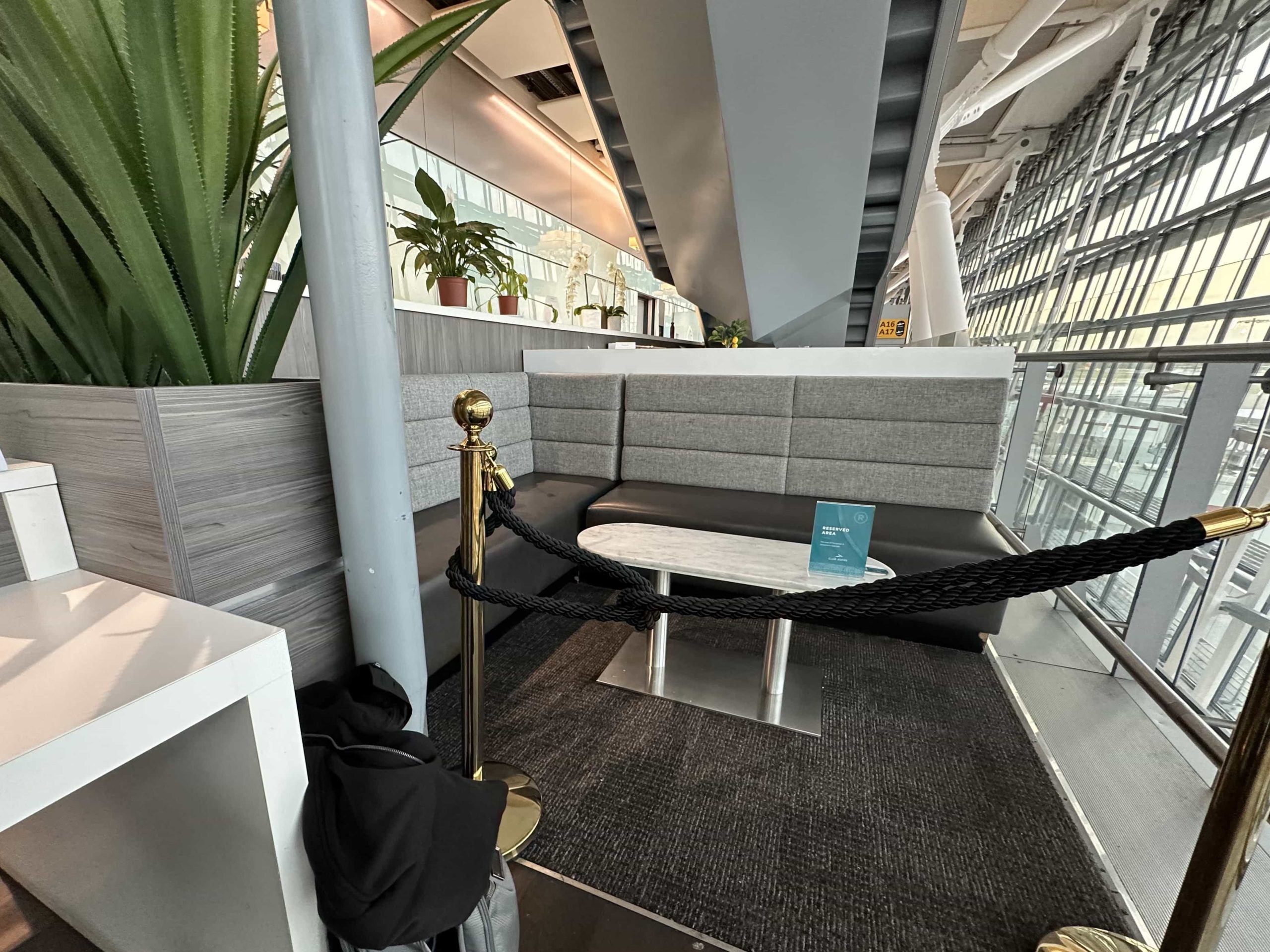 Someone had snuck their way into the reserved section at the far end to make a phone call. Normally this sort of flagrant rule-breaking would wind me up, but I didn't blame him as it was the only way to avoid disturbing others, without leaving the lounge.
Later in my visit, the lounge cleared out a bit and it actually became quite relaxing. I relocated to a nice couch with a socket, and was able to spread out a bit. But then, no sooner than I'd plugged my laptop in, they closed off this area to start clearing up early. Ugh! Of course, this made the remainder of the lounge much busier again.
So then I moved again, this time to the workstation area. This was fine, because I wanted to work anyway, but there were two major annoyances about this setup. Firstly, the seats are anchored to the floor, much too far back from the worktop. I'm tall and have bad posture anyway, but even I was on the edge of the seat in order to reach. Secondly, the sockets are mounted too close to the worktop, so even relatively small laptop chargers don't fit.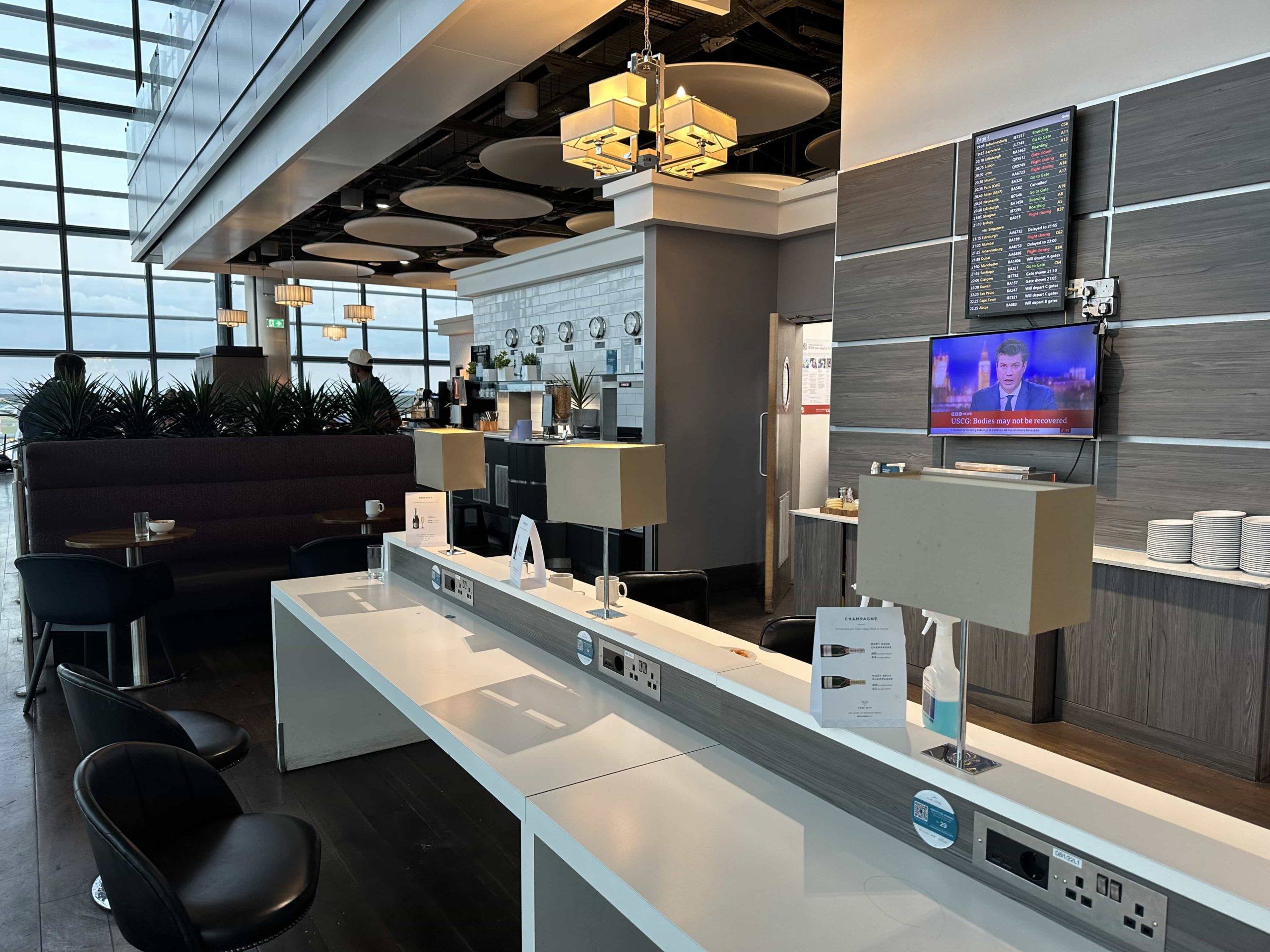 I did like this space otherwise. I was tucked under the staircase, with a decent amount of privacy. I would happily have spent a couple of hours here — with a better seating position — but the lounge closed 20 minutes later. The other reserved area I mentioned was just next to me, unoccupied. This would be a great spot, for whomever is eligible — it's not clear to me who is.
Lack of personal space aside, the overall ambience is quite pleasant. The decor does well to bring a touch of class to the industrial surroundings, the background music is pleasant, and the lighting is suitably ambient come evening time. It's a slightly more hectic environment than Plaza Premium though, so keep that in mind if you're looking to relax.
Food & drink
The food selection is undoubtedly the worst aspect of this lounge. Contracted lounges rarely have high-quality options, but the issue here is also the breadth of options. You can tell immediately as you walk in and see the minuscule buffet setup — or "deli counter" as Aspire refer to it.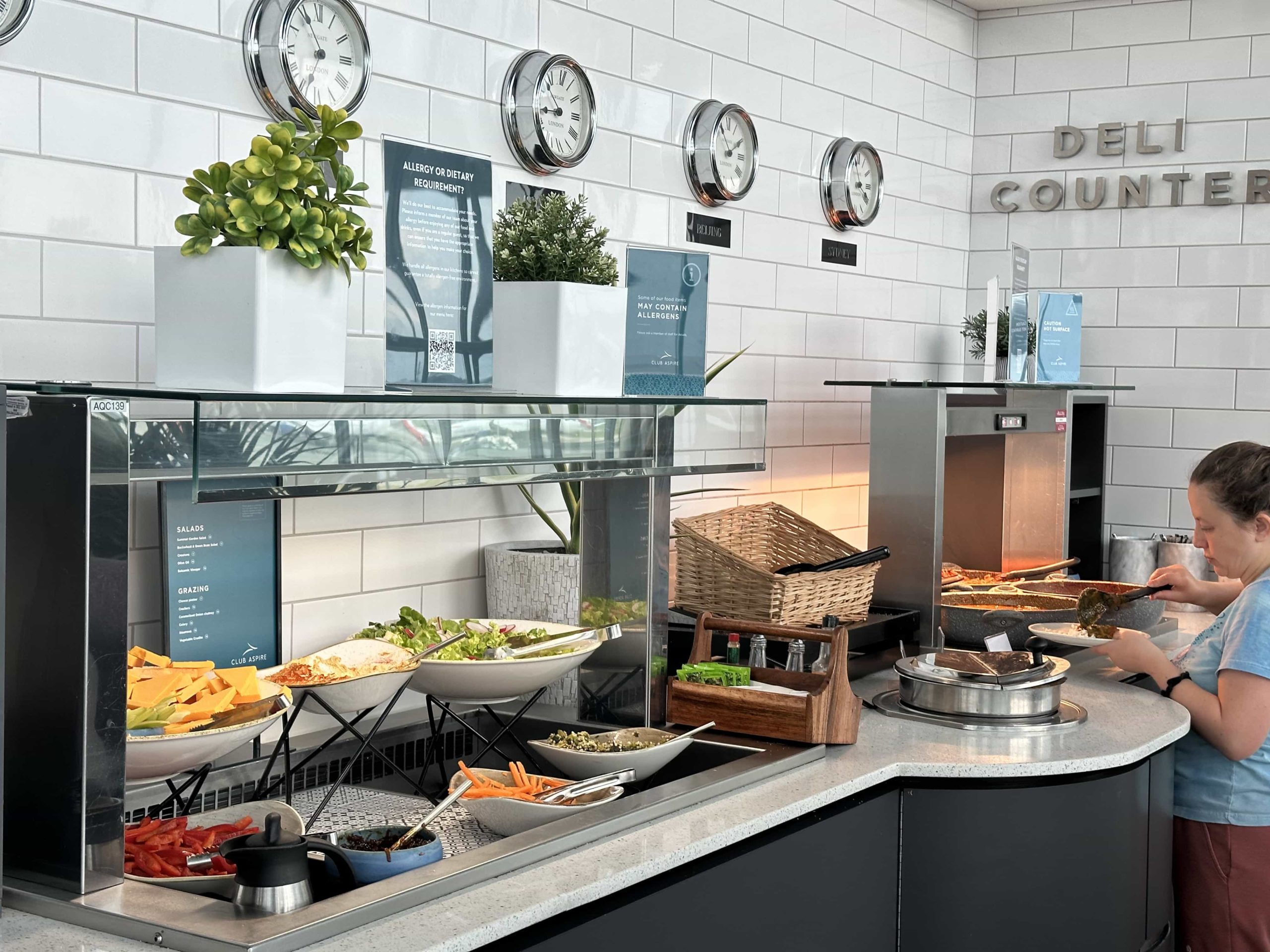 While it's the same assortment of food I've had in tens of other lounges — and not the worst version I've ever tasted — the problem here is that the selection is very limited: just four hot dishes, including rice. The other three dishes were tomato pasta, a chicken curry, and a chickpea, spinach and sweet potato curry.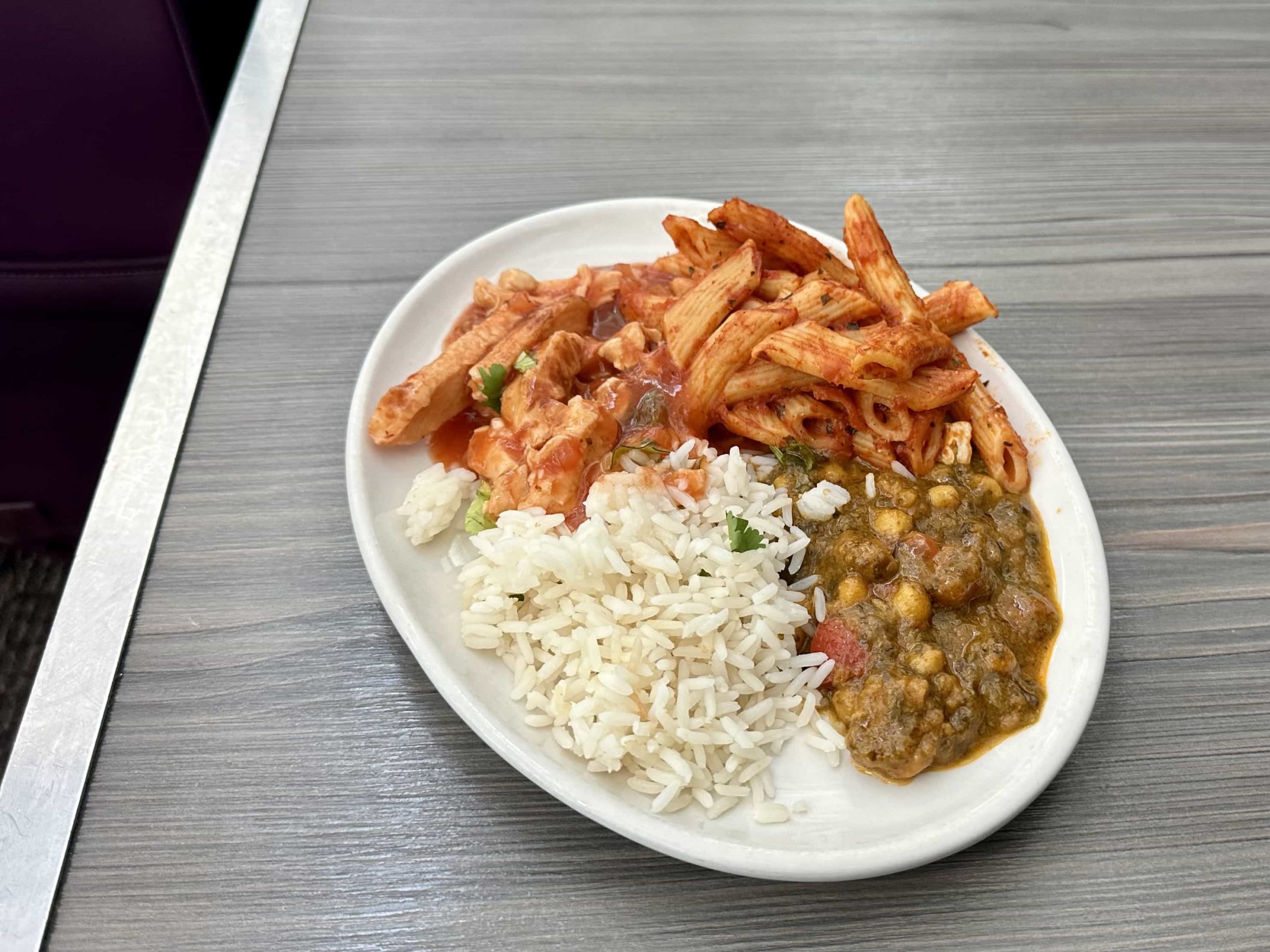 Not enough to satiate my appetite, I almost did the unthinkable and approached the pancake maker, until I realised it was out-of-operation during the day. Instead, I asked a staff member whether there was any more tomato soup, and after five minutes or so, they brought more out. Unfortunately, despite being freshly served, it was already cold Also disappointing, was that the crusty bread rolls were just a facade, and in fact were very soft and undercooked.
The only dessert options were some mini doughnuts, and the salad selection was similarly limited, consisting of cheese, crackers, carrot batons, humous, chutney, and two kinds of salad.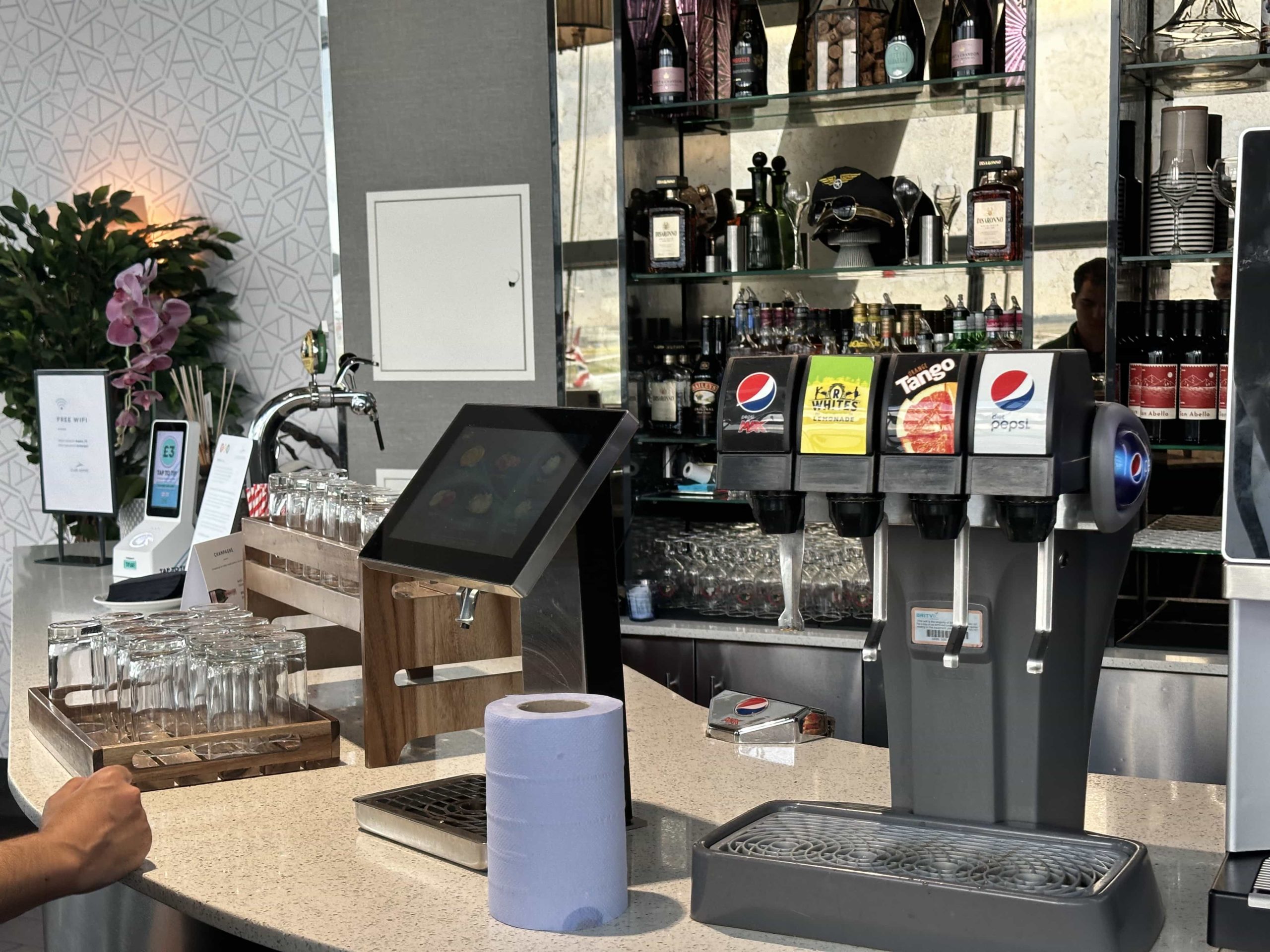 I didn't sample anything from the bar but it looked like the typical selection you'd expect. Premium cocktails and Prosecco can be purchased from £4.99, as well as Champagne from £12. Otherwise, the drinks selection was unremarkable. There are two drinks dispensers: one for Pepsi products, and the other for fruit juices and water. Two coffee machines are available.
Anything else to note?
Socket coverage is inconsistent. Some areas which seem like they would have sockets, don't, while other areas that look very similar, do. This is a real inconvenience because these seats inevitably get snapped up first.
On the whole, the staff were really good. The lounge is probably understaffed, but they remained friendly and helpful, and were fairly on top of keeping the place tidy.
Supposedly there is Wi-Fi, but it didn't appear when I searched for networks. I therefore used Heathrow's which provided 15 Mbps down and 35 Mbps up.
The lounge does not have its own toilets, so you must leave and use the facilities in the departures area, which are around 50 meters from entrance. Showers though, are available for an additional charge of £20 for 30 minutes.
Conclusion
Based on past experience, I was ready to completely slate this lounge. But, through some combination of my expectations being very low, and having visited worse lounges since, I actually came away pleasantly surprised.
On the surface, there's little to separate this lounge from the competing Plaza Premium lounge. But, having experienced both, Club Aspire is better appointed, better staffed, and better maintained. On that last point, the fact that Aspire have continued to invest in keeping this lounge up-to-date over the years, in itself makes me more inclined to spend my money here.
Don't get me wrong, it's not a great lounge; the food is inadequate, it's cramped, and far too busy. With these issues in mind, £45 is far too expensive. The fact that they're able to charge this price is purely indicative of demand, not quality.
If you're a Priority Pass cardholder, it's a better option than spending time in the departures area. If not, I'd struggle to recommend this lounge unless you have a long layover. Otherwise, I'd spend the money at a restaurant. Even Aspire themselves are quite transparent about how their lounge offering compares to that of restaurants. Basically, they admit that it can't compete from a catering standpoint, but that it serves a different purpose.
I agree with this. Heathrow T5 can be a busy place, and while the cramped layout means that Club Aspire isn't exactly a tranquil retreat, it provides a convenient and acceptable respite from the bustling airport environment.