Late last year, I had the opportunity to review the Aspire Lounge at Edinburgh Airport (Gate 16), and I was very complimentary about it. It was the first Aspire lounge I'd visited that embraced the brand's modern look and feel. Now I find myself at the Luton Aspire Lounge, which at first glance appears strikingly similar. This piqued my interest in exploring whether it delivers a similarly compelling experience.
In the past, Luton Airport was burdened with the reputation of being London's least desirable airport. These days, it's significantly better, mainly thanks to upgraded transportation, and improvements to infrastructure and amenities. That said, it's still unmistakably low-cost when it comes to the departures area, which prioritises shopping over seating and comfort.
So, that leaves the Aspire Lounge with an important job: to provide a comfortable environment from which to escape the slightly inhospitable departures area and relax before a flight. Let's see if it delivers.
Access
This lounge is accessible to anyone, regardless of airline, frequent flyer status, or cabin class. Paid entry is priced from £37.99 for a 3-hour stay.
Since the No1 Clubrooms lounge (permanently?) closed, we're back to just one lounge at Luton. As it's not a particularly large lounge, it gets very busy. Paying customers with a pre-booking will be guaranteed a spot, but if you're using lounge membership programs for access, there's always a small risk of being turned away.
Priority Pass and DragonPass are both accepted. I've used Priority Pass on the three occasions I've visited and have been granted entry each time.
Where is the lounge?
It's very easy to get to the Aspire Lounge. Once you leave security, you initially wind your way through duty free, and then through a shopping boulevard: an increasingly common — and annoying — feature of modern airports.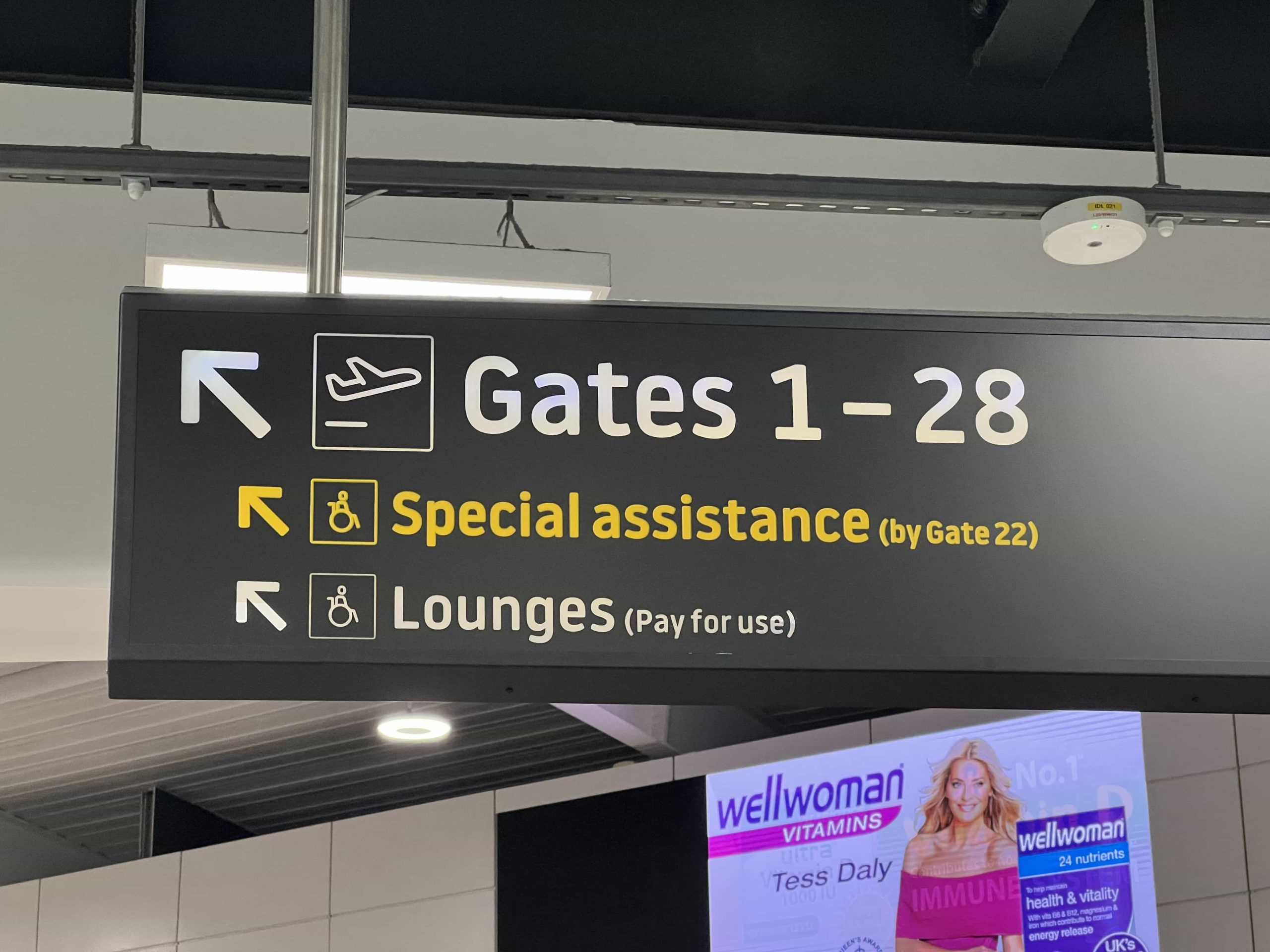 Once you reach the main concourse, signage directs you towards gates 1-28, and about halfway along the concourse, you'll find the entrance to Aspire Lounge on the left. It's sandwiched between Accessorize and YO! Sushi and could be missed if you're not looking for it.
Once you enter, there's a staircase and an elevator that take you one floor up, to reception.
Check-in and first impressions
It's worth mentioning at this point that I've visited this lounge three times now.
Unfortunately, I've never been impressed with the check-in experience. Usually there's nobody at the desk when you arrive, so you stand around until someone notices you waiting. This can take a couple of minutes, since the reception desk is tucked away from the main lounge space.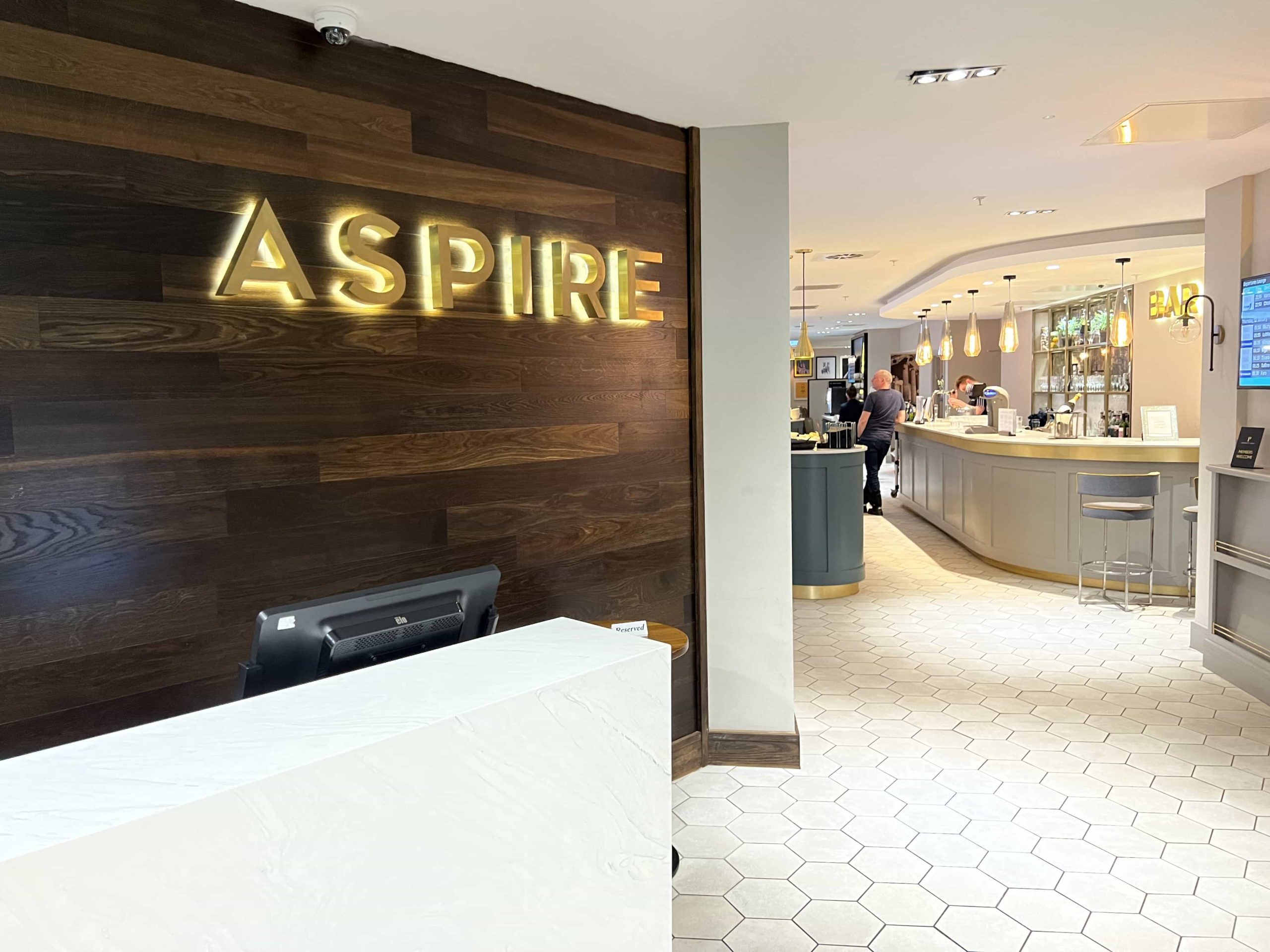 Whenever someone does arrive, it's always been a cold greeting. No "welcome", no "have you been here before?", no mention of the amenities, no details of my stay — nothing. This is in contrast to my experience at Edinburgh, where the desk is always staffed by attentive receptionists.
The only positive is that it made getting a photo of the reception desk much less awkward than normal.
Environment
It's been a few years now since this lounge re-opened following its latest refurbishment, but it's still feeling modern. The lounge shares the same general aesthetic as its Edinburgh sibling, albeit with marginally less elaborate decor — namely, no fancy ceiling design.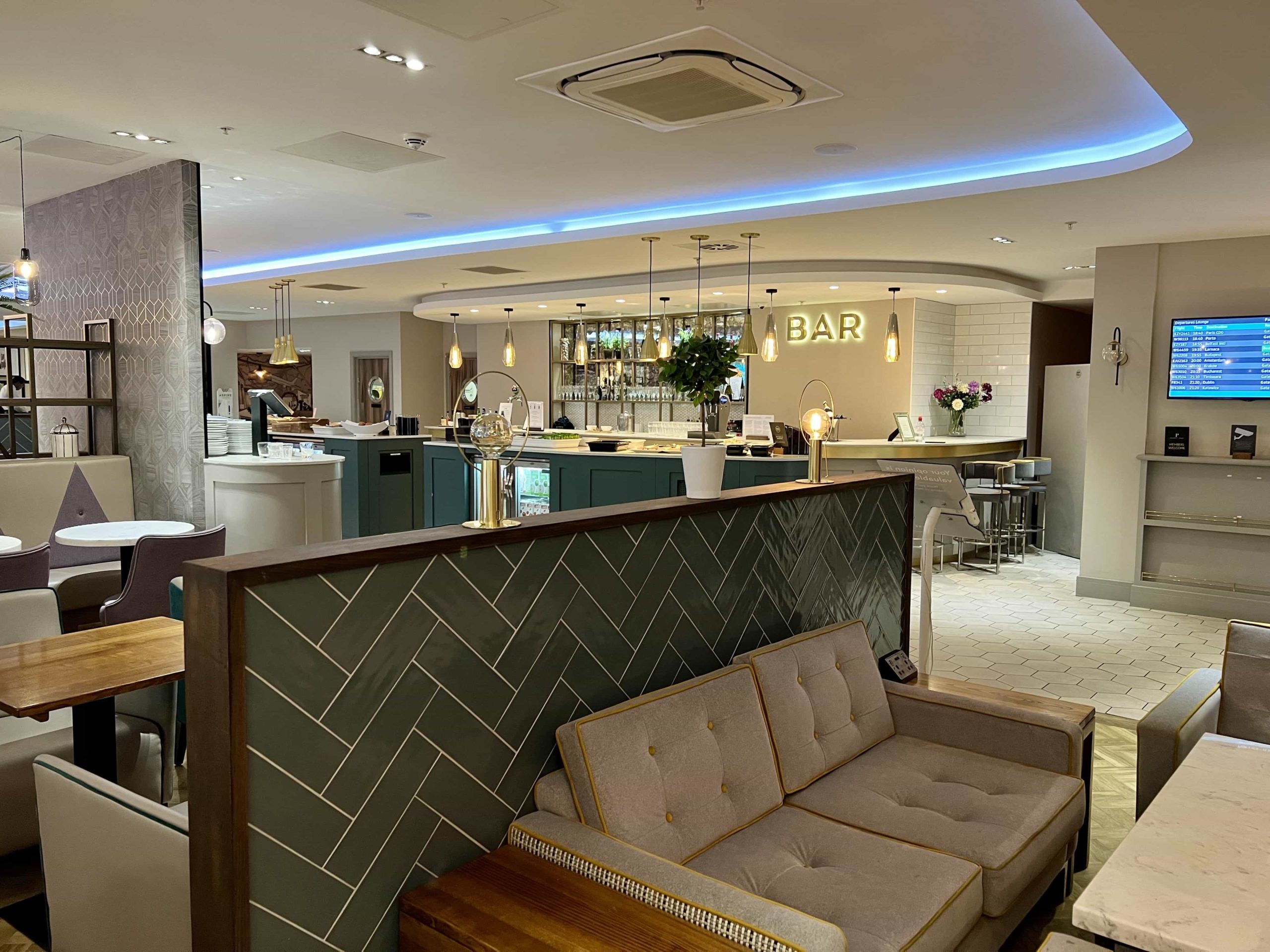 I'm being very picky here, but there's something about the layout which doesn't feel as homely — probably because it's larger and more open-plan. This is necessary in order to accommodate an adequate amount of seating, because as I mentioned, it's typically quite a busy lounge.
Unfortunately this means that in some areas you're shoulder-to-shoulder with other guests. The dining area is most compromised in this respect, while the casual seating offers a decent amount of personal space.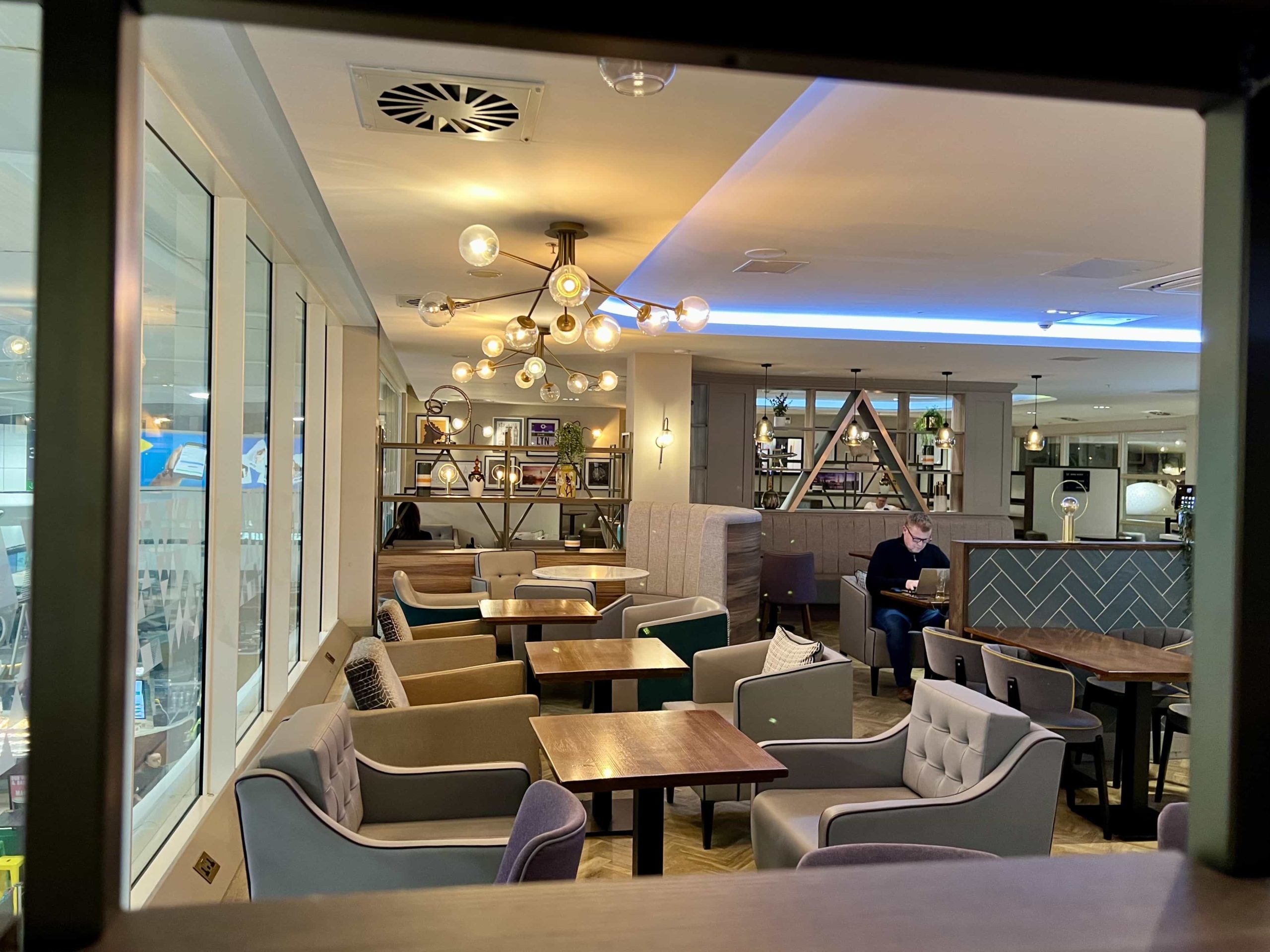 It's not entirely open-plan, there's a good amount of separation provided by partition walls, but they don't do much to dampen or block the sound of noisy guests — I often struggle to find peace and quiet in this lounge.
Frustratingly, this is true even in the designated "quiet zone". Although it's tucked away and quite isolated from the rest of the lounge, I've sometimes found that guests ignore the signage and make phone calls from this area.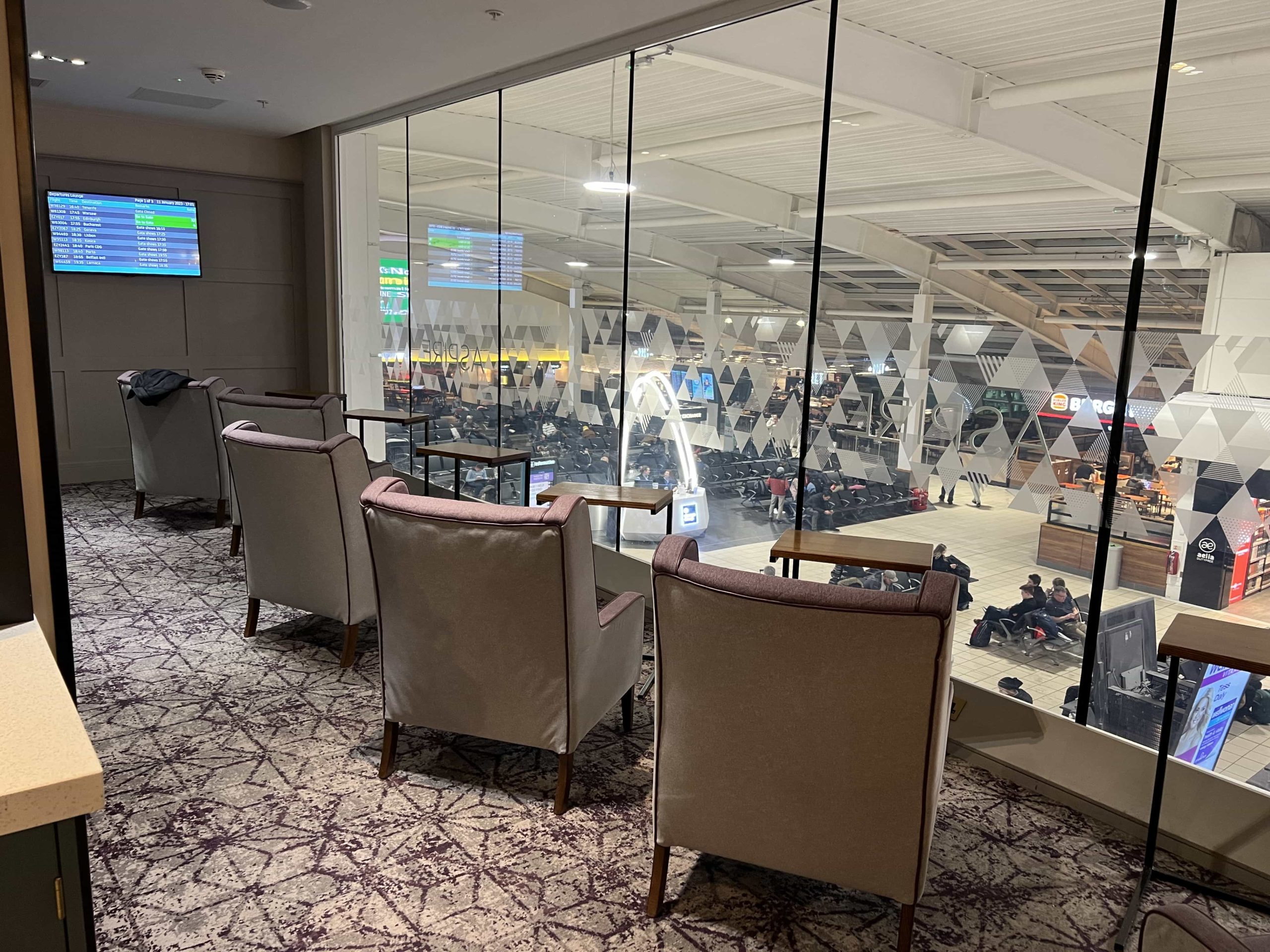 Otherwise, this is my favourite area of the lounge as it can be quite relaxing, and is fronted by floor-to-ceiling windows which overlook the concourse below. These windows extend the length of the lounge, so no matter where you're seated, you can look down over the busy departures area and contemplate whether the entry fee was money well spent. It's a shame there's no outside views, but the windows still help to create an airy and open feeling.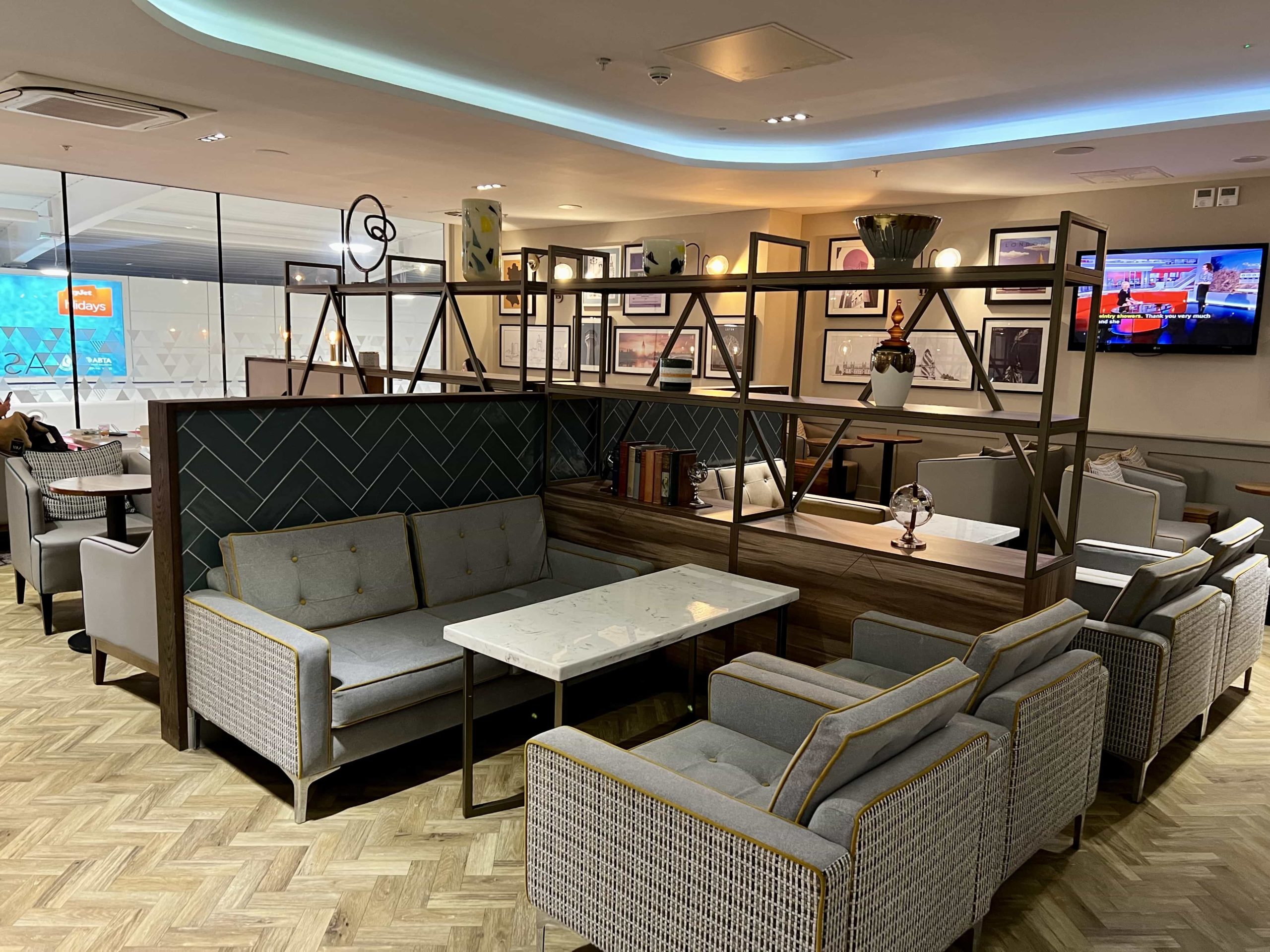 The quality of seating throughout the lounge is good, with comfortable options everywhere you look. It's generally very plush and gives the impression that some real money has been spent. The far side of the lounge is the best bet for families, as you'll find tables with seating arranged for groups of four, with plenty of space.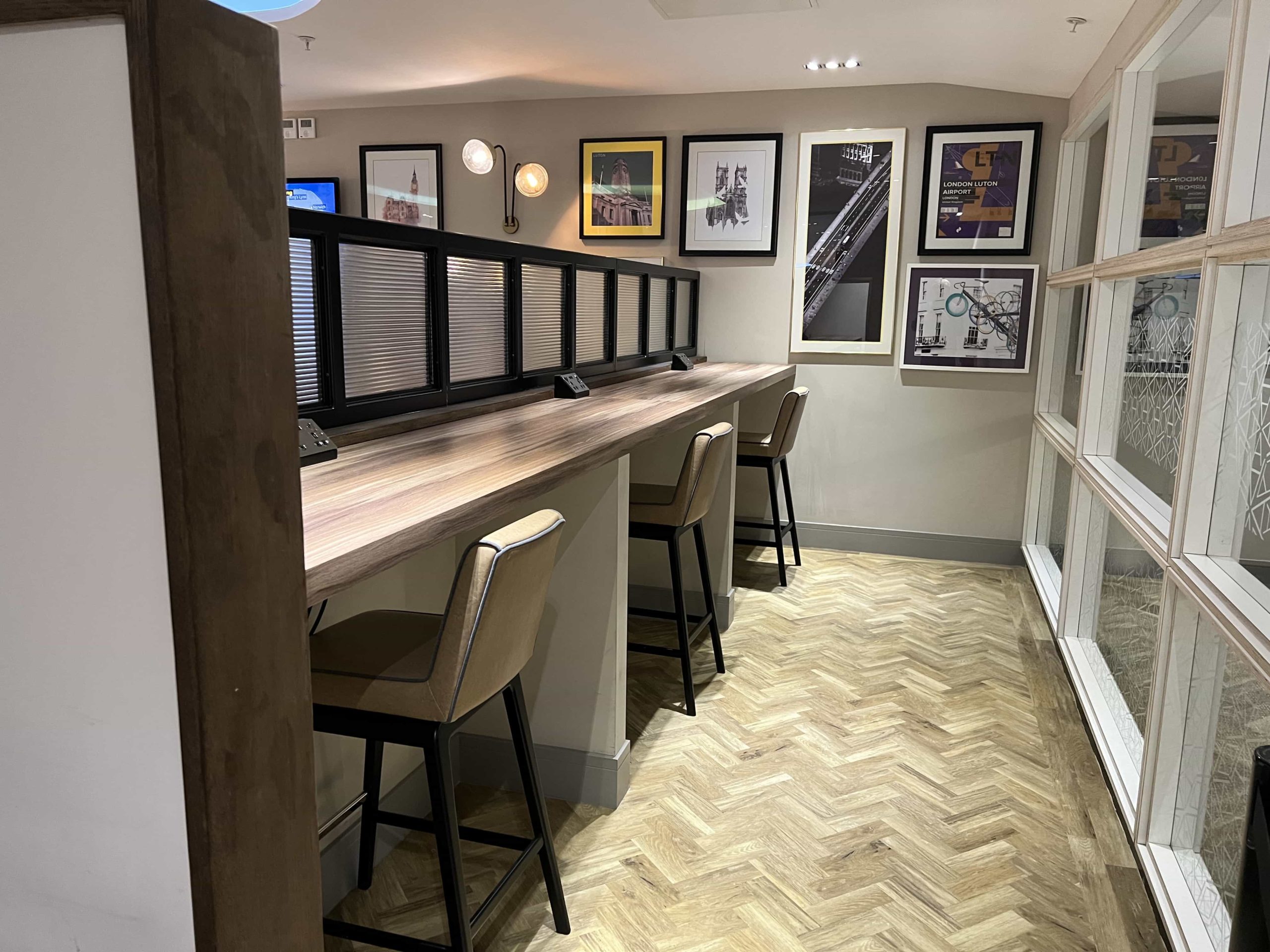 If you need somewhere to work from, there's also a workstation area over this side, nestled in the corner. It's a simple setup: just a couple of countertops either side of a privacy divider, with three barstools per side (each equipped with sockets and USBs). I like it though, because it's located in one of the few areas which is a true escape from the noise of the lounge.
If you're looking to sleep, you might assume you're out of luck, but worry not: there's three sleep pods! I'm always pleasantly surprised when I discover these aren't fully occupied, and they're usually not.
Located in a dedicated room behind the already quiet workstation area, these pods offer some real tranquility — only occasionally disturbed by the slightly clunky glass sliding door. I vaguely remember they've got some built-in electronics, presumably for massage functionality and such, but I never bothered with this.
Food & drink
In the middle of the lounge is the buffet area. There's a lot of space dedicated to this setup, and most of the food is on an island which can be accessed from two sides, so it doesn't get crowded. The food is nicely presented, and the area is kept tidy.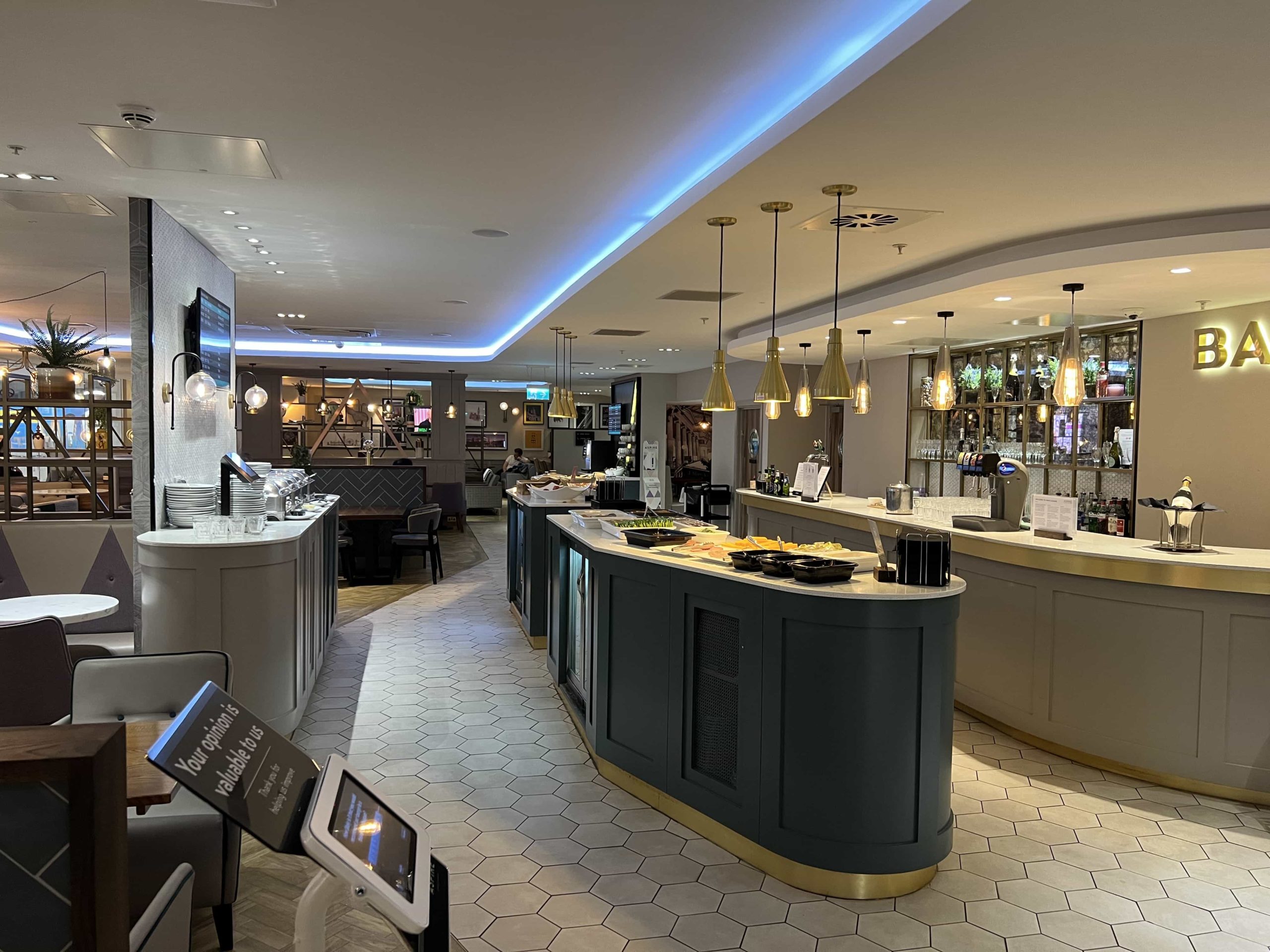 Unfortunately, when it comes to hot food, it's the usual fare of bland, easily-prepared, scalable lounge staples; namely pasta, curries, rice, potatoes, and some kind of meat. I generally find sausages and mash is the least offensive option, and the vegetable samosas aren't too bad either, but otherwise it's food to quell an appetite, not to enjoy. It's also not restocked regularly enough, so often runs out.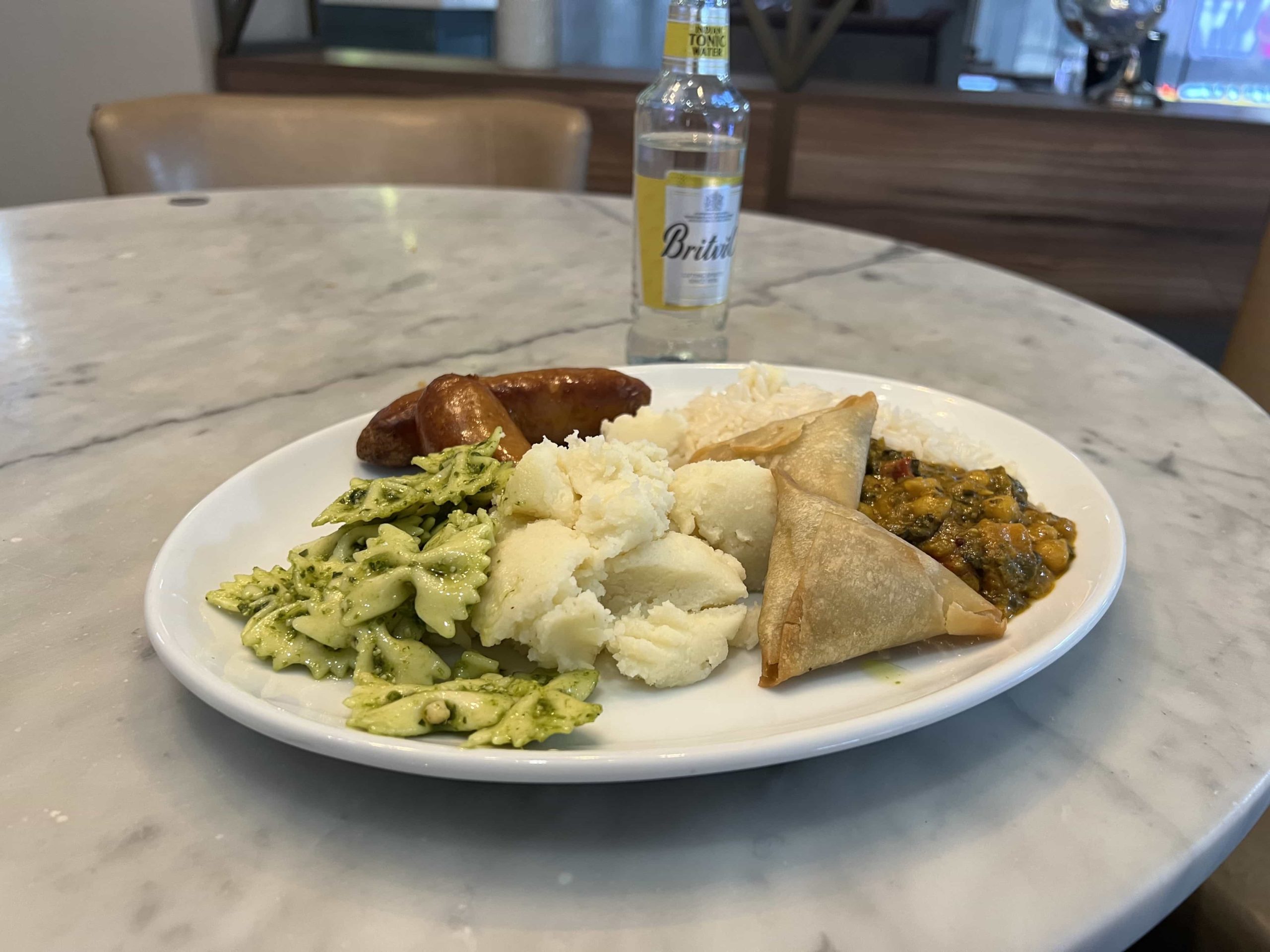 I feel like a broken record complaining about the food selection served by independent lounge brands, but I stand by my criticism. A few years ago, when lounges weren't so expensive, the food options were passable but these days when you're paying almost £40, it's a bit insulting, and cheapens what is sold as a luxurious experience. It's the main reason I'd almost never pay for entry to a lounge.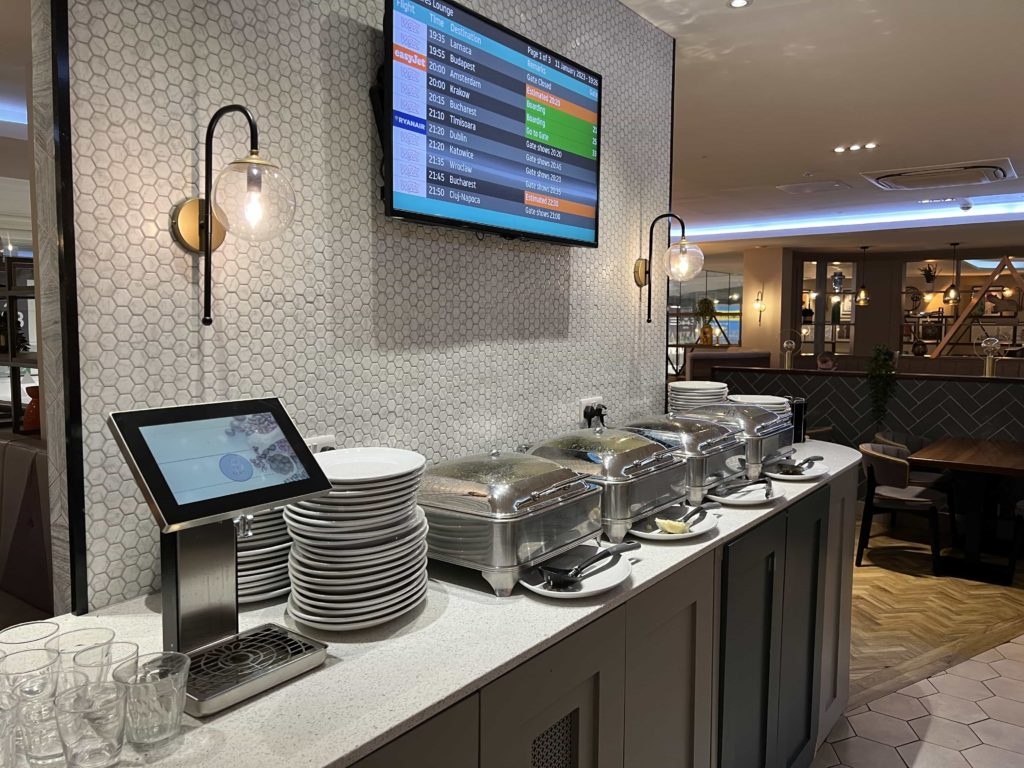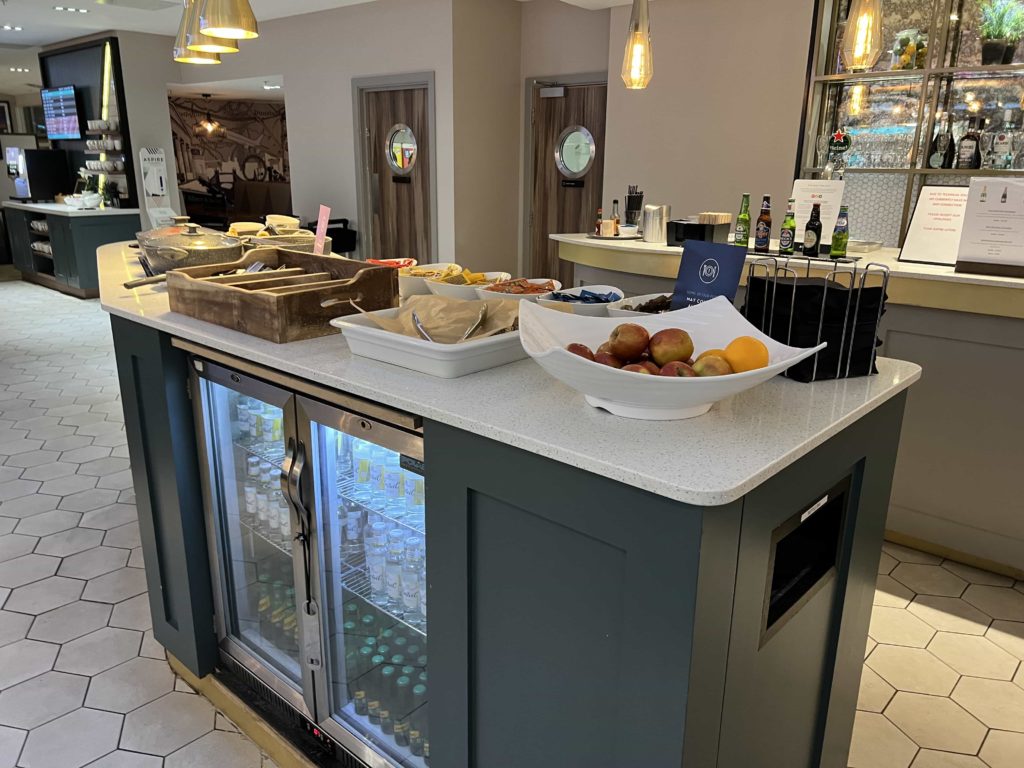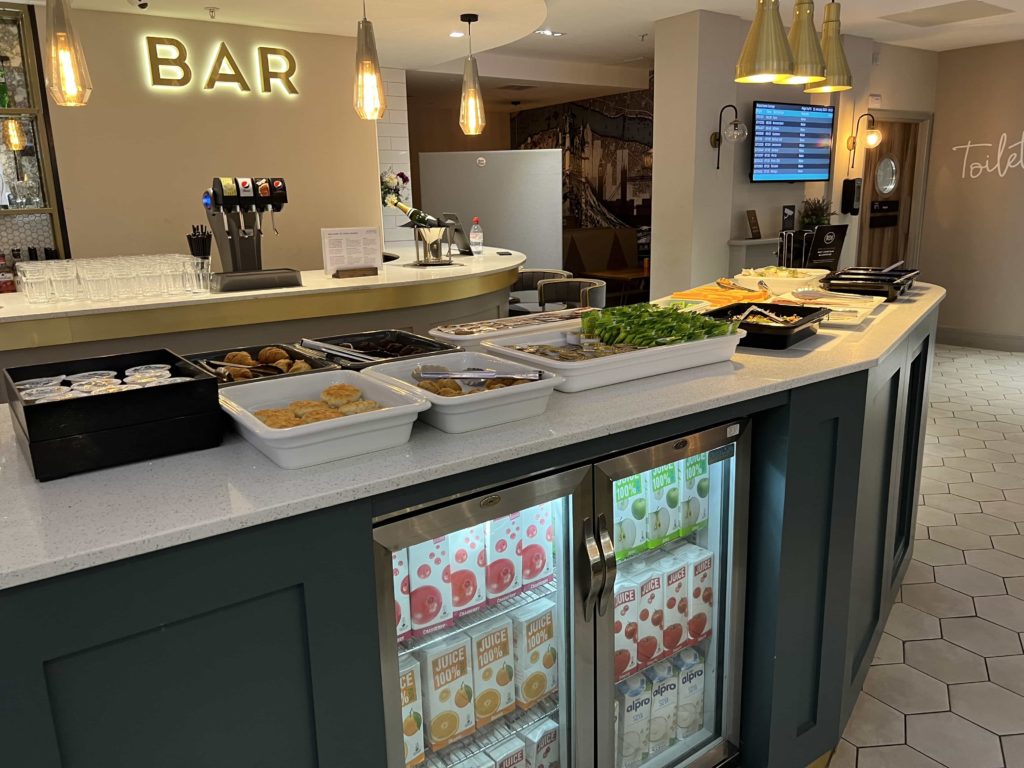 Salad options include cold cut meats, cheeses, and pastas. There's also pastries, cakes and scones, with clotted cream and jam — a signature feature of Aspire Lounges, which I quite enjoy.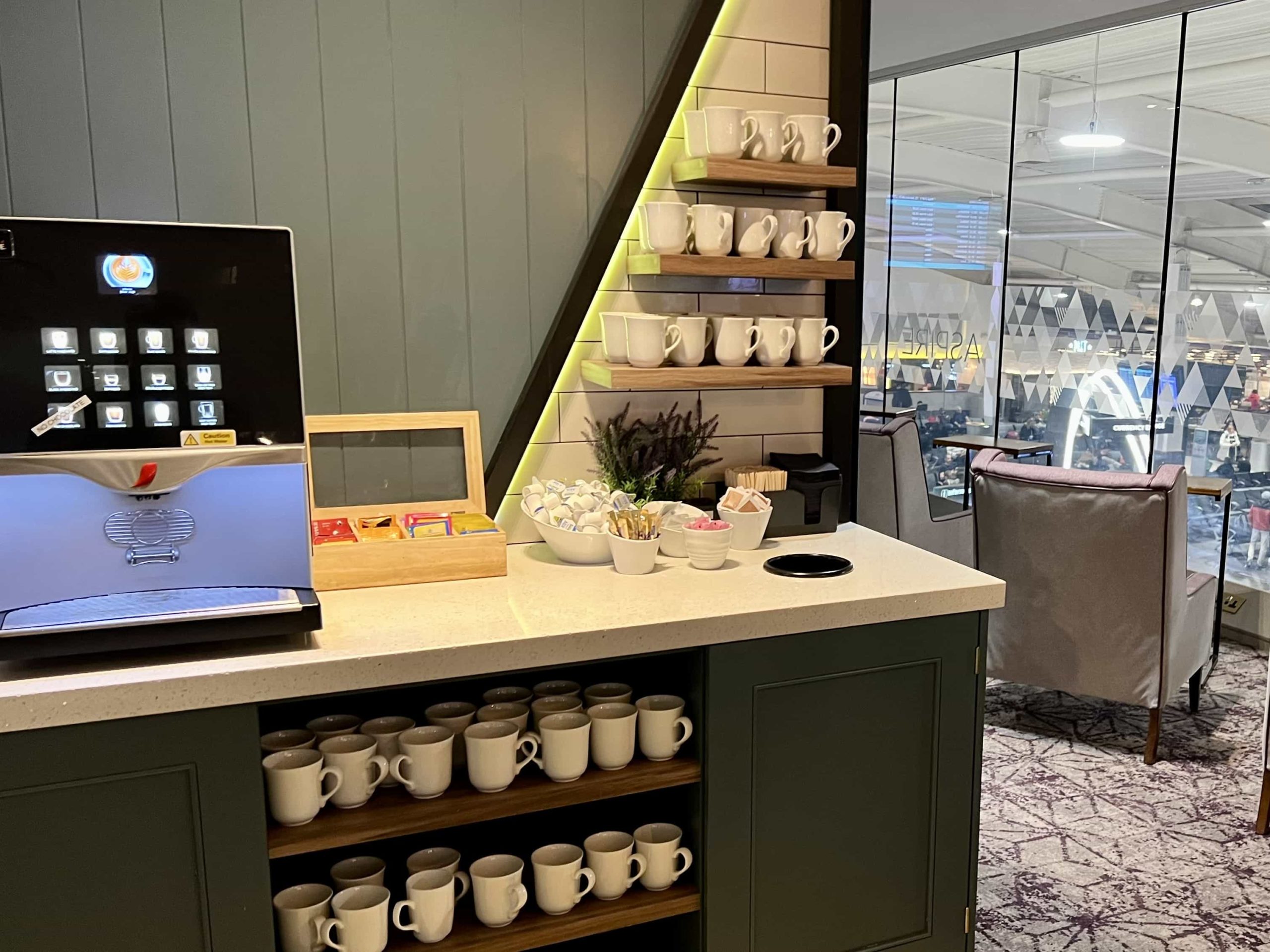 Drinks-wise, I don't have any complaints. There's a couple of fridges which are well-stocked with fruit juices, Schweppes, and Fever-Tree. Pepsi, Tango, and lemonade can be found at the soft drinks dispenser, and there are two coffee machines at either side of the food and drinks area.
Of course, there's also the bar setup, which guests report has a good selection of beers, wines, and spirits. Be prepared to wait, as it seems service can be slow. I suspect this is indicative of a wider understaffing issue, which would also explain my check-in experience.
Anything else to note?
Following my frosty check-in experience, my perception of the staff wasn't improved when I had to ask about Wi-Fi. I was brushed off with a mumbled "not working", and the staff member immediately turned away as if I was a nuisance. It's alarming how many online reviews mention an almost identical scenario. If they are so fed up with people asking, why don't they put a sign up to say the Wi-Fi is out of order?
Apparently this has been the case for a number of months now, which is a major inconvenience since mobile data coverage is very poor. There's a few spots where I could get signal with EE and Three, but no more than one bar of weak service. The airport Wi-Fi is similarly unreliable.
Fortunately, socket coverage is better, with most seats able to access a power source. I also like that there are three departures boards, conveniently dotted around the lounge.
Shower usage is available for an extra charge of £15. Relative to other lounges, this price is reasonable, although personally I'd only use it out of necessity having not been overly impressed by the upkeep of the toilet facilities. That said, it's a rare amenity to find in a lounge like this, so I'll give some credit.
Conclusion
Based on what I've mentioned, you might expect me to conclude that I don't like this lounge.
Although the noisy, echoey environment, and poor attitude of staff mean that this lounge is nowhere near as polished as its Edinburgh Airport equivalent, I actually do rate it as an overall package.
It's certainly not perfect, but for a low-cost airport, I think it's quite compelling. It's dramatically better than the Escape Lounge at Stansted Airport, for example, and it's a lounge that I'm glad exists because it elevates Luton Airport to somewhere that I'm quite happy to visit.
There's a handful of genuine positives too: the look and feel is nice, the seating options are comfortable, and there's some nice amenities like sleeping pods and showers.
While I always struggle to recommend paying for lounges — *cough* mediocre food options *cough* — Priority Pass members with complimentary access are likely to be satisfied.
It's a lounge that could be so much more with a few improvements in key areas, but which nonetheless still serves Luton Airport very well.