I don't always review the lounges I visit. Sometimes they've been covered extensively by other reviewers, and other times they're uninteresting, or just so poor that I'd feel uninspired to write about them.
My reason for not immediately writing a review about this lounge was less considered: basically I was sleep deprived, and just wanted to relax. A few months later though, I discovered that online coverage of this lounge is quite sparse, since it only opened in 2022. The fact that I remained oblivious to this until afterwards might give you a hint about where this review is heading.
Kraków Airport used to have two lounges, but this new one consolidates the two, serving passengers of both Schengen and non-Schengen flights. The old ones were notoriously busy, thus, the new lounge faces a significant challenge. Fortunately, at 850sq.m, it's got plenty of space in which to deliver.
Access
The lounge can be accessed by anyone, regardless of airline or cabin class. Paid entry is priced at 180 PLN (around £35), which allows a stay of three hours before your scheduled departure time.
Complimentary access to this lounge is provided to business class travellers and those with frequent flyer status across multiple airlines. Holders of lounge membership programs like Priority Pass and Dragon Pass also have access.
The Kraków Airport website has a handy tool for determining whether you're eligible for complimentary or paid access. Scroll down to the bottom of this page to find it.
Where is the lounge?
The lounge is very easy to find thanks to "Business Lounge" signage which directs you from duty free towards gate 2, opposite which the lounge is located.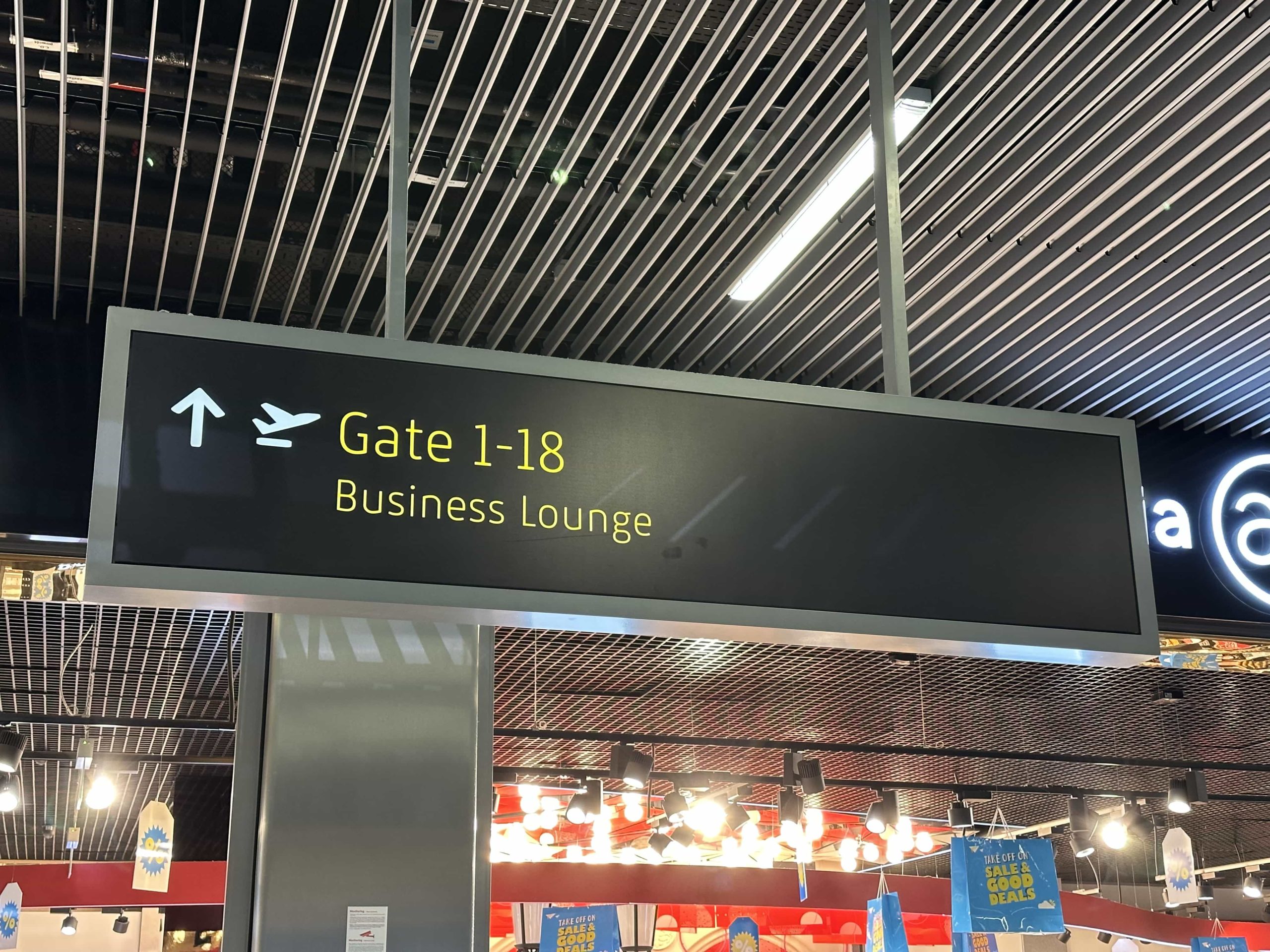 Upon arrival, one might assume it's closed, because there's white film covering the windows so you can't see in or out. This is an odd decision, as it resembles a high street shop which has gone out of business. It may be an attempt to create a sense of privacy and exclusivity, but it ultimately renders the lounge uninviting and claustrophobic. Surely it would benefit them to open this up, in order to entice potential customers in?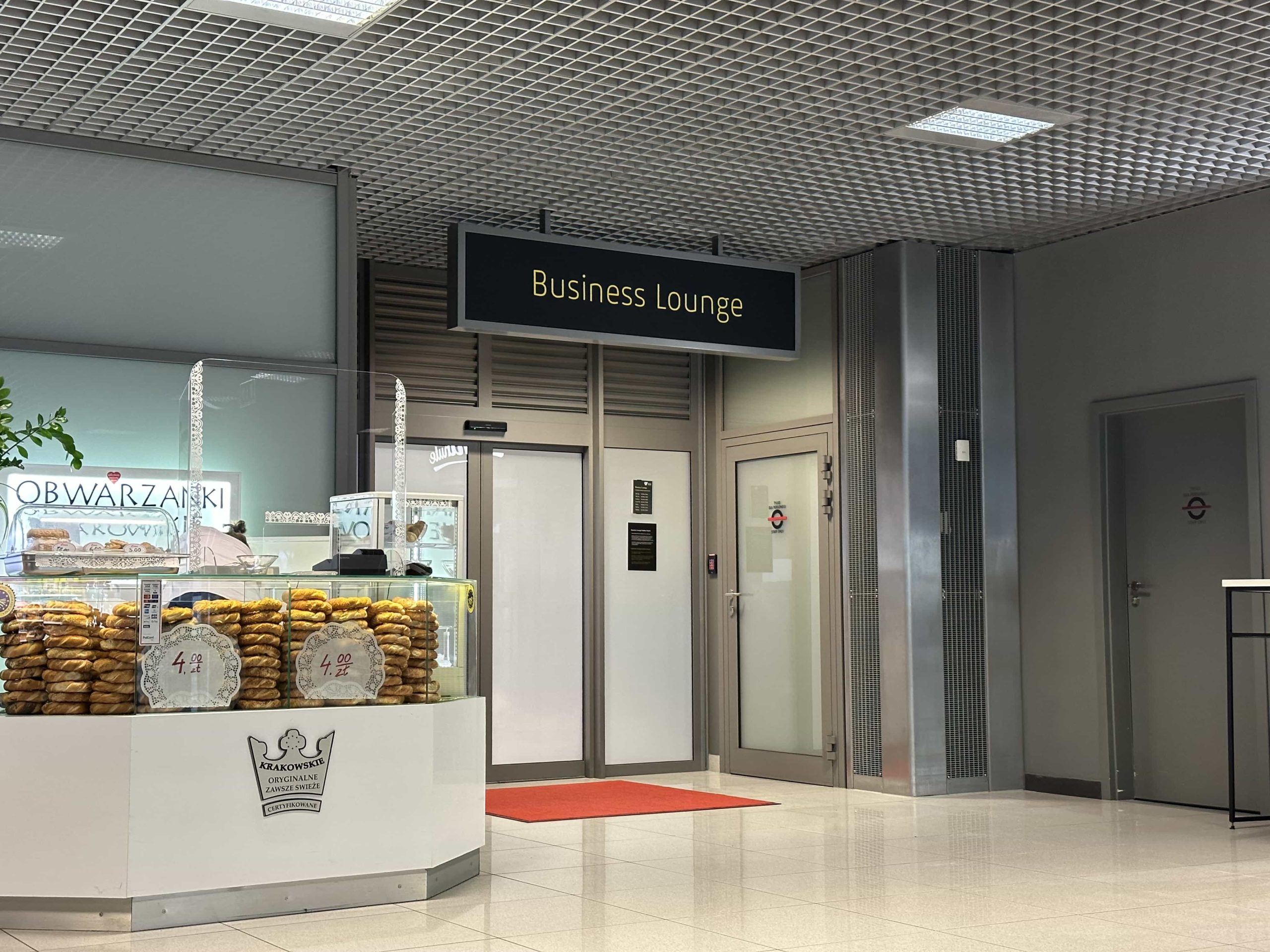 As the lounge is situated outside the non-Schengen zone, make sure to allocate sufficient time to clear passport control if your flight departs from one of these gates.
Check-in and first impressions
Check-in was a pleasant experience thanks to a courteous receptionist who welcomed me to the lounge. He kindly provided an overview of the lounge's amenities and mentioned that the main area could be found downstairs.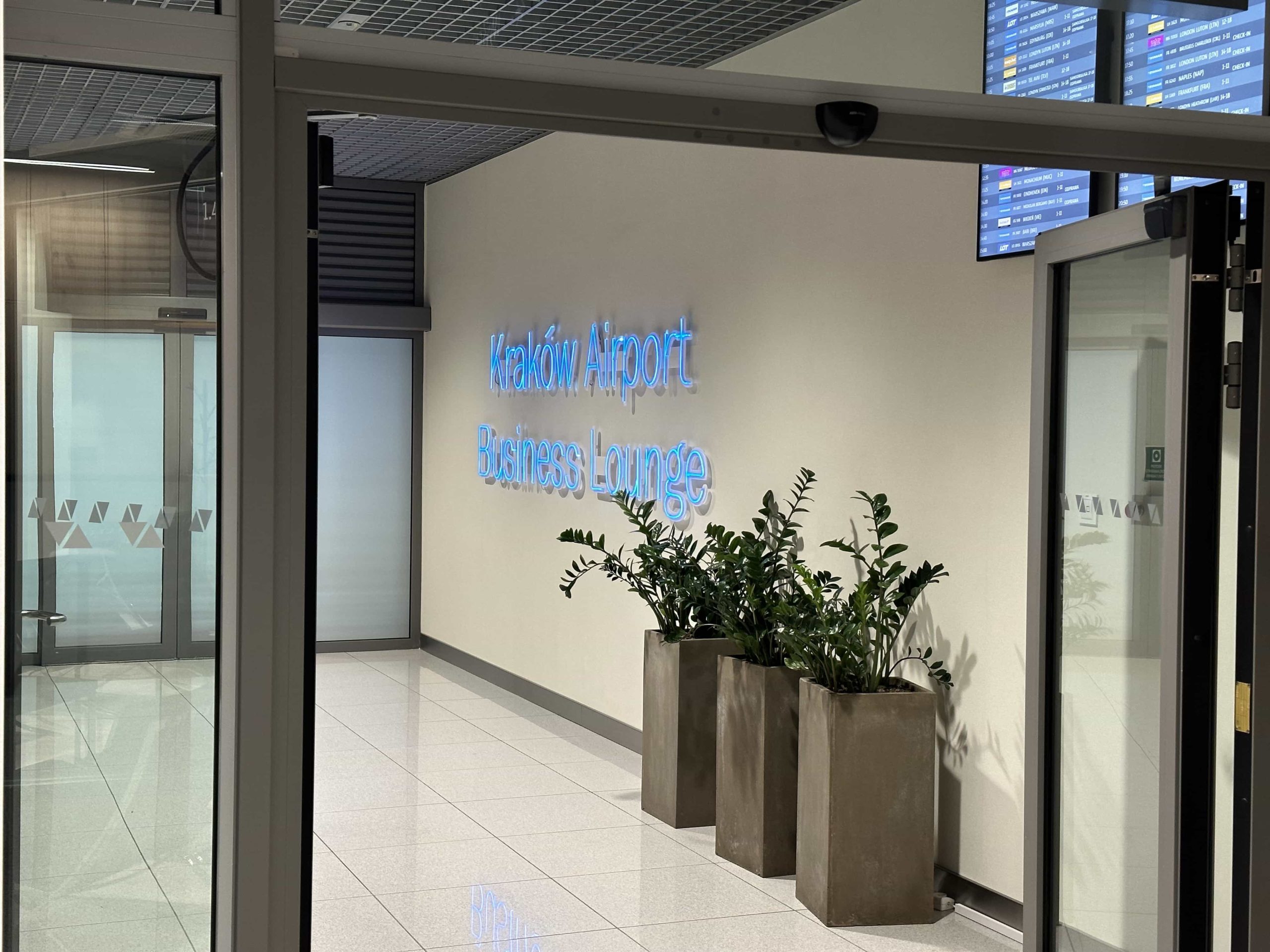 Walking in, my immediate impression was "wow, this is a very clinical environment". Everything from the basic furnishings, to the formal furniture and the way it's arranged, it's all very uninspired.
A warm, inviting colour scheme could have lifted things, but rather, black and white, with touches of bright blue do nothing in this regard. In addition, the bright and harsh spotlights attempt to compensate for the absence of natural light but instead intensify the stark and sterile ambiance.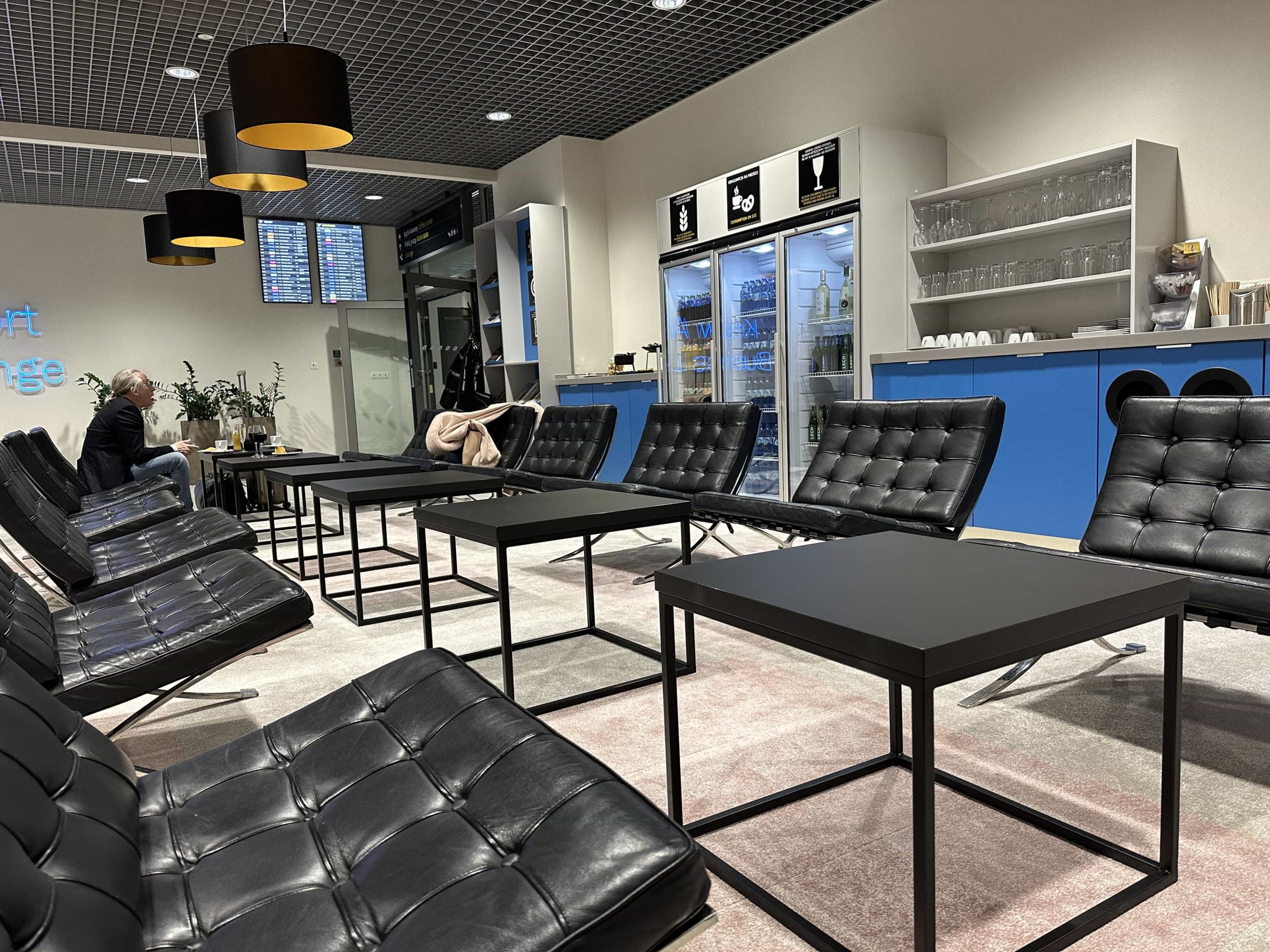 The ambience isn't helped by the rules and information plastered all over the walls. Seriously, there are random signs everywhere. I did appreciate the drinks fridges and availability of light snacks, which were all immaculately presented, but overall, this wasn't a space I wanted to spend any time — it was just too austere.
Work area
Moving into the next room, at first I thought I'd entered a staff-only back corridor. Which brings me onto my next observation: and that is how the lounge feels shoehorned in. It's very clearly working within the constraints of repurposed space in the terminal which previously served some other function. This is apparent in the fixtures, and also in terms of the layout.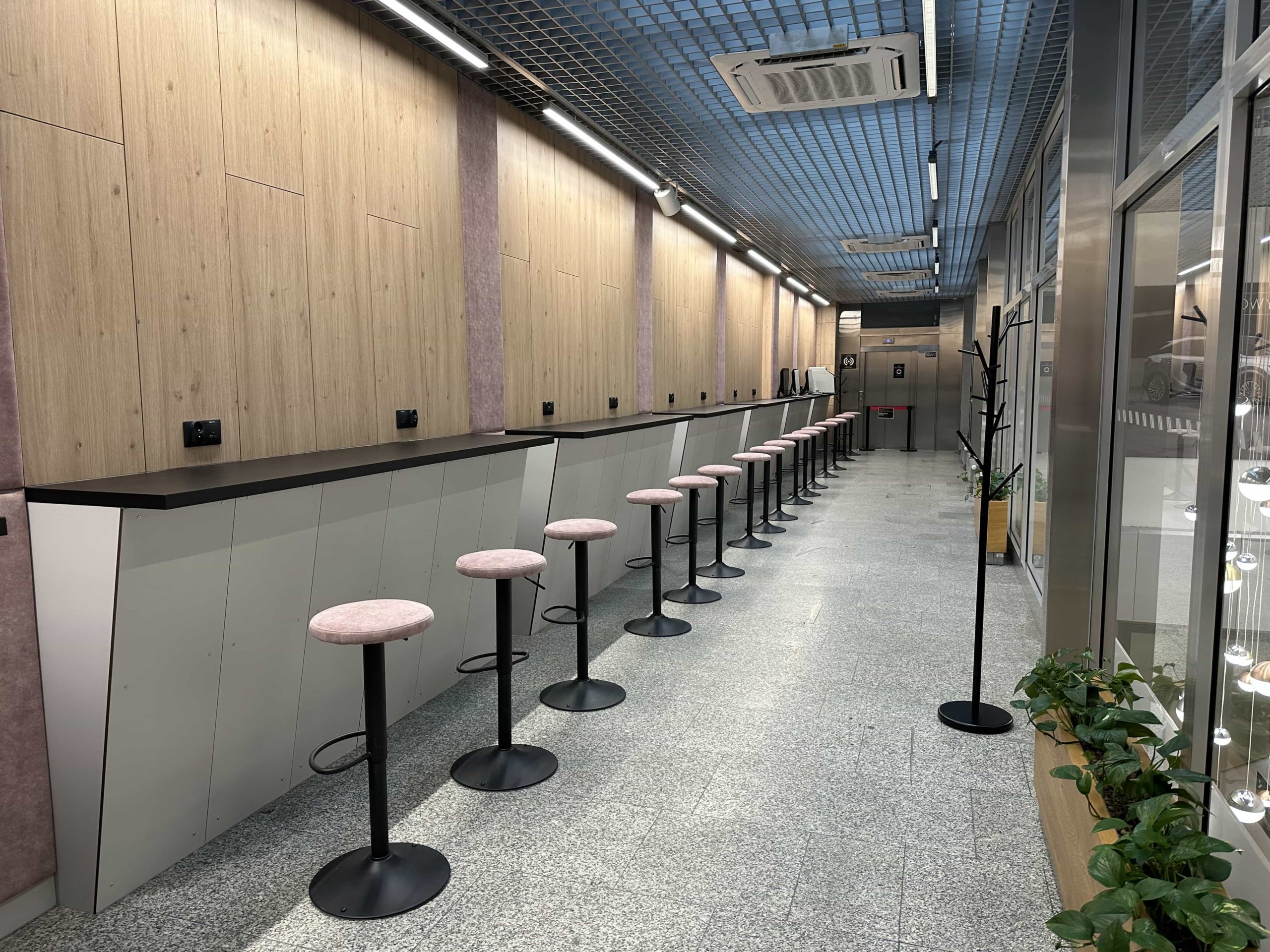 For example, the space I was in was the work area, comprised of a long lineup of workstations, each with a bar stool and sockets. This is situated in a corridor which leads to nowhere, hence my observation.
Even ignoring the location, it's not somewhere I'd enjoy working from; the countertop space is cramped, the barstools provide no back support, and you're facing a featureless wall. Moreover, I suspect that the hard surfaces mean that this area could get quite noisy — despite being secluded from the rest of the lounge.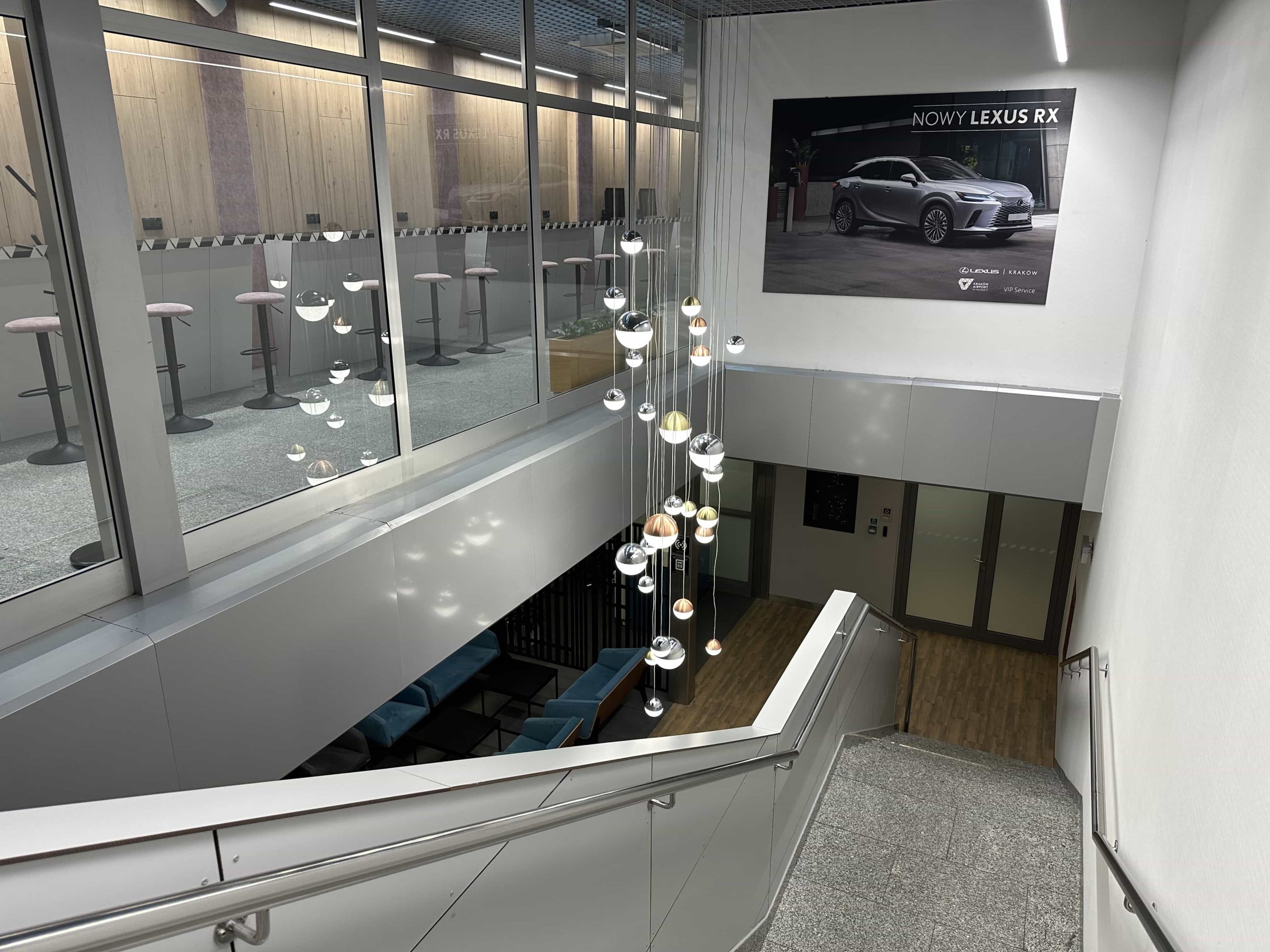 So, still in search of somewhere more hospitable, I headed downstairs. On my way down, the large Lexus billboard made the feeling of two spaces clashing into one even more pronounced. I'm assuming this is a remnant from whatever function the space used to serve, but it should have been removed when the area was adapted.
Main lounge area
At the bottom of the stairs, things start to improve. The decor is much more pleasant, featuring wooden flooring, inviting armchairs, tasteful artwork on the walls, and a more soothing shade of blue as the accent color.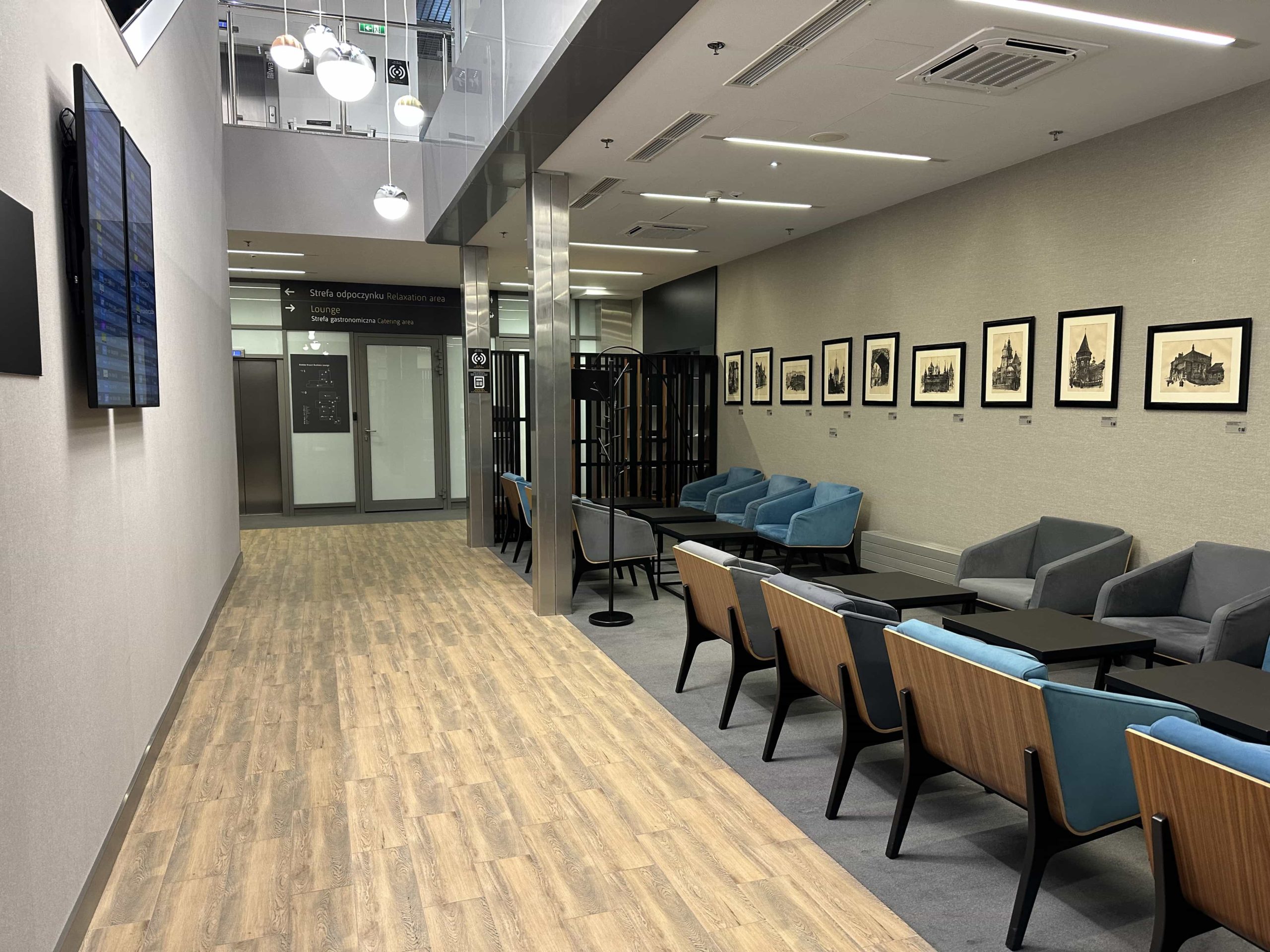 Still, I continued to wonder where the 'actual' lounge was. I felt like I'd passed through a lot of spaces, but hadn't yet come across anything substantial. This area also felt like it would have been better suited as a catering setup, being that it's situated directly in the middle of the lounge, and is easily accessible from everywhere.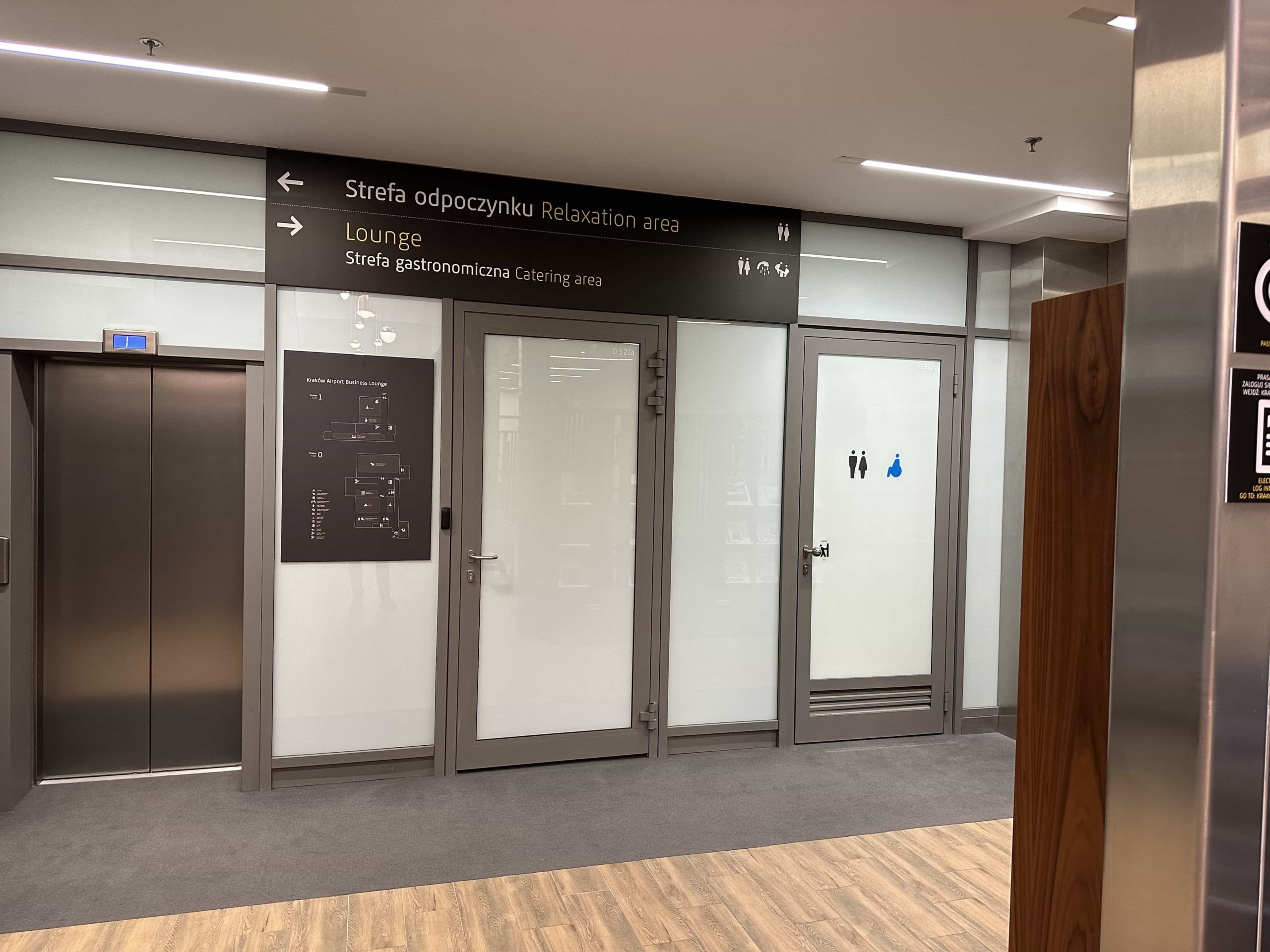 Rather, it feels like another passage, which happens to have seating. As if to confirm my observation, I couldn't help but laugh at the signage on the far side which points to the "Lounge" part of the lounge.
This is where I went next, and finally, some substance! This area is a more conventional arrangement: a square room consisting of a buffet setup, and casual seating. Surprisingly, there are lots of coffee tables, but very few dining tables. This became less surprising once I assessed the food options — more on that shortly.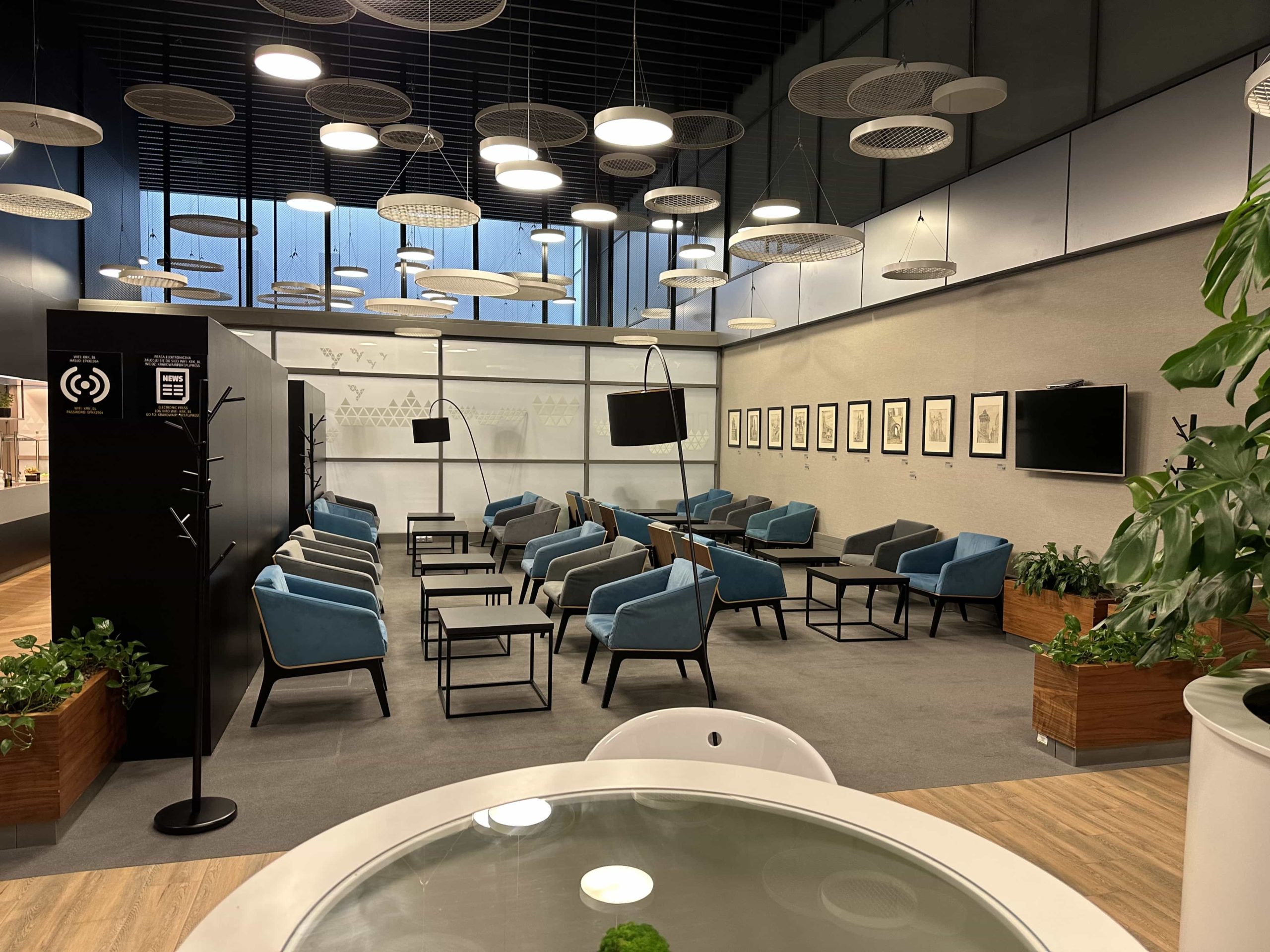 This is a double-height space with windows on one side, which helps mitigate the feeling of being in a basement. Unfortunately, while the windows bring some natural light in, they're more of a skylight since they're quite recessed, and don't provide any views. This is another disadvantage of this location: gone are the tarmac views of the old Schengen-zone lounge.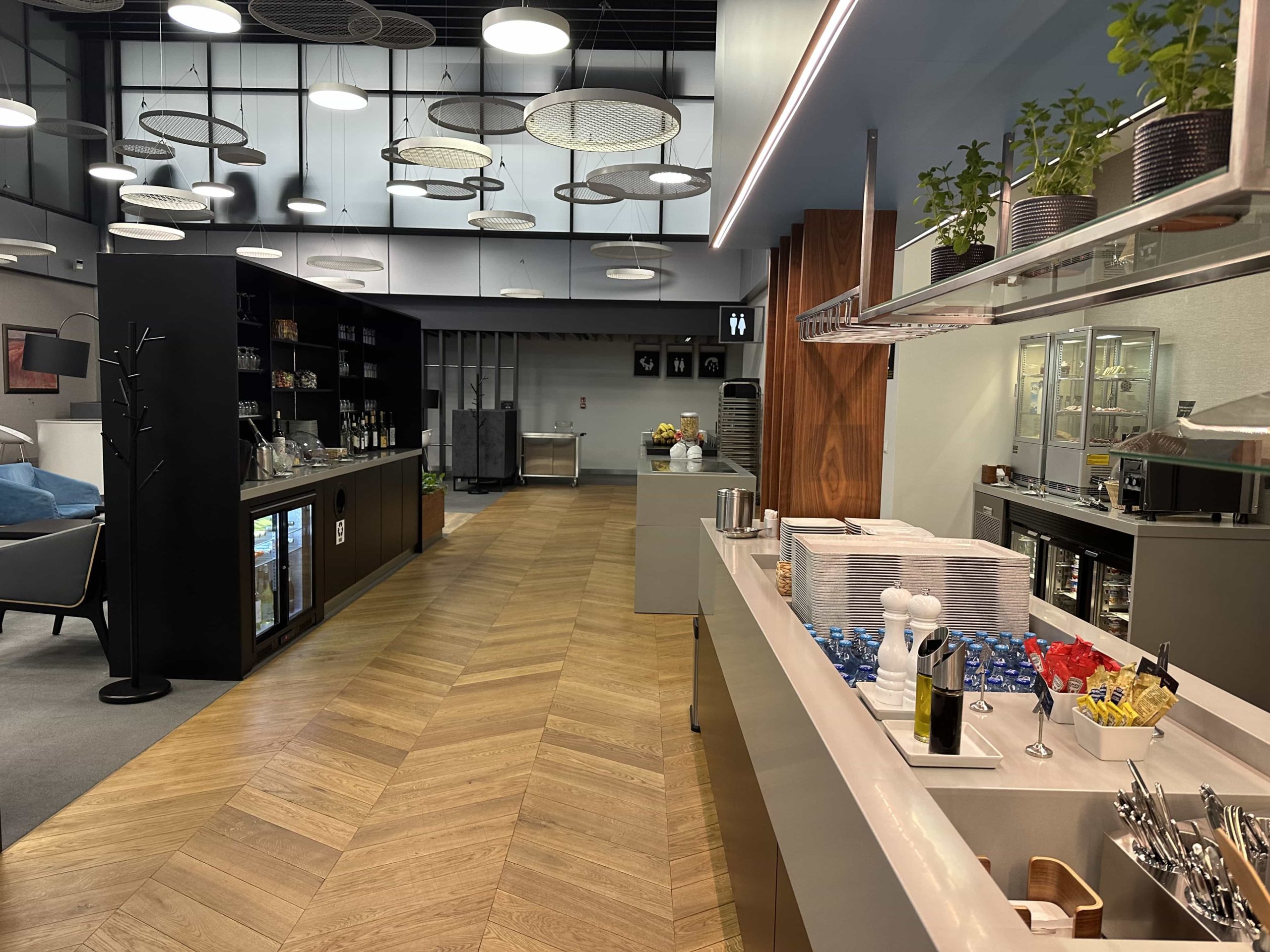 What's really frustrating about this space, is that the workstation corridor I mentioned earlier could easily have been opened up as a mezzanine level, which would have completely transformed the lounge into something very compelling. Instead, the two adjacent areas are completely isolated from one another, and I think this is a huge missed opportunity.
Relaxation area
On the other side of the ground floor is the relaxation area, which I believe to be the most successful space and where I spent the majority of my visit. In addition to the armchairs found elsewhere, there are also reclinable lounge chairs and cozy one and two-person booths, which provide are both lovely options.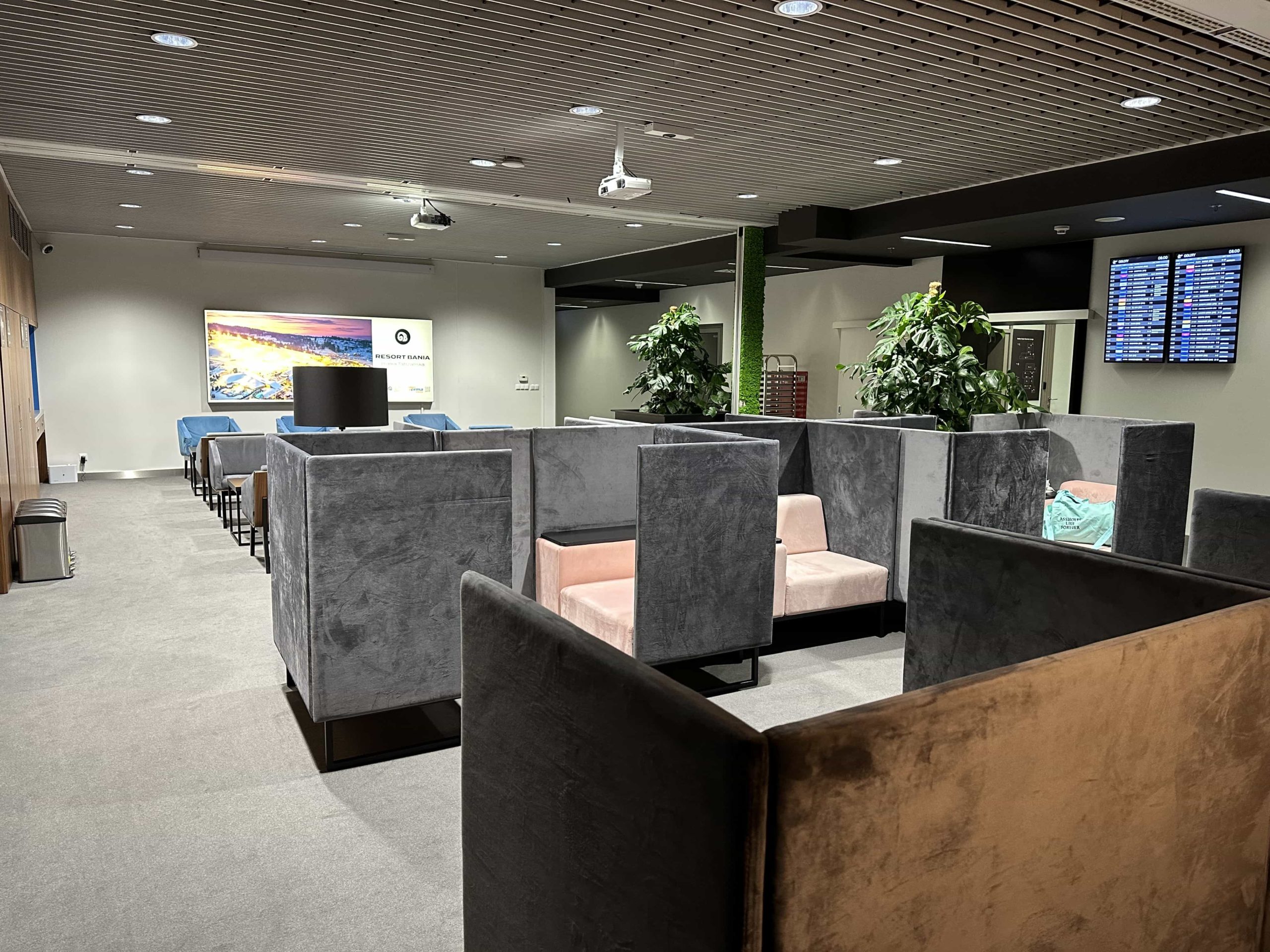 Strangely, bottled drinks are provided — water, 7UP, Schweppes, Pepsi etc. — but unlike elsewhere in the lounge, the ones in this area aren't refrigerated. There are also cloakroom cupboards, but I personally wouldn't feel comfortable leaving my things unattended.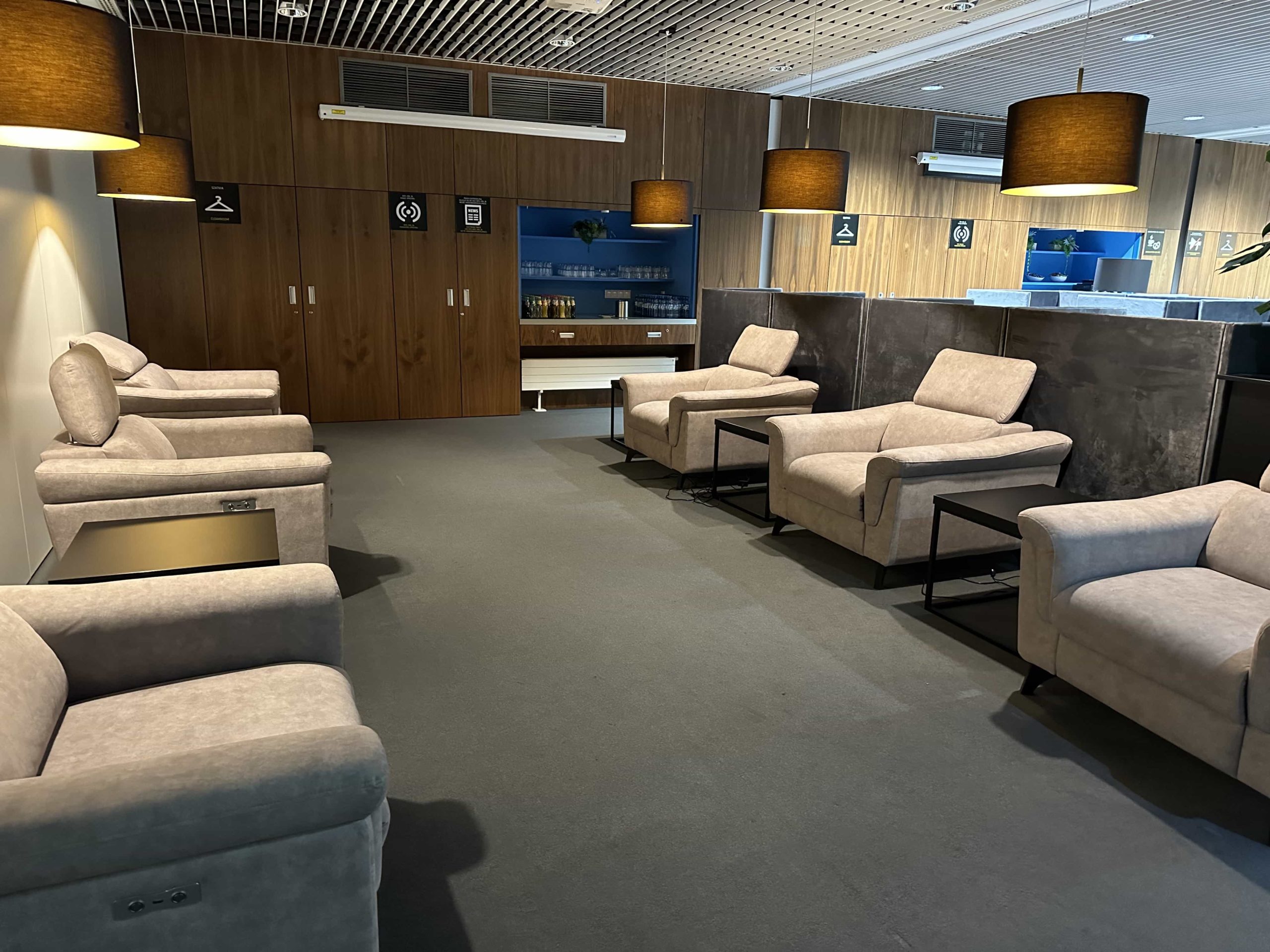 I appreciate how secluded this space is from the noise of the rest of the lounge. Well, I say "noise" — it's probably a good time to mention that I was one of only two people in the entire lounge. As such, it was eerily quiet, with only the mechanical whir of the air conditioning breaking the silence.
Combined with the harsh, bluish-white spotlights, and the lack of windows, it was oddly unsettling. You'll have to trust me on this, it doesn't come across in the images at all.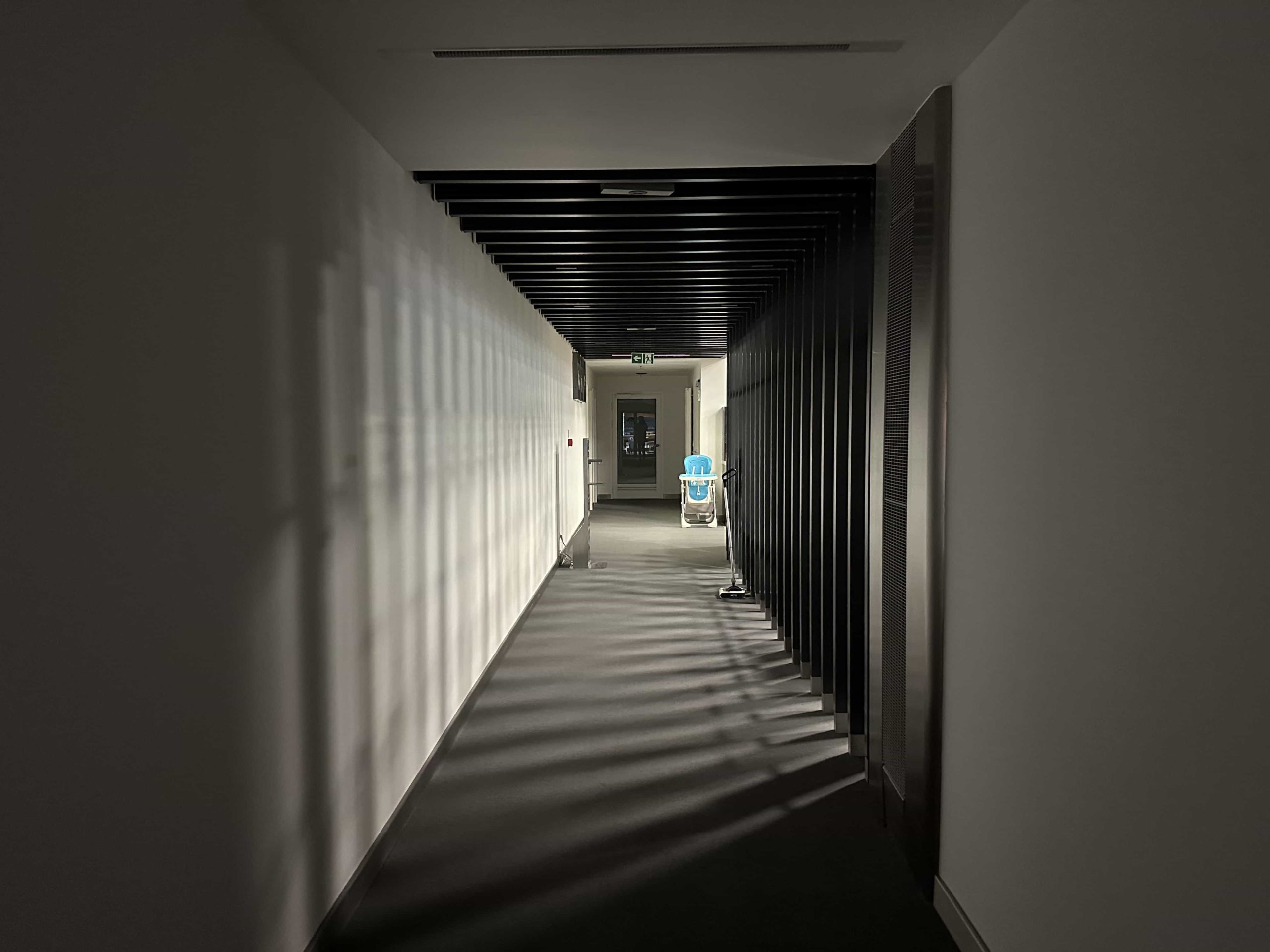 In fact, some areas of the lounge verge on liminal spaces. If you're not familiar with this internet-inspired lingo, that is "places that appear eerie, forlorn, and often surreal". For example, just look at the corridor which leads to the children's playroom. A little creepy, no?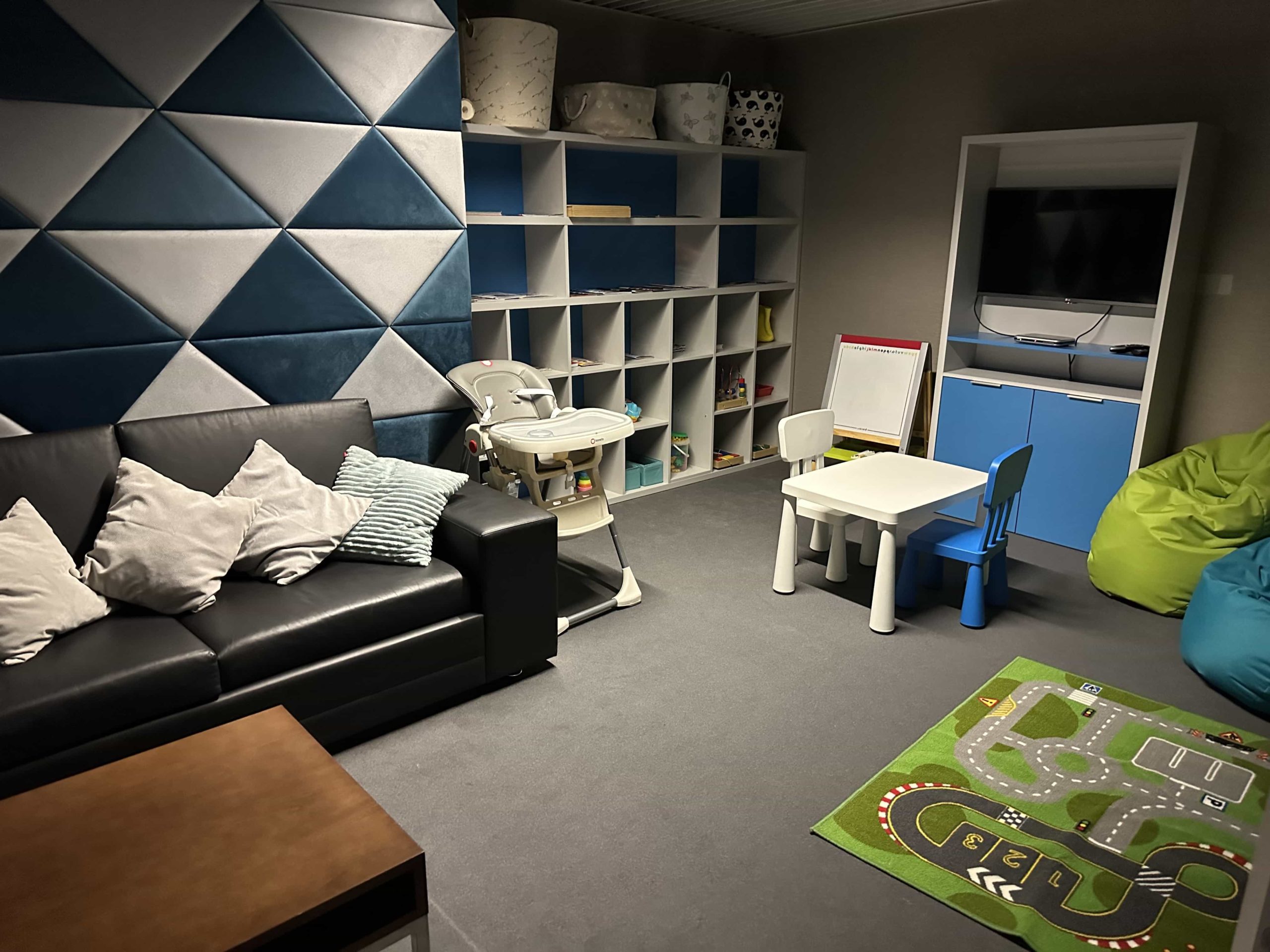 I suspect on any other day, when the lounge is busy, the ambience will feel more 'normal', but there's no doubt that the layout of the lounge is inherently compromised, and the interior design is quite poor in areas.
Food & drink
My biggest issue with this lounge is the food selection. Not just in terms of the options, but also how it's presented in industrial-looking fridges, and sparsely-populated buffet areas. It seems some of this equipment was inherited from the lounges which preceded, and it stands out like a sore thumb.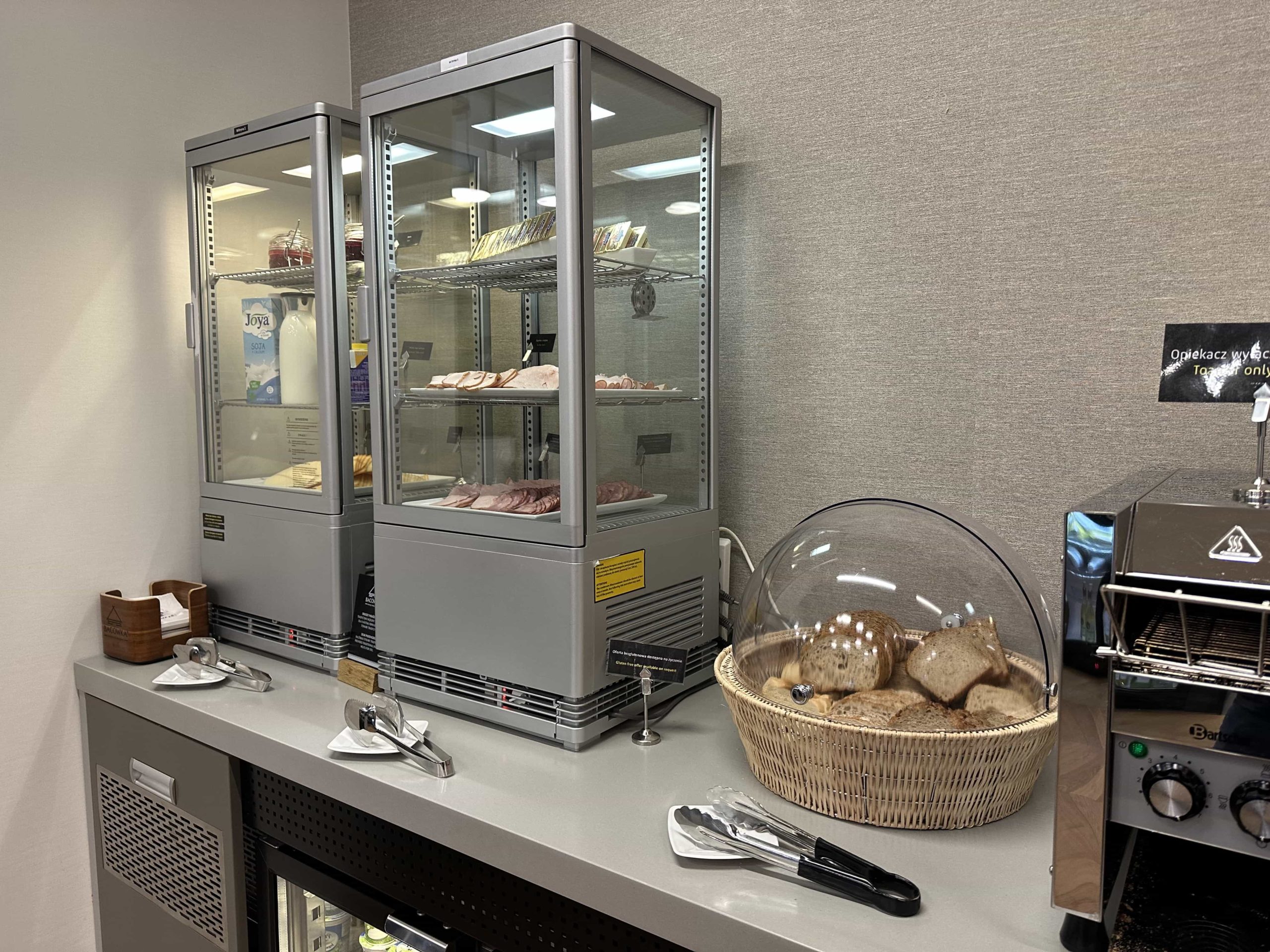 During my visit at 8:30 am, the only breakfast-specific items available were cereal, yogurts, and jam. Otherwise, it was just cold cut smoked meats, cheese, bread, fruit, and a few basic salad items. This was very disappointing, and I had to leave the lounge early to look for food elsewhere.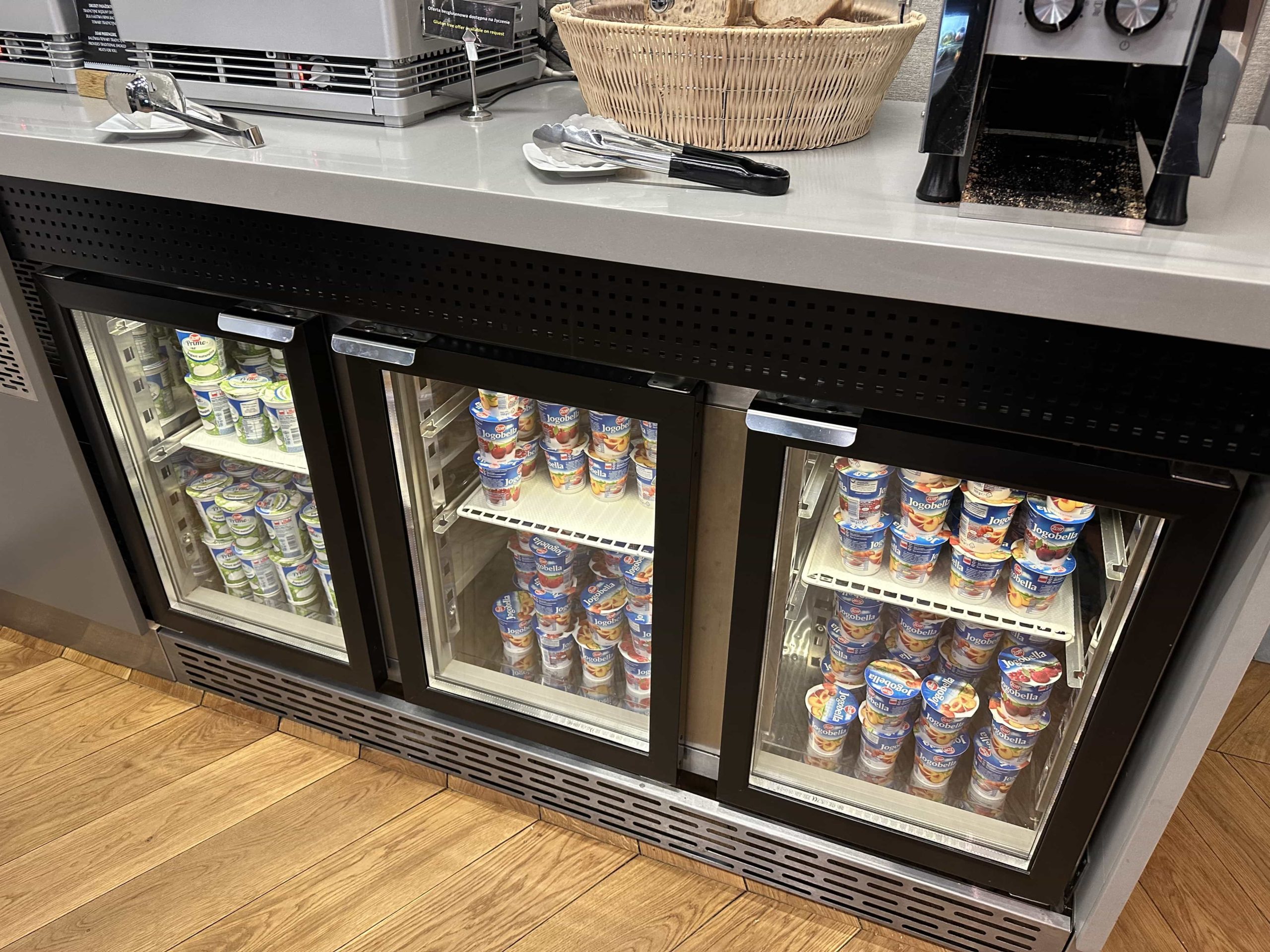 I came across images from a Polish reviewer which showed some fresh and tasty looking pasta and what appeared to be an elaborate take on potato salad. This is presumably the kind of thing you can expect at lunchtime, which still isn't adequate for a lounge of this size, even if the quality is good. Hot food items are not available, even during dinner.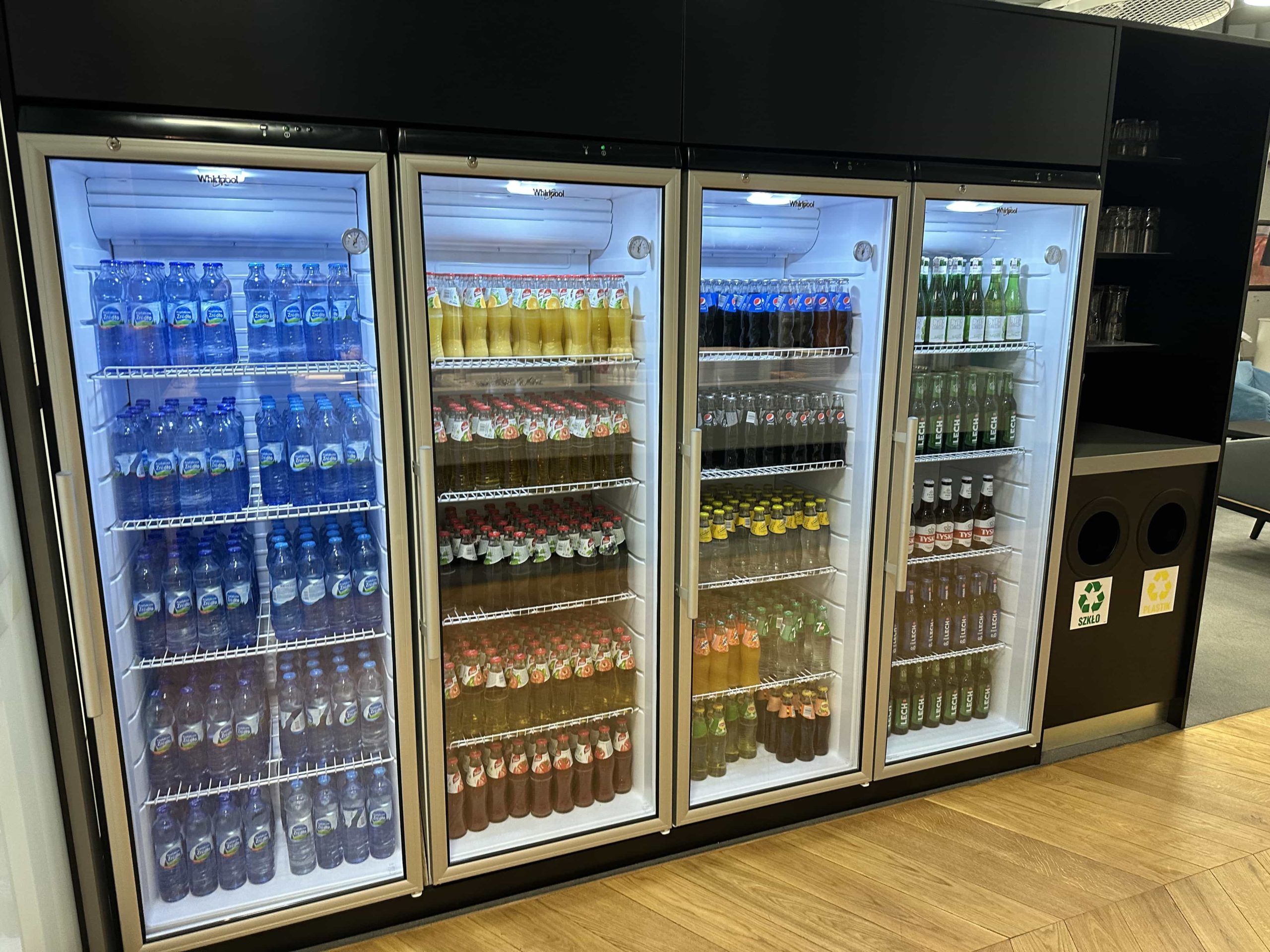 The selection of drinks is better, including a variety of soft drinks, ciders, and beers available from the aforementioned refrigerators. There's also a self-serve bar area with a range of wines and spirits. Coffee machines are available, but they're also not the most up-to-date facilities.
Anything else to note?
Shower facilities are always a welcome amenity, and this lounge has them. Even better, they're available at no extra charge. Unfortunately, there's only one cubicle, so you'll be lucky if it's available during busier times. Towels, shampoo, and shower gel are provided.
I didn't get a chance to check out the shower facilities, but if the bathrooms are any indication, they'll be meticulously clean and tidy. In fact, this holds true for the entire lounge; it's spotlessly clean and very well maintained. Credit to the staff for this, who were also very helpful and attentive during my stay.
Socket coverage is a bit hit and miss. I found an extension lead under my booth, but most other booths didn't have sockets, and it seems most of the lounge hasn't been retrofitted with extra sockets.
Wi-Fi is available, and I measured the download and upload speeds at 8 Mbps and 73 Mbps, respectively. Printing facilities can be found in the work area.
Conclusion
I've talked a lot about the look and feel of this lounge. There's no doubt that shortcuts were taken in repurposing the existing terminal space, which leaves me frustrated, because there was a ton of potential for this lounge.
This, in itself, would not be enough to deter me, but the lack of food options means that the lounge has fallen short in two key areas. If I were a paying customer, this would make me hesitant, because you'll almost certainly want to bring your own food.
Don't write it off completely though, because this is a spacious lounge which offers plenty of personal space and comfortable seating options. If you can ignore the occasionally odd surroundings, you'll find that this is a pleasant lounge in which to relax before a flight.