The Vinga Lounge used to be one of three lounges on offer at Göteborg Landvetter Airport, but since the closure of the BRA Lounge in 2021, it has been the only option for non-Star Alliance passengers, paying customers, and lounge program cardholders. Although Landvetter is a small airport, taking on the responsibility of catering to such a wide range of customers means the Vinga Lounge has a lot to live up to.
Unfortunately, with 2.7 star reviews on Google, and uninspiring imagery in the Priority Pass app, it wasn't looking good for the Vinga Lounge. I'd prepared myself for disappointment, expecting a dated product with little in the way of amenities or comfort. Fortunately however, this was one of those rare occasions where expectations were exceeded. Well… only just, but for me, it was enough to elevate the lounge from somewhere you might want to skip, to somewhere that's pleasant enough for a short visit.
Where is the lounge?
Göteborg Landvetter is a compact, single-terminal airport, so it's no challenge finding this lounge. Once you reach duty free, walk to the far side and you'll emerge in the concourse area between gates 17 and 19. As you walk towards the end of the concourse, you'll find two lounges, above gates 18A-H. There's an SAS lounge on the right, and Vinga is on the left.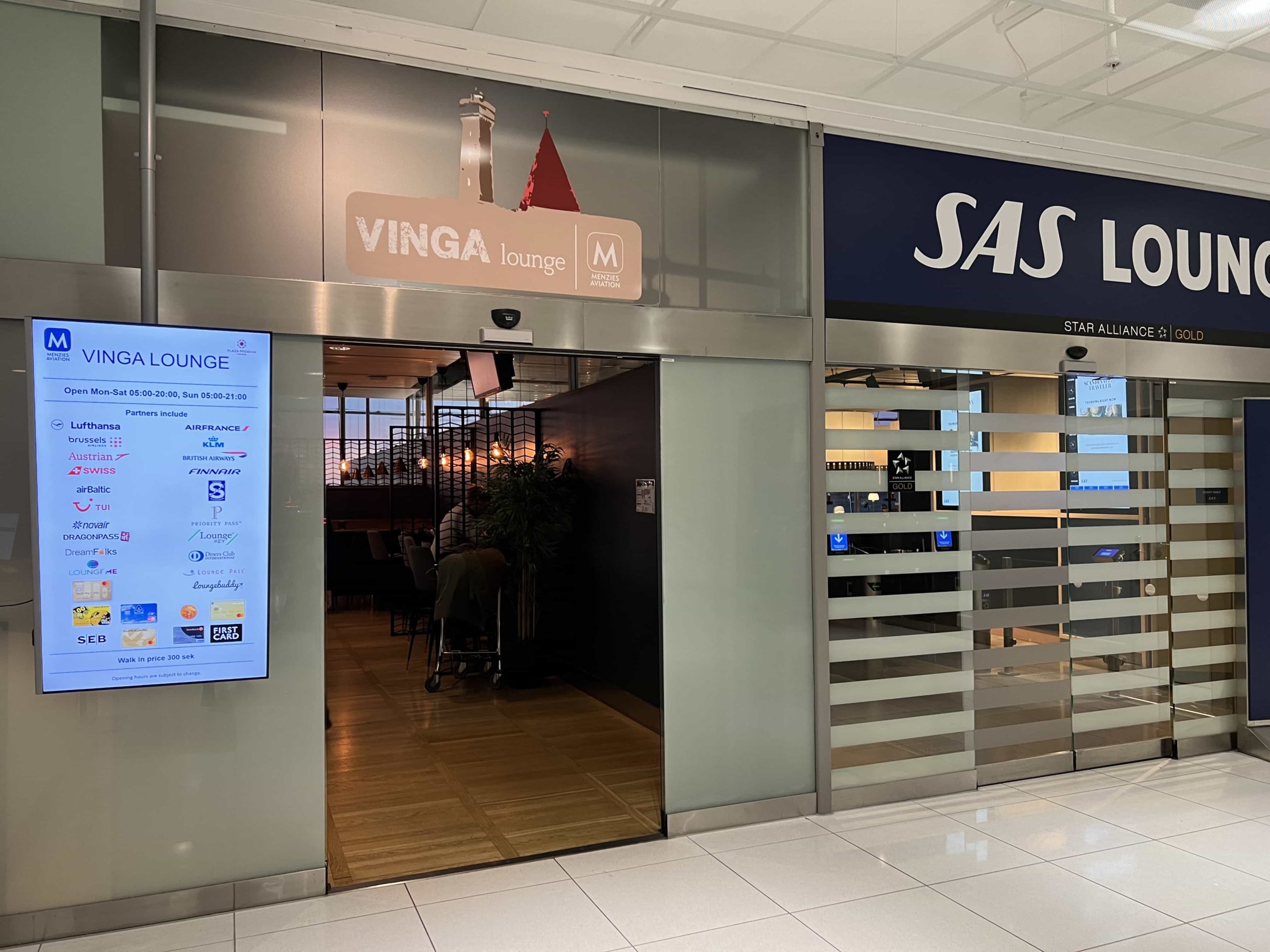 Access
The lounge is used by many of the airlines which operate out of the airport including Lufthansa, Air France/KLM, and British Airways, serving customers in their premium cabins. Additionally, members of lounge access schemes like Priority Pass can also gain entry by showing their card.
Paid entry is priced at 300 SEK (about £25), and reservations can be made via the Plaza Premium website. Walk-ins are also accepted, and the maximum stay is 3 hours.
Check-in and first impressions
Check-in was uneventful, with nothing much to report. The lounge was quiet when I arrived, so there was no waiting around to get in. The receptionist didn't provide any information on the lounge, but as I expected, a quick glance around suggested that there probably wasn't many amenities to report on anyway.
To my surprise though, the lounge didn't look like what I'd seen in the Priority Pass app, and had clearly received an overhaul since those photos had been taken. This must have happened recently, as there's very few pictures online which showcase the new look and feel.
Environment
The old design was unremarkable, and frankly a bit bland. It lacked identity, and wasn't the sort of place that felt like an escape from the rest of the airport. That's nothing against the rest of the airport, by the way — it's a fine place — but a lounge needs to deliver something more. Fortunately, the refurbishment steps things up.
What's most notable as you enter, is the sunlight streaming in via the wrap-around, floor-to-ceiling windows. The roof line sweeps up towards the apron, guiding your eye towards the runway views. When I visited in late afternoon, the sun provided a warm glow across the lounge, which made the space feel relaxing and inviting.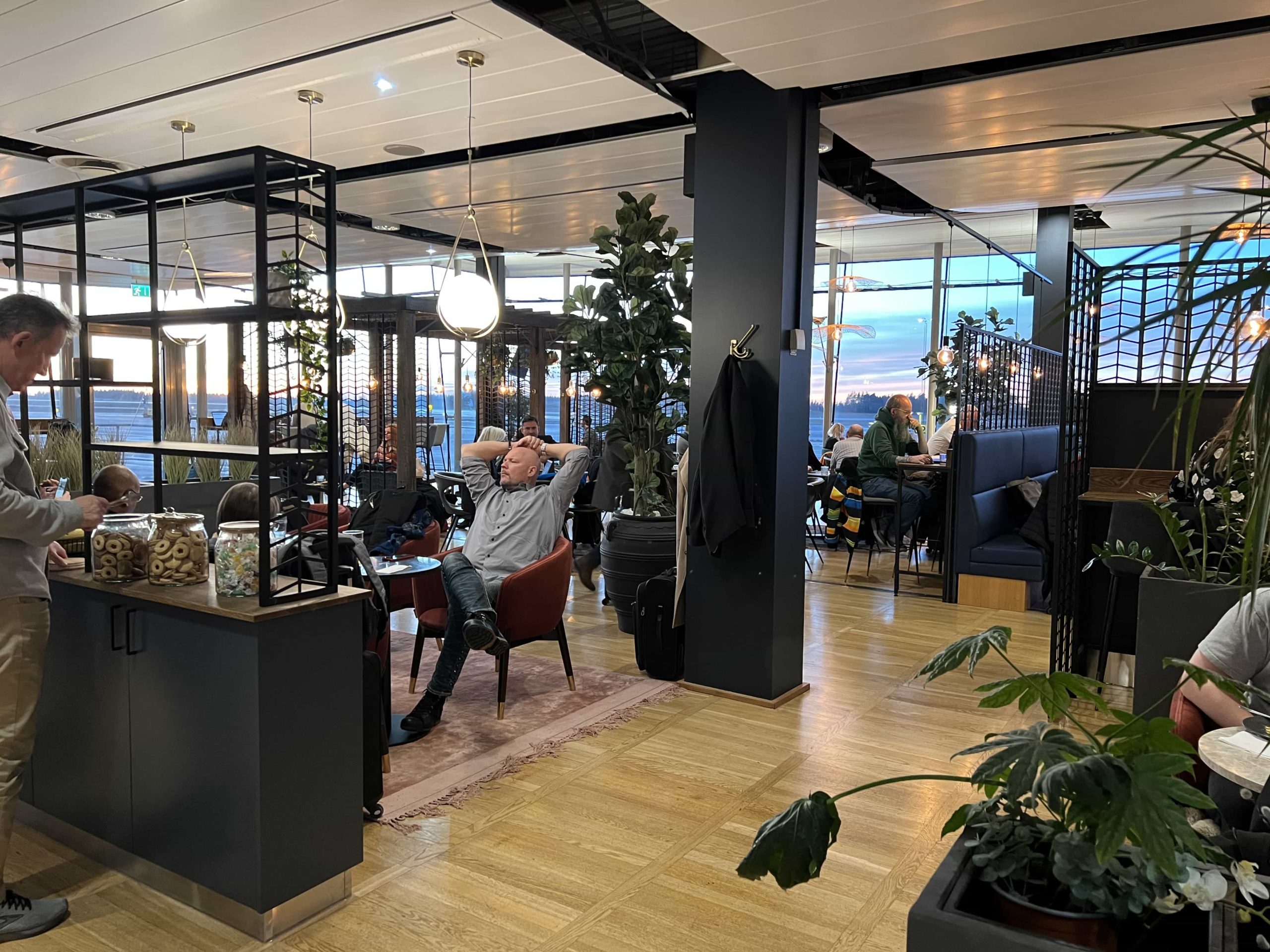 The pergola and hanging planters further enhance the feeling of bringing the outside in, and the light materials used on the floor and ceiling help create a feeling of space. That said, it's not a large lounge, and as you can see from some of the images, it got quite cramped towards the end of my stay (around 4:30pm). Fortunately, the light and airy feel, and square shape help avoid any sense of claustrophobia.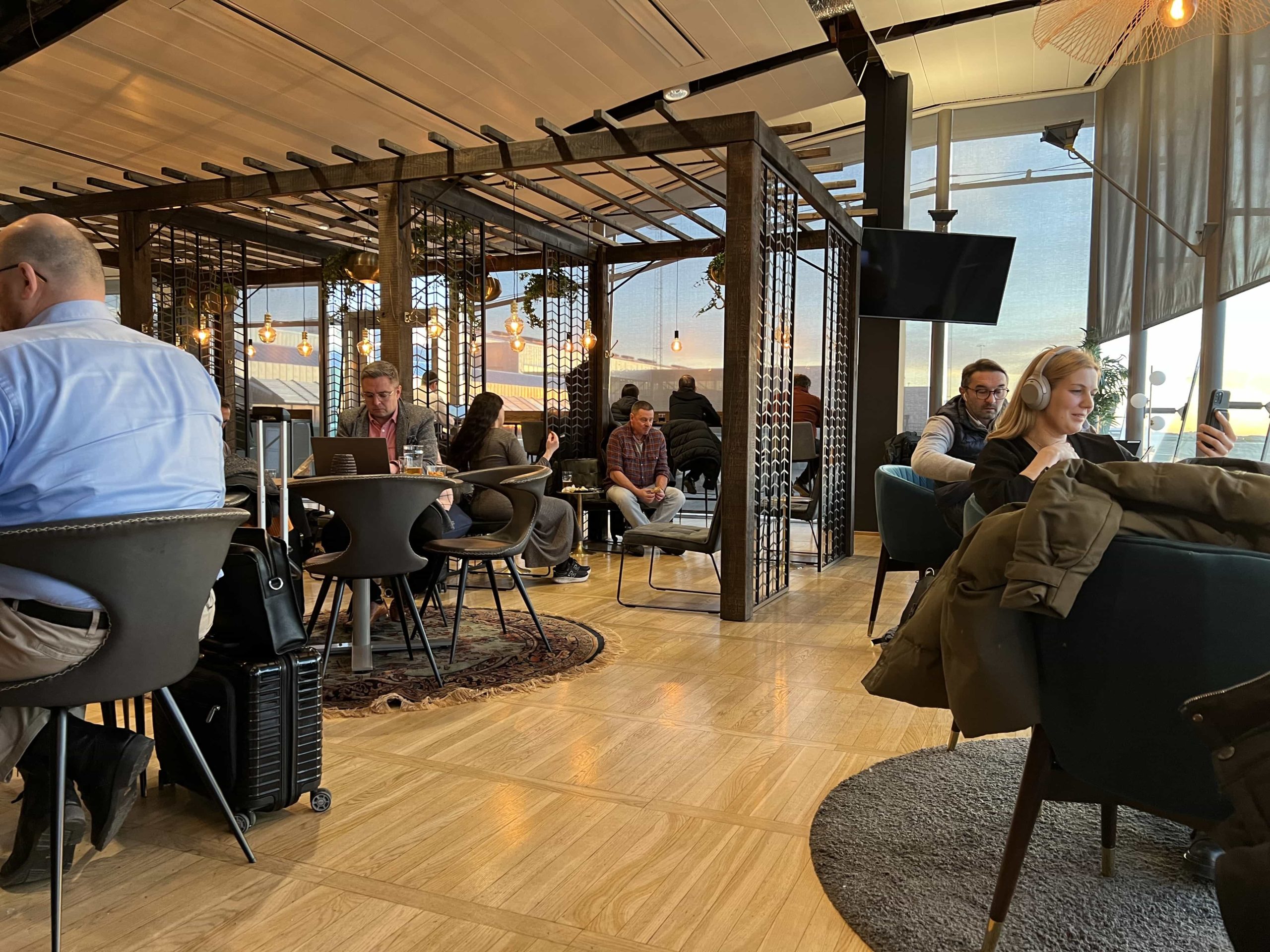 The lounge is arranged in the same format as before the refurbishment. Adjacent to reception is the workstation area, where you'll find bar-style stools. I didn't manage to snap a picture of the workstations themselves, but they are quite narrow — only just wide enough to perch a laptop on. You can just about catch a glimpse of them on the right of the first image in this section. On a more positive note, the workstations are equipped with sockets, and despite this area being near reception, it's still is one of the quieter areas overall. There's additional workstations along the windows on the other side of the lounge, which provide a great vantage point for plane spotting. It's a shame really that it's not a busier airport, because you could plane spot all day long from here.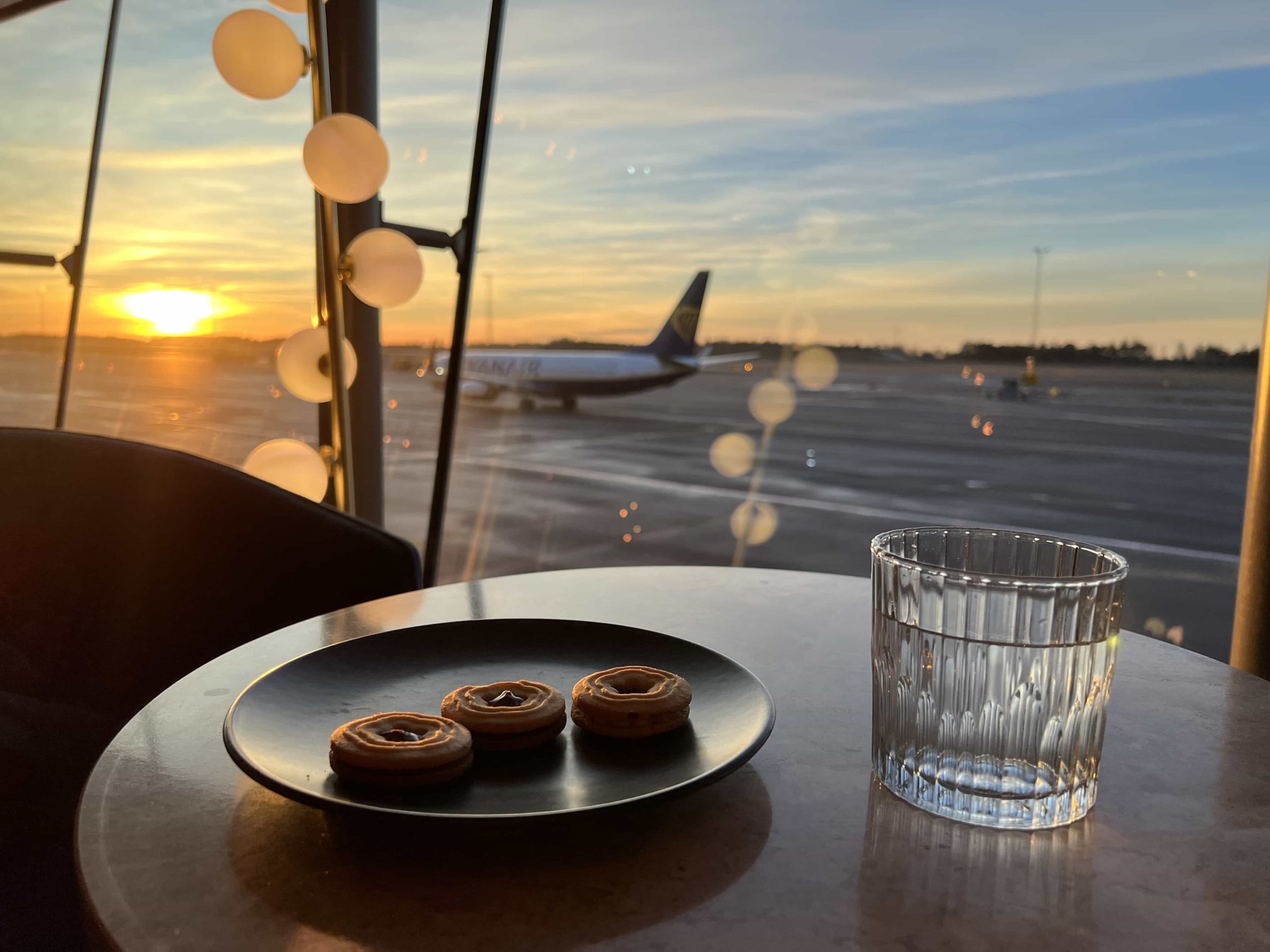 Walking into the main space, on the left you'll find the buffet area. It looks sizeable at first glance, but as I'll cover in a moment, it's mostly just snacks and drinks on offer. The rest of the lounge is split into two areas, separated by a dividing wall. The larger side is comprised of coffee tables and casual seating, as well as round dining tables, while the smaller area is more of a restaurant-style arrangement with rectangular dining tables and padded bench seating.
The layout may not have changed, but the decor is what makes the difference. Gone is the furniture I'd describe as 'office-like', and in are furnishings which are more akin to that of a classy restaurant or hotel lobby. There's nothing exceptional about it, but it creates a pleasant environment and brings the lounge up to standard with its equivalents elsewhere in Europe.
Food & drink
The biggest disappointment of this lounge is the food. I mentioned the snack selection — which consist of biscuits, sweets, and fruit — but you're probably wondering what the hot food options are. Bad news: there are none. Well, there was soup and bread at one point (as you can see in some of the images), but it was removed before I could get to it. Oh, and there's cup noodles which you can make yourself using hot water from the coffee machine. Yikes.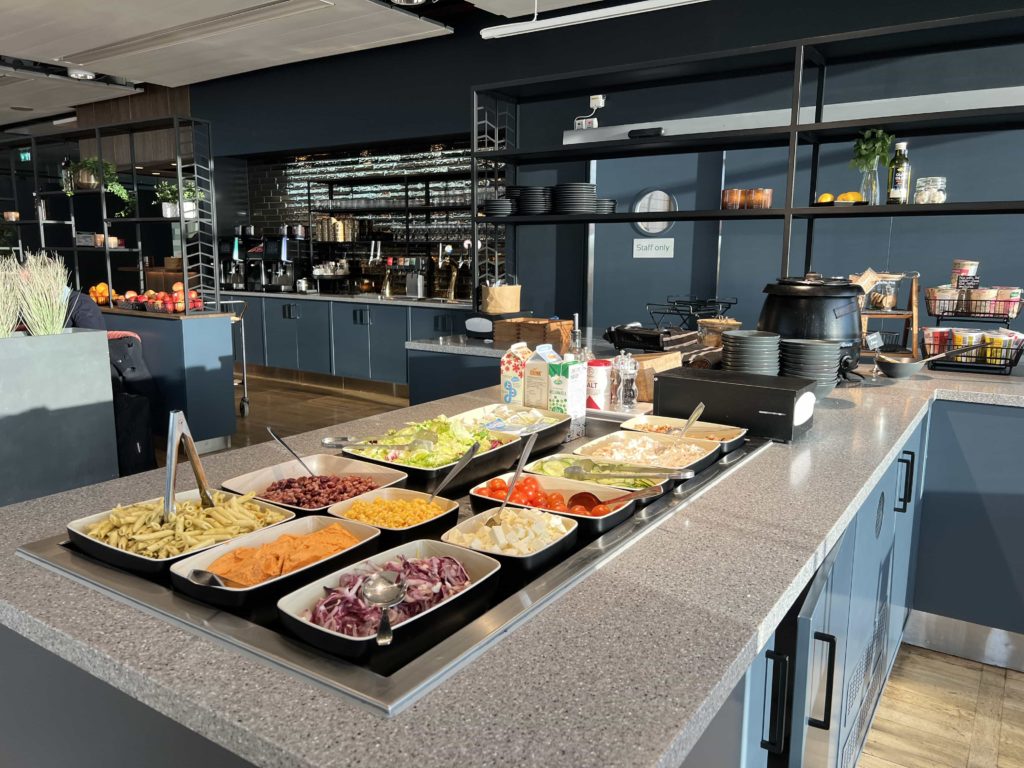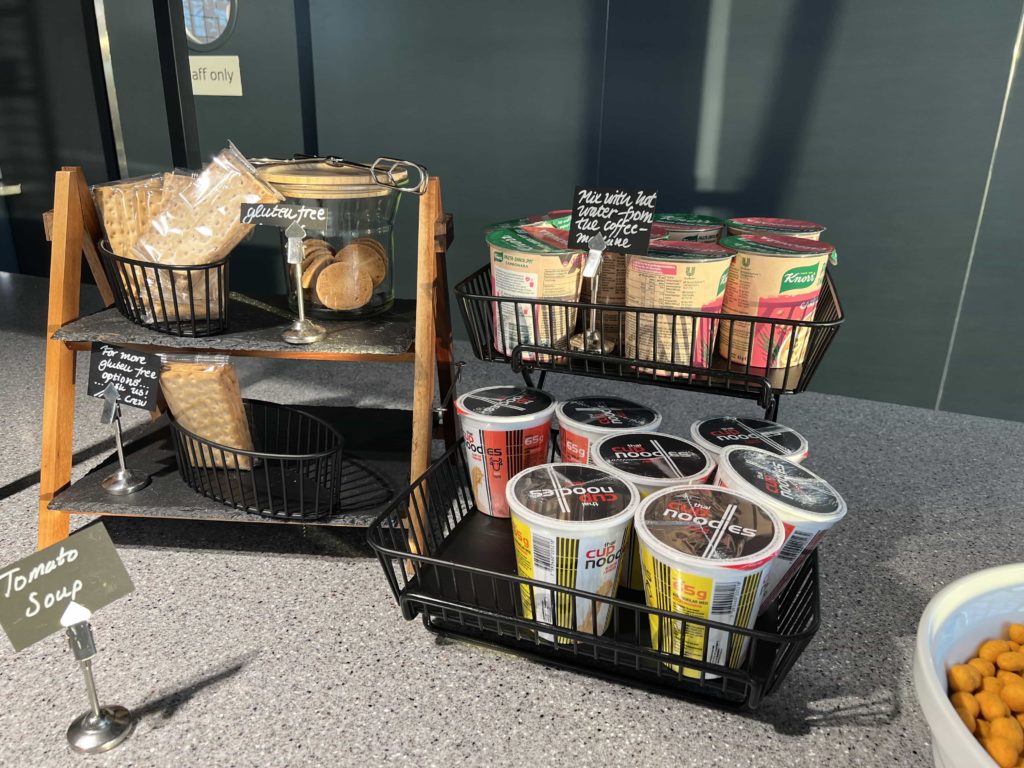 While the hot food options leave a lot to be desired, there is at least a good salad selection. There's pasta, chicken, goats cheese, pinto beans, and the other usual suspects you'd expect from a salad bar. Having used Fika as an excuse for too many pastries during my trip, I was in the mood for something healthier anyway, so I didn't feel too short changed by what was on offer. On another day, I probably would have sought something a bit more substantial. Everything was fresh and restocked regularly, so as salad bars go, it's a decent one.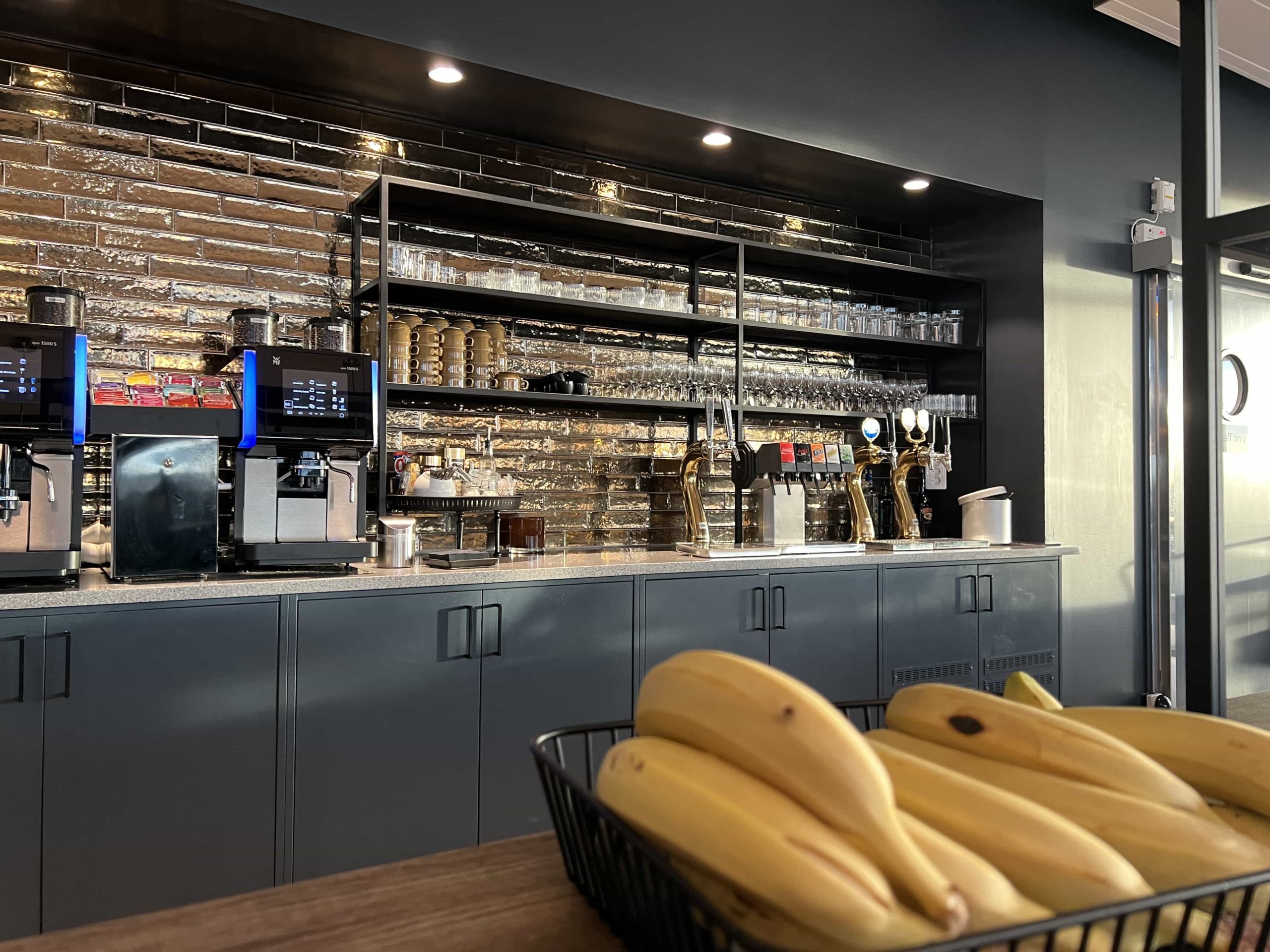 The drinks selection is similarly sparse with a soft drinks machine offering Coca-Cola, Fanta, Schweppes Tonic, and apple juice. There are also a couple of coffee machines and a limited range of alcoholic beverages including spirits, beer, and wine available on tap, all self-serve.
Anything else to note?
The lounge doesn't have its own Wi-Fi — at least, not when I visited — but it's no problem because I connected to the main airport Wi-Fi and got speeds of 185mbps down and 256mbps up.
Socket coverage is pretty good, but it varies depending on the seating area. A lot of the seating is free-standing within the middle of the room, so there are no sockets there. However, the bar/workstation seating has sockets, as do the lounge chairs along the windows (in the pillars).
There's no toilets within the lounge itself, so you'll need to exit the lounge and go to the airport ones. Fortunately, there are some immediately outside and to the right.
As of writing this review, opening hours are 05:00 – 20:00, daily.
Conclusion
So what are my overall thoughts on the Vinga Lounge?
Well my expectations were low, so it was never going to take much to exceed them, but I do think the revamp makes this a better lounge than 2.7 stars would suggest. It doesn't excel at anything, and there's not much to it, but the views are nice and the ambiance is comfortable. If there were hot food, I'd be more complimentary, as to me it's a bare minimum expectation; having to bring your own food in doesn't exactly scream 'premium'.
Having said that, there's nothing terribly negative I can say, except that dedicated toilet facilities would be preferred, and some additional space would create a more relaxing and less busy space. What I'd love to see, is for SAS to relocate to the vacated BRA lounge, which would allow the Vinga Lounge to extend into the neighbouring premises. Wishful thinking, I know.