With my sightseeing checklist completed, and in need of somewhere to work from, I arrived at Vienna Airport well in advance of my 8pm flight. I wasn't really sure what lounge options would be awaiting me, but having been thoroughly impressed by exceptional service and attention to detail throughout my time in Austria, I was excited to see if the lounges at Vienna Airport would live up to the same standards.
Vienna Airport is the 16th busiest in Europe, serving 23 million passengers per year. I was surprised therefore, to discover that there are only two lounges: the Vienna Lounge — which I will be reviewing today, located at Terminal 1 — and the SKY Lounge, located at Terminal 3. Fortunately, as I was to discover, the Vienna Lounge is quite vast at over 2,500sq.m.
With capacity for so many people, the question then becomes, does the lounge manage to maintain a high level of service and comfort?
Where is the lounge?
Getting to the lounge couldn't be easier. Just head through duty free, and turn right towards gates C, F, G. You'll soon find yourself under a large and distinctive 'Vienna Lounge' sign.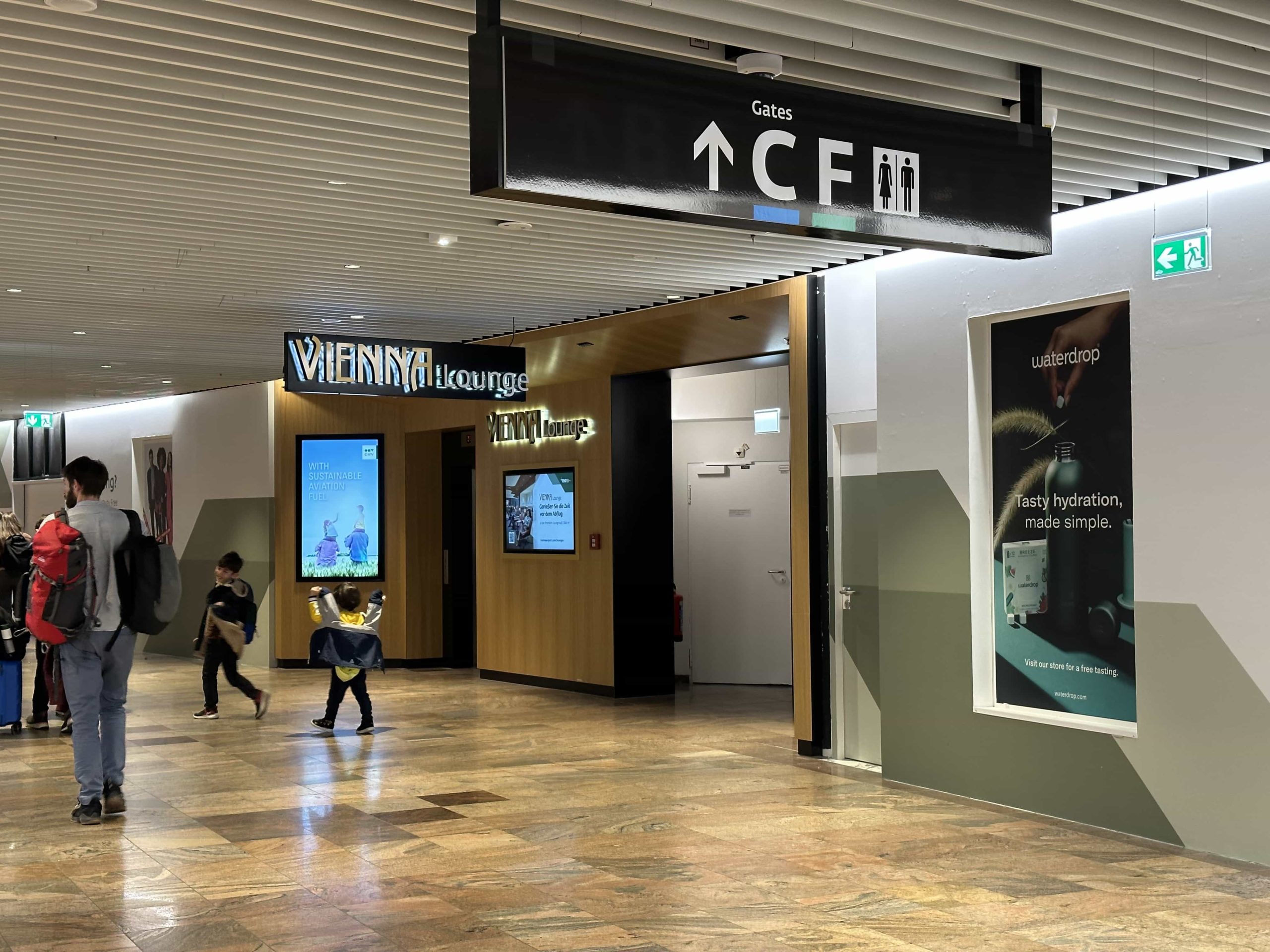 I opened up the Priority Pass app after leaving duty free to assess my options and get directions, only to realise when I looked up that I was directly outside the Vienna Lounge already.
Access
The Vienna Lounge is open to anyone, regardless of airline or ticket class. It's used by many airlines for their business and first-class customers, and is also available to holders of a range of credit cards and membership programs. The lounge page on the Vienna Airport website is extremely thorough and detailed in explaining the options you have for access.
For paying customers, it's 49 euros for a 3-hour stay, and all lounge services are included in this price. When I visited in late-February, they were offering a winter sale price of 35 euros, plus discounted rates for passengers travelling together. Purchases can be made both online, or upon arrival at reception.
First impressions
On the way in, the access staircase to the right of the elevator doesn't give anything away in terms of the scale of the lounge. I walked up the narrow spiral staircase, expecting to reach the top and find a cramped and busy space. This couldn't have been further from reality.
At the top of the staircase, the locker room immediately caught my attention as an amenity you don't often come across in lounges. Not something I'd tend to use, but nice to have the option to offload your luggage, particularly if you intend to sleep and are concerned about someone nabbing your stuff while you're out.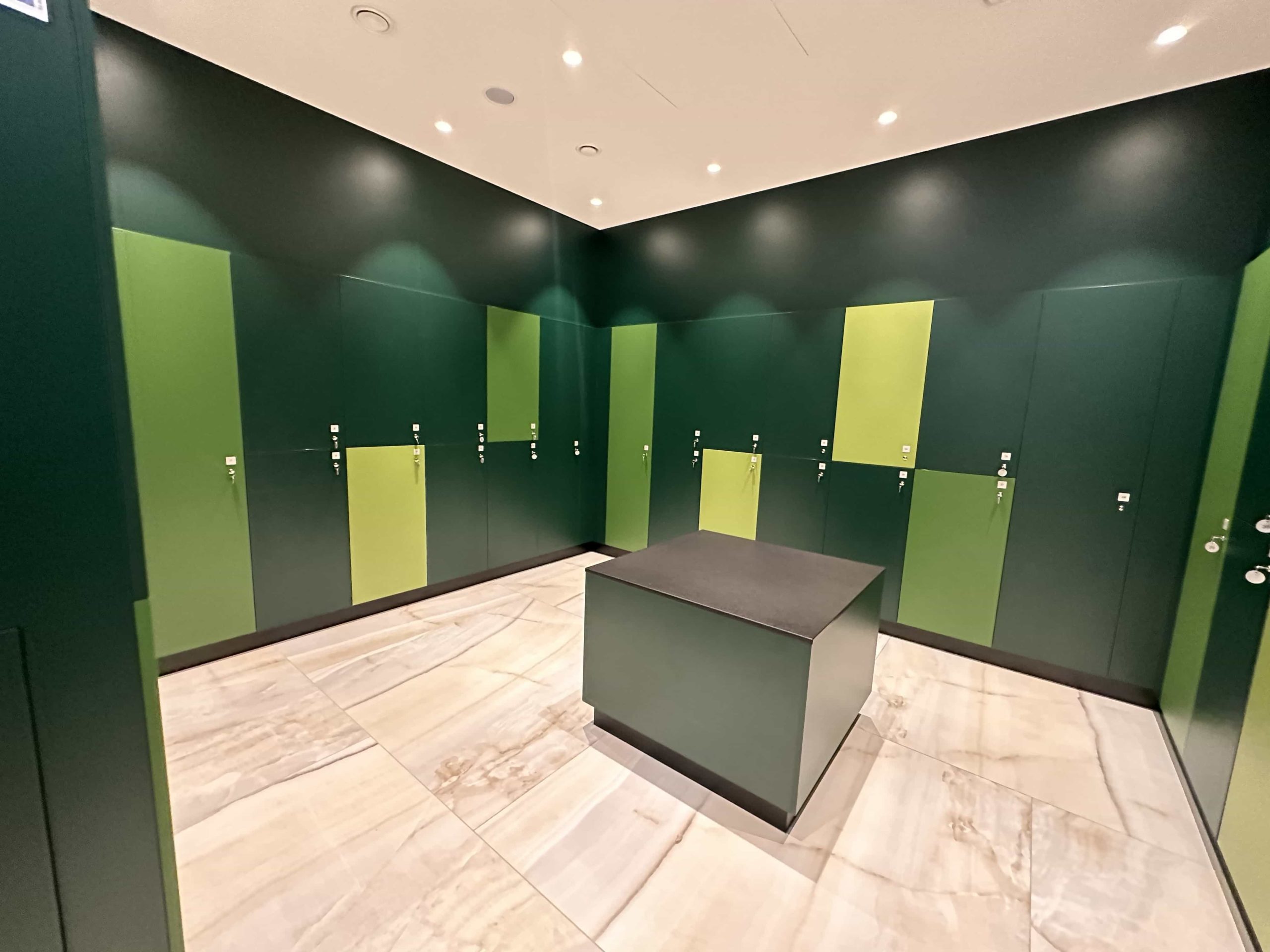 Next to the locker room, there's a large advertising screen and flight departure boards, and to the right of these is the reception area.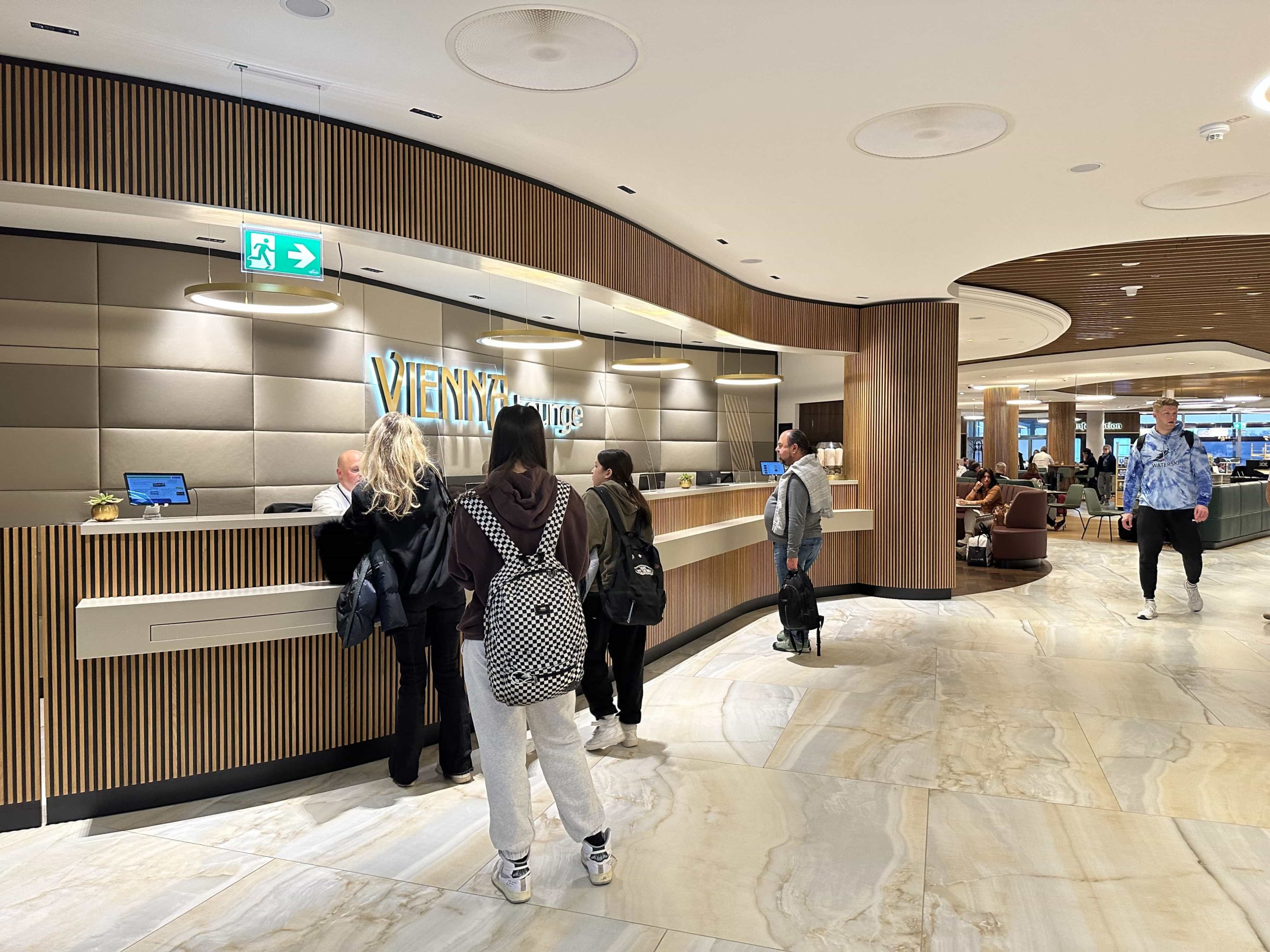 This is almost reminiscent of a hotel check-in desk in respect to its size. While you wait to be served, you can see through to the main lounge space, at which point the sheer scale becomes apparent.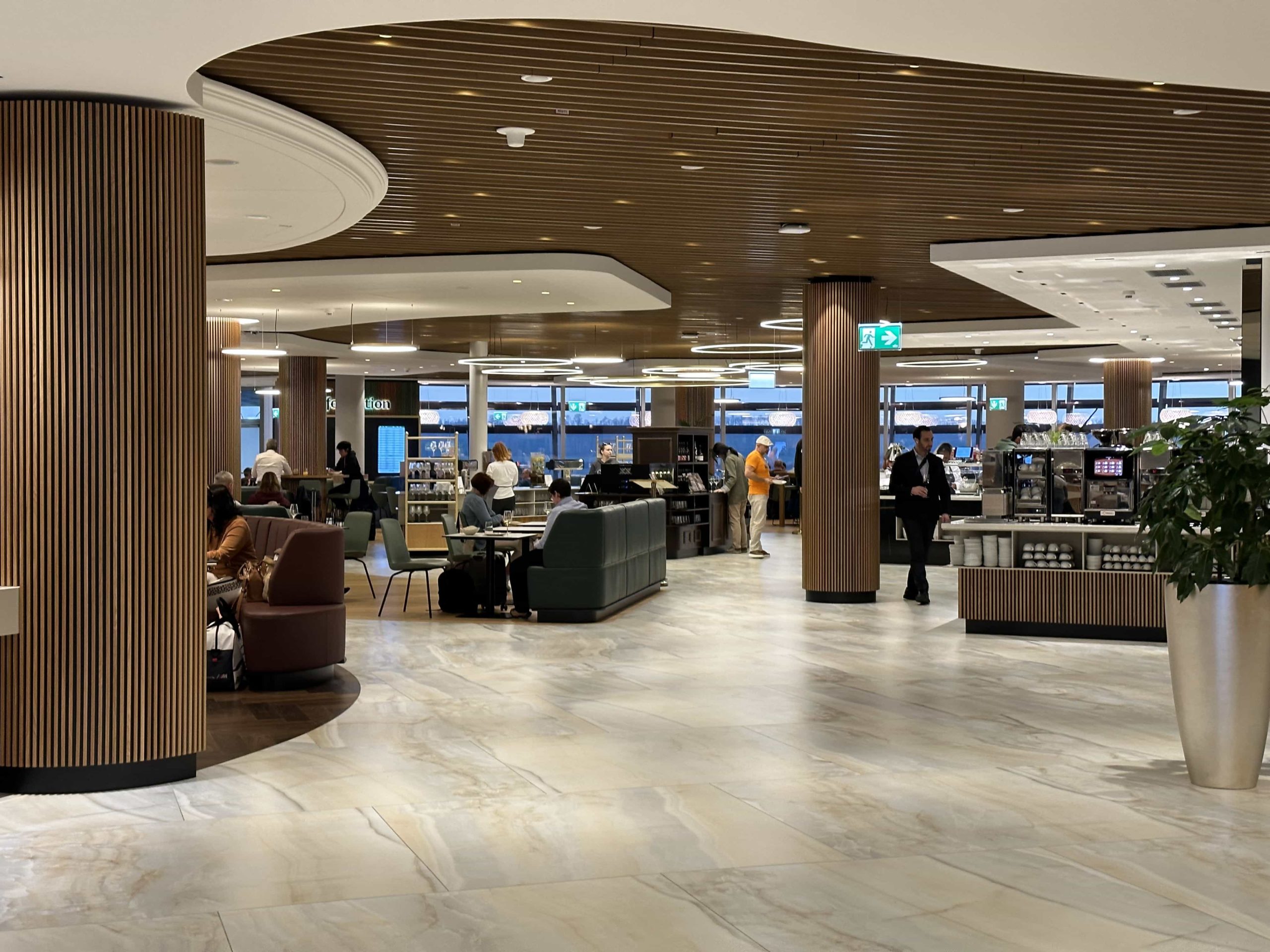 Check-in
I used Priority Pass to enter the lounge, which always tends to be fairly uneventful. On rare occasions I've been turned away from a lounge that's over-capacity, but I wasn't concerned about that here, given that there are 450 seats in the lounge. Moreover, the lounge website states that pre-reservations are not required, so I didn't expect any issues.
Indeed, I was checked-in within a matter of seconds, and the cheery receptionist was very welcoming and proactive in making sure I felt at home.
Environment
It's a good job there are so many seats, as when I arrived around 5pm, it was very busy. I spent a few minutes wandering around to find somewhere peaceful, which gave me a chance to scope out the different features and amenities.
Apparently, I chose poorly, as my next hour was spent listening to the person on my right's seemingly hilarious phone call, and a cough symphony from the person on my left.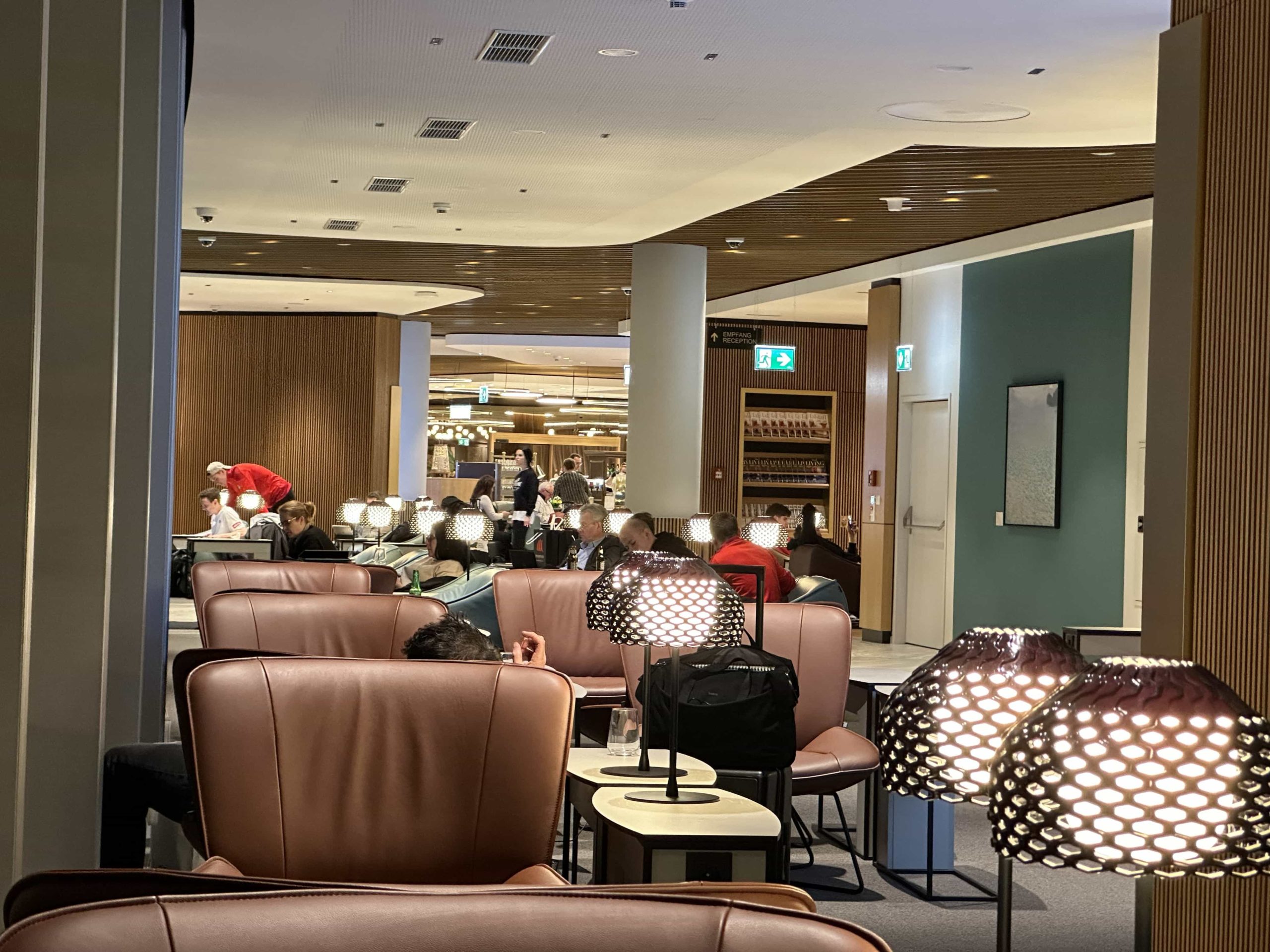 Admittedly, I was reluctant to move, as I'd positioned myself in one of the plush leather lounge chairs, which are just as, if not more comfortable than they look. And that's saying something, because they look really good.
Each seat has its own side table, with a lamp, and sockets on the front side. Despite the noise, I'd consider where I was sitting, one of the "quiet areas", located in an off-shoot from the main space in the centre — which is where a more considerate person would opt take a phone call.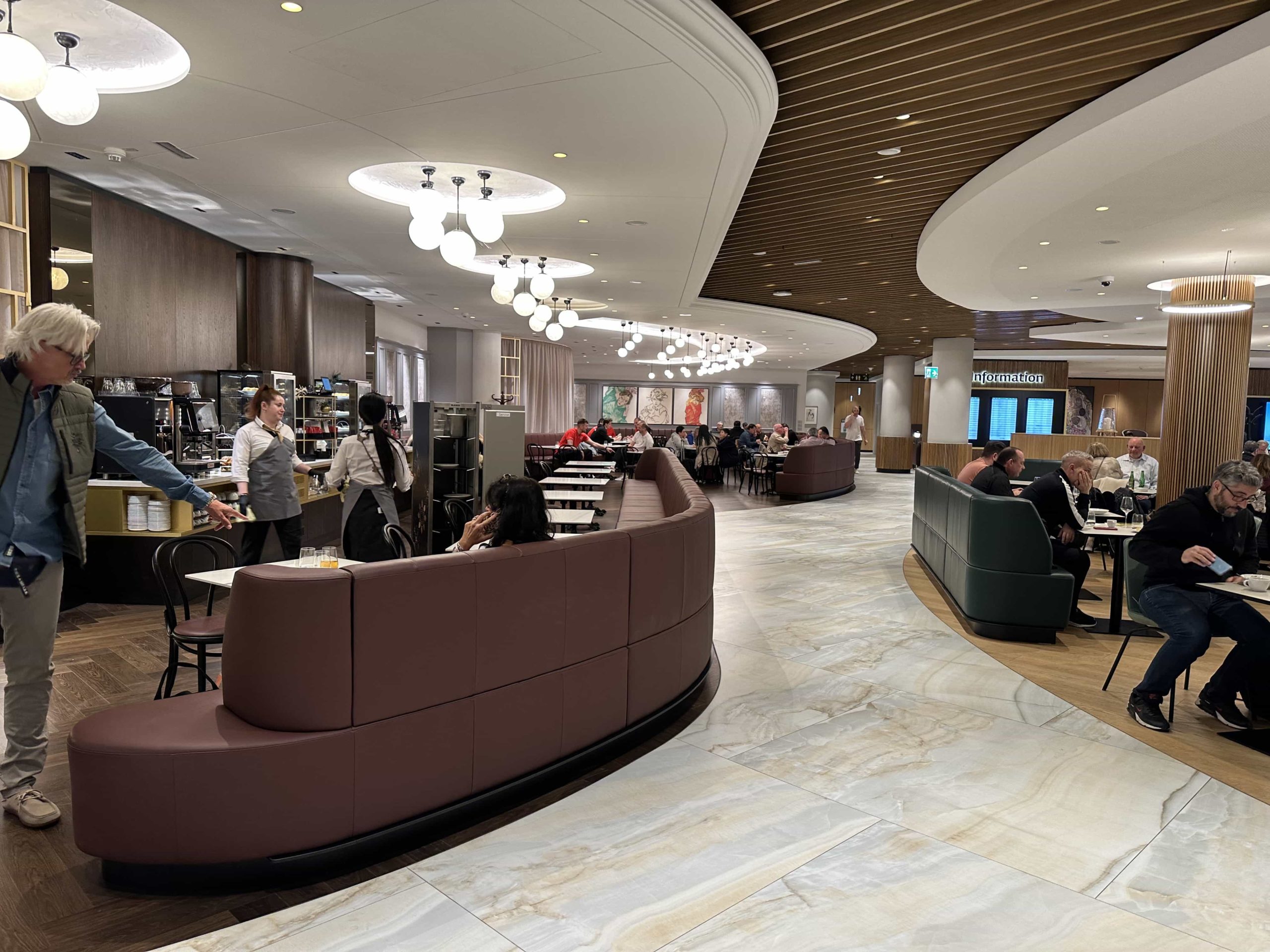 That area is more of a catering arrangement, with restaurant-style seating around the perimeter of the buffet area. This is a combination of padded bench seating, and dining chairs, and there's also a small number of bar stools, encircling the pillars near the drinks station.
Off to the side, there's a separate counter for coffee, and a wider selection of pastries and desserts than you'll find in the main buffet area. This is known as the "Vienna Coffee Shop", which is probably overselling it, as it doesn't do much to separate itself from the rest of the lounge. The dessert selection is quite pleasant, but an *actual* coffee shop would have been even better. Normally that would be asking too much, but it's almost justifiable in a lounge of this size.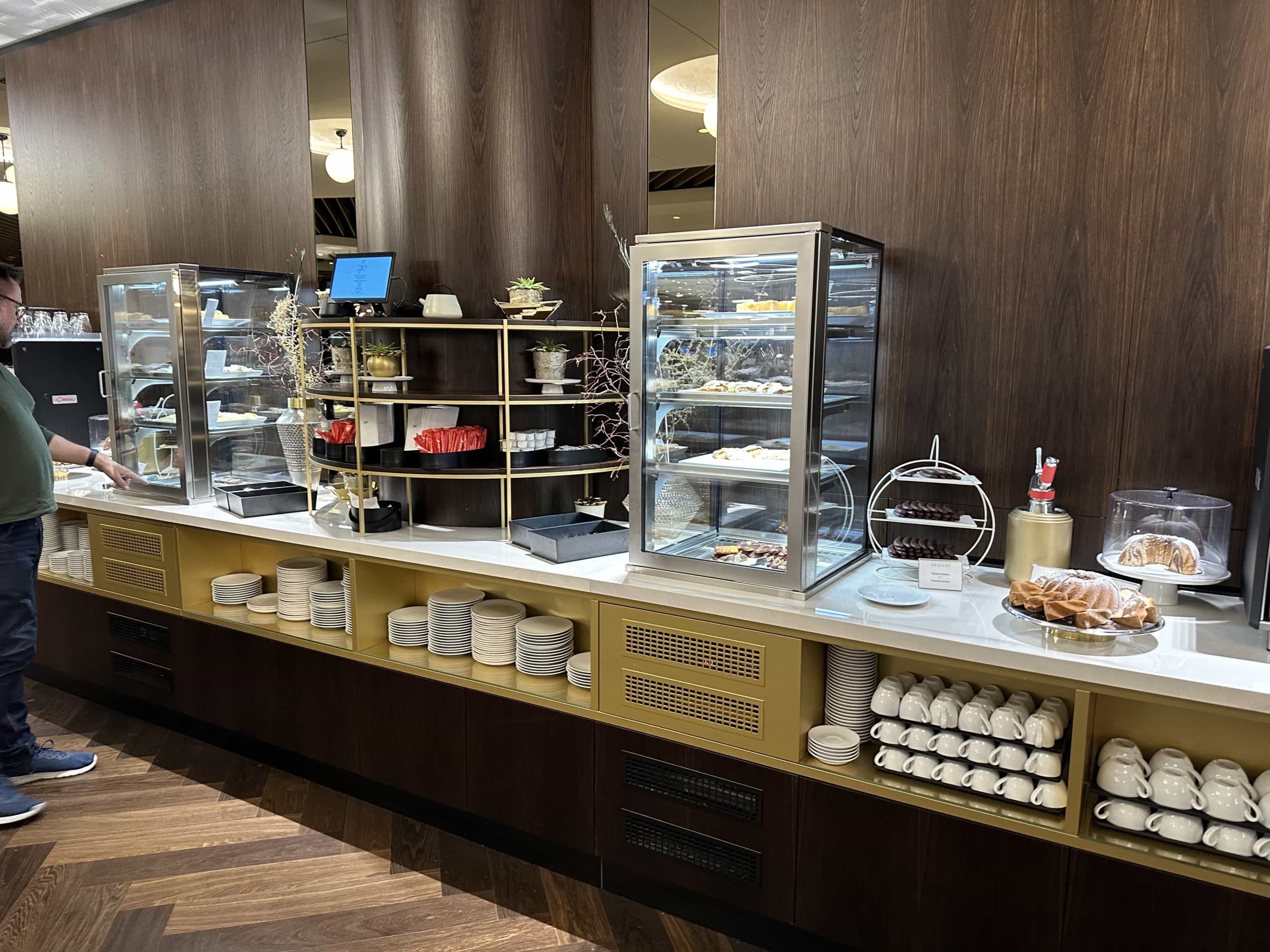 On the far side of the lounge from where I was sitting, are the work areas. There's not too much to report on here, as it's a fairly simple setup with around 15 desks. There's also a raised workstation with bar stools that overlooks a TV area.
There isn't much privacy anywhere in the work area, but it's at least spacious, so there's some distance between each of the guests. It's also very much out of the way, so you should find it to be quite quiet. Socket coverage is very good.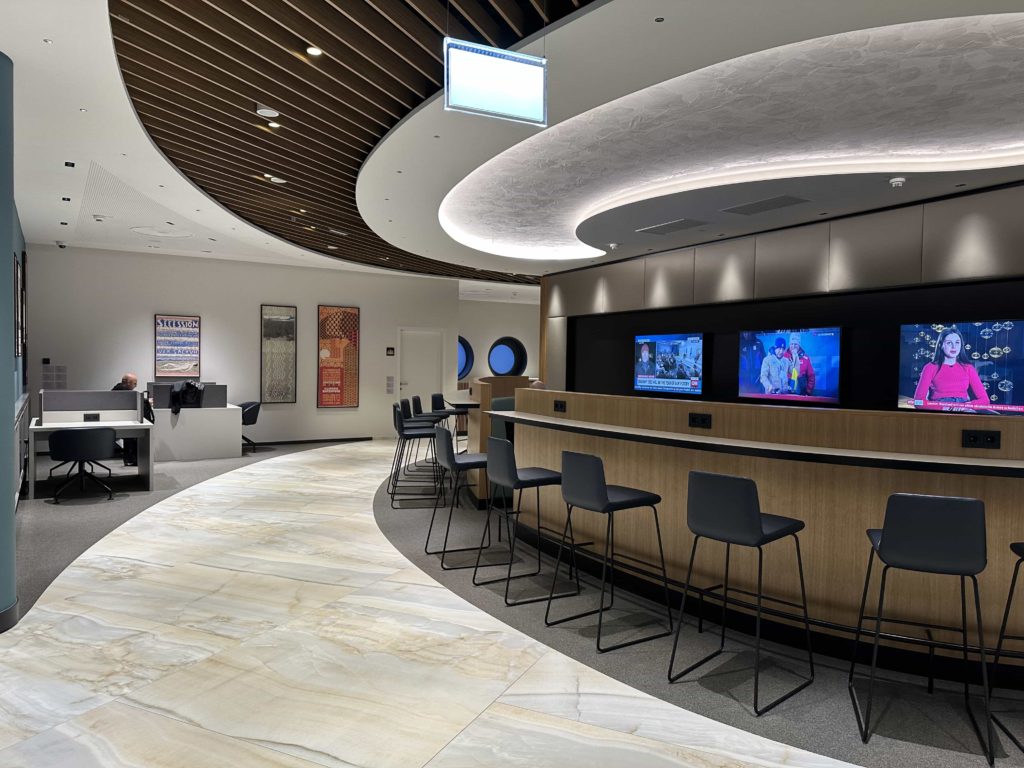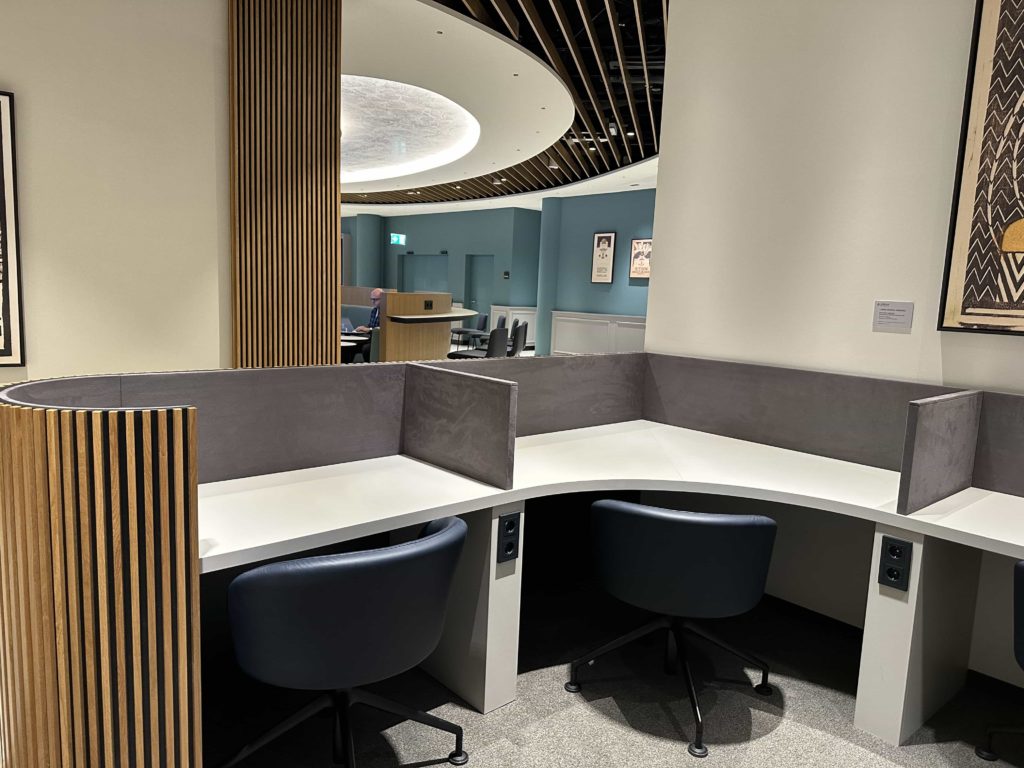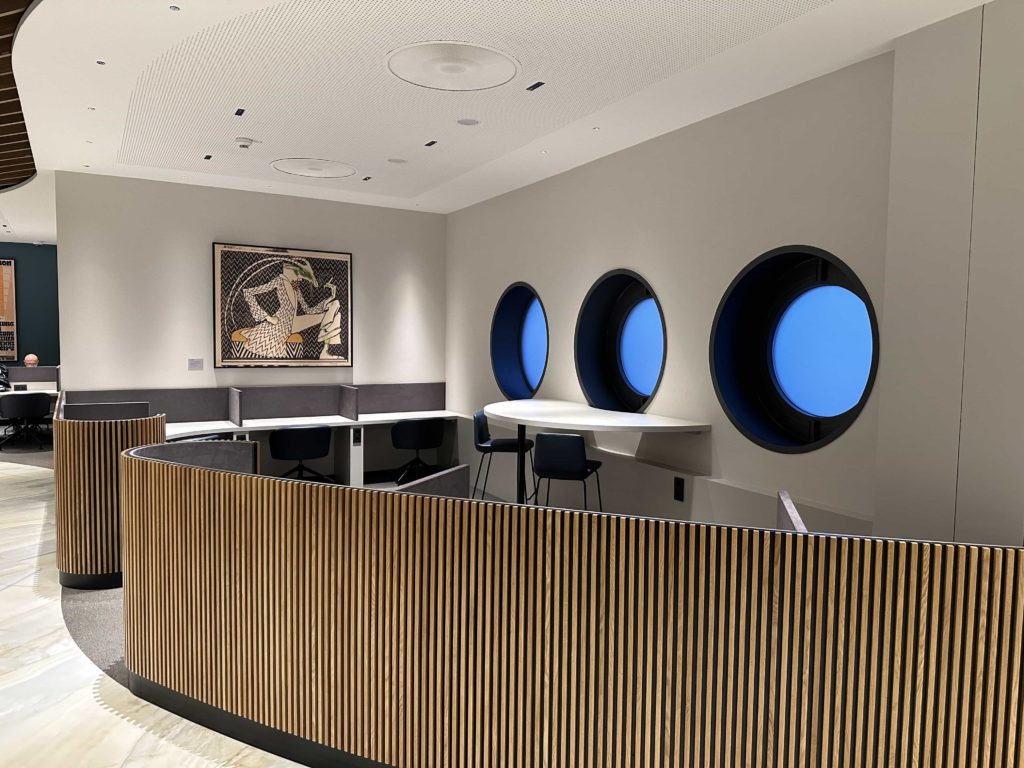 The lounge offers some decent views of the tarmac, especially from the curved windows which wrap around the central area.
Additionally, there is a large outdoor terrace, though it's solely designated for smoking which is unfortunate. It's disappointing that the terrace couldn't have been partially segregated to allow non-smokers to enjoy the space as well, given its size. It's also set back quite far from the edge of the building — with gravel in between — so the view isn't as good as it could otherwise have been.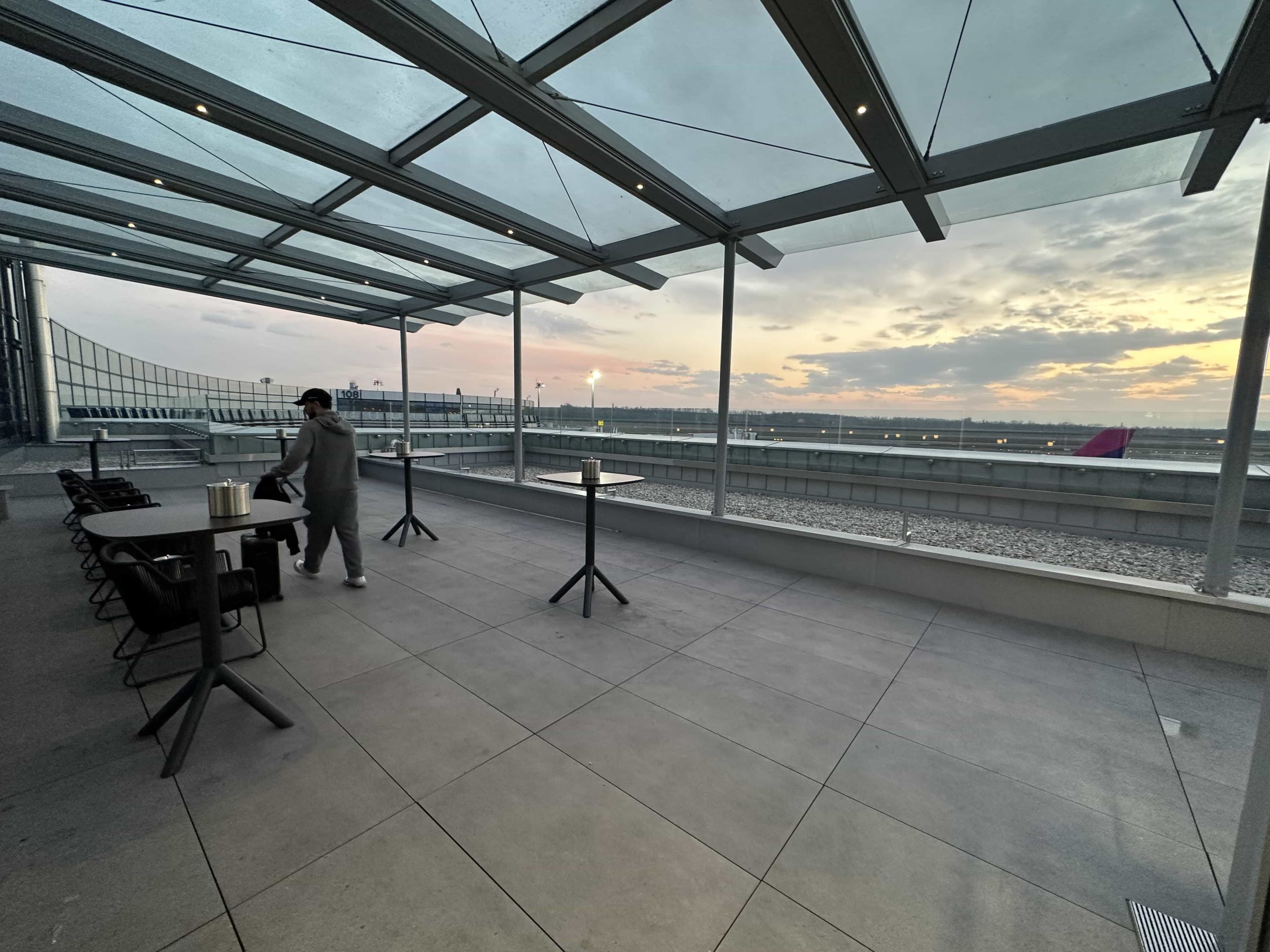 Ambience
The ambience of the lounge may or may not suit you, depending on what you're looking for. I'm being very nit-picky here, but I noticed that even in the quieter, more cosy areas, the lighting is quite bright, which detracts from the luxurious, cozy feel that's otherwise achieved. I theorise that it also contributes to why people aren't very conscious of how loud they're being.
The decor though, is very much to my liking — both in terms of style, but also quality. The furniture is clearly high-end, and there's artwork throughout, thanks to a collaboration with the Leopold Museum. The design and materials are sophisticated, but also inviting, and as the lounge opened as recently as 2022, everything still feels brand-new.
One of the most distinctive features is the slatted wood paneling, which is used across much of the ceiling and around pillars, providing an elegant and contemporary feel. This aspect is actually quite reminiscent of what I saw at the Carlsberg Aviator Lounge at Copenhagen Airport, only stepped up several notches.
Other amenities
The lounge is very well equipped in terms of amenities and facilities.
My personal highlight is the "relax room", which is a small room, accessible via a discreet entrance within the work area. As you walk in, there's a small library of books on your left, which you can pick up and take to the row of loungers for some reading time. I suspect this room is used for sleeping 99% of the time, as it was when I visited, as it's the one part of the lounge where the lights are significantly dimmed.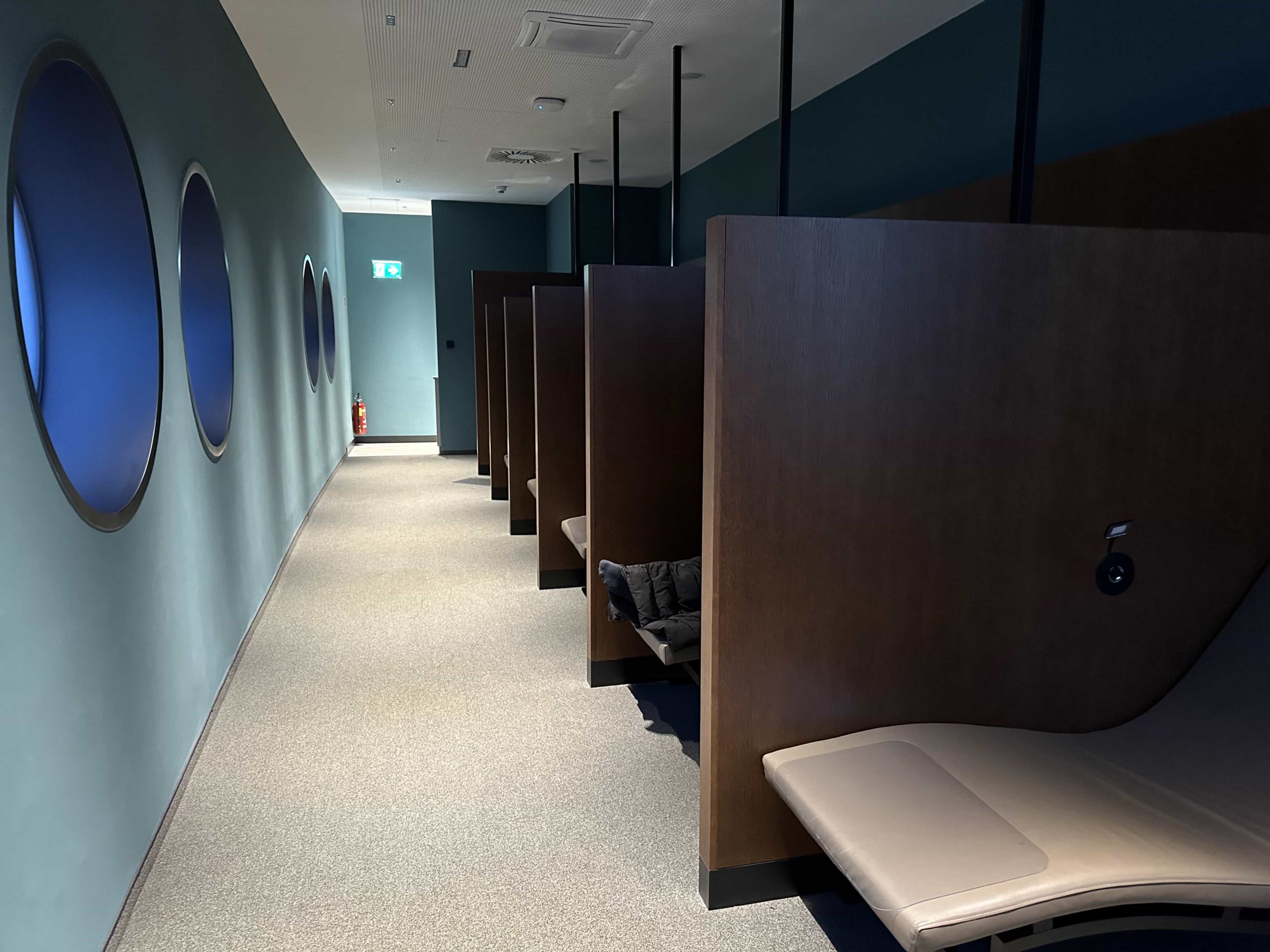 I also suspect that if the entrance to this room was more visible, and more clearly marked, it would be a lot more heavily trafficked. I walked in, half expecting to find a staff room. It's better that way though… almost like a room of requirement — you only stumble upon it when you need it. Or like me, if you're writing a review.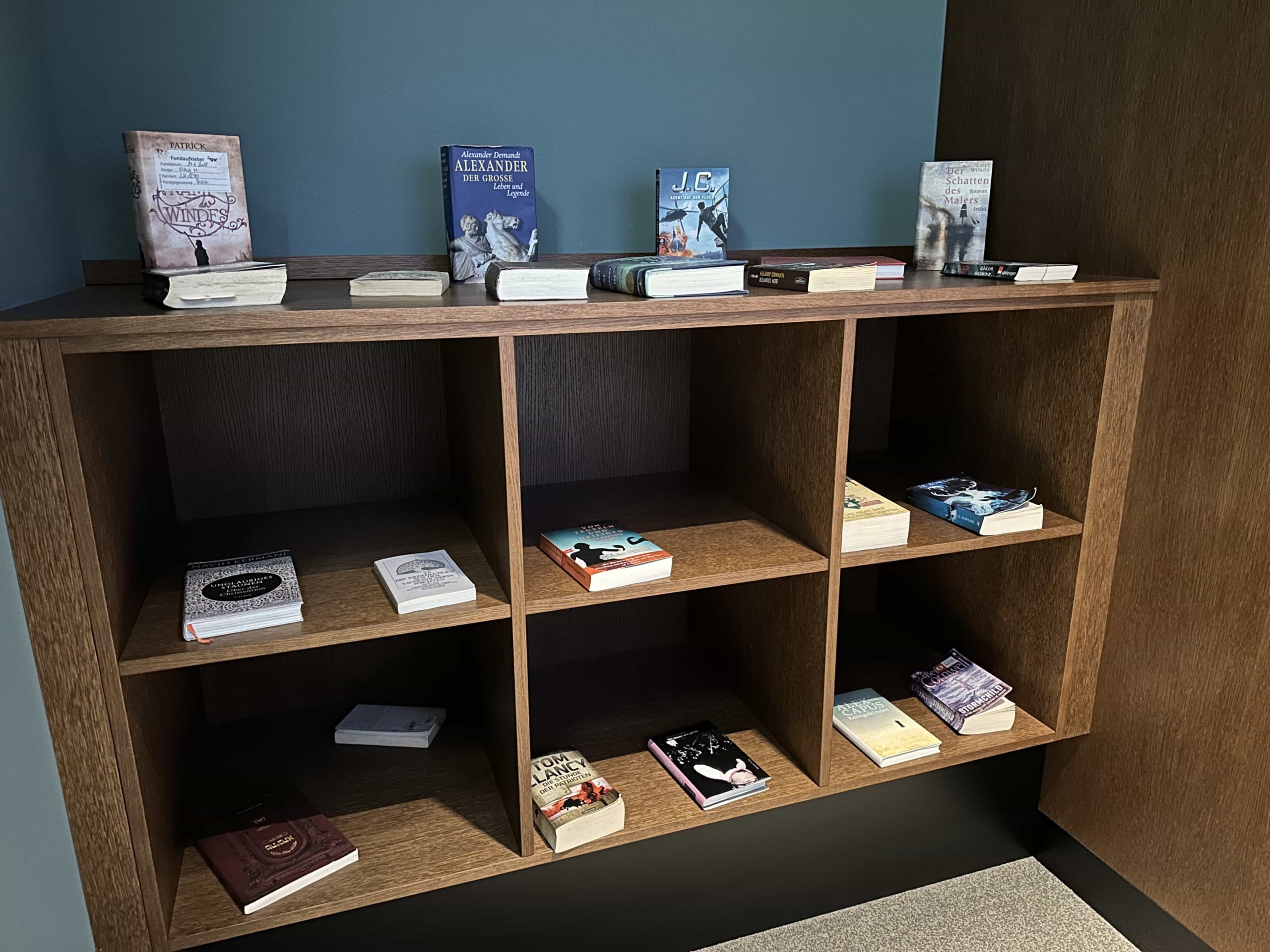 Every good lounge has a family area. It keeps everyone happy; children are entertained, adults are undisturbed. While this lounge has one though, I'm inclined to say it's perhaps unlikely to keep kids entertained for very long. There's a couple of toys, but otherwise you could mistake it for any other part of the lounge. This seems like it's been an afterthought.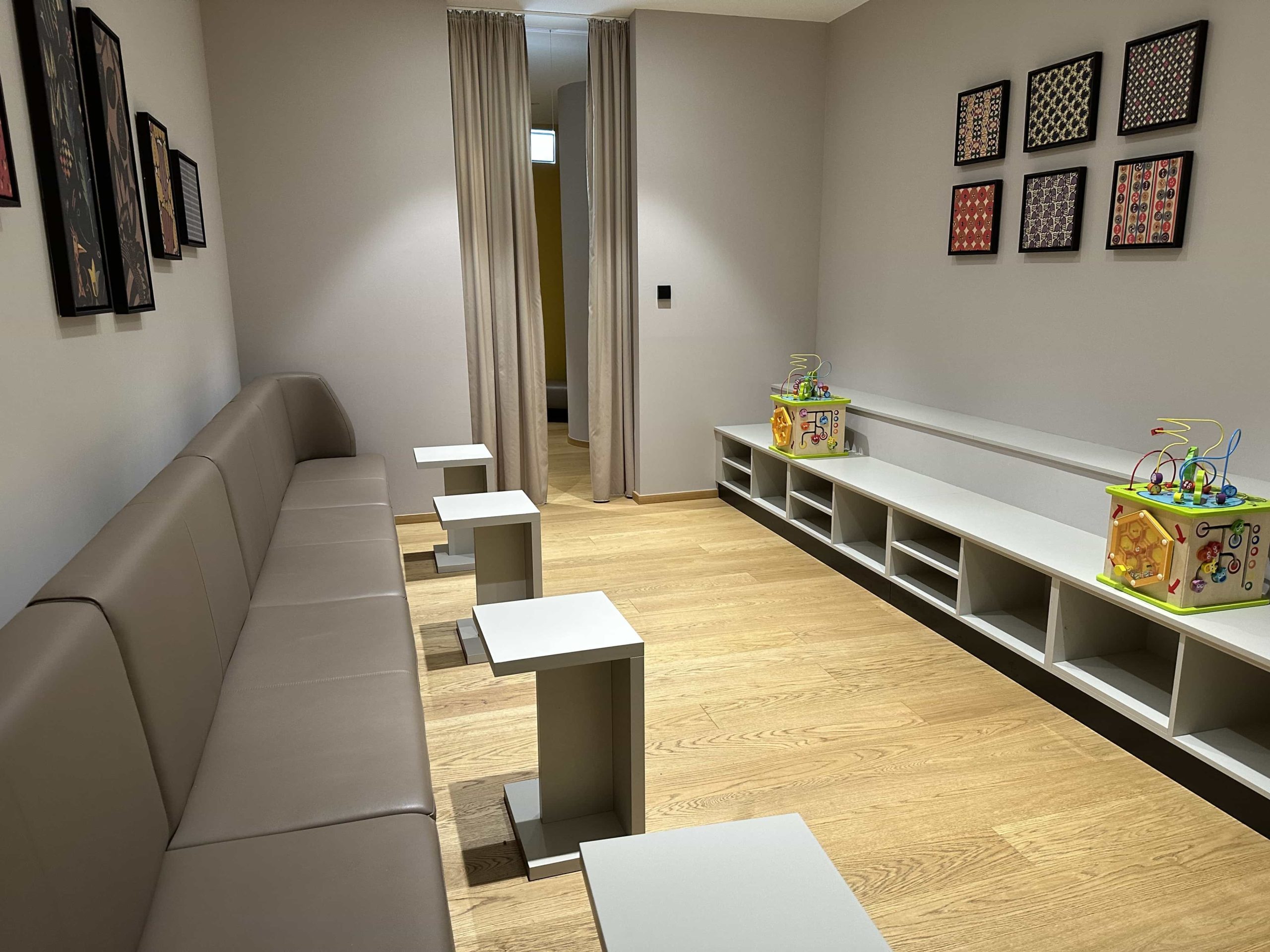 Elsewhere, there is a prayer and silence room, two sets of large, spotlessly-clean toilets (and showers), and a meeting room for up to ten people, that you can book for an extra charge. There are also magazines and newspaper stands dotted around the lounge, with material from a fairly broad range of publications. Socket coverage is very good, with power outlets at almost every seat. If I remember correctly, there is also integrated USB-A, and USB-C ports.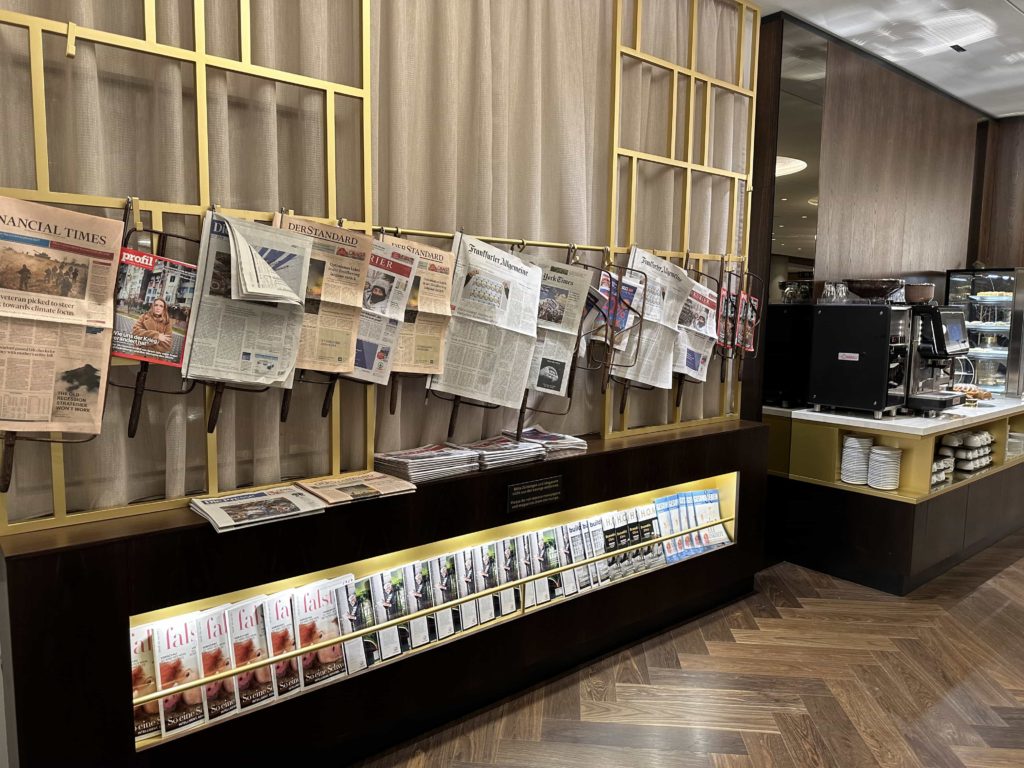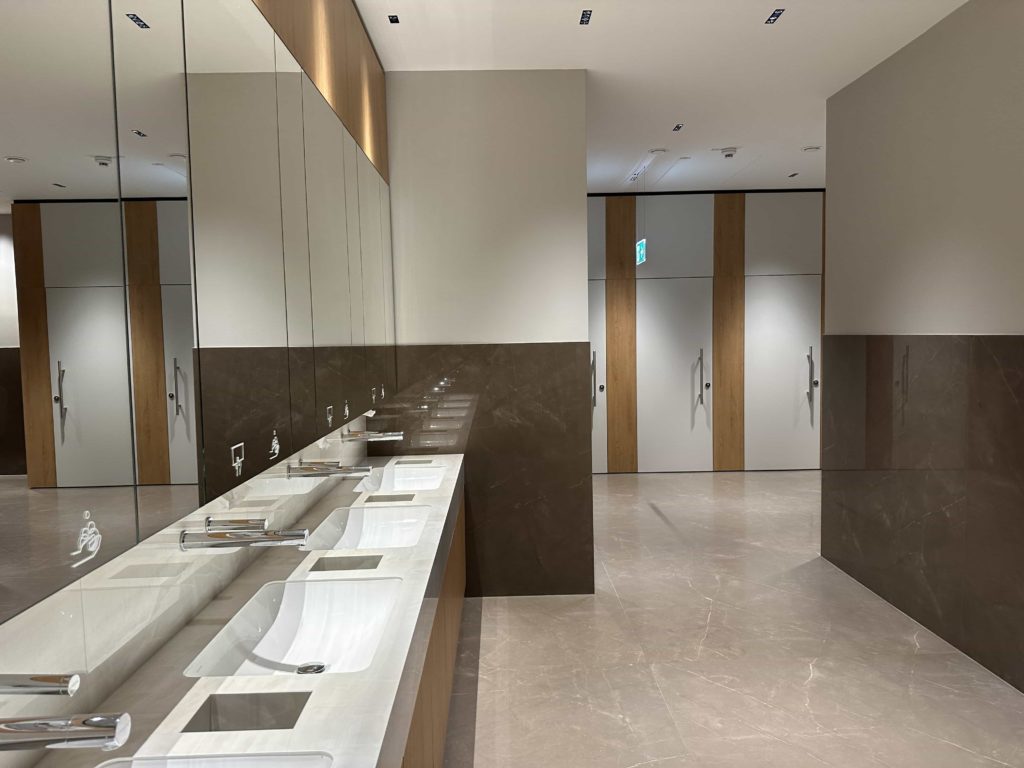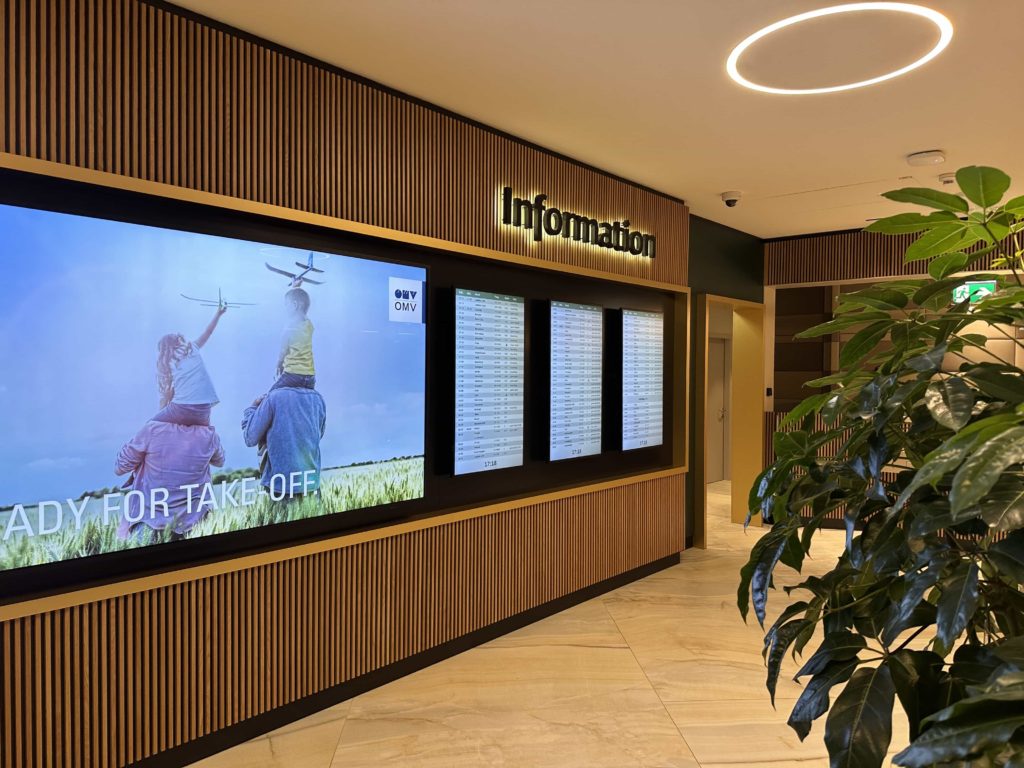 Food & drink
As I visited in the evening, dinner was being served at the buffet station. On offer was a mixture of Austrian and international specialities, with three main dishes available: a traditional Austrian dish of cream chicken, plus tortellini, and a vegetable curry. I tried all three, and can report that the quality was decent, but nothing outstanding. Other dishes I've seen online however, look really quite appetising.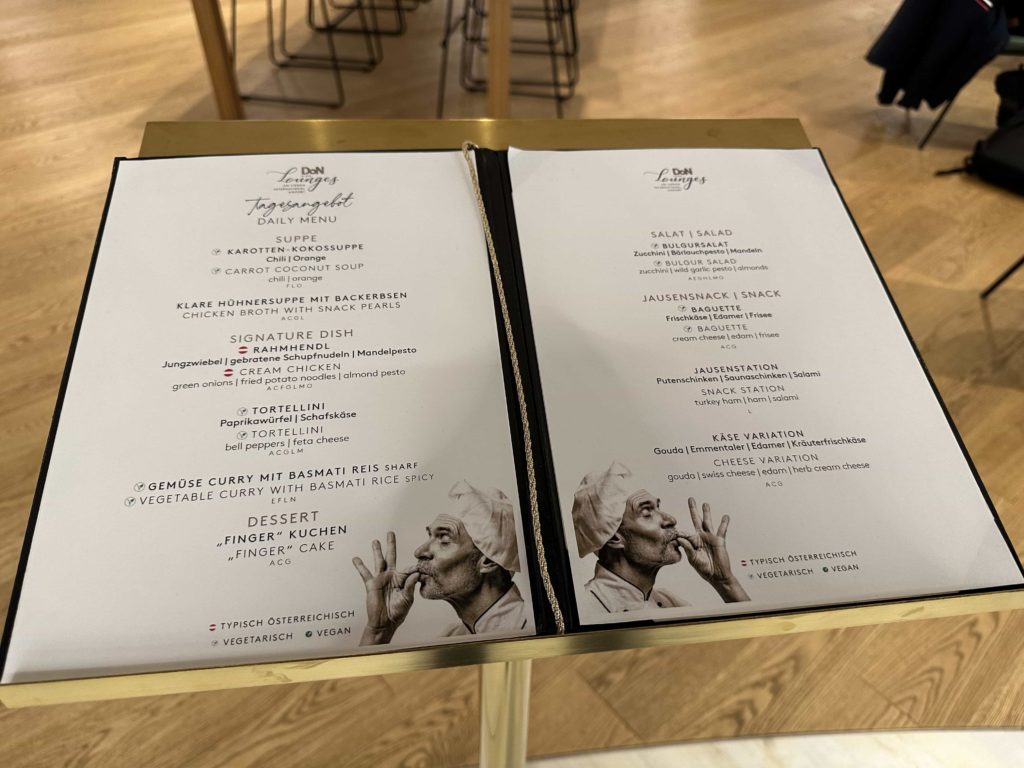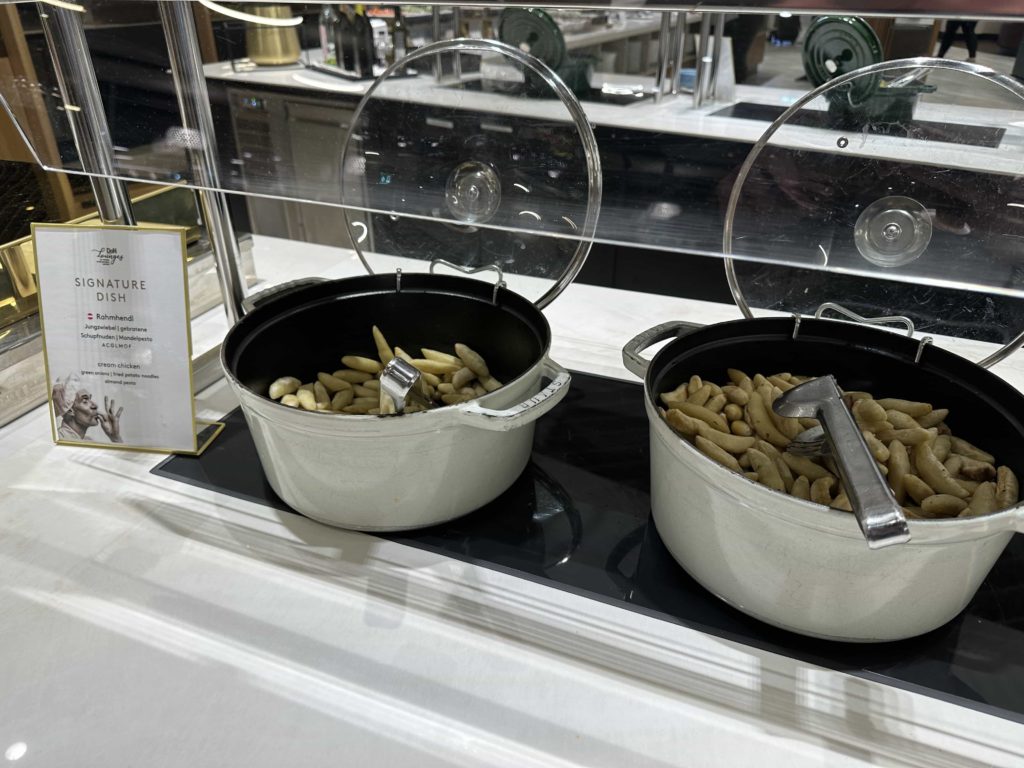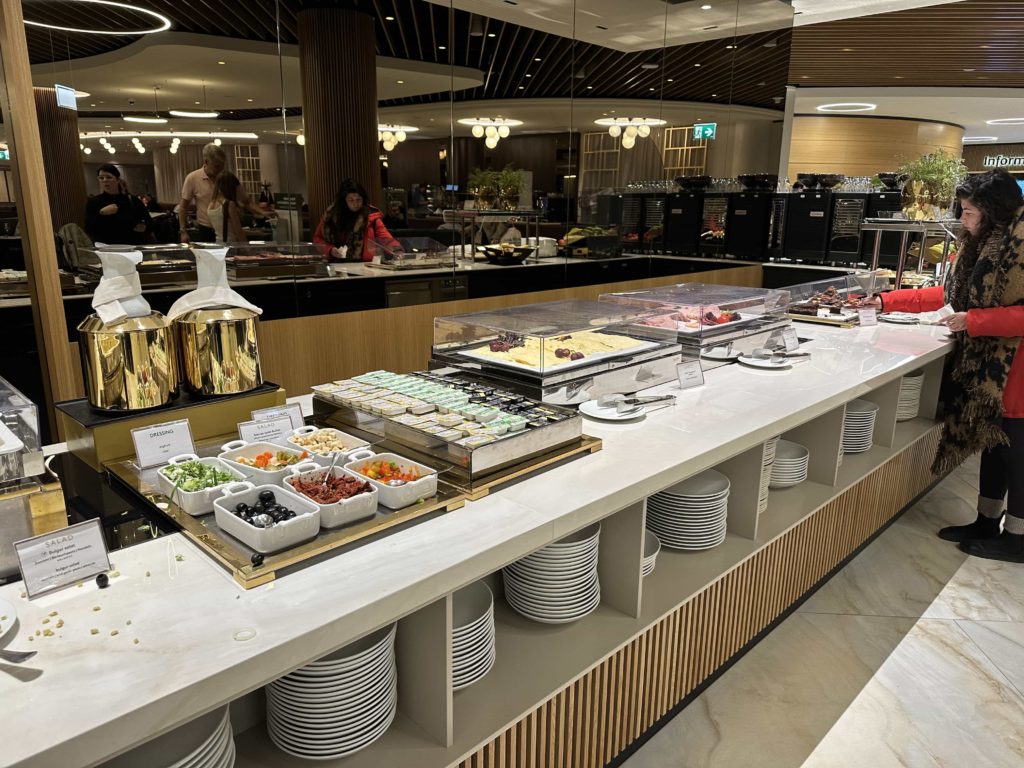 Some salad options were available, as well as bread, cold cut meats, and cheeses, but the overall offering felt a bit sparse, given how large the buffet setup is. I'd have liked to have seen a couple more hot dishes.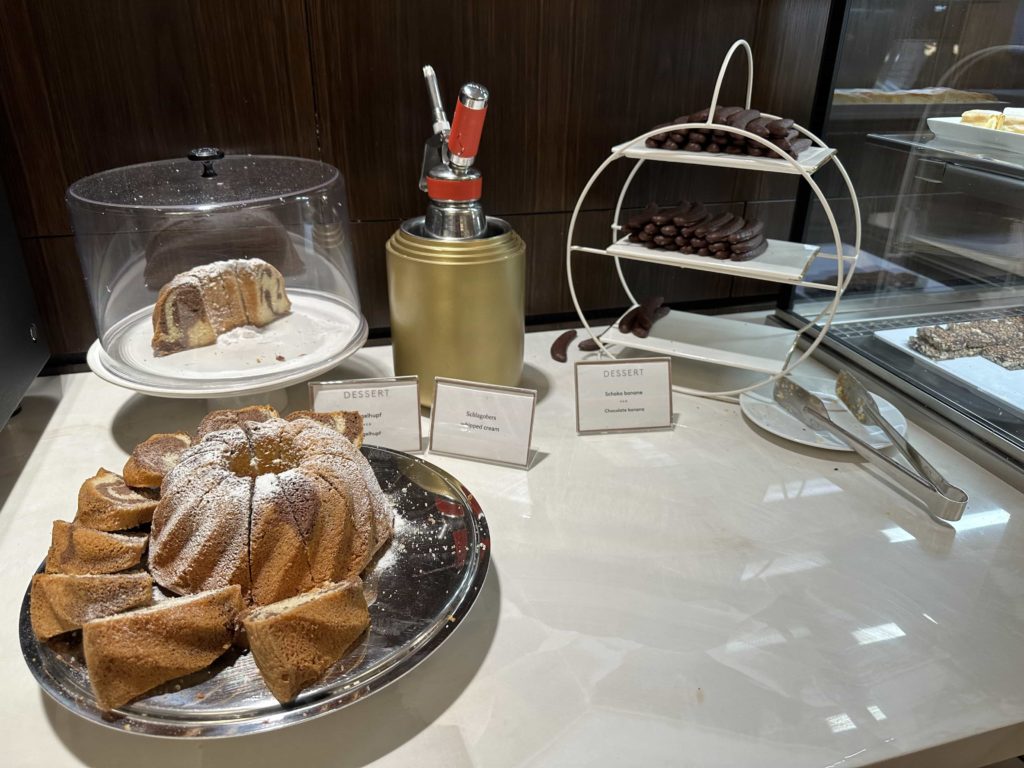 I have yet to visit a lounge where I'm truly impressed by the desserts, but in the grand scheme of things, the selection here wasn't too bad. Embarrassingly, I made a couple of return trips for probably the most basic of all 'desserts': the chocolate-covered bananas. They were quite addictive.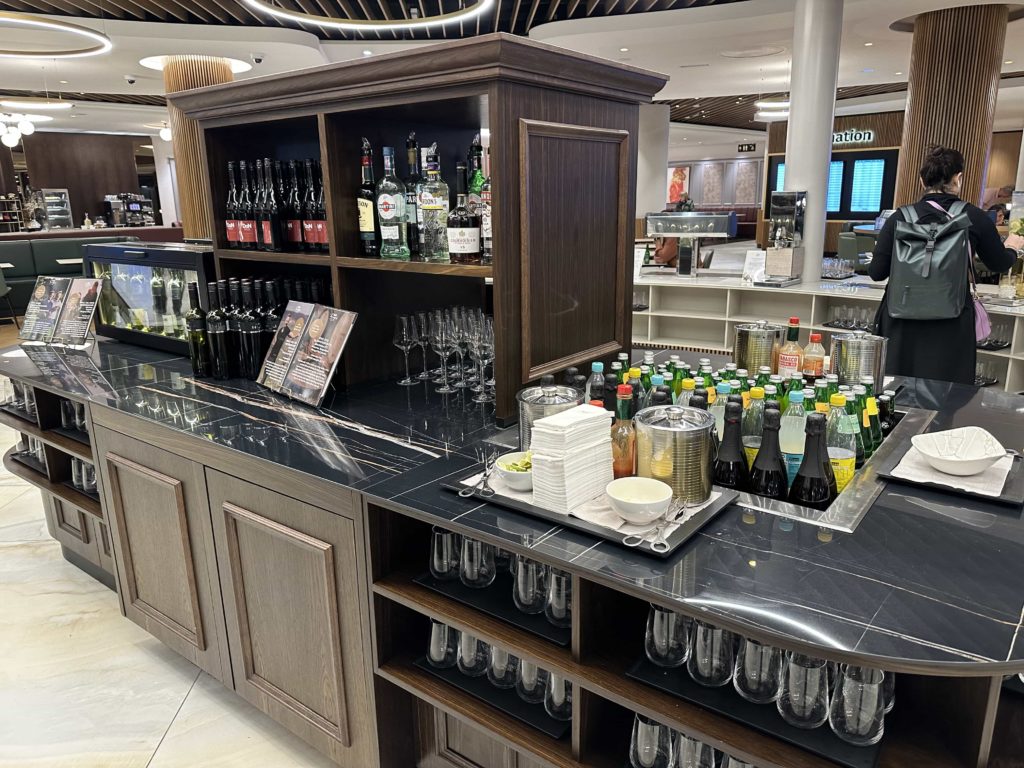 The self-serve drinks area is well-stocked, with the highlight being a broad selection of wines (including some speciality Austrian options). There's also beers, liqueurs, soft drinks, coffee, tea, and fruit-infused water.
Conclusion
I was thoroughly impressed with the Vienna Lounge at Terminal 1. Any negatives I've mentioned are purely in the interest of balance, as there's nothing significant to criticise.
As much as I enjoy visiting different lounges, it's actually quite sensible to have just one well-executed lounge for an entire terminal. It's certainly not an exclusive lounge, being open to so many passengers, but it does well not to feel overcrowded. Moreover, it's well-staffed and the spaces and facilities are maintained to an impeccable standard.
It's a lounge that feels thoughtfully designed, with a spacious and comfortable environment that is well laid out. The standout features are the relax room, the impressive selection of drinks, and quality furnishings. The lounge provides everything you could need, which is reflected in its high online ratings.
Personally, I wouldn't pay the regular price of 49 euros, but I'd certainly consider any discounted rates if I had an extended layover. That's just me being tight — I wouldn't pay that much for any lounge — however, everyone's priorities and budgets are different, so if you're tempted to pay full price, go for it!