For such a popular travel destination, it's surprising that there are so few 5-star hotels in Split, particularly those from recognisable brands. In fact, there's only two from international brands, one of which — AC Hotel Split by Marriott — has only just opened in recent weeks. Wanting more of a beachfront location than the Marriott could provide, we settled on the other option — the Radisson Blu Resort & Spa — which my family and I visited for a 4-night stay as part of a longer trip to Croatia.
Keep in mind as you read this review, that we stayed out of season, so our experience may not be representative of what you'll experience during the summer months. Personally though, I think the April-May timeframe is an ideal time to visit Croatia, if you're willing to make some moderate compromises in terms of weather conditions, activities, and transportation.
What I wanted to find out though, was whether compromises would also be required in terms of the accommodation. Staying in an Airbnb or no frills hotel, there probably wouldn't be, but here we're talking about a resort, well equipped with pools, restaurants, and amenities. Would we come away still feeling like we'd got our money's worth?
In this review, I'll address this question, as well as providing my more general thoughts on the Radisson Blu, Split as a holiday destination.
Price
We booked a 'Premium Room – Sea View, Balcony (2 Twin Beds)' for £835 directly through Radisson. The reservation was made in late January and we stayed in late April, just prior to peak season.
If I'm honest, the price seemed high to me, as I wasn't entirely sold on what I was seeing on the hotel's website. While some aspects, such as the terrace and spa, looked rather nice, there also seemed to be a significant emphasis on meetings and conferences, and the rooms themselves didn't wow me. In hindsight, a few of my assumptions were correct, but on the whole, I came away a lot more impressed than expected.
I must have selected the 'reserve now, pay later' option when booking, because about a month before our stay, I was notified that payment was due. I mention this because it ended up being a bit of a hassle to sort out. The payment portal wouldn't accept credit cards, but there was no indication of this. After several days of failed attempts, I tried a debit card as a last resort, which went through fine. However, it was disappointing to miss out on reward points and credit card protection.
Location
The location is probably my only real criticism of this hotel, but I've come to appreciate it more after researching for this article.
Upon arrival, we were slightly underwhelmed by the surroundings, having just come from the stunning coastal hotel, Valamar President in Dubrovnik. That hotel is a top-drawer example of a beachfront hotel, and is aided by some of the best coastline in the world, so the Radisson was always going to struggle to compete. Indeed it does, with a beach more removed from the property, a view comprised of fewer points of interest, and much more built-up surroundings.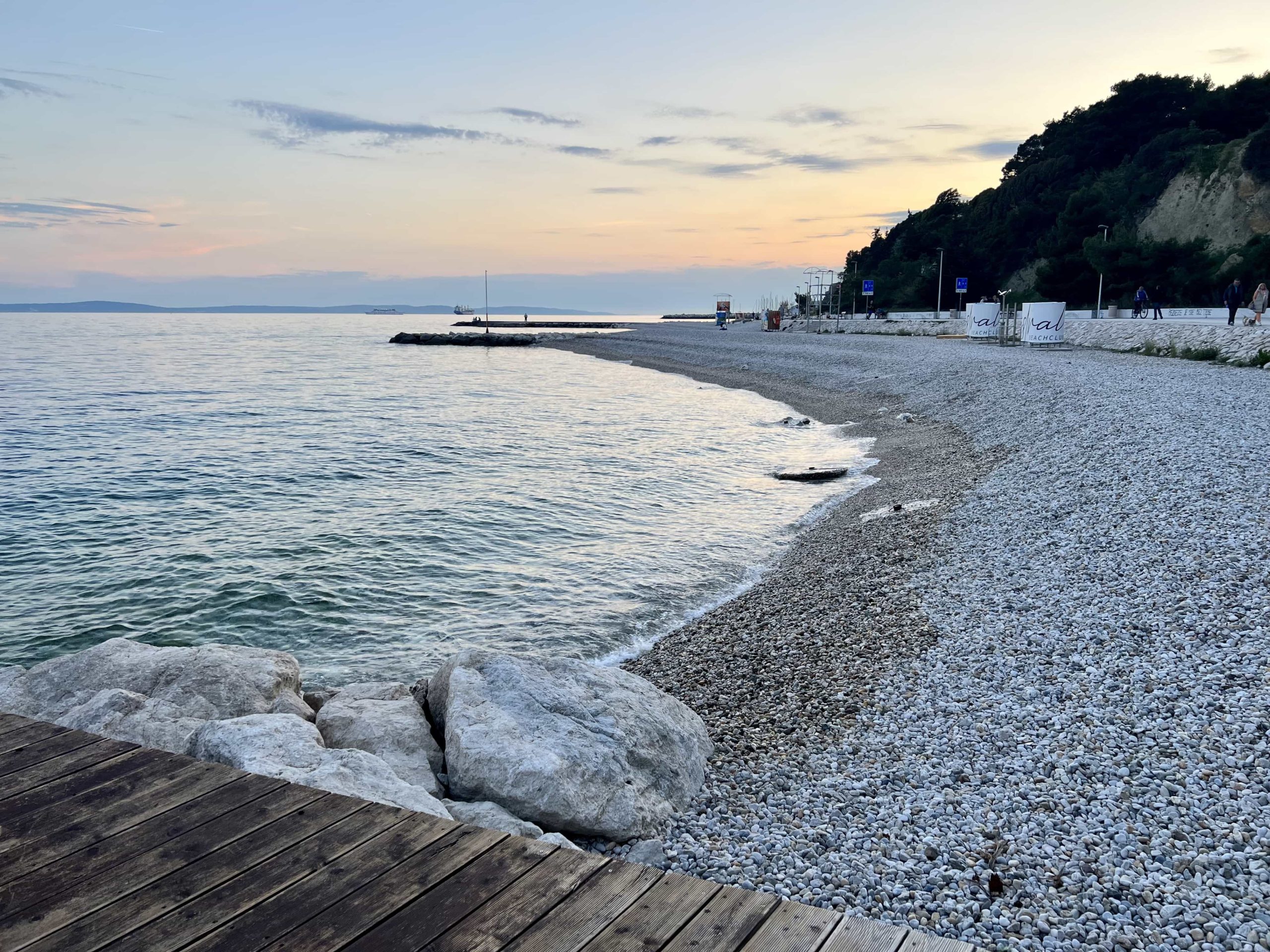 To the Radisson's credit, I've since learned that the beach which borders the hotel is actually considered one of the city's most beautiful, and is maintained by Radisson themselves. The neighbouring beaches like Ovčice and Žnjan are also some of the best in the area. While the coastline may not be as picturesque as in Dubrovnik, when it comes to Split, Radisson have actually excelled in positioning the hotel in a prime beachfront location.
Unfortunately, that has meant some trade-offs. Chiefly, in terms of what surrounds the hotel. It's fair to say the structures which surround the hotel are… how do I say this… a little 'rugged'. On one corner of the hotel, you've got the imposing shell of what appears to be either an abandoned or postponed construction project. Across from the 'city view' rooms you've got a bunch of high-rise buildings, clearly built in the 1970s, and even the beachfront is slightly obstructed by some blocky apartment buildings. You'll struggle to find a completely unspoiled view, but you can minimise the distractions by choosing a sea view room, and requesting an upper floor.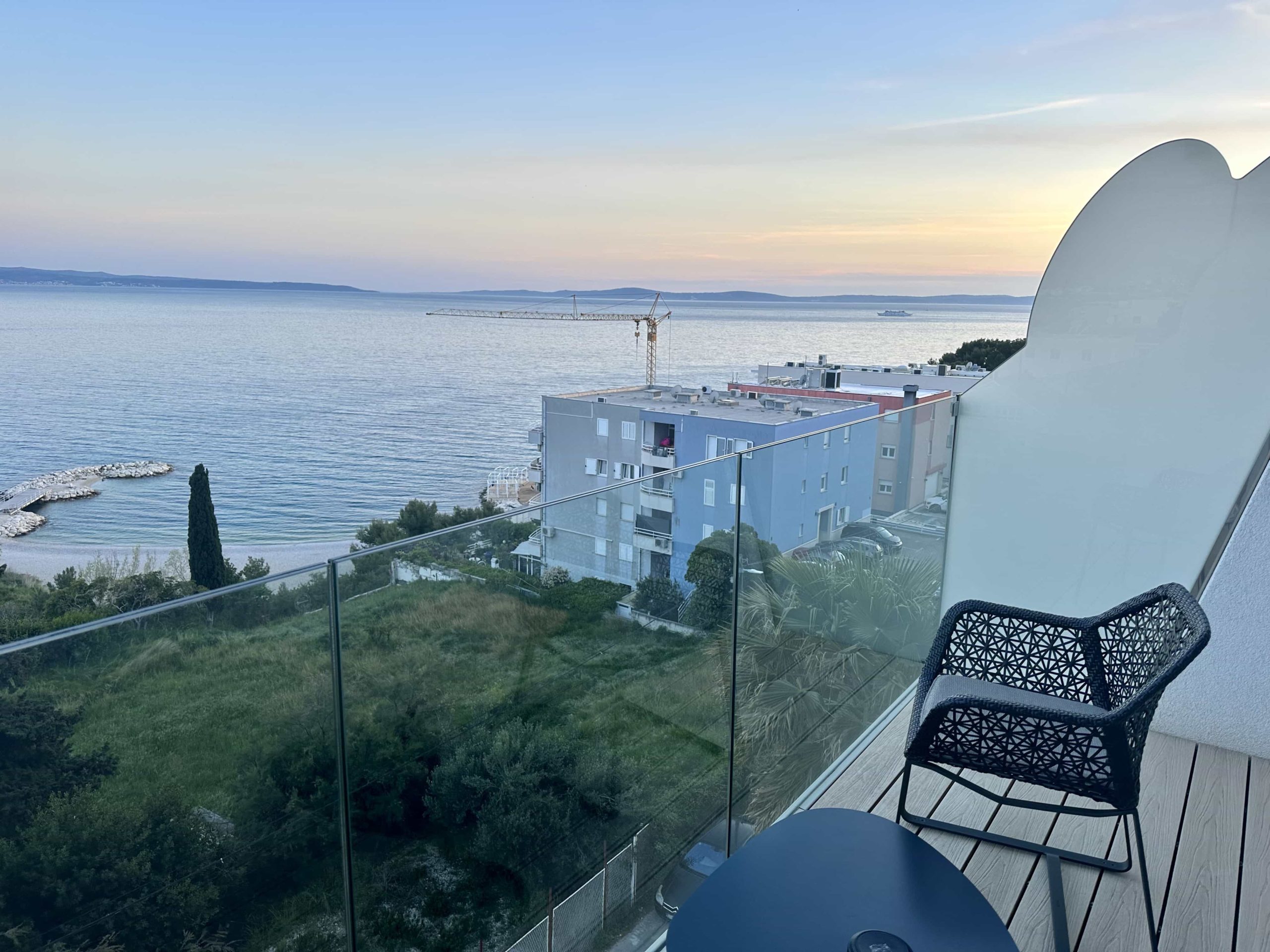 Aside from the beaches, there's not much in the immediate proximity of the hotel that I'd recommend visiting. So, when you're ready to head into the city centre, you can catch an Uber for only a few euros, and you'll be at the old town in 10 minutes — maybe 5 minutes, with the speed some Split drivers seem to zoom through the streets. Walking is possible at 35 minutes, but it's not exactly a scenic route, so I wouldn't bother.
Upon check-out, we took an Uber to the airport, which cost us 33 euros and took just over 30 minutes. Another option is to use the local bus service and take the number 37 bus, before changing to number 17 in Split city centre. This will take around one and a half hours.
If you want to rent a car, there's a Carwiz location on-site, or you can take a 10-15 minute walk to Sixt or Enterprise. This is what I did, preferring to stick with a brand I'm familiar with and have status with. Parking is available in the multi-storey just outside the hotel for 20 euros per night.
First impressions
A theme you'll begin to pick up on during this review, is how excellent the staff are. This was immediately apparent upon check-in.
Our stay at the previous hotel had felt slightly impersonal, and a bit hit or miss when it came to staff interactions. Here however, they were fantastic and very professional.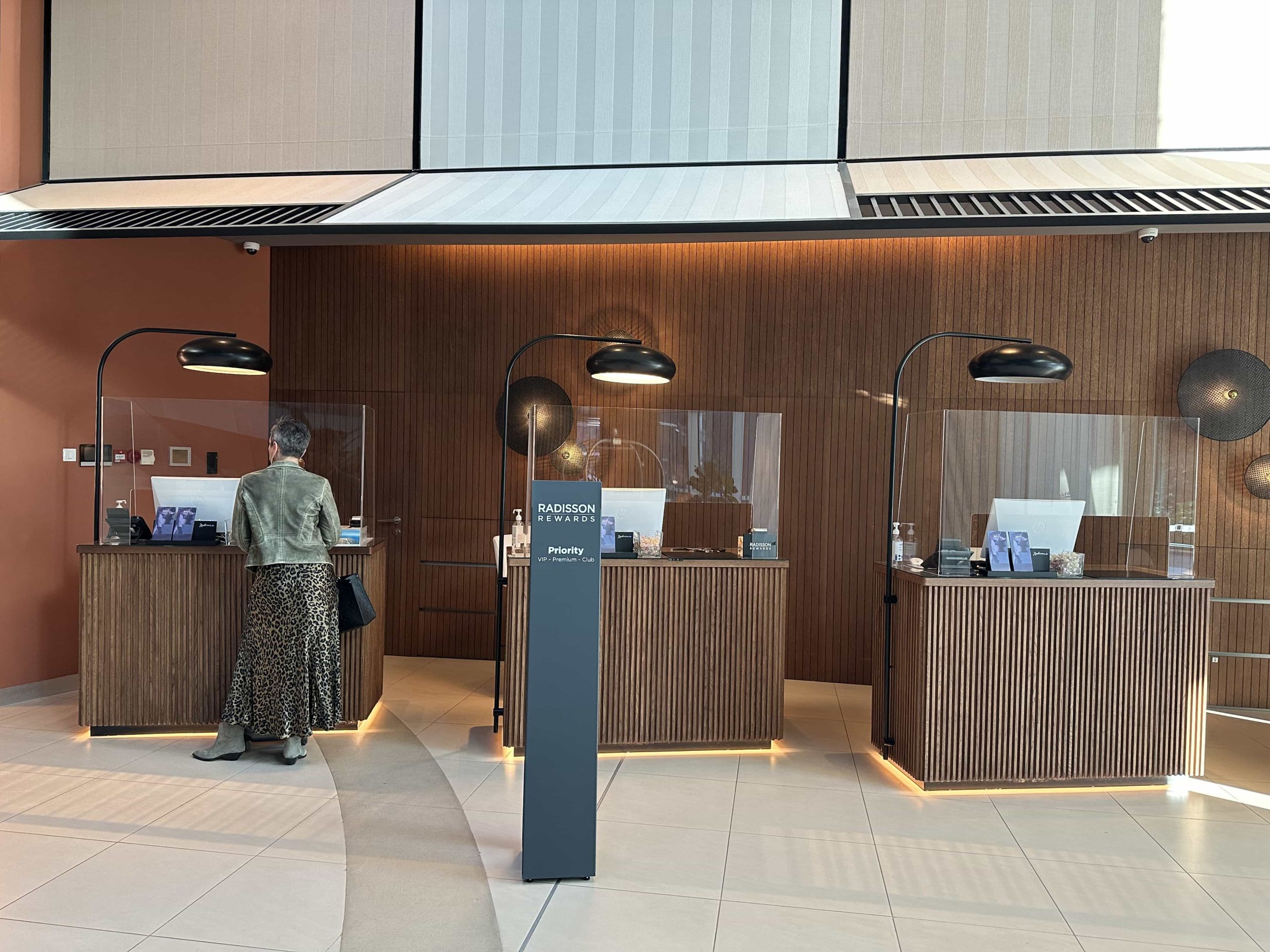 We arrived into the modern and spacious lobby area, and were greeted at the check-in desk by a very attentive member of staff, who rather than just going through the motions, gave a thorough and enthusiastic brief of the facilities, asked about my day, and gave some recommendations. This was a perfect way to kick off our stay.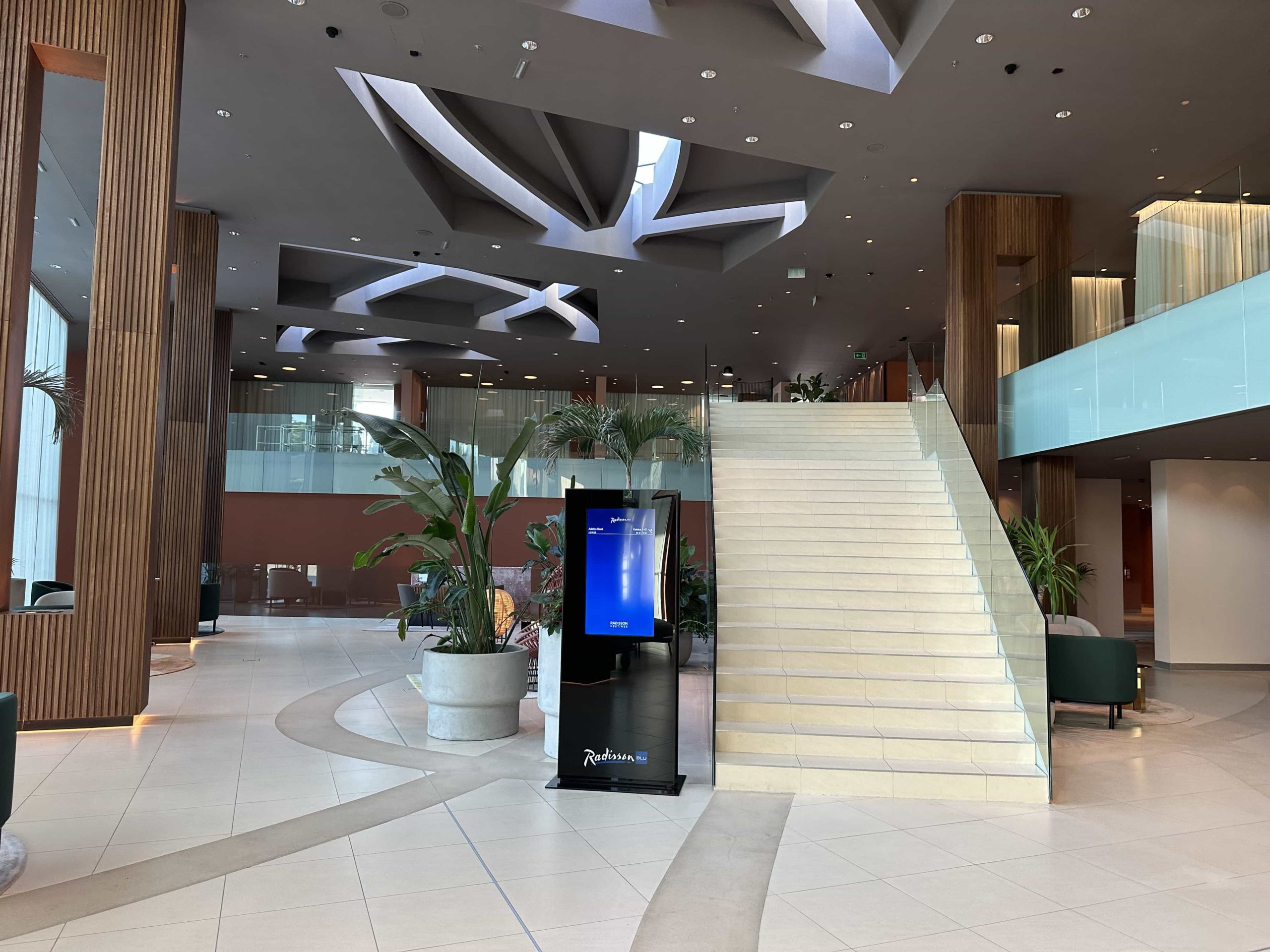 Immediate impressions of the hotel itself confirmed my suspicion that it leans slightly more towards business than holiday resort, but later I realised that it manages to strike nice a balance between the two. The look and feel is akin to what you'd find from a Radisson in any other city, but the facilities certainly cater to the coastal location.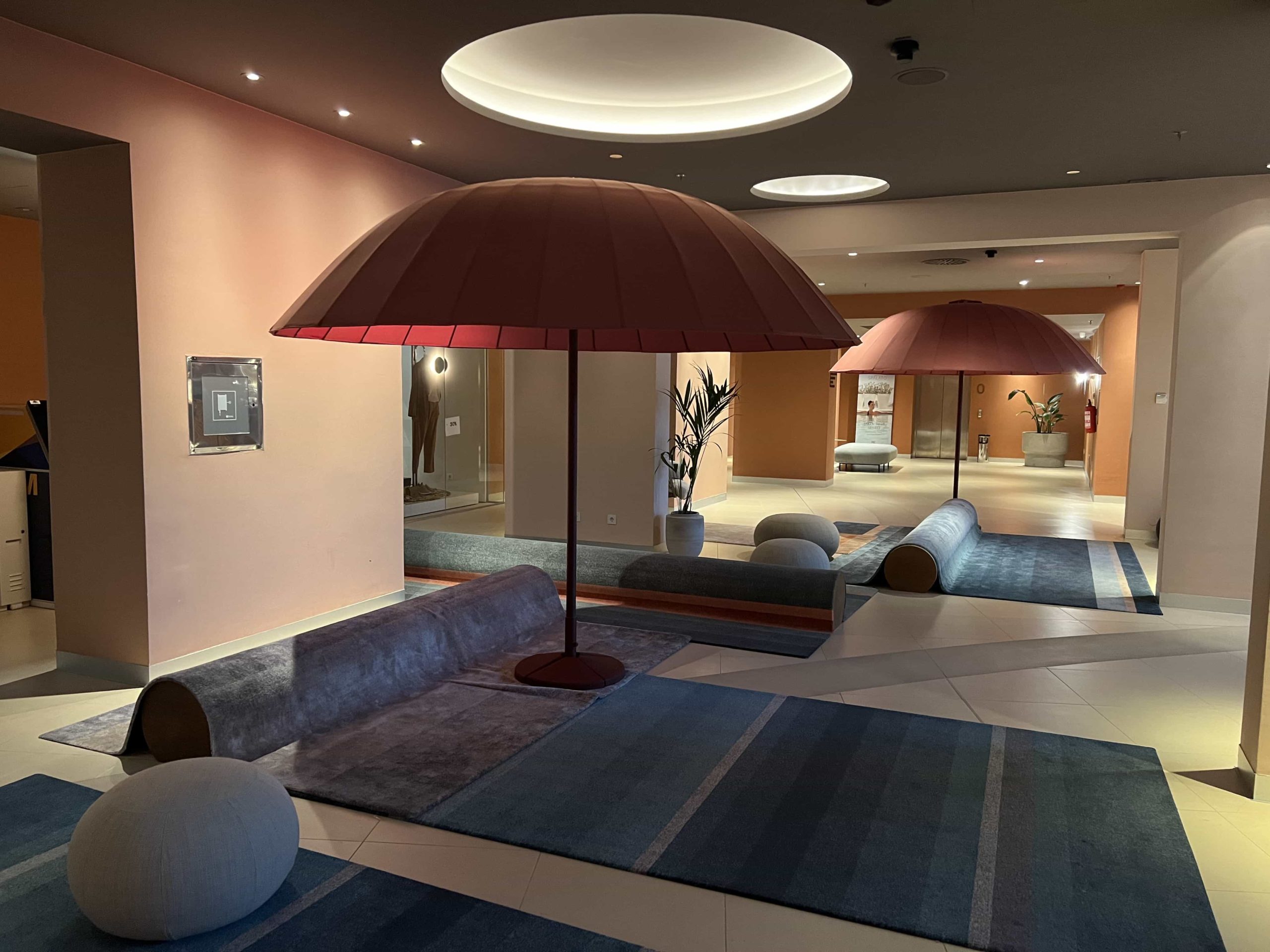 Most of the guests there during our stay happened to be conference-goers, so it was more a shirts and trousers atmosphere than the t-shirt and shorts vibe that I turned up in, but the hanging egg chairs, parasols, and carpets styled as oversized beach towel in the lobby, made me feel less out of place. Again, I expect the clientele would look quite different in summer months.
Room
Upon walking into the room, we were pleasantly surprised by how spacious it felt. It's not unusually large, but the extra ceiling height really enhances the feeling of space. Some extra square meterage is one of the perks of the 'premium' room vs. the regular 'superior' room. The feeling of spaciousness was further amplified, when we opened up the curtains and patio doors to the balcony the next morning.
The room won't blow you away in terms of its decor or luxury, but it's comfortable and modern. Personally, I think it does well to avoid the baby blue and purple colour scheme of some of the other rooms, which to me screams 'budget hotel' and has the potential to induce sensory overload. The cream, beige, and light wood materials are much more tasteful, and complement the emerald green and turquoise tones of the Adriatic Sea. Admittedly, there's not much in the way of identity — it's very 'business'. If that doesn't bother you, on the whole it's a room that does exactly what you need it to. That is, with two exceptions: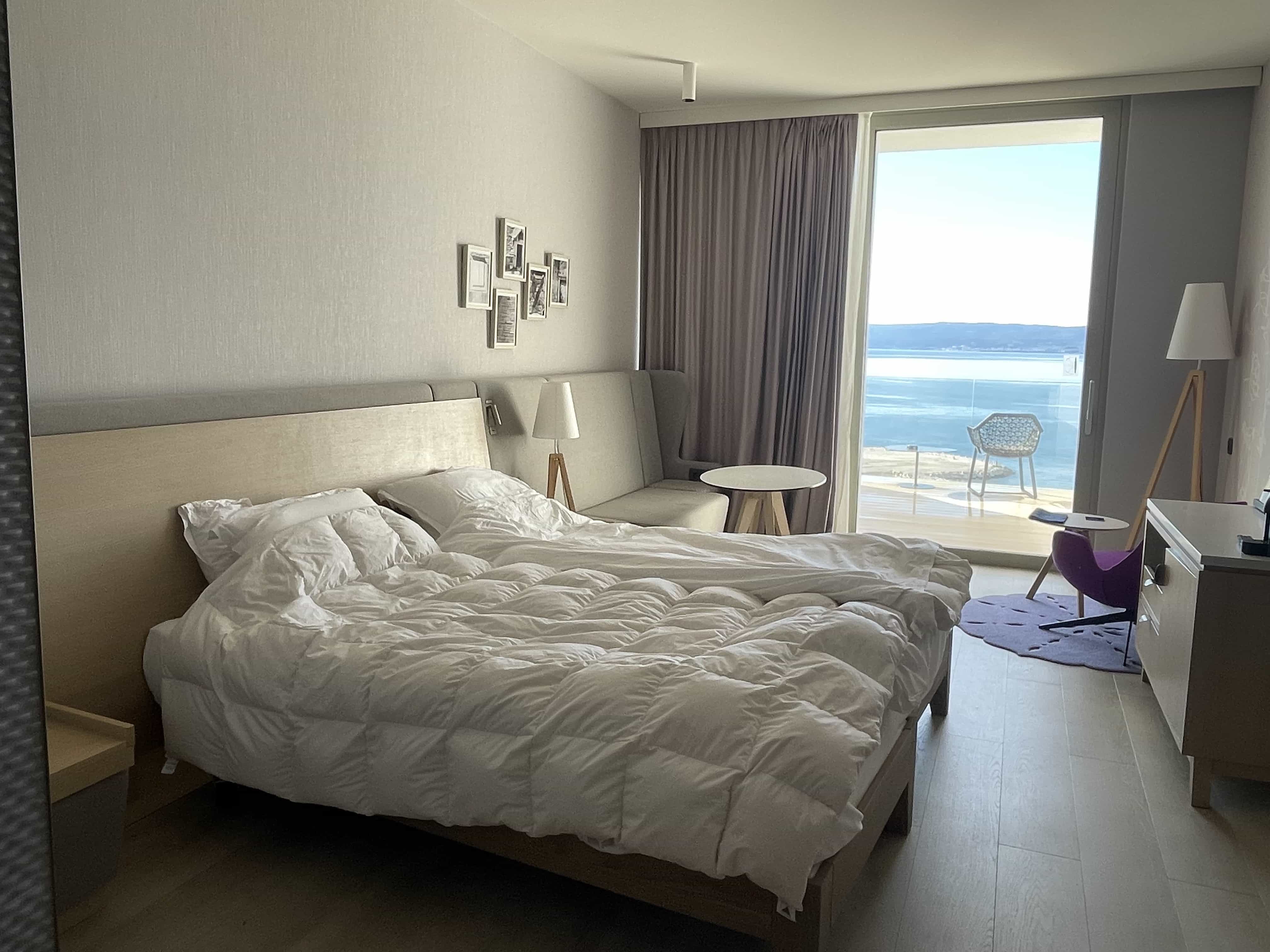 The first is the sofa arrangement, which is awkward and is more reminiscent of a bench — very strange for such a spacious room. Really, it's only good for working from, and isn't somewhere I'd spend time relaxing on. The lounge chair is better, but there's only one, so families will have to fight over it.
Another issue is the poorly designed window between the shower and the bed that is only partially obscured. This is one of those 'trendy' features that you see in many hotels, but in all instances it's a frustrating compromise for families or guests who value privacy. Rather than creating a sense of interconnected space, it falls short of its intended purpose and leaves the room feeling awkwardly compromised.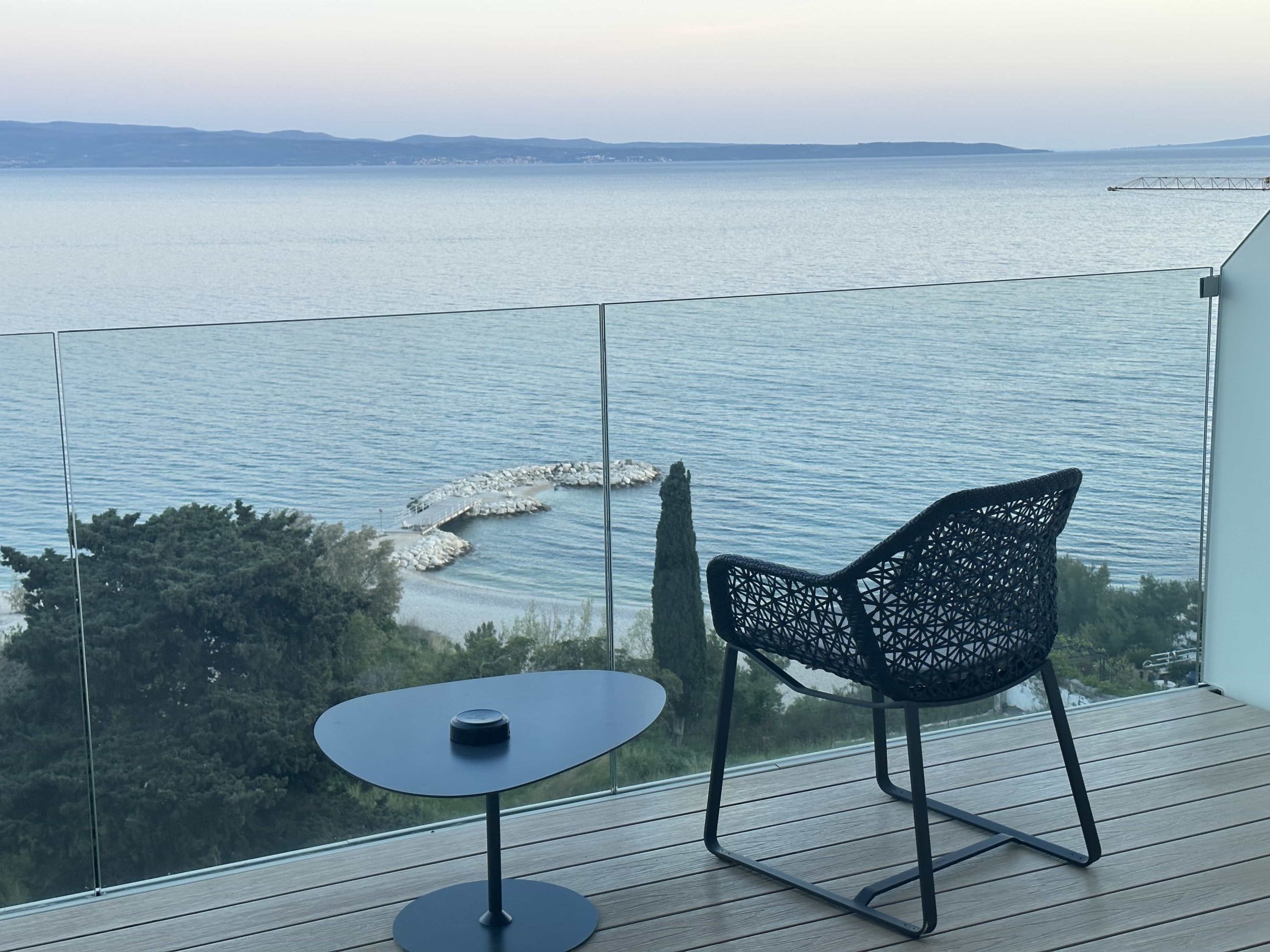 The balcony is nice, and quite private, with full-height dividers on either side. It's equipped with two chairs and a table, which are ideal for enjoying room service while you watch the sunset. Like the room though, the space is a bit devoid of personality.
Ironically, the toilet is located in a cubicle separate from the shower and sink area, so the designers clearly think some privacy is necessary. It's a welcome feature, because it means more than one person can get ready at a time.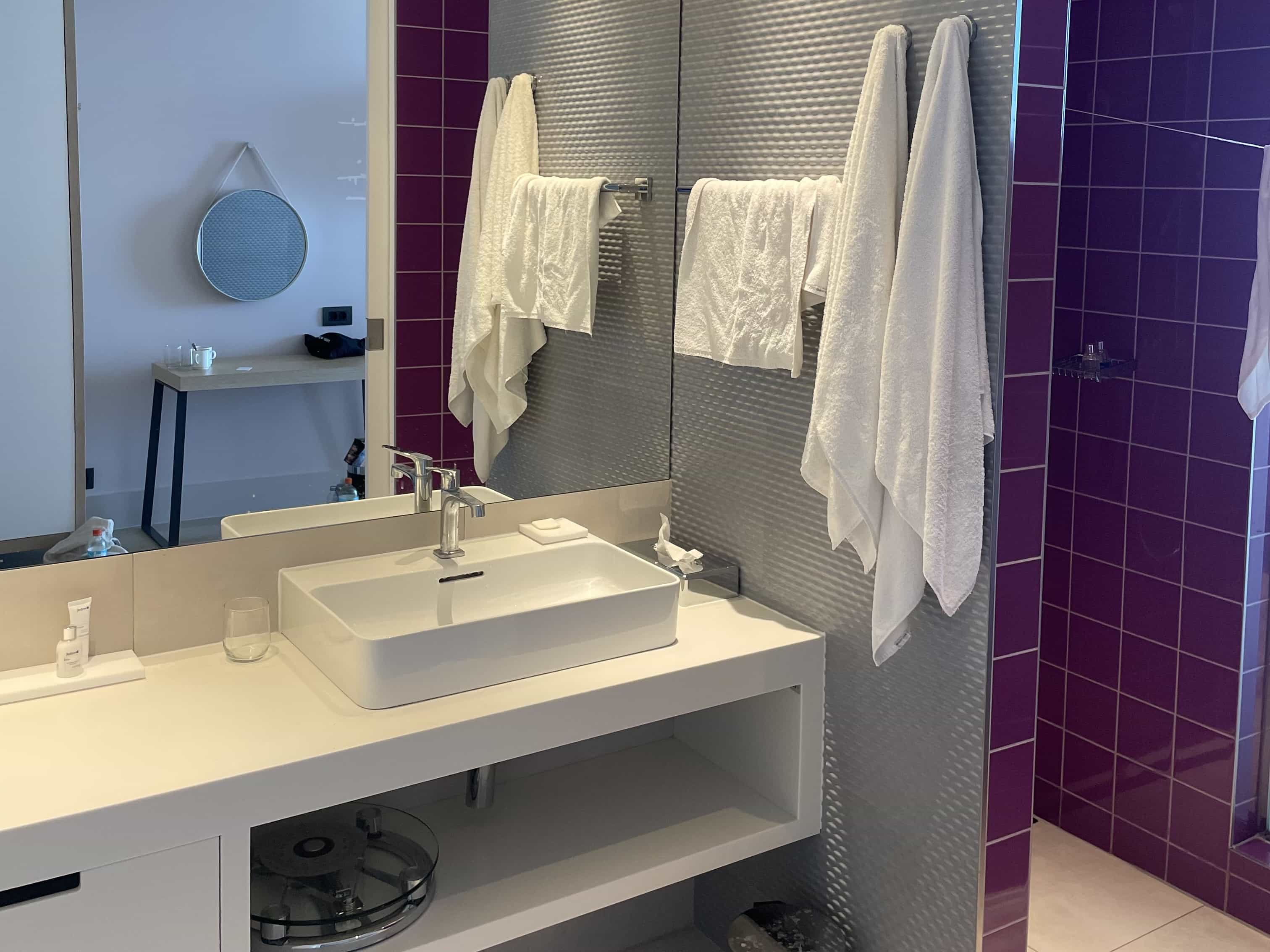 There's not too much else to mention about the room, other than to say that it's well sound insulated, there's plenty of storage, and the A/C is effective and quiet. All of the expected amenities were present, and the room was thoroughly cleaned to a high standard.
Pool and spa
The first and most frustrating compromise of our stay, was the discovery thatthe outdoor pool was closed. Not just closed, but drained and seemingly in the middle of maintenance work — a clear casualty of the off-season. This one irked me slightly more than the other compromises I'll come to mention, since it isn't mentioned on the hotel's website. Moreover, it meant the indoor pool was extremely busy.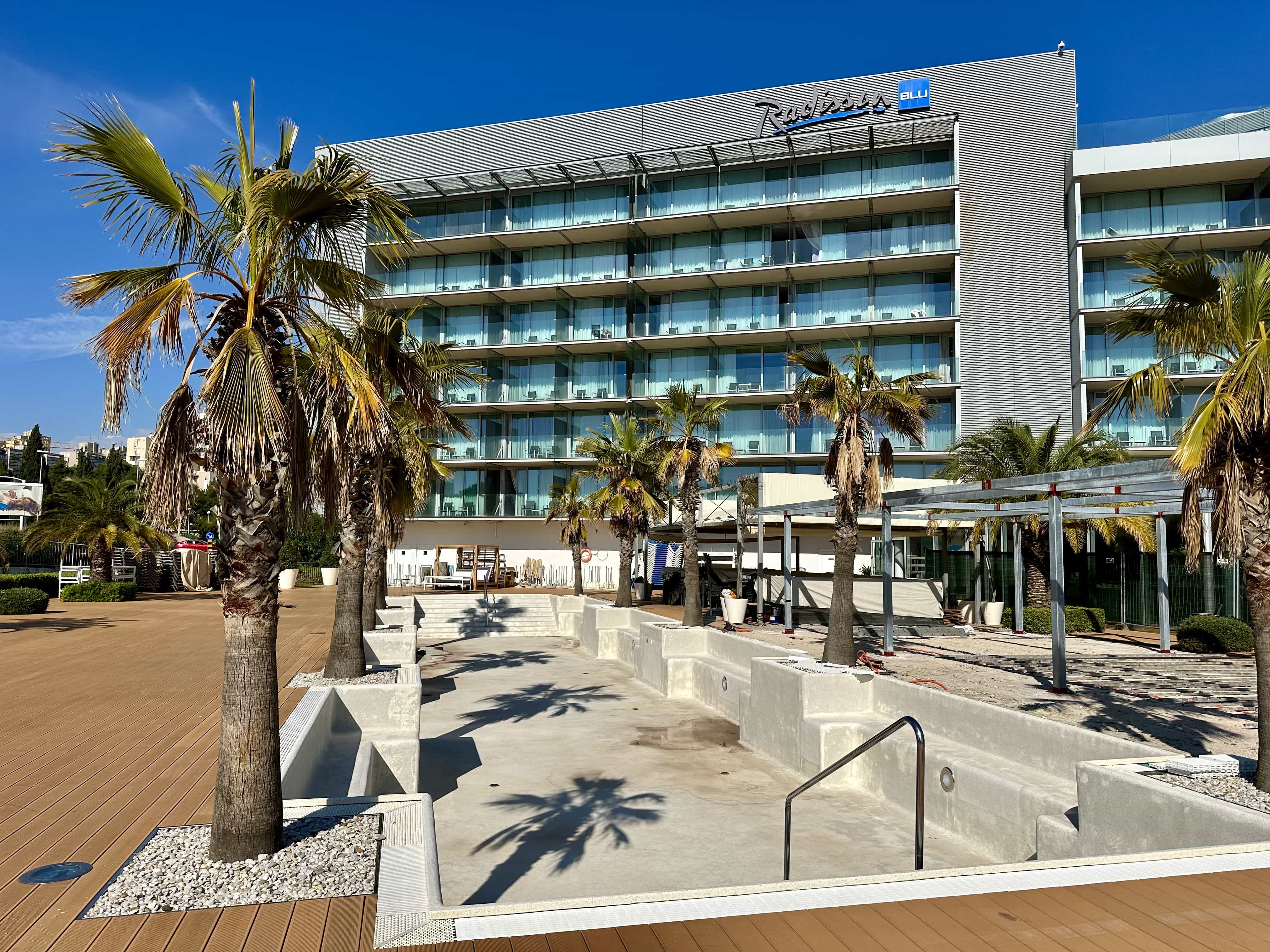 The overall spa area is large — and so is the pool — albeit not large enough to be the only option for guests of over 250 rooms. As a result, it was very over-crowded and it became almost impossible to swim laps without accidentally assaulting a small child or being taken out by a flailing arm. At one point, I experienced a prolonged face-off with a determined German as we both battled it out for space. Neither of us was victorious. Seeking refuge from the chaos, I made my way to the relaxation area for some refuge.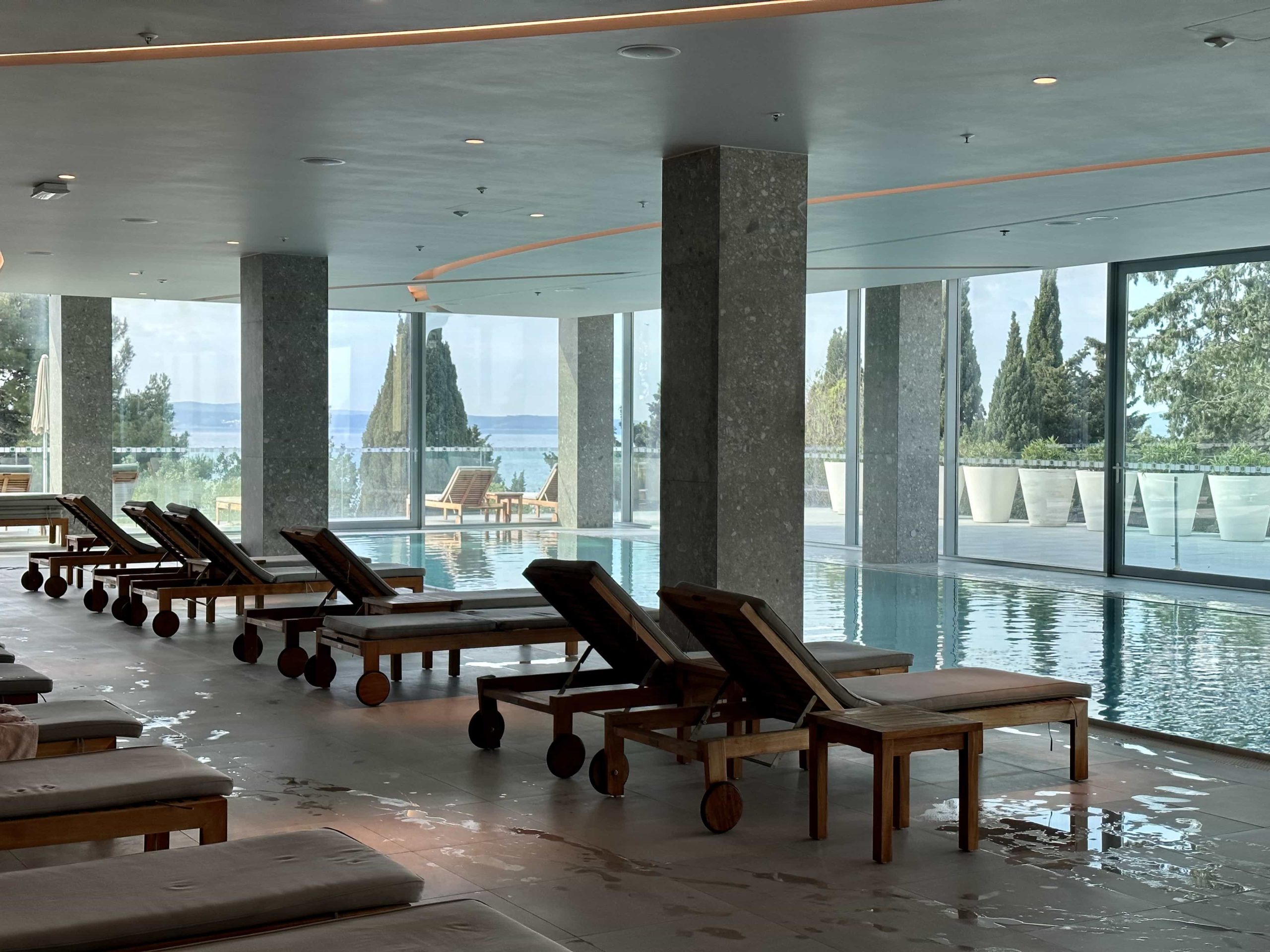 As you walk in, you find the two plunge pools (warm and cold), plus a large room for lounging. The two saunas and the steam room overlook this space, and it's generally very open-plan, so it's not the most tranquil spa experience. It also lacks the intimate ambiance that is found in the best spas, such as soft mood lighting, candles, soothing ambient music, and incense. These details may seem frivolous to mention, but there's plenty of hotels in this price bracket which do integrate these more lavish details. It's not a bad spa experience by any means, but it's not top-class.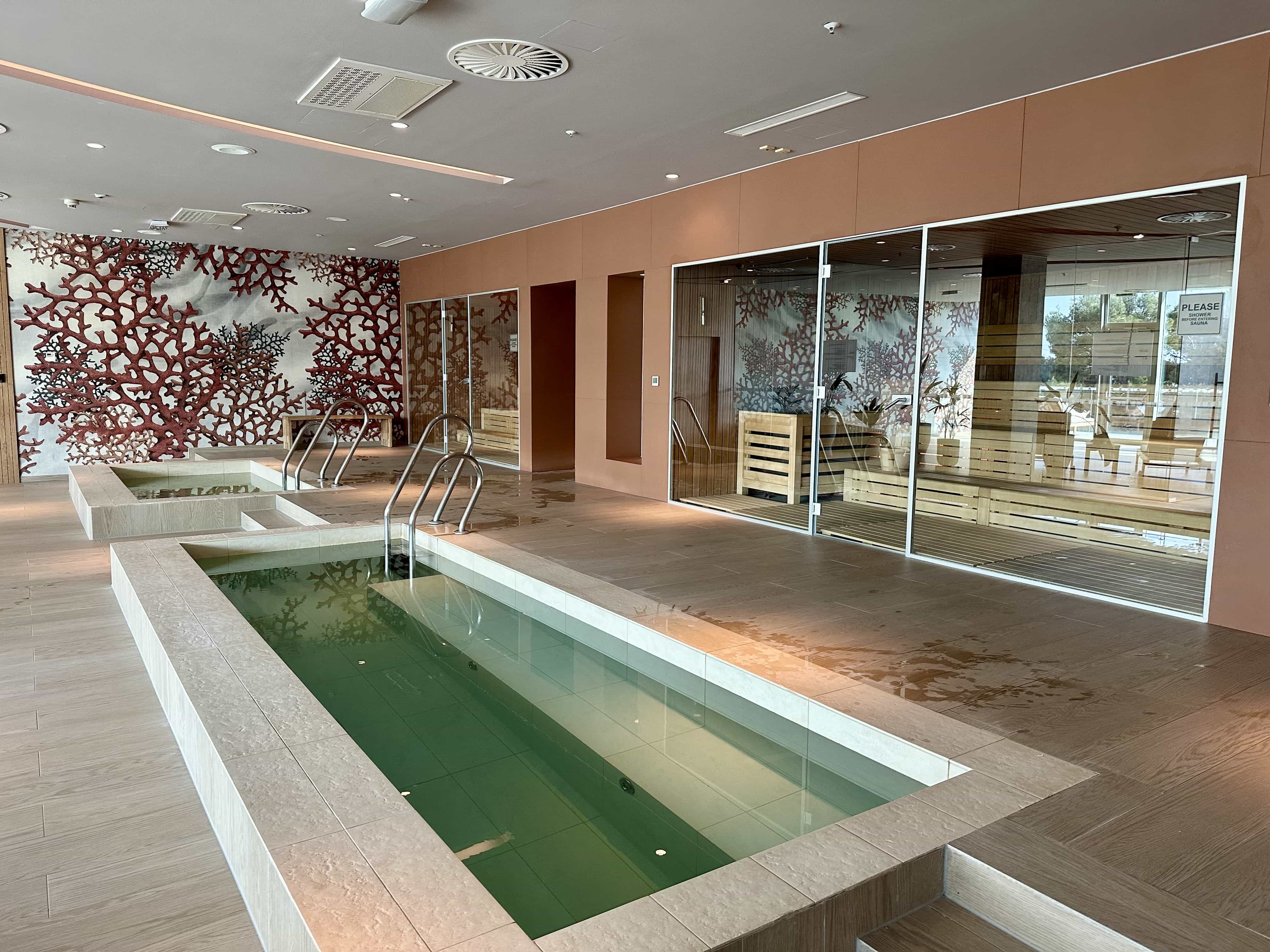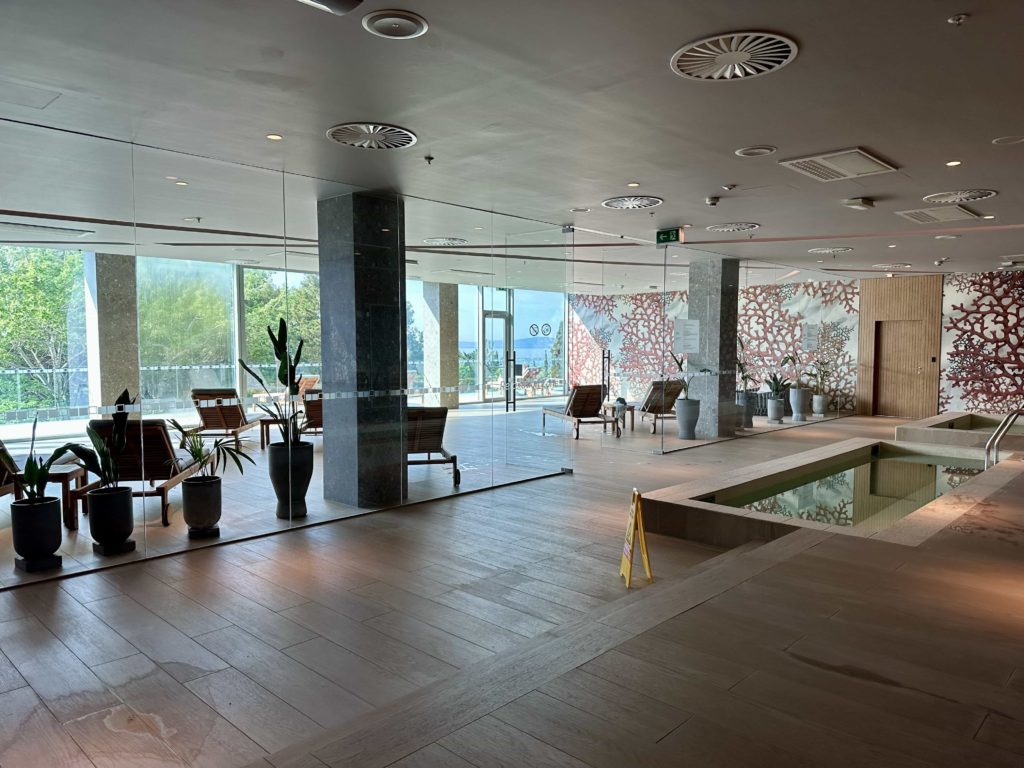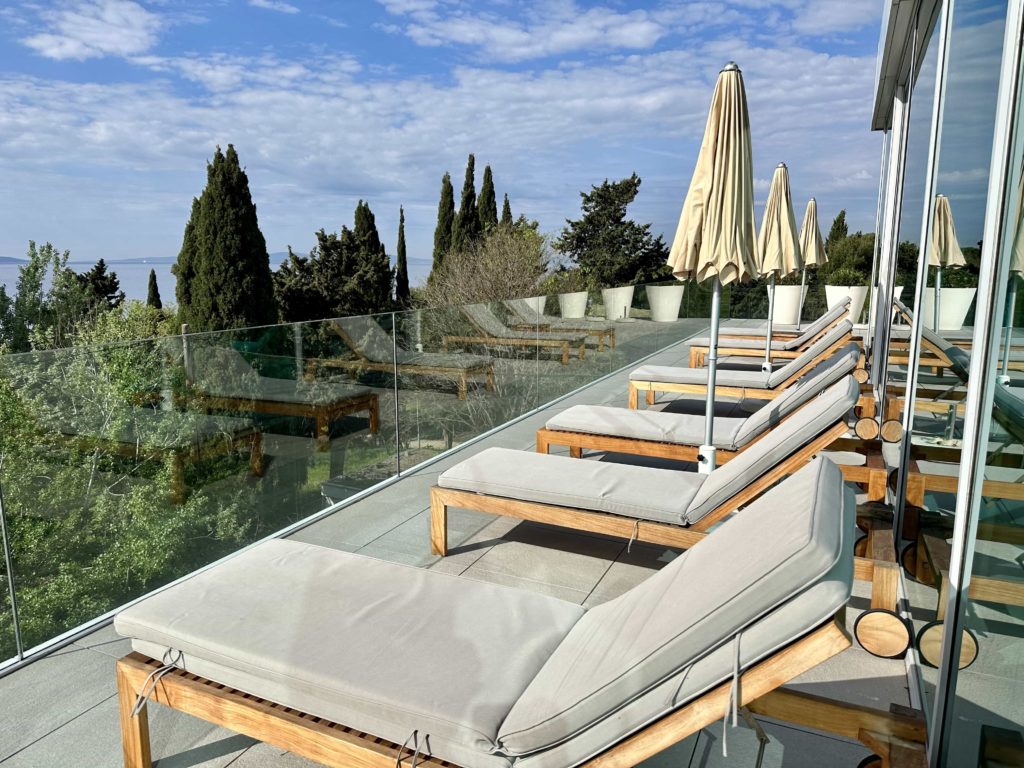 On the balcony outside are additional loungers which give you a glimpse of the sea view, although are blocked somewhat by the aforementioned buildings. The reception area is attractive and welcoming, the changing rooms are large and well maintained, and there's a private spa area which is effectively a spa, within a spa — presumably bookable for a not insignificant sum of money.
Fitness centre
Next door to the spa, is the fitness centre, which I used on the last night of our stay. It's a 24-hour fitness centre, but is only staffed until around 11pm. After that, you need to access it from the lobby via a strange arrangement where you pass through a service corridor, an unmarked door, into an unlit yoga room, and finally through to the fitness centre. While this arrangement seemed peculiar, it had the advantage of providing some peace and quiet in the late hours. During regular hours, it can be accessed from the spa reception.
Once inside, I immediately noticed that the equipment selection had some notable shortcomings. The most striking omission was the lack of a treadmill — an obvious staple of most gyms. The weight machines were also limited to an overhead press, a bench press, and a cable crossover. Based on online images, it appears that the lineup used to be more comprehensive, but the facilities underwent upgrades at some point, and not all of the equipment was replaced.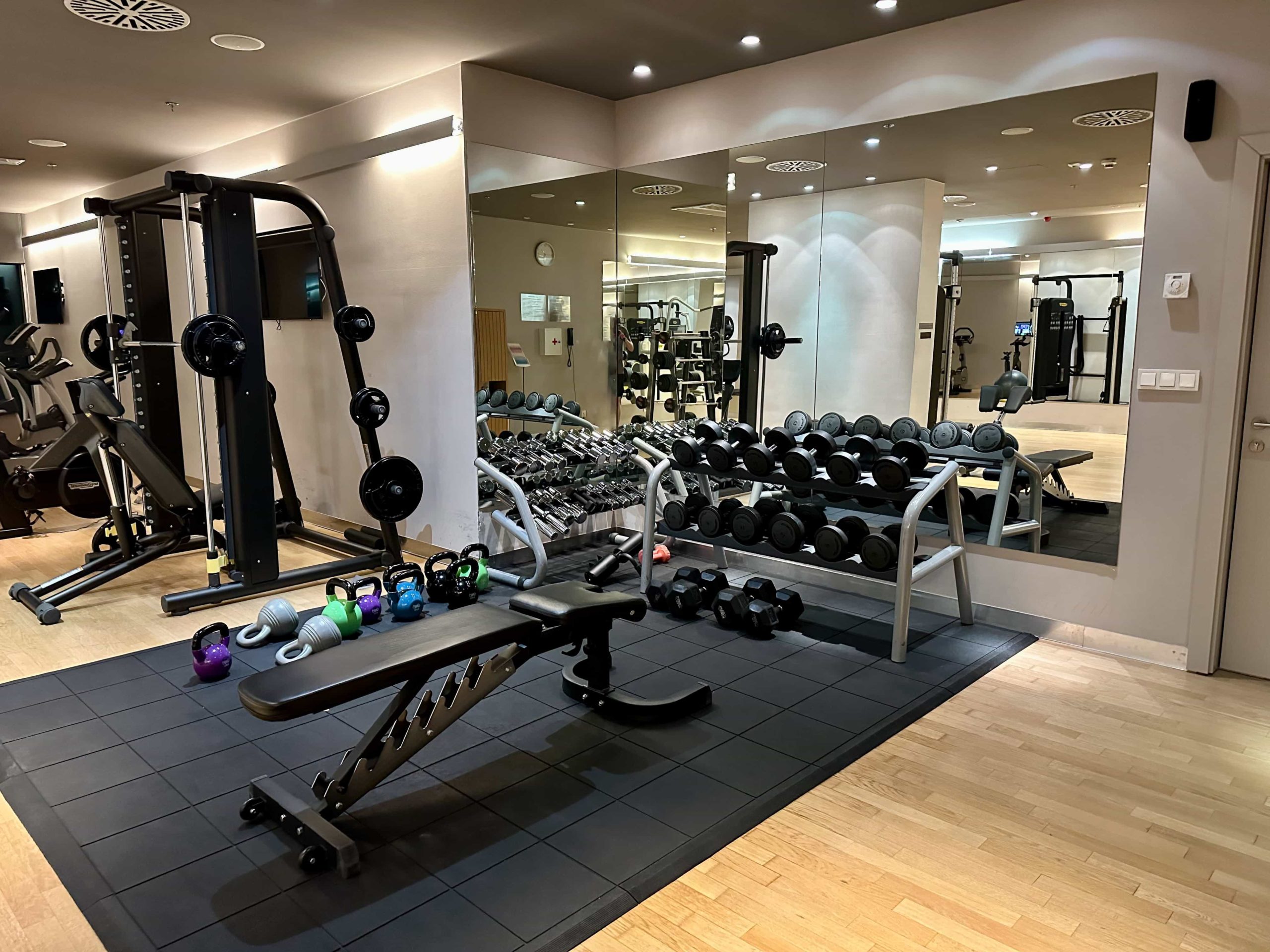 If you, like me, are willing to work with what is available, you'll find the equipment to be modern and well-maintained. There are also barbells, kettlebells, dumbbells, and exercise balls. One perk of the lack of equipment, is that there's adequate space for warming-up, bodyweight exercises, HIIT workouts, and so on. Water, towels, and cleaning facilities are provided.
Beach
Let's talk about the beach. Earlier I mentioned that it's slightly removed from the property itself. To be more exact, you leave the hotel through a side exit, cross the road, head down some steps through a public park, and cross another road to the Mistral Beach Club. As a result, the hotel and the beach do not feel one and the same — they're quite separate.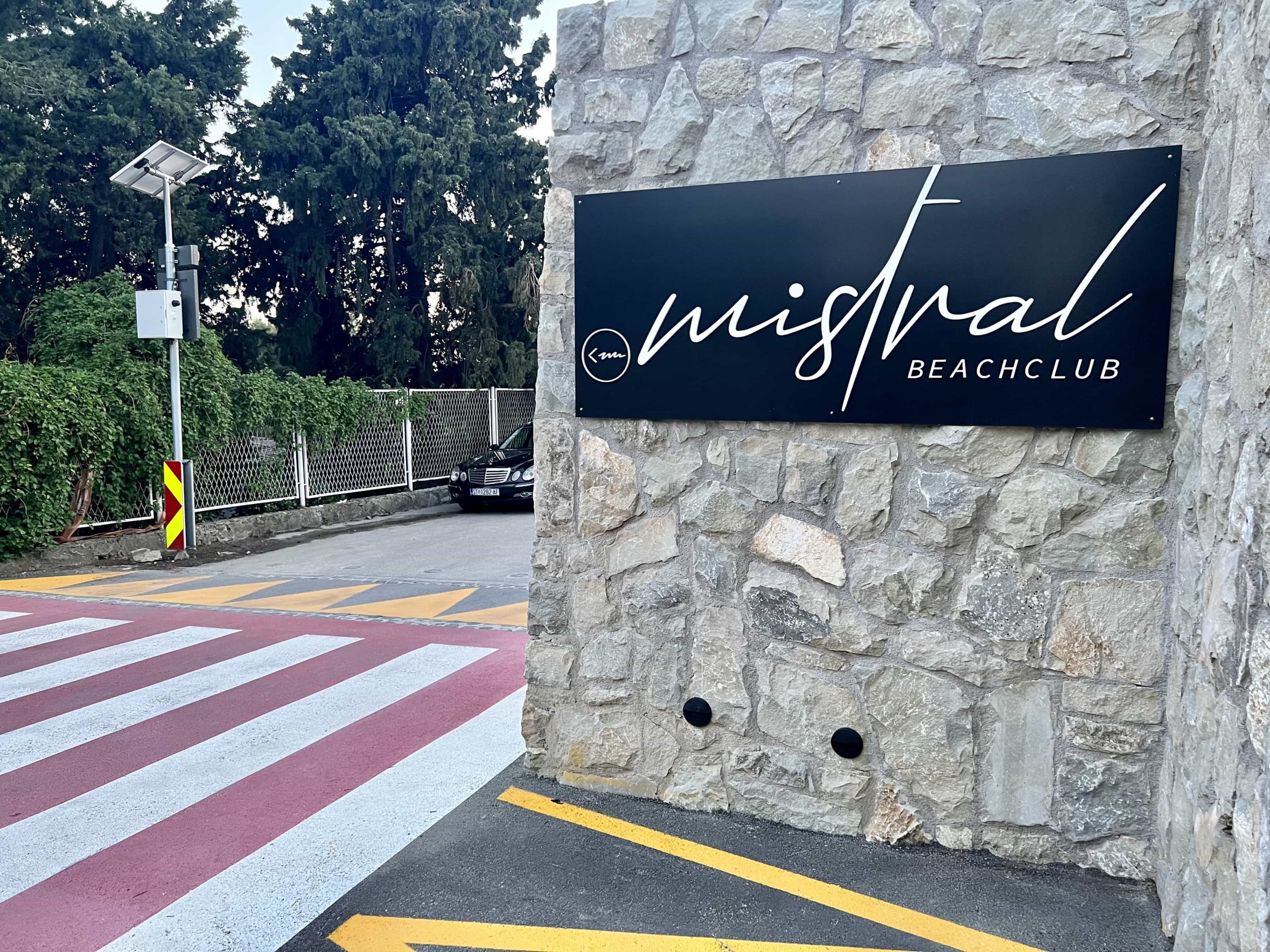 Mistral Beach Club sits atop a man-made semicircle, built up from rocks, protruding from the beach. When it's open, it looks to be an impressive addition to the coastline, but out of season, its presence is little more than some decking and the shell of what's normally a bar for beachfront food and refreshments. Boarded up and fenced off, with the loungers and umbrellas in storage, it looks more like a dilapidated porch than a feature of a first-class waterfront resort.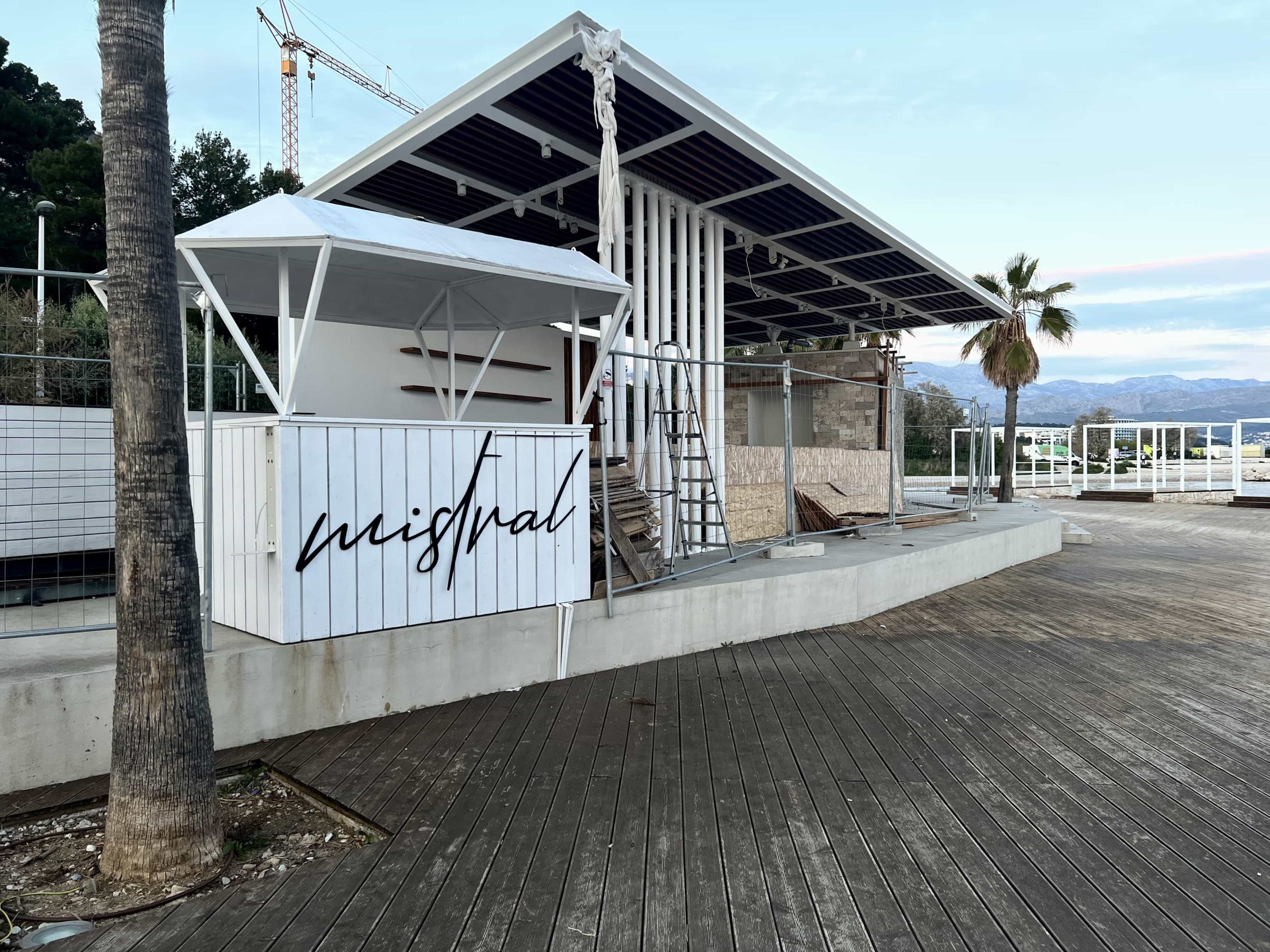 I have no doubt it's lovely in the summer months, but in this state, it's not a great look for the hotel. They should close this area off properly, or at least keep it in better shape. Also keep in mind that out of season, anyone can walk up and enter this area — it's not exclusive to hotel guests. With no service and facilities, you'd be better relaxing on one of the other beaches along the coastline during out of season months.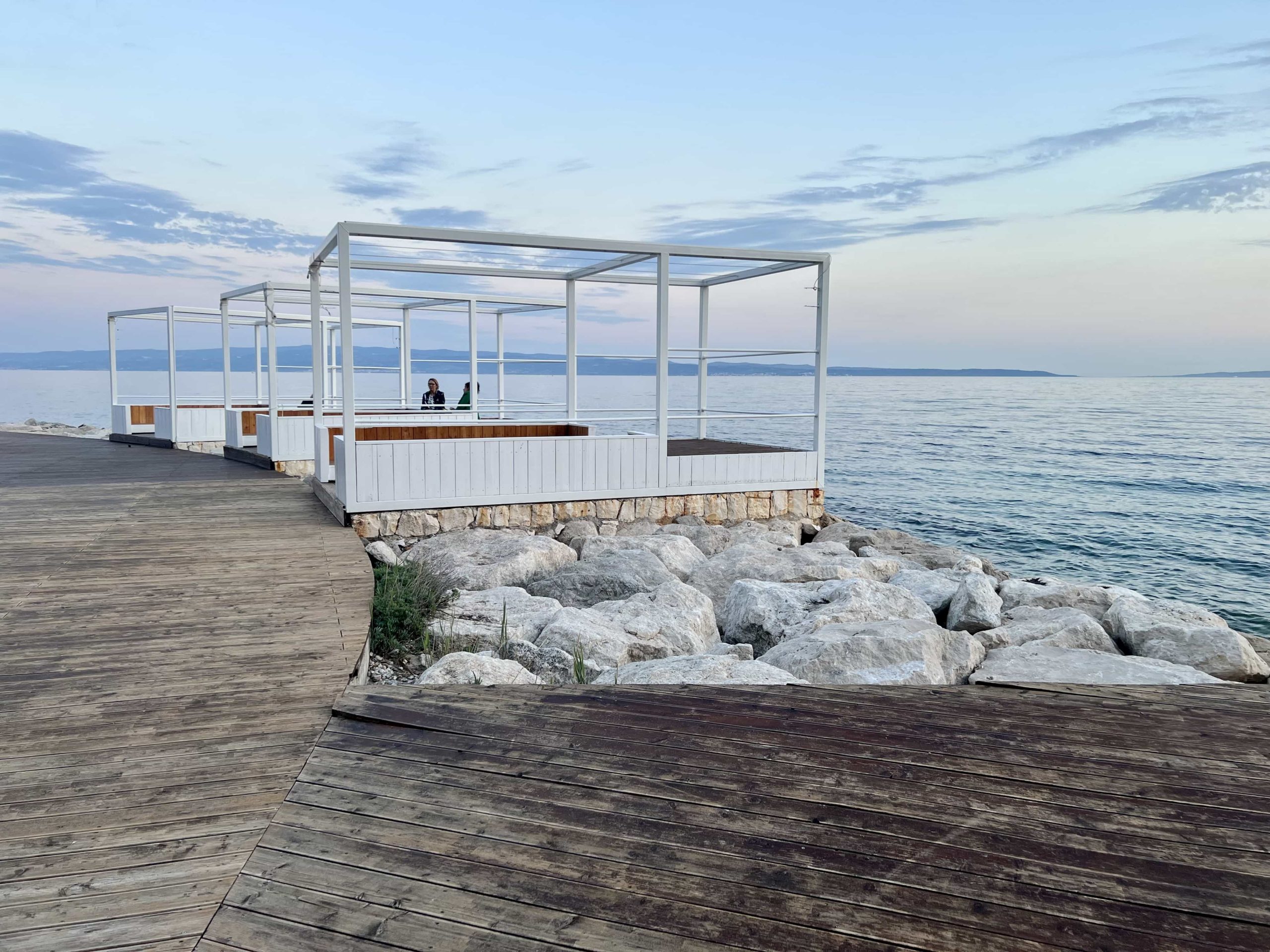 Dinner
We dined at the hotel on one evening, and were slightly surprised at the lack of dining options. Initially, we checked out Door Bar, but weren't overly inspired by its menu, which consisted of burgers, salads, and other bar food staples.
So then we attempted to visit The Capar Grill restaurant, but were very unimpressed to be informed that there was an ongoing private event which meant that the restaurant would be closed for the next 40 minutes. It was clear to us from looking through the window that a large family group had taken over the entire restaurant.
It seemed unreasonable to me to close the hotel's main restaurant, with few alternatives available. The Fig Leaf restaurant and the Mistral Beach Club are both open for dinner in the summer months, but in April, this was our only non-bar food option. So we were forced to wait it out.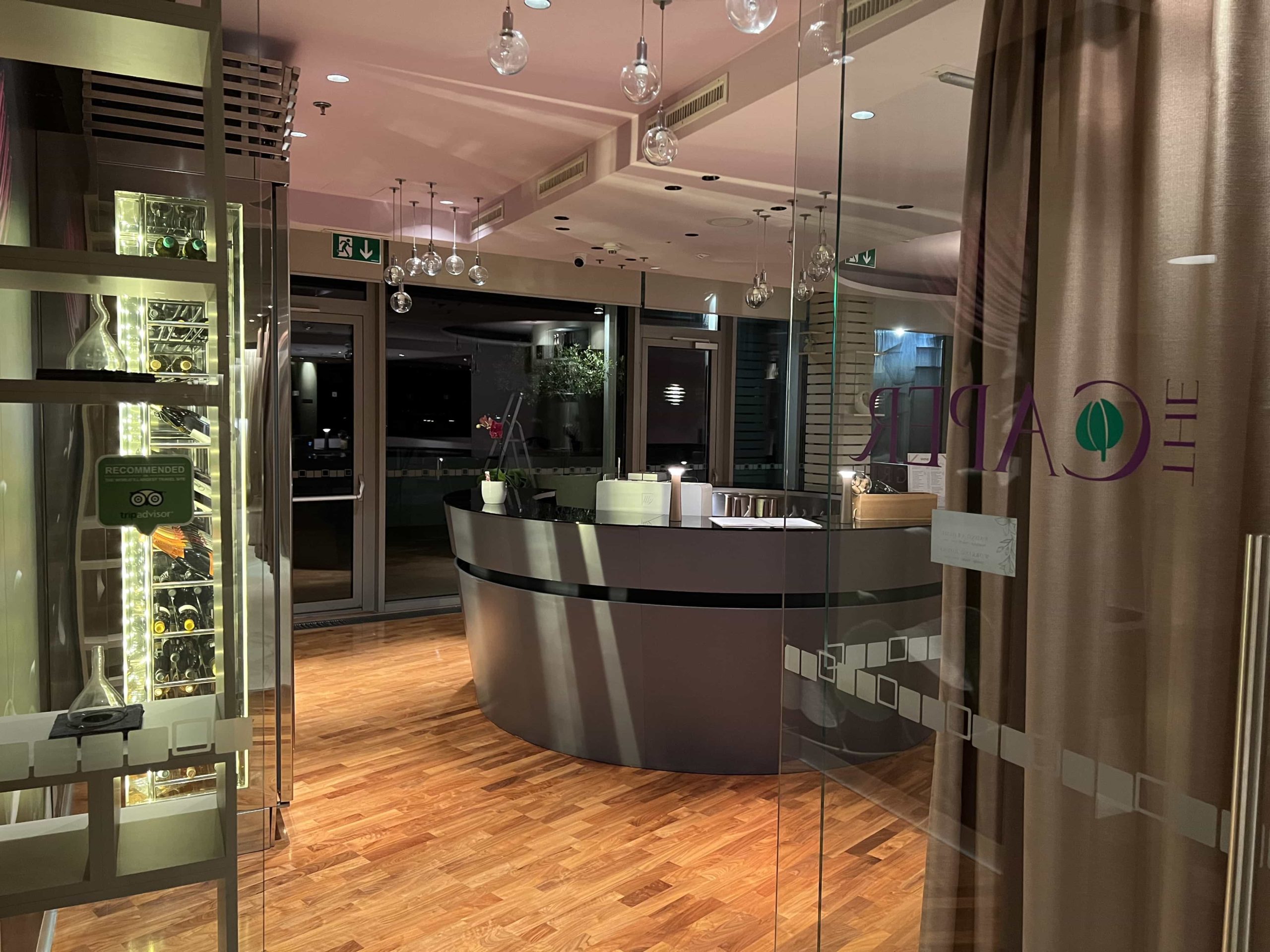 Eventually, we got seated and were one of only a few tables present, so service was quick, efficient, and as pleasant as ever. Our server was energetic and passionate — if a bit over the top — and looked after us with a seemingly endless supply of bread.
I had steak tartare and Dalmatian black risotto. This came to around 45 euros, which I felt was reasonable for the quality on offer. The steak tartare was perhaps the best I've tasted, and came with a delicious bruschetta side. The cuttlefish-based risotto was interesting, and the portion size was very good, which was both a blessing and a curse, because it became a bit same-y after a while. Not my favourite risotto ever, but I enjoyed it nonetheless. The pumpkin cheesecake and butter pudding desserts sounded appetising, but weren't quite compelling enough to justify a third course when we were all full anyway.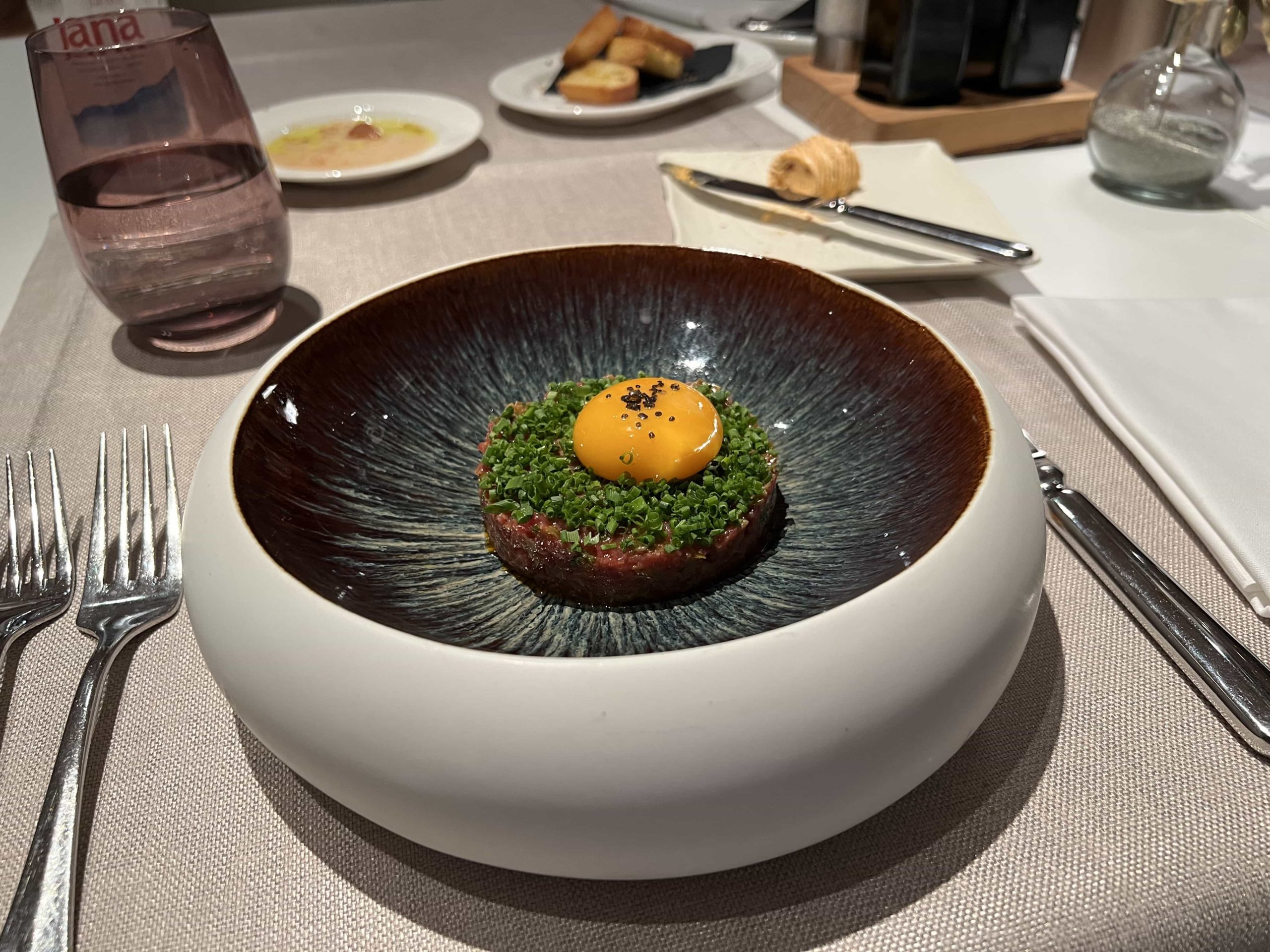 We had room service one night and opted for Dalmatian Antipasti, which consisted of prosciutto, salami, cheese, olives, and pickles. This was delivered promptly.
Breakfast
Breakfast is an all-buffet affair, served in the Mediterranean-inspired Fig Leaf restaurant, which boasts over 120 different food items. You can choose to sit inside, or enjoy the Dalmatian sun on the terrace outside.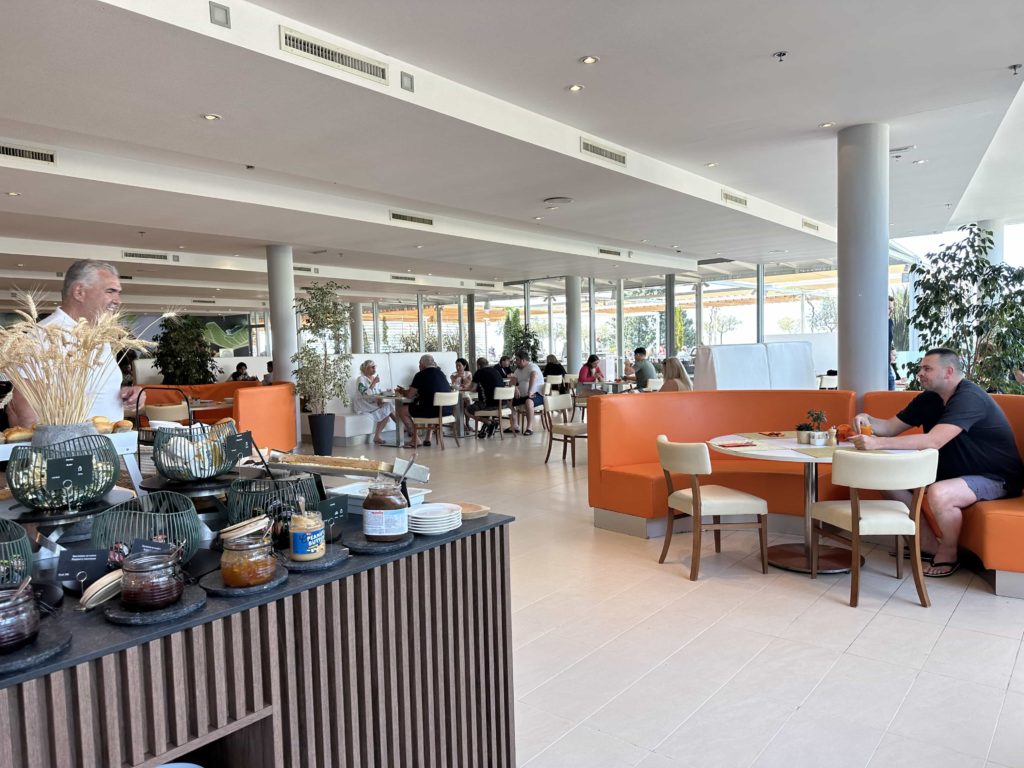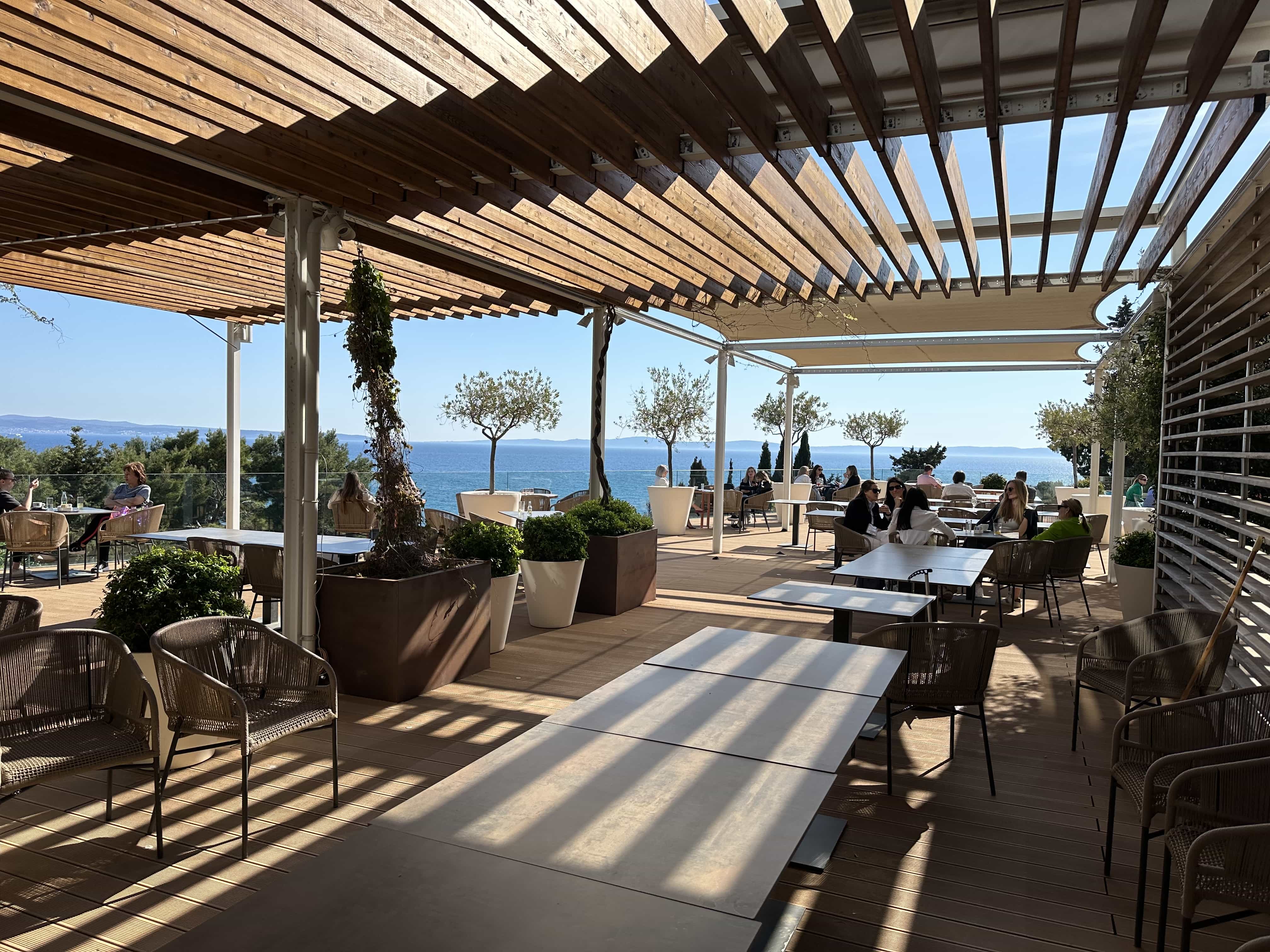 The hot food selection consists of sausages, bacon, mushrooms, tomatoes, scrambled and fried eggs, sliced potatoes (a nice addition) and something which was labeled as 'baked beans', but not what I recognise as baked beans — this was some kind of bean mix, in a spicier sauce. Quite nice actually, no complaints.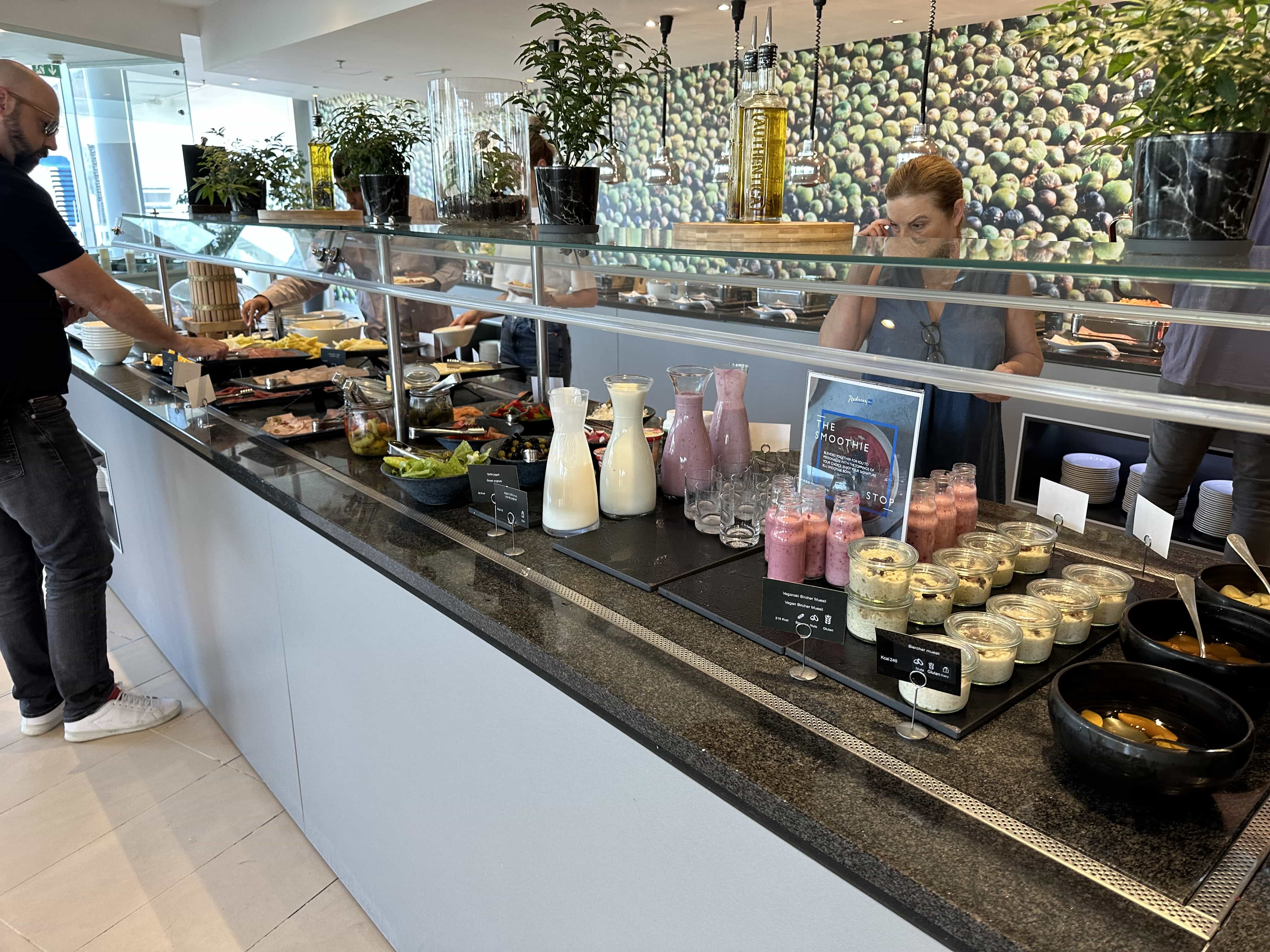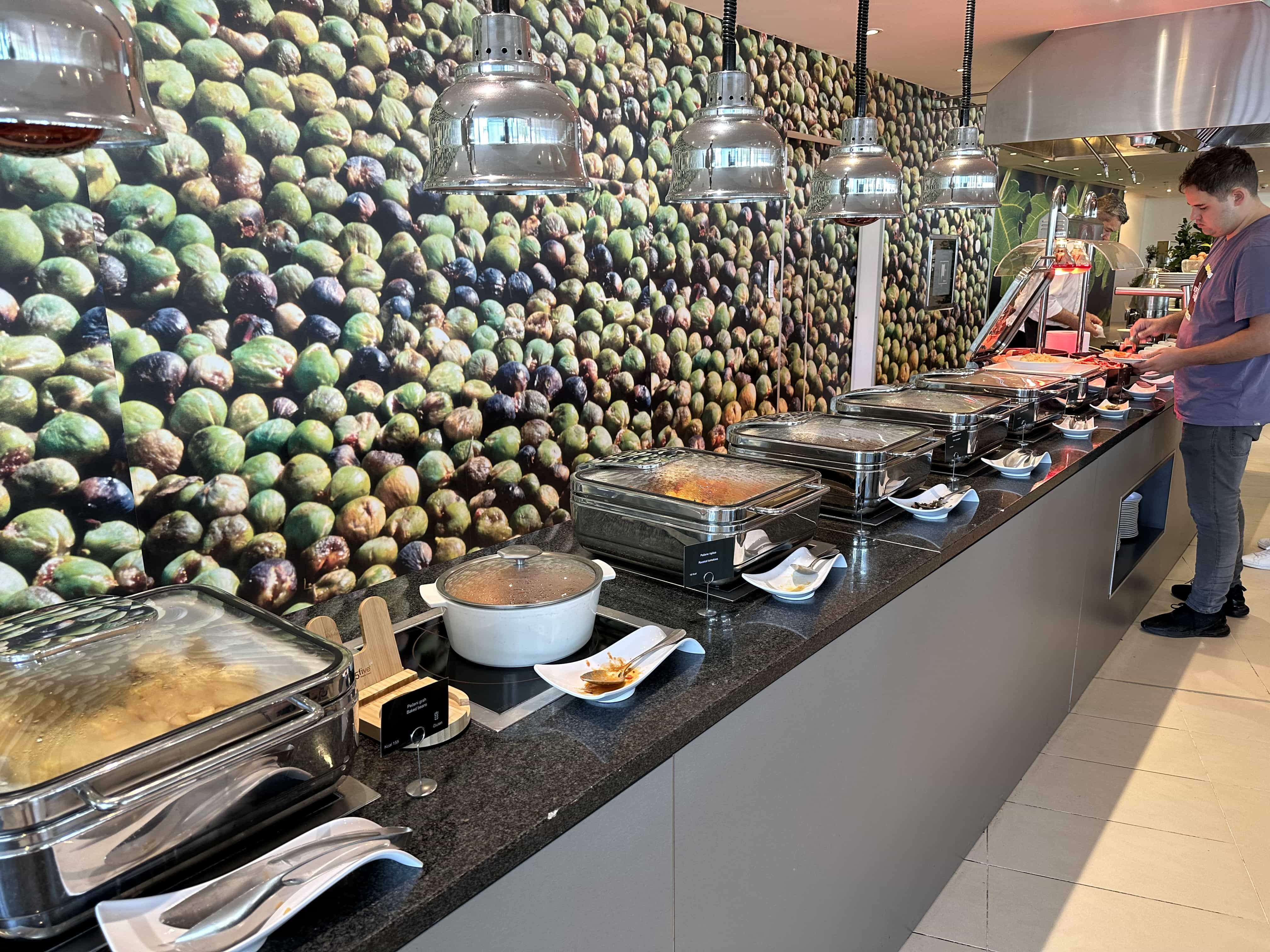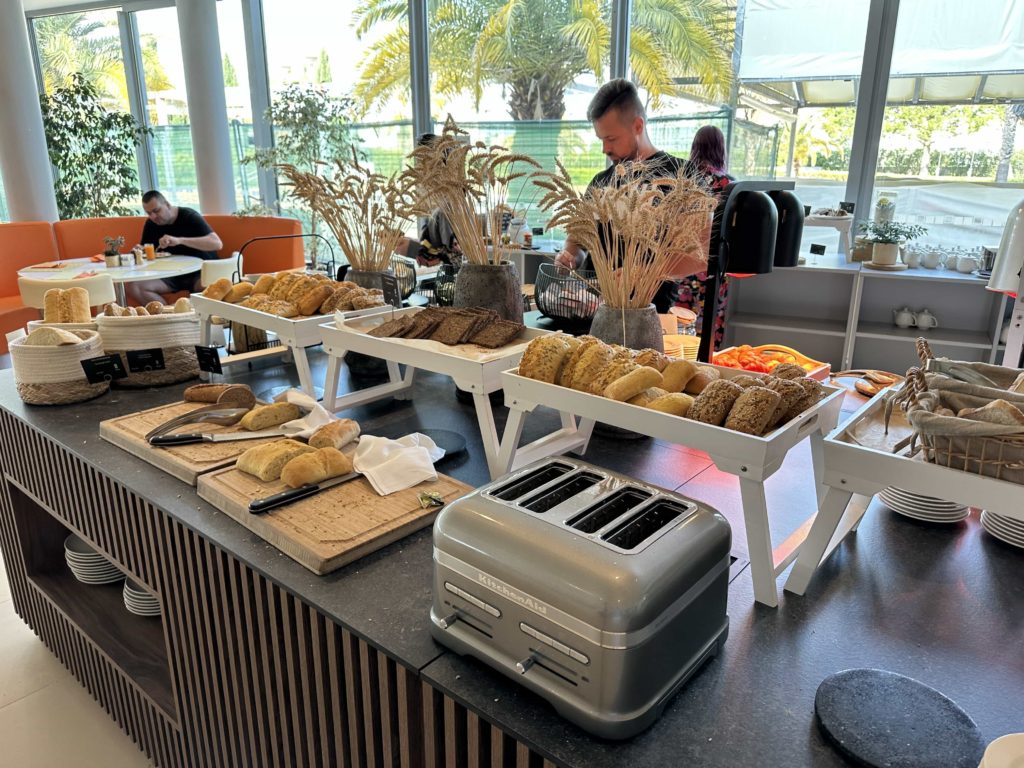 There's a pancake and crêpe station, for sweet options to order. Toppings include Nutella, maple syrup, nuts, and marmalade, but fewer types of fruit than I would have liked. There were bananas over at the fruit station, so this placated me somewhat, but berries would have been even better. There's also an omelette station, which I didn't order anything from, but looked to have a good selection. Staff were very friendly at both stations.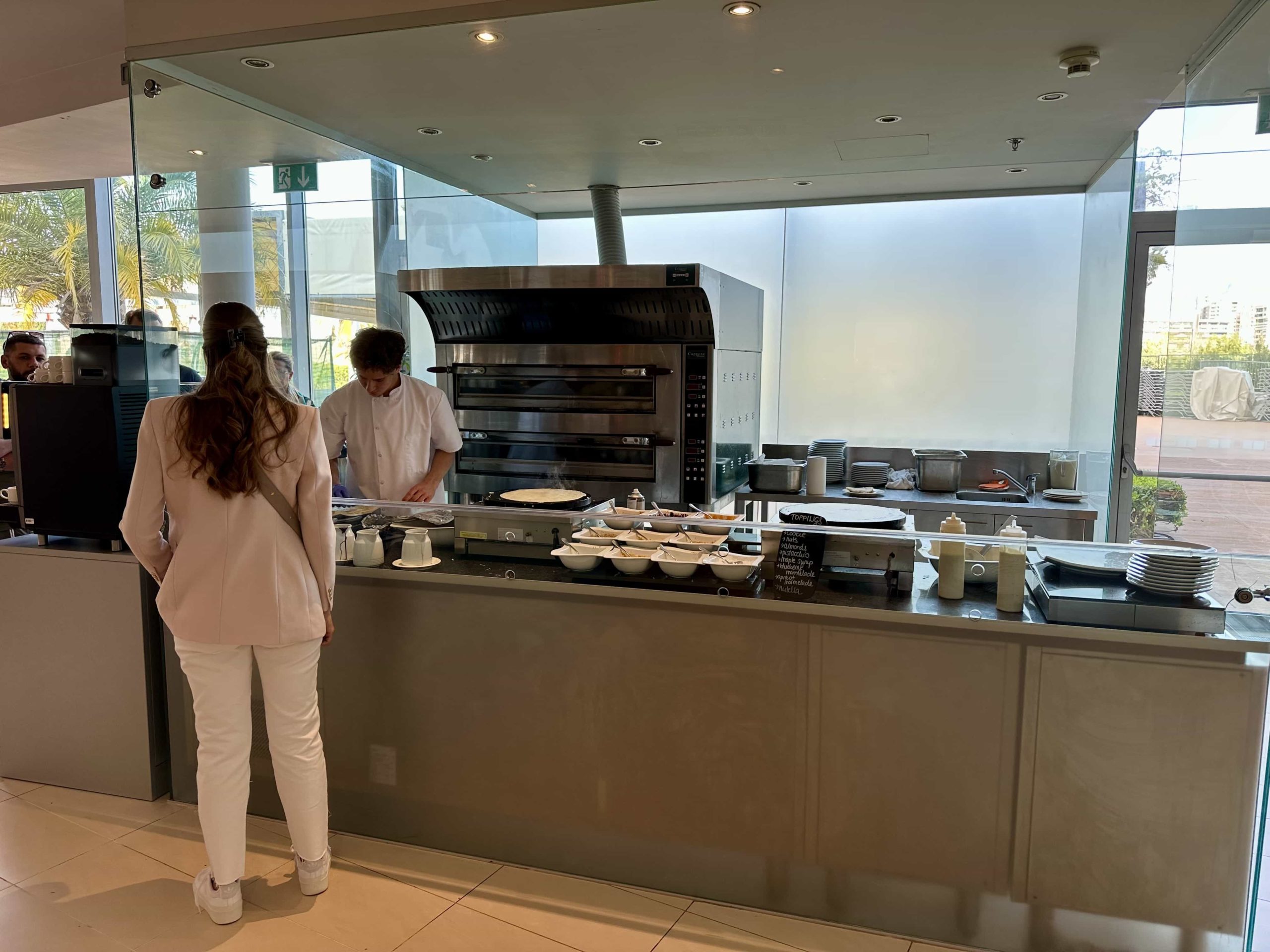 Elsewhere there are fresh bread, pastries, fruit, yogurts, and local cheeses, plus a good selection of fruit juices. It isn't the most extensive breakfast buffet I've ever seen, but there was enough to satisfy my morning appetite. Everything seemed fresh, and of decent quality.
Another coffee machine is needed, as there's currently only one, which stopped working at one point, and long and very slow moving line quickly formed. This wasn't helped by the measly serving sizes, as everyone was making multiple cups.
Conclusion
At the start of this review, I acknowledged my reluctance to shell out the cash for this hotel. On the face of it, it seemed the price was a product of the destination, not the quality of the hotel experience.
As it turns out though, a few negatives aside, I actually really enjoyed my stay. Had it not been for the staff, I wouldn't have come away quite so satisfied, but they really made the stay special. Nothing seemed too much hassle, there was a general air of high standards, and the facilities were all maintained to a high level — ahem, barring Mistral Beach Club, of course — but I'll put that down as an operational oversight.
Indeed, there were some compromises as a result of being out of season — that's something to keep in mind, primarily the dining options and pool availability. Since I had already had the pleasure of staying at a beachfront hotel in Dubrovnik, I wasn't too bothered by the lack of beachfront amenities, but if this is one of your reasons for booking this hotel, make sure they're open.
In the Dubrovnik hotel review, I said that Dubrovnik, and Croatia as a whole, managed to distract from any shortcomings of the hotel. I'll say the same thing here, because aside from the occasional spa visit, and one-off dining, we weren't actual in the hotel all that much.
Consider therefore, if it's worth shelling out for a hotel at this price, or whether you'd be better off with somewhere a bit more basic in the centre of Split. Perhaps use that extra cash for a day trip or two, and explore the beaches elsewhere along the coastline, and the incredible landscape that is Croatia.
If a coastal resort in Split is still what you're looking for though, you'll be hard pressed to do better than the Radisson Blu Resort & Spa.