Typically a city traveller, I was excited to have the rare opportunity to experience a beachfront hotel on a recent trip to Dubrovnik as the first stop in a family vacation to Croatia. Specifically, I was to experience the Valamar President hotel, a 5-star hotel, rated among the very best in Dubrovnik — perhaps even the best in this price bracket.
If like me, you aren't from Croatia, you may not have heard of Valamar hotels, but they're a highly-regarded brand which operate exclusively in Croatia. Valamar President is one of the best in their portfolio, and has been recognised by multiple awards.
In all honesty, the booking was made somewhat on a whim, since the price just seemed too good to pass up. But as I read more about the hotel and its numerous awards and rave reviews, my curiosity was piqued. Could it really live up to the hype? I was eager to find out, and couldn't wait to experience for myself what made Valamar President one of the best hotels in Dubrovnik.
Price
We reserved a Superior Twin Room (Balcony or Terrace, Sea View) through Booking.com for three people, which was priced at £182 per night. The booking was made in late December and we stayed for three nights in mid-April.
The main reason we chose the Valamar President — aside from the excellent reviews — was because it is one of only few hotels which offers rooms for three people. This made a lot more sense for us, than paying for two separate rooms. The configuration was two twin beds, plus a sofa bed.
Our stay wasn't 'out of season' per se, but it also wasn't during the peak season summer months, when prices increase to over £300 per night.
Location
The location of the hotel is going to be either a pro or a con, depending on what you're looking for. It's a pro if what you want is a tranquil retreat, slightly removed from — but still quite near — the tourist hotspot that is Dubrovnik. However it could be a con, if you want doorstep access to the city's shops, bars and restaurants.
The hotel is located on the Western-most tip of of the Babin Kuk peninsula. This is an area known for its natural beauty and coastal charm. Valamar President exists within a larger Valamar complex, which is comprised of four other hotels. Nearby, are a couple of other hotel brands, but otherwise it's just beaches, so truly does feel like an escape.
If you've ever been to Disney World, the layout of the complex may remind you somewhat of a smaller version of a Disney World resort in terms of its overall arrangement, albeit without the theming or impeccable polish, of course.
To get to the hotel from the airport, we took an Uber which cost around 30 euros. Uber is also an option for getting to and from Dubrovnik old town, and is quite economical at around 10 euros a journey.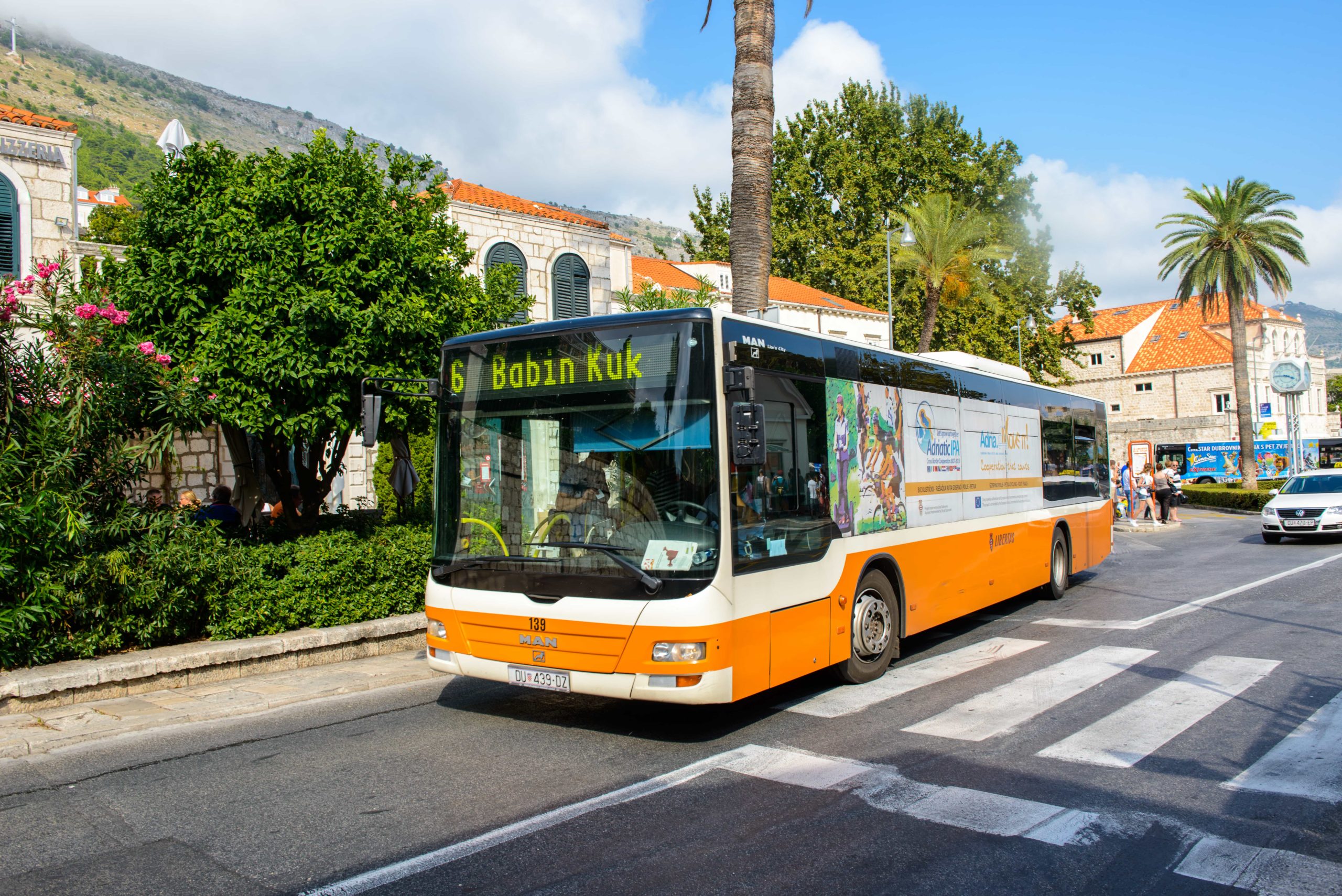 Another option is the number 6 bus route which runs from just outside the hotel (every 15 minutes), and terminates at the old town. The journey takes about 20 minutes and a ticket costs 2 euros. Tickets are valid for one hour after first use, and can be purchased from the hotel shop, or on the bus (exact change is required). Apparently this bus gets quite busy in peak months.
Personally, I found the location to be an ideal balance of convenience and tranquility, although you might find other hotels which strike an even better balance. As an example, I hired a car from Sixt at the Rixos Premium hotel, which is much closer to the old town but still has a private beach and incredible views.
What's nearby?
The hotel may be secluded, but that doesn't mean there's nothing to see or do nearby.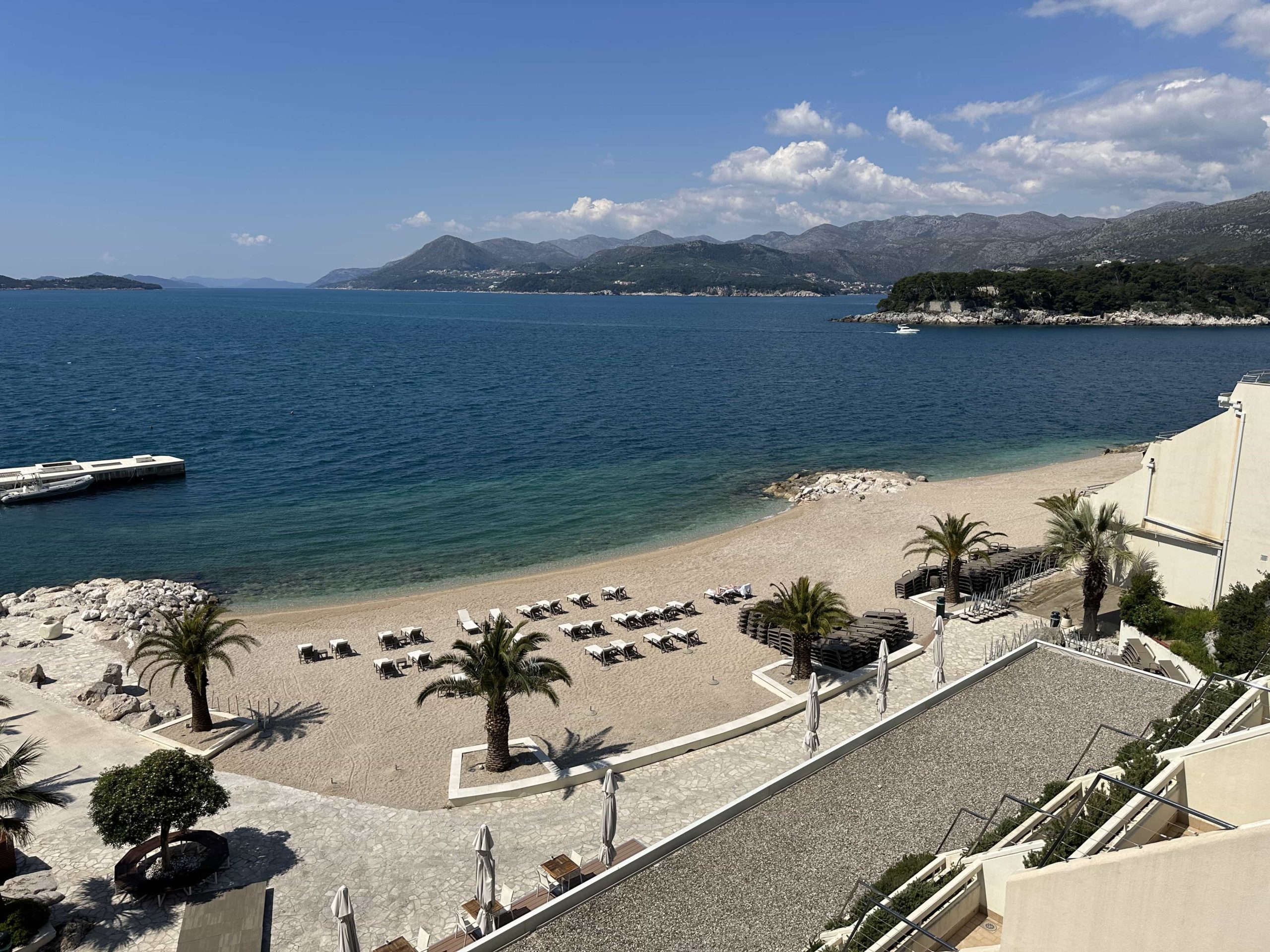 If beaches are your thing, you'll be spoiled for choice. On the doorstep, is the hotel's private beach, which in itself could satisfy all of your beach-going desires. It's attractive, reasonably large, well-maintained, and benefits from access to one of the hotel's restaurants for light dishes and drinks. As with most beaches in the area, it's pebbly rather than sandy, so definitely bring the right footwear, and towel if you intend to lie on the beach itself.
The crystal clear water will tempt you in. It's not ideal for paddling, as it's quite rocky and goes from shallow to deep quite abruptly. But if you're up for a swim, the temperature is surprisingly comfortable and the water is calm. If you want to go deeper, there's a highly-rated diving centre located on the beach itself, as well as a waterspouts centre. In hindsight, I wish I'd rented a jet ski to explore the coastline — online reviews indicate that it's well worth it.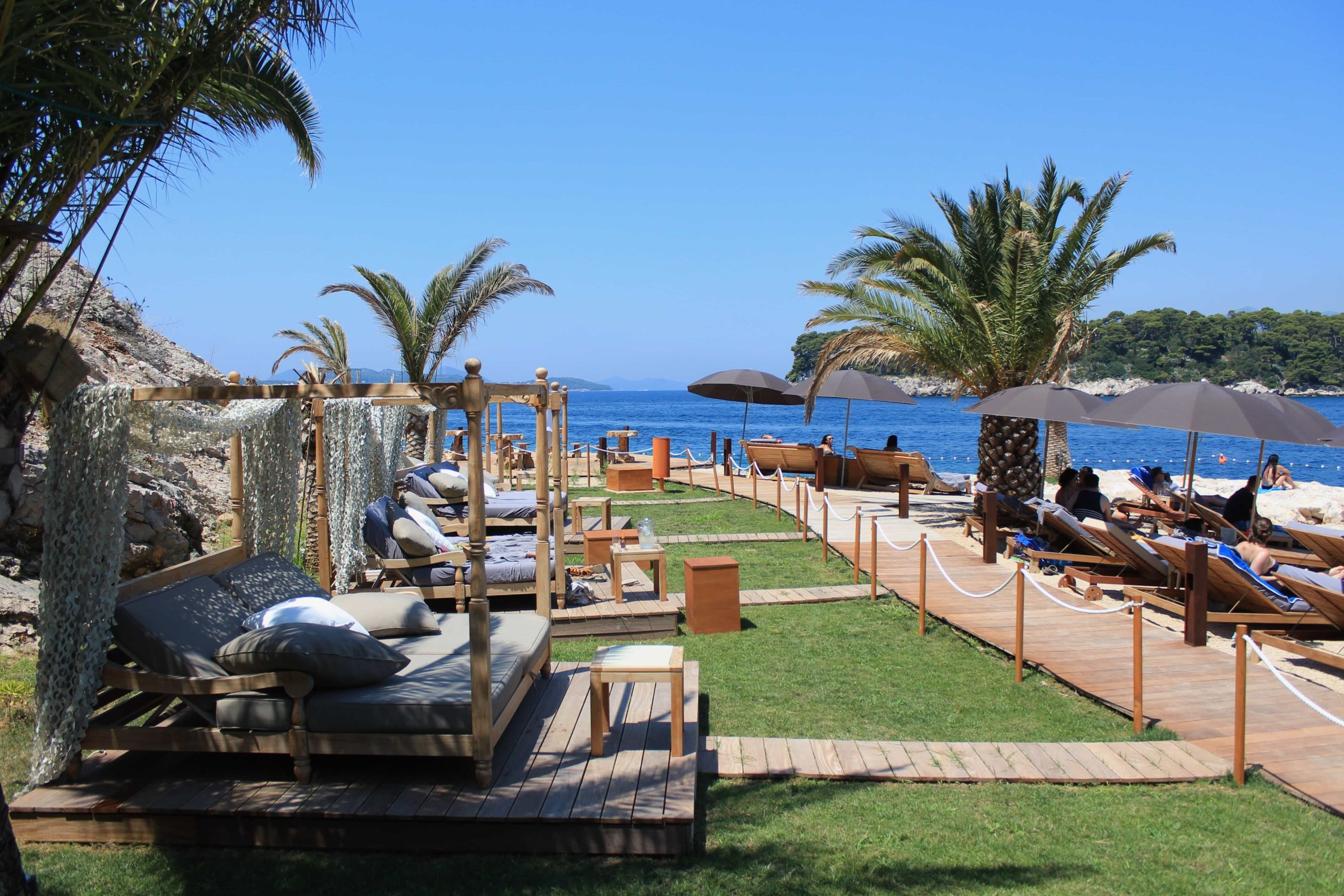 If that's not enough, you can explore other beaches in the area, such as Copacabana Beach or Coral Beach Club. Both of these are also beautiful destinations, however you'll need to pay for amenities like sun lounges — which are free if you stick to the hotel's beach.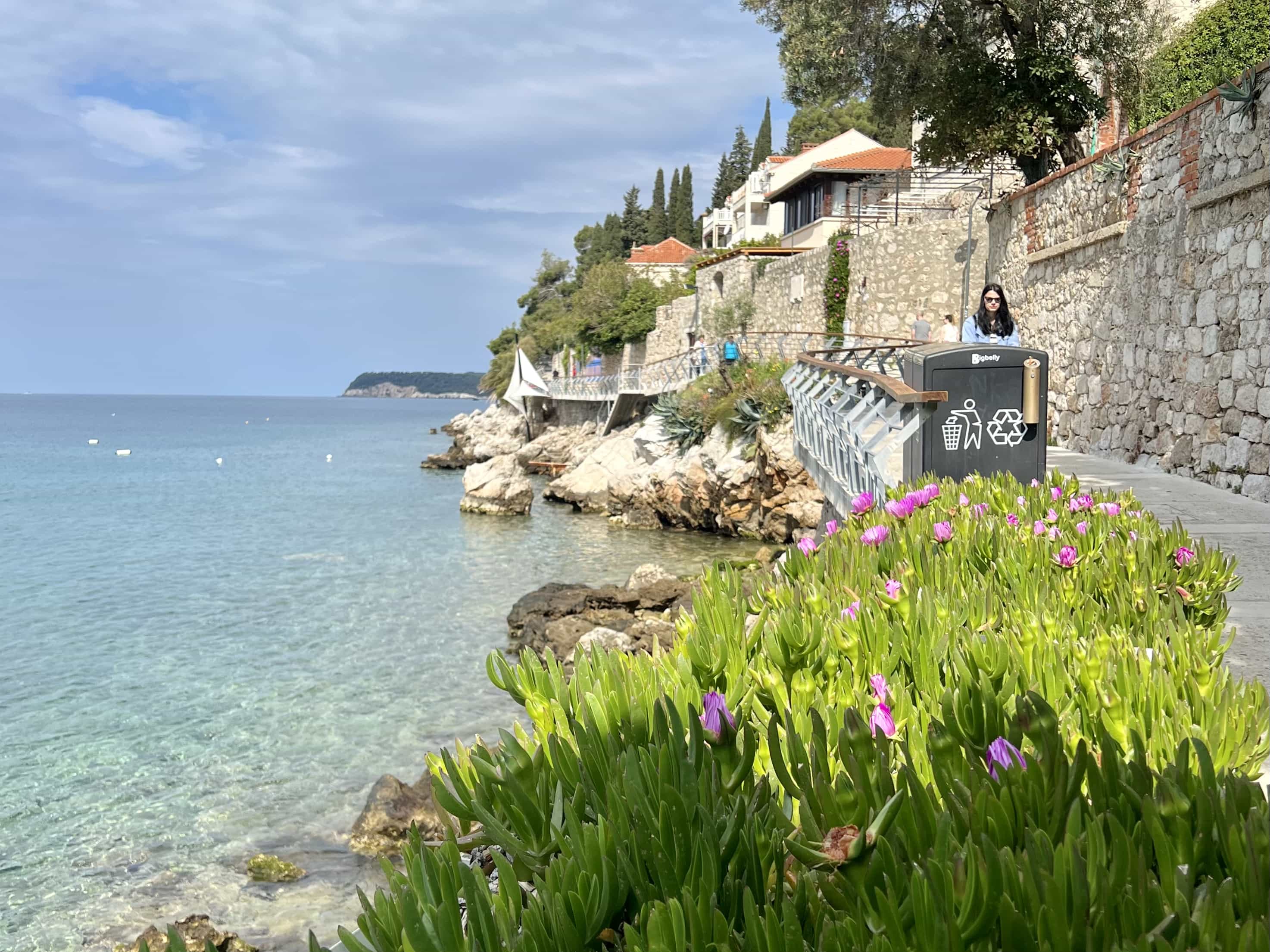 I went for an 8k run around the costal path to Park Batala (near where the cruise ships dock), and back up towards the hotel along the other side of the peninsula. The entire route was beautiful, but the final stretch along Šetalište Nika i Meda Pucića was a particular highlight. This is a promenade which spans between the hotel and Lapad Beach that I'd highly recommend for a run or leisurely stroll.
For other land-based activities, bicycle rental is available, and there's also the option to use the facilities at another of Valamar's resorts, Club Dubrovnik Sunny Hotel. There, there's a range of sports activities, including beach volleyball, handball, badminton, basketball, futsal, and table tennis.
Check-in and first impressions
Upon arrival, a bellboy greeted us, brought our luggage inside, and showed us to the check-in desk before bringing us three glasses of champagne. We arrived around 11am, a few hours before the stated check-in time (2pm) and the room wasn't quite ready yet. Rather than waiting around, we decided to drop our luggage in the luggage room and head into the old town of Dubrovnik.
We returned around 4:30pm and picked up where we left off. The receptionist gave a very swift and slightly robotic rundown of the facilities, before informing us that both of the pools are out of order and not expected to reopen for a couple of days. This apparently was due to a technical issue which had just arisen, hence why we hadn't been notified in advance.
This didn't make it any less frustrating of course, when one of the primary reasons for booking a costal, beach-side hotel is for the pool facilities. No compensation was offered, and they receptionist initially didn't seem to think much of the issue.
I pushed for some kind of solution, and after a couple of phone calls, they agreed that we could use the facilities of their sister hotel, Valamar Lacroma, which is located just across the street. Actually, at first they said we could move to that hotel, but this didn't strike me as a good deal, when Lacroma is a 4-star hotel with lower room rates — hence why I asked instead to remain in President.
One frustration averted, on to the next one. We were told we had been given a room upgrade, but in fact the room we were given was exactly the same as the Superior Twin Room we'd booked. Not the end of the world — it wasn't expected — but certainly disappointing when you get your hopes up. Maybe I should have complained… but it's slightly difficult to argue for a complimentary room upgrade.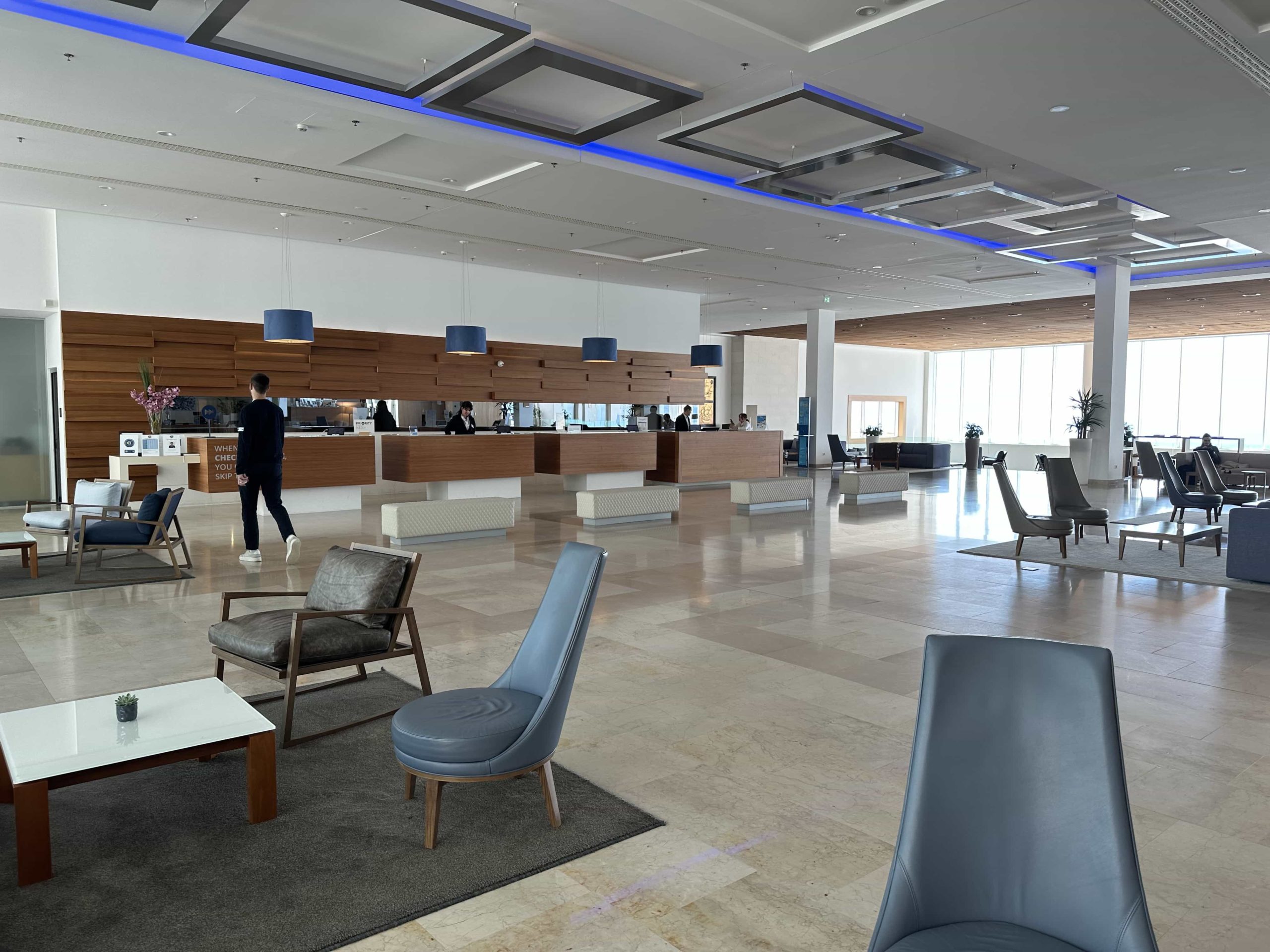 Otherwise, first impressions were pretty good. It's not the most grand of hotel entrances, and the slightly brutalist, terraced coastal architecture is perhaps not the prettiest, but the view from the lobby more than makes up for it. Front and centre are panoramic views across the Adriatic Sea, and the expansive lobby space is comfortable and inviting.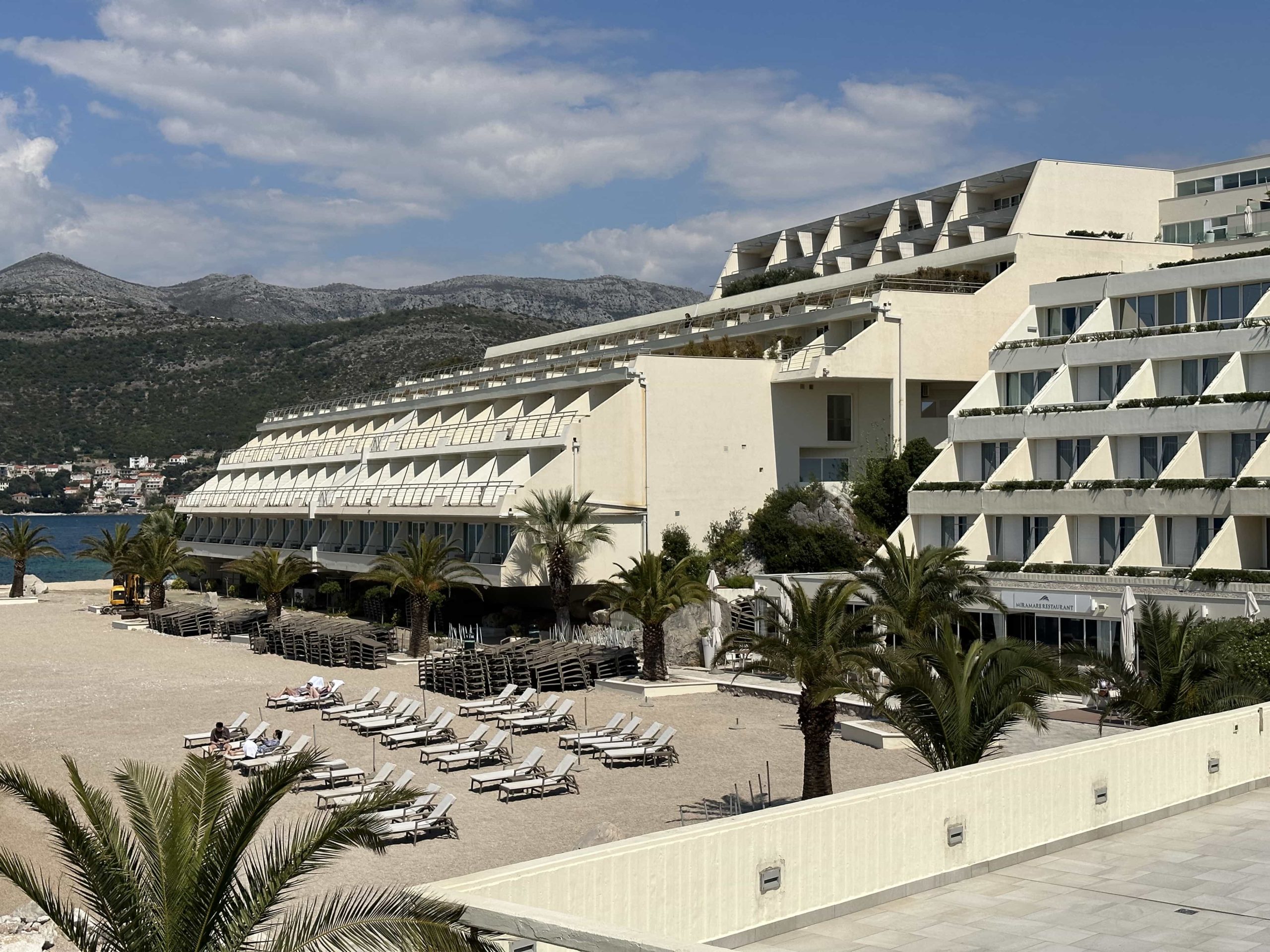 Room
Despite the disappointment of no upgrade, first impressions of the room were very good.
Hotels can be very deceptive when it comes to online marketing imagery, and this is especially unnerving when a hotel isn't brand-new. Although the images of Valamar President looked promising, the hotel in its current form opened in 2014 and was originally built long before that, so I was apprehensive to see whether it had been able to withstand the test of time. Fortunately, this is a case of 'what you see is what you get', and the room was quite impressive.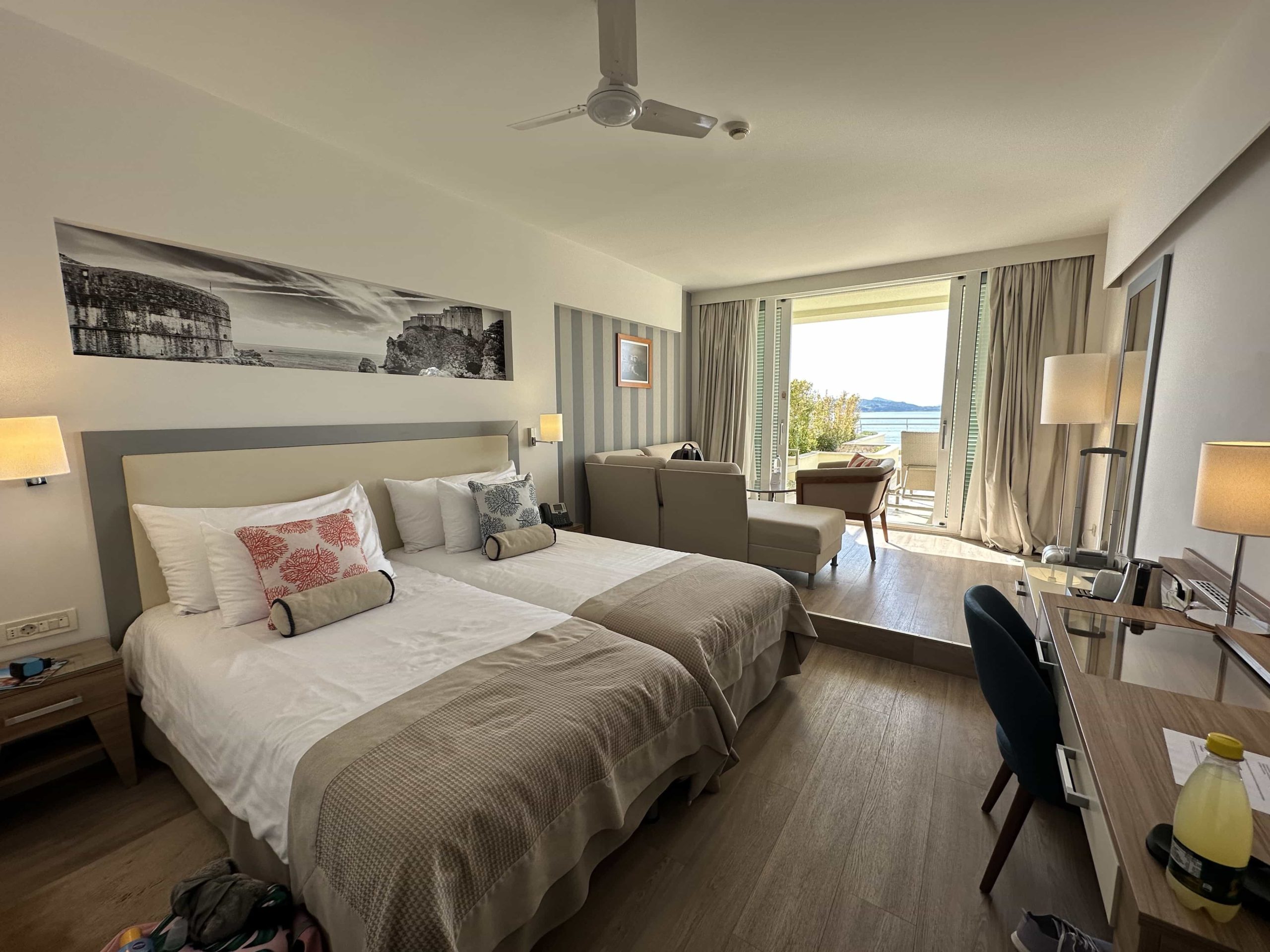 All of the rooms are billed as having sea views, and this one certainly did. We had a large balcony which stretched out towards the horizon, accessed via patio doors from a small living area. From the deck chairs, you can admire Grebeni Lighthouse, the Elaphiti Islands, and the many boats which sail past.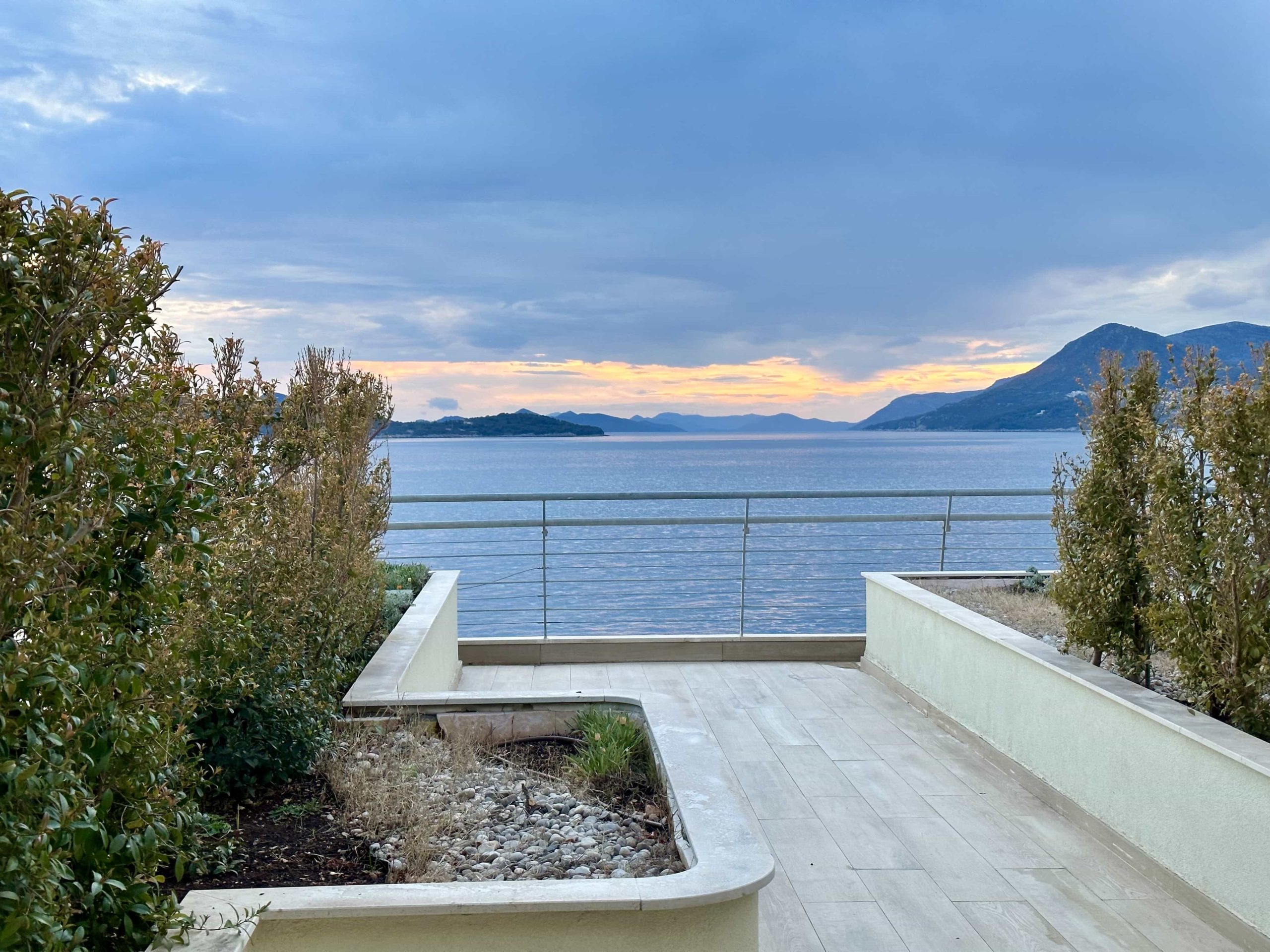 Although the balcony is large, the shape is slightly odd — very long, and quite narrow — which means there's perhaps less usable space than at first glance. Views of the sea aren't obstructed, even from the back, but realistically you're probably going to position your deckchairs at the front, rendering the rest of the space a bit pointless.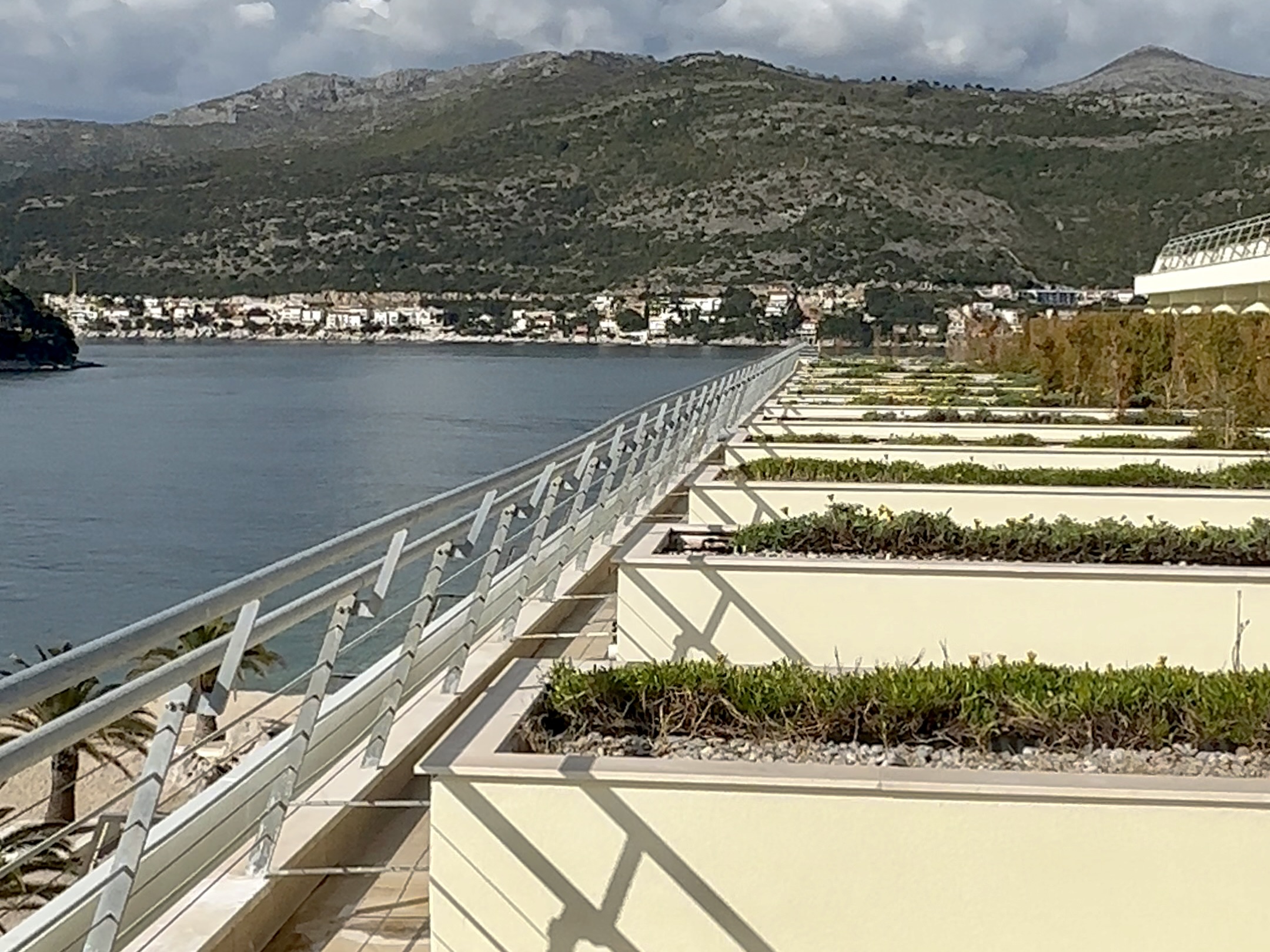 That said, if you want privacy, the front will be no good to you, as the floors above can clearly see down onto that half of the balcony. Similarly, there's only some foliage to separate the front part of the neighbouring balconies, so it's really not a very private space overall.
Back inside, the colour palette, in conjunction with the wooden floor and striped accent wall, creates a subtle nautical theme, which is tasteful, without being over the top or cheesy. In the evening, the lighting design helps to make the room feel cosy. We found there were enough sockets for charging devices, in useful locations, and all of the amenities you'd expect are there, including a well-stocked mini bar.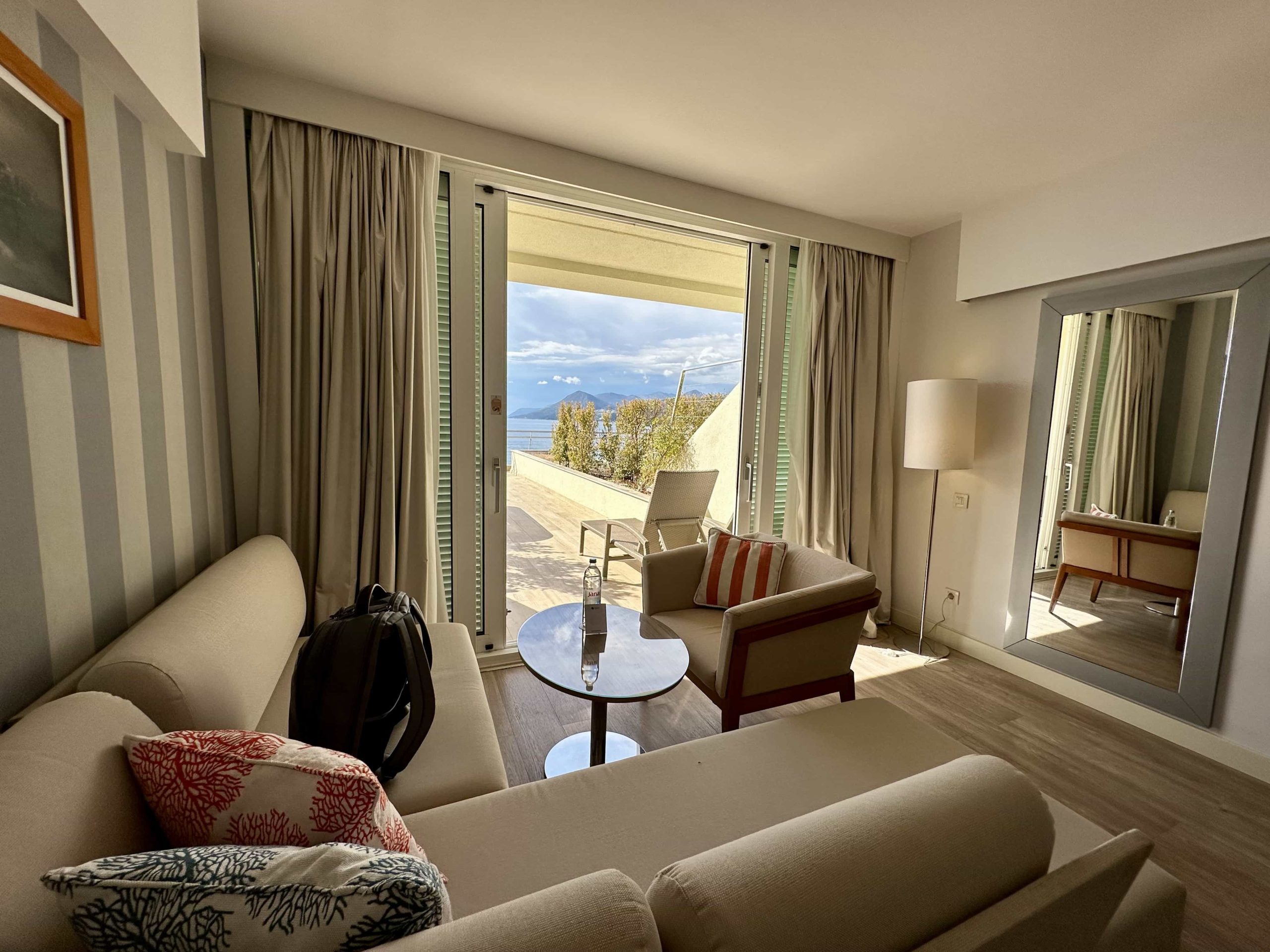 The living area is a nice spot from which to take shade from the sun and work or relax, as the breeze blows in. The sofa doubles as an extra bed without requiring any transformation, as the long section is about the size of a regular rollaway bed. I didn't have any issues sleeping on it, but I'm also quite adept to sleeping in unconventional places, so maybe don't use my opinion as a barometer.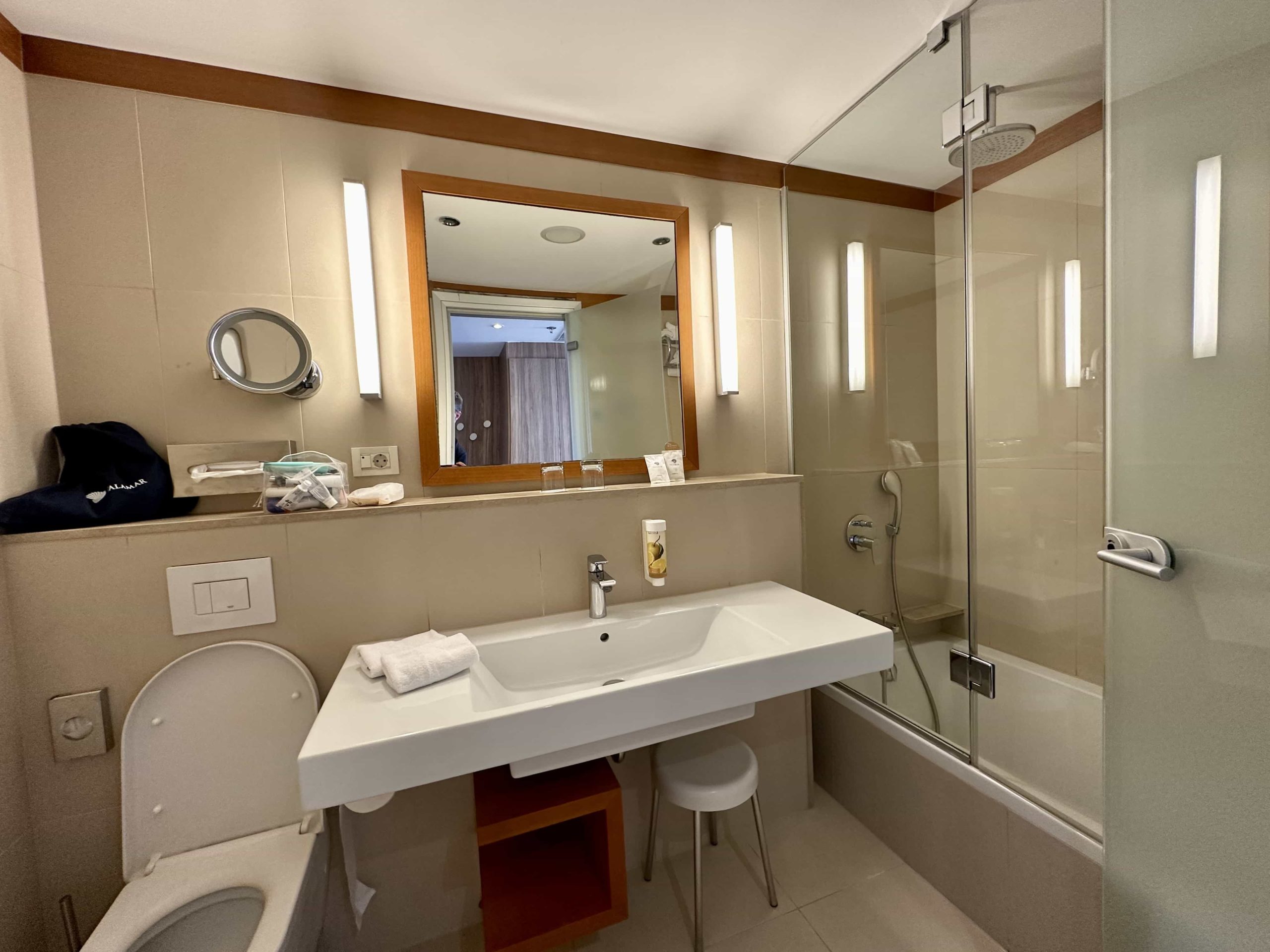 The bathroom is showing it's age slightly, but does everything you need it to. There's a rainfall shower, bath, bidet, and decent countertop space around the sink. It was presented in immaculately clean condition, just like the bedroom area. Of course, there's a few signs of wear and tear, but it's generally in very good condition, especially considering how long it's been since the last renovation.
We requested extra towels on one occasion, and housekeeping were prompt to deliver them.
Pool and spa
Having enjoyed the spa facilities at Valamar Lacroma for a couple of days — more on that in a second — we decided to give their counterparts at Valamar President a try, when they were back in operation on day three.
The hotel has two pools: a 20m heated indoor pool, and a 28m non-heated outdoor pool. Both are served by a pool-side bar. There's not too much to mention about the indoor one, it's fairly par for the course for this kind of hotel — nice and large, comfortably heated, and a pleasant enough environment, equipped with deck chairs.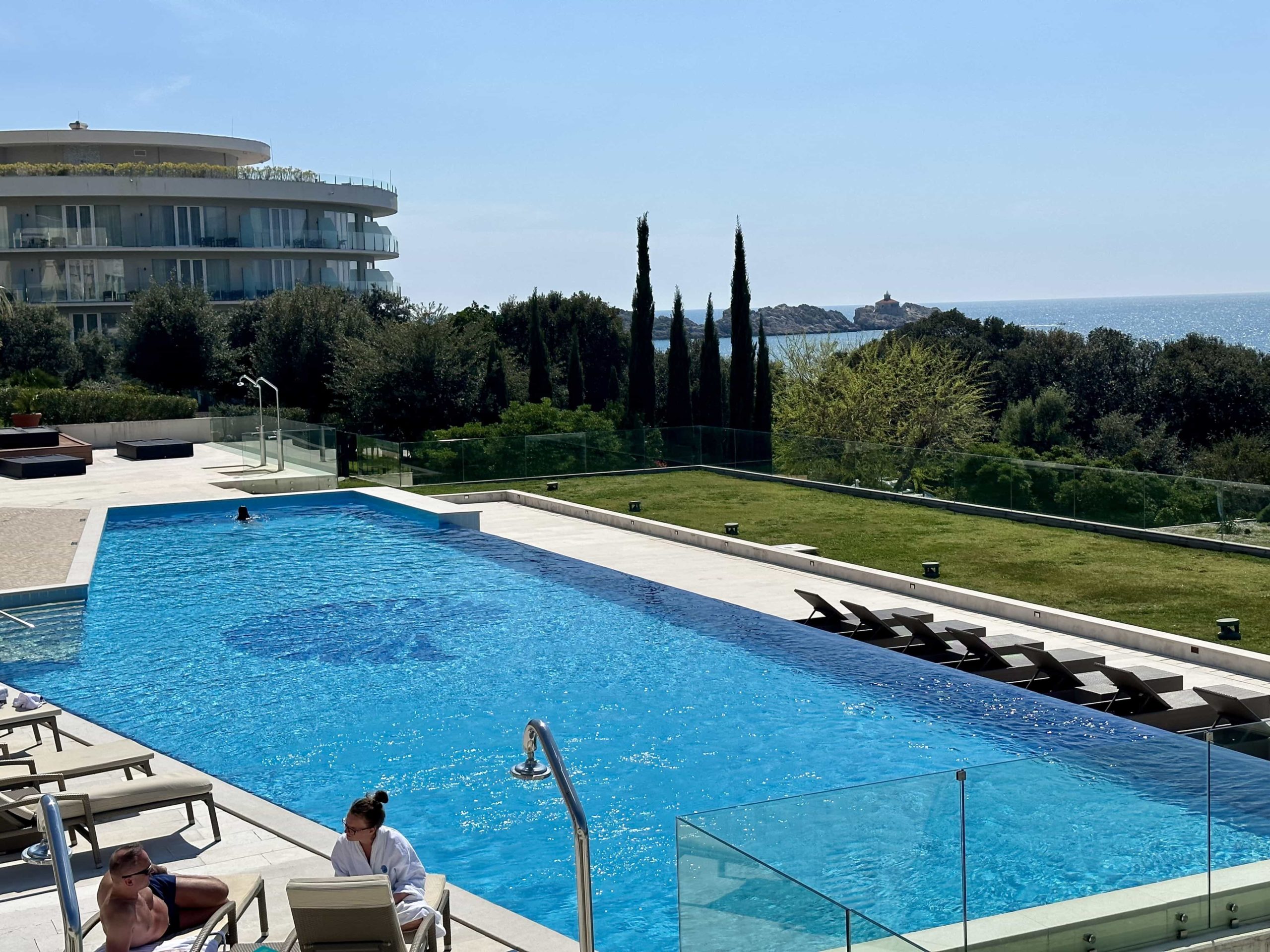 The focal point of the outdoor pool is of course the breathtaking views out over the sea. Despite the water flowing over the edge, it's not quite what I'd describe as an 'infinity pool', since the cascading architecture of the building means it's quite far inset from beachfront. That doesn't detract too much from the experience however.
What might put you off though, is the temperate. The pool is not heated, and in mid-April was much too cold to relax in, only good for swimming laps once you've got over the initial shock. Many people were just dipping their toes in, or taking the plunge for a minute or two and then retreating to the loungers to warm up.
You could be forgiven for missing the spa facilities, because the hotel certainly doesn't make it obvious they are there. Not the spa treatments — they're located just by reception — but facilities like the saunas, steam room, jacuzzi, foot bath and relaxation room.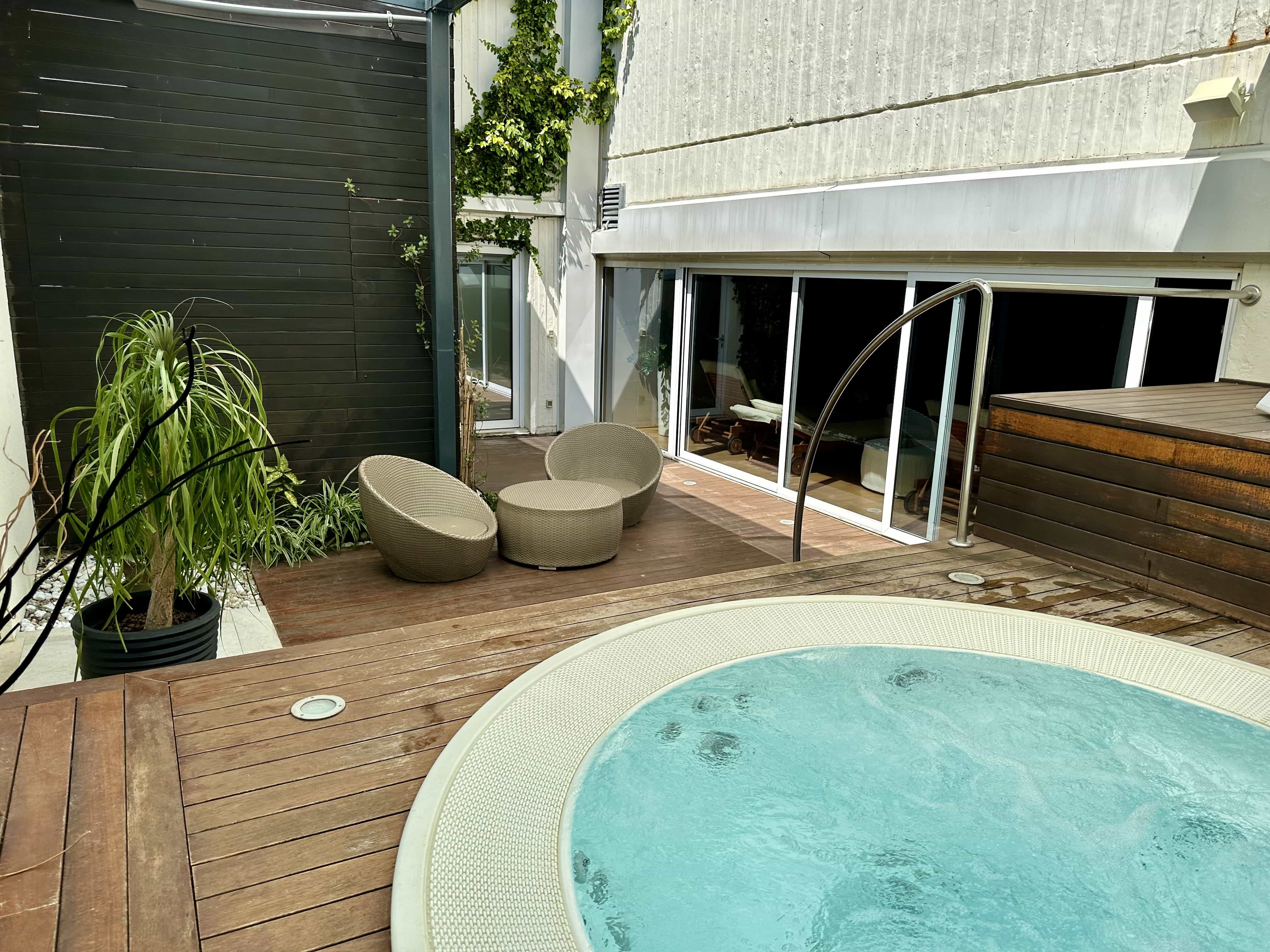 Oddly, they are accessed via a nondescript, unmarked door in the corner of the indoor pool room. By the looks of things, the sign fell off at some point and hasn't yet been replaced. One benefit to this, is that chances are you'll probably be the only one using these facilities, like I was when I visited.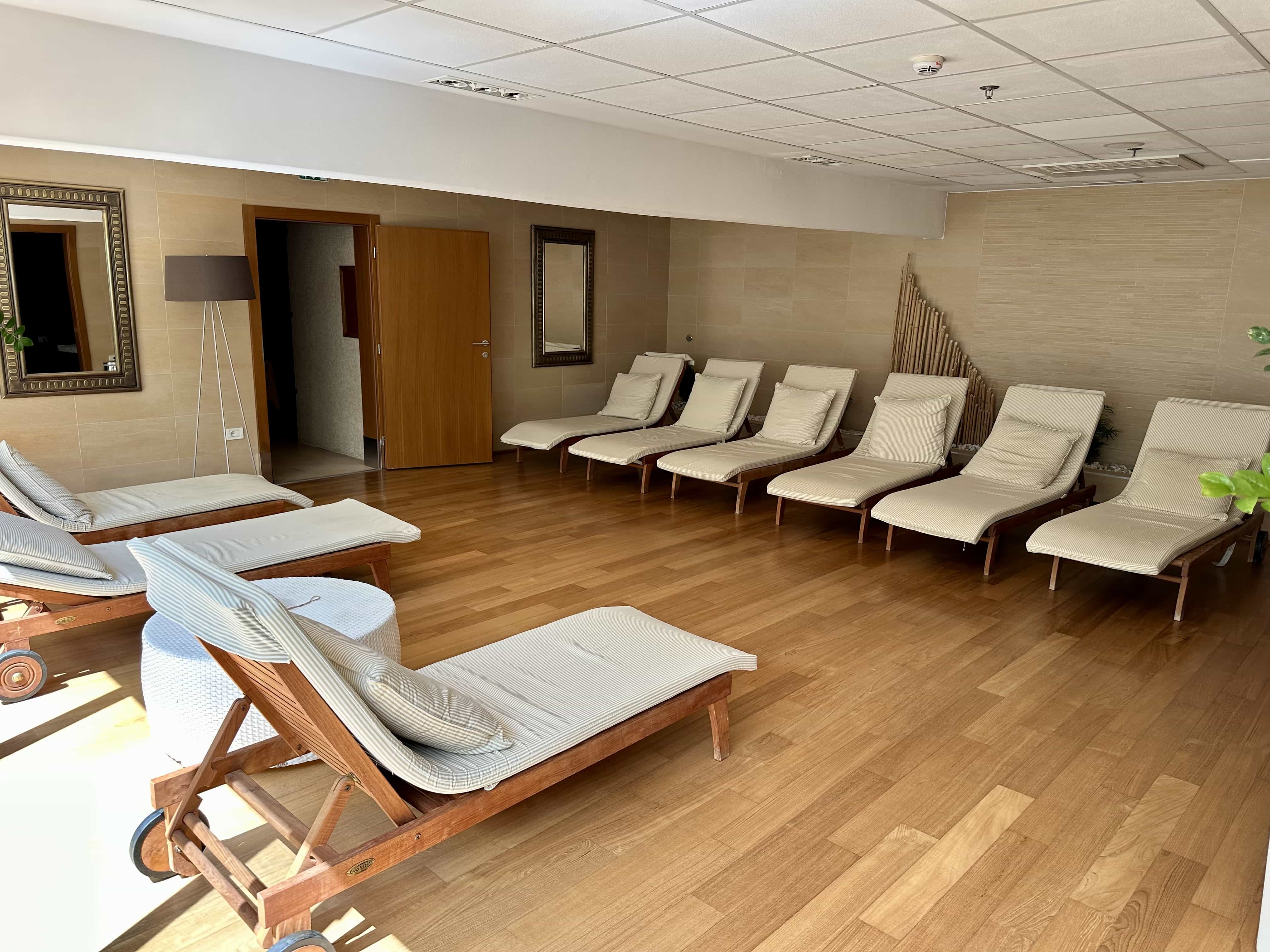 As spa facilities go, they're not the newest or most luxurious. The relaxation room features loungers, and some amenities like books, herbal tea, and nut mix (which had clearly sat out too long, as it had gone soft). The relaxation room is in between the other facilities, so ends up being a bit of a corridor — not particularly relaxing.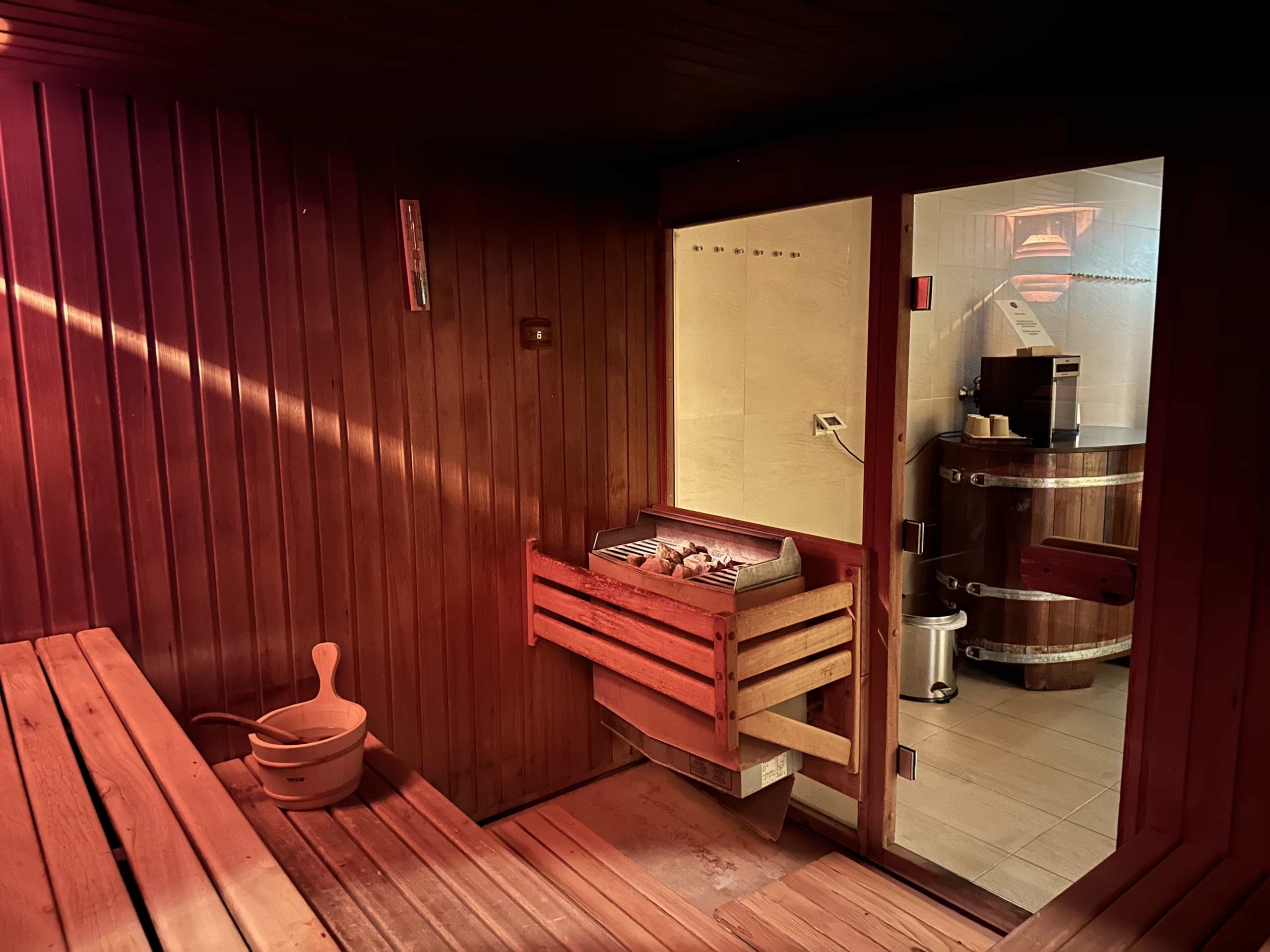 There's two saunas: a traditional Finnish sauna, and an infrared sauna. Unfortunately, the jacuzzi is more of a plunge pool, as it's also non-heated. Like the spa facilities, the reception and changing rooms are also looking a bit dated.
I don't want to turn this into a comparison article, but I said I'd mention the facilities at Lacroma. Personally, I much preferred them. Not only are they larger, but the decor is nicer and the environment and ambiance feels more luxurious. You lose visibility of the sea — since the hotel is more inland — but still get a magnificent view of the sunset. Something to consider, if the spa/pool facilities are high on your priority list.
Other amenities
I was slightly disappointed to find that the fitness centre closes at 9pm. With so much to keep you occupied during the day, it would have been nice to have 24 hour access to squeeze in some late night exercise. As such, I didn't get a chance to try the facilities, but I did have a look around.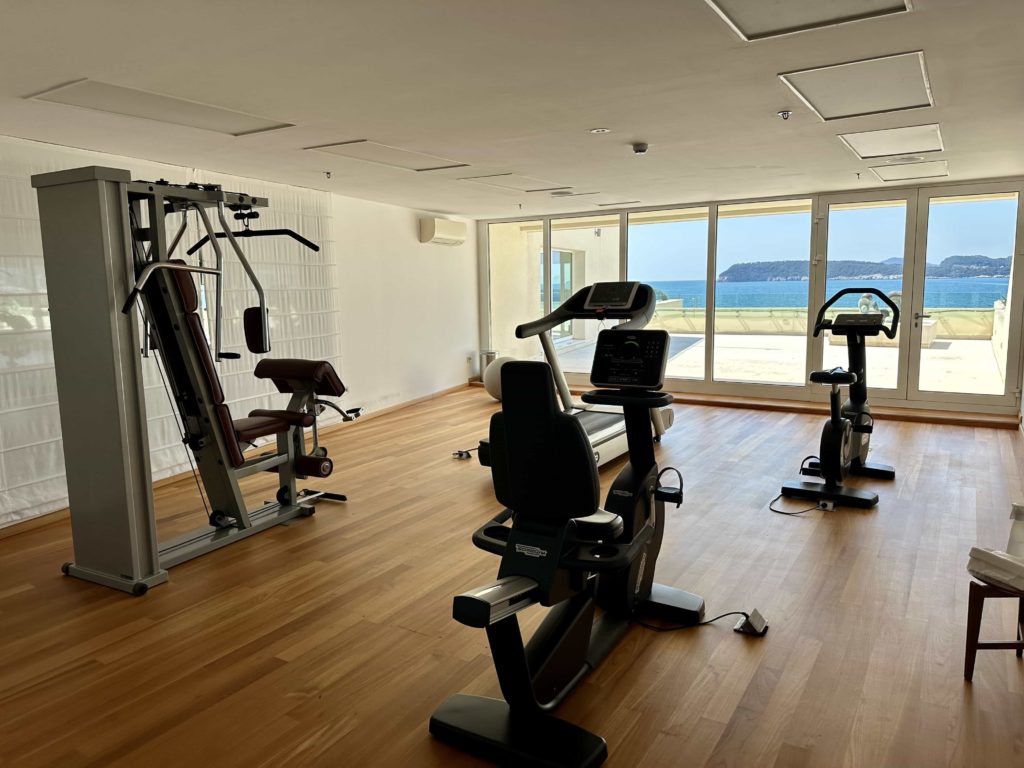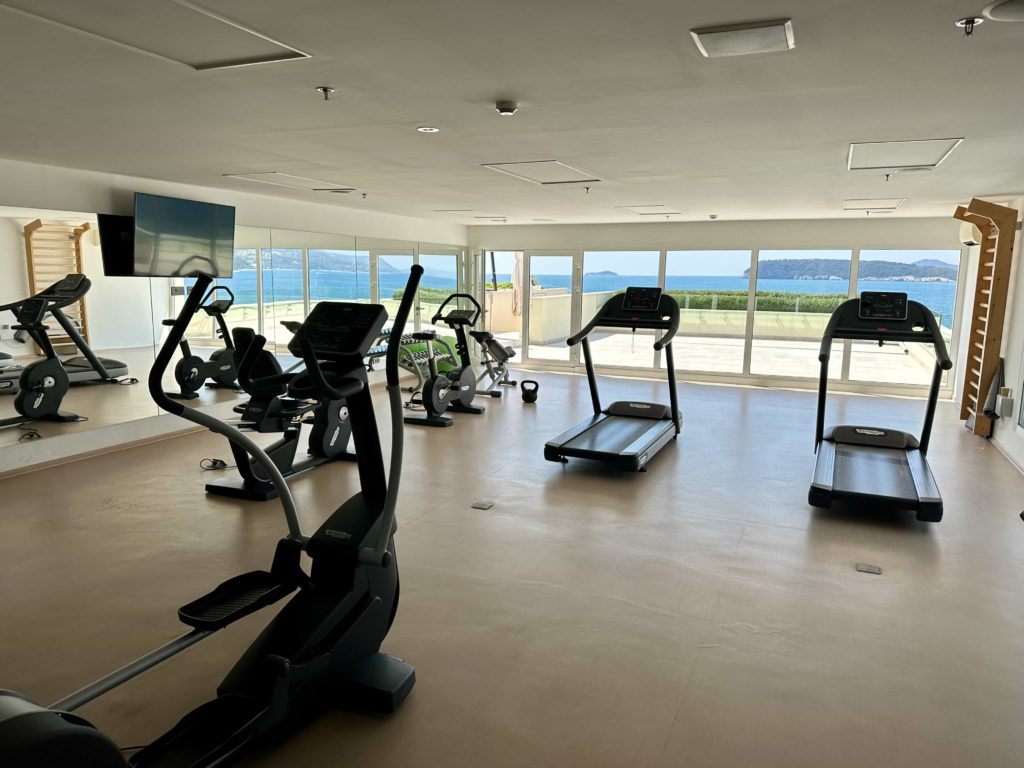 The equipment is split between one large room, and a smaller room. One room is all cardio, with some dumbbells in the corner, and the other is mostly cardio, with one weight machine. The rooms aren't connected, so it's a slightly odd arrangement. Moreover, with just one weight machine, it's not a gym that caters to those who want to focus on strength training. If you're a cardio person though, the ever-present sea views should help motivate you towards that PB.
Clearly there's no shortage of activities to keep adults entertained, but if you've got kids, you might be wondering whether the hotel caters to them too. Currently, there's not too much in the way of kid-specific facilities, but as of summer 2023, there's a new family entertainment facility opening on the premises — Maro World, which will feature playrooms, a soft play area, family and game lounges, and a theatre.
V Level is a premium concept of Valamar Hotels, which offers guests an elevated level of luxury, comfort, and personalized service. Guests of V Level rooms and suites have access to an exclusive lounge area, as well as other benefits like luxury airport transfer, reserved parking, and perks during check-in and check-out.
For regular guests, parking is charged at 11 euros per day (quite reasonable for hotel parking), and there's free electric vehicle charging, right by the front door.
Dining
There are three restaurants and two bars at Valamar President.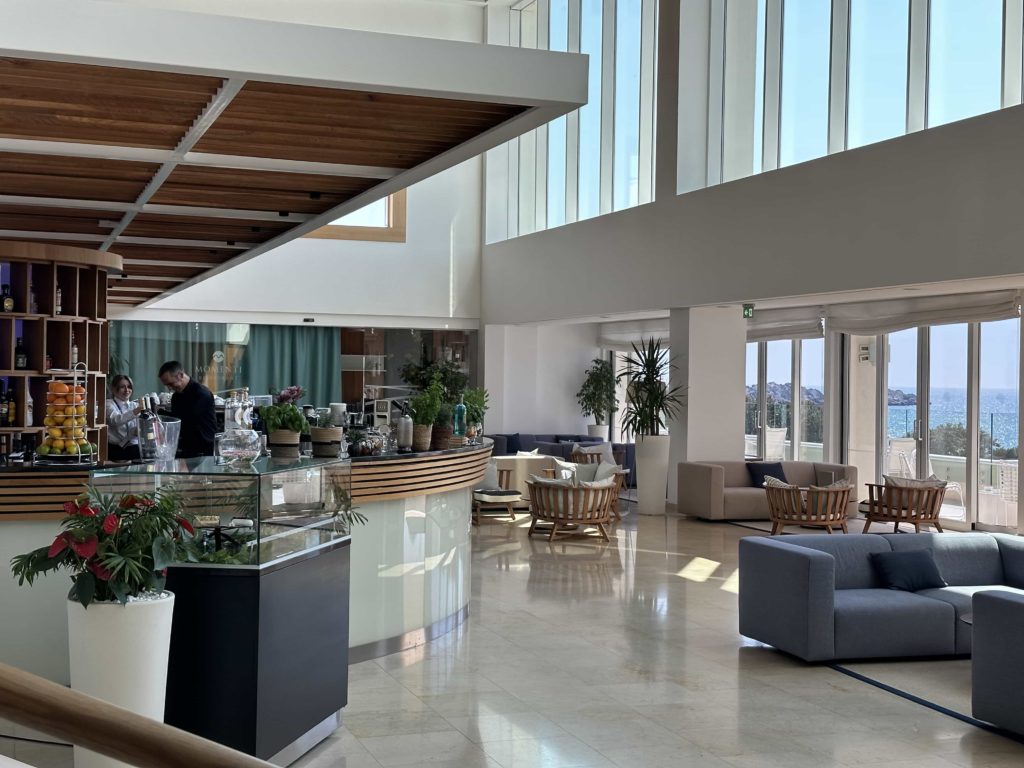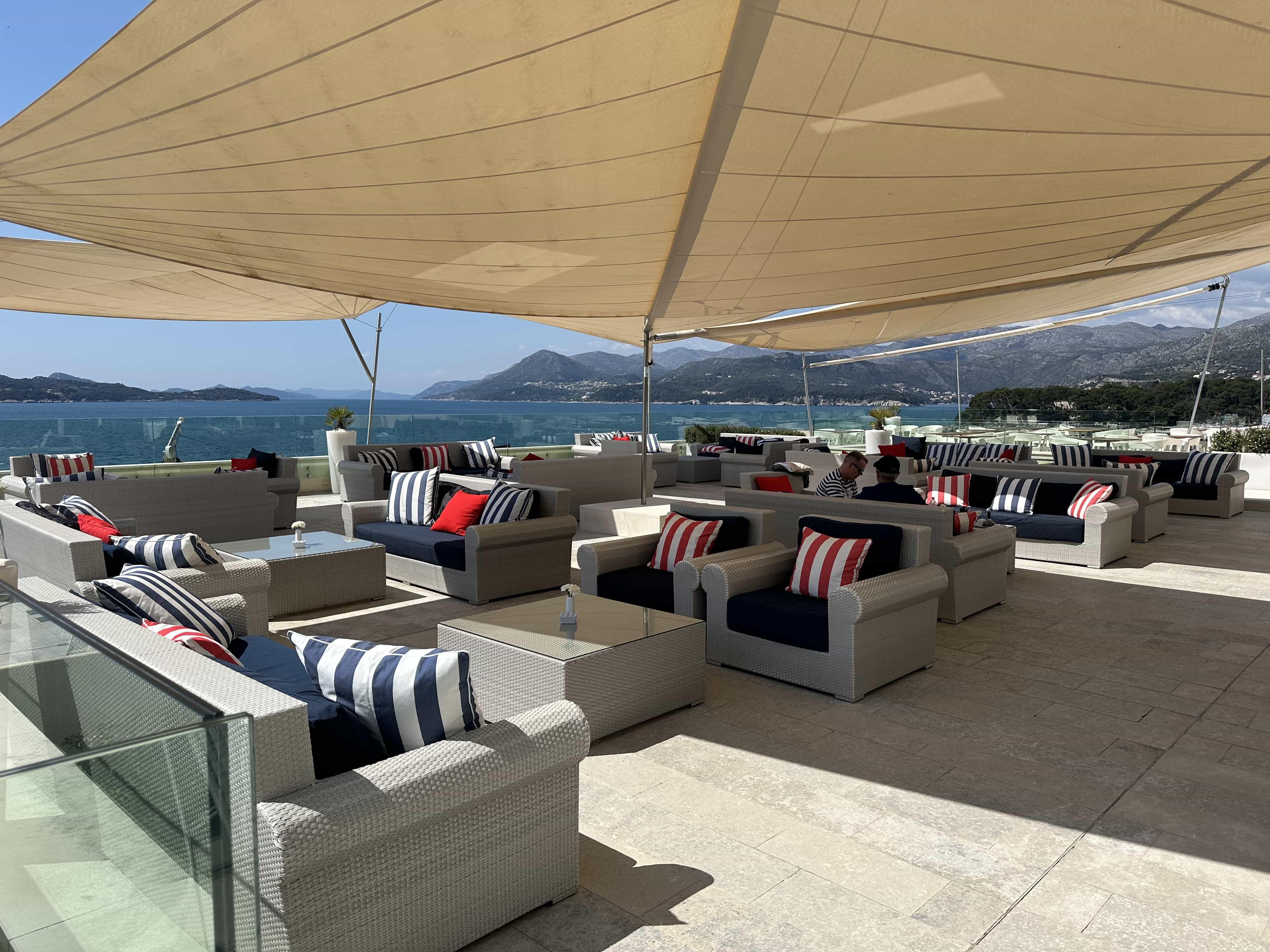 The piano bar is the hotel's main bar, which can be found at far side of the lobby. Seating extends to the outside, and it's a great place from which to watch the sunset while you enjoy a drink. The other bar, is located by the outdoor pool.
In terms of dining options, we had a choice between the hotel's "Premium Buffet Restaurant" and Miramare Restaurant — located next to the beach. There's also a fine dining restaurant, hosted in an intimate setting, but this opens only during peak season. We only dined at the hotel for one evening, and opted for the buffet, since it seemed popular. As it turned out, this was a great decision.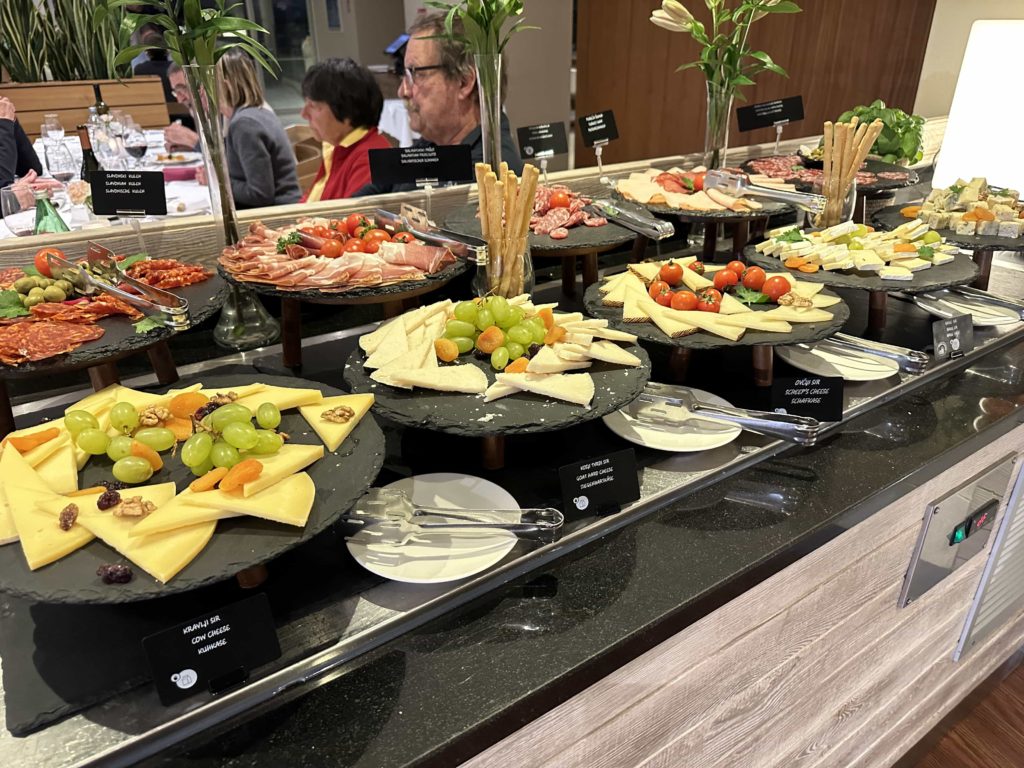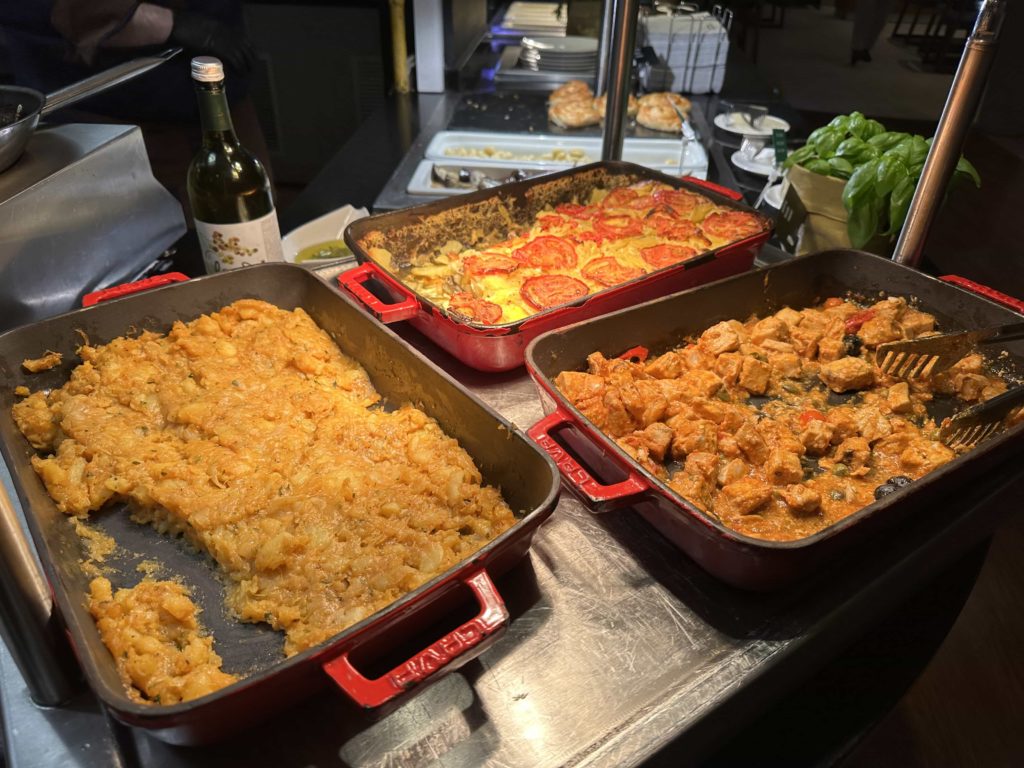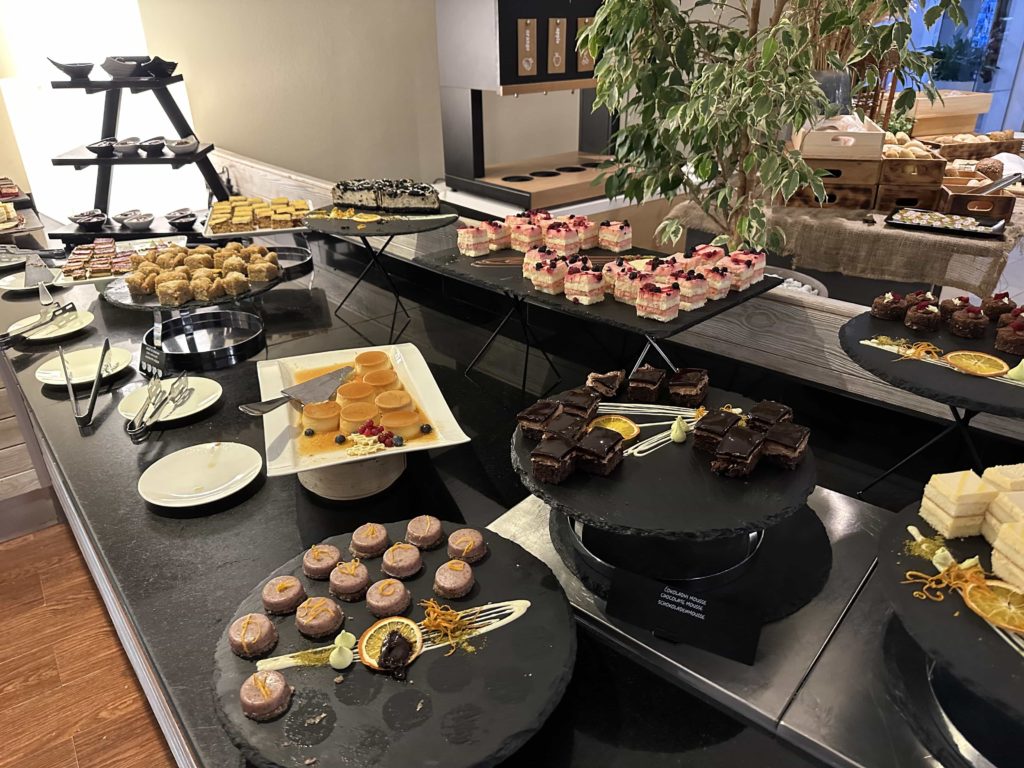 The buffet selection consisted of mediterranean and international specialities, and I enjoyed every single one of them. The variety, the taste, the freshness, everything was up to standard, and quite frankly, it was quite difficult to stop going back for more. Even the desserts, which are often an afterthought at a buffet, were quite delightful. We all agreed that the 37 euros per person price (excluding drinks) was undoubtedly worth it — especially considering that Dubrovnik is not a cheap place to eat in general.
In terms of service, one of our party members required gluten-free options, and the chef was happy to give a thorough rundown of all of the dishes at the different stations. Everyone else was similarly helpful and accommodating.
Service at breakfast though — served in the same restaurant — was unfortunately more hit or miss. I've never had so much difficulty ordering a latte. It seemed an alien concept to at least half of the staff. It wasn't that they couldn't… we had no problem with our waiter on day three — he was excellent and offered to make any coffee we'd like — but whether it was a lack of training, or just reluctance to fire up the espresso machine, it seemed they just wouldn't. It actually became quite a nuisance, to the point where we just started ordering white coffee or black coffee instead. Even then, it failed to arrive on more than one occasion.
A slight dampener on breakfast then, but it was otherwise a very good spread of cooked and continental buffet options — served until 11am, and all included in the room rate.
Conclusion
This is a difficult one to summarise, because on the surface Valamar President doesn't rank among the best 5-star hotels I've stayed at, but it somehow still managed to provide one of my favourite stays. I think it has Dubrovnik — and Croatia as a whole — to thank for that, as it's such a compelling destination, and made for an incredible trip. As a result, any shortcomings of the hotel were easy to ignore.
That said, having taken some time to consolidate my thoughts, I'd still wholeheartedly recommend this hotel. Yes, some of the facilities are dated, and yes the staffing could be improved, but the location is excellent and the overall atmosphere and setting makes for a very relaxing stay — at least, when coffee isn't involved.
The hotel also represents excellent value out-of-season — the £182 we paid was a steal — so if you're staying during this period, I wouldn't hesitate to make it your go-to choice. It was half the price of the hotel we stayed at in Split just a few days later, but certainly wasn't half the hotel.
By the way, in the interest of balance, most reviewers have expressed their praise for the staff, so although we had a few hiccups, it seems that they're normally on their A game. Moreover, our issues were mainly isolated to breakfast and unforeseen circumstances during check-in, so I wouldn't let this put you off.
That said, Dubrovnik has some great hotels, so definitely do your research. In particular, I'd take a look at Valamar Lacroma, as I was impressed by what I saw during my brief experience there.