As someone who stays in London on a weekly basis, I'm always looking for new and interesting places to stay that don't break the bank. Usually this leads to nothing better than a newly-opened Travelodge, or maybe a micro room in a monochrome hotel. Sometimes however, something new pops up for a good price — and that's exactly what happened when I booked my stay at NOX, Edgware Road.
You may not have heard of NOX, but they have a portfolio of hotels throughout London. The Maida Vale location is their newest, and it stands out in their portfolio as by far the most modern and stylish.
Price
I booked directly with NOX, as they were cheapest once I'd signed up for their 10% members discount. That brought the total cost to £56 for a 'Double Studio – Lower Ground Floor', which I think is a remarkable price. £10 more would have got me an upper floor room, but I figured being in the basement with no windows might be a more interesting review. Lower ground floor rooms are clearly marked as being without windows, so you won't have any unexpected surprises.
I'd assumed the low prices were due to newness of the hotel, but there's over 700 reviews on Booking.com, so it seems like they're beyond penetration pricing. I suspect therefore that it was simply a case of booking during the low season, immediately after new year. Indeed, prices do seem to increase over the coming months, reaching as high as £159 from April onwards.
Location
Let's address what in my opinion is the main downside of this hotel: the location. Although within Maida Vale — an area that most consider quite safe — the hotel is unfortunately situated in the middle of what I'd describe as a fairly dodgy stretch of Edgware Road.
While I didn't feel at risk walking to and from the hotel, it's the sort of area in which I'd be weary about using my phone in public. My concerns were validated when I headed to Marks & Spencer's for food, and witnessed an arrest. Not sure what happened on that occasion, but I'll add that there's a couple of online reviews which mention a stabbing just outside the hotel on a different occasion.
If I haven't put you off yet, I'll continue on a more positive note. The hotel is remarkably central for the price you pay. You're just a 10-minute walk from Edgware Road tube station, and Regent's Park, Lord's Cricket Ground, Madame Tussaud's and Marble Arch/Hyde Park are all within 20 minutes. Furthermore, there's some nice areas nearby, once you've left the immediate vicinity of the hotel.
Check-in and first impressions
The entrance to the hotel is easy to miss. It's sandwiched between two shops and is no more than a blue door with gold "NOX" branding above it.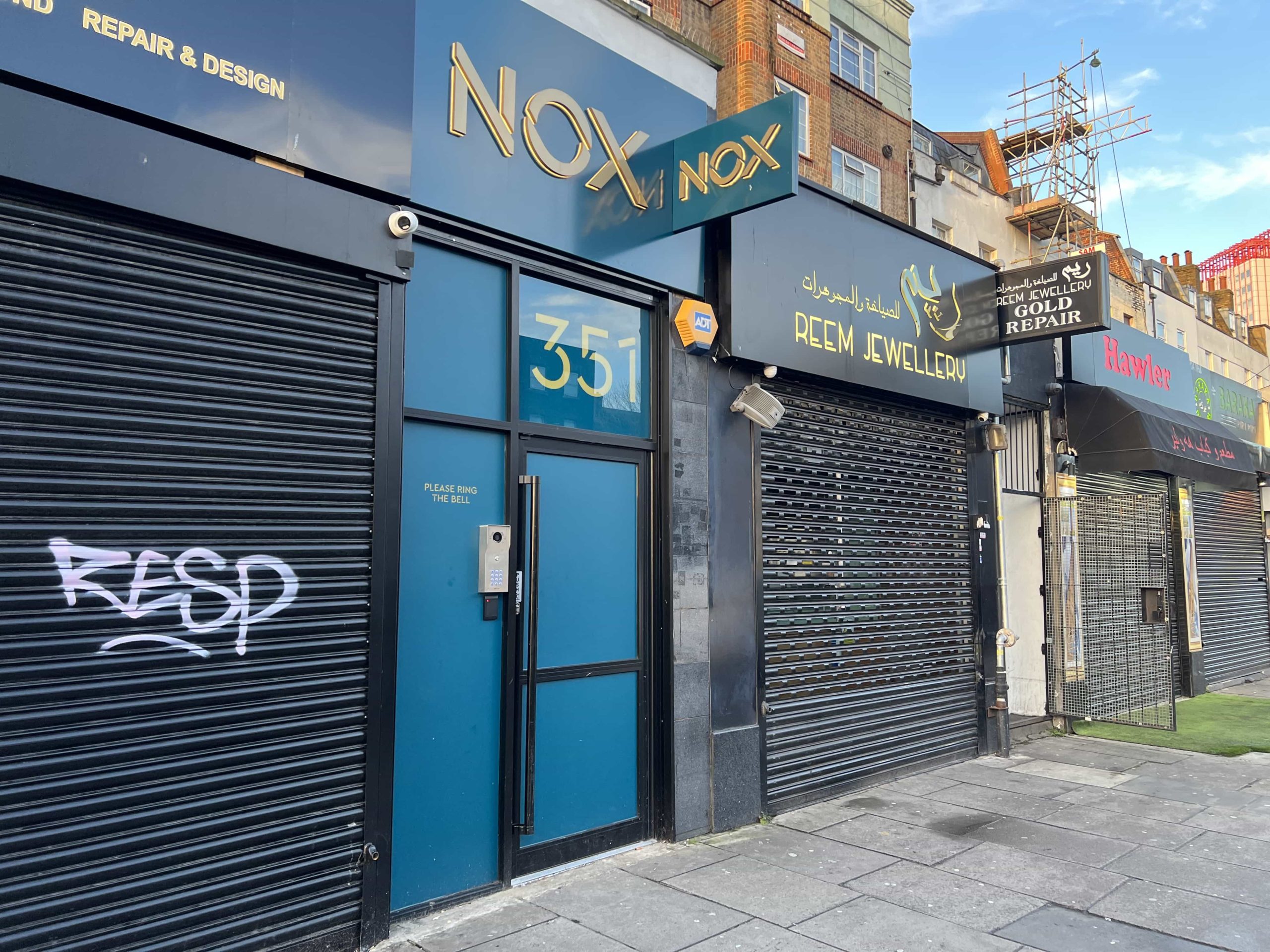 Walking inside however is quite the contrast. I'd be exaggerating to say it's like walking into another dimension, but it's certainly a surprising juxtaposition. While the price says 'budget', the decor says 'opulent'. The blue and gold continues, and is complimented by marble-effect floor tiles, plush furnishings, and crisp ambient lighting. Ok, the fixtures and fittings are probably more Made.com than Harrods, but for somewhere that's priced as a budget hotel, they do well to set themselves apart from equivalently-priced alternatives like Travelodge. My only criticism, is that it feels quite clinical. This is probably down to a combination of the decor reminding me of an upmarket Dentists, the lack of windows in the lobby, how quiet it is, and how few staff there are.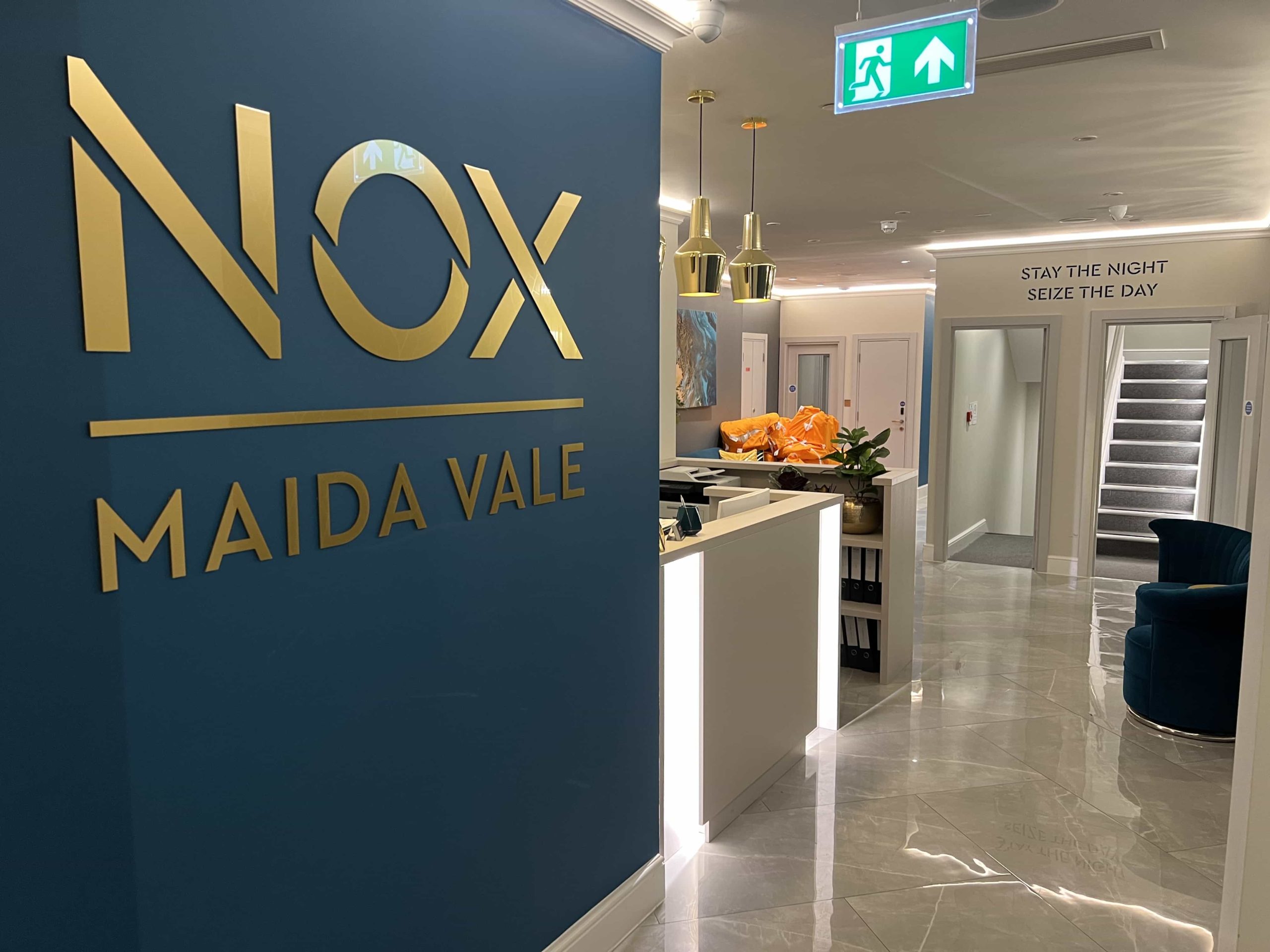 This impression was reinforced during check-in, which was a brief and business-like affair, with few words exchanged. I appreciate that it's a no-frills hotel, but at least ask if I have any questions. In fact, I think my interaction with the receptionist consisted only of being asked for ID, told my room number, and pointed towards the elevator.
Room
The rooms are where this hotel really shines. All of them are suites, offering a layout similar to a small studio apartment with a bed area, kitchenette, and bathroom. The standout is the 'Jacuzzi Suite' which features a jacuzzi bath in the bedroom.
The 'Double Studio' room I stayed in was of a standard size, but it felt more spacious thanks to the well-designed layout, good lighting, and proportionate furniture. The look and feel of the rooms are an extension of the lobby, but they swap the marble-effect floors for laminate. It's all quite nice and manages to feel light and airy, even being in the basement. Even if you're claustrophobic, don't automatically dismiss the windowless rooms; you might find the spaciousness of the room is enough to alleviate the feeling of being in an enclosed space.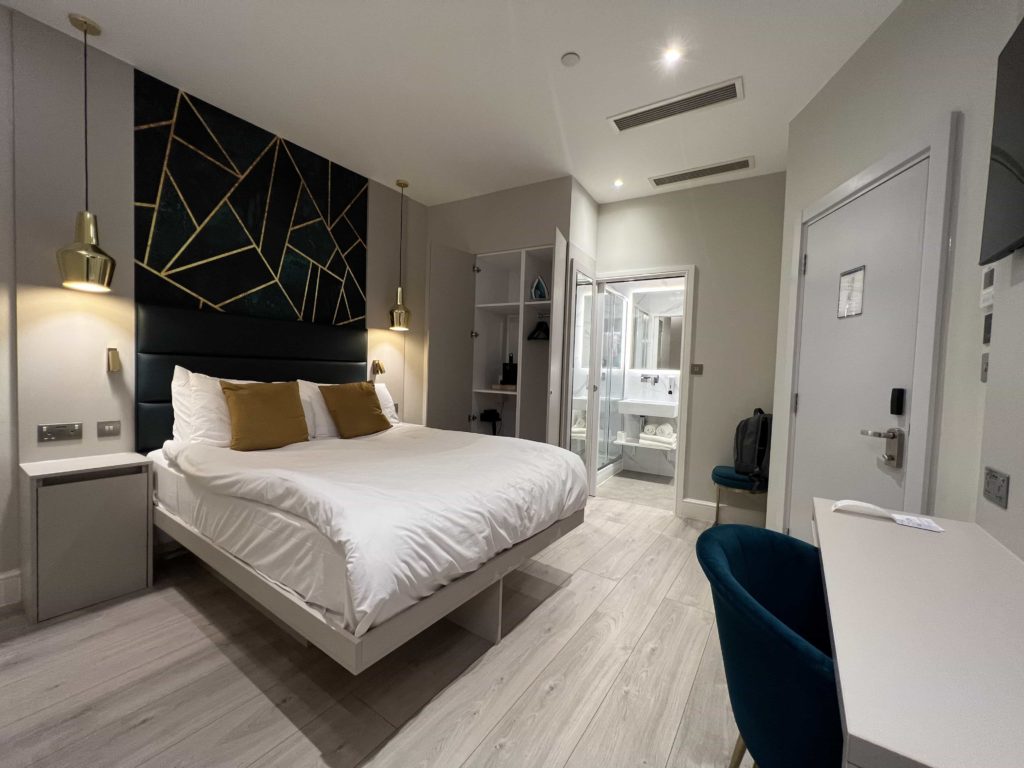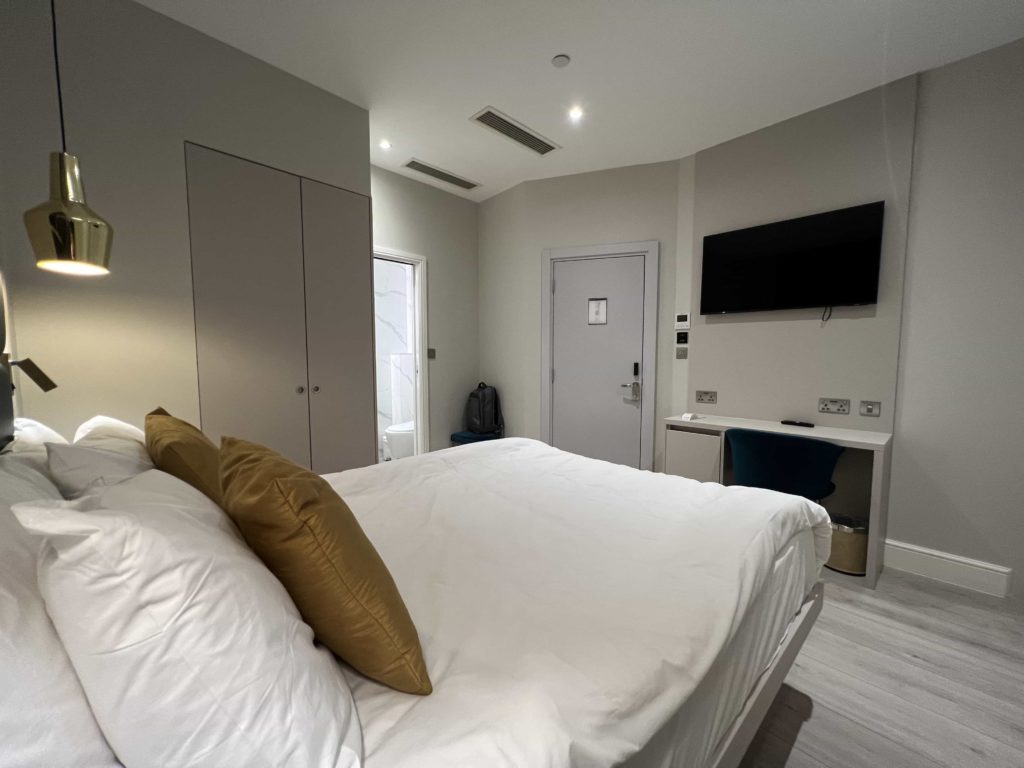 The fire escape plan on the back of the door gave me an insight into the other basement rooms. My room was a decent size, but it looks like it may have been the smallest of the lower ground floor rooms. As the hotel isn't in a purpose-built building, the rooms are all different shapes and sizes, and the ones on either end of the floor look to be the biggest, albeit one is a less useful L-shape.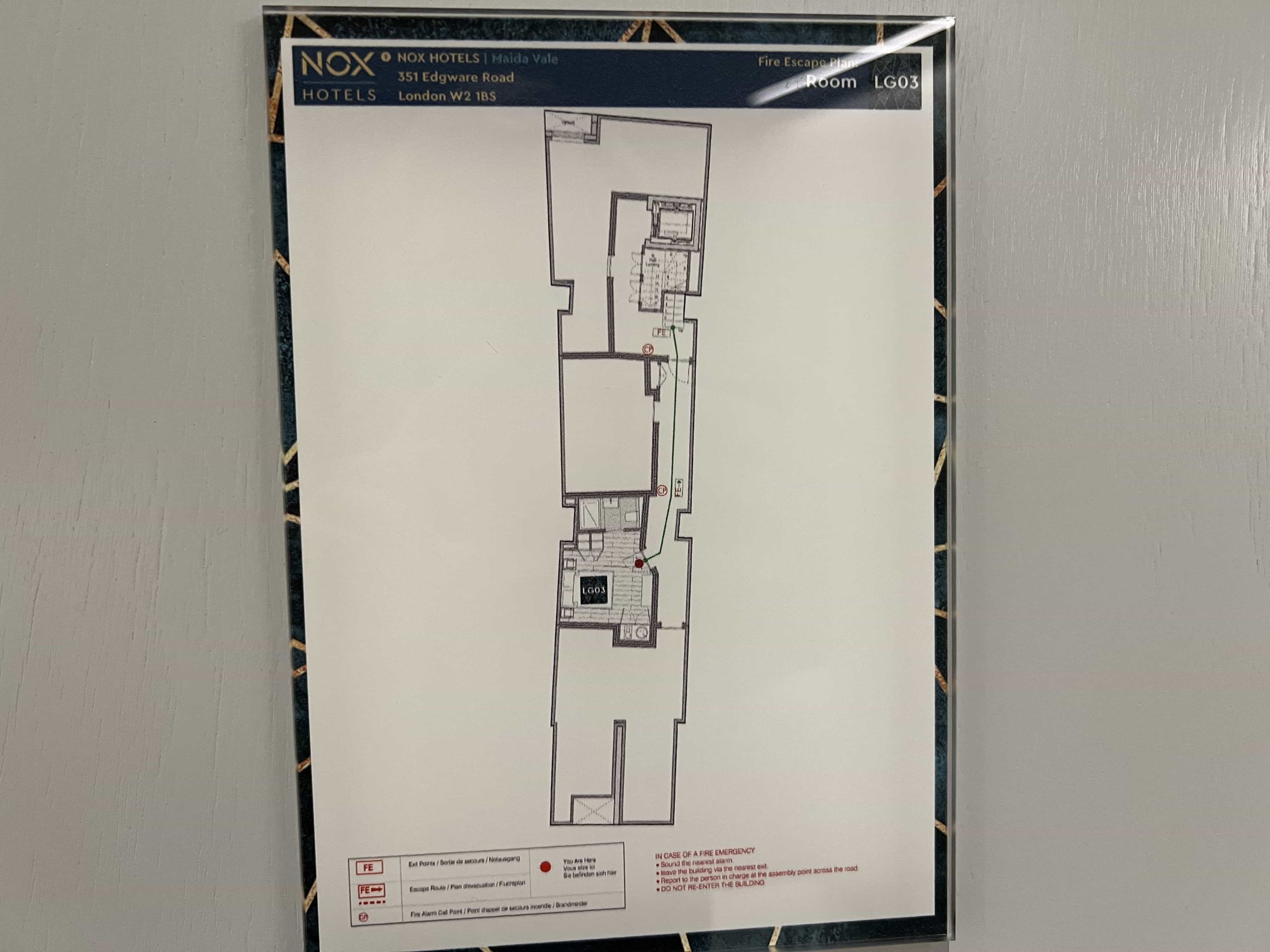 The kitchenette is definitely a nice feature, and is arguably a necessity, given that the hotel doesn't have a restaurant. There are plenty of supermarkets within walking distance, so it's a practical option for those who don't want to order in or eat out. The kitchenette is small but fully equipped with all the essentials, including appliances such as a refrigerator, microwave, hob, toaster, and kettle, as well as cooking equipment and utensils. The appliances aren't going to win any awards, but they do the job. Oddly, the coffee machine is still relegated to the wardrobe, even with there being a kitchen. Also in the wardrobe is a safe, ironing board and iron, hangers, hairdryer, and slippers. The room has ample storage space for luggage, not just in the wardrobe but also under the bed.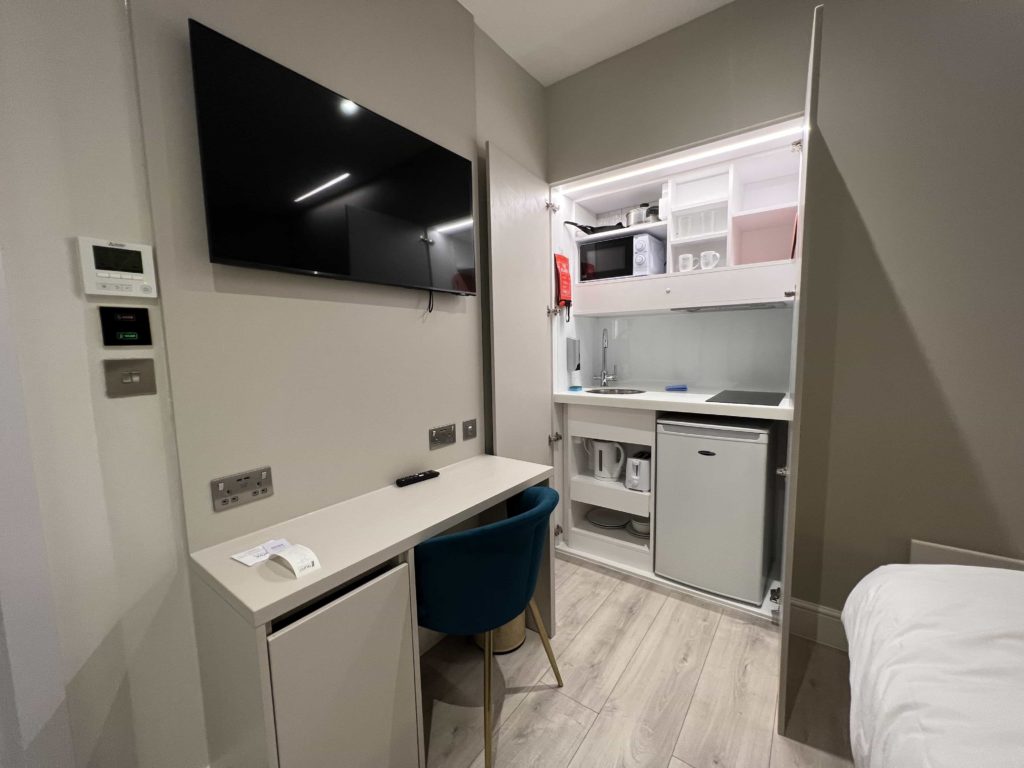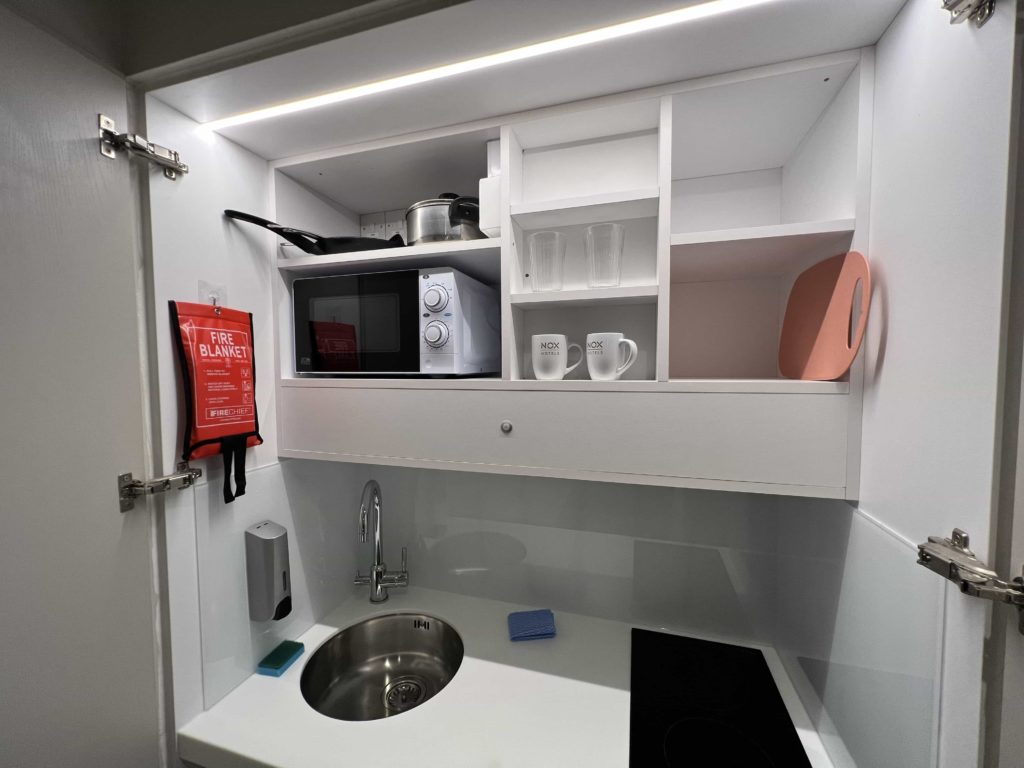 Speaking of the bed, it's perhaps the one aspect which lets the room down somewhat. Both the pillows and the mattress are quite firm, and it's clear cost-saving measures were taken in this area. It didn't ruin my sleep, but it wasn't the most comfortable either. The lack of windows didn't bother me much as I arrived in the evening. However, when I woke up to complete darkness at 8am, it was a slightly disorienting experience. The accent light above the bed is a nice touch, it's handy not to be blinded by the main lights when you wake up, but it would be great if it had a dimmer switch.
The room has plenty of sockets, with eight under the TV, and two on either side of the bed, along with four USBs. The website mentions that phone signal is unavailable in the lower ground floor rooms, but I found that I was able to get a signal, although the speed wasn't great. So, I opted to use the Wi-Fi, which worked fine.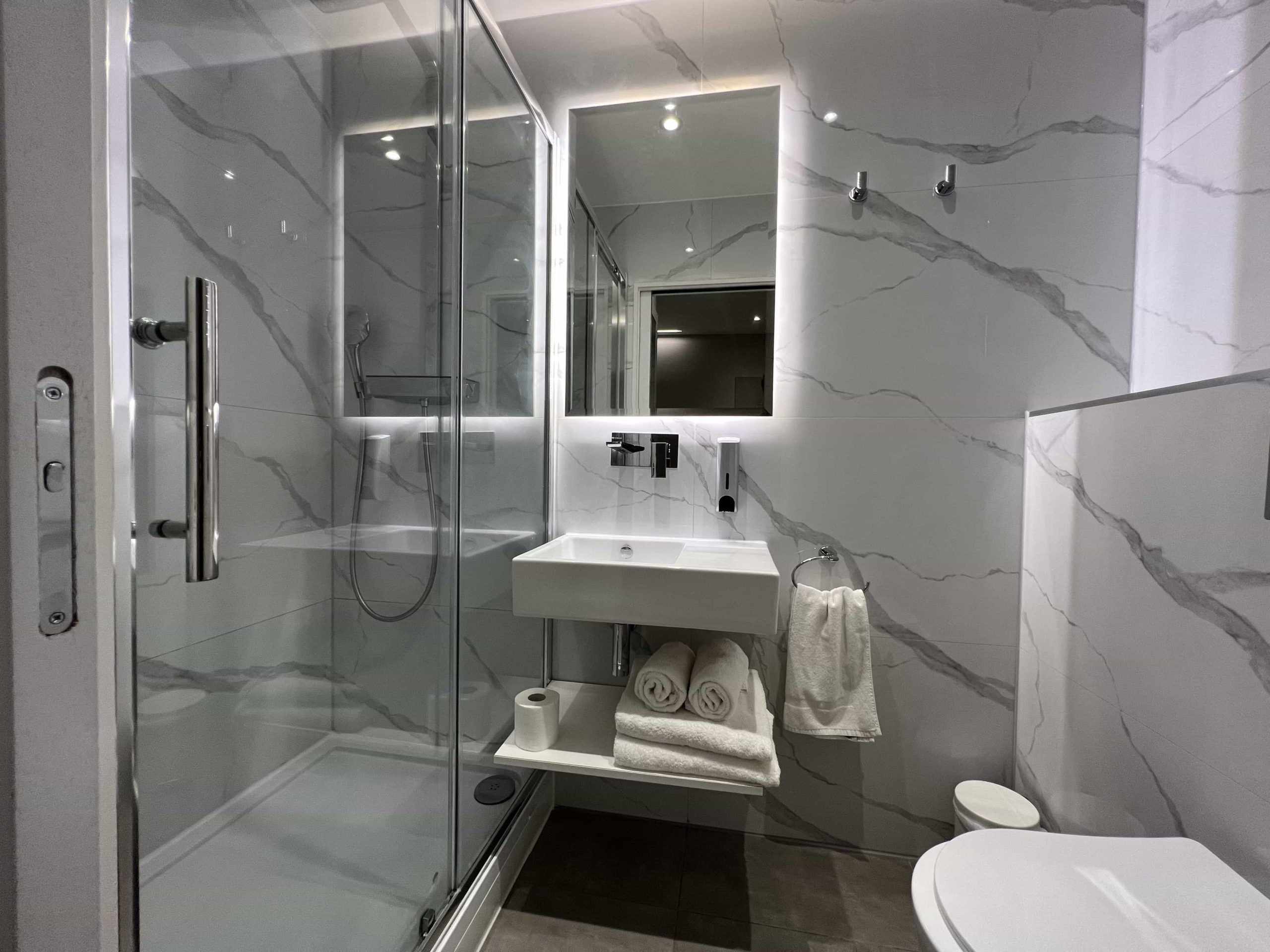 The bathroom is decent, with a few minor issues. The water pressure in the shower isn't quite as strong as I'd like, and the tap is so high above the sink that it splashes you, even on medium flow. Oh, and the toilet seat is definitely the wrong size for the toilet. Other than that, it's all good, and I particularly like the wide rainfall shower head.
Conclusion
So what are my final thoughts on NOX, Edgware Road? Well it all depends on what price you're able to book at. For £56, it's a no-brainer and you'd be hard pressed to find somewhere as good value, in as central a location as this. In the peak season, it's competing with the likes of Radisson and Novotel, and some decent boutique hotels. Of those options, it wouldn't be my first choice.
While the rooms are good, the lack of amenities and service mean it's a less well-rounded product than its competition. The hotel also feels quite clinical and impersonal, even more so than somewhere like a Travelodge, which at least tend to have a restaurant. That said, aside from the hotel's surroundings, all other complaints are fairly minor, so it's still one to keep on your radar for your next trip to London.