Ever since capsule hotels began to become popular outside of Asia, I've been keeping a keen eye on their spread into Europe. To my disappointment, the UK still doesn't seem to have embraced them to the same extent as other countries, and that surprises me.
As much as I enjoy luxury hotels and resorts, I'm the sort of traveller who aims to spend as little time as possible in a hotel. If the destination is interesting enough, the hotel should just be a place to sleep and perhaps make use of the dining and leisure facilities. Of course, it depends on the type of destination, but as someone who travels regularly, it simply doesn't make sense to spend hundreds of pounds per night, every single time I travel.
I can't be alone in this mindset, which makes me believe there must be a market for capsule/pod hotels in the UK — especially in expensive cities, like London. Particularly now that hybrid working is commonplace and more people are travelling into London for a couple of days a week.
Hostels are an option, but they aren't for everyone, and the quality of them varies quite considerably country-by-country. The UK certainly isn't a shining example. You might say, "well, there's plenty of budget hotels in the UK". This is true, but there's increasingly few in London that can be considered 'budget'. In fact, I wrote about the ones in Central London, and I found only five which come in around the £50 mark — including the one we're discussing today.
While the Kip Hotel isn't technically a capsule hotel, it's certainly got some of the characteristics of one. I stayed there on two occasions recently, and these are my thoughts.
Price
For my first stay, I booked the most basic option — a KipCabin room — for £62 via Booking.com. Second time around, I thought I'd try something different for review purposes, so I booked a KipCabin XL. At £60 via Agoda, this was comparatively a great deal.
In the grand scheme of London hotel prices, these prices are about as cheap as it gets for a weekday stay in zone 2. The Travelodge which adjoins the Kip Hotel is useful context: working out at between £75 and £100 at this time of year. Last minute, you're looking at considerably more than that, whereas prices at Kip don't seem to surge to the same extent.
Location
The hotel is located in the centre of Hackney, right beside Hackney Central Overground Station. It might take you a moment to find the entrance, as it's fairly understated and could be mistaken for a service entrance, but you can't go far wrong as you'll emerge from the station directly behind the building.
The proximity to the station is one of my favourite perks of this hotel, as you can be on a train within minutes of leaving your room. Hackney Downs is also nearby, so you're just one stop away from Tottenham Hale, which will connect you to Stansted Airport via their express service. Getting into the centre of London will typically take 30-45 minutes.
Hackney it isn't the nicest area of London, but it's safe enough, and there's no need to walk far for most amenities. There's supermarkets nearby, the high street is just around the corner, and there's a highly-rated pizza place — The Pizza Room — just across the street.
First impressions
Not knowing much about the hotel beforehand, it caught my attention when I noticed that the entrance is shared with the Travelodge located next door. In the elevator up to reception, a couple of guests were speculating that the hotel was a Travelodge in disguise, or some kind of subsidiary. This isn't in fact the case; the brand is independent and also operate a boutique hostel in Edinburgh.
Check-in was smooth and uneventful. The receptionist didn't give the warmest of welcomes, but the process was at least efficient. Along with the key card and the Wi-Fi password, you're given a token which can be exchanged for free coffee anytime between 7am and 7pm. Unfortunately, it's one coffee per stay — not per day — which seems unnecessarily tight. As it's served by the receptionist, it also gets in the way of check-ins, which isn't ideal when it gets busy. A free-to-use coffee machine would have been more practical, and seemed less of a gimmick.
The look and feel of the hotel is something I'm torn on. They've gone all in on a monochrome aesthetic, throughout the corridors and rooms. While there's some greenery thrown in here and there, it's otherwise very industrial and kind of feels like an upmarket self storage facility.
It's probably quite cost-efficient and serves as a recognisable identity for the brand, which I'm sure they're looking to establish if they're planning to grow. That said, I can't help but feel that a more homey feel could have been achieved for a similar cost, and have been more hard-wearing. Black paint is notoriously prone to scuffs, and it shows — particularly where luggage has left marks on the walls in the rooms. Overall though, it's a relatively minor criticism, and certainly not enough to put me off.
Rooms
KipCabin
In booking my first visit, my main priority was making sure the overall reviews were good, and in particular that the hotel was clean and well maintained (always my top priority). I didn't check the room details in much depth, so opening the door to my KipCabin room was a venture into the unknown.
It wasn't a very long venture, as I was immediately taken aback by how tiny the room was. It's not a capsule, but measuring in at a modest 3sq.m, I'd definitely describe it as a 'micro room'. This is just enough to fit a small single bed alongside a small desk and chair, with enough room left over for the door to swing inwards.
Other amenities are sparse: there's a lamp, bin, full-height mirror, and a 23" Roku-connected TV, as well as two hooks by the door to hang a couple of items of clothing (hangers provided) — everything else is decorative. Honestly though, what else do you need for a short stay?
Most KipCabins are internal, and as such, do not have windows. I was only in the room to sleep, at which point it was dark outside anyway, so I didn't mind. If you're the type to suffer from claustrophobia though, this might be the final straw which puts you off booking one of these rooms. The website indicates that you can contact Kip directly to arrange a room with a window, so maybe give that a try before you dismiss it completely.
Unfortunately, the rooms aren't individually air conditioned. The temperature wasn't overly warm, but it was just enough to be slightly uncomfortable during the night. That said, I woke up feeling well-rested, so it didn't disturb my sleep too much. I'd be more concerned about it during the summer, but I assume they'd adjust the central temperature accordingly.
Focusing on the bed (since it makes up the majority of the room):
There's ample space underneath for a couple of suitcases and bags, which helps to free up the rest of the floor area.
Taller people will struggle to stretch out, and as it's quite narrow, you might find yourself kicking or elbowing the wall during the night.
Only one pillow is provided, and it's quite thin and unsupportive.
Overall, I was happy with this room. It's not the most comfortable, but is a great choice for a one or two-night stay if you're just looking to sleep.
KipCabin XL
Second time around, I did do my research and knew more about the type of room I was booking. Even so, the ultra wide-angle shots of the room make it difficult to get a true sense of the size. I'd like to see floor plans or 360° scans added to the site to help in this regard. For your convenience, I created some myself, which can be viewed above. Keep in mind that the exact room layout you get may vary.
Fortunately, it was a pleasant surprise upon entering the room to find a significantly bigger space than the KipCabin of the previous week. The room is more than double the size at 6.5sq.m and features a double bed, and a much larger entry area.
All of the amenities are the same as the regular KipCabin, so the extra space isn't really used for anything except the double bed. Fortunately, the bed makes all the difference and feels vast when compared to the single bed of its smaller sibling.
Unlike KipCabin, where the 23" TV is positioned at the foot of the bed, in XL it's at the far end of the room, and isn't particular watchable from that distance.
Behind the bed, there's a single socket for charging devices. Oddly, this is one fewer than the KipCabin, and is the only socket in the entire room. Bring a multi-way adapter if you need to charge more than just your phone. It's also a little inconvenient not having the desk alongside the bed, as there's no beside table.
If you can get a good deal, this room is undoubtedly worth what would normally be a premium over KipCabin. If prices are higher, you'll need to decide how much you value a double vs. single bed, as everything else is essentially the same.
Bathroom
Both the regular KipCabin and the XL have near-identical bathroom situations. That is, neither have en-suite bathrooms, and the shared ones they do have are very similar in size and layout.
Each floor has multiple sets of cabins, with a bathroom for each set. With KipCabin, you're sharing between five rooms, while in KipCabin XL, it's three. As you'd imagine, this means less waiting, and helps keep things a bit more clean and tidy. That said, I never had an issue sharing with five in KipCabin, as the other guests were respectful and kept the facilities relatively tidy. Technically, you can access any of the shared bathrooms on the floor, so that's something to consider if you find the one dedicated to your set is occupied.
The bathrooms are spacious enough (particularly the shower), and shampoo, shower gel, and soap are provided. The monochrome aesthetic reassures that the bathrooms are kept clean, as the black and white surfaces would show up every little mark otherwise.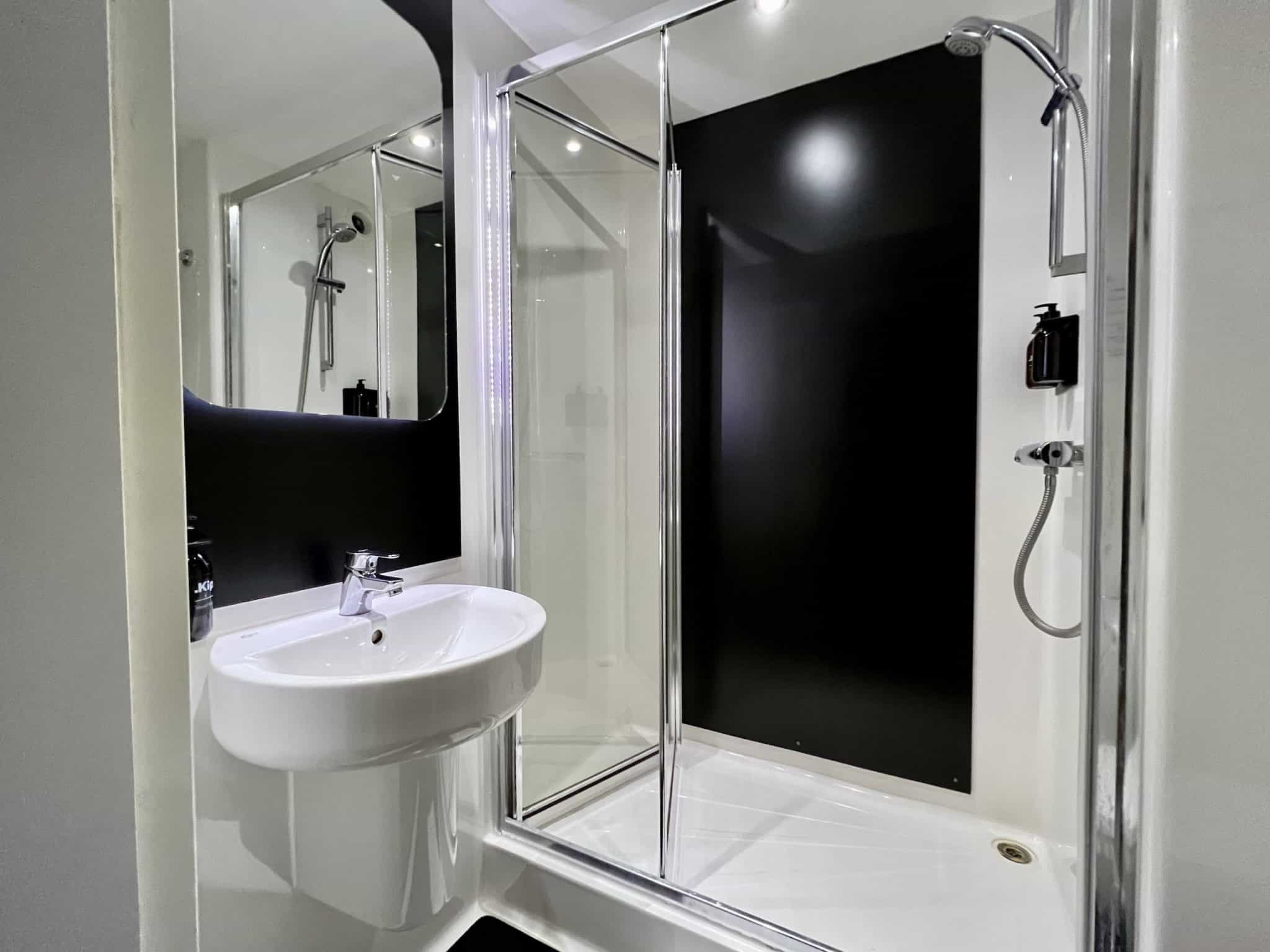 Hand and bath towels can be found in your room. Unfortunately, the floor towels are communal. I didn't like the idea of this, so showered last thing before I checked-out and used the hand towel to stand on. Others seemed to share my concern, as the still-folded communal towel had been discarded to the side.
My only other complaint is the lack of hooks. While the floor may look clean, it's a bit unnerving having to precariously balance your things on the single hook that's provided. This is something that could easily be rectified.
Anything else to note?
During check-in and check-out times, you could be waiting at the lift for a few minutes, as there's only one for the entire hotel. Don't bother trying to find the staircase — there isn't one (except behind the emergency exit door). Factor this in if you're looking to run for a train last minute.
While there wasn't much noise from other guests the times I stayed, I wouldn't assume this to be the case for every stay. The rooms are much better insulated than a capsule hotel, but they're definitely not up to the standard of a 'normal' hotel. This is exacerbated by the hard surfaces and boxy layout, which means echos from down the hallway can be heard from the room. Something to keep in mind if you're a light-sleeper.
Conclusion
If you're on a budget, the KipCabin is perfect for a one or two-night stay. Whether you'd be willing to stay any longer depends on your tolerance for enclosed spaces, but the slightly more expensive KipCabin XL is a good fallback if you want a bit more room to stretch out.
The creators have tried to cater for everyone from solo travellers, families, and friend groups, through to business travellers, digital nomads, and even locals. So if a cabin room doesn't meet your requirements, there's lots of other room types available — some significantly larger.
It's commendable that Kip have done something different here, and it's exactly the sort of thing that London needs to combat the exorbitant hotel rates. I'd like to see this concept expanded to other locations in London, perhaps leaning further into micro rooms in the more central locations.
For now, it's a great start.