London is not somewhere you can find accommodation cheaply… or is it?
Working, but not living in London, has meant that over the past six months, I've had to search high and low for the budget accommodation which won't get me killed or — worse? — give me bedbugs. It's no easy task; the average price of a hotel room in London is around £250, far exceeding the UK average of around £150.
I've taken a couple of wrong turns along the way, but now I've got a solid list of places that I can rely on to provide a clean, comfortable, and most importantly, affordable stay. Temper your expectations, they are far from luxurious, but if you're a regular visitor to London, or just travelling on a budget, they offer a decent night's sleep without burning a hole in your pocket.
At the risk of pricing myself out of the market, I'm going to share these places with you today — focusing on accommodation that you can find for around £50.
Disclaimers
A few disclaimers to begin with:
Consider these pointers; options to investigate. Prices fluctuate wildly throughout the year, to the extent that I almost invariably stay somewhere different from one week to the next.
I'm writing this in early May, before the summer season has started. Current prices may not reflect what you'll find a couple of months from now.
My view of what a passable hotel is might be different to yours. If you're literally just looking for somewhere to sleep, you'll have more options than I'm listing here, and vice versa.
I'm not going to include any outliers. I will only list places that I've stayed at at least three times within the price range target.
Central London
Travelodge
Those of you who are from the UK are probably rolling your eyes at this one, but Travelodge doesn't tend to advertise on travel search engines. As such, their hotels are not particularly discoverable for foreign travellers.
Instead, you'll need to visit the Travelodge website directly. It's imperative with Travelodge to book far in advance, because prices tend to surge last minute.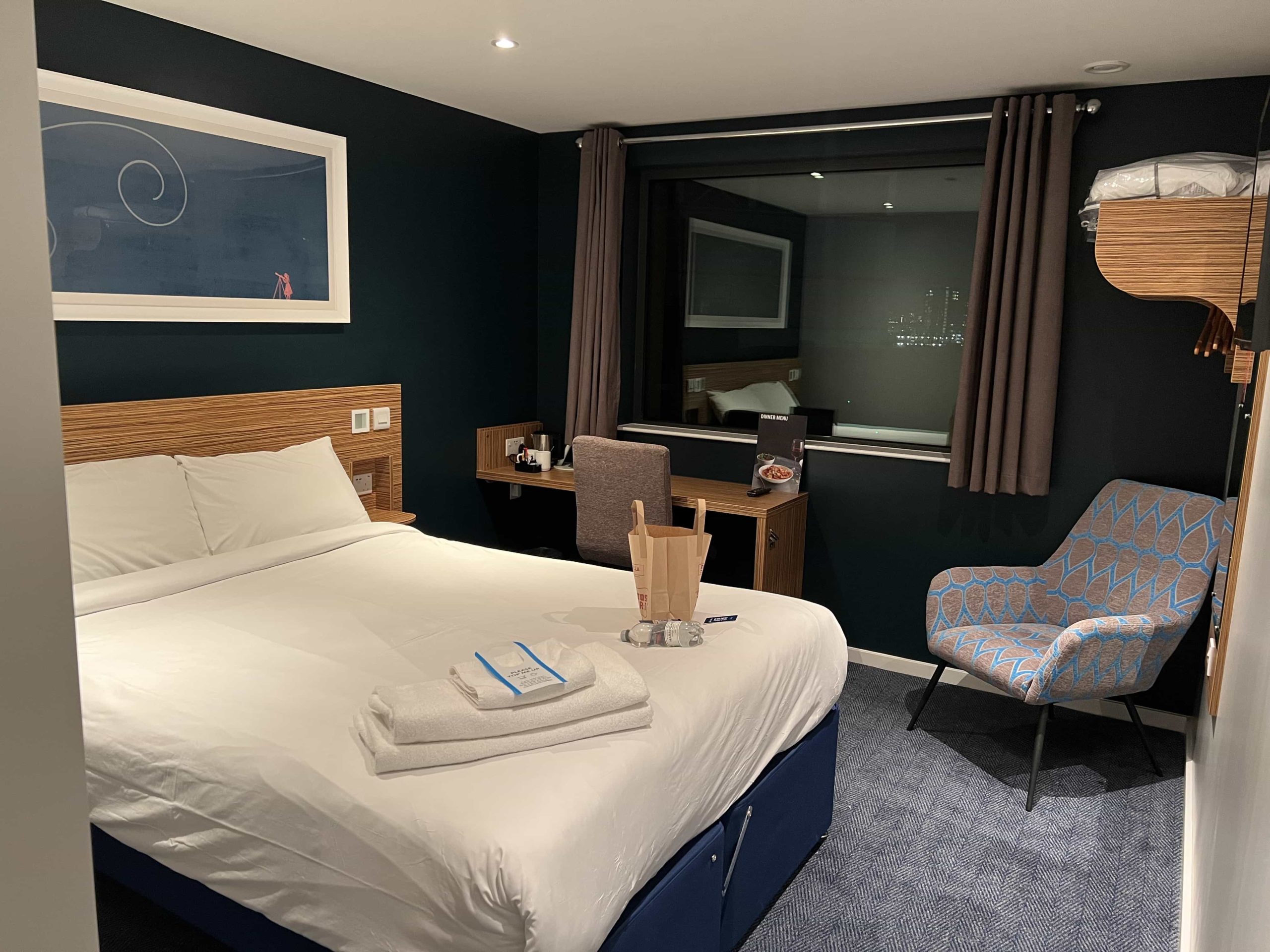 Travelodge are like a fast food chain — if you've seen one of them, you've seen them all. Well, that's true to an extent, although they've recently launched a redesign. At the moment, the redesign is only available in a small subset of their hotels, but it brings a more modern and refined look and feel.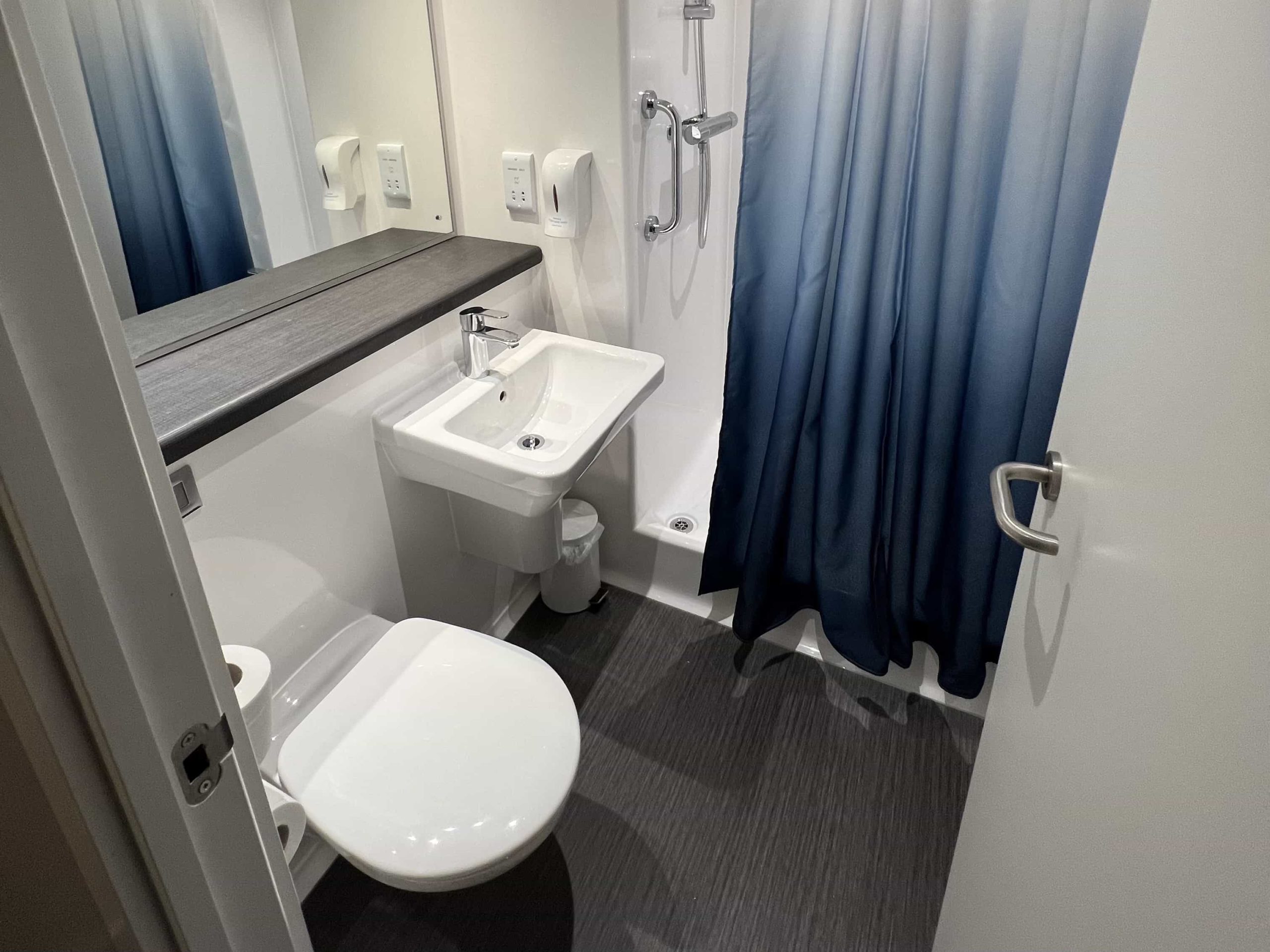 Whether you stay in a new or old location, you'll get a simple room with adequate amenities, a comfortable enough bed, a small TV, and a practical bathroom. If you're frequenting Travelodge hotels, they can become a bit depressing, but for the occasional stay, the rooms are very functional, and you'll arrive knowing what to expect.
In London, the best one I've stayed at is Docklands Central. It's new as of 2022, and unusually for a Travelodge, you get some decent views out towards Canary Wharf, and on the opposite side, London City Island — where I used to live in fact. The location to price ratio is excellent, with easy access to Central London and Canary Wharf in a short amount of time.
Kip Hotel, Hackney
Kip Hotel easily deserves a spot on this list, since it does well to cater to many types of traveller, at reasonable prices. There's options ranging from micro rooms, all the way up to large dorm rooms for groups.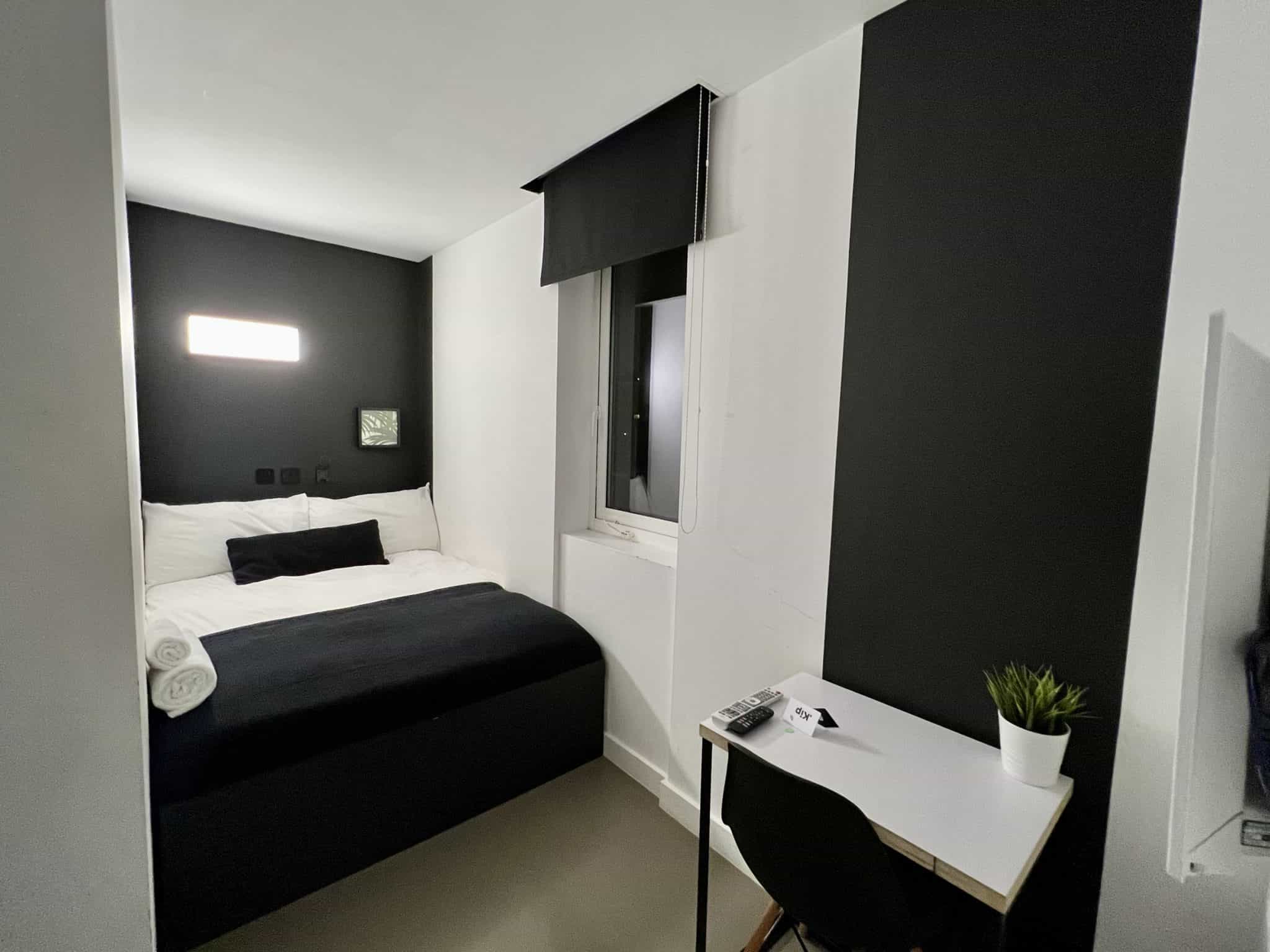 I've stayed in two of their smaller rooms, which both came in at just over £50 per night. I wrote a detailed review about those stays, which you can read about here. I'll summarise some of the key points.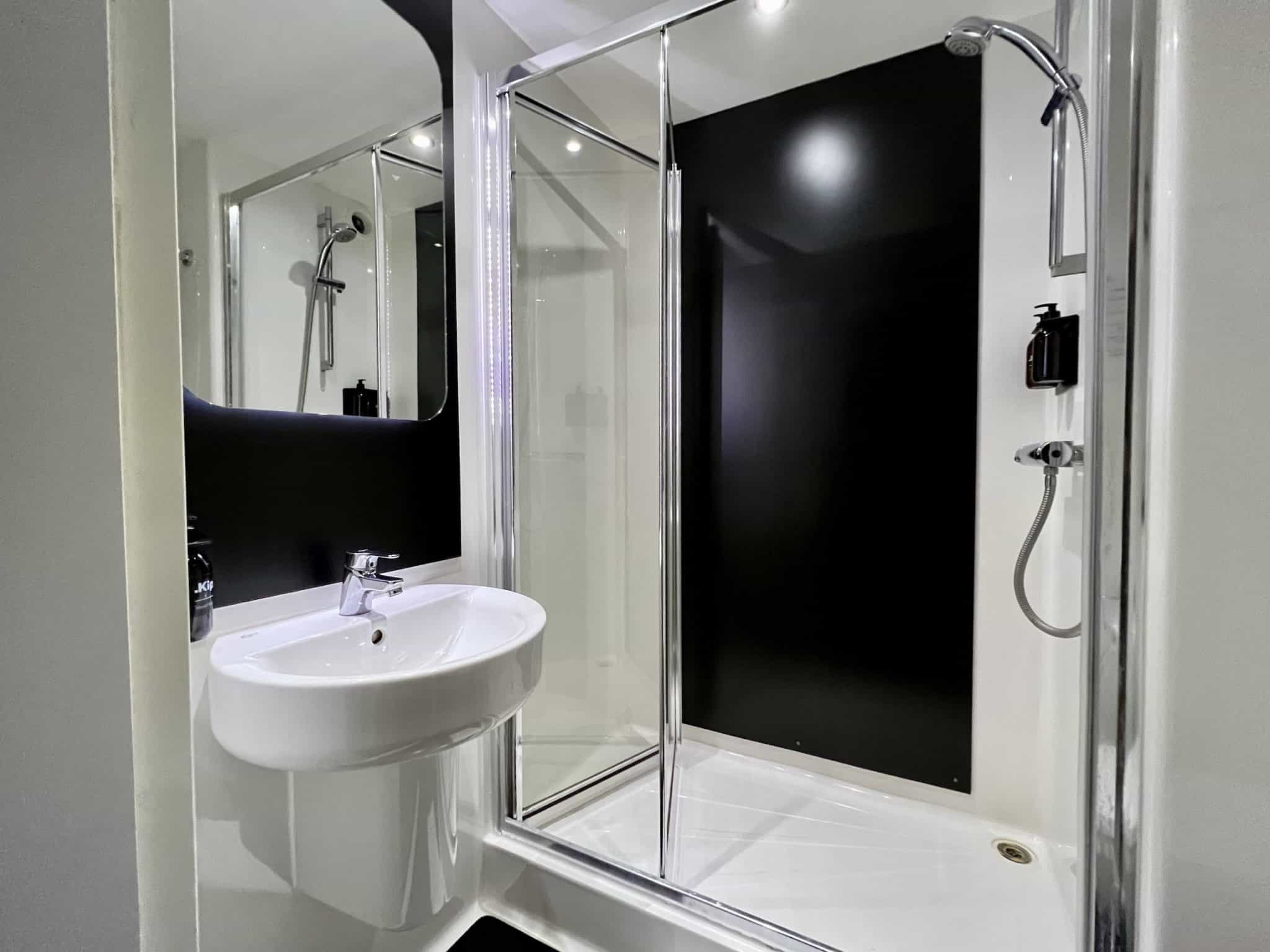 If you can get over the monochrome decor and barebones amenities, it provides an adequate stay. If you're a light sleeper though, you might find the thin walls and lack of sound isolation a bit problematic. In the smallest rooms (KipCabin and KipCabin XL) bathroom facilities are shared with 3-5 other rooms, but they're generally kept clean and tidy. These rooms aren't individually air conditioned, so they get very warm, which is the biggest drawback of an otherwise good product.
The location is ideal — right behind Hackney Central station — so you can jump straight onto the Overground line into Central London. There's also supermarkets, fast food, and restaurants, right on the doorstep. These are necessary, as there's no restaurant on-site.
Take a look at the different room options on Booking.com.
OYO The Arch, Wembley
This is one of my latest finds, and it's been decent the two times I've stayed there. Located above a pub, they're quite transparent about the fact that music will be audible until 11pm, and 1am on Fridays. If you're able to sleep through this, it's a very compelling proposition for the price.
Just around the corner from Wembley Stadium train station, it's a 13 minute ride to Marylebone Station, and is of course ideal if you're visiting Wembley for a match or concert. While Wembley isn't London's best neighbourhood, the hotel sits just on the edge of the stadium's shopping, eating, and entertainment complex, so it feels safe while also being in close proximity to conveniences.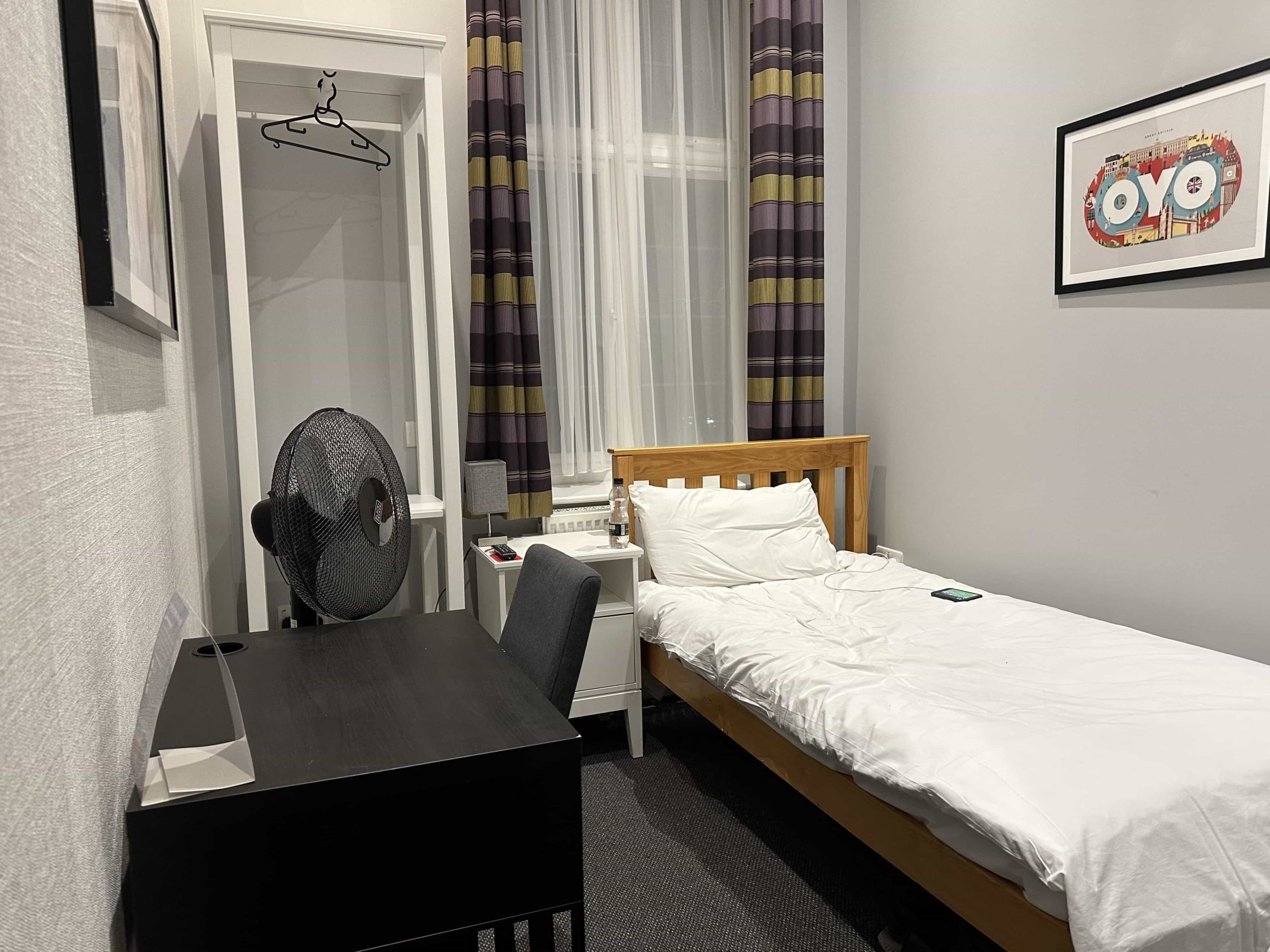 The room reminds me more of what you'd find in bed and breakfast, rather than in a hotel, and the furniture looks like it came straight from B&Q, but it does the job. The presence of a fan in a hotel room is rarely a promising sign, but I haven't had any issues with the temperature so far. I suspect in the height of summer though, the lack of air conditioning could present problems.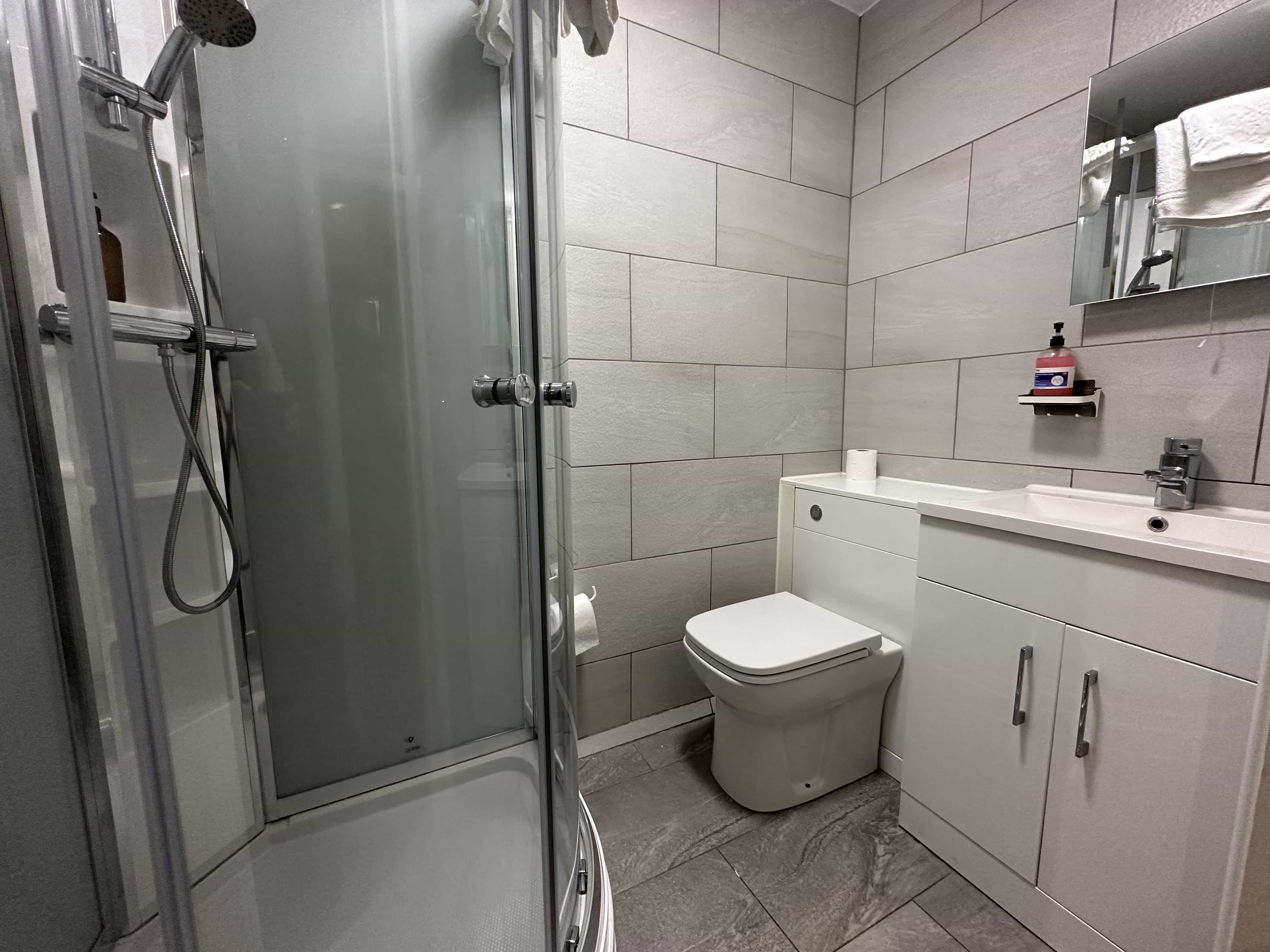 My first stay was let down by a room which hadn't been properly cleaned since the previous guest, with a coffee cup left in the room, and a bathroom which, let's just say, wasn't in perfect condition. Otherwise it was fairly spotless though, and I had no issues second time around, so I'm keeping this one on the list.
Typically, you'll get the best price by booking through OYO directly, but you can also find this hotel on Booking.com.
Selina, Camden
This one is a bit of a curveball, but if you're willing to consider a hostel, this is undoubtedly the most comfortable in London. Admittedly, that's not saying much, because London has some of the worst hostels in Europe, but I genuinely find this one quite agreeable.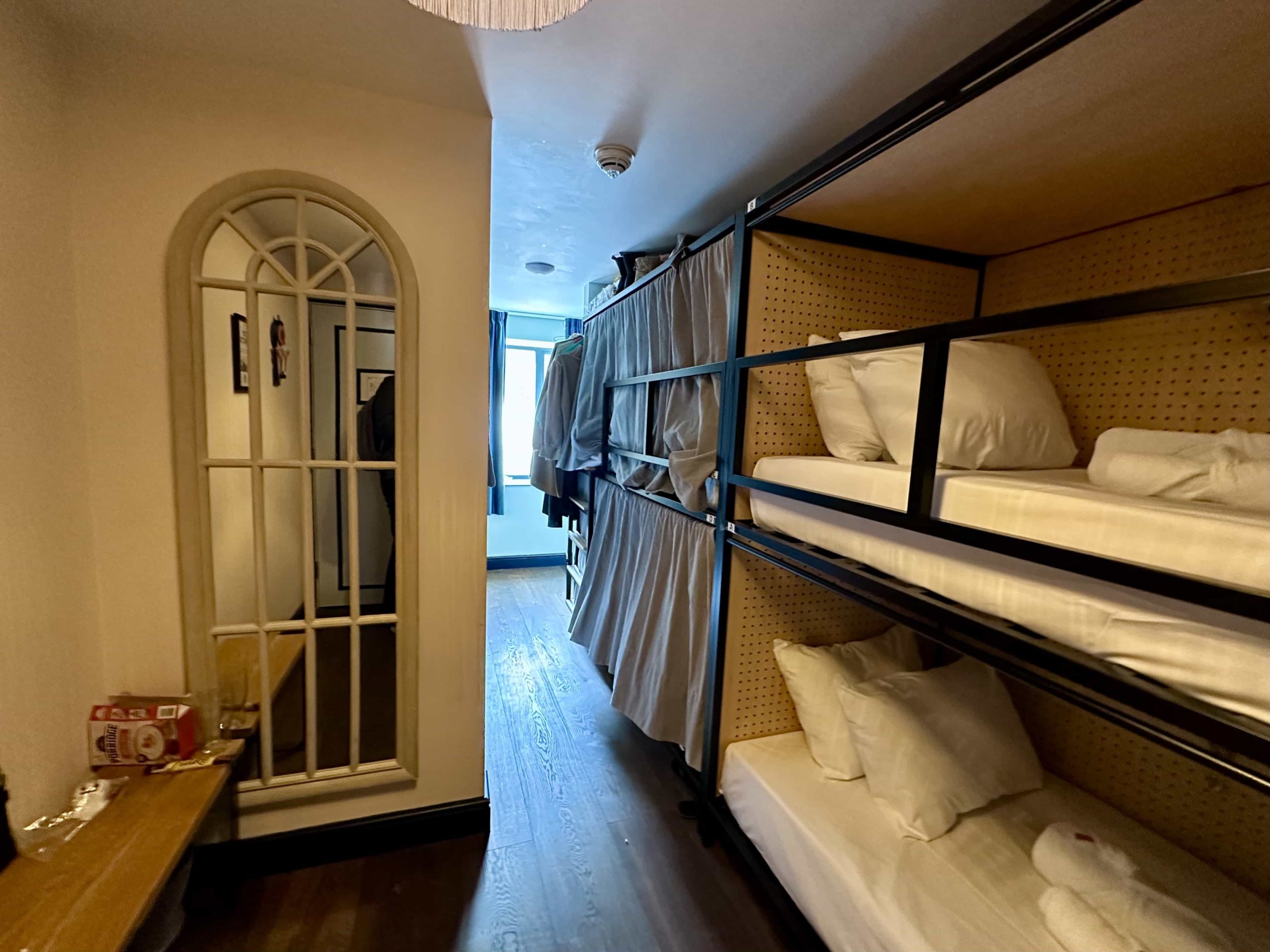 Selina is actually a hotel, but has two dorm rooms with eight beds in each. I overlooked it for some time, as it only rates around 4.1 stars on Google reviews, but after some digging, I realised that most of the negative feedback is about the customer service and the price of the regular hotel rooms — not the dorm rooms.
The location is excellent; in the heart of Camden, and just around the corner from Primrose Hill and Regents Park. As it's a hotel, the rooms are maintained to a high standard, and the bedding is of good quality. There's curtains for privacy, and the room is well put together, meaning fewer disturbances in the way of creaky floors and squeaky bed frames. The en-suite bathroom is large and cleaned thoroughly.
The staff are a bit hopeless. Good enough for a hostel, but very haphazard and at times, quite unprofessional. I've considered whether it would be easier to check myself in a couple of times — who would have thought that 'Kevin' could be that hard to type.
It can be quite expensive — sometimes too much to justify — but if you can get it for £30-40, I'd consider that a good deal; cheaper than a hotel, but not so cheap that the party hostel crowd show up. Don't bother with this one if you're only interested in a hotel — the regular rooms are overpriced.
In search results, it sometimes appears cheapest to book through Selina directly, but they add tax separately, so you're usually best to book through Booking.com or another travel booking site.
Ibis, Wembley
For a while, this was my best find, as one of the brands which rank a little higher in the world of budget hotels. In general, this hotel is more expensive than we're targeting here, but I'm including it because it's very affordable over the winter months. Even during peak season there is the occasional night where you can find it for cheap.
While it's nothing spectacular, it's better than some of the reviews suggest, as the lobby and dining space have been renovated in recent years. The rooms haven't — and they're boxy and not exactly stylish or homey — but are practical and modern enough. The bathroom is basically a white plastic capsule, but at least you'll easily be able to tell if it's clean. Some rooms even give you a glimpse of the Wembley arch.
At the right price, this hotel can be very good value. Particularly as it benefits from the same location advantages as the OYO, but even more in the middle of the shops and restaurants. The staff have always been attentive in my experience, and contribute to an overall very comfortable stay.
Check out the latest prices and more details on Booking.com.
Places to avoid
So I've told you where you should stay. Now, let's talk about places you most certainly shouldn't.
I only have one specific example (for now), but as a general rule, avoid anywhere with fewer than four stars for user reviews on Google. At this price range, anything scoring much lower than that is really getting into questionable territory.
Park Villa Boutique Hostel
In online reviews, this hostel somehow ranks as the best in London. I can tell you that it categorically isn't that — it's bad. Quite frankly I was shocked when I stayed here, and I feel obliged to share my experience, because its high rating might have piqued your interest.
The location is reasonably accessible, just a short walk from Mile End tube station which is served by three underground lines, but otherwise it's situated in a nondescript part of London's East End. That would be forgivable, if it provided a good night's sleep, but it doesn't.
In my experience, the room was roasting hot, there was a horrible stagnant smell, the bathroom was filthy, and the building was generally in a tatty and unmaintained state. It was so bad that I left after only around four hours of sleep, and headed to a local gym for a shower, rather than using the on-site facilities.
Perhaps there's something I'm missing, because plenty of guests seem to have enjoyed their stay, but based on my experience, I can't possibly imagine what that thing could be.
What about Airbnb?
Good question, but I've explored this avenue without much success.
For less than £80, you're not going to find an entire place in Central London. There's no point in even trying. You'll be able to find a private room, with your best chance in east London, but I've never seen any options compelling enough for me to opt for them over a hotel.
Further out
I haven't stayed anywhere outside Central London, as it typically doesn't make sense when you factor in the extra journey time, not to mention the extra travel cost. If you're visiting with more than one person, the extra transportation expenses can really add up.
That said, there are definitely deals to be had, particularly if you're looking for cheaper options from brands like Travelodge. Just be careful to check how well they're connected to Central London via public transport, and try to stick to the London Underground, rather than shelling out the higher prices for regular trains.
In terms of airport hotels, Heathrow is the cheapest to get to/from Central London at £5.60, but the cheapest passable hotels are priced at around £70, so you're not saving anything by staying this far out. Moreover, as such a large airport, the journey time really starts to add up, once you factor in getting to/from the hotel and the airport's tube stations.
Tips
Use Google hotels for a comprehensive list of options, aggregated from various travel booking sites. Filter results to only hotels which have user reviews above four stars, and are priced below £70ish, then sort by 'Highest rating'. You'll get lots of hostels in the results, but you can easily filter these out.
Google should consolidate all of the prices into one place, but if you're struggling, double check sites like Agoda and Trip.com. I found the Ibis deal through one of those sites after giving up with the Google results, so you may find the occasional rogue bargain.
Check whether any discounts are on offer for signing up for mailing lists or loyalty schemes.
Consider booking through travel sites like Booking.com for reward points. Only do so if these sites are cheaper than booking with the hotel directly, as you'll only earn a few pounds, and it otherwise tends to be better to book direct.
If you want to stay somewhere regularly, look out for membership schemes. Typically you'll pay a monthly fee for reduced rates. This can be useful if you want to avoid the hassle of doing the research for every stay, but remember that rates will fluctuate.
Conclusion
It wasn't long ago that this was a far easier task, but London hotel prices have become noticeably inflated in recent years, so it does take some work and careful research to find deals in this sort of price range.
Consider using my list as a starting point, but if you don't find what you're looking for, utilise the tips I've suggested to broaden your search. Remember, it's crucial to prioritise hotels with a minimum of four-star user reviews. If necessary, be willing to spend an extra £10 to ensure you get the quality you deserve.
Personally, I recommend starting your search with a modern Travelodge, as they offer a comfortable and consistent stay. However, if it's a one-off stay or you're on vacation, it might be worth spending an additional £30-40 to upgrade to a more luxurious hotel.
While this won't quite grant you access to the likes of Hiltons, Radissons, or Holiday Inns, it will at least increase the likelihood of a positive experience with less risk of disappointment.
I'll continue to update this list as I discover new options, but it's slim pickings.