I've never been a particularly big fan of Gatwick Airport. There's just something about its appearance and atmosphere that doesn't quite click with me. It's not quite your typical budget/vacation airport, but it also doesn't have the stature of a major international hub like Heathrow — even if it feels like that's what it's going for. Basically, Gatwick falls into an awkward in-between zone, and it's never resonated with me as a result.
Anyway, it had been quite a while since my last visit to Gatwick, and in the meantime, I got myself a Priority Pass membership. Now with access to eight — yes, eight! — lounges between the two terminals, I thought "Maybe lounge access will be enough to transform my Gatwick experience".
With four options in the South Terminal, where I was departing from, I was pretty hopeful that one of them would meet my needs. After all, all I really wanted was a comfortable environment and some good food. However, my options were more limited than expected. The Club Aspire lounge hadn't yet reopened after Covid, My Lounge closes at 2pm, and I didn't want to shell out £15 to enter the Clubrooms lounge for a short stay.
So that left me with the No1 Lounge. Since I discovered this in real-time, I had no particular expectations or background knowledge. So, with an open mind, I headed there.
Access
Anyone can access this lounge, regardless of airline or cabin class. At the time of writing, prices start from £40 for a 3-hour stay. Subsequent hours can be purchased for an additional fee.
Priority Pass, Dragon Pass, and Lounge Key are accepted, and cardholders of these programs can optionally reserve a spot in the lounge for £6.
Where is the lounge?
The No1 Lounge is situated in the upper level of the departures area.
After you've left security, there's a fork. If you opt for the route to "Departure gates," you'll need to pass through duty-free and then make your way back upstairs. Instead, follow signs for "Departures via lifts" and "Lounges", which allows you to get to the terminal's lounges more directly by remaining on the upper floor.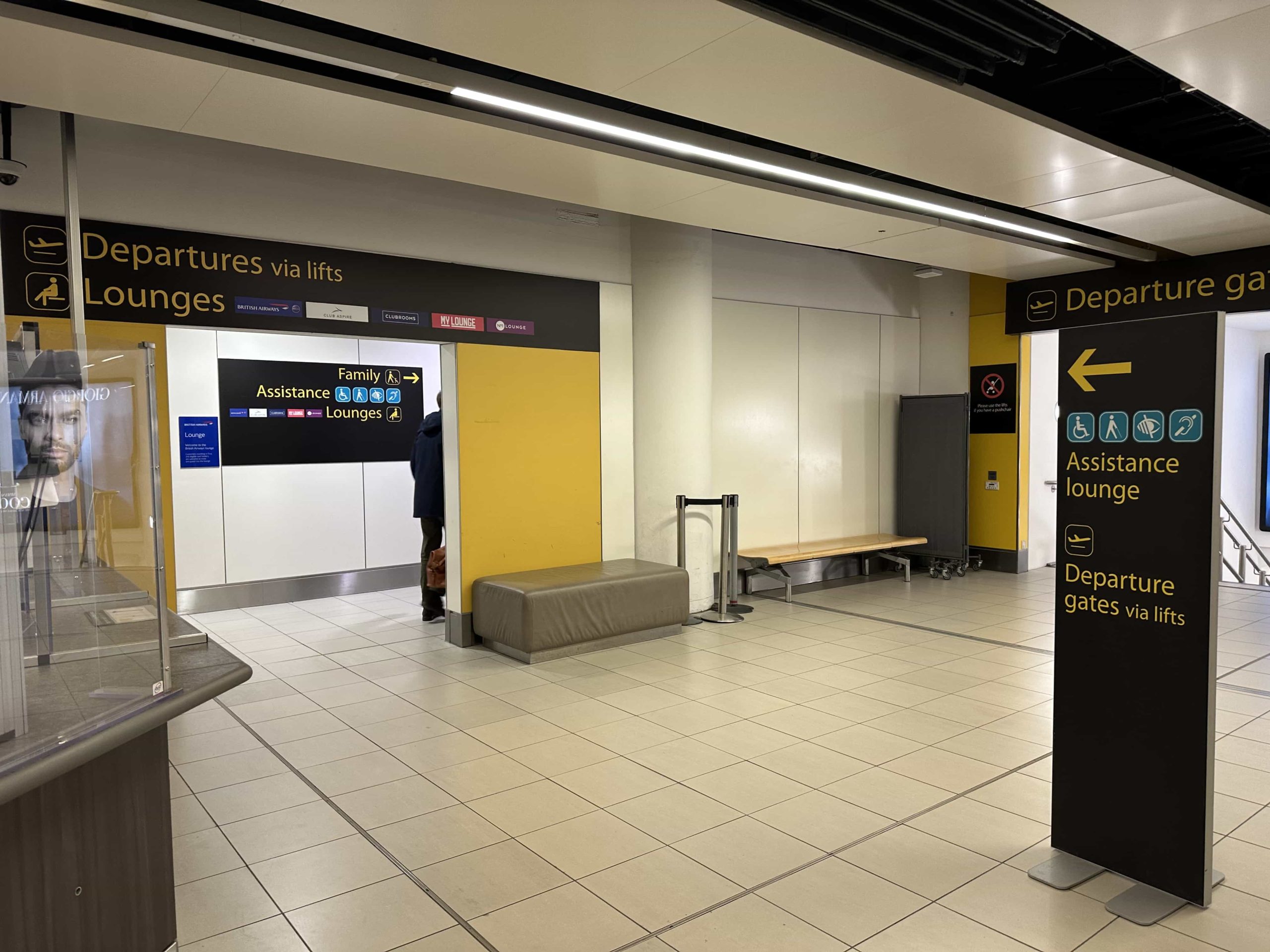 Having done that, as you enter the shopping concourse, the lounge is at the far side. There's signage throughout this area with directions to all of the lounges, so it's hard to go wrong. You've found the lounge when you see JD Sports and InMotion — there's a corridor sandwiched in-between.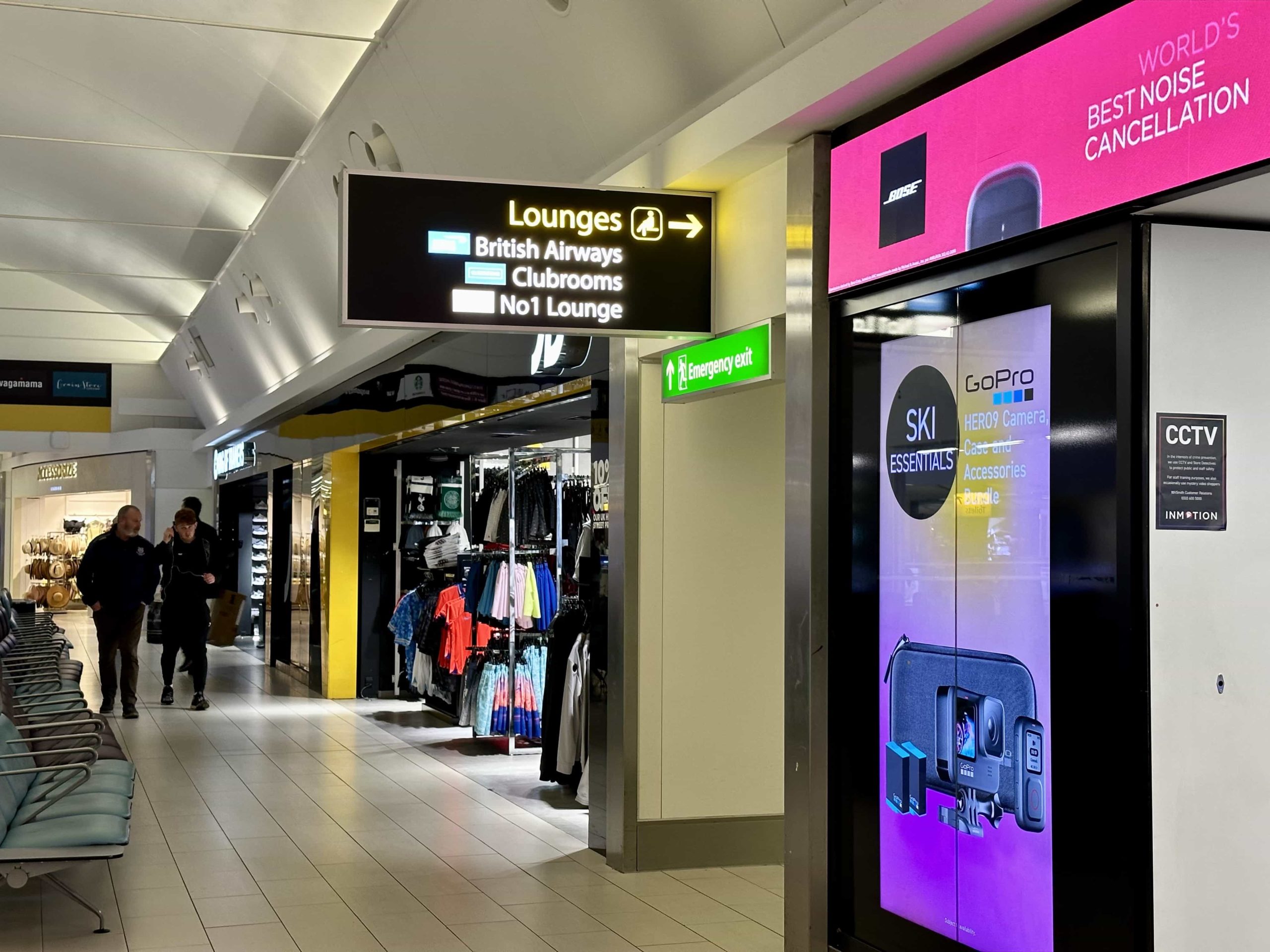 Head down the corridor to the entrance, where you'll find the No1 Lounge, and a stairwell up to the BA lounge — which in fact used to also occupy the lower space in which No1 now reside. There's also a Clubrooms lounge next door, which is No1's more premium lounge offering.
Check-in and first impressions
The check-in setup at the lounge is unique; instead of a traditional desk, it's more like an island similar to self-service check-in stations found in some budget hotels. This is staffed by a receptionist, who's typically been quite friendly in terms of welcoming me to the lounge, as well as wishing me a good flight on the way out.
Since my first visit, I've been there a couple of times, and there's never been much of a queue. I wouldn't count on this always being the case though, neither would I assume you'll get in if you don't have a reservation, as the lounge has always been close to capacity whenever I've visited.
Initial impressions of the space was that it's more open and airy than its sibling in the North Terminal, but just as busy, and not as spacious. Around 5:30pm, almost all of the seating was taken.
In fairness, almost every lounge is busy these days, and this didn't feel as cramped as others. Even if you end up having to share a section with strangers — as I did initially — you still have a decent amount of personal space; the seating isn't overly crammed in.
Environment
The layout of the lounge is quite simple. It's mainly a large rectangular space, with a sunken area in the middle, and a couple of smaller rooms off to the side. It's all pretty tastefully appointed. There's marble-effect flooring, mahogany panelling, and leather furnishings.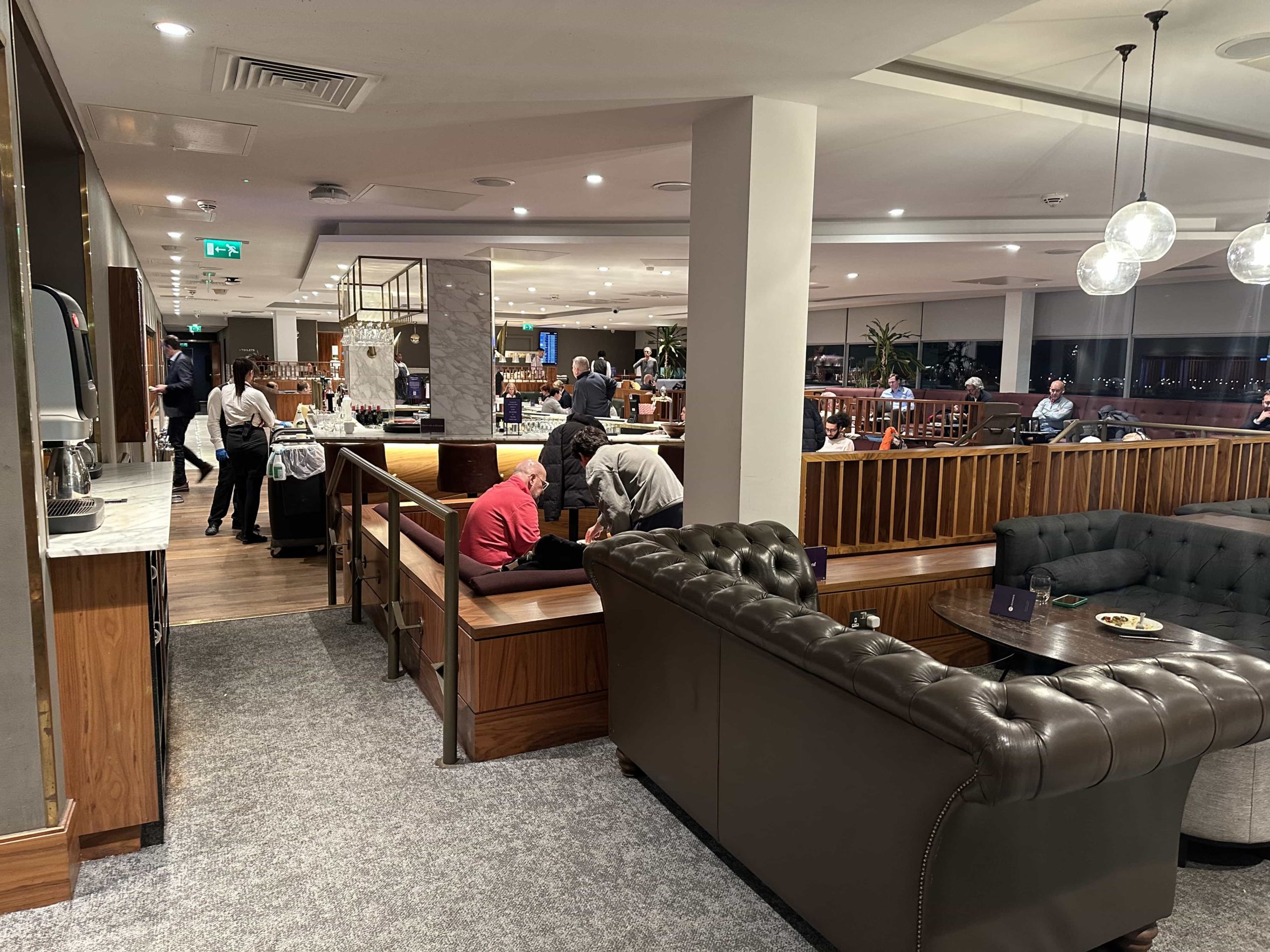 The entire space is brightly lit, which is a perk during the day, but is perhaps too bright for an evening visit. A slightly more cosy ambiance would benefit the upper section, since it's mainly comprised of casual seating. The lower area, where the bar and part of the buffet area reside though, suits the bright ambiance.
There's a mixture of seating, but a particular emphasis on long, communal sofas, some of which have individual armrests separating the occupants. It isn't my favourite kind of seating, but if nothing else, it's at least an efficient use of space. Elsewhere there's armchairs, dining seating, and corner booths.
When I arrived, the only vacant seat I could find was one of the communal sofas near the bar, so I sat there. Unfortunately, I couldn't help but notice how stained it was. It could really do with a retrim, and some new padding, as it was also rather firm. I moved from this position as soon a different seat became available.
From my new vantage point, I could see down the corridor to the Clubrooms lounge. Honestly, I was wishing I was there. One thing this lounge has that Clubrooms doesn't though, is wrap-around windows. Not only do these bring in tons of natural light, but you also have views across the apron and towards aircraft landing on runway 26L.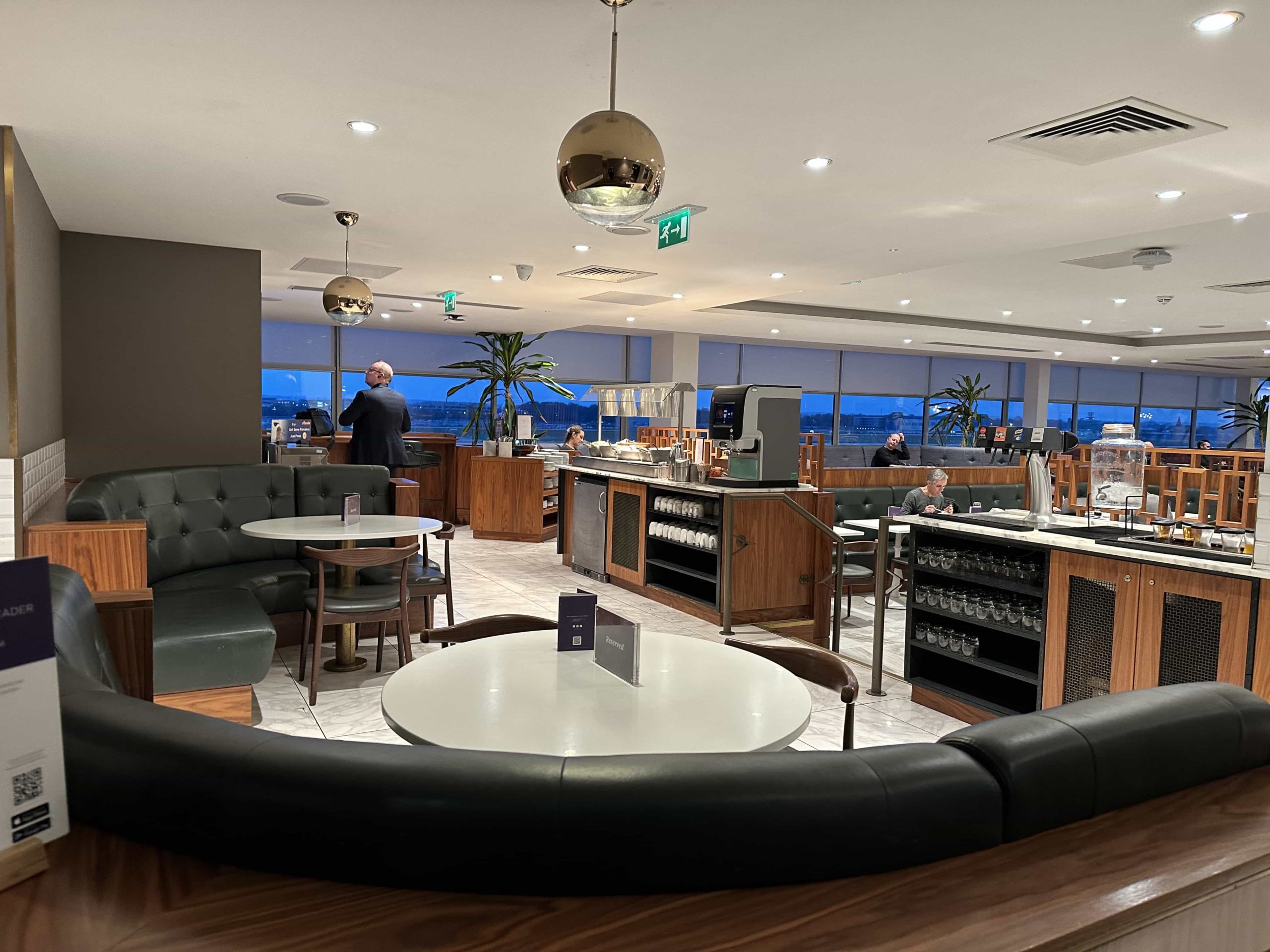 I mentioned that there are two other rooms; one of them is a 'library', and the other is a 'sports lounge.' I've never had a chance to enter the library, as it's always been closed off — I'm not sure why. It's frustratingly common to find roped-off areas in lounges for seemingly no reason. Even if they're reserved, I don't see why they need to be closed off all day long, particularly with lounges as overcrowded as they are.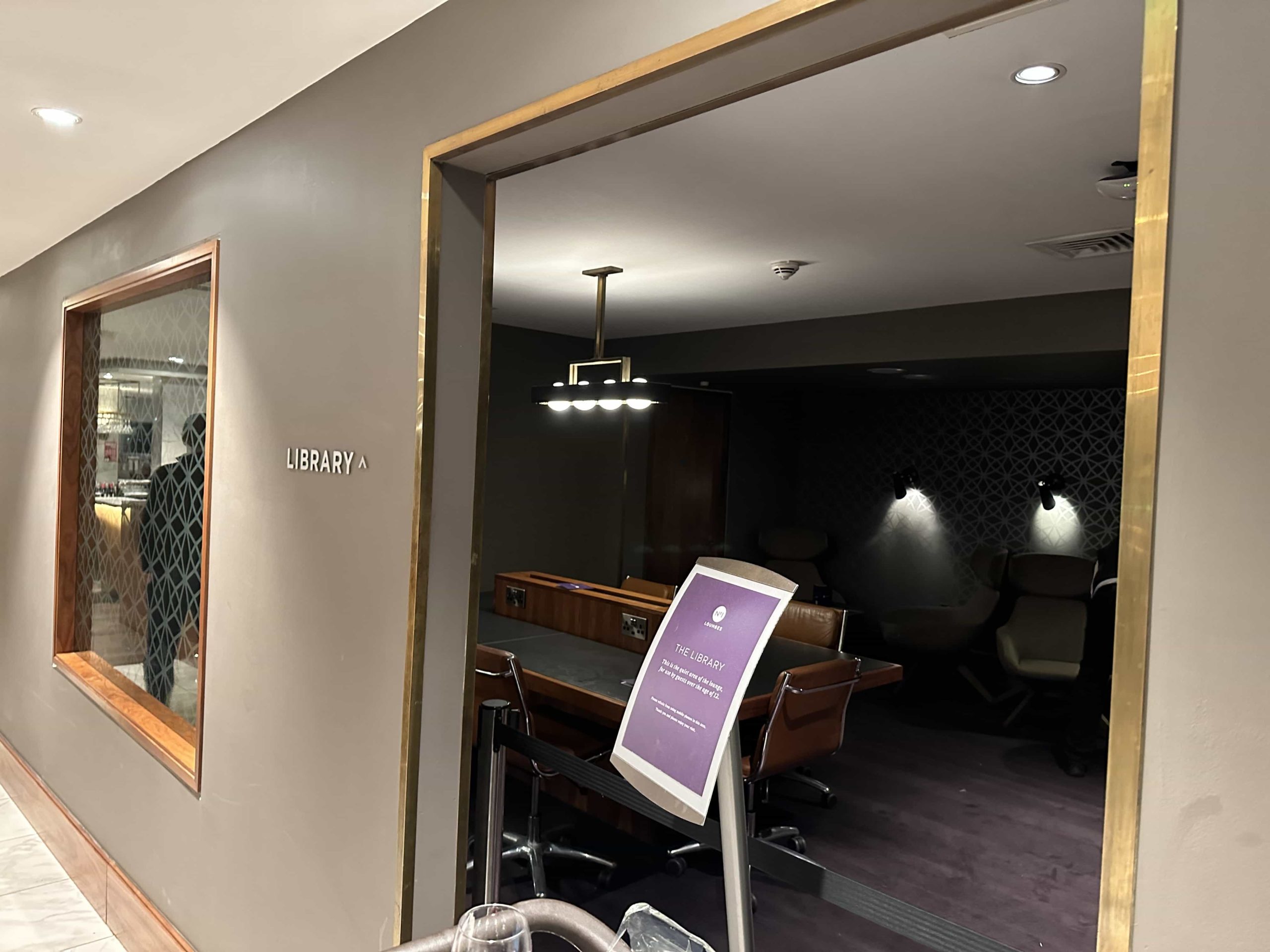 Regardless, the library is No1's term for the 'quiet area,' so it's a shame not to have access to it since the rest of the lounge can get quite noisy. Inside, there's a workstation area with conference room-style seating, plus armchairs equipped with reading lights.
The small size of the library is the lounge's biggest letdown. The one at the North Terminal is significantly larger and roomier, with much more extensive seating options. I spent a couple of hours in that one last year while I was first working on setting up this website, and it delivered exactly what I wanted from a lounge: peace and quiet, comfort, and a nice ambiance. This one, however, ends up feeling like more of a gimmick due to its small size.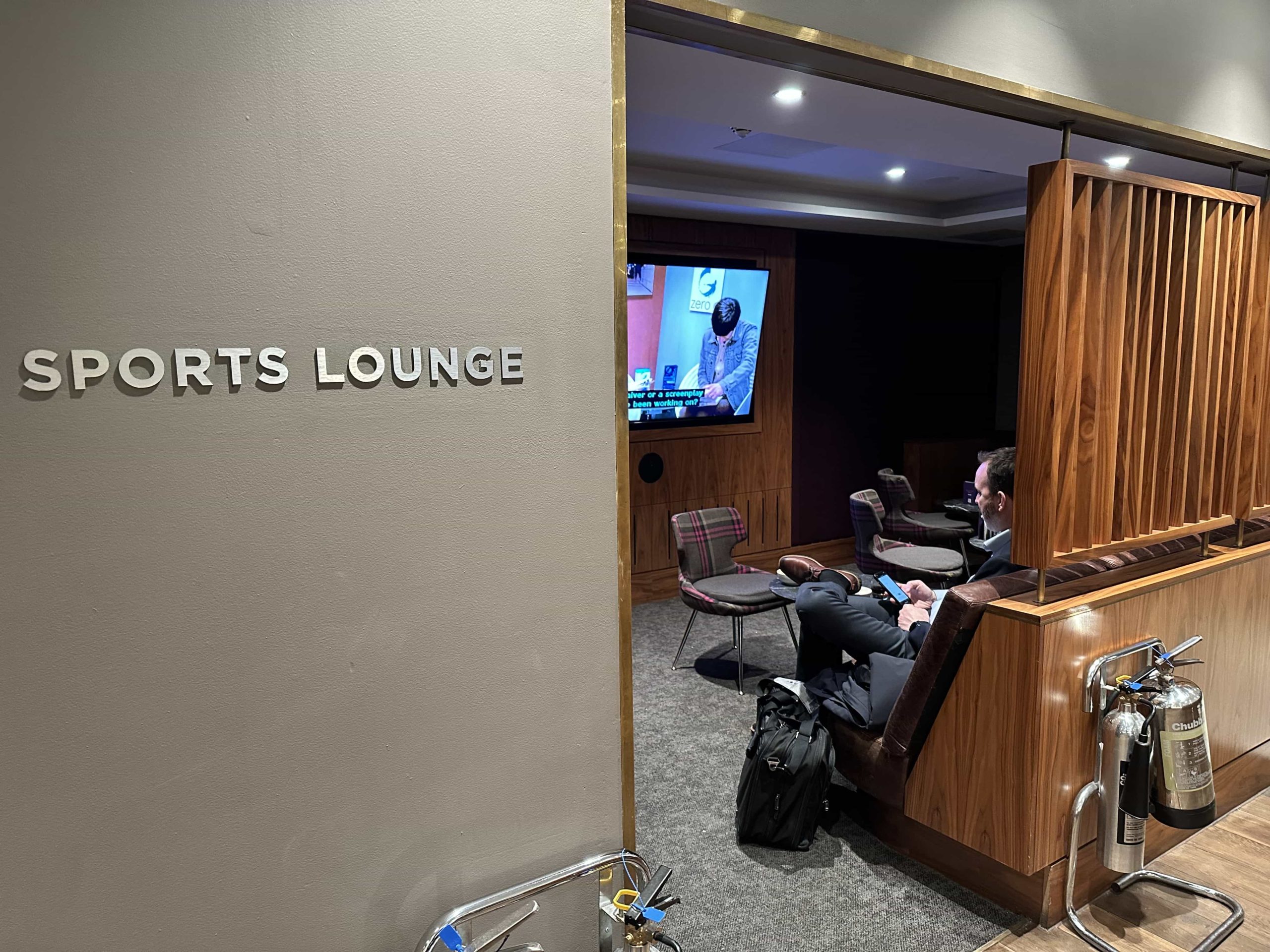 If you can see past my shoddy camerawork, you'll just about be able to see that the 'sports lounge' is actually just a TV room, equipped with some seating, most of which doesn't even face the TV.
Food & drink
When it comes to the food, I could essentially just copy and paste what I've said about the catering in almost every other review of a contract lounge: it just isn't good. Unfortunately, in this case, not only was the quality not there, but neither was the availability.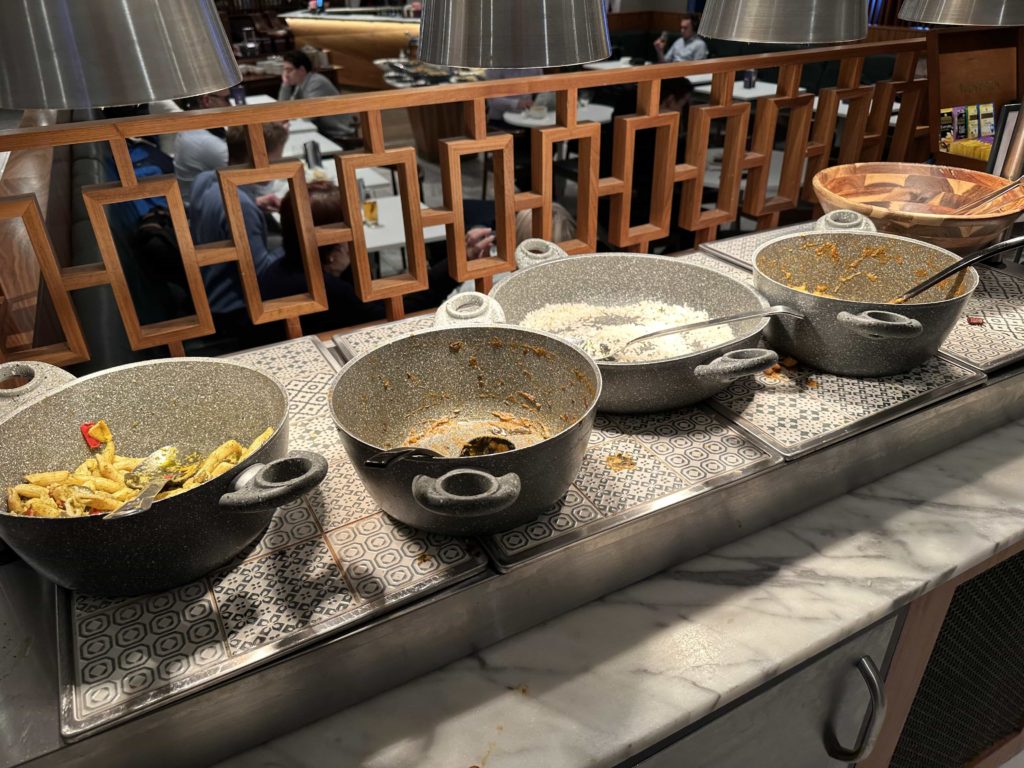 The buffet was meant to consist of chickpea curry, pasta with courgette, rice and nan bread (all the usual stuff), but there was next to nothing left except the remains of the dried-out pasta, and rice with nothing to have it with. Needless to say, these dishes did not impress.
I thought soup could serve as a fallback, but it only drew my attention to the absence of any bread products — not even sandwiches. That's an omission I've never seen before. The salad options were par for the course (adequate), and I was relieved to see one of my favourite lounge amenities: scones with clotted cream, and jam. This went a small way towards making up for the otherwise very disappointing food offering.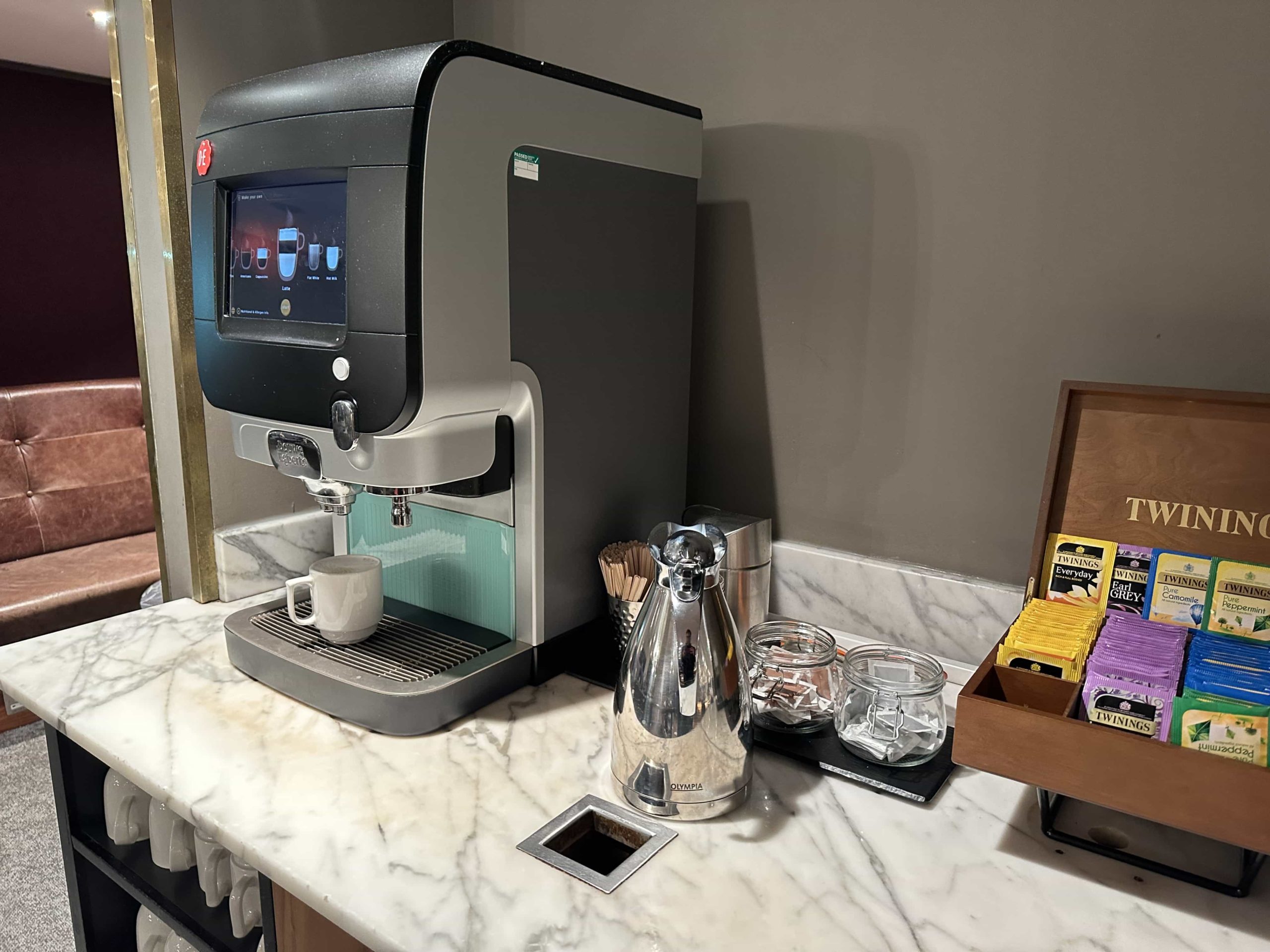 Drinks-wise, it's about as you'd expect. The bar area serves a range of beers, wines, and spirits, and there are soft drinks available from dispensers. Fruit juice and water are also available, as well as coffee and tea facilities, towards the rear of the lounge.
Anything else to note?
There are no shower facilities, but the lounge does have its own toilets. Unfortunately, they aren't usually very clean.
Not every seat has access to power, but socket coverage is generally quite good. Oddly, only the workstation in the library has integrated power.
Wi-Fi is available, at around 15 Mbps down, 1 Mbps up.
Conclusion
Like I mentioned in the introduction, I'd hoped this lounge could elevate my Gatwick experience. Has it managed to do so?
Well I'm afraid to say that I find this lounge very disappointing. I'm surprised by how many people rate it more highly than the No1 Lounge at Gatwick North. To me, that lounge is unequivocally more spacious, better maintained, more interestingly laid out, and better appointed than this one in the South Terminal.
While it's still my go-to whenever I travel through Gatwick South, it's not somewhere I look forward to visiting. It's kind of like the Escape Lounge at Stansted in that respect — it just about serves a purpose, but not with any level of impressiveness.
Small lounges can be done well. I've been impressed with what Aspire have managed to pull off in places like Edinburgh Airport, for example. But I think the key is separation, ambiance, and attention to detail. This lounge doesn't deliver on of any of those factors, and is further let down by lacklustre food options.
Unless you have Priority Pass, I'd really struggle to recommend this lounge.