I recently published an article about my experience with general admission (GA) at the 2022 US Grand Prix.
I chose the US Grand Prix, as it's known to offer an excellent GA spectator experience, thanks to its undulating layout and extensive banked hills. I wasn't disappointed, coming away having had an incredible experience that was well worth the ticket price (of around $350 for two days). As I mentioned in the other article though, I was fortunate enough to receive Podium Club access for the Sunday.
What I was curious to find out, is whether Podium Club would enhance my experience, or whether I'd feel I'd missed out on the best of COTA, and (theoretically) paid a hefty price tag for the privilege of doing so.
In 2022, Podium Club was priced at $3,000 for a three-day pass. So what are you getting for your money?
The space
I'll get on to the perks and amenities later, but let's begin by discussing the venue.
The space is arranged in an L-shape, wrapping around the final corner, with covered lounge areas over either wing. It's all housed in a marquee/tent-like structure, temporary of course, since F1 draws the largest crowds of all the racing events that COTA hosts throughout the year.
At the front of the venue is outdoor grandstand seating, and at the back are the food counters. In between, there are couches, tables, and chairs available, as well as raised tables with barstools.
Due to the temporary nature of the building, the furnishings perhaps aren't as lavish as you might expect at this price point, mainly consisting of plastic seating and slightly tacky white leather sofas.
There's a good amount of space on offer, but unsurprisingly when the action starts, everyone moves to the front, which gets as crowded as a regular grandstand. I spent the first half of the race here, but retreated indoors once the sun became too intense. The front of the indoor section is ideal, if you can get your hands on a barstool. These get snapped up quickly. Move any further back, and you'll have a severely restricted view of the track.
Separating the two sides is an open air space with gazebos reserved for those whom presumably can't resist paying yet more money, for a smaller version of what everyone else has access to. I think they realised how frivolous their upgrade was, once the commoners started leaning on their gazebo posts and spilling drinks on their couches. Needless to say, this did not put them in a good mood.
The location
I had mixed feelings on the location of the venue. While it's great to be able to see down the pit straight — particularly during the build up — it otherwise feels a bit removed from the vastness of the rest of the track.
It quite literally feels like a 'corner' of the track, and having walked around the entire perimeter on the Friday and seen the scale of things, the speed of the corners, and the fan atmosphere… the location of the Podium Club comparatively left a lot to be desired. In fact, it almost felt like a getaway from all of that, and not in a good way.
I want to be careful not to single-out Podium Club in my criticism, as I'm sure these are traits of most hospitality setups — including at other sporting events — but I do think the location was particularly disappointing with how vast COTA is, and the options they presumably have.
Moreover, you're not even at the compelling end of the pit straight, as you're watching the cars drive away from you, and missing out on all of the action into the breaking zone.
F1 advertise the location as an "unobstructed view of the drivers' last overtaking opportunity", but not much action happens into Turn 20. If you're looking for overtakes, you'll have more luck almost anywhere else around the track.
There are though two things though, that the location lends itself perfectly to:
The first, is convenient access to the F1 Fanzone, which is located just a short walk past Turn 19. This is an interactive area which includes live music, driver appearances, Esports rigs, merchandise booths, and food and beverage vendors. It won't keep you entertained for hours, but it's fun for a quick visit between sessions.
The other thing, is the post-race proceedings — both the track invasion and the podium celebrations (no surprises there, given the name). One of the venue's two entrances/exits is located just beside the track invasion entry gates for the podium area. So close in fact, that I took a fairly relaxed stroll to the gate, and still ended up with a great view — albeit I did start moving the moment Verstappen crossed the line. Minutes later, there were tens of thousands of fans lining the main straight, all the way up to Turn 1.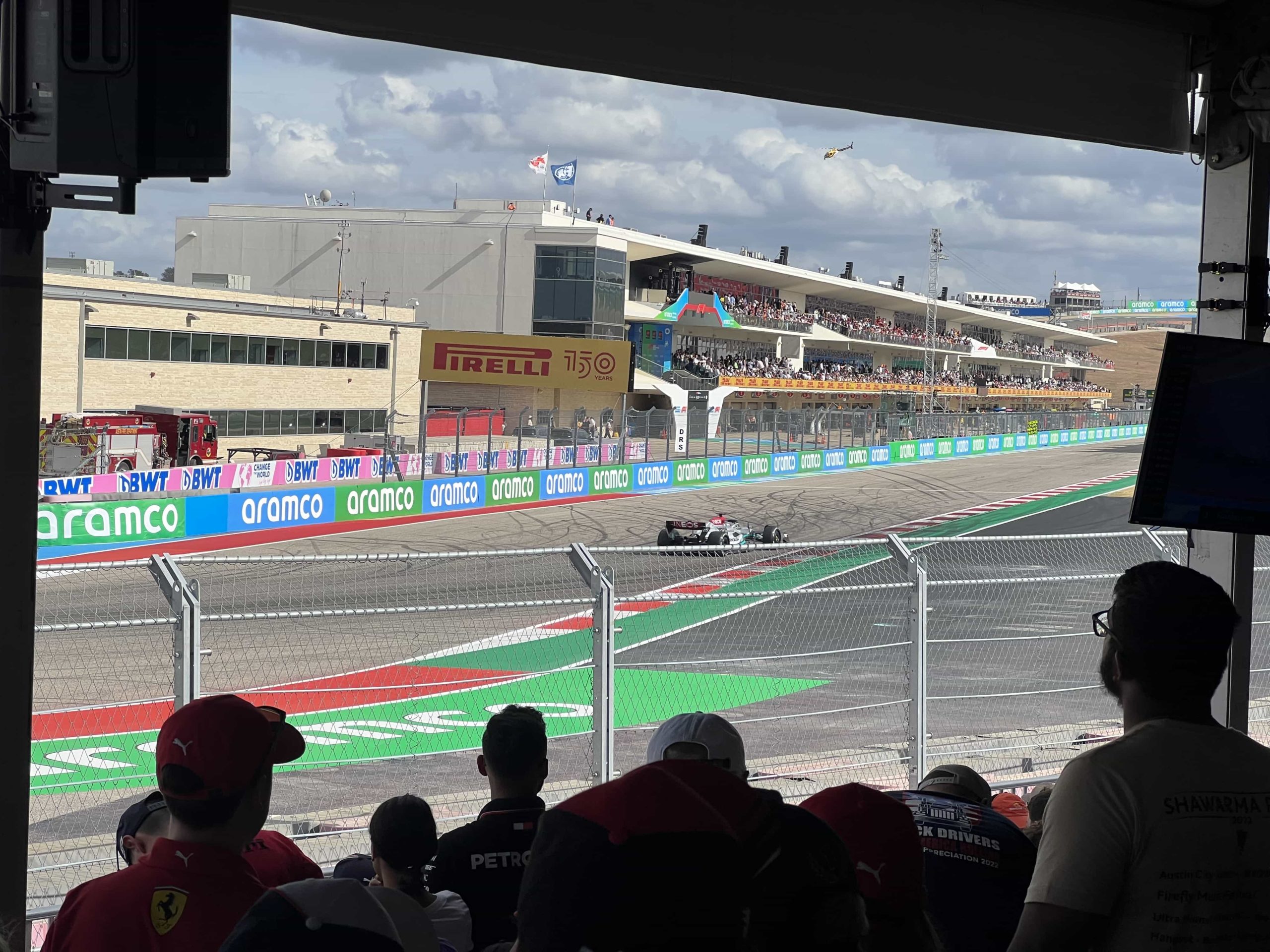 If you choose to stay in the Podium Club to watch the podium celebrations, you should have a decent view, but only if you position yourself in the wing that's parallel to the podium. It becomes easier to obtain an unobstructed view from here as people leave to invade the track.
Perks and amenities
Now, you're probably most interested in hearing about the perks and amenities; I know I was.
Aside from access to a shaded/open-air venue, the other headline benefits are free soft drinks, TV screens, Wi-Fi, and an open bar, with food available to purchase for an additional cost. There's also a concierge service, a DJ, and an exclusive security lane at the gate 18 entrance.
Let's start with the positives. In the other article, I commented on the lacklustre trackside TV experience, which made it difficult to follow the action. Podium Club on the other hand is well-equipped with TVs along the length of the venue, located just inside from the grandstand seating. I'll comment more on these in the next section, when I talk about the spectator experience.
I also appreciated the complimentary drinks, and although I didn't make use of the bar, I can say that the selection looked fairly extensive. I did grab a couple of ice-cold waters and a Sprite from the food counters however. Somehow when the sun is shining and you're in need of refreshment, it's easy to forget that the drinks aren't truly 'free'.
What's harder to ignore, is the fact that food isn't included. That's slightly insulting, when it's basically the same as what you get elsewhere at the track, that is — I'm afraid to say — bland and expensive. You're looking at $8 for kettle chips, $20 for a beef burger, and somehow, $20 for a pretzel. Other options included sandwiches, salads, hot dogs, mac and cheese, nachos, and rice bowls.
None of the other perks did much for me either. The security lane sounds handy, but the entrance never seems to get particularly busy, and I was parked at Lot T, anyway. The Wi-Fi was spotty, and I didn't have much success with it, falling back to cellular instead.
Oh, and I haven't yet mentioned the "executive restroom facilities", which although a trivial aspect, had the potential to be a legitimate perk, given the other bathroom options around the track are crowded, and mostly consist of portable toilets. So what do they give you? A portable cabin. Yes, a big version of a porta-potty. Air-conditioned and very well maintained, to be fair, but not exactly a first-class upgrade.
The spectator experience
On a more positive note, one thing Podium Club does have over the GA areas, is being elevated a couple of floors up, just high enough to see over most of the catch fencing, without being as far away from the track as the hilly GA areas. As such, it's probably the closest I got to the cars at any point around the track, barring maybe Turn 1. That aspect was admittedly quite cool, as seeing them that close up gave me an appreciation for the length of the cars — they're huge!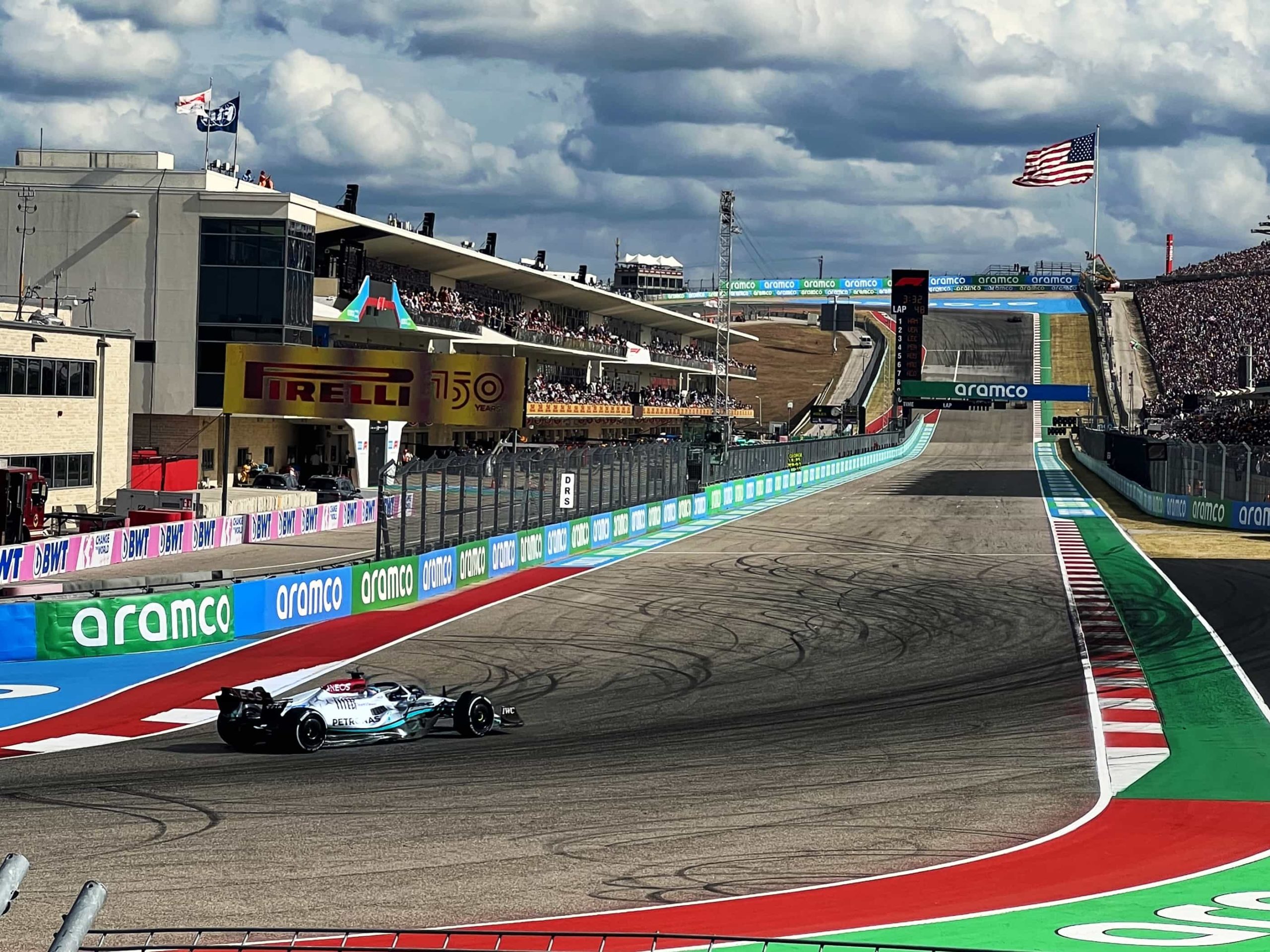 Also, the sound reverberating off the pit entry wall; it's maybe the best part of the track to get exposure to the sound of the cars. The Red Bulls have a low-end growl, while the Mercedes sound like angry bees. You don't get a sense for that on TV, and it wasn't so obvious around the most open parts of the track.
TV screens are a game-changer. You might think, "what's the point in being there, just to watch on a screen?". It's a fair point, but I tended just to glance at them, and it was great to be closer to the speakers to be able to hear the commentary better. Also, if something happened elsewhere on the track, or there was a red flag for example, it's great to be able to switch to watching the TV for a bit, to help you better follow what's going.
My only criticism of the TVs, is that they weren't secured very well so were swinging side-to-side in the breeze.
Atmosphere
Atmosphere-wise, the Podium Club crowd definitely lean more towards casual supporters — not surprising given that many of the people there were corporate guests. To give you an example, it took a good 30 seconds for them to catch on to the fact that Verstappen's slow pitstop would mean Hamilton would take the lead. That also might have been something to do with all the alcohol.
This wasn't a major gripe, but did kill the atmosphere somewhat. It's always more fun to be surrounded by like-minded fans — whether that be newcomers or long-time supporters. That said, everyone was still enjoying themselves, and there was definitely some hardcore fans mixed in there.
Other hospitality options
Before I wrap up, I'd like to share my thoughts on how Podium Club stacks up against other hospitality options at COTA. While I haven't experienced them myself, I can provide insights into where I believe the value lies and which options offer the best value for your money.
Podium Club is the entry-level hospitality experience. For me, the issue is that it's not an experience, it's just a space.
Plaza Club is the next step up, and improves on certain aspects, such as all-inclusive food and additional entertainment, as well as improved ambiance and decor. I suspect this helps to make it feel slightly more special and exclusive, but you're still no more immersed in the overall spectacle compared to being a GA or grandstand spectator. The same is true of Turn 12 Club SI, which looks a lot more plush and has more premium food, but still doesn't offer anything truly unique.
All three of these options fall into a middle ground that I personally just don't care for. Don't get me wrong, I appreciated having the opportunity, but I certainly wouldn't hand over my own money for any of them, even if money were no object.
In that scenario, I'd find it much easier to justify Paddock Club. Of course, it's hardly surprising one would come to this conclusion, but the reason, is because it includes truly exclusive perks like pit lane access and driver appearances. These are things that make the experience more memorable — some free drinks and a shaded venue don't do that.
Conclusion
For $3,000, is Podium Club worth it? In my opinion, absolutely not.
It's all marginal upgrades, and unlike an aero flick or weight saving, doesn't even really add to the overall package. If anything, it's a cosmetic upgrade; expensive and flashy, but isn't really contributing anything.
If you're there as a special guest (i.e. not paying out of your own wallet), you'll have a good experience, but it's not luxurious, the food is disappointing, and you're seeing less of the track than a GA spectator would, who's paid a fraction of the price.
If you read this article because you're considering snapping up Podium Club tickets, I suspect you're not weighing up Podium Club vs. general admission. More likely, you're deciding which of the VIP hospitality options is right for you. But, I'd still encourage you to read about my GA experience, as it might surprise you quite how great that offering is.
At the end of the day, everyone has their own priorities, so Podium Club may be perfect for you, but I'd suggest giving it some real consideration before you throw your money at it.