I've owned The Carry-On: Aluminium Edition from Away Travel for the past four years. I've used it for everything from weekend trips and extended vacations, to transporting equipment and moving house. Needless to say, it has seen a lot of use.
At first, I was pretty skeptical about it. I wanted the Rimowa, but wasn't travelling enough at the time to justify it, and Away didn't have a long enough track record to inspire confidence that this case would be an investment. A product like this is always an indulgent luxury, but I wanted something that would serve me for years to come.
It seemed like a suitcase for influencers, and I assumed it would fall apart after a year, as a product from a new and unproven brand. But, I decided to give it a shot after being impressed by a short stint with the polycarbonate version of the same case. Away offer a 100-day trial, so I had nothing to lose.
Four years in, let's look at how it's held up, and why I kept it.
Not a case of design for design's sake
I have a weird affinity for flight cases, and other utilitarian, purpose-made storage and transportation solutions. This case reminds me of something like that. It's function over form, but somehow still looks damn good in the process. It's a flight case, in a silver suit.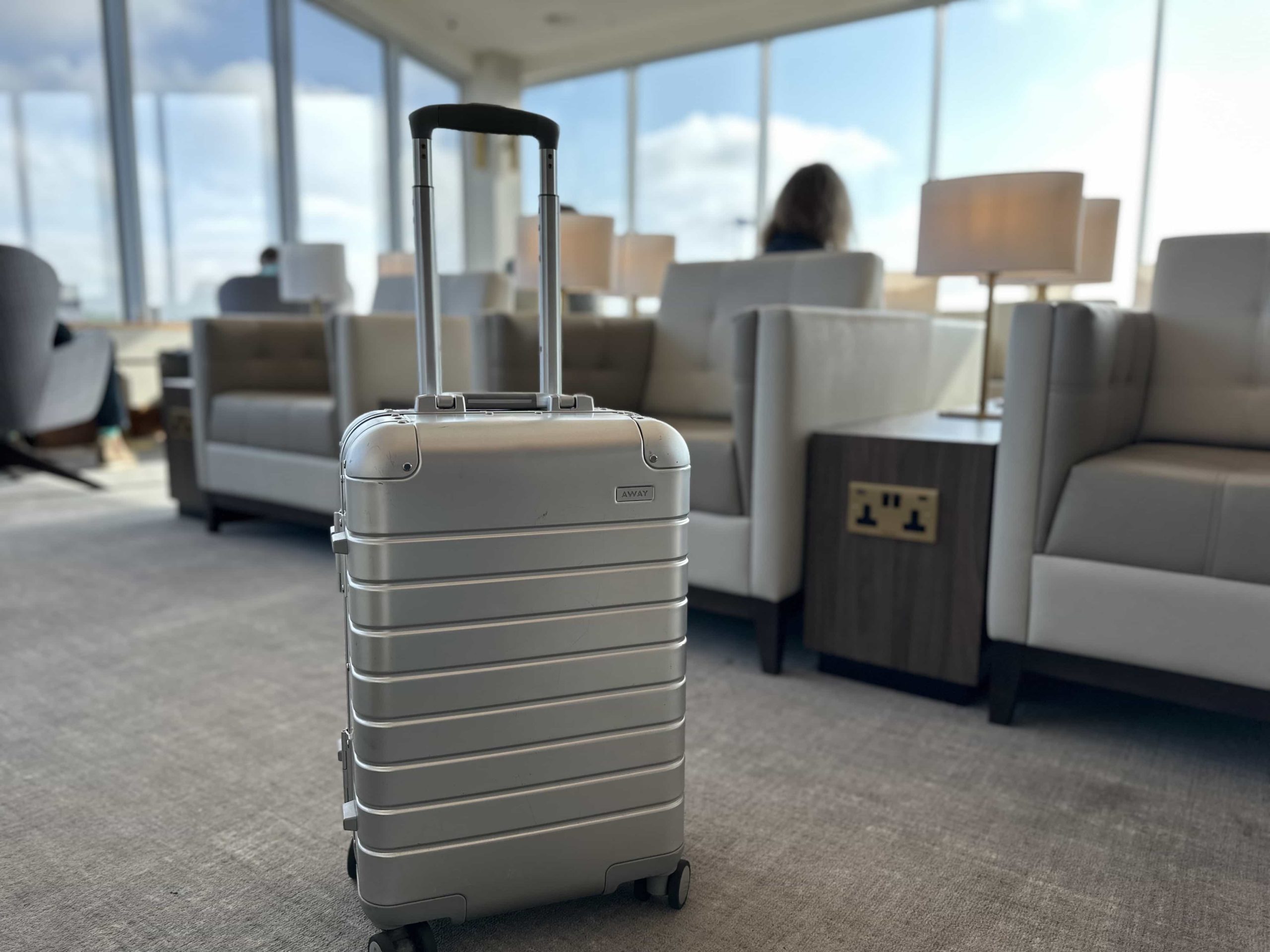 Looking at the three most prominent aluminium cases: the Rimowa is the most classy, the Tumi the most trendy, and the Away is comparably quite understated. It's modern and minimalistic, and exudes a sense of sleek and sophisticated secrecy. It's satin aluminium, has smooth rounded corners, and aviation-inspired rivets; oh how I love the rivets. It's iconic in its own right, and aesthetically at least, I think will stand the test of time.
Just be prepared for passers-by making jokes about its resemblance to something explosive. I've had this on more than one occasion, including a taxi driver who seemed slightly uneasy with the idea of handling it. Otherwise, opinions are very positive. If you're looking for a statement item, this case will provide — for good, or occasionally for… less good.
A case that knows how to handle itself
There are three handles: a telescopic one on the top, and carry handles on the top and side. All three are marvellous, with an ergonomic design which contours to your hand. The carry handles have a soft close action and return to their flush position with a light and quality-sounding 'thud'.
The telescopic one is similarly excellent, and never suffers from jamming — an infuriating characteristic of cheap cases, which have you jiggling the handle around in frustration. This one has never failed me, and it easily adjusts to three practical heights. At its most extended, it's an ideal length to pull along behind you, rarely colliding with your heel, and one notch down is comfortable for wheeling beside you.
Some play has been designed into the handle to soften the bumps; over cobbled streets, that's something your wrists will be thankful for.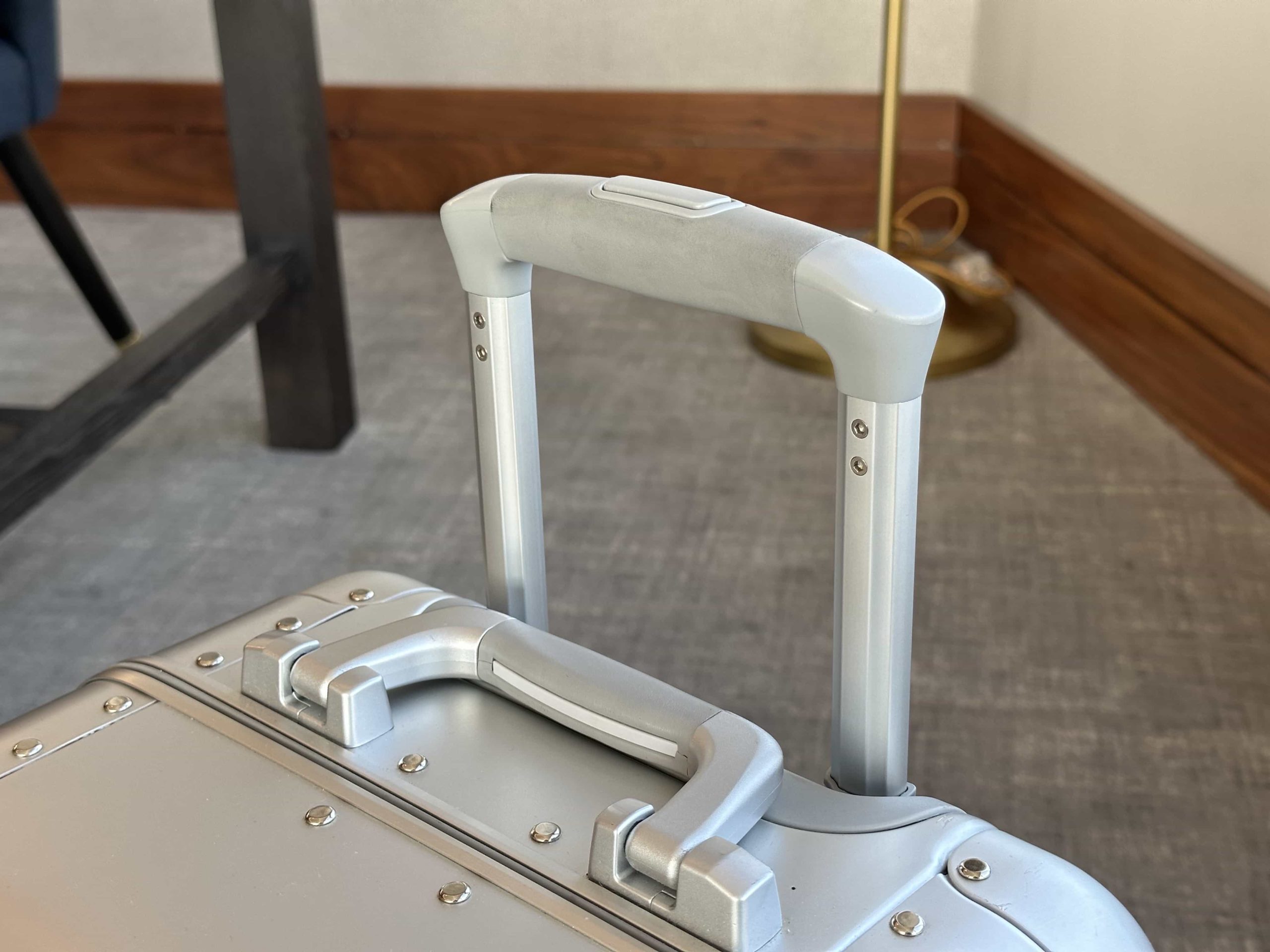 Another compliment I can give the handles, is that they 'handle' the weight extremely well. This is a heavy carry-on, weighing in at 4.8kg, empty. Even when fully-packed though, I never feel nervous hauling it up a staircase one-handed, or swinging it up onto a sidewalk. The telescopic tubes are reinforced by way of a non-circular design, so they're not going to bend or warp.
I'm conflicted on the choice of leather for the handle material. It's lovely and supple, and feels amazing under the hand, but is prone to wear and tear. It doesn't take much to damage it, as I found out when a bus driver slid my case into the luggage compartment of a coach and tore the top handle. In fairness, he did launch it with some force, but ideally a case would be able to withstand these kinds of situations.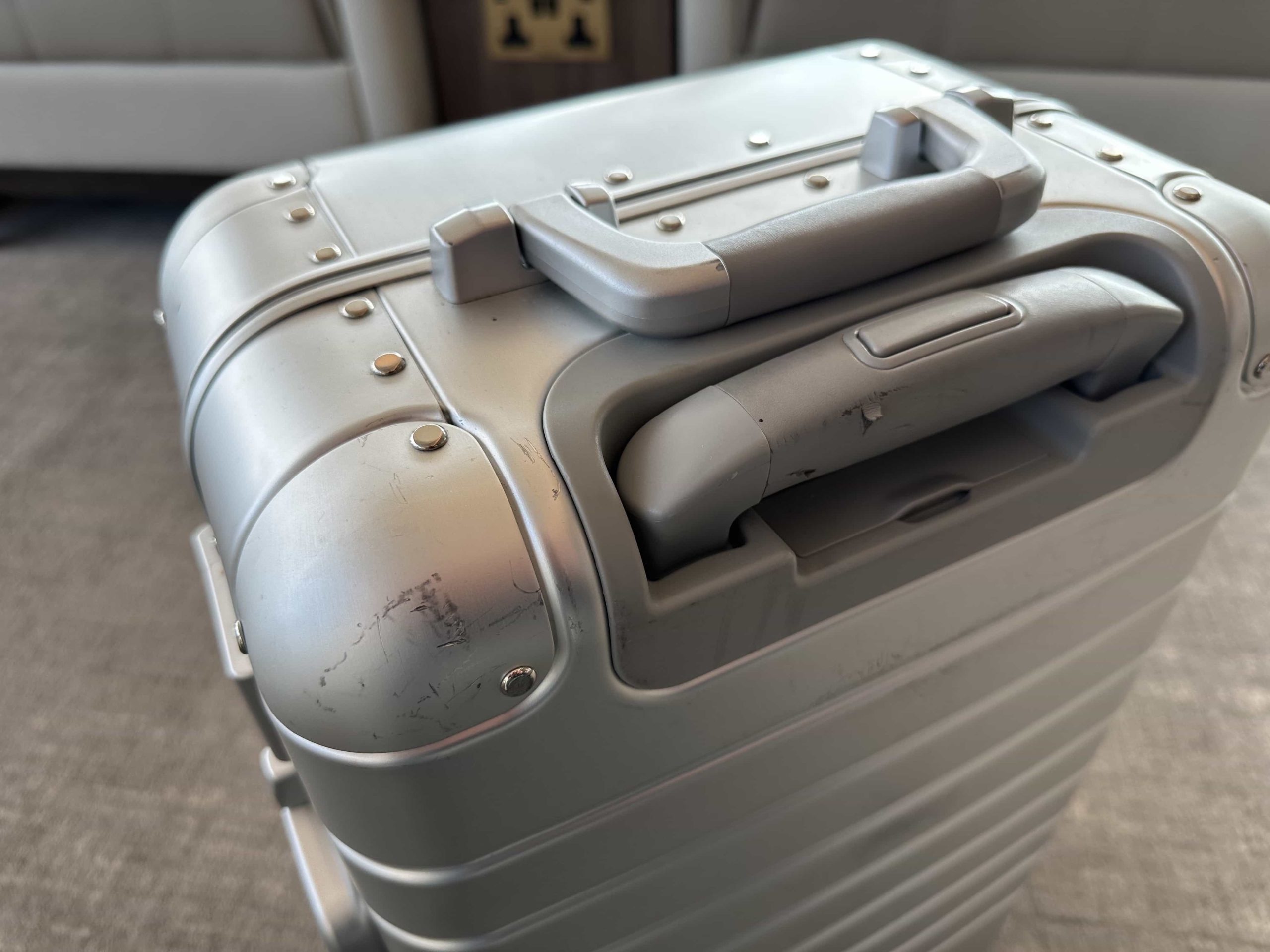 On occasions where I've known the case would go in the hold, I've bubble-wrapped the handles. But you'd be in trouble in an unplanned checked baggage situation. A harder wearing leather wouldn't feel as premium, but would go a long way to making the case more hardy. Perhaps this could be a configuration option.
Built for the long haul
In terms of the construction, it's beautifully made. The fit and finish is impeccable, with no ill-fitting components, and very tight panel gap tolerances. Not a single squeak, no rattles, nothing to compromise your confidence in its durability.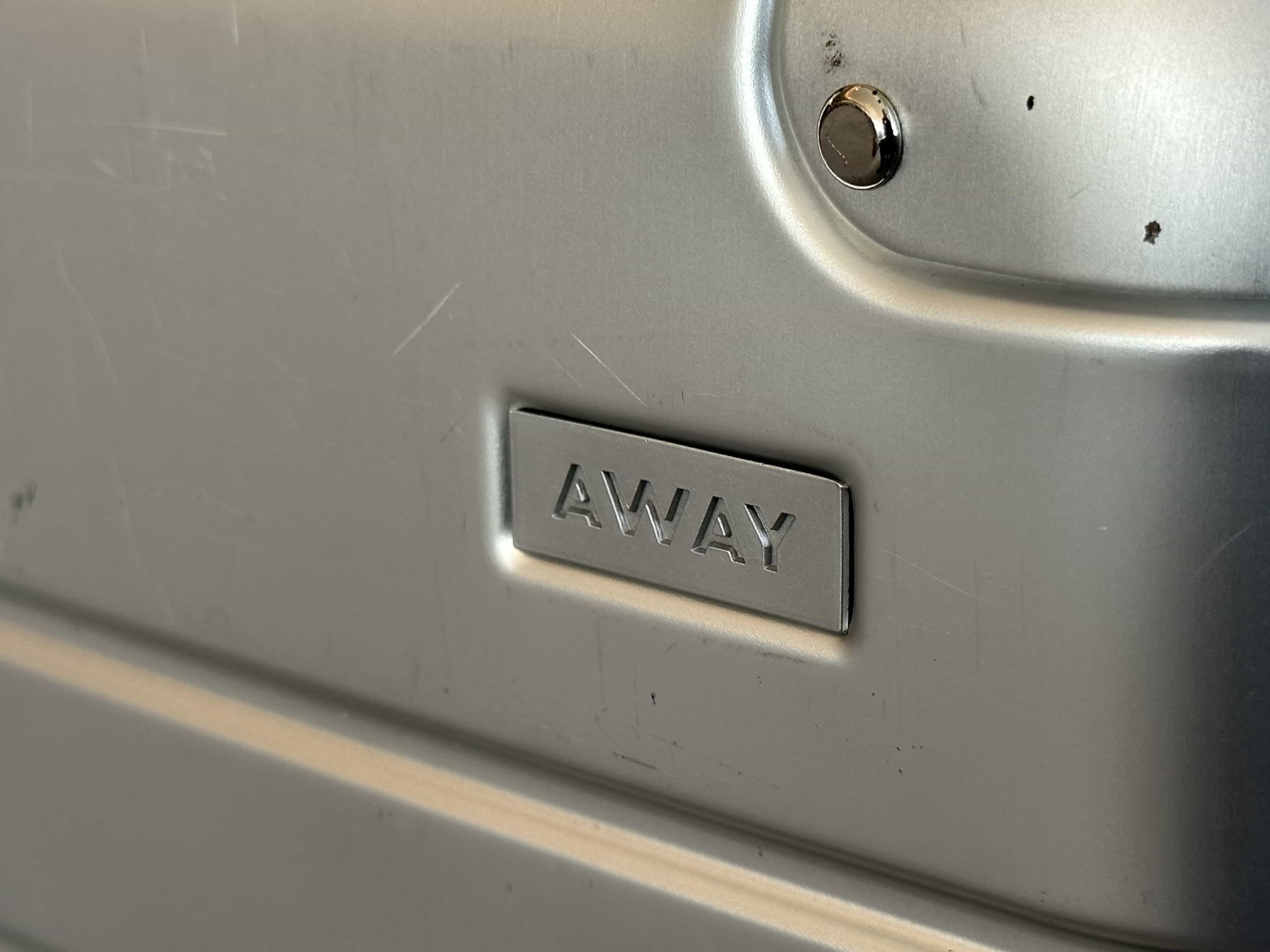 I was babying the case initially, scared to get it scraped or dented, but after the bus incident put scratches all across the rear, I've learned to appreciate the character that these imperfections add, and — cliche while it might be — the stories that they tell. You'll need to adopt the same mindset, because this case will get dented, no matter how careful you are. Not because it's not high-quality, but because aluminium is inherently more prone to deforming than a material like polycarbonate. Personally, I think the designers have struck the right balance of weight vs. strength when it comes to the thickness of the shell.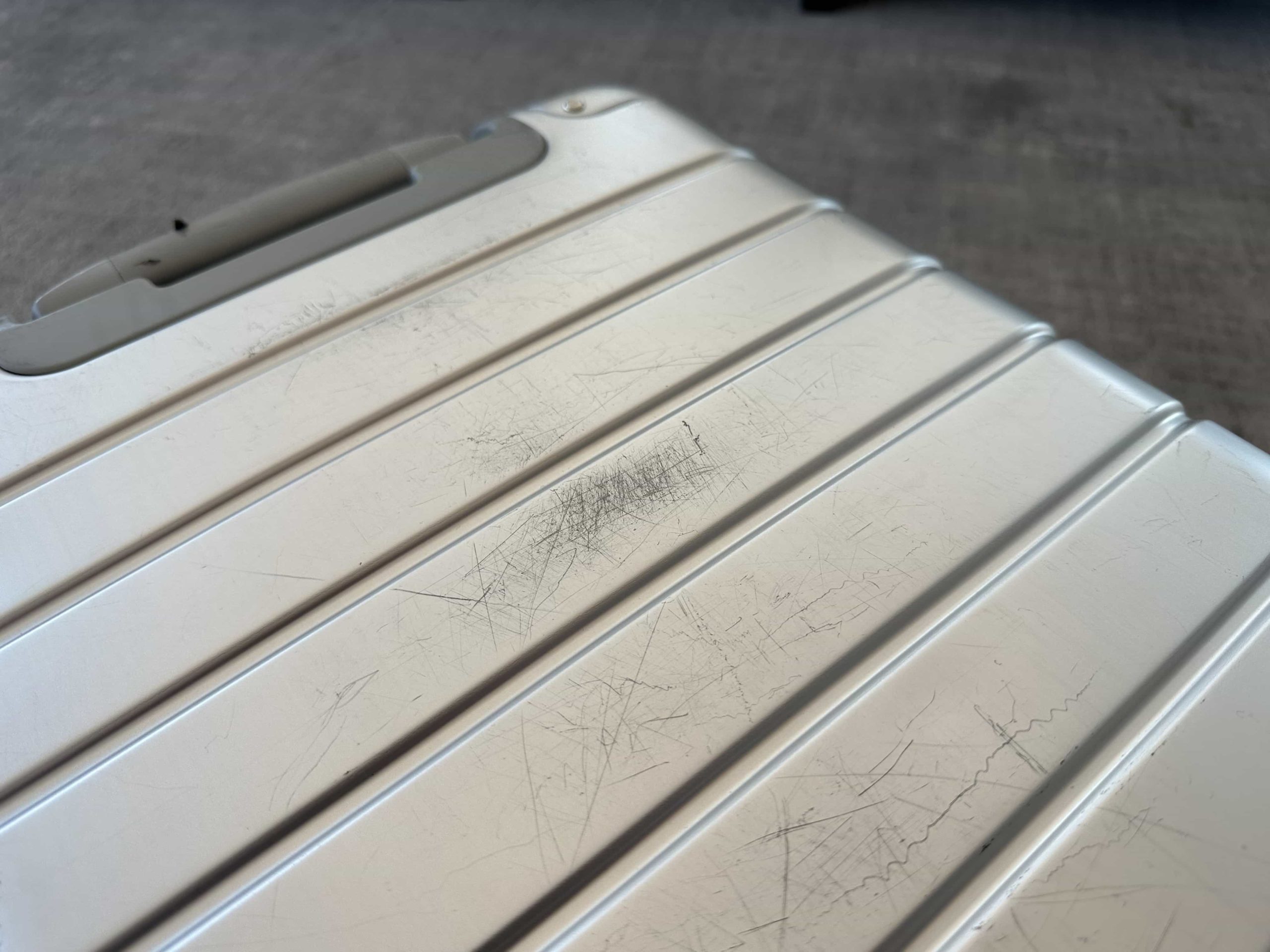 While the use of aluminium in the case's construction is mainly for aesthetic purposes, it also provides genuine functional benefits. Most notably, enabling latches to be used, in place of a zipper.
If you want to feel like a secret agent every time you go to unpack, you're looking at the right case. The sound the latches make when they release has a mechanical and sturdy quality, and they are a far cry from the clumsy zipper mechanism that you'd normally be faced with. They're incredibly satisfying to use, and with built-in TSA combination locks, are a reassuring start or end any trip.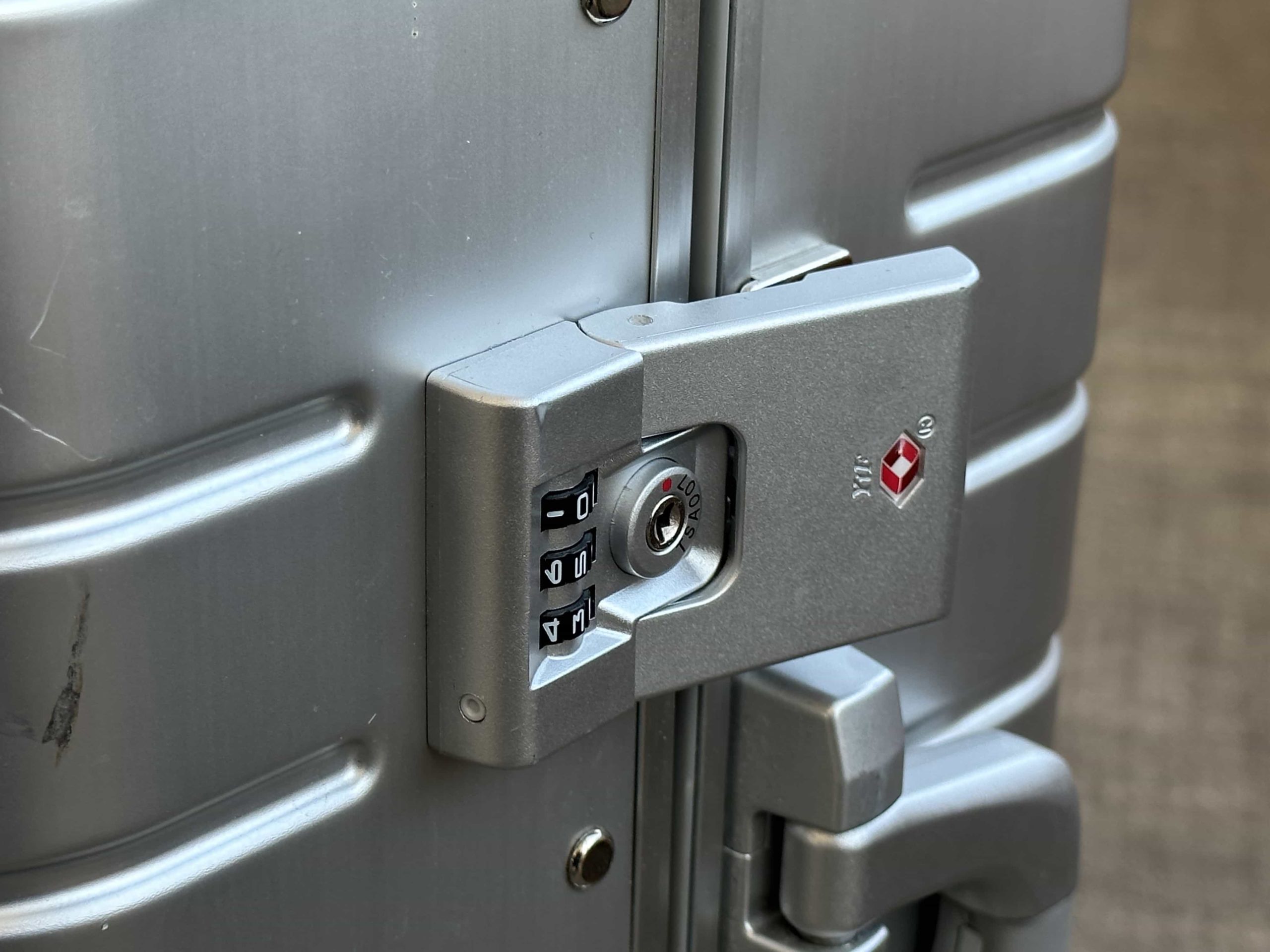 Unfortunately, mine have recently become prone to sticking shut. A quick press down on the top side of the case as I hold the release button addresses this, but it does detract somewhat. I'm glad, quite frankly, because I was starting to sound like an Away Travel sales representative.
If I were working for them, I would tell you that Away's warranty is extremely comprehensive and quite generous, covering any damage to the shell, wheels, handles, zippers, and other functional elements of the luggage. This has been corroborated by experiences I've read about online, so it's a very reassuring policy. I fully intend to utilise this to address the damaged handles and temperamental latches.
The battery compartment: a hidden opportunity
A few years ago, the built-in USB charger option was one of the hero features. These days, it's not even available on the silver model, and I don't consider this a major loss. It's convenient as a backup — sure — but remembering to charge it is tricky when it's so out of sight. Personally, I prefer to just throw one in my backpack.
I also find that the battery compartment pops open over bumps and the battery tries to eject itself. That said, I suspect this is an issue specific to my case, and Away have already offered to honour a warranty claim, which I really should act on, given that it's been three years since I emailed them. Side note: I noticed that they responded within a couple of hours — very impressive.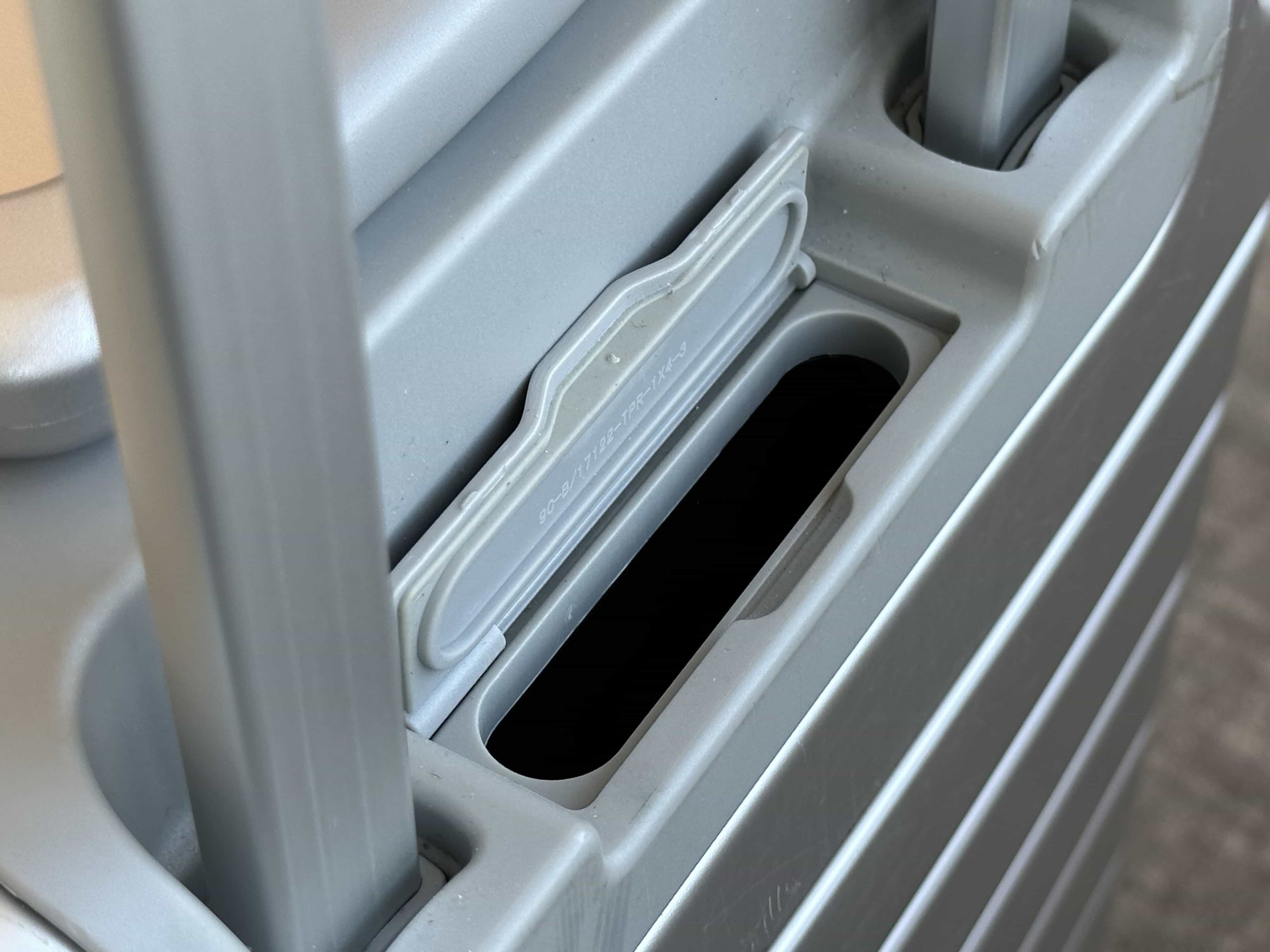 Now, while the USB charger itself might not be all that useful, the compartment might be. Let me explain.
I considered hiding an AirTag within the inner lining, but realised that the aluminium construction would limit the tracker's range. Instead, I repurposed an AirTag mount for a bike seat, and zip-tied it inside the battery compartment. While this required a bit of disassembly from inside the case, the end result works impeccably, because the compartment door is made of plastic. I'm proclaiming my own genius on this one, because this solution is awesome.
An alternative would be to use an adhesive mount, just inside the battery door, which would make the annual task of replacing the battery less arduous, but would also make it more easily discoverable to thieves. Maybe a lockable AirTag compartment is something Away should consider? Or even better, built-in Find My functionality?
Wheels that redefine luggage mobility
Moving on to the final exterior feature: the four 360° spinner wheels by Japanese designer, Hinomoto. Away proudly proclaim that this is the only case in this price bracket equipped with such calibre of wheels, and they're right to be proud — they're fantastic. Synonymous with quality, reliability, and endurance, they're considered some of the best wheels in the industry.
When other people handle the case, they comment on how nice it feels to wheel around. You can push it away from you in an airport terminal, and it will glide dead-straight like a hockey puck. You'll have to go running after it, because this thing ain't stopping anytime soon.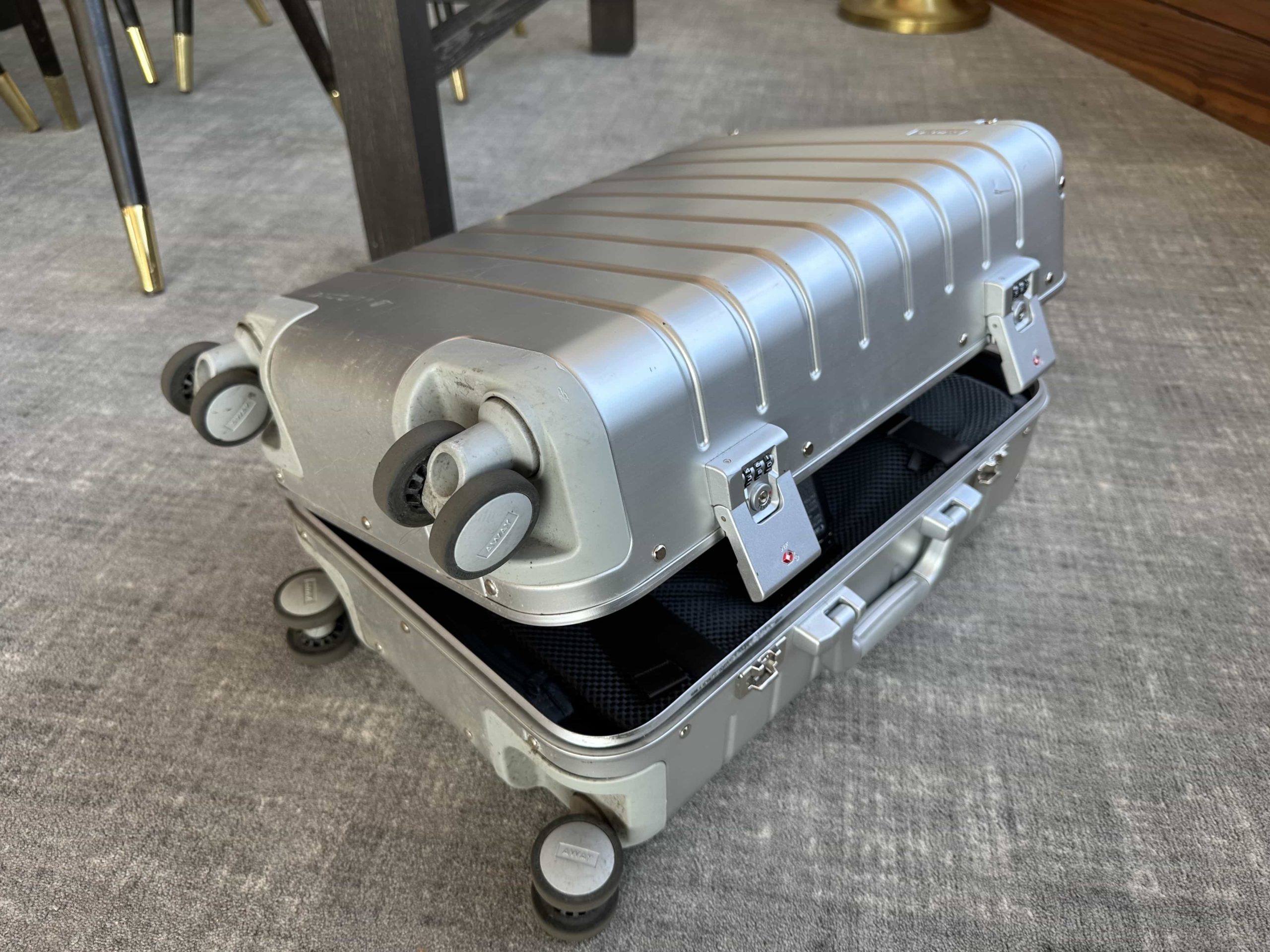 They're also sized to deal with the most challenging urban terrain. The case doesn't jump around in the same way that lesser cases do — it's not skittish. While other cases trip up on even the slightest unevenness or bumps, this one goes over them like they aren't even there. To an extent, the weight probably helps in this respect too, by keeping the case planted over rough surfaces.
The weight is significant, but oddly, that's one of my favourite aspects. It feels substantial, and further reinforces the feeling of dependability. The drawback, is that it doesn't take much to exceed all of the carry-on weight allowances, but I've never been pulled up on this, even on Ryanair.
Interior excellence: practicality and organisation in every detail
Let's talk about the interior. As with any case, the channels for the telescopic handle eat into some of the interior space, but they're less intrusive than some, and overall, it's a very practically-sized case. You can opt for the 'bigger' model, but this isn't compatible with as many airline allowances.
If you're a serial over-packer, looking to kick the habit, this case will help instil some discipline. The rigidity means that any give in terms of packing things in, is going to come from compressing the items inside — the case itself isn't going to budge. The advantage of this, is no more wrestling matches with zippers; if the case doesn't close, it's too full. No bulging, no arguments with budget airlines.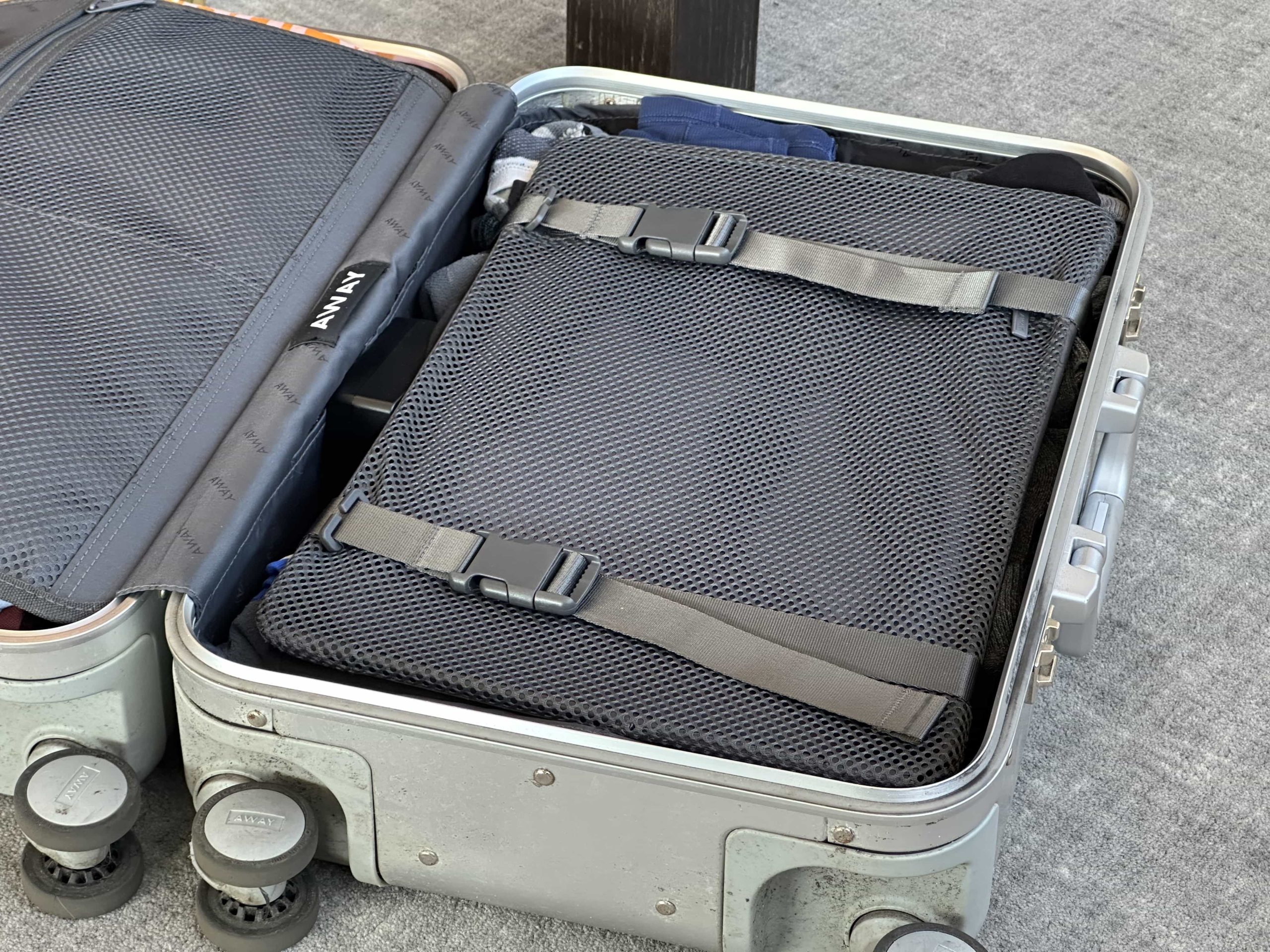 Speaking of the compression layer, it's very good. The straps can be pulled really tight, and it has a hard backing, so there's no risk of puncturing it with sharper items.
My only criticism is that the pulley straps are anchored to the bottom of the case, so they squeeze the clothes towards the centre. This leaves unused space around the edges. You can always stuff some socks in the empty space, but be careful to avoid trapping them in the waterproof gasket around the interior edge when shutting the case.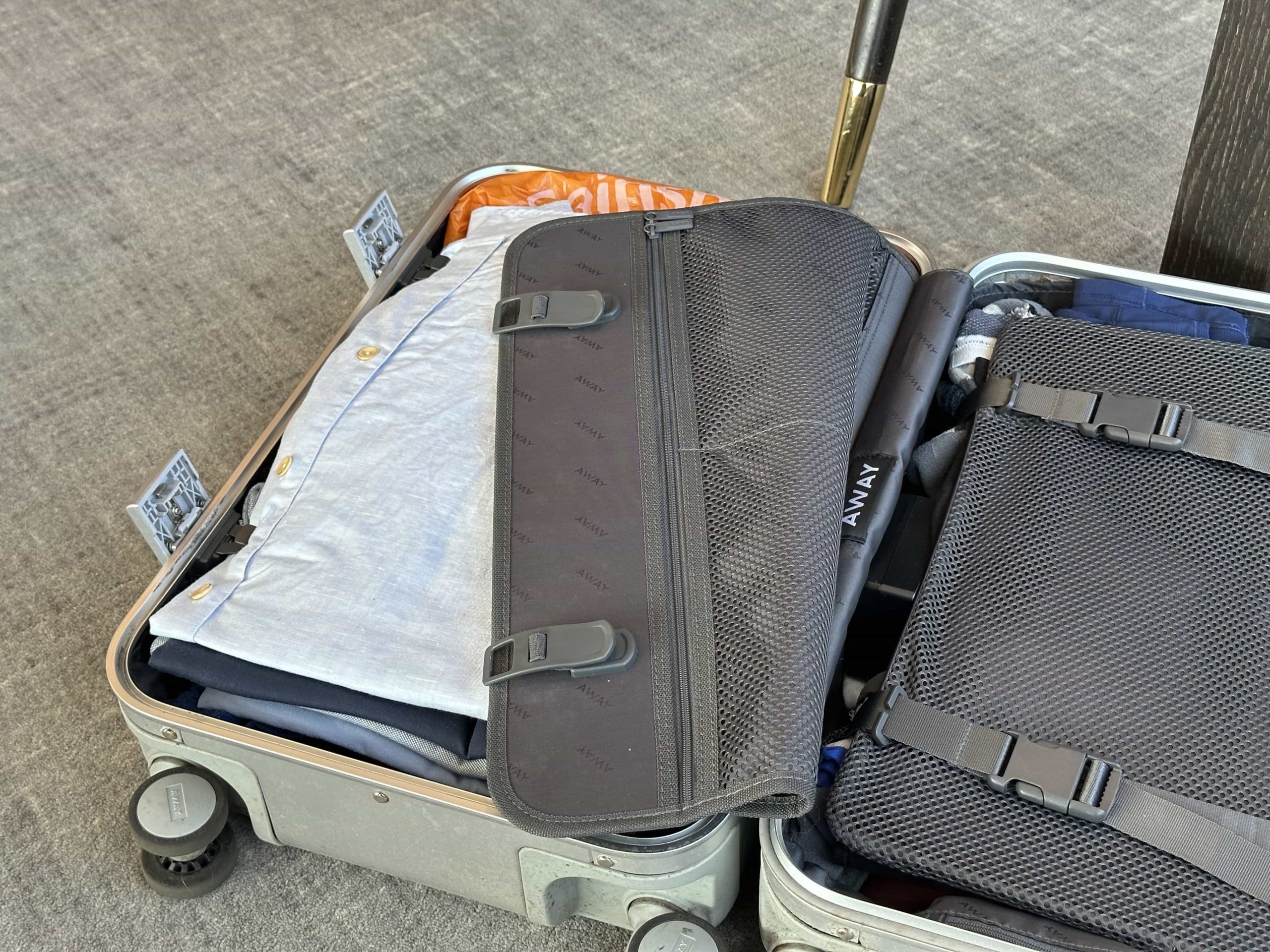 On the other side of the case, is a section designed to gently hold items in place, rather than compress them. The little hooks and elasticated clips which secure the cover are lovely to use. I like to use this side for shoes, hats, accessories, and gadgets — anything you wouldn't want to squash.
While I don't find them particularly useful, I appreciate the shallow zipper pockets which exist on both covers. They're netted, and quite tight so don't offer much in the way of utility beyond a small amount of space for soft items. Personally, I keep some extra copies of a few essential documents in here.
The laundry bag is something I didn't know I needed, but now use on every trip. It folds up neatly into a small pocket at the top of the case, and it's helpful for keeping clothes organised while you're away.
Conclusion
My initial doubts about this product were completely shattered; I love this suitcase, and it far exceeded my expectations in almost every respect.
It's a pleasure to use, and genuinely adds something to a trip. I do a lot of weekend trips, which don't require anything more than a backpack, and while it's nice to be free of baggage — in fact, I wrote a entire article about that — there's something reassuring about having the Away case by my side in an airport.
Whether it holds up for the long-term, is yet to be seen, but I have full confidence in it to provide at least another 5-10 years of service. More, if Away continue to honour their excellent warranty policy. For now, aside from minor niggles with a couple of the mechanical parts — both of which the warranty should address — the case is showing almost no signs of faltering.
Products like this can rarely be considered a sensible purchase, but this is an exception. If you're a frequent traveller, don't even hesitate — just go right ahead and buy it. £545 might seem like a lot to spend on a suitcase, but it's an almost perfect product. Forget about buyer's remorse; you'll be too busy planning your next getaway with this exceptional case.