'Baggage: past experiences or long-held attitudes perceived as burdensome encumbrances.'
Ok, that's not quite the definition we're referring to in this context, but 'burdensome encumbrances' is exactly how I'd describe physical baggage. I hate lugging it around, and I especially hate paying extra for it. If baggage allowance isn't included, I'll do whatever it takes to avoid paying for it. And even if it is included, I'll still aim to fit all my stuff in a single backpack to avoid dragging a suitcase to and from the airport.
Traveling with just one backpack is possible with a little bit of preparation and the right gear. Over time, I have perfected my single-bag packing technique, using it on over 30 trips in the past year alone. Today, I would like to share this tried-and-tested system with you. The goal is simple: one backpack, belongings for up to 5 days, and room for a souvenir or two.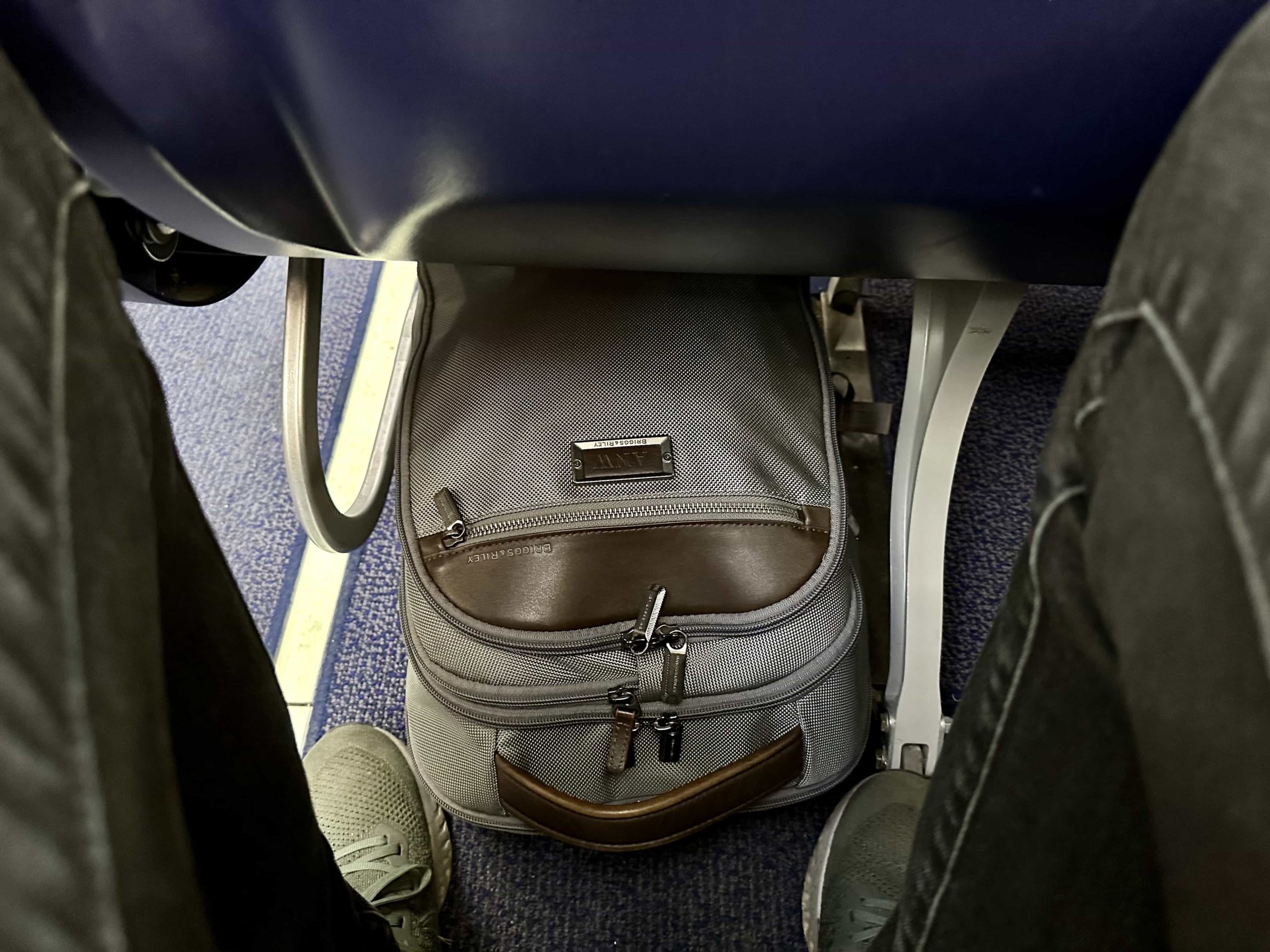 If you're looking for tips on how to pack for a week-long trek through the jungle, then you're in the wrong place. But if you're planning a city break and want to travel light, then keep reading! Be prepared, this is an extreme example of minimalist packing, so consider it a starting point, and adapt it to your own needs and preferences.
The backpack
Don't fall at the first hurdle: familiarise yourself with the maximum dimensions for hand (under seat) baggage permitted by the airline(s) you fly, and buy a bag that adheres to these limits. The allowance is similar for most airlines, but it's always best to check, as there can be variations.
My recommendations
I personally use a Briggs & Riley bag — a brand which is held in high esteem amongst the frequent flyer community for their lifetime guarantee, and well-designed, durable products.
One model that's particularly interesting is the Traveller Backpack, which looks like it has the potential to be the ultimate solution for hand baggage travel. It features a compartment specifically for clothing which opens up suitcase-style, as well as organiser compartments with slip pockets for electronics and accessories. It's on the larger side, so be careful not to overpack in case you need to squish it down to keep Ryanair employees happy.
I have the previous generation @work Medium Slim Backpack, which I've used non-stop since 2019. I originally purchased it primarily to be a laptop bag, but it became my go-to for travel due to its spacious central compartment, and practical pockets. The new model seems to prioritise organisation over packing space, so as good as I'm sure it is, for these purposes I'd maybe look at the Traveller Backpack instead.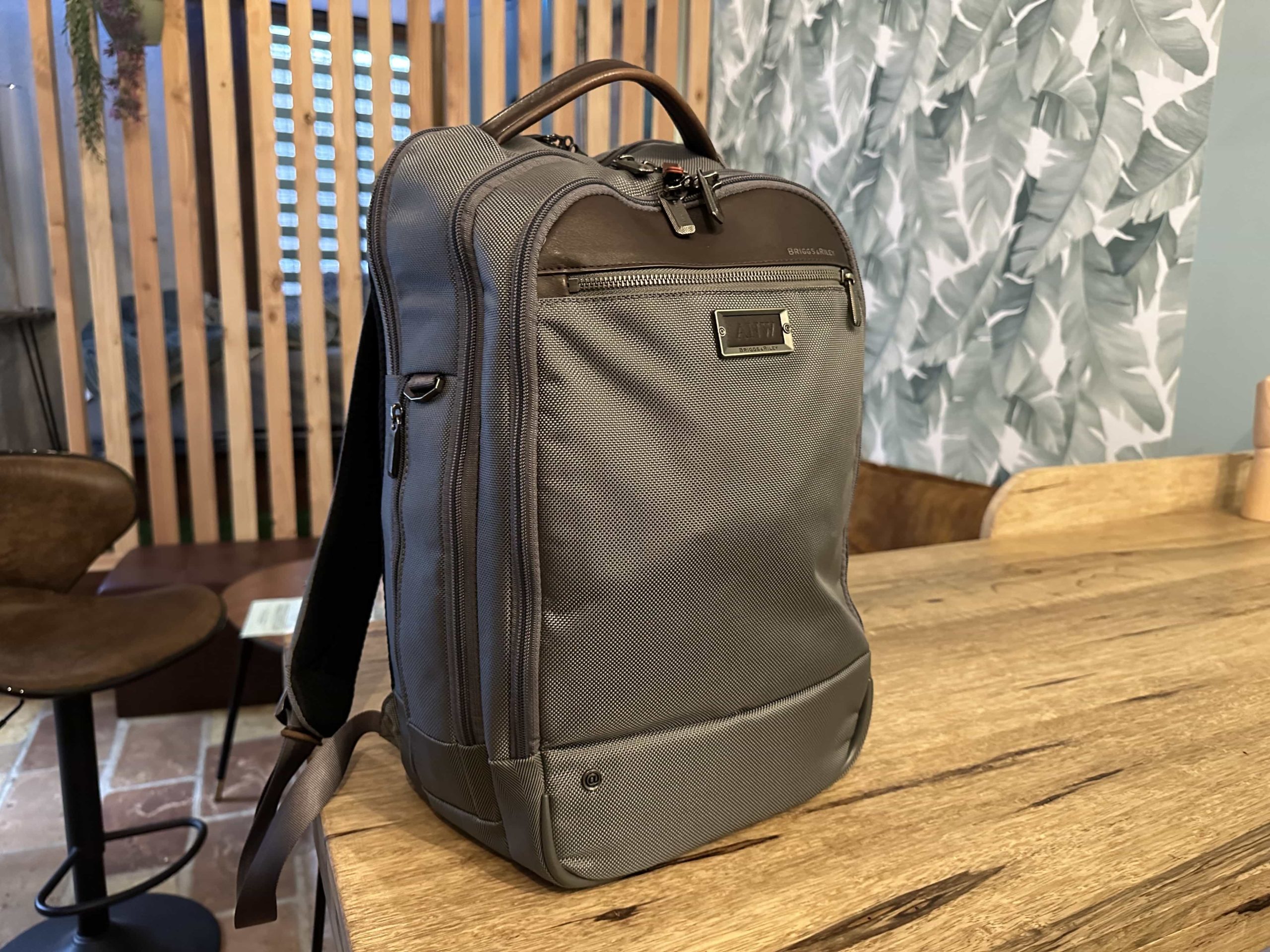 Alternatively, the @work Cargo Backpack is one of their most popular models, and has many of the same features that my bag does, only with some additional compartments on the outside for easy access to your essentials. This is probably your best bet for a bag you can use every day, but also throw your stuff in for a weekend break. You can't really go wrong with any of their products though, so just figure out what your priorities are, and choose accordingly.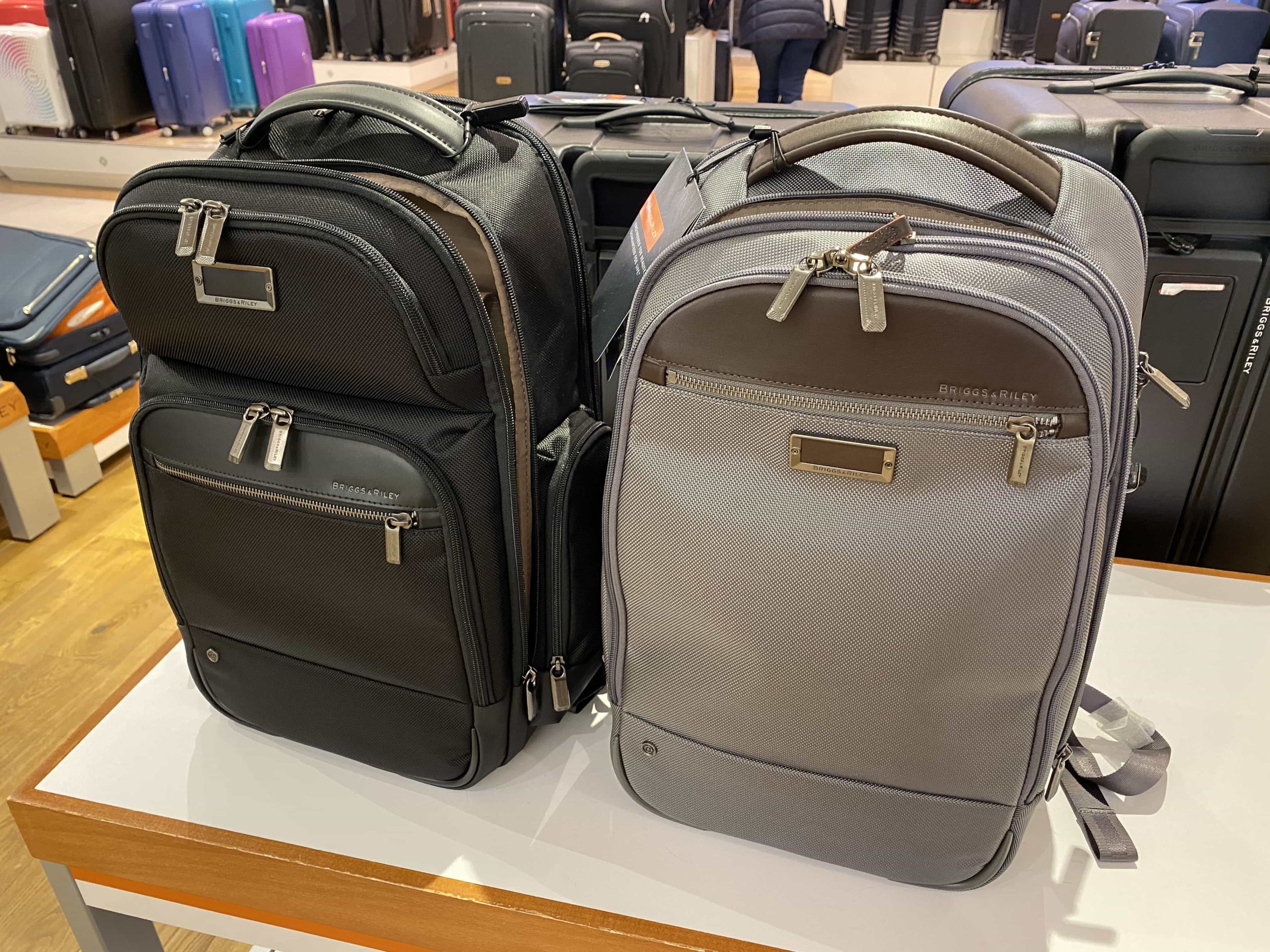 Now, while these bags don't mind being shoved under an airplane seat, and can more than handle the rigours of a weekend city break, you might want something which leans more towards 'adventure'. Not backpacking across Asia adventure, but just a bag that's a bit less 'business'.
Low-priced option (sub £100)
If you're looking for something on the cheaper side, the Amazon Basics Slim Carry-On could be the perfect choice. It's designed for travel, particularly weekend trips and short getaways, and is available in 'overnight' and 'weekender' sizes. Don't take these names too literally, as the bag is about the same size as mine, which I use for trips up to five days in length.
Mid-priced option (around £100)
For slightly more cash, you could look at the 5.11 Rush 12, which is compatible with almost every airline baggage allowance, and gets excellent reviews. This is probably the most 'hardy' of the bags on this list.
If you're not into the military look, another option is the Patagonia Black Hole. This bag is pretty much one big compartment, so is perfect for stuffing with clothes, if you're not bothered about slip pockets and organiser compartments. It's also water resistant, which is always a bonus.
High-priced option (over £100)
If you're looking to splash the cash, and the Briggs & Riley bags aren't doing it for you, check out the Bellroy Transit. This is a sleek, stylish-looking backpack, which prioritises space for clothing, but also has compartments for your laptop, water bottle, and other essentials.
Clothing
Clothing choices are key, as they take up the most space overall. I can only give specific examples and recommendations for men's clothing, but similar principles will apply for women too.
Tops (t-shirts, polo shirts etc.)
Starting with tops, the goal is flexibility. We can't pack for every scenario, but we can pack in such a way that we can adapt to different requirements — climate, setting, style etc.
I don't take this philosophy to the extreme, but to give you one example, even though I prefer to wear polo shirts, I make sure I also have a t-shirt or two which can be worn underneath to provide some warmth for the colder destinations.
No matter what, I always have a well-fitted black t-shirt. It's incredible how often that garment seems to pass the dress code requirement in even the most high-end establishments, particularly when paired with a lightweight bomber jacket or a denim jacket. It can be a life-saver when you can't pack more formal options.
If I'm travelling for five days, I'll pack one top for each day. Shorter trips enable more flexibility.
Warmer layers (hoodies, jackets etc.)
You most likely won't have space to pack warmer layers, so any hoodies or jackets you want to bring will need to be worn in transit. This can be a tricky balance to strike.
For colder destinations, I tend to wear a lightweight jacket, as well as a heavier winter jacket (which I put in the overhead compartment upon boarding). This strategy gives you options: you can wear both, or one or the other, depending on the conditions at your destination. The lighter jacket, I prefer to be on the more formal side, for pairing with a t-shirt.
Trousers/jeans
For a weekend city break, you can most likely get away with a single pair of trousers/jeans. Anything over and above this will almost certainly wipe out any souvenir space. As such, choose a pair that's appropriate for different scenarios. Dark blue or black jeans are my go to, as they're practical but can also be dressed up more formally.
Shoes
Extra shoes are almost certainly out of the question, which is a pain if you're like me and enjoy going for a run in new destinations. It's never easy to find trainers that work as both day-to-day shoes, and running shoes, but the Nike Epic React Flyknit 2 in a toned-down colourway are the best middle ground I've found.
They're incredibly comfortable as daily shoes — almost slipper-like, in fact — don't look ridiculous with a pair of jeans, and integrate React foam, so provide great responsiveness for running. In fact, I've found that I run better in these, than the dedicated running shoes that I keep at home.
Of course, these are hardly appropriate shoes for formal scenarios, so you'll need to choose formal or active — carrying both isn't really an option.
Workout clothes
Workout clothes are great. They're lightweight, extremely thin, and you don't need to worry about creases. I avoided packing them for the longest time, until I realised that they take up next to no space — especially since they can fill the gaps in between other items of clothing.
Even if you're not planning on running or hitting the gym while you're away, you never know when you might want to take a hike, or engage in some other form of exercise. Especially, if like me, you don't put too much planning into your trips, and just go with the flow.
I don't always end up using the workout clothes during a city break, but they've often come in handy for non-workout purposes. For example, as an extra layer.
The fold and roll technique
To pack these items, folding and then rolling is the technique I find to be most space-efficient.
If you fold along all of the right edges, you should be able to avoid any severe creases. Packing darker items will help to hide any that do occur. I tend to roll up to three tops together, with a few pairs of socks in the centre, which helps to avoid them being rolled too tightly.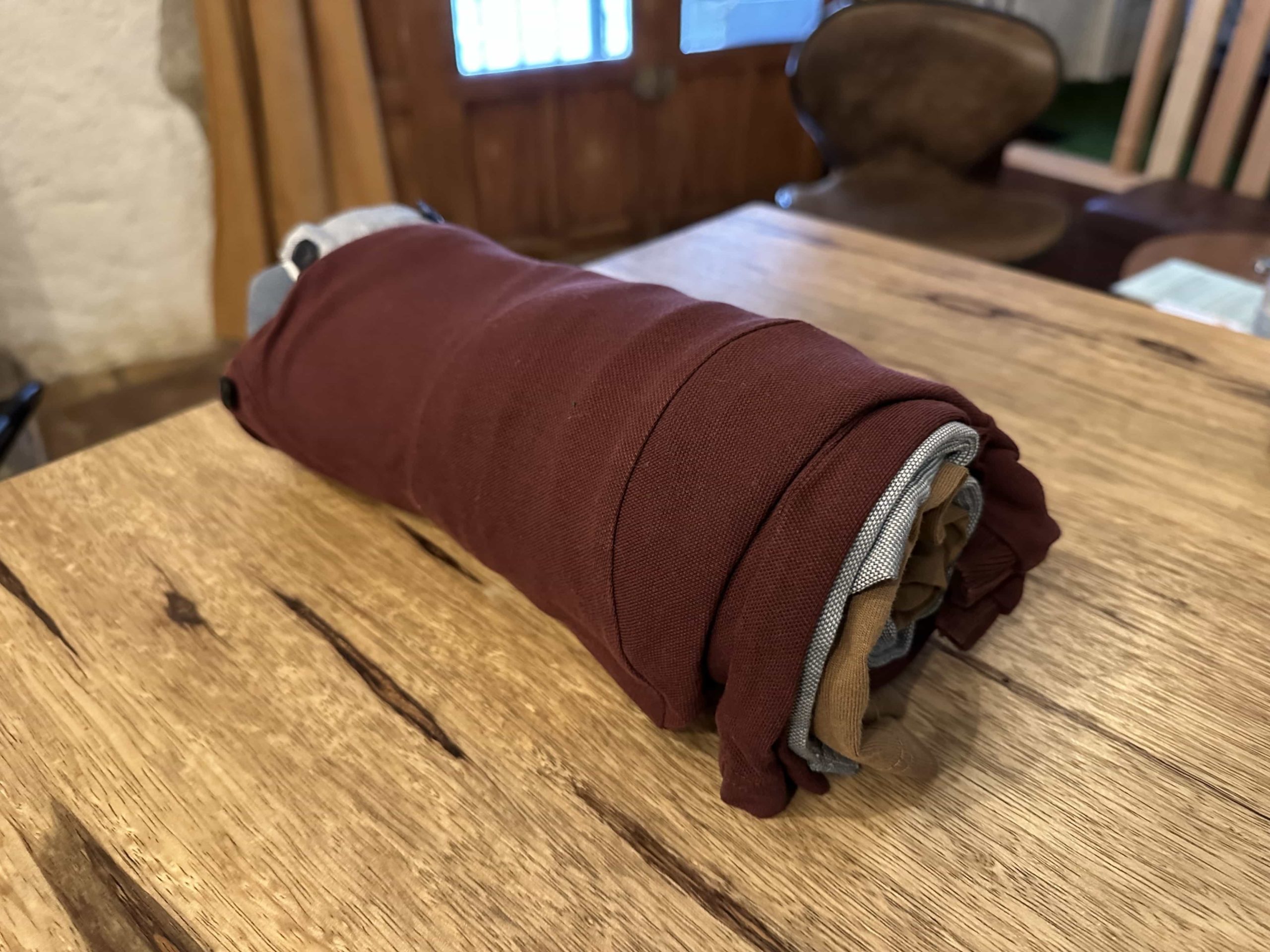 If I'm travelling for more than a couple of days, I'll normally need to separate the clothes into a couple of rolls, so that they fit in the backpack, stacked on top of each other, with some loose items in the gaps.
Any formal clothing is probably a no-go for this technique, but you're going to struggle to keep that kind of clothing in good shape no matter what, when you're travelling with just a backpack.
I'm not sure if this is a hotly-debated topic… I feel like it has the potential to be, but I swear by this packing technique. Just folding the clothes and stacking them in the backpack never leaves with my nearly as much space. I discovered this through necessity, so I can assure you I've tried other approaches!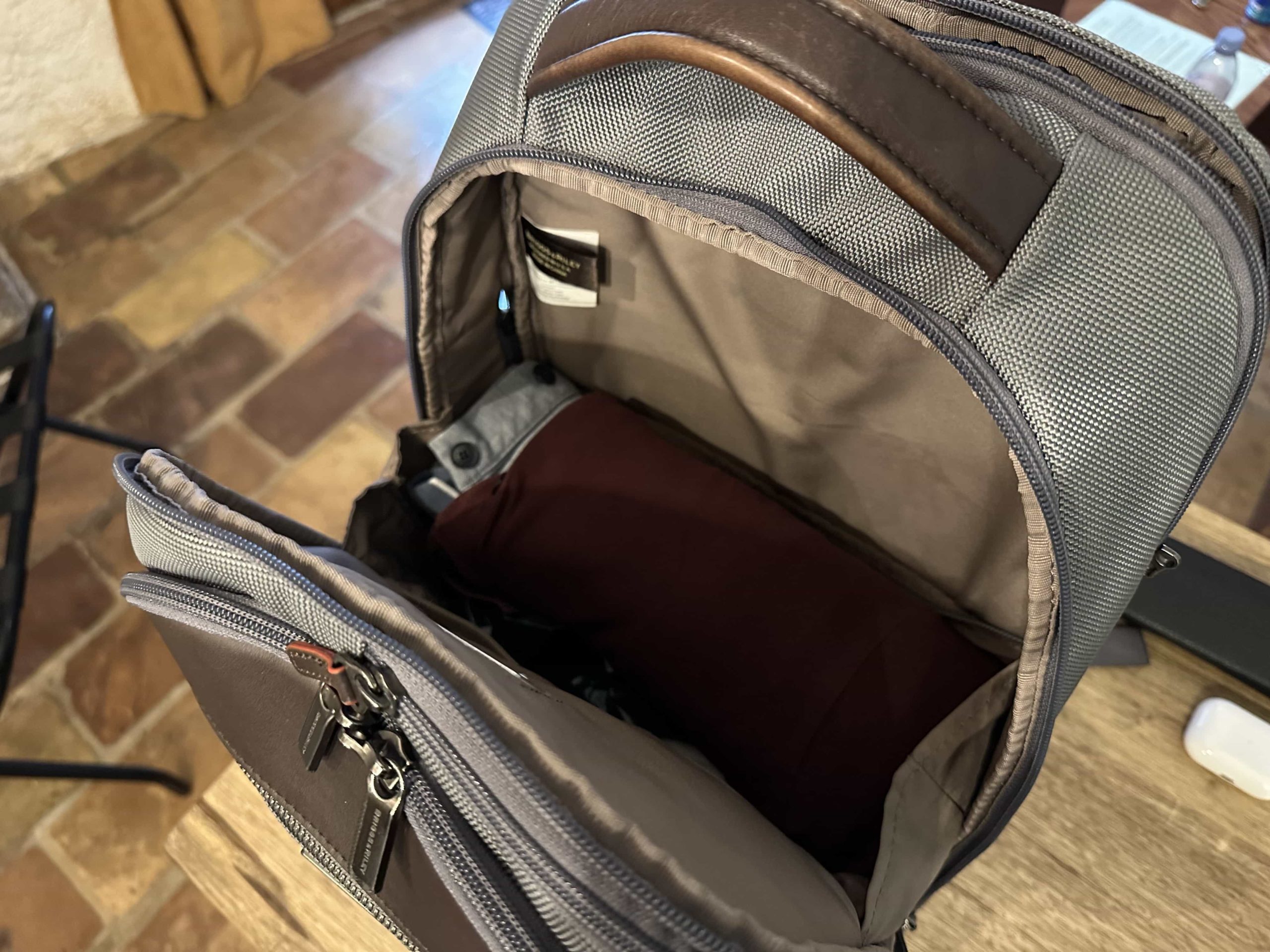 Pack all of the clothes at the bottom of the backpack, as this keeps everything else more easily accessible during transit, and avoids the need to unpack and repack to reach things. All in, you should aim to have about half of the space remaining.
Laundry bag
A laundry bag isn't strictly necessary, but I always prefer to separate off clean and worn clothes.
In the past, I'd just pack a supermarket carrier bag, but they aren't as durable as a purpose-made laundry bag. Another benefit of the stronger material, is that it's thinner than a reusable carrier bag, so takes up less space. Moreover, as a recent hostel-convert, I quickly realised that the rustling of a carrier bag is a sure fire way to make you everyone's least favourite person in the dorm.
Depending on the backpack you choose, you may find it has a dedicated compartment, or at least one you can assign for laundry use. If not, you'll need a lightweight laundry bag that can slot into one of the compartments at the start of your trip.
I use a laundry bag that came with my Away carry-on suitcase, but it's not sold separately. This one on Amazon though, is nearly identical to mine.
Side note: I wouldn't recommend packing cubes for use in a backpack, as there just isn't the disposable space.
Devices
Which devices you bring is a personal choice, so while I can't say what's right or wrong, I can tell you what I bring and what works for me.
Phone and laptop is my preferred combo, which gives me good flexibility for working, entertainment during flights, and convenience. Tempting as it is to also bring a tablet, I just can't justify the extra bulk and weight. My laptop of choice is a MacBook Air, which offers outstanding battery life, performance, and portability.
Wireless noise cancelling headphones are a must for blocking out crying babies and noisy tourists. While I have in the past carried over-the-ear headphones, I find even the ones which fold up to be too bulky for a hand baggage-only trip. In-ears therefore are therefore my go-to, and AirPods Pro in particular have worked great for me over the past few years.
Charging
I can't stand cables. They're second only to luggage on my 'avoid at all costs' list.
My solution to this is to bring only one power brick — the one for my laptop — and overnight, power the other devices off the laptop, while it charges. This probably isn't great for battery longevity on the laptop, but it's super convenient. Even better, as the power brick uses USB-C, there's the option of using it to power the other devices directly, if I just want to charge one at a time. And since it's a high-wattage charger, it supports fast charging for everything.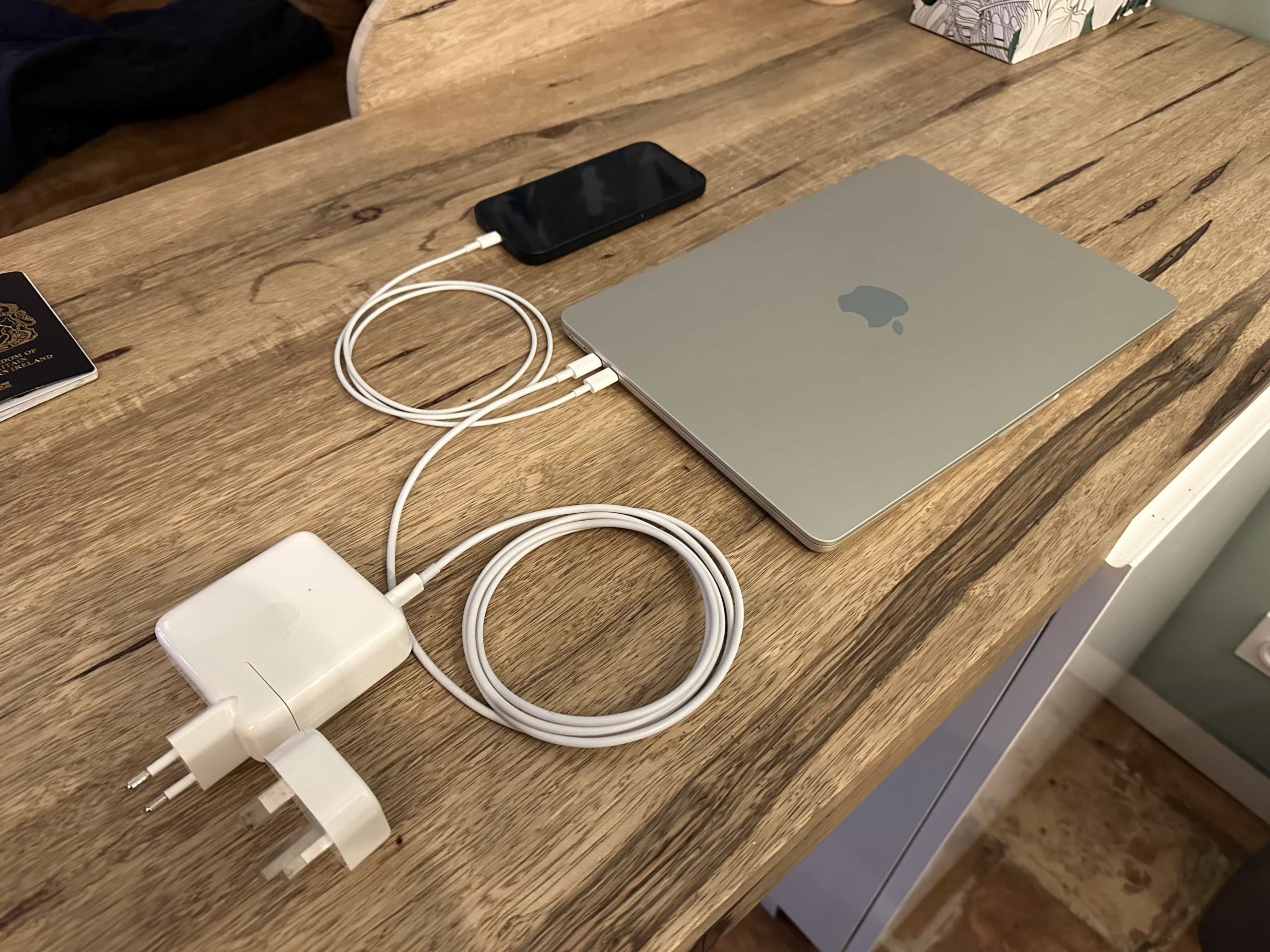 Another pro tip: consider extending this practice to when you're out and about, and use your laptop as a portable battery. I love this arrangement, and do this even when I have more luggage allowance. One device to rule them all, you might say.
Portable battery bank
If the laptop solution isn't for you, you can look at thin and light portable battery banks instead.
There's an almost infinite choice out there these days, but as I've had good experiences with the brand in the past, I'll recommend this 10,000mAh high-speed battery from Anker. It's pretty thin, so should easily disappear into a pocket in your backpack, despite it's significant charge capacity.
Travel adapters
For travel adapters, I have a World Travel Adapter Kit for the MacBook power brick. I'm hopeless at remembering to pack travel adapters, so I keep the most commonly required ones in my cable bag at all times. For me, that's UK, Europe, and US. Carrying these three takes up less space than a multi-country adapter, and is more elegant to use since it replaces part of the plug, rather than adapting it through an external accessory.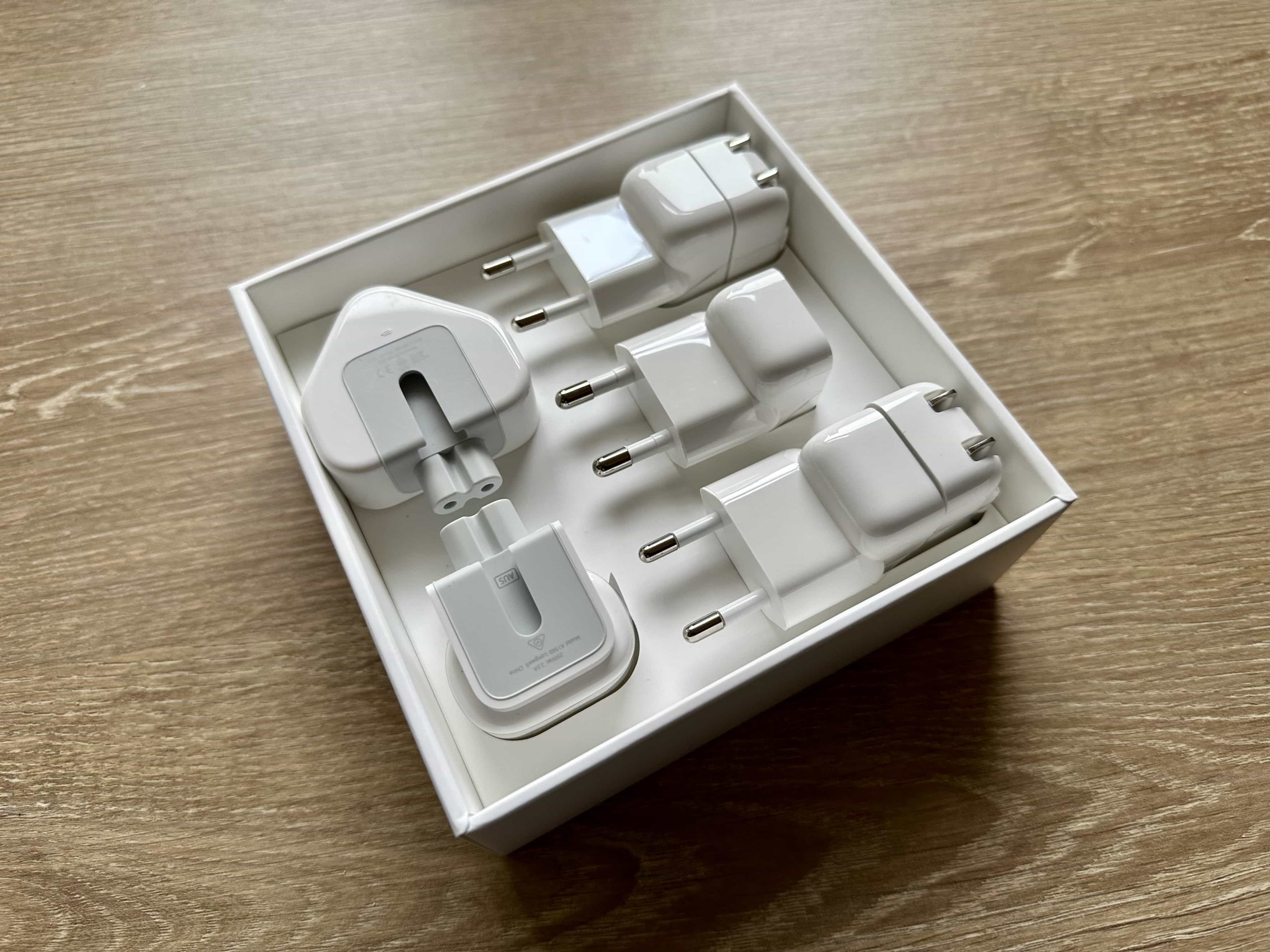 That said, if you'd prefer a universal adapter, I'd just grab a few compact ones for different countries, like this one for UK to Europe.
Cable tidy / adapter bag
Unlike packing cubes, cable tidy bags are a must-have. It's just too painful having to fish around inside a bag to find that one cable or adapter you need.
I use a Qatar Airways amenities kit bag, which was provided on a business-class flight. You can't buy it online, but it's made by the Italian travel brand, Bric's. I've been using the bag for more than three years, and it's held up extremely well. The materials are high-quality, the zip doesn't stick, and it's a perfect size for the purpose.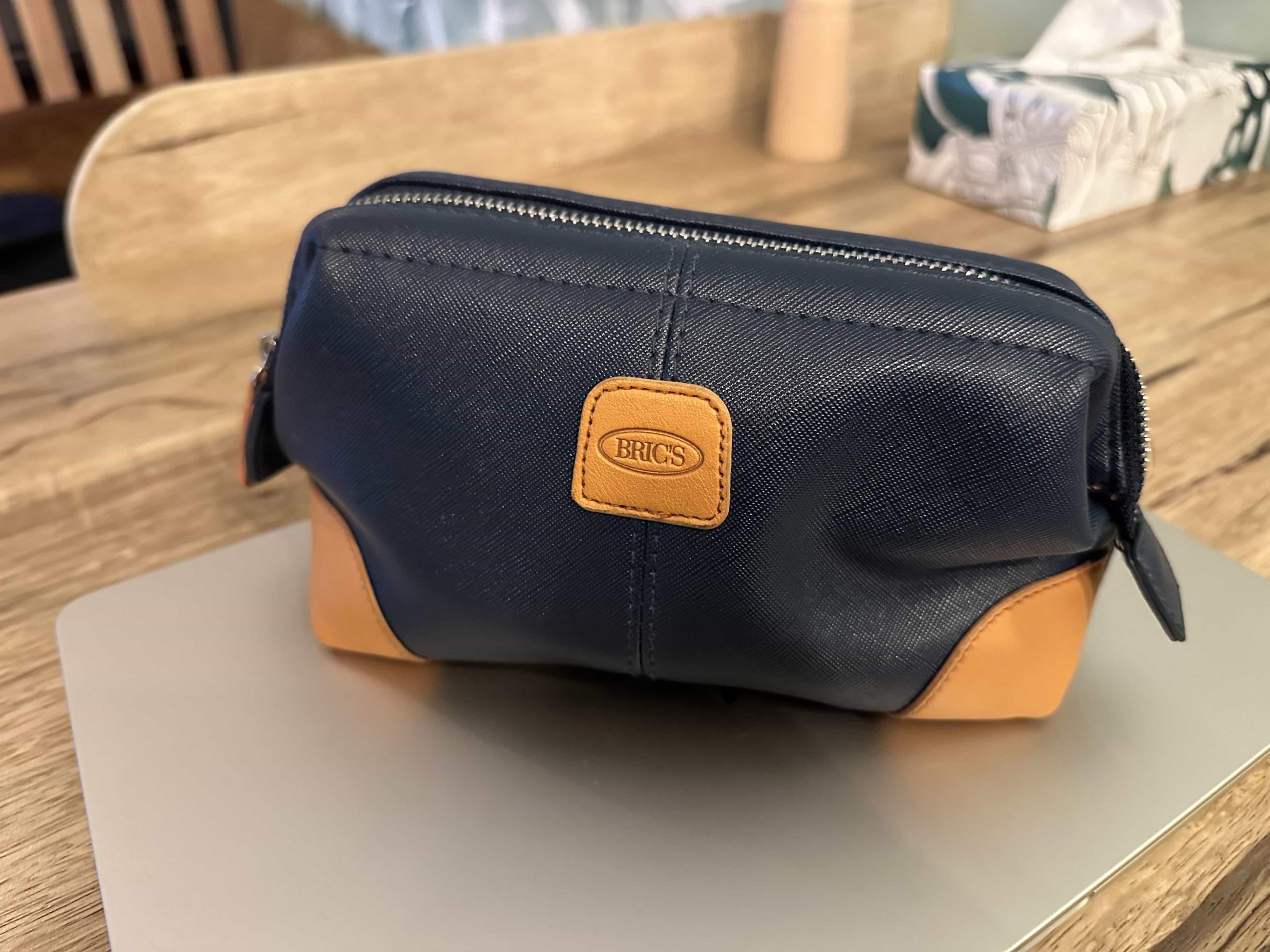 There's no organisers inside, but I just loop each cable up separately, and this keeps them from tangling together. If you want something with more structure though, you could look at something like this Bellroy Tech Kit.
Toiletries
Deodorant, toothpaste, and toothbrush — that's all I need, since most accommodation provides shampoo and shower gel.
The deodorant and toothpaste live in a clear plastic bag to keep things compact and avoid any faffing around as I go through security. I switch this out for a new one every few times I go through security, to keep it fresh. A dedicated toiletries bag is completely unnecessary and just adds bulk and hassle.
Toothbrush
So far we've been ultra-stringent in minimising bulk, but this doesn't mean you can't make some exceptions if there's an item you can't live without. For me, an electric toothbrush is my one luxury. I carry an Oral-B Pro 3, which comes with a travel case that fits neatly in the bottle compartment down the side of my backpack.
You can find more compact electric toothbrushes, like the Phillips One, which have significantly smaller travel cases. I've read the reviews of these, and it seems they're quality products, but don't clean as effectively as the full-size ones. Personally, I dislike that they use non-rechargeable batteries, rather than the rechargeable lithium ones in the full-size ones, which tend to last 10+ days, and are perfect for a short trip.
Of course, you could go old school and get a manual one that folds up, like this pack of three from Colgate.
The smaller items
We've covered the bulky items. Everything else should be able to disappear into the organiser compartments and slip pockets of the backpack. For me, that's: passport, eye mask, earplugs, AirPods, tissues, a pen, and a padlock. I also have an AirTag attached via a keyring to one of the inside hooks.
All in, I find that this typically leaves me with just enough space for the odd travel souvenir or gift, and there's enough space to slide some documents into the laptop compartment, if needed.
Something I don't carry, but you might find appeals to you, is a fold-up water bottle. You could go with something flexible, like this Hyrapak, or a collapsible option, like this Hydaway.
Sunglasses
For sunnier destinations, sunglasses are must, but the carrying cases tend to take up a fair amount of space.
One option is to take a cheap pair of sunglasses with no case, and accept the risk of them getting crushed. This is quite possible, with them being in such a full, densely-packed backpack. I do appreciate a quality pair of sunglasses though, so I budget some space for a protective case.
If like me, you wear regular glasses and carry the case for them, you might find it can serve a dual purpose, and act as a case for both pairs of glasses, as you switch between them throughout the day.
Conclusion
Quite simple, huh?
I love the freedom of travelling with a single backpack. It makes packing much quicker, and forces you to be ruthless about what you bring. I also just feel more 'mobile' and less weighed down by unnecessary stuff, which I never regret not bringing.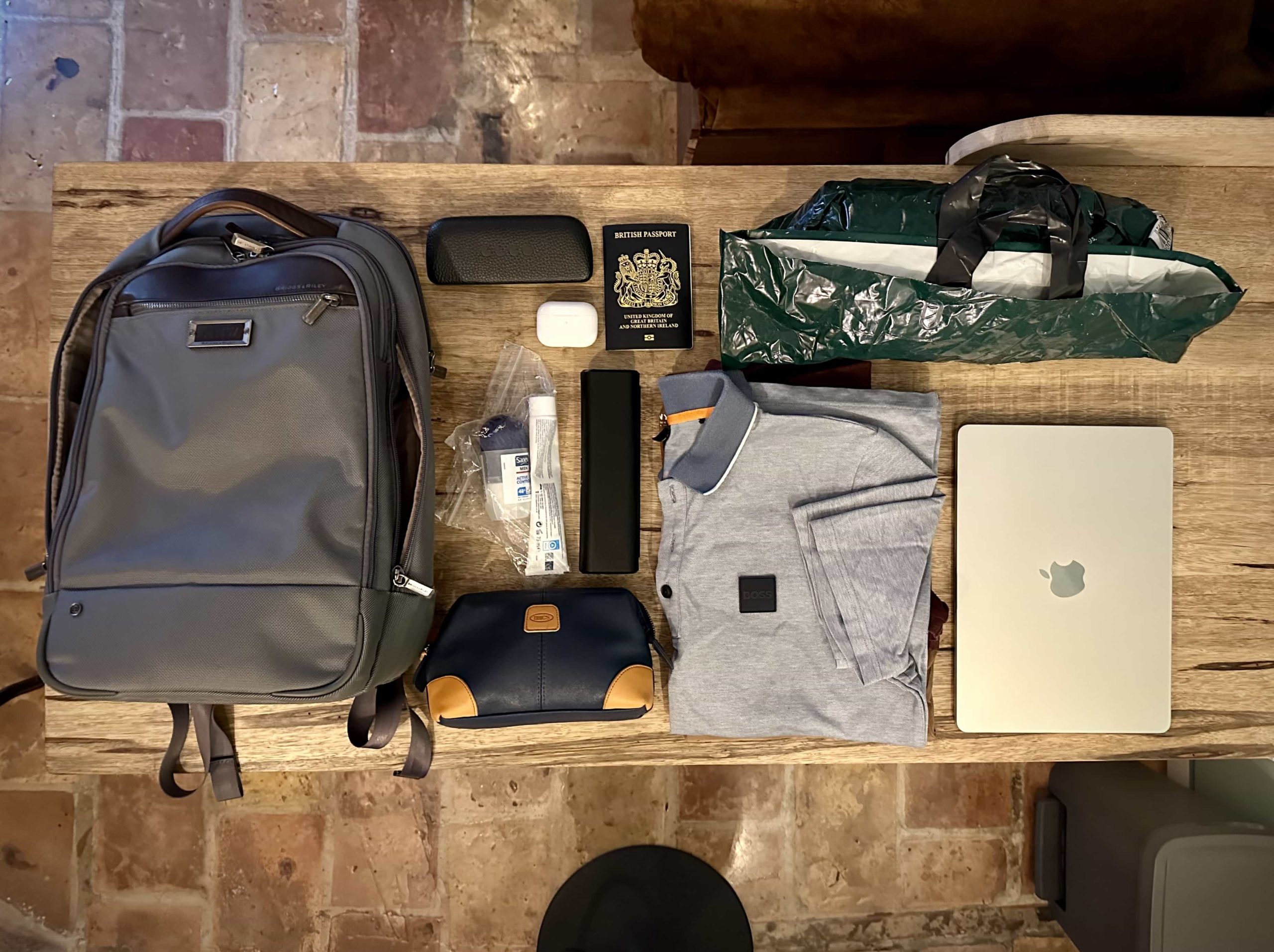 One less obvious perk, is that with such a regimented packing routine, it's rare that I forget items, and there's also less things to lose.
What I particularly like about the system I've described, is that the end result is a bag which isn't so full that it bulges, it isn't uncomfortable on the shoulders, and isn't difficult to zip closed. As I mentioned, I've used this on trips up to 5 days in length, but you could stretch it indefinitely, if you're willing to do laundry while you're away.
Of course, you don't need to follow my system exactly. You could, for instance, go slightly bigger on the backpack front, but you'll be getting into risky territory with baggage allowances — not to mention the extra weight. Any extra weight becomes a nuisance once you're checked out of a hotel, and find yourself exploring a city before heading to the airport.
Hopefully you'll have picked up some helpful tips and tricks. Check the baggage allowance, be ruthless, and have a great trip!