Edinburgh Airport has a slightly dizzying array of parking options for what is a relatively small airport. From FastPark to Multi-Storey, Mid Stay to Long Stay, official to unofficial… the list goes on, not to mention multiple pick-up and drop-off options.
Personally, I'm a fan, because there are plenty of options to suit different needs, but it can be difficult to navigate if you don't frequent the airport. Moreover, the parking setup has undergone significant changes over the years; new facilities have been added, existing setups enhanced with new conveniences, parking lots relocated etc.
I can't provide a definitive answer as to which parking option you should choose, because prices fluctuate, and individual needs vary, but I'll give you a rundown of the options to help you make an informed decision. I'll also detail my experiences where applicable, and explain where I feel the most value can be found.
I'll start with the most expensive (FastPark), and work my way down to the cheapest (Plane Parking), before briefing touching on the off-site options.
Tips and tricks
Always pre-book. If you show up without a reservation, you're really going to pay upon exiting. We're talking almost 10x the online price in some cases.
Try to book at least a week or two in advance. You'll get the best prices this way vs. booking last minute.
Make sure to explore all the available options. Sometimes, the more premium lots are available for the same price or even less than the cheaper ones, depending on demand.
Maps
Check out the maps on the Edinburgh Airport website for an overview of where individual lots are located.
Pick-up / drop-off
Edinburgh Airport has both charged and free pick-up/drop-off facilities. As you'd expect, the charged facilities are positioned much closer to the terminal building — located in the multi-storey carpark, just across the road.
Charged pick-up / drop-off
The charged pick-up and drop-off facilities were redeveloped in 2023 as part of a project to significantly increase their capacity. These facilities now make up the entire ground floor of the multi-storey carpark, comprised of four lanes each with parking bays on either side.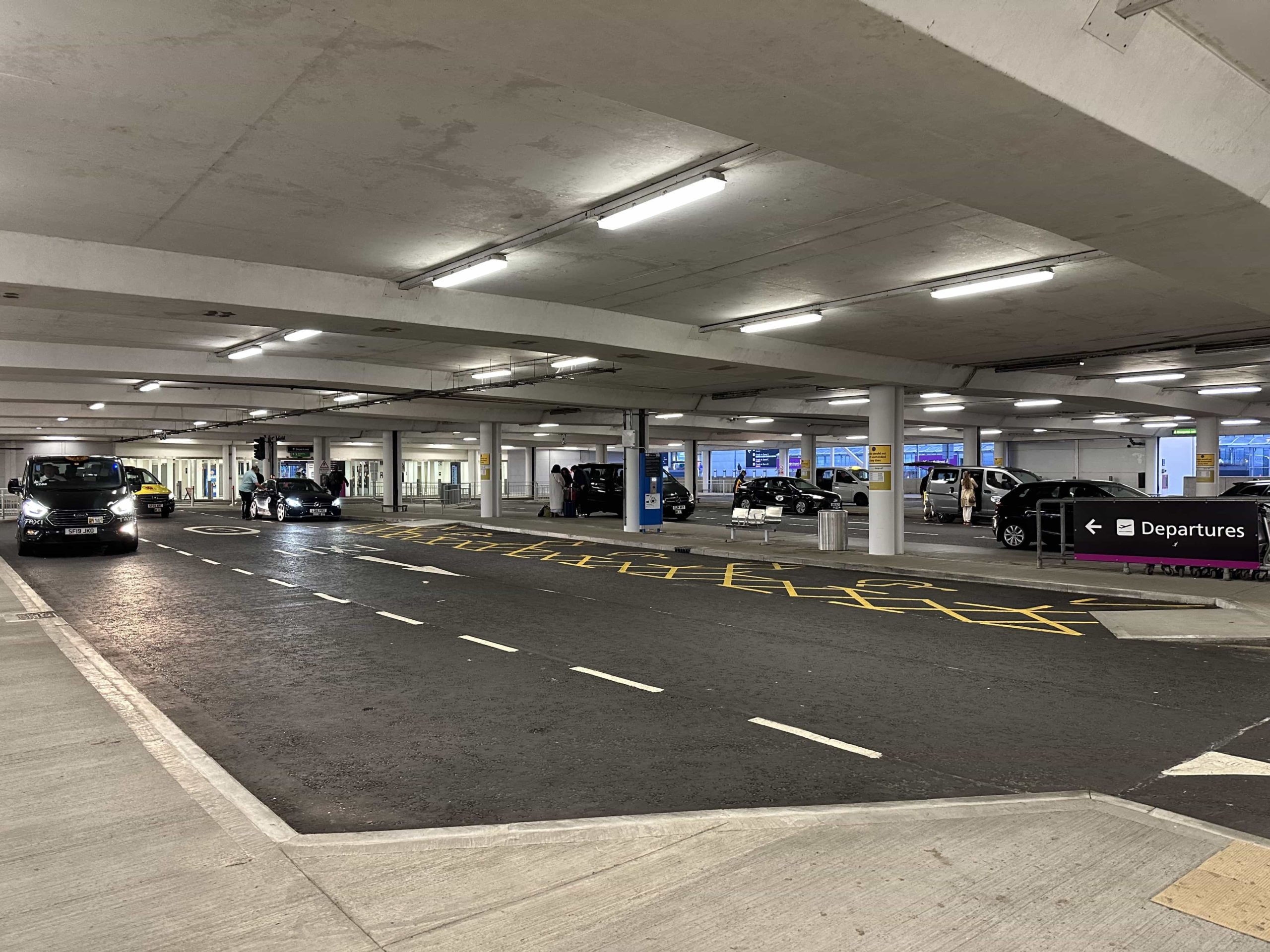 To get there, follow the signs for "Charged pick up" and "Charged drop off" as soon as you enter the airport campus, all the way to the multi-storey entrance. You'll pay £4 if you're in and out within 10 minutes, which is plenty of time to drop someone off and make payment at the exit barrier.
Read more about charged pick-up
Read more about charged drop-off
Free pick-up / drop-off
If you're happy to walk a little, there's a free pick-up/drop-off zone in the Long Stay car park. Drivers can stop there for up to 30 minutes, free of charge. This is what I'd recommend if your passenger is familiar with Edinburgh Airport, but if you're picking someone up who's never been, the paid zone is definitely easier to locate for a newcomer.
Read more about free pick-up/drop-off
Valet parking
FastPark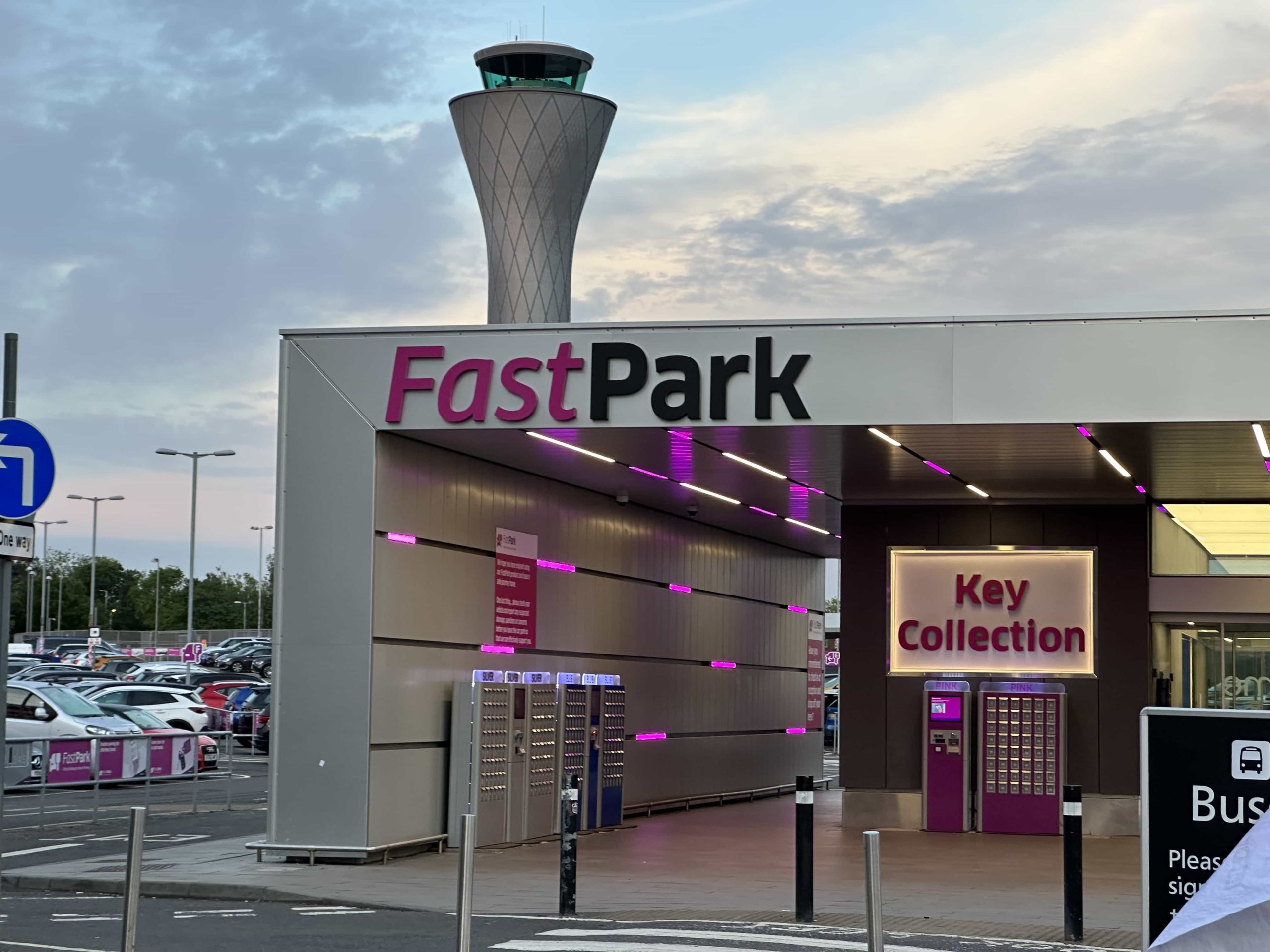 FastPark is a valet service. Located just across the road from check-in and departures, it's intended to be the airport's most convenient parking option.
Whether that's the reality, I'm not convinced on. The process is as follows:
Drive into a photo booth
Park in a designated lane
Walk to the FastPark reception
Check your vehicle in
Attach a ticket to your keyring
Drop your key in a chute
…and finally, head to the terminal.
Don't get me wrong, you can breeze through this process, but it somewhat nullifies the time savings you otherwise get from being so close to the airport. Just next door is Terminal Parking and Multi-Storey Parking — both of which I'll detail in a second — where you simply drive in, park, and head to departures.
FastPark is also let down by the way the staff handle the cars. I had previously used this service a few years ago and was disappointed to find that the settings on the infotainment system had been altered, and more concerning, the odometer displayed an unusually high reading. As a result, I made a personal decision never to use this service again.
Furthermore, the compound where the cars are taken to is located adjacent to the lot where I usually park (Plane Parking), and I have frequently noticed the employees driving the cars at excessive speeds. This behaviour became evident from the loud revving of the engines.
Based on these reasons, I struggle to recommend this option, however it seems others have used this service without issue, so you'll need to use your own judgement.
Self-parking
All the self-parking lots have a similar system. You can either:
Pre-book (recommended)
If you've made a reservation online, you collect a ticket from the machine upon entry, and the ANPR (Automatic Number Plate Recognition) system will recognise that you've prepaid when you insert the same ticket upon exit.
Pay upon exit
If you don't have a reservation, you can pay by card at the barrier upon exit. Alternatively, you can pay in cash using the ticket machines before leaving. Remember, prices will be extortionate this way.
Multi-Storey Parking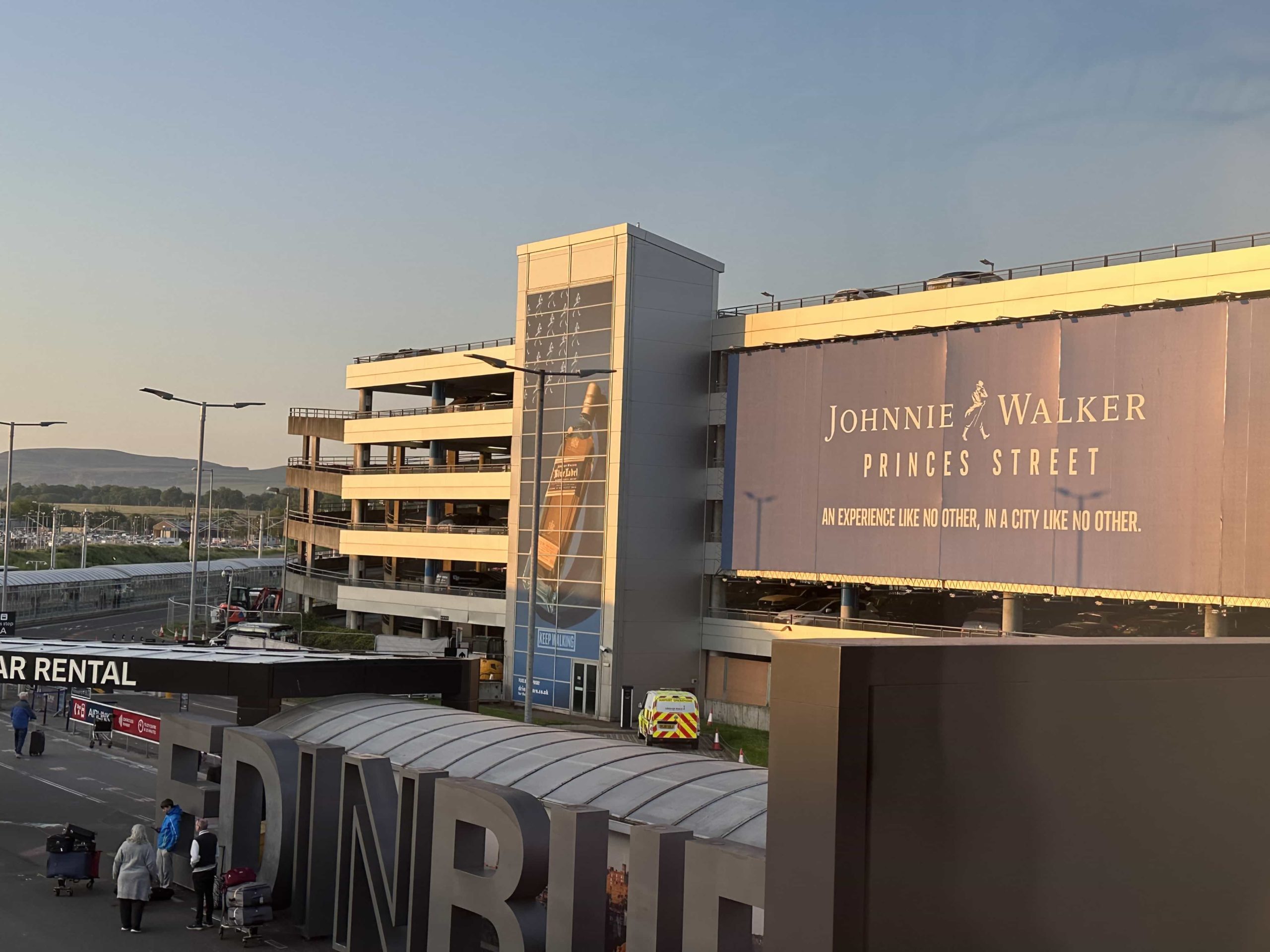 If cost isn't a concern, or if you're travelling for business, this is the one to go for. It's just across the road from the terminal building, and while it's been a few years since I've used it, I can definitely vouch for the convenience. There's even a bridge directly to the fastTRACK lane in the security hall, so it's not unrealistic to say that it's possible to get from your car to the gate in under 10 minutes.
In fact, fastTRACK passes are included for up to five people. So if you've got passengers, and want to bypass the queue, this becomes very good value for short trips. Over the summer months, fastTRACK is likely to save you 10-15 minutes, but over the winter you can usually breeze through security without delay — so it's not always that valuable.
Multi-Storey is only marginally cheaper than FastPark, but personally I'd opt to park here even if they were the same price, for the peace of mind of being responsible for my own vehicle, and also for the more convenient location and amenities. It's also nice to be completely protected from the elements in the winter months.
Read more about Multi-Storey Parking
Terminal Parking
In terms of convenience, this one is a close second to Multi-Storey. It's located just next-door, still within the perimeter of the Jubilee ring road, so even at the furthest spaces, you're no more than 250 meters (4 minutes) from the terminal. It's also the easiest to access, located just off the second roundabout you come to on Eastfield Road — so if you're a fast walker, you could possibly get to the terminal building quicker from here, than from any of the other lots.
It doesn't have the same amenities as the Multi-Storey — namely, no fastTRACK passes or direct access to the security hall — but it's otherwise a very compelling option.
Read more about Terminal Parking
Mid Stay
Mid Stay is the most premium of three car parks which are located slightly out of the way of the airport. Personally, I think it's the hardest one to justify since it's priced in an awkward middle ground between Terminal Parking and Long Stay.
It's approximately 400 meters (6 minutes) from the middle of the lot to the terminal building, but you're approaching the building from the wrong side for departures. So once you get there, you've still got further to walk.
I'm fine with the distance, but the reason I don't see the value in it, is because it tends to only be slightly cheaper than Terminal Parking, but significantly more than Long Stay. Sometimes you'll pay around 40% more than for Long Stay, only to reduce your walk by a few minutes.
If you're willing to pay these kinds of prices, you'd be better off with Terminal Parking, which is significantly closer, and only slightly more.
Long Stay
Long Stay is the airport's biggest lot, and is the cheapest of the walkable options. It adjoins the Mid Stay lot, separated by fencing with openings which allow you to walk to the terminal. The walking route isn't well signposted, which can be challenging if you're unfamiliar with the airport layout, but you can't go too far wrong if you just walk towards the terminal building.
Admittedly, it's quite far off, at around 550 meters (8 minutes) from the middle of the carpark. But if you don't mind walking, it's absolutely fine unless the weather isn't on your side. Then it becomes slightly tedious, because it's not covered until you reach the taxi rank, but it's worth putting up with to save a decent chunk of cash. That is, unless you've got lots of luggage, in which case you'd be better off with the next option we'll look at: Plane Parking.
Plane Parking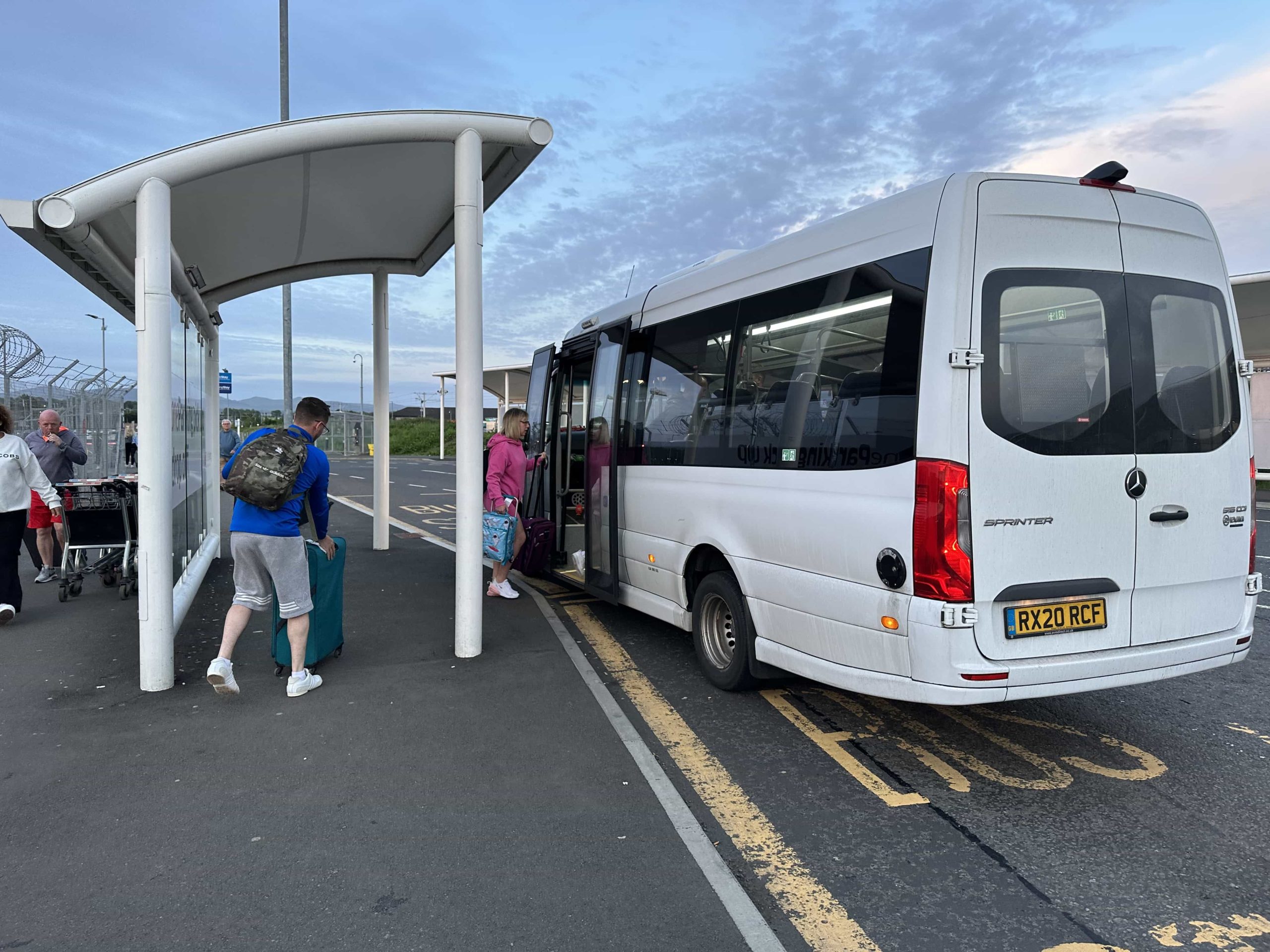 Plane Parking is the cheapest option at Edinburgh Airport. If you're a regular reader of this site, you won't be surprised to hear that this makes it my preferred place to park.
This lot is located south east of the airport, a couple of kilometres from the terminal. As you drive there, you'll question whether you're going the right way, because although the signage is clear, it's quite off the beaten path. This may sound incredibly inconvenient, but I'd argue in fact that it's probably more convenient than Long Stay, because there's a free shuttle bus which runs between the lot and the airport's taxi rank.
Edinburgh Airport quote busses every 12 minutes, but in my experience, they run two buses during the busier periods, so I've never had to wait more than 5 minutes or so. Additionally, if you park near one of the two bus stops, you can even wait in your car until the buses arrive. Once you exit the bus at the taxi rank, it's a 200-meter (3-minute) walk to the terminal building.
Plane Parking is typically closed over the winter period (from November), but in my experience, you can still book it, and you'll receive a complimentary upgrade to Long Stay.
How to book
Typically it's best to book directly through Edinburgh Airport's website, as you can usually get 10% by signing up for their mailing list. I've found that the discount link they send can sometimes be used multiple times, although not indefinitely. Mine stopped working at the end of last year.
Don't confuse this site with Plane Parking itself; 'Plane Parking' is just the name of the site. They advertise all of the different parking options at Edinburgh Airport.
I'm not entirely sure who runs this site, as it's basically identical to the main Edinburgh Airport parking site. I'm highlighting it though, because they occasionally run exclusive discounts. For example, over the winter period, they were offering 10% off as part of a "Winter Sale", which I used numerous times.
Unofficial parking
There are a handful of third-party parking providers at Edinburgh Airport, which all run shuttle busses.
I haven't tried all of them, but I can recommend NCP Edinburgh Scotpark. It often costs about the same as Edinburgh Airport's Plane Parking, but is less out of the way, located just off Eastfield Road. As it's a small lot, you never have to walk far from your vehicle to the shuttle bus.
That same shuttle bus also serves PremiAir, which is located next door to NCP. Although it also shuttles guests of the DoubleTree by Hilton, the overall journey time to the terminal coach park is still reasonable, and the buses run every 15 minutes.
Other options include Secure Airparks, which gets very good reviews, as well as Low Cost (Flying Scot). Exercise caution with that last option, because it's located about 4km away from the airport. Even if it works out cheaper, it's probably not worth the hassle of potential delays.
Conclusion
So there you have it, a comprehensive list of parking options at Edinburgh Airport. We have explored various choices to cater to different needs, including pick-ups, drop-offs, and long-term parking.
Based on my personal experience, I highly recommend Plane Parking as the preferred option. If you're comfortable with a short 200-meter (3-minute) walk from the shuttle bus drop-off to the terminal building, Plane Parking offers an excellent convenience-to-price ratio. As a frequent traveler, I consistently find this option to be reliable and cost-effective.
However, if you are traveling with heavy baggage or individuals with limited mobility, it's worth considering the premium alternatives. Multi-Storey Parking and Terminal Parking emerge as standout choices, offering good value if proximity to the terminal is a priority for you. As a result of the experiences I've had, FastPark isn't for me, but it's otherwise a well-executed service, and is similarly convenient.
Now that you have an overview of the options, I encourage you to take a look at the current prices and weigh up the factors that are important to you.
Safe travels!