Okay, so you're planning an upcoming trip and you come across an Airbnb listing with no reviews. Normally, you'd keep scrolling, but this property looks particularly enticing — you know it's risky, but you're still tempted.
The sensible part of your brain reminds you that no reviews, means no credibility. What if the host is unprofessional, the accommodation doesn't match the listing, or even, that the whole thing is a scam, and the property doesn't exist at all? I know the feeling; some listings just seem too good to pass up.
So is it worth taking the risk and potentially impacting your trip? Well it might be, because these listings can often be had at a discount, so you might snatch a deal. And the good news is that there are ways you can minimise the risk.
In this article, we'll explore some ways you can make a calculated decision to help ensure a comfortable and enjoyable stay.
Why might an Airbnb have no reviews?
The first question you might be asking yourself is: "Why doesn't it have any reviews?"
Usually, it's simply a case of being a new listing that nobody has taken a chance on yet. All hosts have to start somewhere, and there were 900,000 new Airbnb listings in 2022. New properties are added every day, so coming across one without reviews isn't uncommon.
What are the risks?
At the lower end of the scale, there is the chance of having a disappointing stay. It's possible that the experience may not match the advertised description, the property may not be up to scratch, or that the inexperienced host may fail to provide a high standard of hospitality.
There is also the concern of safety, both in terms of the host's character, and also the location and security of the property. These are factors that can usually only be assessed by looking at reviews.
In the worst-case scenario, you could discover that the property doesn't exist at all. However, even in such situations, apart from the inconvenience of finding alternative accommodation, the overall risk to you is relatively low due to Airbnb's protective measures that address these eventualities.
Chances are, it'll probably be fine, but it's always good to be cautious.
Does Airbnb verify whether a listing is accurate?
No, what is written and depicted is solely the responsibility of the host. Airbnb relies on the review system to identify and address inaccurate listings.
It's a system that works very well; personally I think Airbnb does a stellar job of keeping scammers off their platform, especially when you consider how many scams plague sites like Amazon and eBay. Similarly, when it comes to legitimate listings, I find that their ratings tend to accurately reflect the quality of stay that you'll ultimately get.
But of course, it's when there are no reviews, that you need to employ your own judgement.
Does Airbnb verify a host's identity?
The verification process conducted by Airbnb varies based on regional regulations. Typically, hosts are required to provide their full legal name, home address, and date of birth. In certain locations, additional measures are also implemented, such as submitting identification documents. Airbnb indicate when a host has provided these details, on their profile.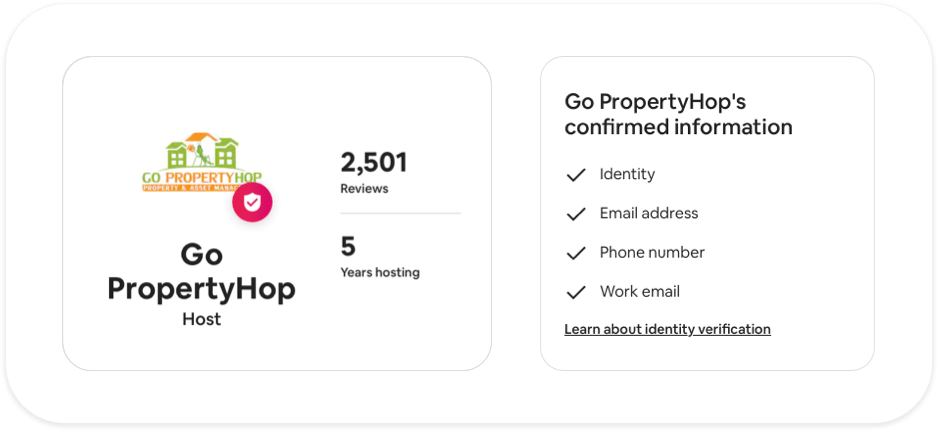 While these steps go a long way to protecting guests, it's important to note that identify verification doesn't guarantee that a person is who they say they are. Similarly, although Airbnb also perform background checks in certain countries, this isn't a guarantee that a host is trustworthy.
Spotting red flags in a listing
In general, it's important to consider three key characteristics when evaluating a listing:
Detail: Is there a lack of specific information in the listing?
Personality: Do you get a sense that there's a genuine person (or company) behind the listing?
Consistency: Are there any inconsistencies between what's written and what's shown?
Now, let's explore specific details you can assess for these characteristics. It's time to channel your inner FBI detective.
Price
Let's start with the price. Hosts often discount their listings when they're just getting started, in order to get some reviews on the board and build credibility. This makes sense, but be wary if the price seems too low compared to similar listings.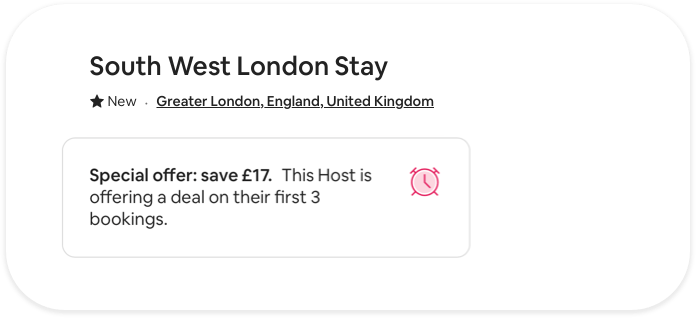 Description
The best hosts put a lot of care into the descriptions they write, and legitimate listings usually describe quite specific details, in order to set expectations. For example: areas of the property you have access to, who you'll be staying with (in the case of private rooms), provided amenities, and any relevant considerations about the location (such as transportation, local amenities, or road noise).
Illegitimate listings are typically missing this information since it's difficult to describe something which doesn't exist. Not impossible of course, but Airbnb scammers are surprisingly lazy, and it's easier for them to be caught out if they try.
If they have included a description, check that it aligns with other points of reference. Look at the images to see if the amenities they describe are present. If they've described the property as having an incredible view, you'd certainly expect them to showcase it. This is even more true for amenities like outdoor space, pools/hot tubs, games rooms, etc. If they describe the location and surroundings, check how this compares with what you see on maps.
Images
We've all been there — finding a property listing that appears absolutely stunning in photos, only to be disappointed when the reality doesn't live up to expectations. This is a common experience, whether we're browsing houses with real estate agents or exploring Airbnb listings.
Unfortunately, there's not much you can do beyond having an eagle eye for details. Of course, there are obvious red flags like clutter, but things like wear and tear and overall cleanliness can easily be disguised with clever lighting and editing, which isn't always easy to detect.
Also be mindful of what isn't included in the images. If they aren't showing the exterior, for example, it might indicate that the surroundings are undesirable. A common issue with listings for private rooms is discovering that the bathroom facilities are shared with other guests, which some hosts aren't up-front about.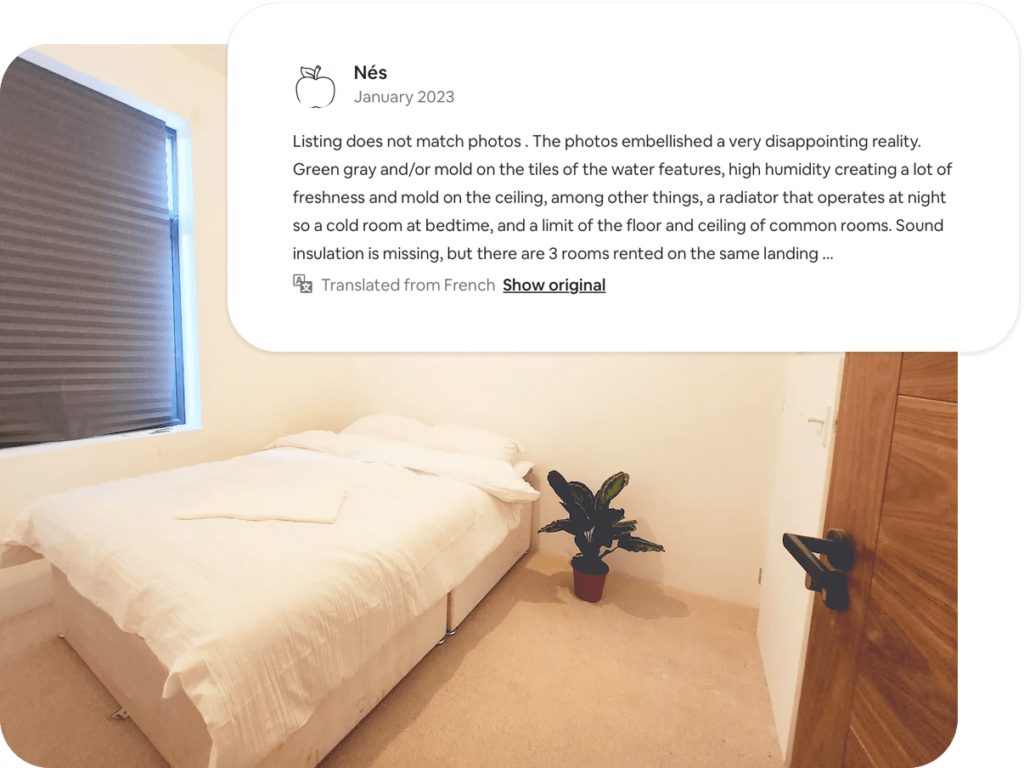 However, when it comes to scammers, manipulating images is more challenging. While they can pull random property photos from the internet, creating a cohesive set of images is harder to accomplish. If a listing only has one or two images, that's a definite red flag.
Even for private rooms, you should be able to see multiple angles of the space. Similarly, you can sometimes identify continuity errors between adjoining rooms or spot inconsistencies between the interior and exterior images of the property. If you can't confirm at least a few of the images are from the same property, exercise caution.
If you're familiar with the location, there can sometimes be other clues. For example, what can you see out of the window? Does it match what you'd expect? Another thing you can do is perform a reverse image search to see whether they are taken from somewhere else online.
Profile image
Unless it's a company, I avoid hosts with no profile image, an image where their face is obscured, or an image of something unrelated. Some hosts may just be concerned about privacy, but personally, I think it's an important factor in building trust and, in this case, reassurance. While a profile image doesn't guarantee legitimacy, it is one of the indicators that a host takes their listing seriously.
Even if a host does have a profile image, remain cautious. If you're particularly suspicious, you can again put the image into Google to see if it's taken from elsewhere. It's a good sign if there are no results because hosts often use a different profile image on Airbnb than for their other online profiles. If you do find results, you can check the source and see whether there are any details on there to match against their profile on Airbnb.
Personal details
Hosts can optionally add personal details to their profile, such as the languages they speak, their occupation, education, and interests. This helps guests get to know them better and build a connection.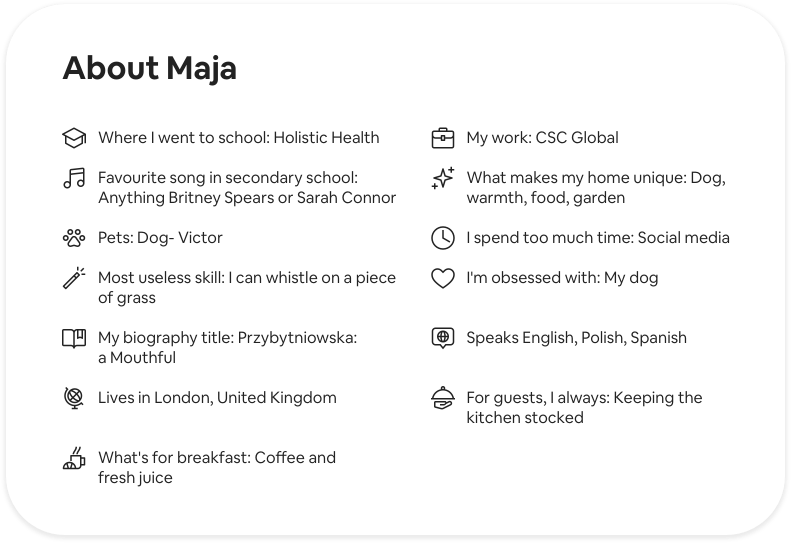 If the overall listing appears genuine, the absence of these additional personal details isn't a cause for major concern. I've had positive experiences with hosts who didn't include these details. However, some guests like to get to know their host, so it's worth noting that the absence of these details might indicate a host's lack of interest in engaging with guests.
For scammers, it's easier to avoid blowing their cover if they simply avoid these details altogether. But if they have included them, sometimes you can cross-reference these details online — particularly details like occupation. It can feel a bit stalker-ish, but hey, needs must.
Reviews from other hosts
Checking whether a host has stayed at other Airbnbs and received reviews from other hosts can be an insightful strategy for verifying their legitimacy and character. When hosts themselves have been guests, it demonstrates their involvement within the Airbnb community and signifies a level of trustworthiness.
Of course, it isn't a sure-fire way to guarantee their abilities as a host, but it does provide insight into their character — whether they're professional, reliable, considerate, etc. Most importantly, it also confirms that they are genuine.
Other listings
If the host in question has other listings with good reviews, you can proceed with confidence. Positive reviews of the host's other listings not only confirm the host's legitimacy but also provide valuable insights into their hosting style, attention to detail, and overall quality of hospitality.

Of all the factors I've mentioned, this is probably the strongest indicator that you're good to go.
What can you do if you're still unsure?
Check the cancellation policy
Hosts have the autonomy to select their preferred cancellation policy. The presence of a cancellation policy itself indicates a level of trustworthiness, as scammers are unlikely to offer such an option. If a scammer is offering a opt-out opportunity, they're probably in the wrong line of work.
Moreover, having the option to cancel grants you extra flexibility and a window of time to consider your choices. You can continue to look at other options without feeling rushed or pressured to make a decision.
Take a look at the booking page
Hosts have the option to request additional information about you on the booking page, before you can confirm your reservation. This is most common on listings for private rooms, and typically includes details like the purpose of your travel, and a brief introduction.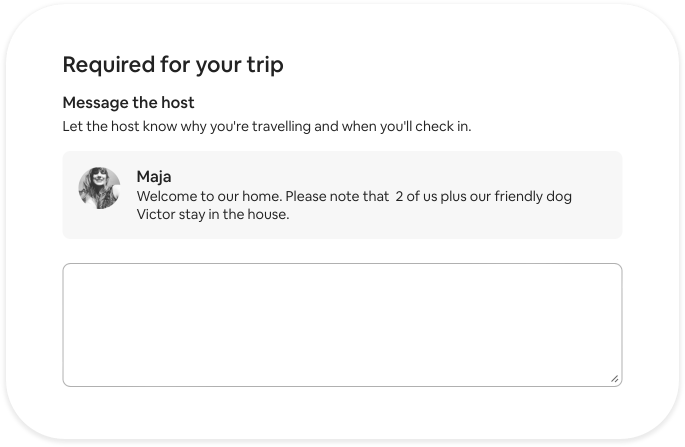 It's reassuring because it's evidence of the host acting in the interest of their own safety and protection, to ensure your legitimacy — again, something which is not the concern of a scammer.
Message the host
If you still have doubts or concerns, reaching out to the host directly before booking can provide reassurance. You can ask them for additional details about the accommodation or even request some extra photos.
Just start a conversation, politely ask why there are no reviews, and explain your concerns. You'll quickly get a better sense of things, and chances are, they'll have a good explanation to put your mind at ease. This will also help you determine whether they are communicative.
If it doesn't feel right at this point, it's probably time to look elsewhere.
See what happens after you book
If you've decided to book, don't let your guard down quite yet. Pay attention to the host's communication. A reliable host will prioritise timely communication and address any questions or concerns you may have.

If a host insists on using alternative communication channels without a reasonable explanation, especially regarding payment-related matters, this is a particular cause for concern. It's important to conduct almost all communication with the host through Airbnb so that you're protected by their policies.
If you're still skeptical, consider these points
Does the host live there?
This may seem paranoid, but I'd be more hesitant to stay somewhere with no reviews if it's a private room in a property where the host lives. It's less of a concern if there's a separate entrance, but I'd rather not sleep in the room next-door to a crazy person.
Some people might see it the other way. If the host lives there, they can't hide away from issues and shirk responsibility. Assuming they have integrity, it's easier for them to make things right if something isn't up to par.
How long are you staying?
If your trip is very short — particularly just an overnight trip — consider the worst-case scenario of needing to find alternative accommodation and whether you want the hassle of that, especially when you may be able to find a more credible option by spending just a little more.
If your trip is a few days long, assuming the property isn't completely uninhabitable, you can probably tough it out. And if the worst comes to the worst, it's less disruptive to your entire trip if you need to find alternative accommodation.
But if you have an extended trip, consider whether it's worth the potential complexity of finding another property that can accommodate you for the required duration, along with the costs involved in rebooking last-minute. And if you decide to stick with it, consider whether you want to stay somewhere unsatisfactory for that duration.
Who are you travelling with?
I don't mind a bit of jeopardy and chaos when it comes to travel. Others find this be bewildering and probably quite annoying. Therefore, consider who you're traveling with and whether any mishaps would inconvenience them more than they would inconvenience you. Also, remember that it will be more complicated and expensive to rebook if you're traveling with a large group.
Take extra precautions if you're traveling with children or vulnerable individuals and considering listings for shared properties. It's important to consider the dynamics of sharing common areas with the host or other guests, which can be difficult to assess when there are no reviews.
Are you familiar with the location?
If you're travelling somewhere you know well, you can book with slightly more confidence, knowing that if something goes wrong and you need to find alternative accommodation, you'll be able to navigate the situation with some confidence about prices, demand, locations, transportation etc.
Conversely, if you're traveling to a new destination, especially abroad, it can be stressful to have to reorganise your plans at the last minute. There may be exceptionally high demand for hotels, uncertainties about specific neighborhoods, or unexpected disruptions like train strikes — ahem, London.
What time will you arrive?
The aforementioned challenges can be exacerbated late at night. Not only can stress and fatigue make the situation more challenging, but transportation may not be running. Safety may also be a concern, particularly as it becomes darker and more difficult to assess neighbourhoods.
Booking another Airbnb could be out of the question if hosts don't have enough notice or time to respond. Somewhere like London, you're in trouble if you need somewhere last minute. Demand is high, prices are high, and options are limited, particularly over the summer months. You may find yourself having to book into a hotel, which is going to cost you a significant amount more.
Conclusion
"If something seems too good to be true, it probably is" is especially true in this instance. It's remarkably easy to spot a dodgy listing once you know the signs.
Scams happen, but they're rare. So while you should be wise to them, I'd be more concerned about the standard of stay you're going to have. Sometimes if you're booking last minute and stressed, it can be tempting just to hope for the best, but usually you can find somewhere more reassuring for just a little bit more money.
Don't dismiss anything outright, but be skeptical and hold listings with no reviews to a higher standard when it comes to descriptions, images, and details. A lackluster listing speaks volumes about the host's attention to detail, even if it's otherwise genuine.
Ultimately, just trust your gut. If it doesn't feel right, don't risk it. And once your trip is over, leave a review! You'll be doing both the host and future guests a favour.