In planning a recent trip to Vienna, I went through my usual checklist of travel booking sites to find somewhere to stay. Originally, I'd booked a fairly unremarkable, but good-value hotel, until I remembered that I'd forgotten to check Airbnb.
Now, Airbnb isn't often a source of accommodation for me, as I gravitate towards hotels. On this occasion though, it handed me a gem. There, on the first page of results, was what appeared to be the 5-star Grand Ferdinand hotel, for a bargain price.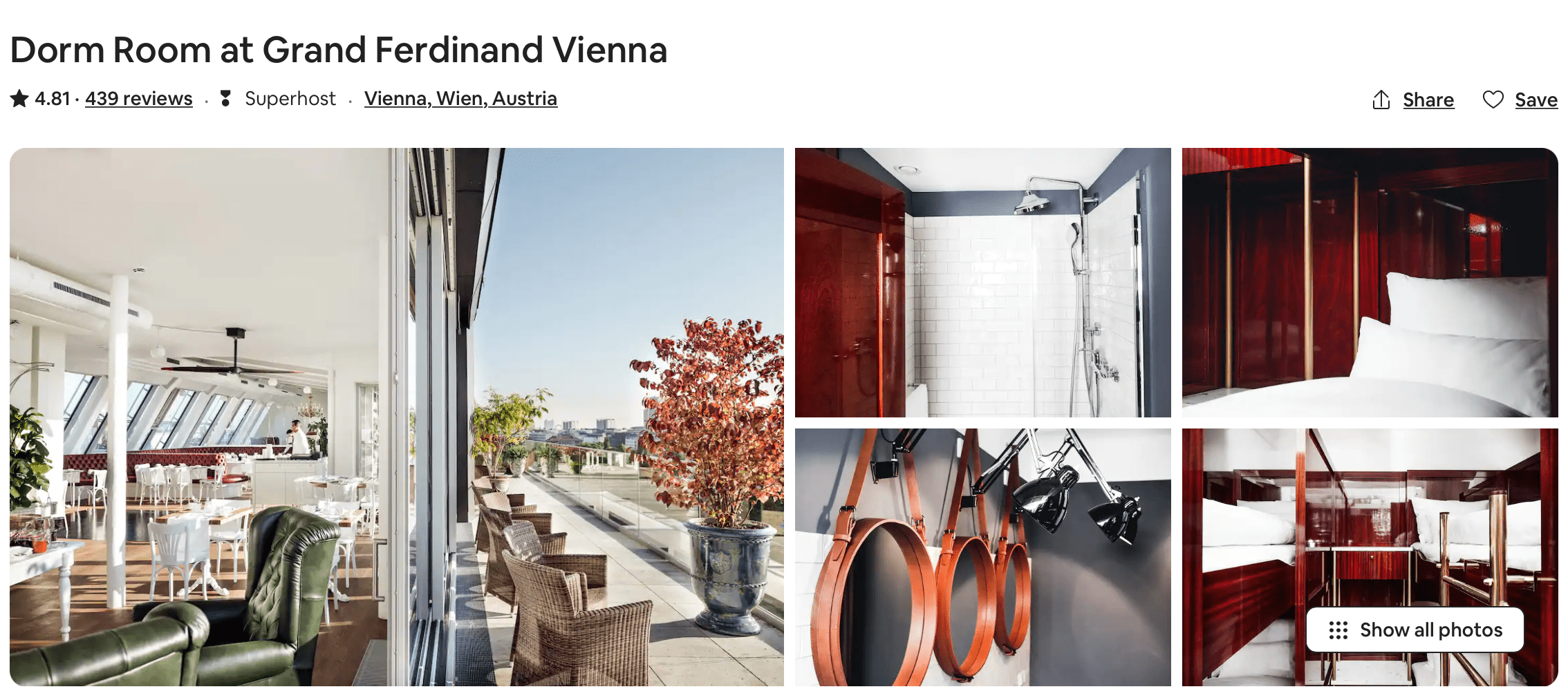 My first instinct was that it must be a scam, or come with some catch. But nonetheless, I checked the listing, and to my disbelief, it seemed there were dorm rooms in this 5-star hotel. Not only that, but they had excellent reviews.
I've gone through somewhat of a transition recently when it comes to my travel habits and preferences. In the past, I'd be all over the best rooms, in the top 5-star hotels. Now, I'm more interested in finding unique places to stay. This hotel seemed to be the best of both worlds, and I was intrigued to see if it could deliver.
Price and how to book
I paid £31 per night for two nights in late February, which seems to be the going rate for the dorm rooms. In my opinion, this is a remarkable price and it's got me questioning why they've even gone to the effort, when profit margins must be so low. To put this into context, breakfast at the hotel costs £33 per day.
Standard rooms at the Grand Ferdinand typically go for between £140 and £200, per night, at this time of the year. This is cheaper than the hotel's 5-star neighbours in The Ritz-Carlton and Hotel Imperial, which indicates that it's perhaps not the pinnacle of luxury. It's certainly up there though, and at £31 per night, I'm willing to grant a lot of wiggle room for a few shortcomings.
The reason I'd originally missed the Grand Ferdinand on hotel booking sites, is because they don't seem to advertise the dorm rooms, except on their own website and Airbnb. I can only assume this is by design, to preserve their upmarket image, but it's a tricky balance to strike as they risk missing potential clientele. Personally, I think they need to find additional places to market this product, such as Hostelworld, or maybe under a separate brand, alongside their main listing on Booking.com, Agoda, etc.
Despite this, they're clearly managing to find customers, because when I checked room rates for this review, I struggled to find availability before the late-August timeframe.
Location
As you'd expect, being across the road from the big name hotels, the Grand Ferdinand is located in the centre of Vienna, on the famous Ringstrasse boulevard. This puts it within walking distance of many of the city's top attractions, including the Vienna State Opera, the Hofburg Palace, and the Kunsthistorisches Museum.
I landed at Vienna International Airport around 11pm, and took the S7 train to Vienne-Midi station. This took around 20 minutes, and then another 15 minutes to walk to the hotel.
A slightly faster option, which involves less walking, is to take the City Airport Train (CAT), and then connect to the U4 subway train. This will save you about 5-10 minutes, but the CAT is significantly more expensive, and you still have to walk for 5 minutes anyway.
I liked the location, although I don't think you can go too far wrong anywhere in or around Ringstrasse, as most of the major attractions are located within the ring. That said, it's particularly convenient for getting to Schönbrunn Palace, as it's just a 5 minute walk to Stadtpark station, from which you can get a subway train directly.
Arrival and check-in
As check-in was one of the few instances where I'd be interacting with staff during my stay, I was curious to see whether I'd be treated any differently to customers in more premium rooms. I'm pleased to report that there was no snootiness or reluctance.
While nothing exceptional for a 5-star hotel, the receptionist was friendly and helpful, and in fact even offered bottles of water when I asked whether there were any shops still open — standard fare for a hotel of this class, but much appreciated in this context. Jumping ahead a bit here, but even more impressive was receiving chocolate as a gift at check-out.
Likewise, they had no issues finding my booking, despite the fact that I assume Airbnb bookings are handled by a separate system. Without prompt, they pulled it up, and the check in experience was no different to what I would have expected had I been a guest checking into a regular room.
The one and only difference, is my room key holder had an additional number on it (to indicate the bunk I'd be in), which the receptionist pointed out.
First impressions
Let's get what is one of only a few real criticisms out of the way, and that relates to the ground floor/lobby area. It's rather unimpressive as you walk in, and definitely doesn't scream '5-star hotel'.
I'd describe the look and feel as 'traditional Austrian'… or if I was feeling harsh, 'dated Austrian'. It has some charm to it, but it definitely feels in need of a refresh. I've been struggling to express exactly what about it feels 'off', but I think I've figured out that it's the juxtaposition of classy decor with cheap-looking plastic hanging vines, an exposed ceiling, and haphazard decor — exemplified by the horse in the reception.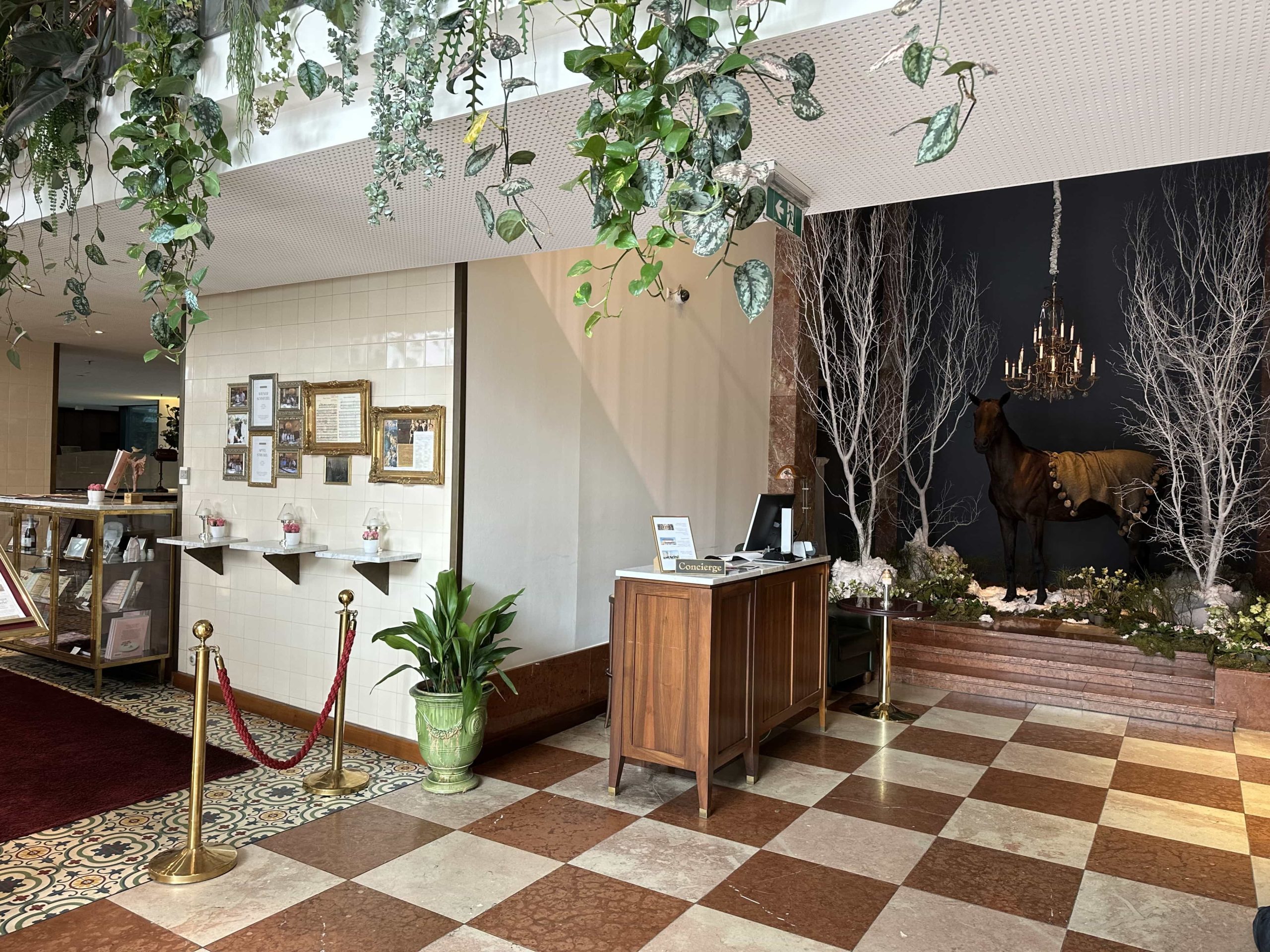 The building dates back to the 1950s and initially served as the headquarters for Veitscher Magnesitwerke, an Austrian magnesite mining company. It has some history therefore, but not nearly as much as the adjoining buildings do, which are also prettier than the rather monolithic Grand Ferdinand. I have to say, even before I read about the history of the building, I would have described the ground floor as feeling like an office in fancy clothes.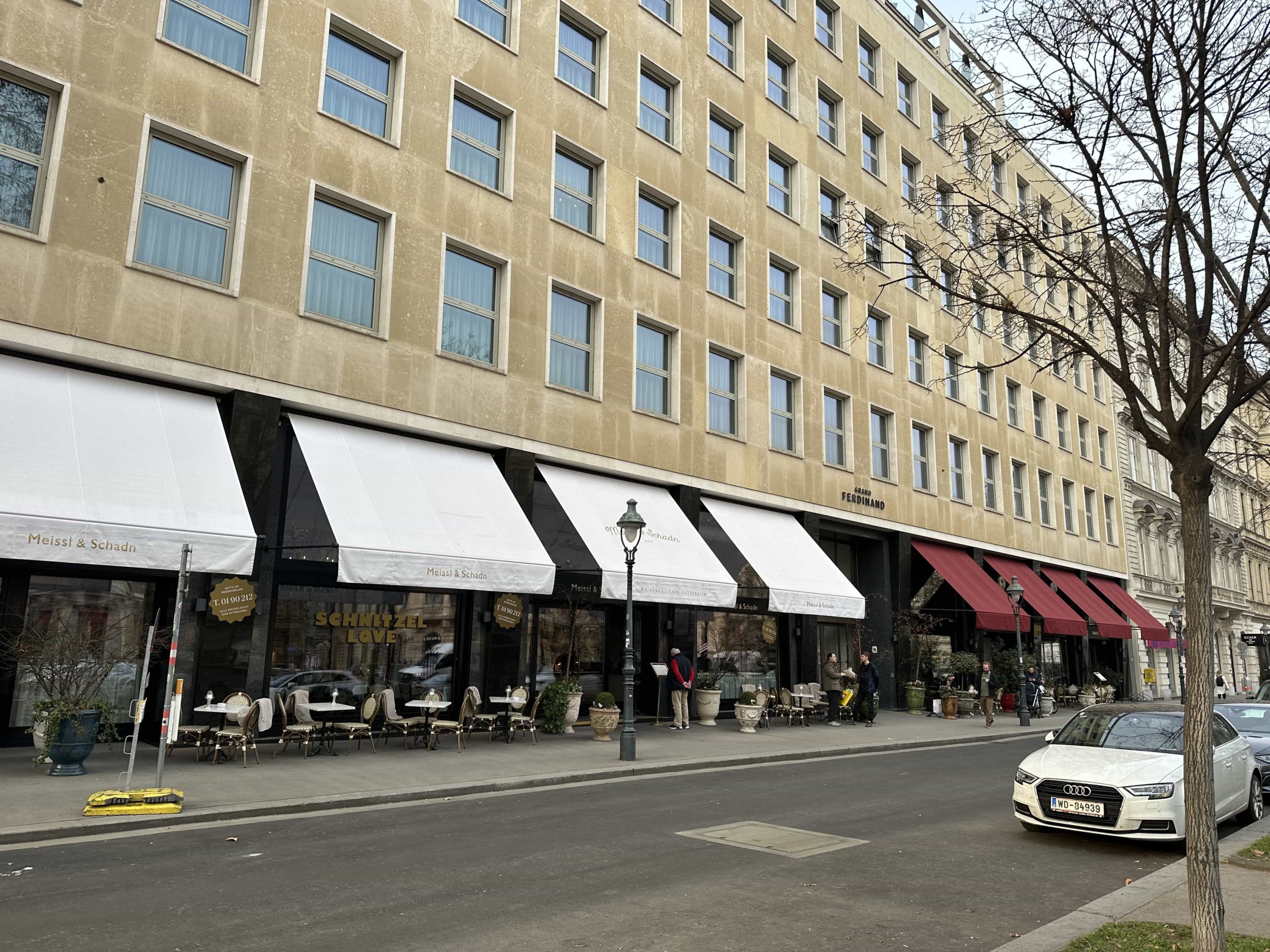 The layout is the biggest giveaway, as it's all very cramped and claustrophobic. I'd consider it more of a reception than a lobby, as there's nowhere to sit and relax — aside from a couple of armchairs right beside the reception desk. The rest of the ground floor is taken up by one of the hotel's three restaurants: Meissl & Schadn.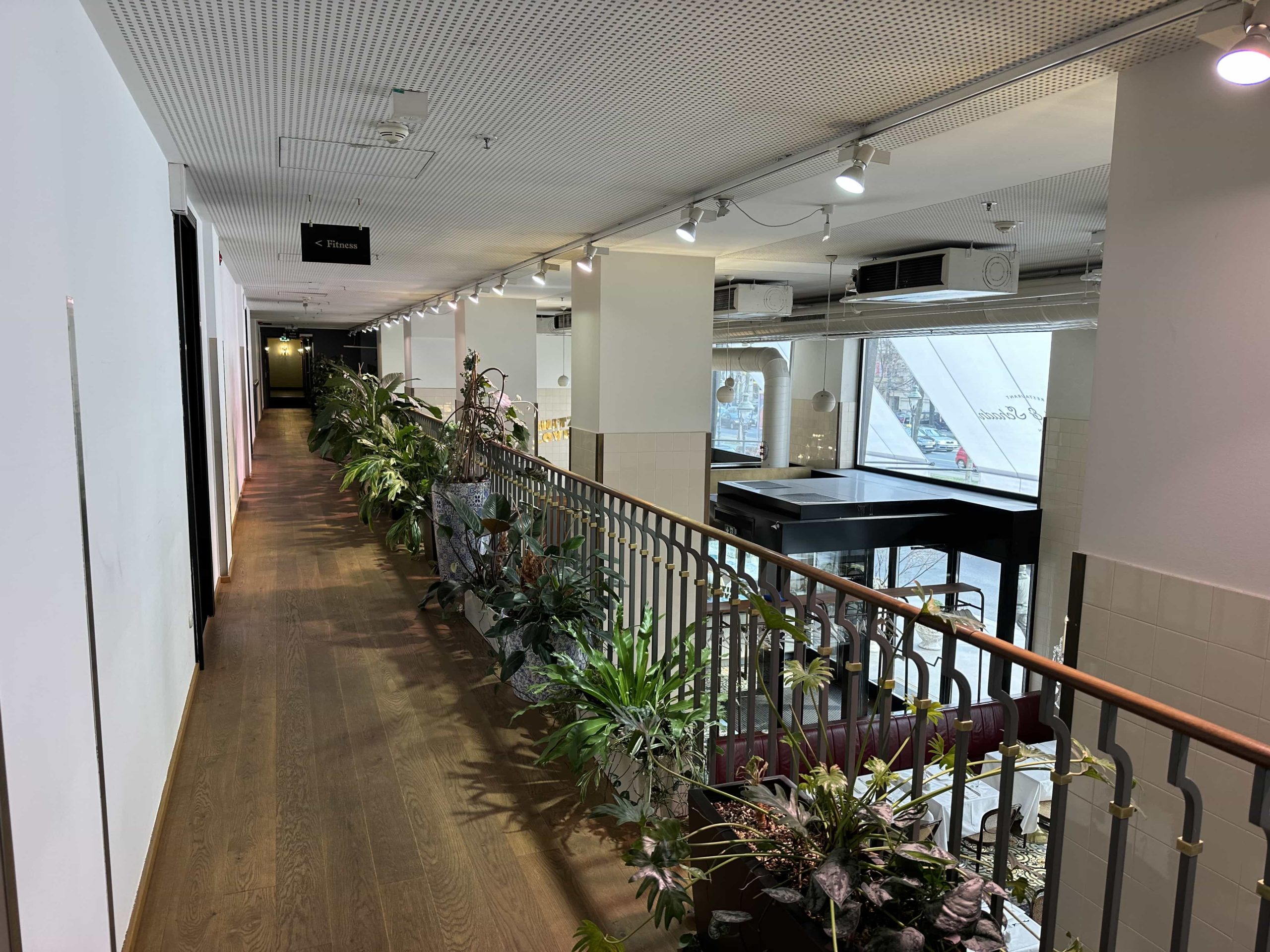 Looking at a satellite view of the building, it seems to be quite narrow, so I appreciate they must have limited options. However, opening up the space immediately as you walk in would make a big difference. In addition, the ground floor would benefit greatly from double-height ceilings all the way through.
Another issue I noticed right away is the fact that there are only two elevators in the lobby. On more than one occasion, I was waiting for a few minutes for an elevator to arrive. This could be forgiven if the stairs were a convenient option, but to get to them, you need to walk through the restaurant, to the far side of the ground floor, and through a door.
Again, in the context of £31 a night, take these comments with a massive grain of salt. If this were exclusively a hostel, I'd be singing it's praises.
Dorm room
I stayed in room 107, which was on the first floor.
First impressions of the room, were much better. Upon opening the door, I was greeted by a luxurious and moody ambiance, far removed from anything you'd expect to see in a hostel. I immediately noticed the beautiful parquet flooring, highlighted by accent lighting in the skirting boards, before glancing up and admiring the mahogany panelling which was almost mirror-like in its spotlessly clean appearance.
As you enter the room, you find yourself in the communal sink area, where there are three sinks, each with their own amenities, including mirror, trash can, and soaps, atop a marble countertop. Adjacent to this, are two doors at either side of a full-height mirror, which are the WCs.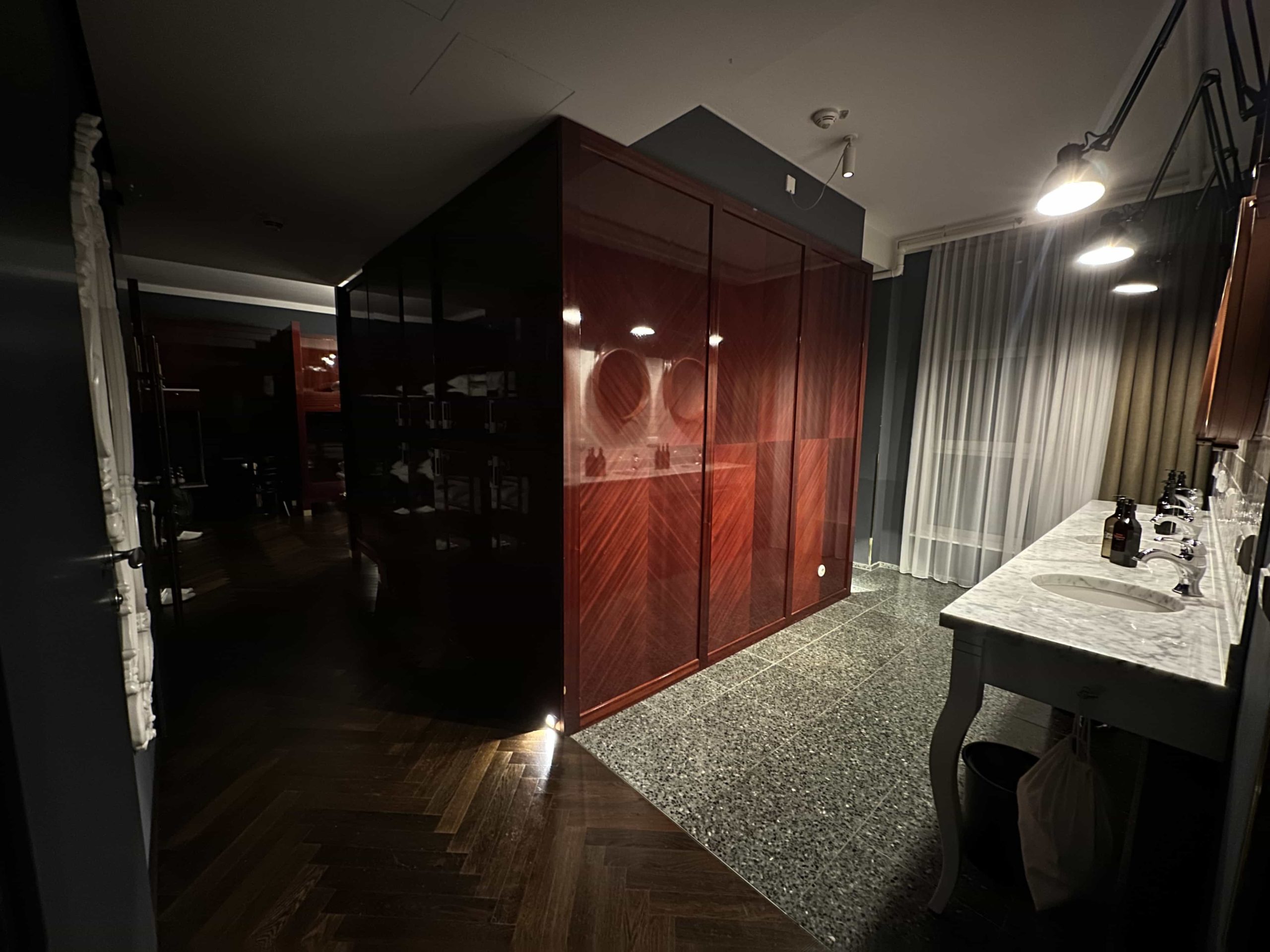 In the middle of the room, is a room-within-a-room, which is where you'll find the showers — of which there are two. The layout of this was a novelty in itself, and was akin to what you'd sometimes find in a nice hotel room suite.
As I walked through to the sleeping area, I noticed there was nobody else in any of the eight beds — bonus! Although, this was short-lived, as someone did arrive just as I was going to sleep around 1am. Fortunately, they were quiet and considerate, so this was no problem.
The images on the website give the impression that the beds are arranged in rows, however this room had beds along the four walls, facing inwards. This of course means there's limited privacy, which isn't helped by the lack of curtains on the beds. That said, it didn't bother me too much, as the room is large, so everyone has a decent amount of personal space.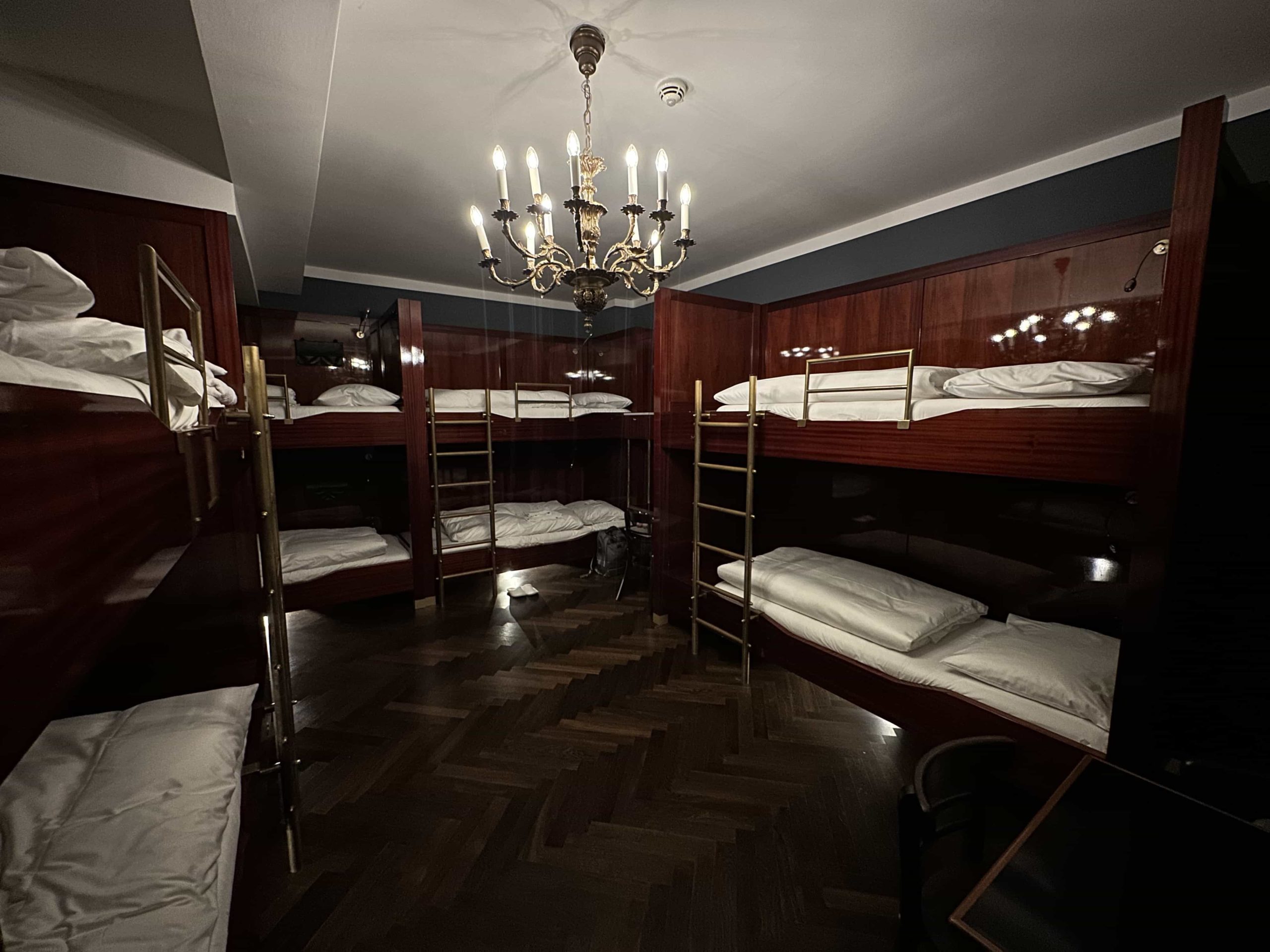 Another major plus, is that some absolute genius has actually put thought into the lighting. As far as I could tell, the light switches in this dorm room operated on a strict schedule: main room lights during the day, ambient floor lighting at night. These lights are just bright enough to allow you to find your bed, but dim enough for others to sleep through. Other hostels should have adopted this, yesterday.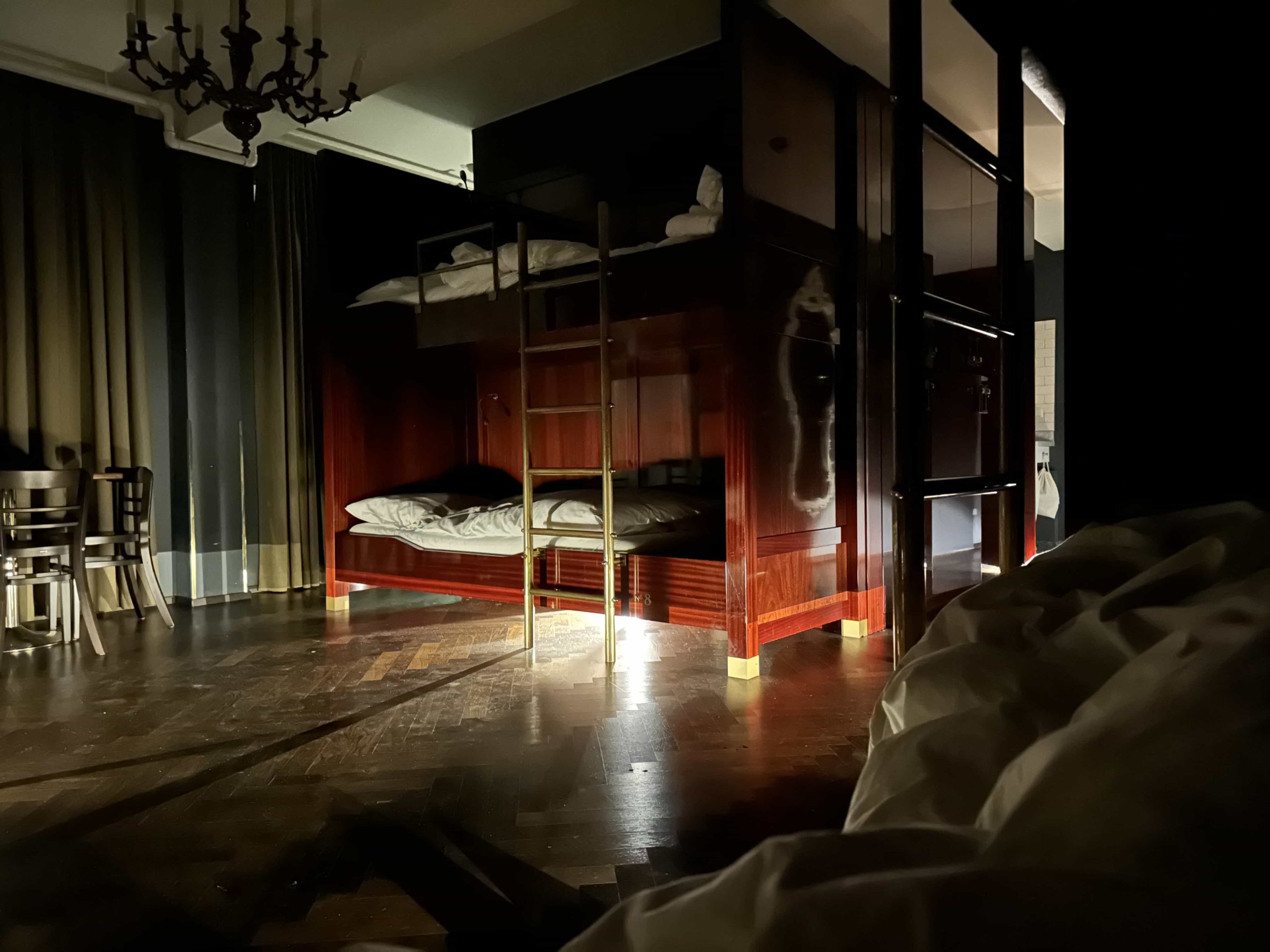 Oh, I forgot to mention, there's a chandelier in the middle of the room. You heard that right, a chandelier in a dorm room. The Grand Ferdinand describes the rooms as having the flair of the Orient Express, and this is no exaggeration. In fact, looking at pictures of the other rooms in the hotel, I think the dorms might have the nicest decor.
Beds
I generally prefer a top bunk, as I appreciate the extra privacy, but I'd forgotten to ask during check-in — I'm sure they would have been happy to accommodate. Fortunately, the bed I was allocated was in the corner of the room, so it wasn't so bad.
On arrival, the bedding was neatly folded atop the bed, with a hand towel and bath towel also provided. The hotel-style slippers under the bed are another reminder that this isn't any old dorm room.
I'll be honest and say that I don't really remember anything about the mattress, which is probably a good sign. The soft, fluffy duvet was certainly comfortable, and was warm, but also breathable — which was needed, as the room was a little warm. The pillow was slightly thin and unsupportive for my liking, but I still slept well, and I'm sure I could have asked for a second one.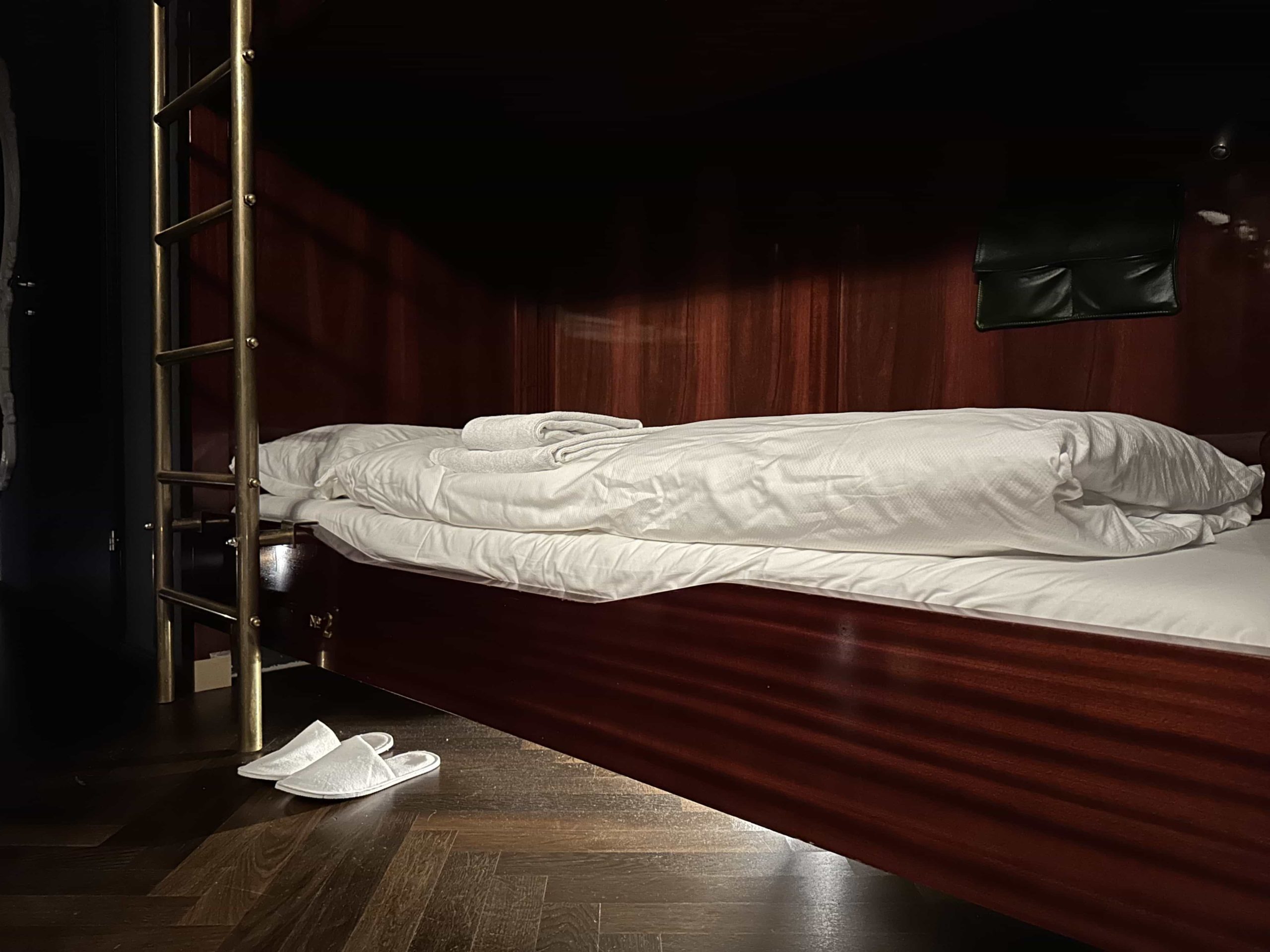 There's even more polished mahogany in the construction of the brass-accented bunk beds — which are incredibly solid and well-made. I don't think you'd notice someone in the same bunk getting in or out of bed, aside from the rustling noise.
Some of the bunks had an area at the end of the bed for belongings. Mine didn't have this, but instead had a double-decker bedside table, which provided a surface and storage for both bunks. Additionally, all beds have a pouch for small belongings you want easy access to during the night — ear plugs, eye mask, and the like.
Each bed has a single socket for charging devices. If the beds had curtains, they would be truly perfect, but they get very close anyway.
Bathroom and showers
I haven't really mentioned quite how clean the room was, and this seems like a good time to do it. Honestly, there wasn't a mark anywhere to be seen; it was like I was the first guest ever to stay there.
Of course, much of the cleanliness of a dorm room is down to the people who stay there, but the housekeeping staff are still responsible for getting it to such a high standard in the first place. I can tell you this was true for the entire hotel.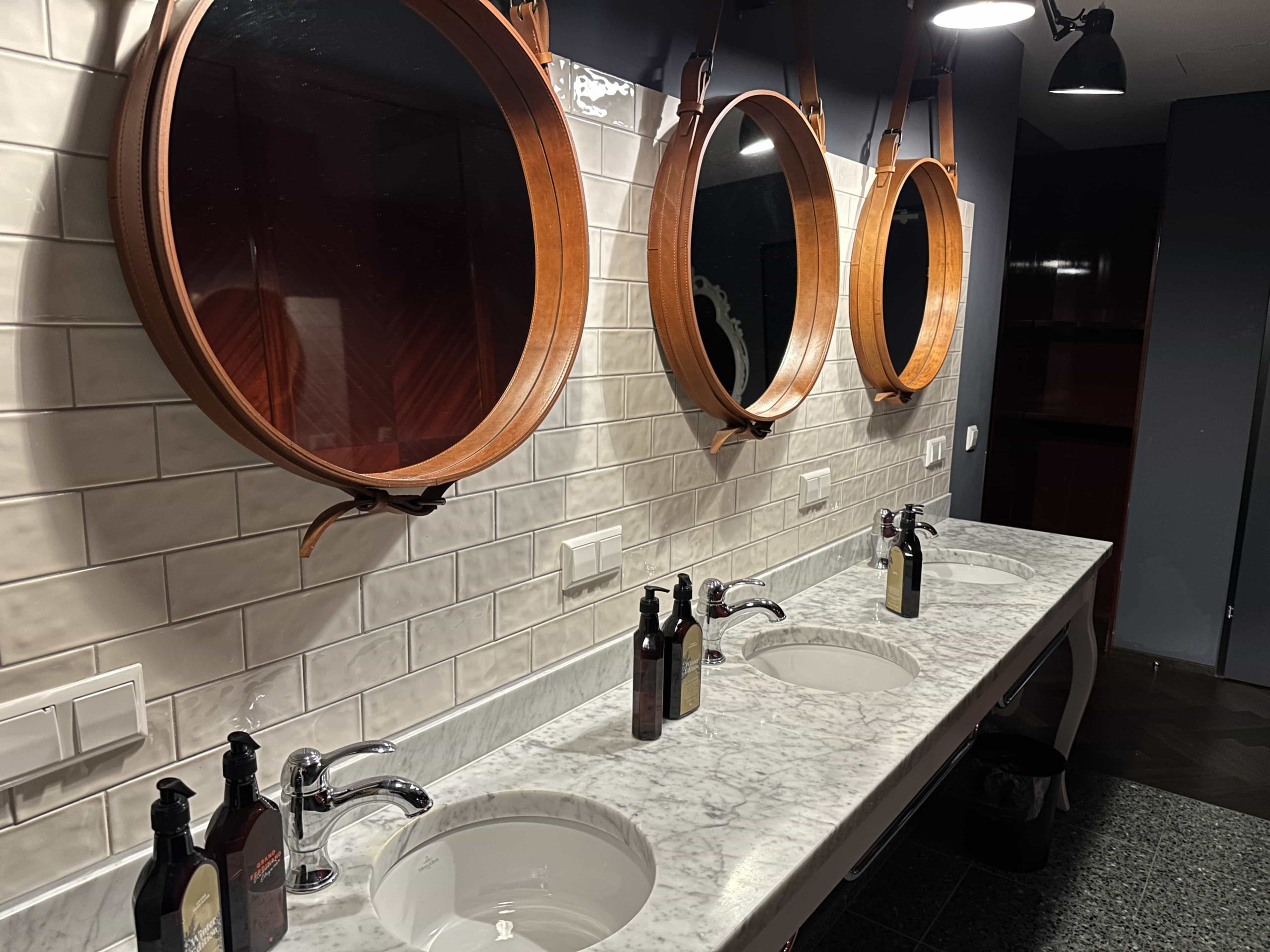 Nobody's perfect though, and they did neglect to refill the paper towel dispenser in one of the WCs. This was quickly forgiven when they proactively delivered another batch of towels and toilet paper to the room, just in case we needed them.
I'd like to see soap dispensers added to the WCs, as currently they're only available in the communal sink area. Although, now that I'm thinking about it, maybe it's better to have to wash your hands *after* touching the door handle on the way out of the WC.
They haven't skimped on the amenities otherwise, and give you what I assume is the same Grand Ferdinand-branded toiletries as the regular rooms. They even give you a choice of regular, or 'Winter Edition' — what a fantastically unnecessary touch.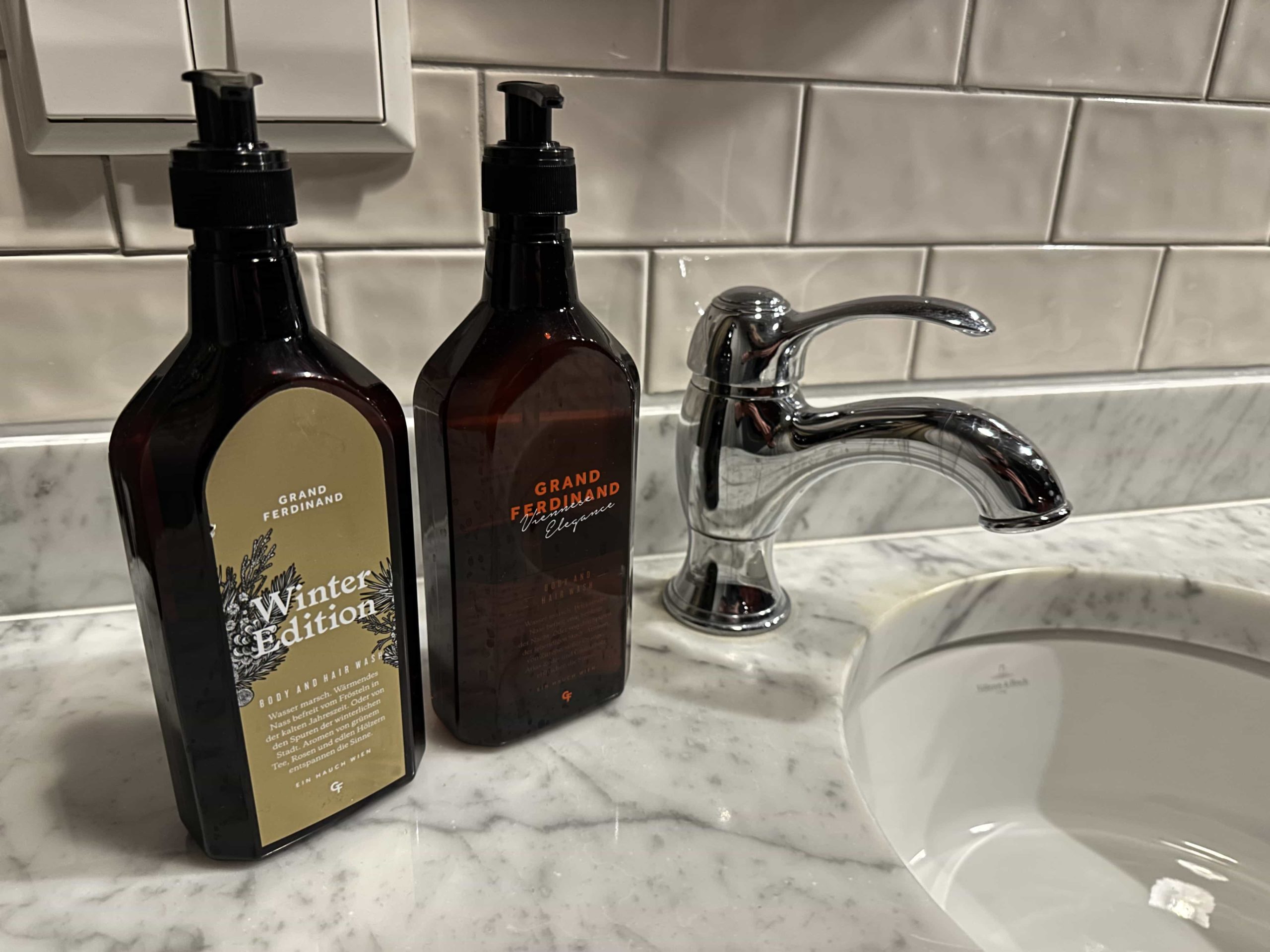 They've got it right with the shower pods also, providing a spacious area for changing, as well as a mirror. There's only one hook for hanging clothes, which is always a gripe of mine, but at least there's a good-sized bench beneath.
The rainfall shower head is a good size — not so big as to feel like you're drowning under it — but with a wide enough spread. One of the pods was missing a shelf for the provided shampoo/hair gel, which meant placing the bottle on the floor.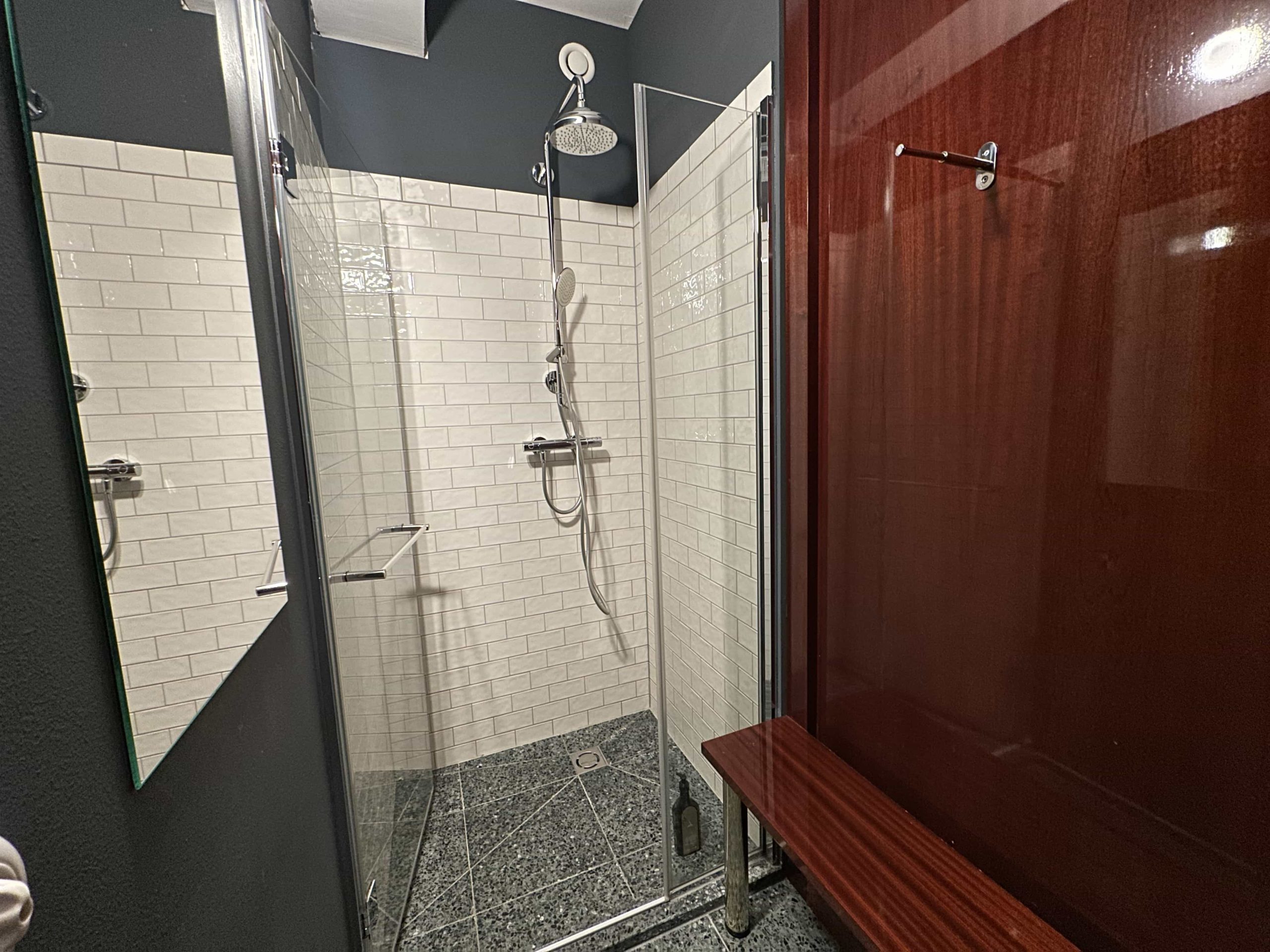 What's great about the size and layout of the room, is all three of the bathroom areas are significantly far away from the sleeping area as to be of minimal disturbance when in use during sleeping hours — even the communal sinks, despite not being separate from the sleeping area.
One thing they haven't solved for, but would be an easy fix, is that there isn't a system for discarding used towels. People were throwing them in a pile in the corner of the room, where there could quite easily be a basket.
Maybe they don't want to encourage single-use towel behaviour, but they're not helping themselves by providing an inordinate amount of towels in the first place. I shouldn't complain about this; it's a great perk vs. other hostels where you're lucky to get one towel for free.
Lockers
The lockers can be locked/unlocked with the same keycard you use to enter the room. I got off to a slightly rocky start with this, as my keycard was assigned to the wrong locker. Being that it was 1am, and nobody was using this locker anyway, I chucked my stuff in for the night, and sorted it out in the morning.
It didn't fill me with much confidence, that they'd given me access to what could potentially have been someone else's locker, but mistakes happen. Fortunately, the concierge — or maintenance guy, not sure which — was extremely helpful in getting this sorted promptly.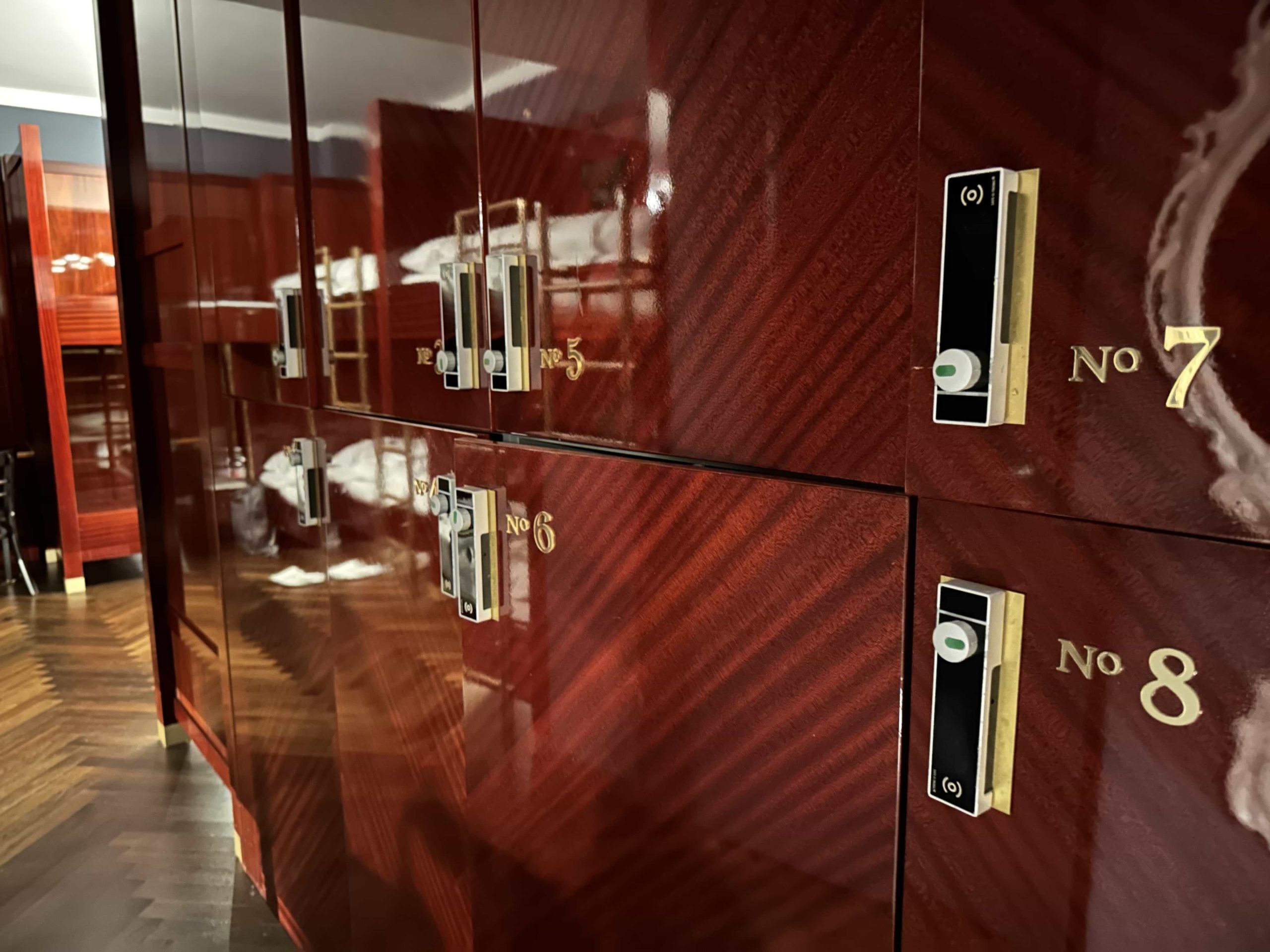 Moreover, there's a safe within each of the large and spacious lockers, so if security is something you're concerned about, you could store your valuables in there. Also provided, are a few hangers for your clothes — or perhaps even your towel collection, since there's even more of them provided in the locker.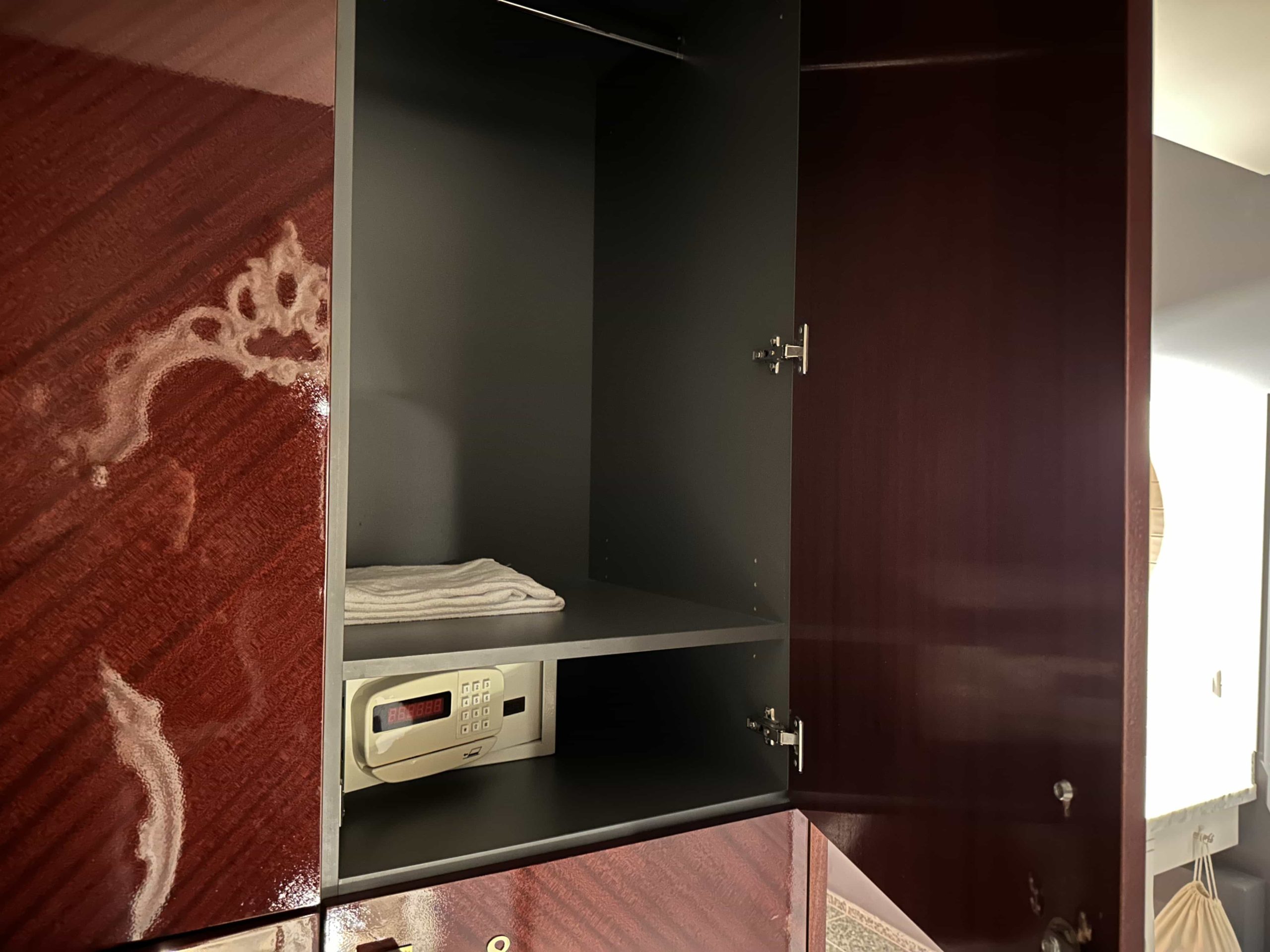 A light would be nice, as the otherwise very practical mood lighting, makes it pretty hard to see into the lockers in the evening. Sockets would also be a great addition, to let you charge devices that you don't want beside you in bed. I'm realise I'm getting very needy at this point, but hey, even when things are great, there's nothing wrong with some feedback.
Restaurants
As tempting as it was, I decided not to sample the breakfast or dinner offerings, as I suspect I'm not alone in thinking that paying more for food than for the room itself, kind of defeats the purpose. That said, I had a gander around the hotel to see what's what.
As I mentioned, Meissl & Schadn is the restaurant located just off the lobby, on the ground floor. There, they serve classic Austrian cuisine, including the hero dish of breaded fired veal ("Wiener Schnitzel"), in an open kitchen environment.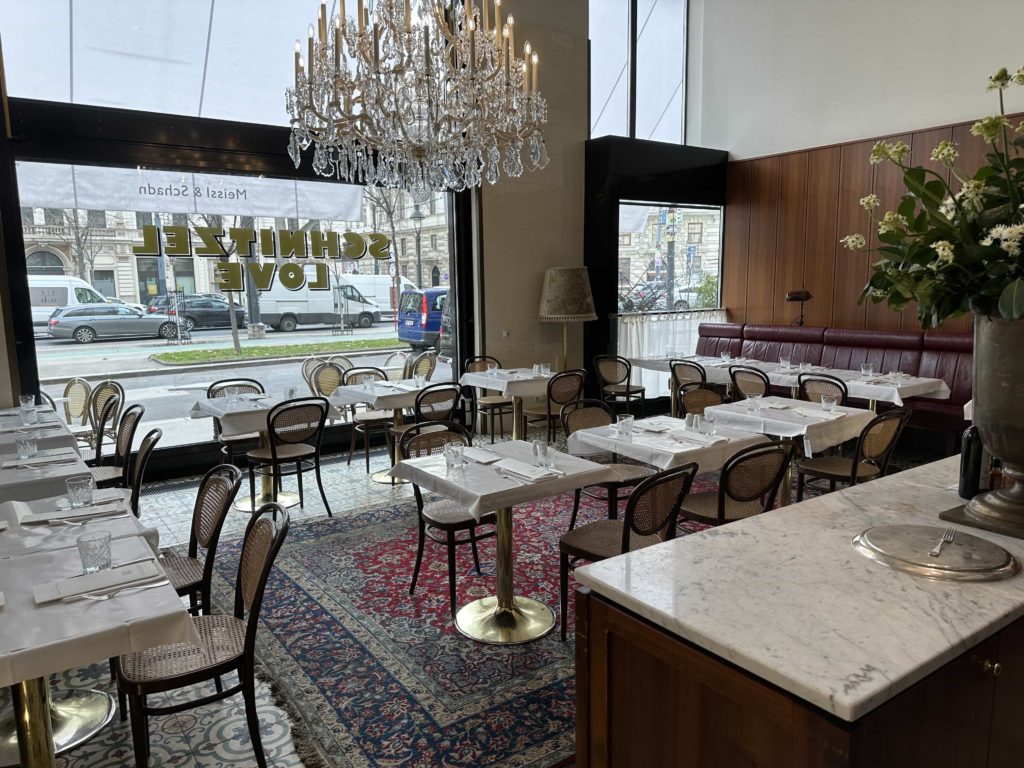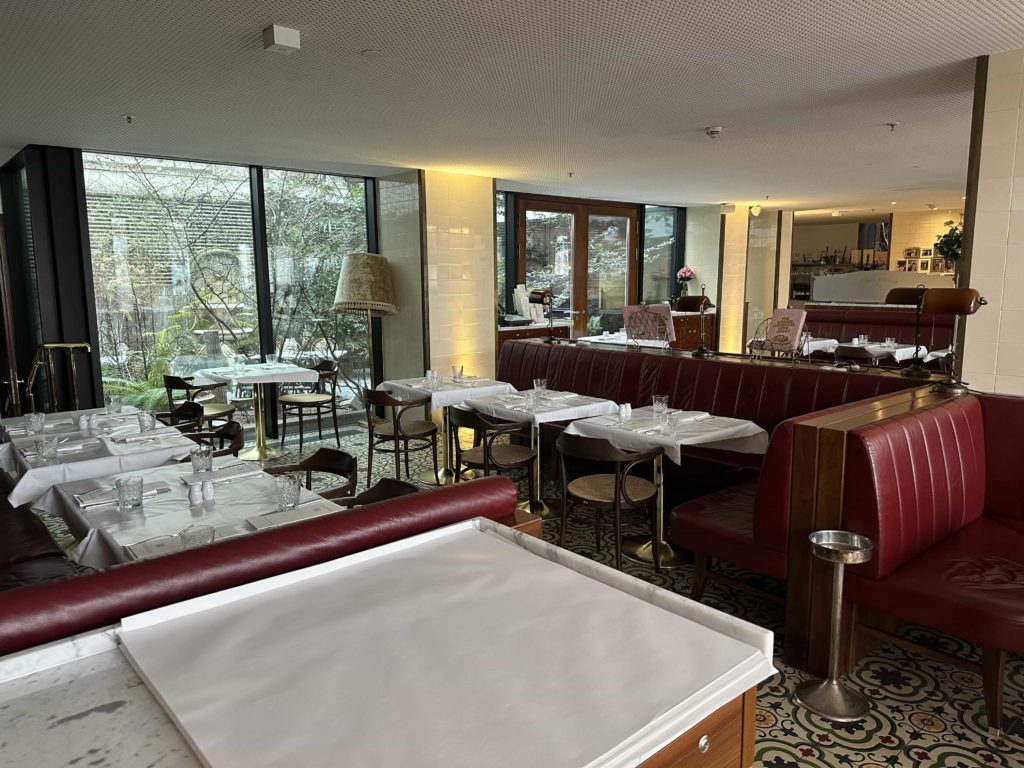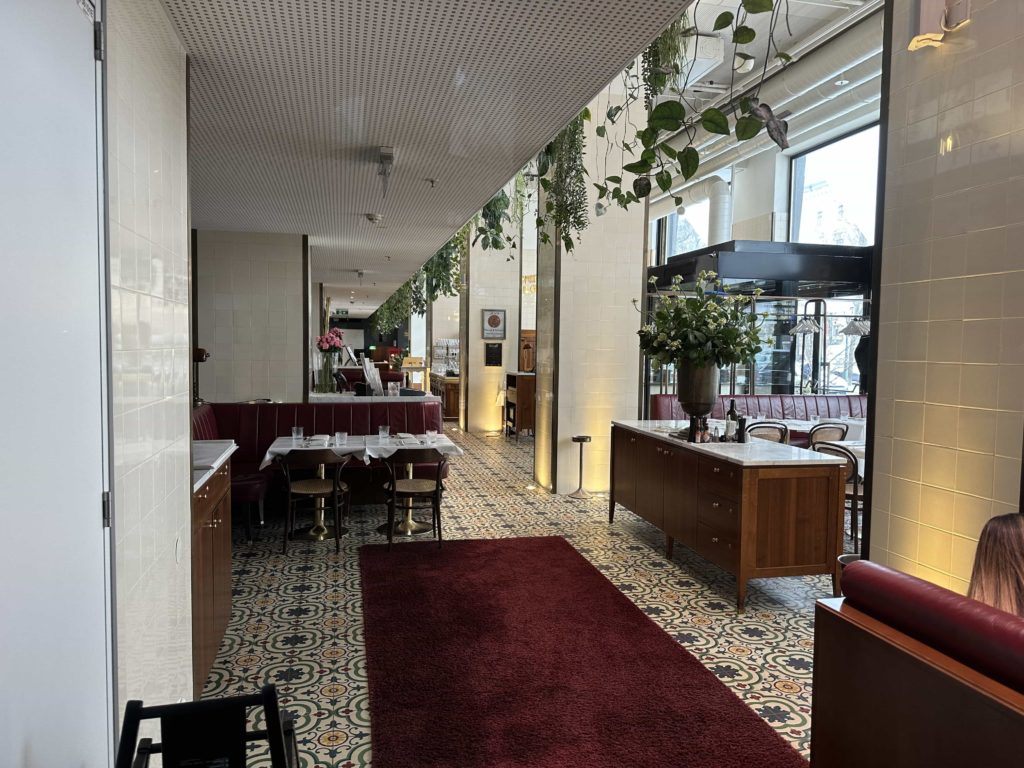 Grand Étage is upstairs, on the same floor as the pool and terrace. This is the hotel's most high-end restuarant, and is also where they serve breakfast. It's an interesting one, as it's branded as a 'private dining club', that is only open to hotel guests, and those who sign up for their 30 euro per month membership program. I'd certainly be curious to know how many takers they have for this scheme.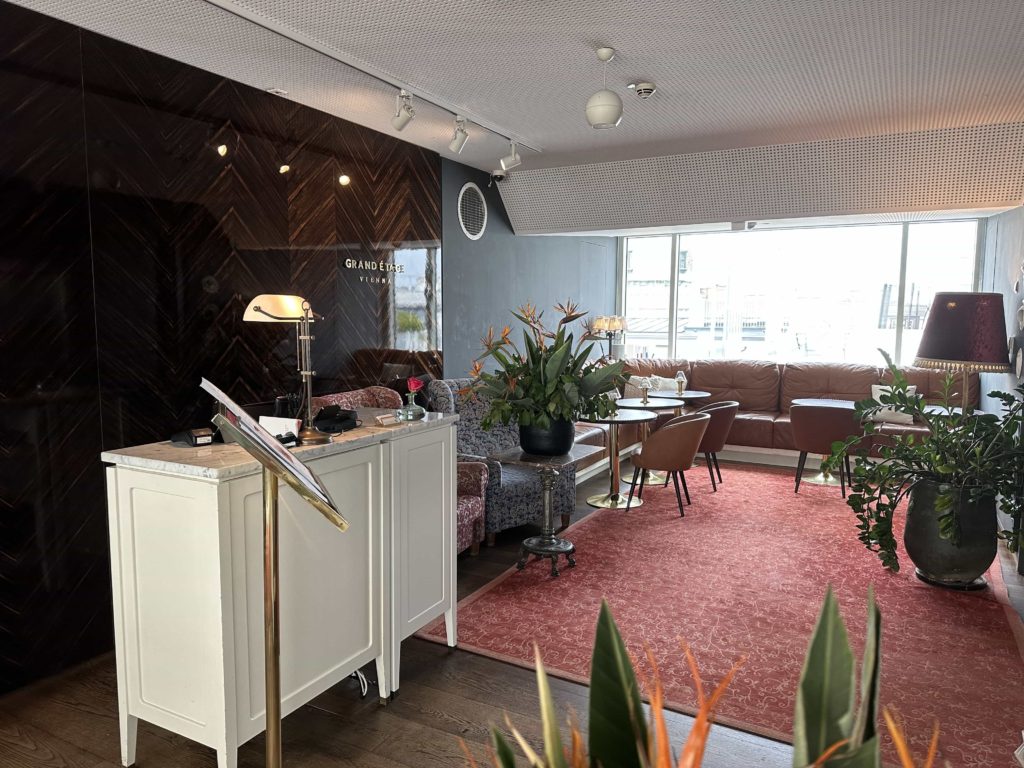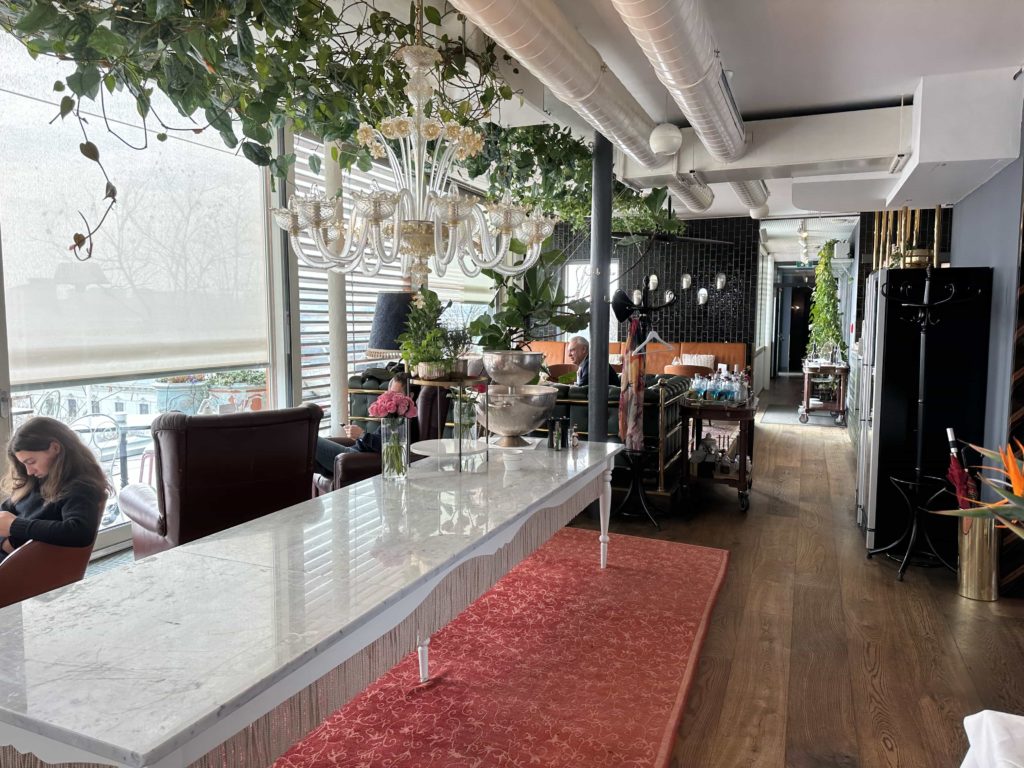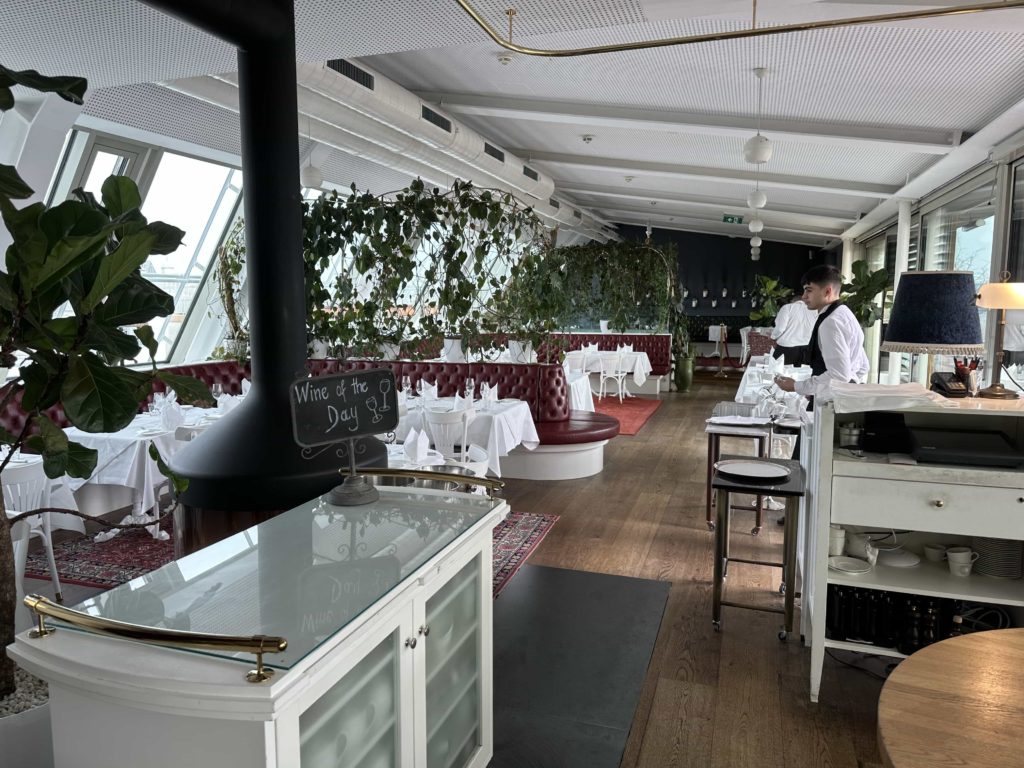 I had a browse around the venue as they were preparing for lunch, and it looks nice, quaint, and has a fairly exclusive feel. The views aren't compromised, despite being set back from the terrace, and there are also windows on the opposite side. Looking at the menu, the prices don't seem unreasonable for the types of dishes they're serving.
I didn't even realise it when I stayed, but there's a third restaurant, Gulasch & Söhne, just on the corner of the building. The unique selling point of this restaurant seems to be quality 'fast food' and small snacks, for a lighter option. Of the hotel's three restaurants, this one gets the best reviews online.
Other amenities
As if the dorm room wasn't enough, you also have access all of the hotel's facilities, free of charge.
I'll start with the fitness room, since it's just around the corner from room 107, accessed via the walkway which spans above the lobby and restaurant.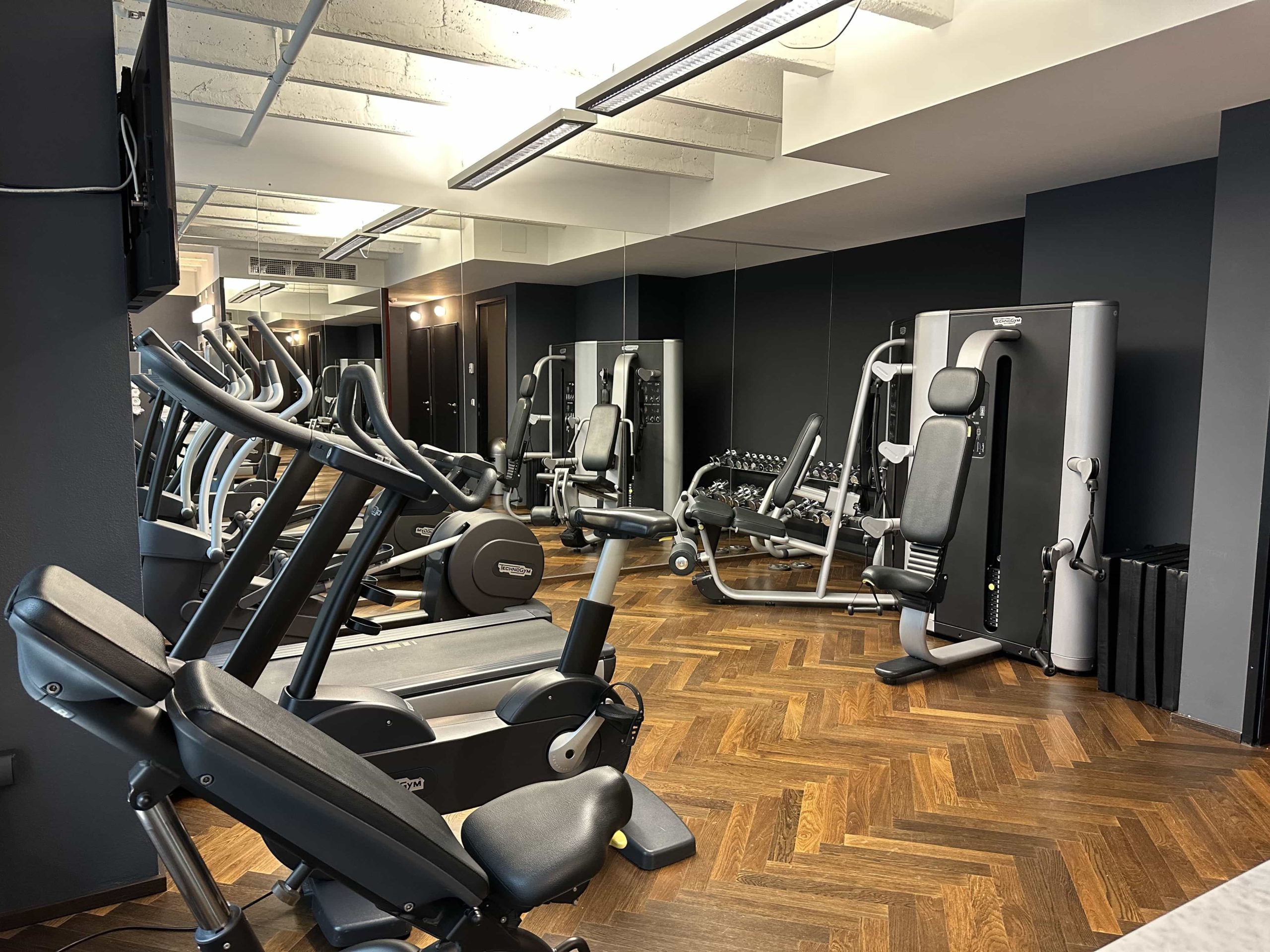 Unfortunately, the facilities are very small. As such, there is limited equipment, and almost no room to move around, or have personal space. It's so small, that you'd struggle to have more than a couple of people using the facilities at the same time, without being completely on top of each other. To give you a sense of quite how small, this area isn't much larger than the sleeping area in the dorm room.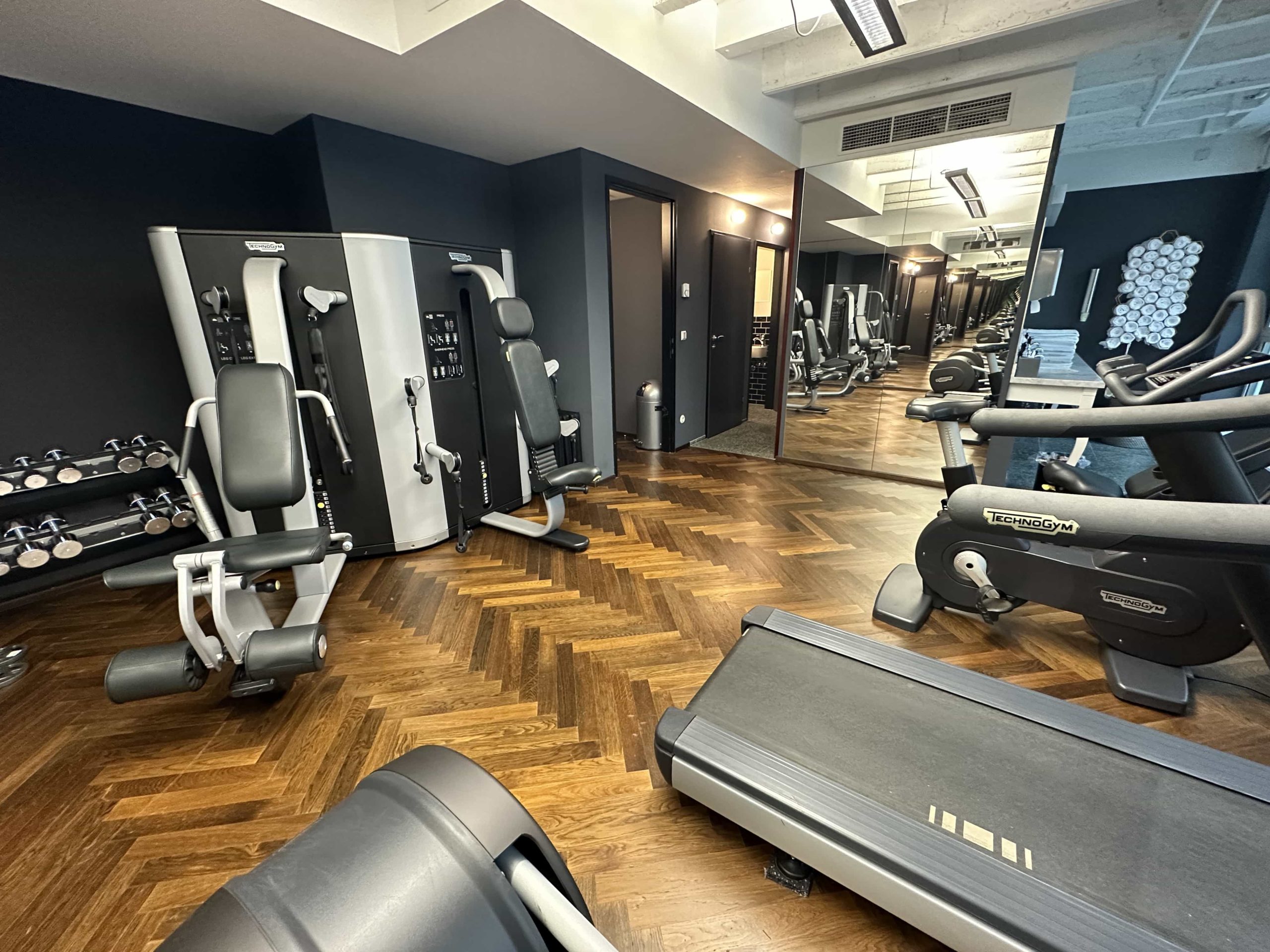 The equipment isn't state of the art, but it's modern enough, and is up to the standard you'll find in many other hotels of this class. As with the rest of the hotel, it's also maintained to a very high standard, and is kept spotless; albeit in this instance, this may have been because the facilities rarely seemed to be in use, as could be seen from the dorm room window.
Tucked in the corner, is the same sink arrangement you find in the dorm room, stocked with cloth towels, paper towels, and cups. Again, like the dorm room, there is also shower rooms and WCs. Personally, I think this space would be better utilised for gym equipment, as it would almost double the floor space, and it would not be a big hassle to shower in your room.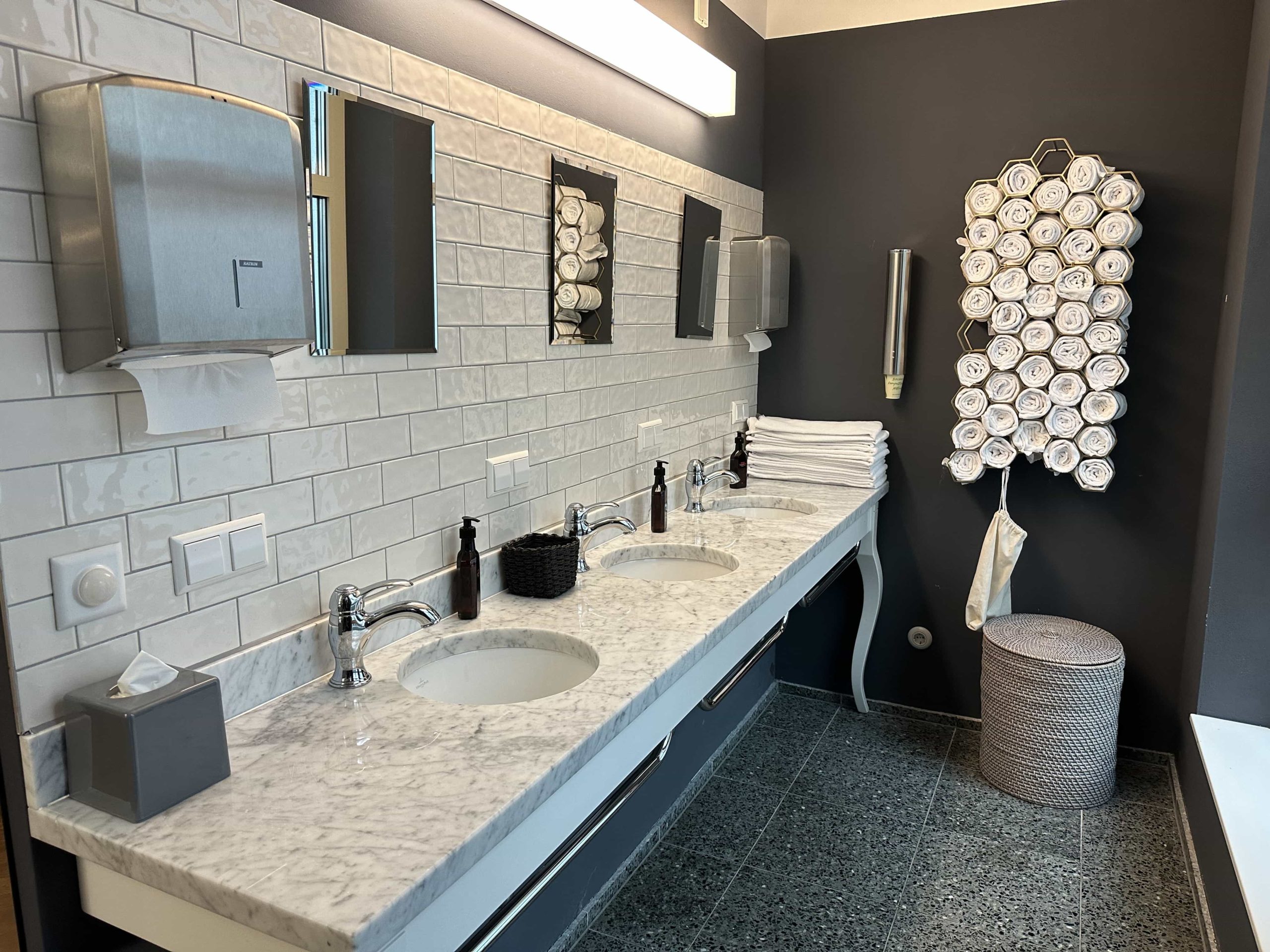 On the top (8th) floor, is the rooftop pool, which is open air and located on the terrace, at the front of the building. This is a great location for it, with pleasant views across the rooftops towards the south east. There's a wooden changing 'hut', at the end of the terrace, plus some facilities located inside.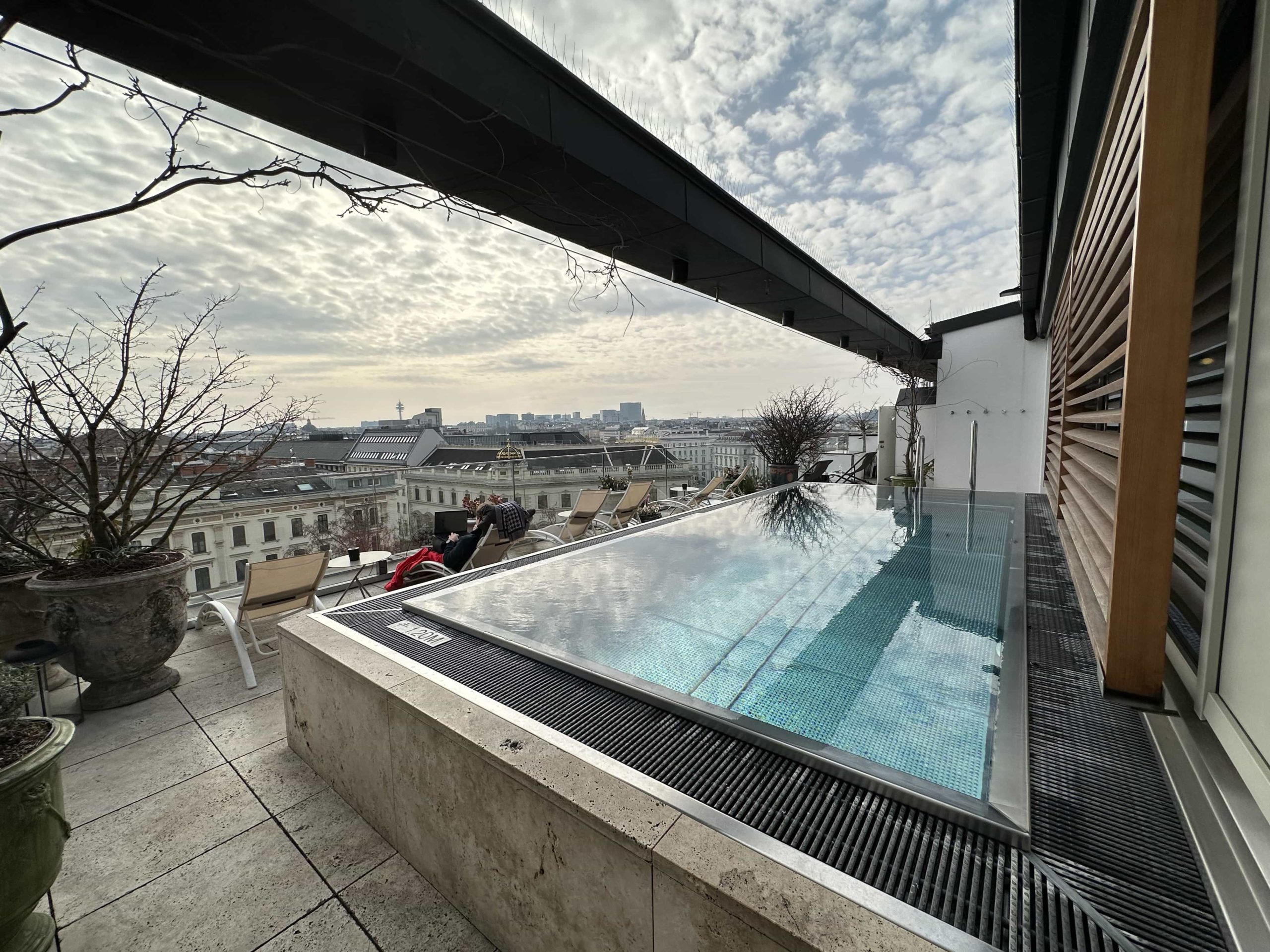 Like the fitness room, the pool is unfortunately very small. It's one of those pools that would be better described as a 'large hot tub', and is definitely for relaxation, as opposed to exercise. I won't be too critical of it, as at least the online marketing doesn't try to make it look like some kind of olympic-size pool, like some other hotels are guilty of.
I didn't go in, as I'd forgotten my trunks, but in taking pictures of it, I got the sense that being in it would feel somewhat like being in a fishbowl. If you're the only one in there, you'll probably feel a bit self-conscious, perched on the terrace, while people come and go — particularly as most people were using the deck chairs to take work calls when I was up there.
Those people had the right idea, as the terrace is actually a very pleasant place to spend some time working, and makes up somewhat for the lack of a lobby area.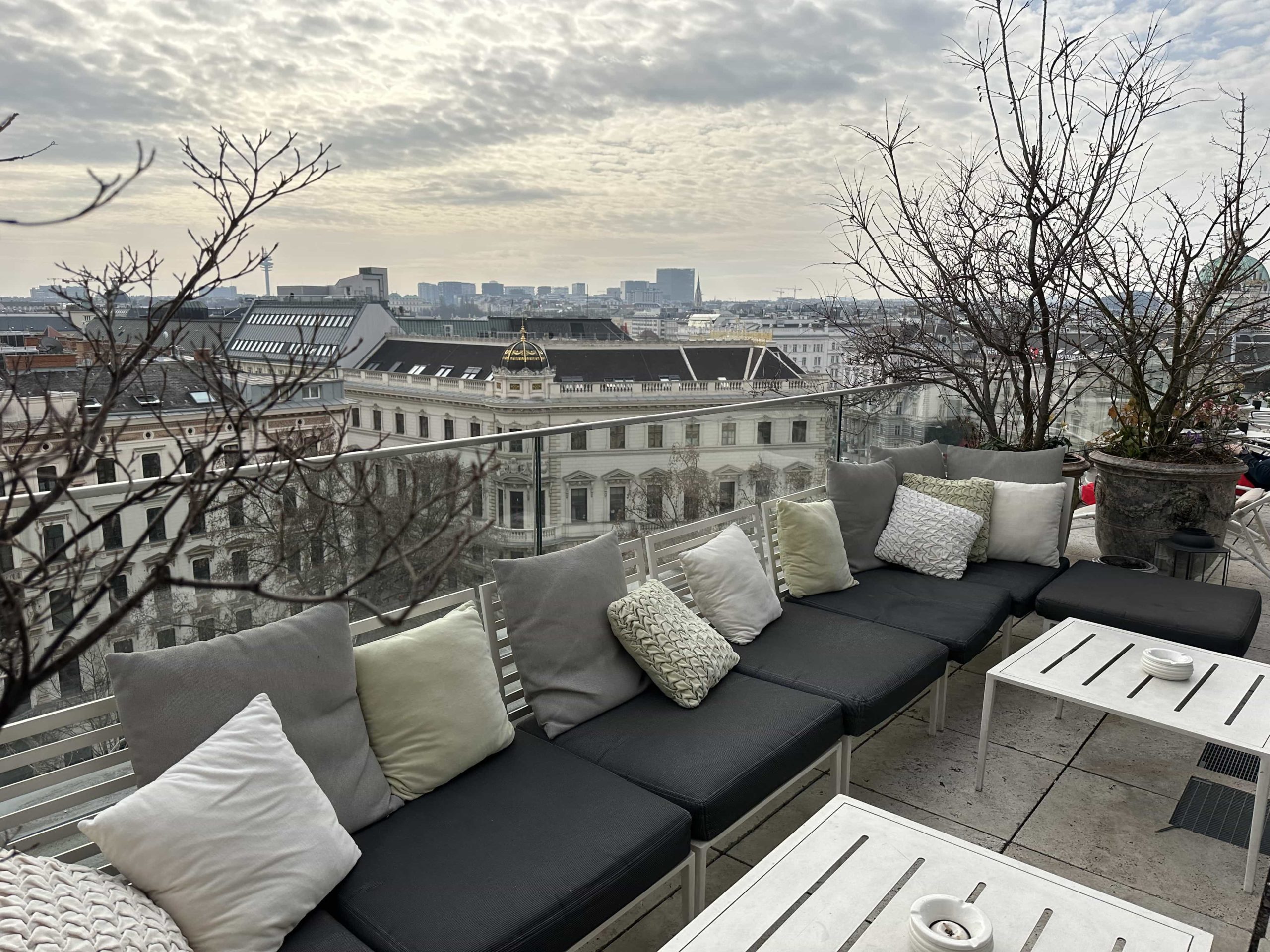 For those staying in a dorm room, it's fantastic to have access to these facilities, but I'd be disappointed if I'd paid the regular room rates.
Conclusion
If you couldn't tell already, I'm extremely impressed with what the Grand Ferdinand is offering here. Where else can you get 5-star luxury, for hostel prices?
The question I keep asking myself is why it makes sense for them. The low prices mean that a room would need to have high occupancy rates to recoup costs, particularly since these aren't small rooms, and they add extra complexities to the hotel's operations.
I suspect the reason they've done such a good job, is because their reputation is on the line. Since they're branding these rooms under the same umbrella as their premium rooms, any negative reviews would reflect badly on the hotel as a whole. Even then though, they have gone above and beyond, particularly in the quality of the decor and environment. It's certainly not something they've thrown together — there's some real consideration been put into this.
Admittedly, if I had paid for a regular room, I wouldn't give this hotel a glowing review. It feels like it does the bare minimum to achieve its 5-star rating, let down by the building itself and somewhat lacklustre facilities. This is reflected in the 4.3 stars it gets on Google reviews. That said, it excels in some areas like friendly staff and high standards of cleanliness, and the dorm room gets a solid 5 stars from me.
I haven't stayed at them, but Vienna seems to have many other great hostels. It's not a foregone conclusion therefore that the Grand Ferdinand will be the right one for you. It's more uptight that your typical hostel, which suited me down to the ground, but you might want somewhere more lively.
Personally, I liked it so much that I'd struggle to even consider staying somewhere else, even in a nice hotel. I almost never spend time in hotels when I'm visiting a city, so why would I choose to pay 5-10x the price? Of course, your experience is somewhat at the mercy of who you're sharing the dorm with, but I think the ambiance might go some way to keeping people of their best behaviour.
Other hotels, take note. This is awesome.