Considering its reputation as a thriving business hub, I've always found myself surprised by the lacklustre nature of Silicon Valley's hotel offerings.
Although a handful of upscale choices exist, their steep price tags make them difficult to justify as go-to options. On the flip side, chain hotels such as Aloft, Hilton, and Residence Inn dominate the scene, but they are hardly the most compelling options.
Now, enter The Ameswell Hotel. Having made its debut in July 2021, the establishment embarks on a mission to blend art and design with a commitment to both sustainability and innovation. While this may sound like typical marketing jargon, they seem to be checking all the right boxes. Notably, they also present themselves as purveyors of "uncommon luxury in Silicon Valley".
As one of the highest-ranking hotels online, things were looking good. Could this be the elusive 'hidden gem' that I've been looking for?
Booking and price
I made a reservation through Booking.com for a last-minute trip in early August, securing a Superior King room at a cost of £285 per night. This represents the hotel's entry-level room type.
I'm never one to splurge on a premium room, but I'll admit that some of the other options did intrigue me. Notably, they offer "wellness rooms" furnished with a lululemon Studio Mirror, workout gear from Fitnesse, and organic energy beverages. That's an interesting concept which I hadn't seen before. However, I'm not sure about engaging in a workout within the confines of a hotel room, nor the frequency at which you'd be likely to do so.
My booking didn't cover breakfast expenses. However, I've recently noticed that Ameswell is promoting a daily breakfast credit of $20. Now I'm questioning whether I also had this, even though it was never mentioned to me.
Location
The hotel is situated within the city of Mountain View. Specifically, just off Highway 101, and just across from NASA's Ames Research Center, from which the hotel takes much of its inspiration.
Unsurprisingly, you're not far from tech. The hotel's closest neighbour is Microsoft's Silicon Valley campus, while Google's sprawling buildings are also prominently scattered across the horizon, mainly visible on the northern side. Also in that direction, is the Computer History Museum.
You can't go too far wrong when it comes to location in Silicon Valley. It's all much the same, so it just depends how far you're willing to drive to get where you need to be. Under regular traffic conditions, it's approximately a 25-minute drive from SFO and only 15 minutes from SJC.
Downtown Mountain View is reachable with a 25-minute stroll and serves as a suitable destination for local dining, shopping, and essential amenities.
Check-in and first impressions
Driving onto the premises, the first thing you notice is the sense of seclusion. They have a decent amount of land, and you wouldn't guess that the property is nestled within a triangle of three fairly major roads.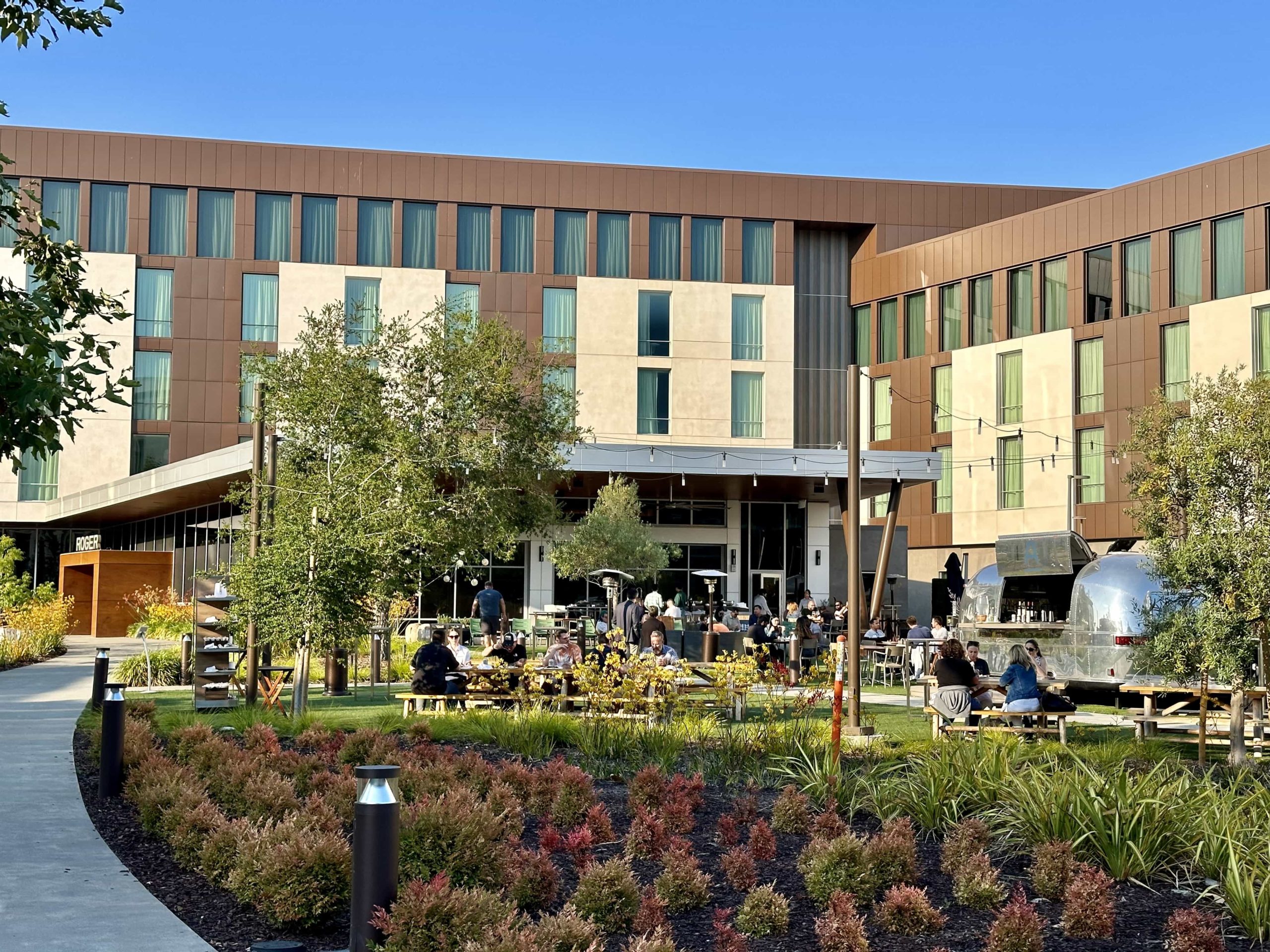 The only neighbouring building is a brand-new office building, which appears to be unoccupied at present. Even this is quite separate, since it's on the other side of the parking garage.
Next, you notice the abundance of greenery and the overall upkeep of the land. There's a large, meticulously maintained lawn area out front, adorned with deck chairs, lawn games, and fire pits. People are chatting and enjoying the sun, kids are playing, and drinks are being served from an Airstream bar. In a sense, it feels like someone's front garden.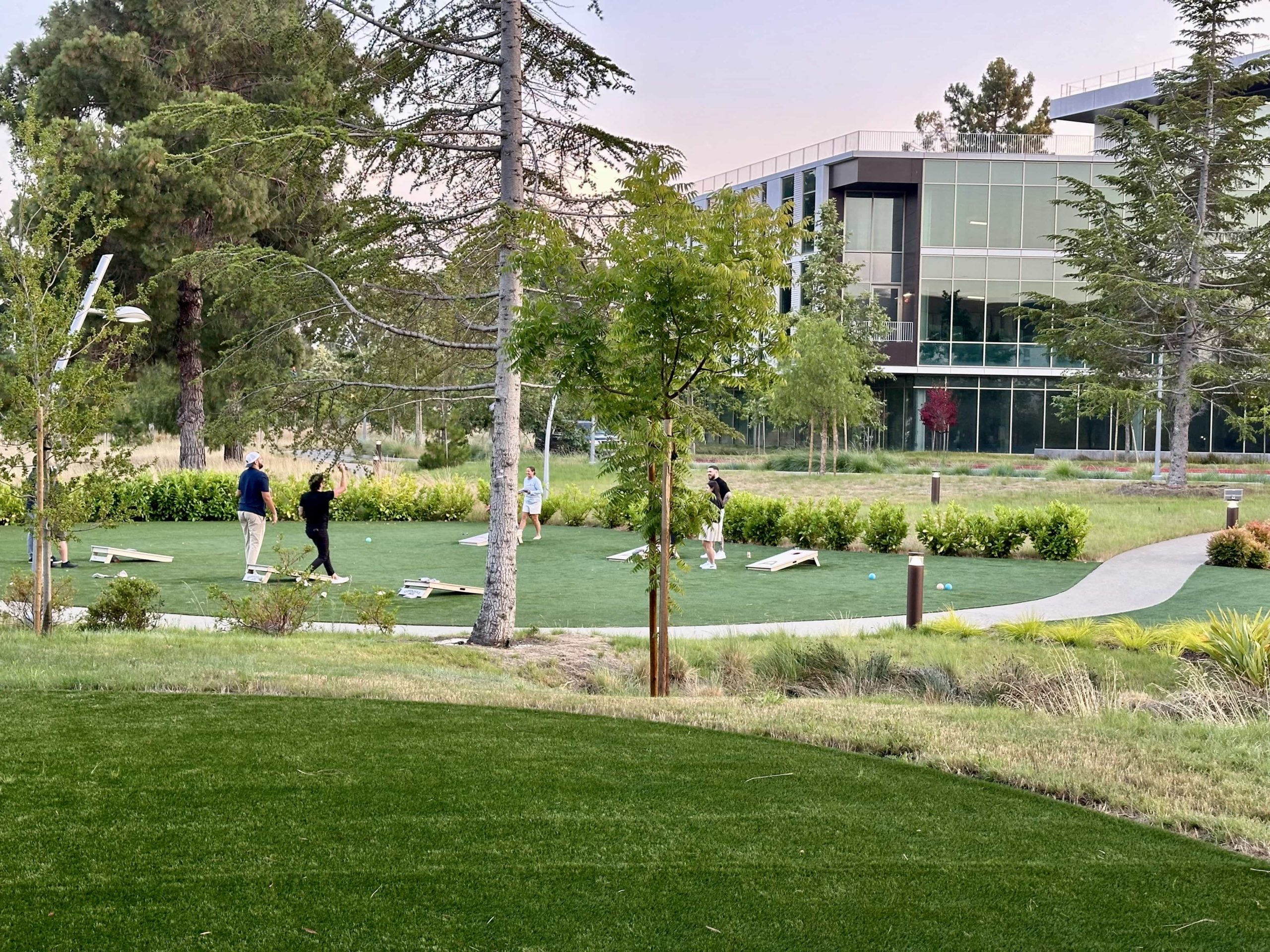 Landscaping aside, the building itself won't blow you away in terms of its appearance — it's standard modern architecture. Change the name on the front, and it could easily be any mid-tier brand. Nonetheless, the overall ambiance is lovely and provides the first hint of how this hotel distinguishes itself from the competition.
Moreover, once you step inside, it's much more boutique. I'm not quite sure how I'd describe the decor. It's some kind of fusion of space-age elements and rustic lodge aesthetics, but it works, and emanates both novelty and a comforting sense of familiarity.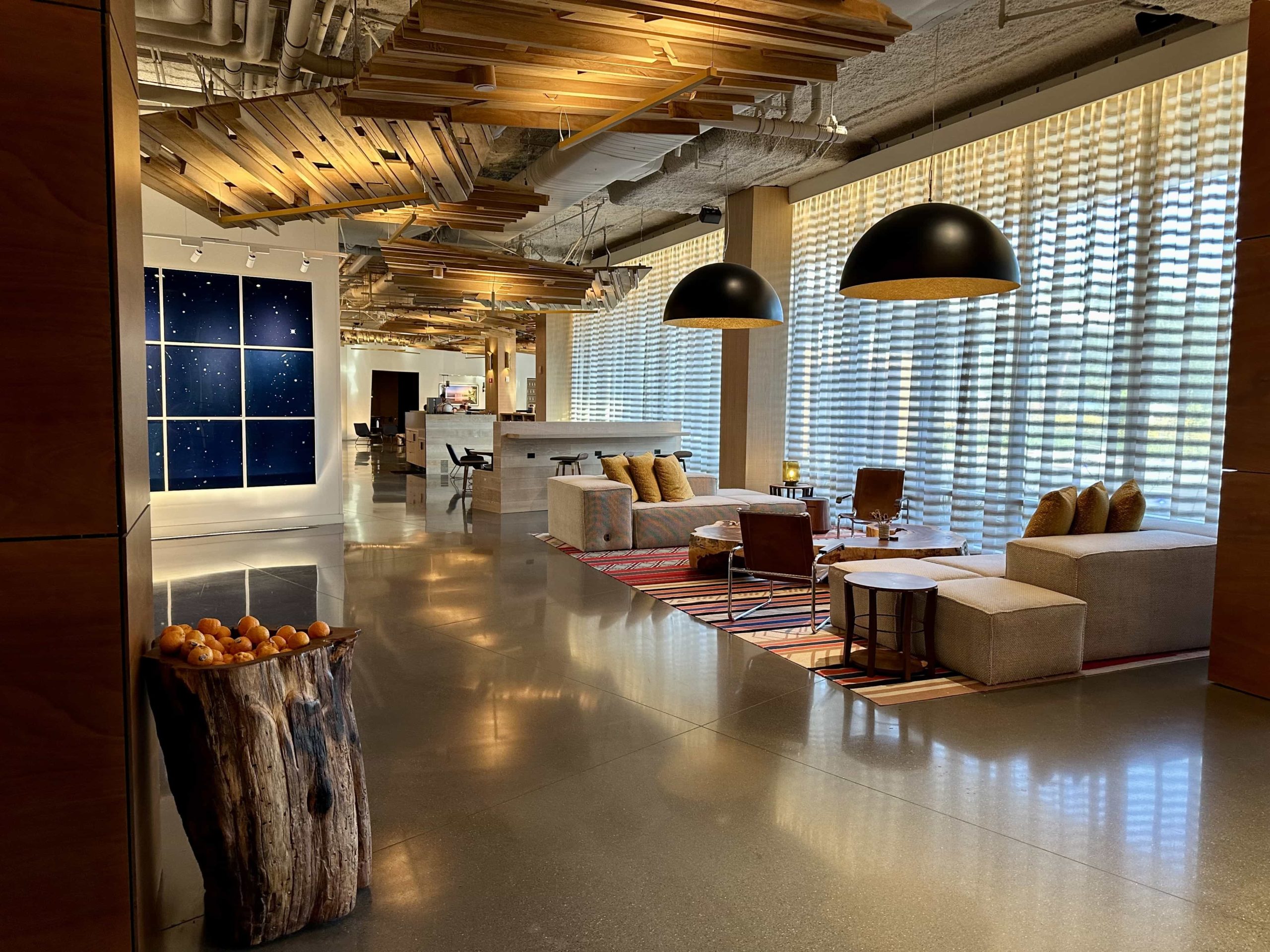 Check-in was a pleasant experience, thanks to a friendly receptionist. After welcoming me and introducing me to the hotel's amenities, I was handed a small box of jelly sweets, provided by Ashby Confections, a Santa Cruz-based artisan chocolate and confectionery provider.
Perhaps the best part of the entire hotel is the incredible lounge room, decked out with NASA memorabilia and a rich tapestry of space-related history and merchandise. No expense has been spared in creating this room. From models of planets and US Navy blimps, to books on US combat planes and spaceflight, this room has it all.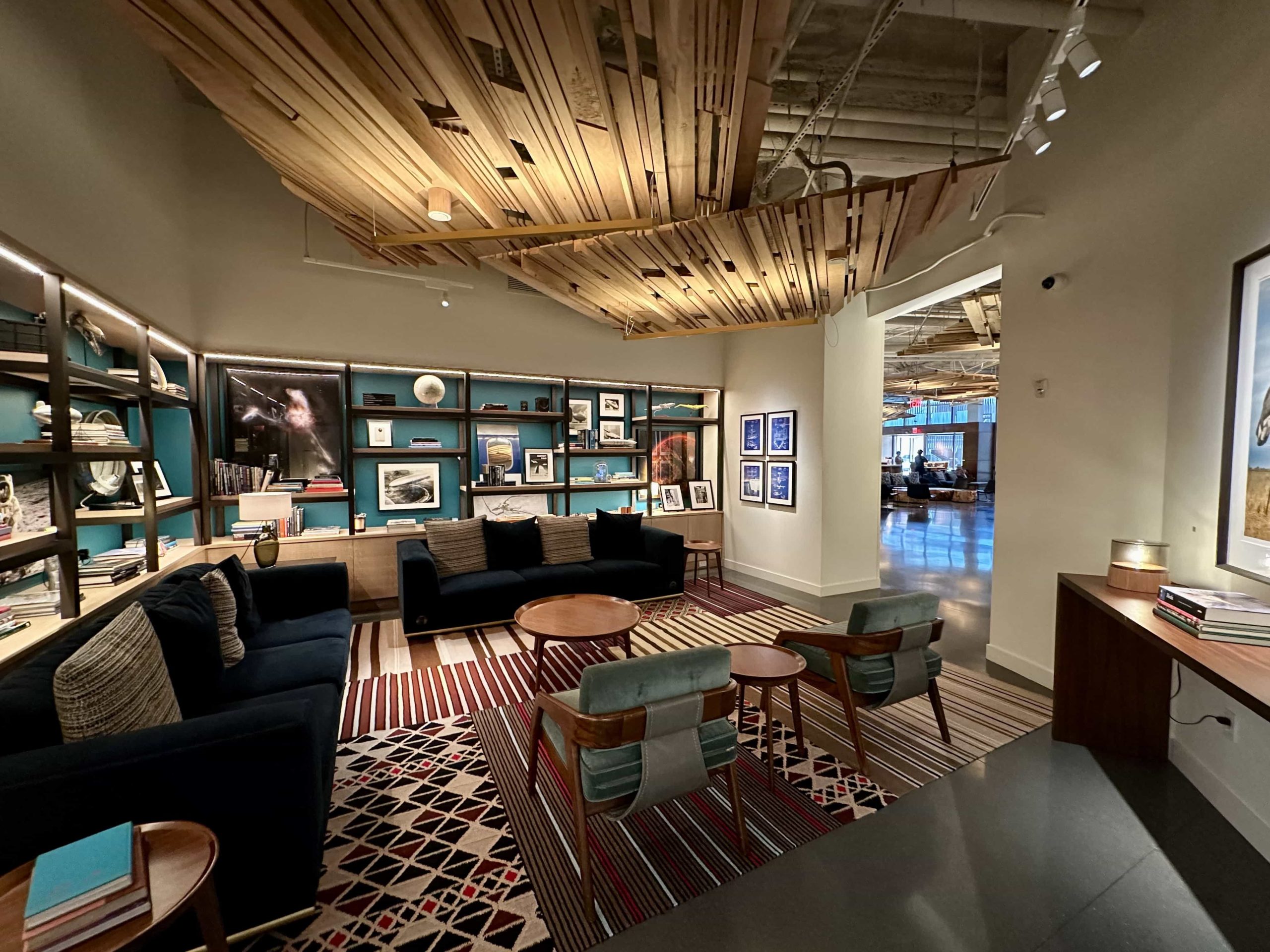 Moreover, the nods to aviation and aeronautics extend throughout the entire hotel. These references can be observed in the nomenclature of rooms, as well as in the overall design and decor.
Room
Given the hotel's young age, you won't be surprised to hear that this is reflected in the rooms. A reassuring smell of 'newness' greeted me as I entered for the first time, and I immediately noticed how immaculate the fixtures and fittings were.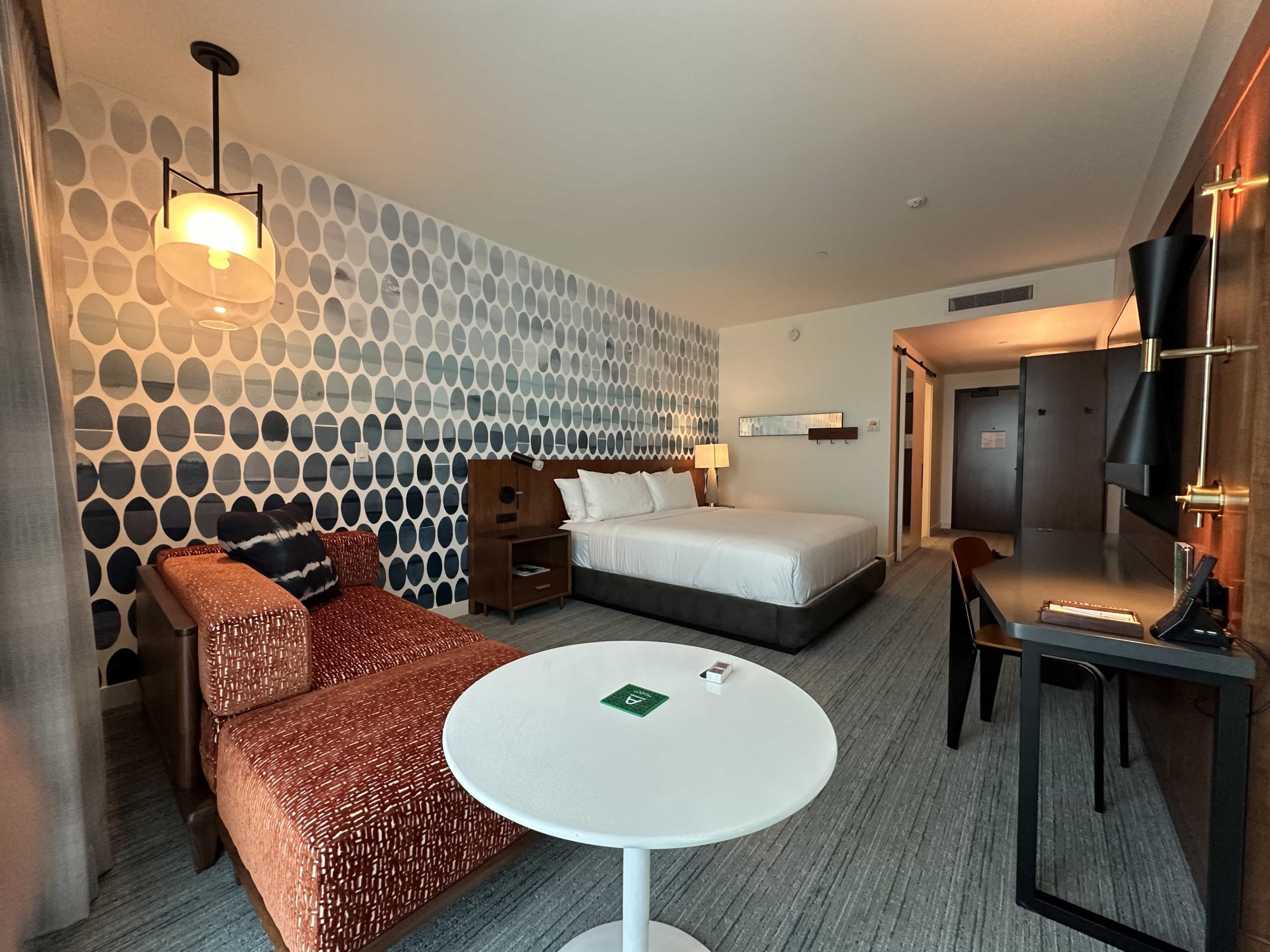 I also appreciated the size of the room. At 310sq.ft, it's not unusually large compared to other US hotels, but the light and airy feel makes it feel particularly spacious.
In terms of the decor, it's nothing spectacular — just your usual contemporary affair — but it's tasteful, well-presented, and has a quality feel.
My room featured a king size bed, which was very comfortable. In fact, I'd credit it with helping me to overcome my jet lag more quickly than normal. The mattress was supple, and the pillows offered both plushness and adequate support.
Also contributing to my sleep quality was the lack of outside noise. My southeastern-facing room was completely unaffected by the road noise of the highway below. Likewise, sound isolation to the corridors and neighboring rooms was effective.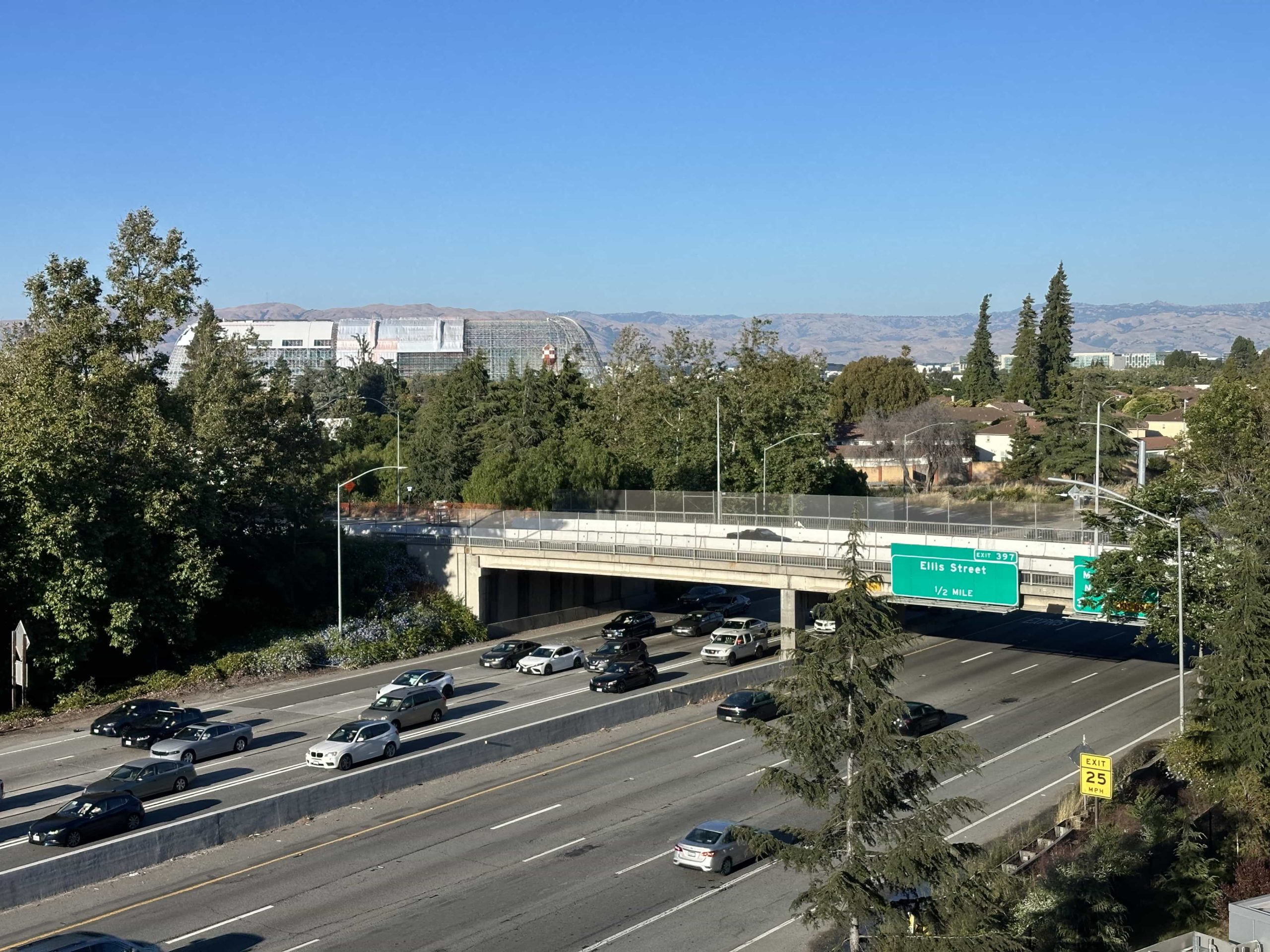 Ameswell takes pride in its "medical-grade" air filtration system, which services all the rooms. While I am typically quick to dismiss gimmicks, there's no denying this genuinely makes a difference — specifically, there's a certain 'crispness' to the air.
Moreover, I never had to touch the air conditioning controls during my stay, as the temperature remained comfortable throughout.
The room was also equipped with a chaise lounge, a desk, a table, and a TV. Said TV is huge, but it doesn't look out of place, considering the room's size.
Somewhat peculiar was the presence of a table without a chair, but you could always pull the desk chair over, even if it's a bit uncomfortable. Placed atop the table is a QR code which you can scan to bring up the menu for in-room dining.
Unfortunately, I was never able to order from this, as the website didn't seem to accept international phone numbers. I'm sure reception could have resolved this for me, had I been overly bothered, but I was content with ordering through Uber Eats.
My only criticism of the room, is that I housekeeping didn't remove the packaging and leftovers, which I'd placed neatly beside the trash can. Perhaps an oversight, but it meant I had to take the rubbish downstairs to dispose of it in the lobby.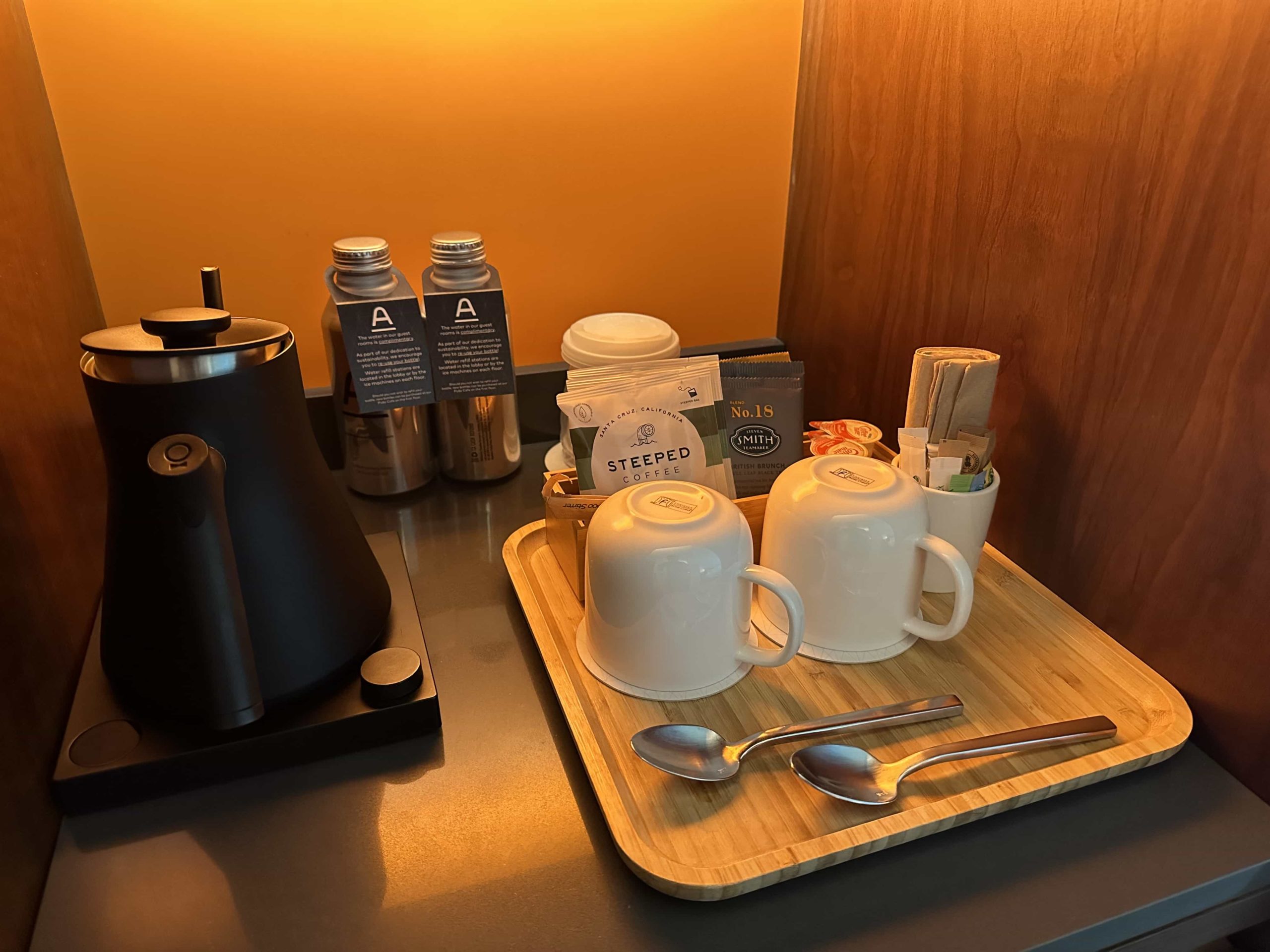 They provide tea and coffee from local suppliers, as well as a notably fancier kettle than what you'd typically find in a hotel room. No mini bar though, which is understandable, as it wouldn't really align with their environmental focus.
On that note, they offer two reusable aluminum water bottles instead of disposable plastic ones. During check-in, they explained the refill locations: in the lobby and by the ice machines, both sourced from filtered water.
This was an amenity I appreciated more than expected, and ended up using the bottles while out and about during the day, too.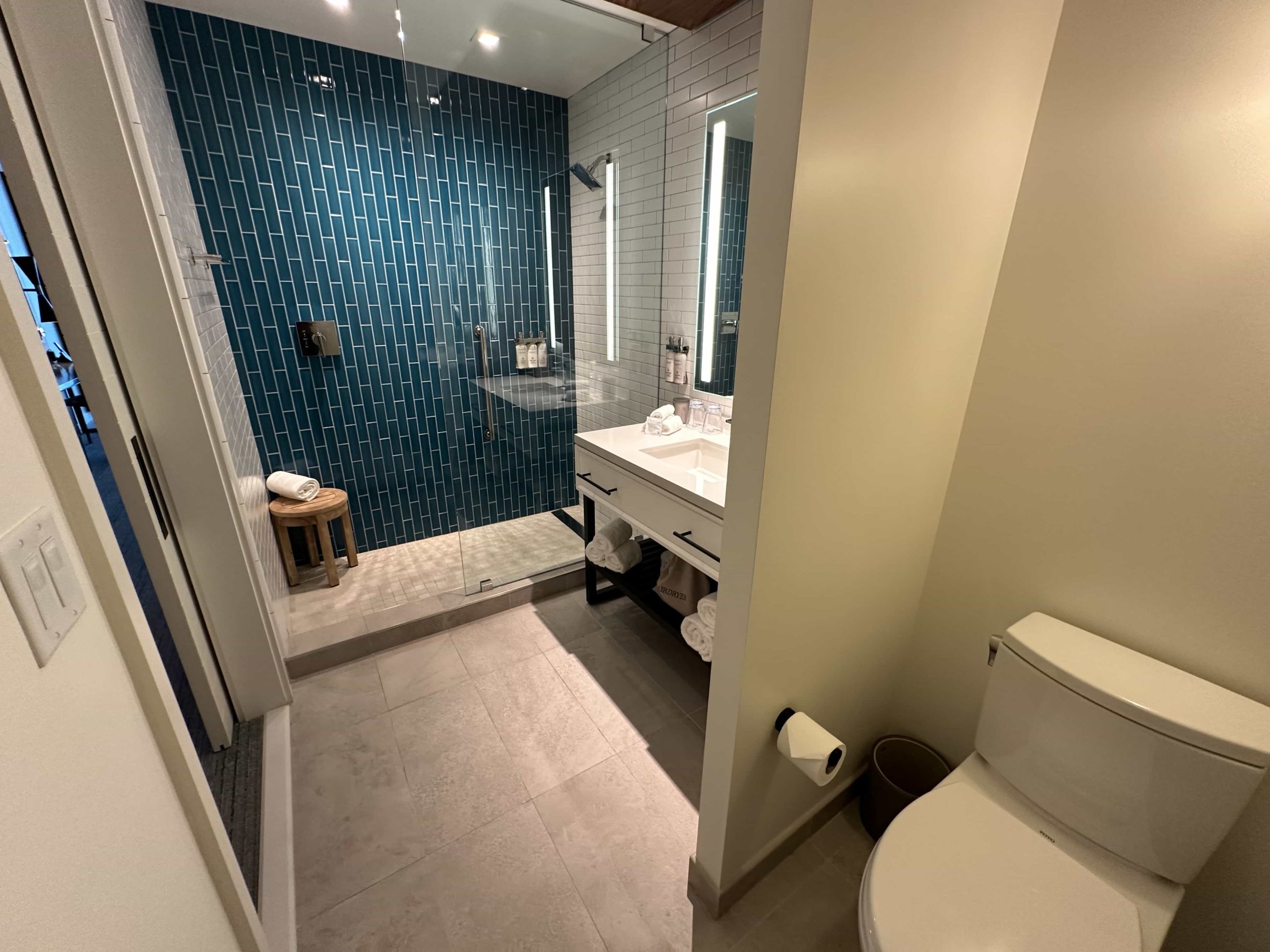 The bathroom was my favourite part of the room, both for how spotless it was, but also its sleek and vibrant design. There's a spacious walk-in shower, charming stone flooring, and a functional countertop area.
While privacy is slightly compromised by the sliding door, and the soap dispensers are mounted in an awkward position, it's otherwise a well-considered space, which completes a well-rounded room.
Dining
The hotel's restaurant is called "Roger" (another subtle nod to aviation). It features an indoor/outdoor setup and serves a variety of California cuisine in a casual setting. Emphasis is placed on sourcing high-quality produce from local vendors, and their dishes have a definite Mediterranean twist.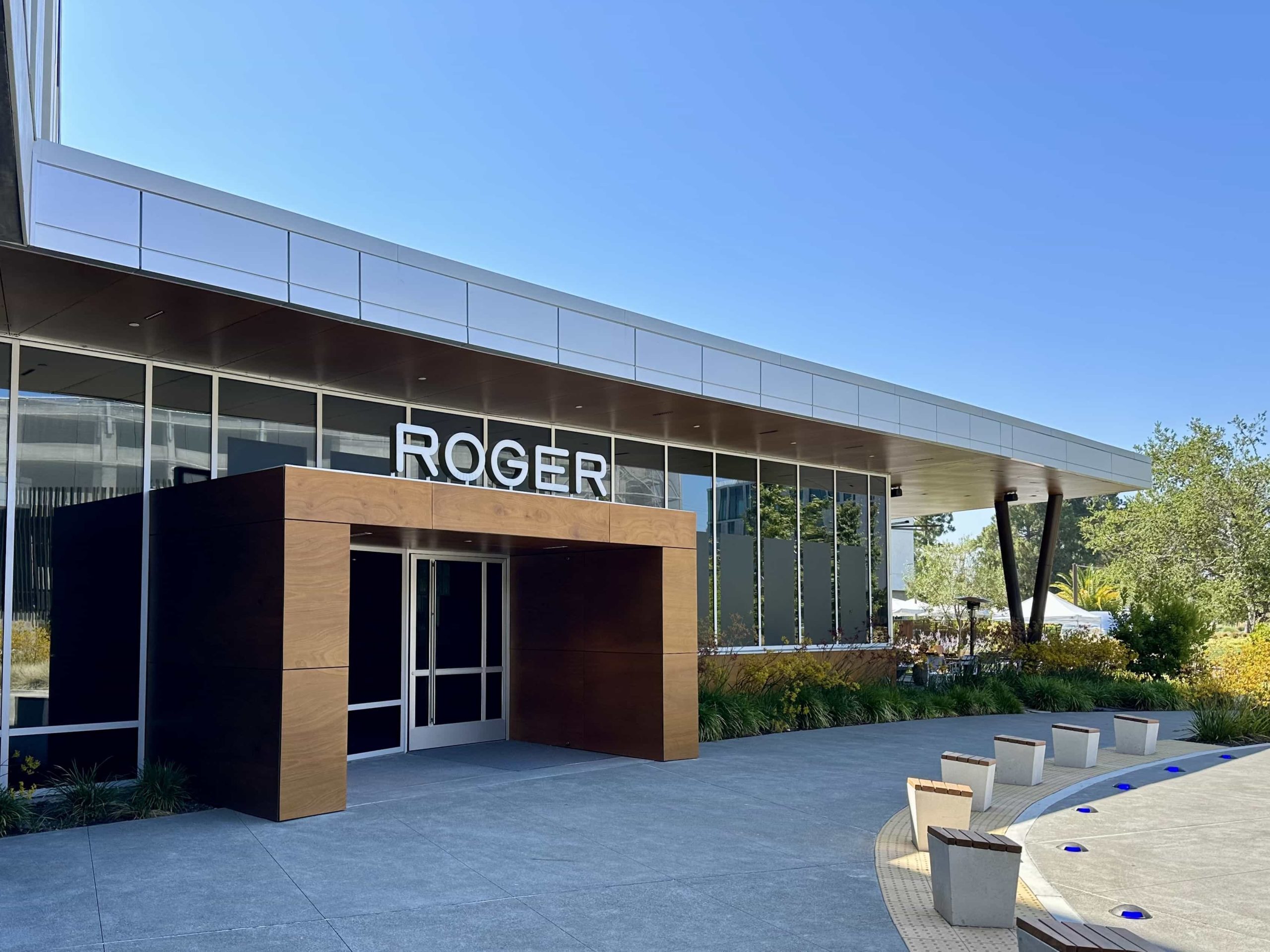 The main thing to know, is that it's only open for breakfast (actually, brunch) on Saturdays and Sundays — it's closed during the week, only opening for dinner service.
As such, the only option for breakfast and lunch is the grab and go counter (The Flyby). As you can imagine, this wasn't the breakfast offering I anticipated, but as my stay progressed, I became increasingly impressed by what they were serving, and grew to really enjoy it.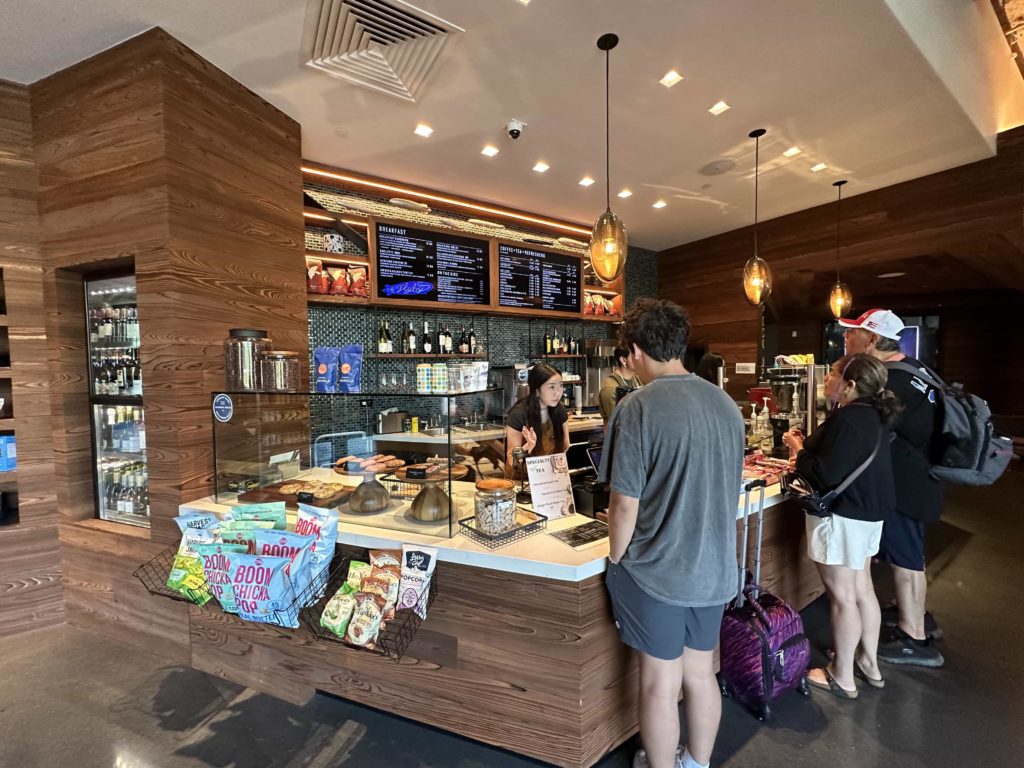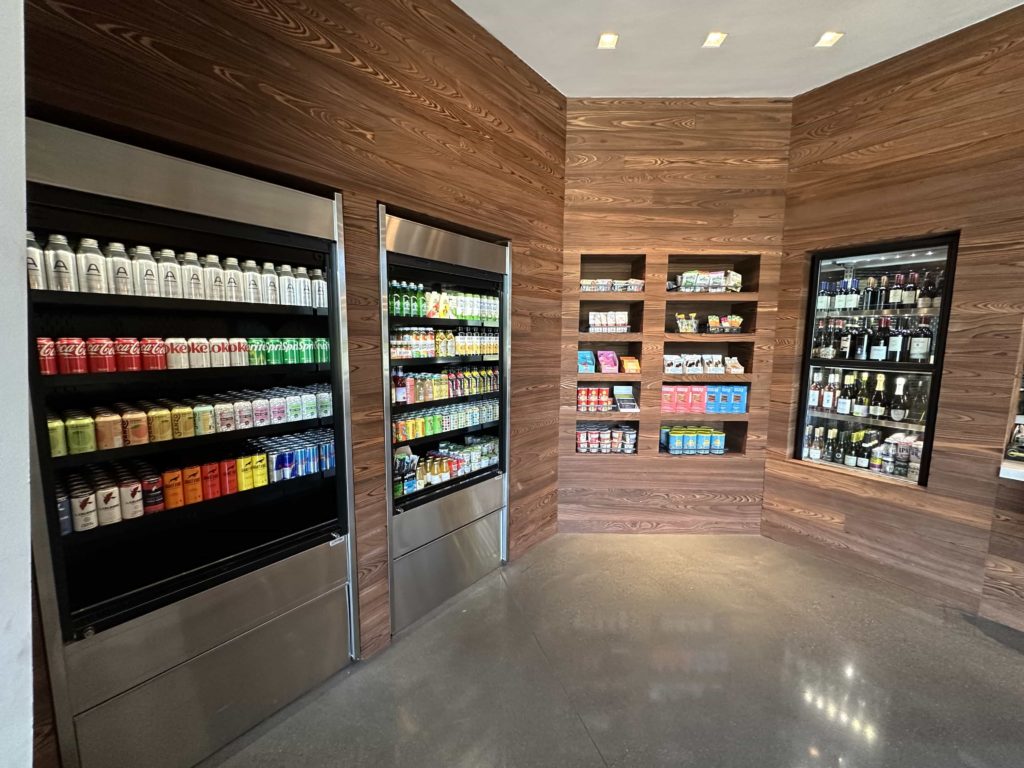 Normally these kind of setups serve the likes of pastries, sandwiches, breakfast burritos. And while those options are available here, they also serve proper dishes. I sampled nearly everything on the menu, ranging from the smoked salmon tartine to the açai bowl, and everything was fantastic.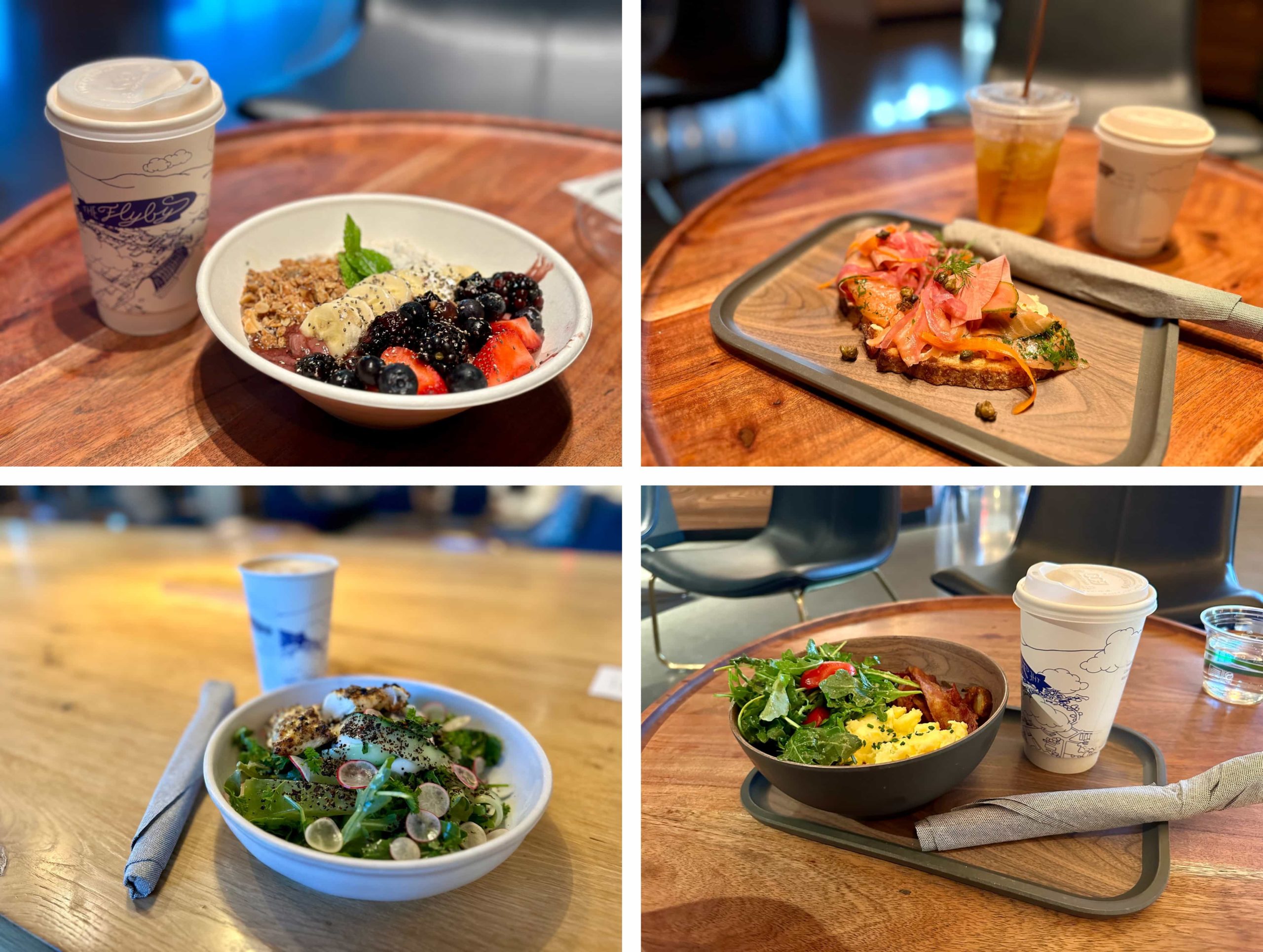 The dishes are not only healthy, incredibly fresh, and well-presented, but also creatively combine interesting flavors and combinations, without a hint of pretentiousness.
The coffee is also excellent; it's some of the best I've had in the Bay Area. Trying a chai latte for the first time next to the fireplace felt remarkably festive, even in the height of summer.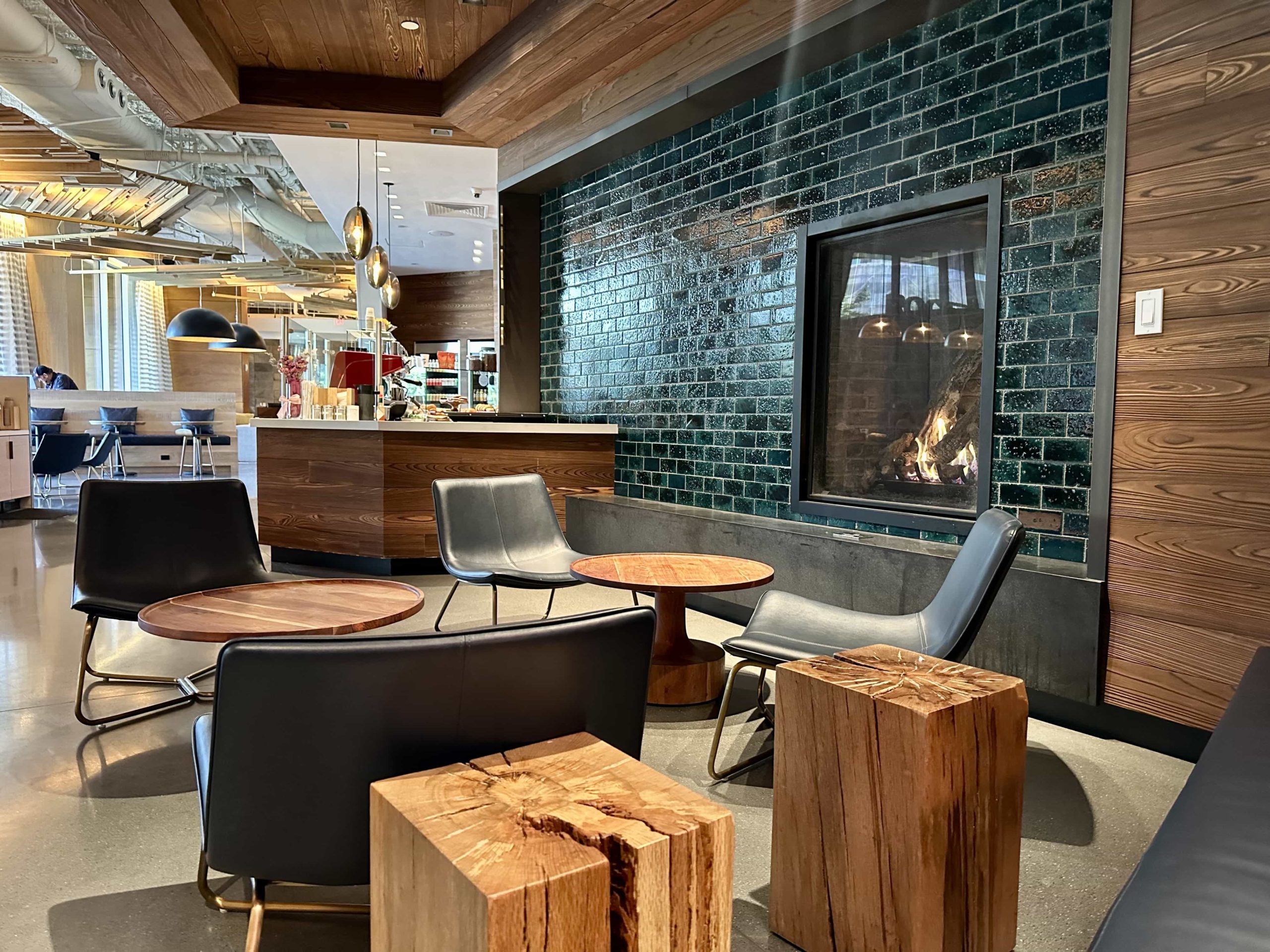 So as counter service goes, The Flyby is top tier. In fact, I resent not having access to it back home. If I did, I'd happily make it a daily morning visit. However, I also had the opportunity to visit Roger on the final morning of my stay, and I have to say, it was even better.
Choosing what to order wasn't straightforward, given the variety of brunch favorites, sandwiches, various types of eggs benedict, salads, and sweet options available.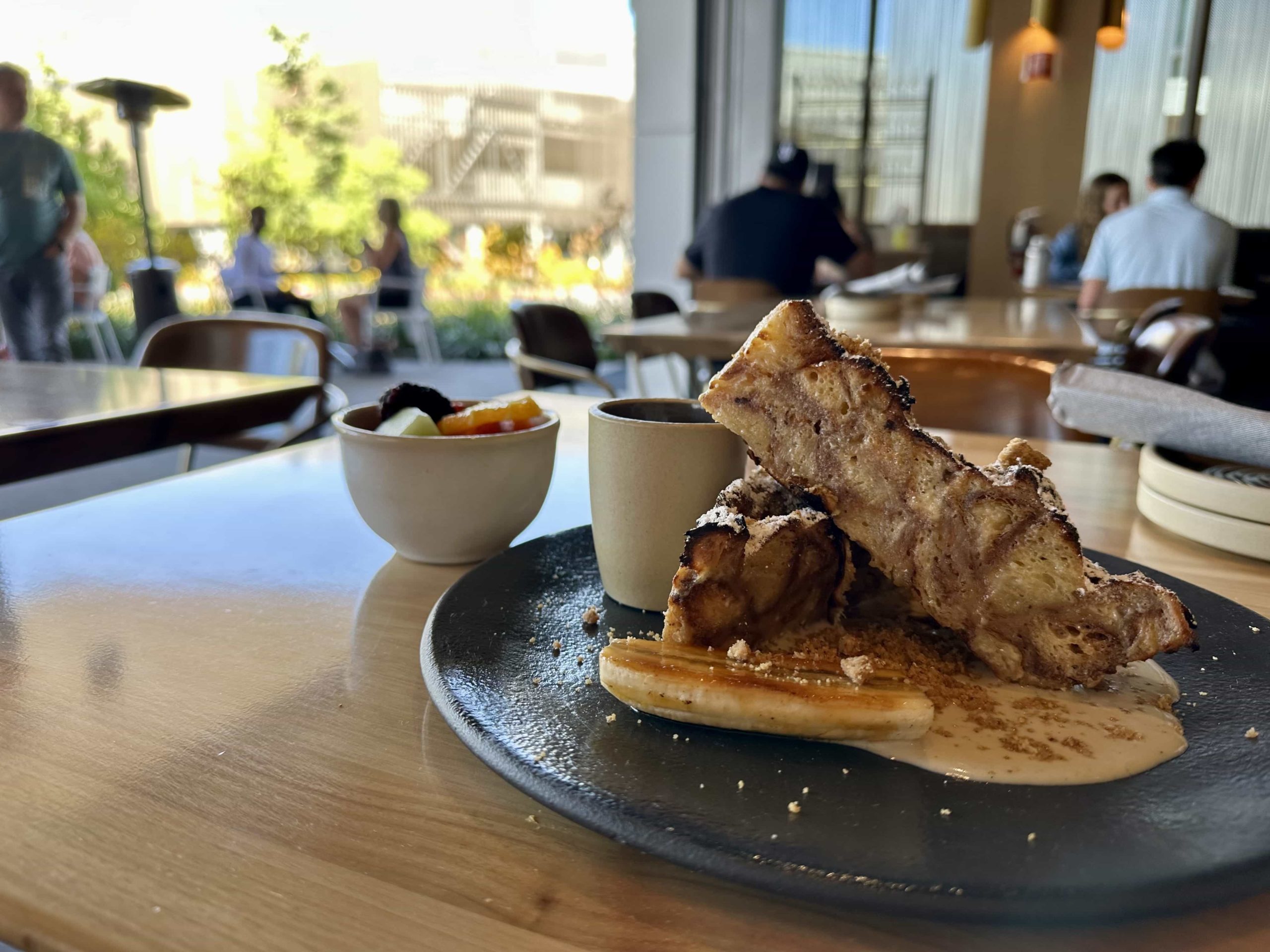 I ordered the French toast and a cup of fruit. This French toast was unlike any I'd had before: it was made with croissant bread pudding, oat and walnut crumble, bruleed banana, and cardamom maple syrup. It was delicious.
Much of the seating is outside, sheltered by an awning. Overlooking the greenery and basking under the California sun, this is an ideal spot to start your day.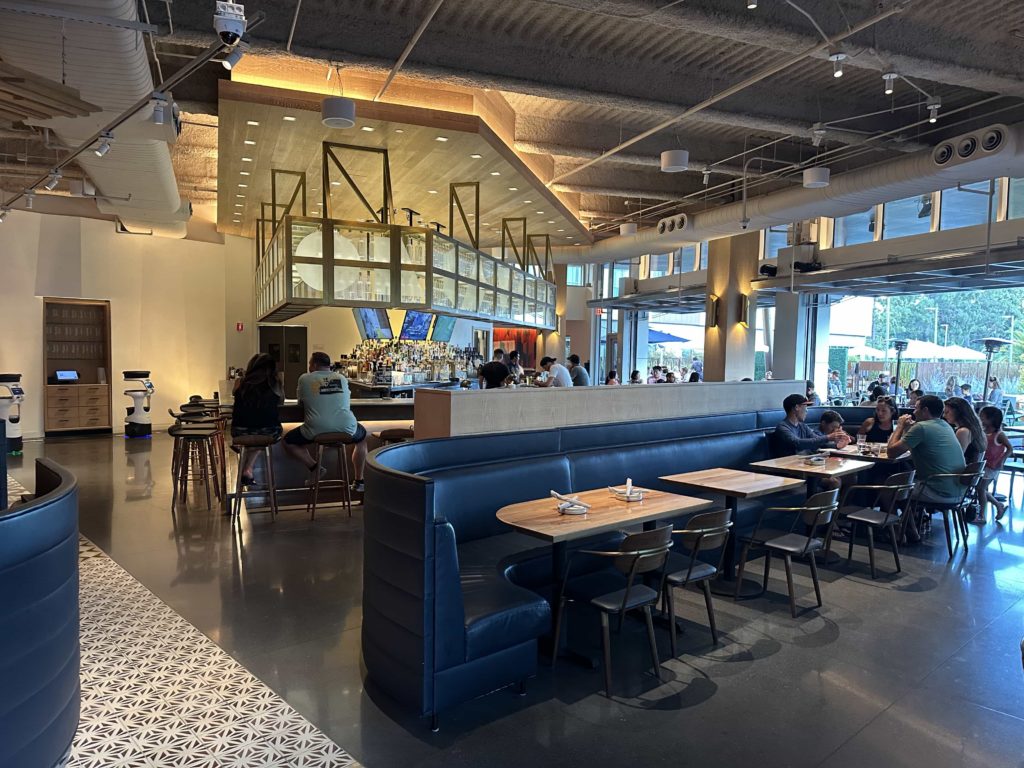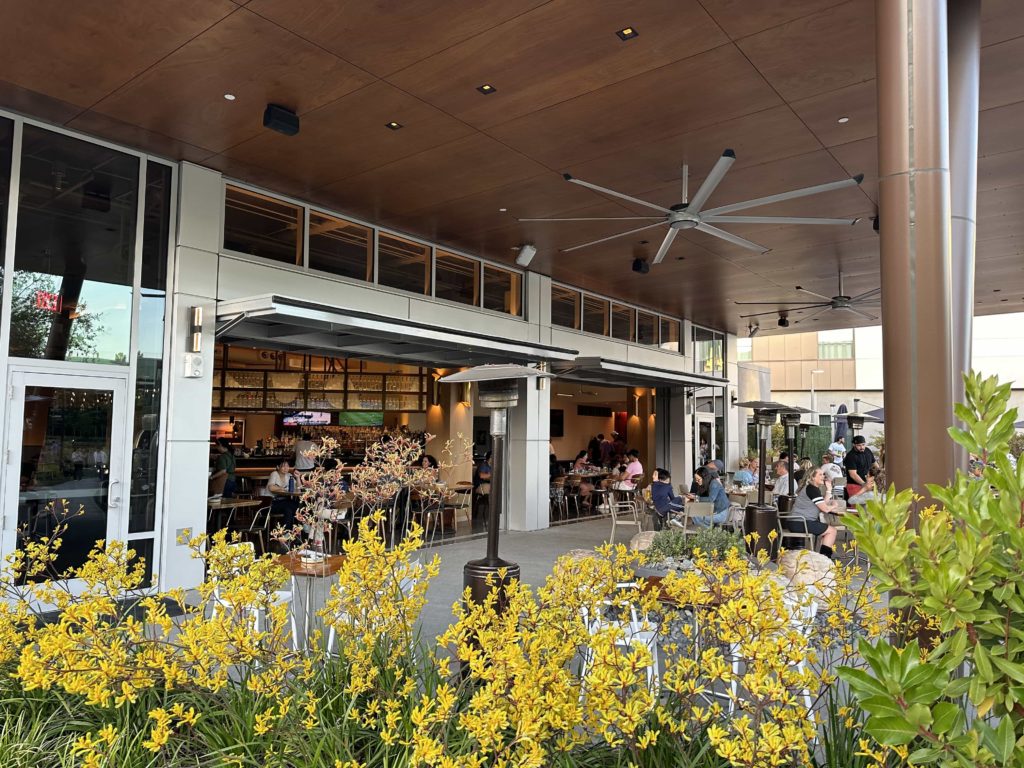 So, while I thoroughly enjoyed everything I got from The Flyby, it's disappointing not to have the option of the restaurant setting during the week, given how good Roger is.
Even in the evening, Roger closes at 10pm (including room service hours), and it frequently appears to shut down for private events, so it's not the most 'available' venue. Considering it's the sole dining option, I find it unacceptable to prioritise private groups over hotel guests; it doesn't leave a good impression.
Pool
The swimming pool is located on the front side of the hotel, in a fenced area next to the lawn. California law mandates that swimming pools be fenced in, which I've always thought leads to an unfortunate aesthetic. Fortunately, they've masked this to an extent with foliage and umbrellas, which contribute to a pleasant environment.
Apart from the nearby chatter of the restaurant, the pool's secluded location ensures relative tranquility during quieter periods. It's a heated saltwater pool, approximately 15 meters in length, and wide enough for three people to swim laps simultaneously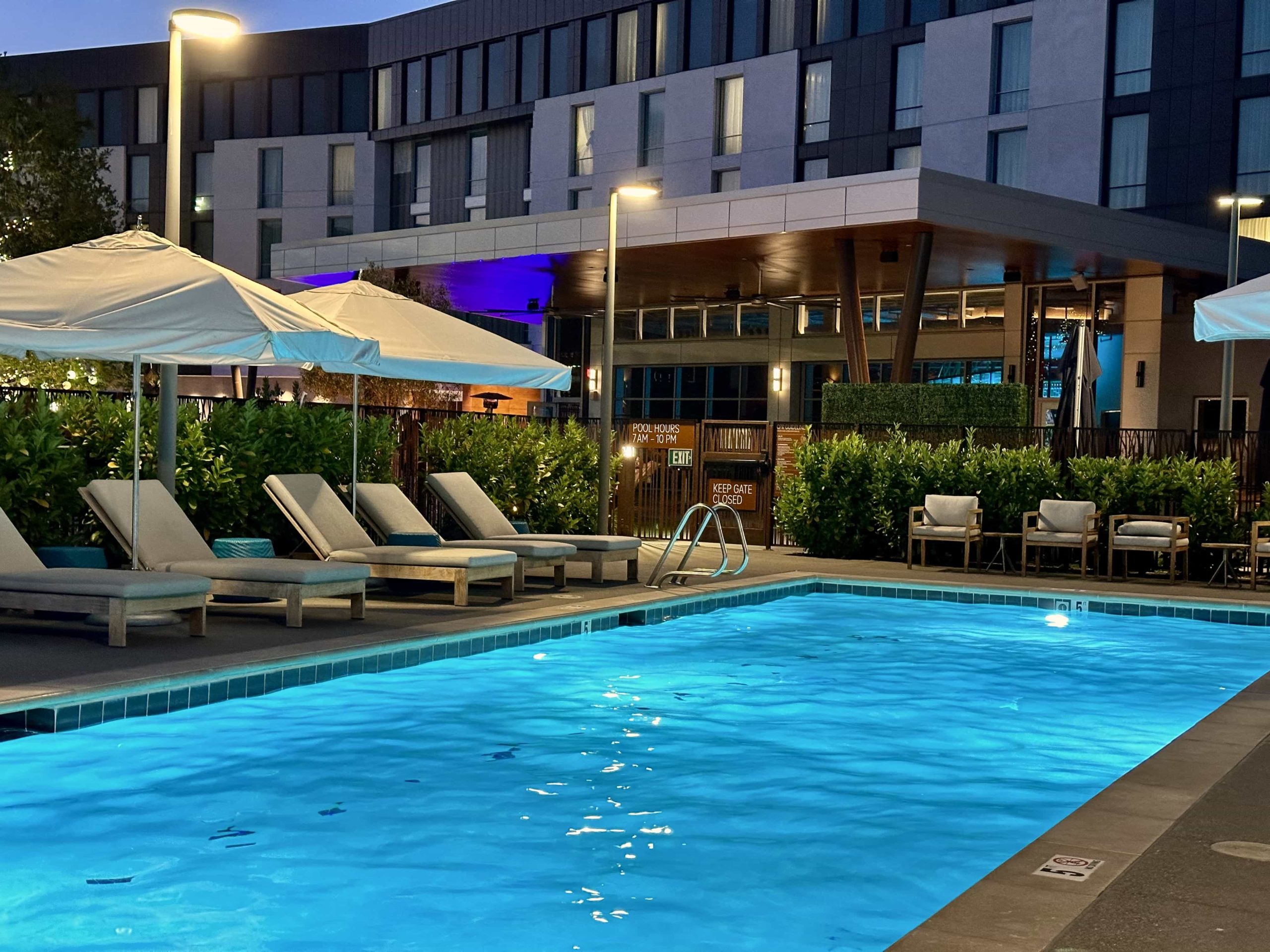 Be aware that it can get busy, and when there are kids around, it can become quite chaotic. So plan accordingly. The pool is open from 7am to 10pm, and I found that it's quietest from 8pm onwards.
There's an outdoor shower, plus changing rooms nearby.
Gym
Being a wellness-focused hotel, you'd expect the gym to be up to scratch, and I'm pleased to report that it is.
Located just inside from the pool area, the gym presents a modern environment, appropriately sized for the scale of the hotel. That fancy air filtration system I mentioned earlier really comes into its own here, keeping the air fresh and cool.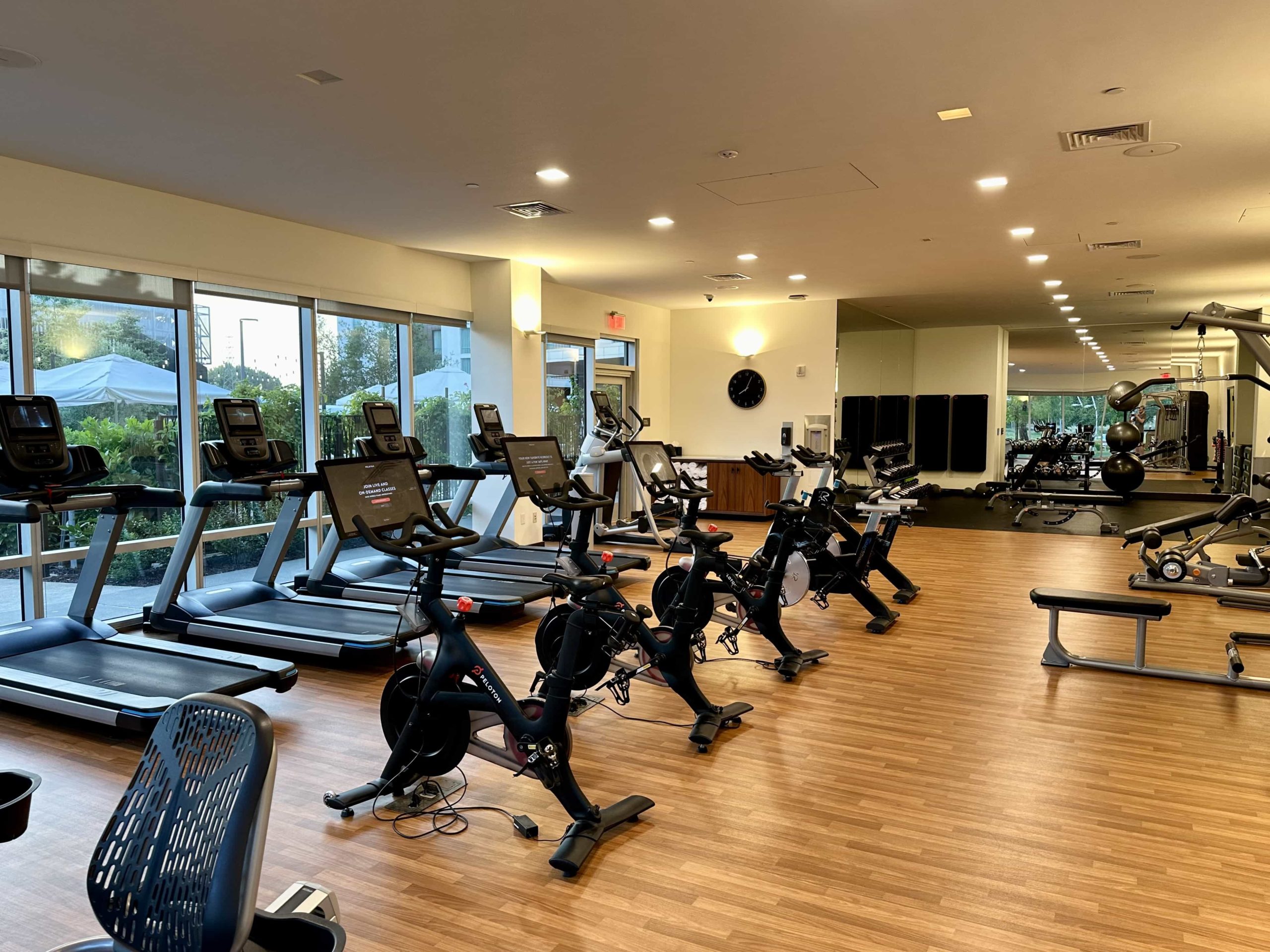 During my two visits, there were never more than one or two people using the facilities. Even during busier times, there should be enough cardio machines to cater to everyone.
That said, there's definitely less emphasis on weight machines, so you may find yourself tripping over other guests to use this equipment. Fortunately, there are more than enough dumbbells, kettlebells, and exercise balls to go around.
The treadmills didn't strike me as the most high-end models, but they did the job, and most everything else is state of the art. There are Peloton bikes, and the same lululemon Studio Mirror that you find in the 'wellness rooms', which offers over 4,000 classes.
The fitness center's floor-to-ceiling windows provide a view of the lawn, where yoga classes are held on Sundays.
Parking
Upon arriving, I found myself slightly confused by the parking configuration. There's a multistory parking garage just across the road, but not all of it is dedicated to the hotel.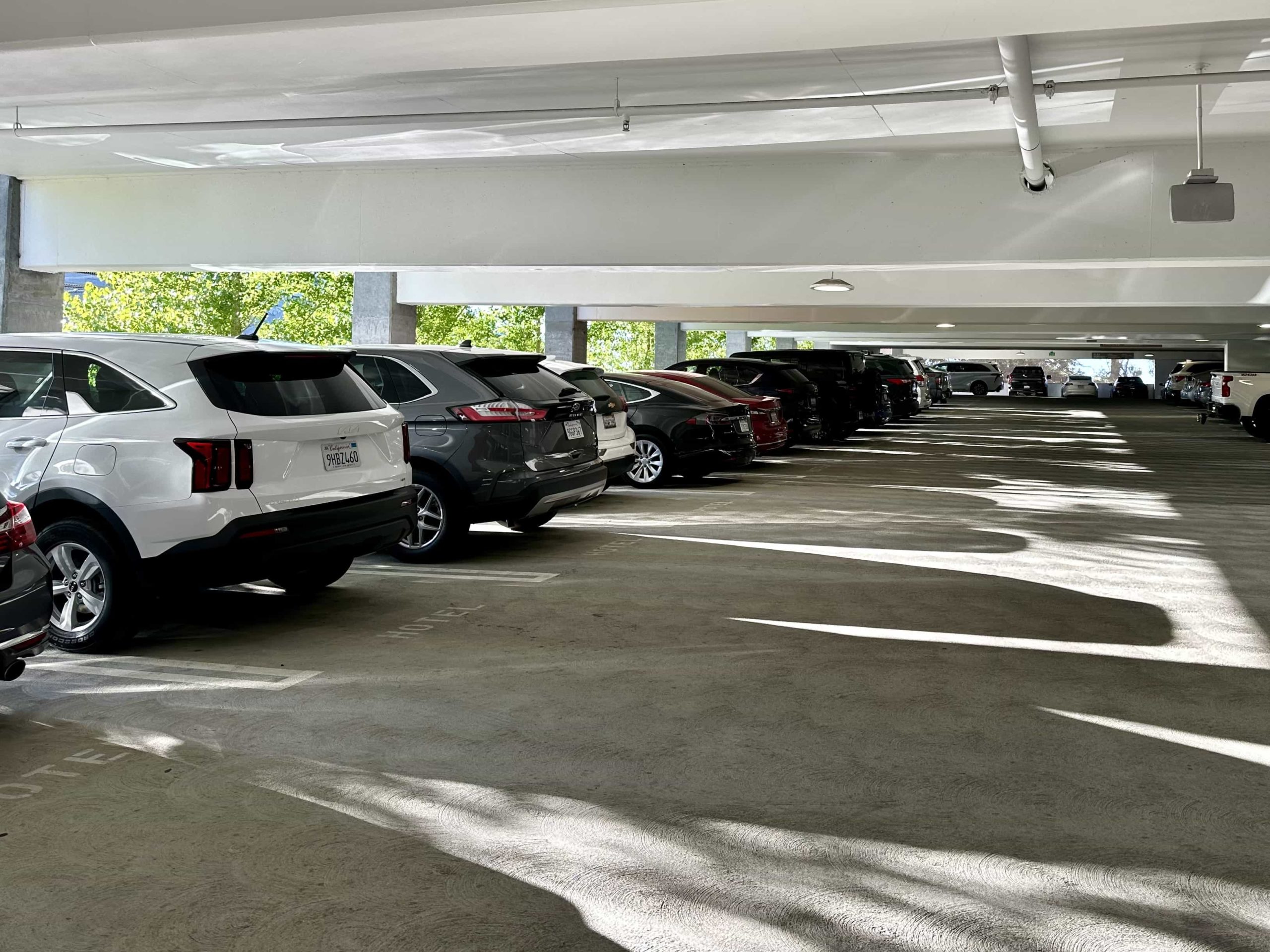 While most of the ground floor is designated for hotel use, the upper floors have different designations, and there's little explanation about who can use them. Regardless, there are enough spaces to where this isn't an issue, and reception would be able to provide clarification.
The main thing to know is that parking is complimentary for stays over five nights; otherwise, it's $20 per night. It's conveniently located, with the furtherest spaces no more than a two-minute walk from the lobby.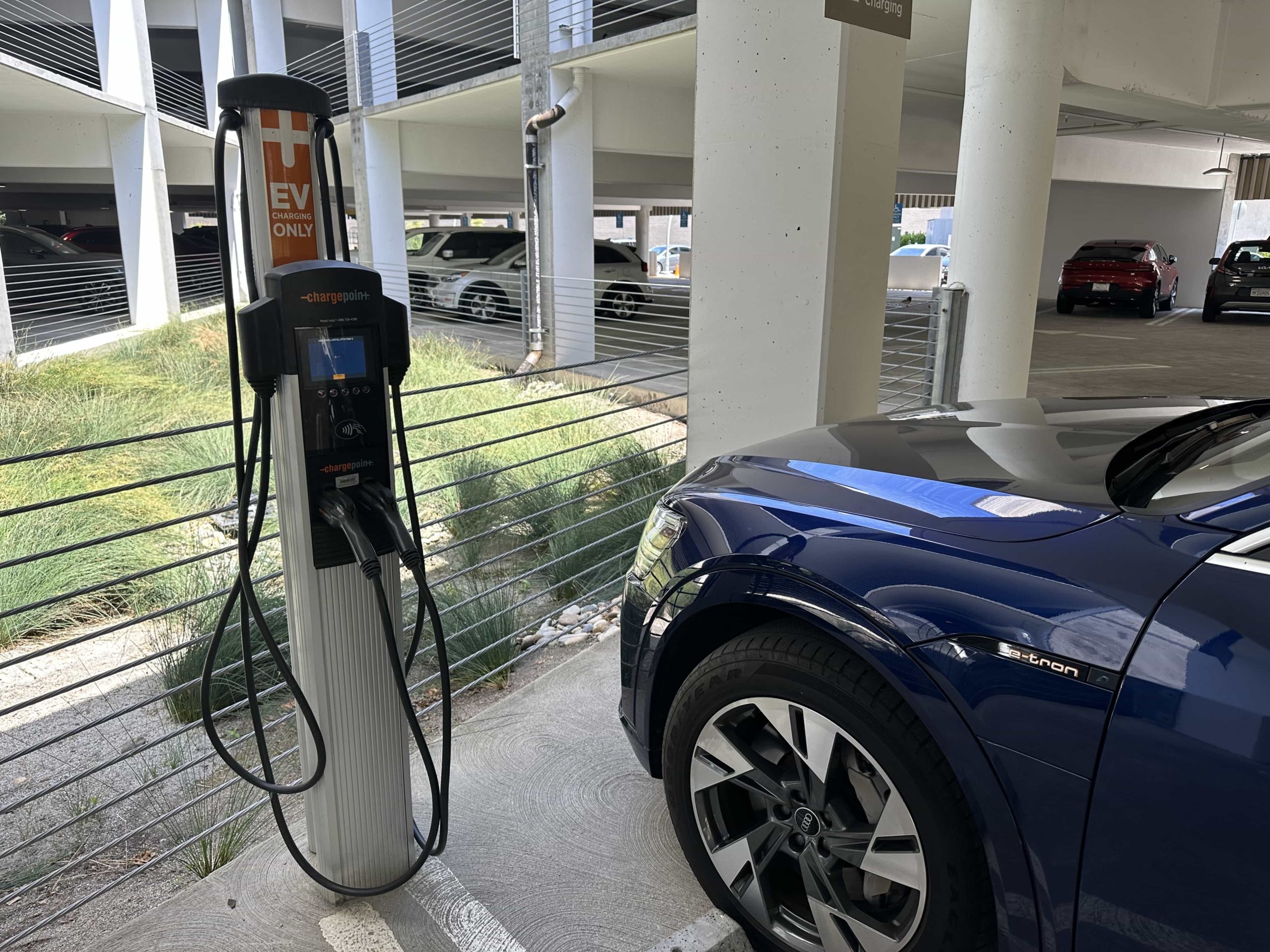 There are around 10 spaces for electric vehicle charging.
Anything else to note?
For such a modern hotel, I was quite surprised to find lacklustre Wi-Fi speeds. In fact, I was only getting 19mbps down, 4mbps up, with no option for a quicker service.
Laundry is handed by Peninou French Laundry & Cleaners, and prices are about in line with what you'd expect. To give you an idea: $12 for a polo shirt, $8 for a t-shirt, and $13 for trousers. Dry cleaning costs a few extra dollars, and a same-day service is offered at no additional charge.
Massage services are available, although there doesn't seem to be a dedicated spa area. Instead, treatments are provided within repurposed guest rooms.
Conclusion
Ameswell markets itself as a "luxury" hotel. As much as I thoroughly enjoyed my stayed, I don't think it's quite in that bracket. In this area, true luxury is represented by places like Four Seasons, The Ritz-Carlton, Rosewood Sand Hill, or Cordevalle.
Rather, what The Ameswell Hotel is, is a top tier example of a premium property, offering a more boutique experience compared to chain brands. This is as good as a hotel gets before you step into that luxury tier.
Of course, then you look at the price and consider that it's quite steep, but Silicon Valley is an expensive place to run a hotel. All things considered, I believe it provides good value for a well-executed, thoughtfully-designed stay.
Before I conclude, I'd like to mention the dining once more, as it undoubtedly needs a rethink. They're serving great food, but make it unnecessarily difficult to actually enjoy, when their main establishment is closed the majority of the time. The Flyby is wonderful, but a grab-and-go arrangement falls short of meeting expectations at this price point.
If they can resolve that, I certainly look forward to revisiting this hotel in the future.